69 & 70 1100 Block Leopard Street North Side
Not a lot known about these buildings but was a number of places thru decades. When I was a kid, one of the places was a small second hand store with Mexican curios and what not in front window, another was insurance place. Diggin deeper was found in 1929 was Model Shoe Store at 1118 Leopard, while 1116 was vacant, next door Success Café at 1120 address. Also at 1118 at one time was Rio Grande Grocery & Lamar Café at 1120 address. Mission Finance popped up in 1941 at 1116, while Mercedes Grocery took over 1118 and Fenix Café at 1120. After WWII in 1946 over, some of the places included Amada Variety Shop at 1116, Green Liquors at 1118, Texas Salvage Store at 1120. Bell Finance was only place in here in 1965 and then closed, but most of time was small mom and pop bakeries, cafes and resell swap meet type stuff. But I try to concentrate in roughly middle of 1960s growing up just west of all this, and if I get outside my comfort zone, and years, sort of go catatonic, or same face would get if nun saw me with a girlie rag.
I can tell you that the stretch from in front of Braslau's to Goodyear Tire on corner of Alameda at Leopard, all these little places came and went. On top of the small storefronts on Leopard where Valero is now, to Alameda on north side of block, there were small apartments you had to get to from the Antelope side, as no way to get to them from Leopard. could SEE them up there, just not GET to them.
Back to the block I am supposed to be telling you about, at one time in 1960s there was also small Iglesias Mexican church sandwiched in there too.
Can't tell you how many people it fit but could not be a lot unless wall to another store front knocked out inside. I'll never know. I'll get to La Terraza later, big story.
I am guessing many of these buildings will face wrecking ball like the big old theater 2 blocks over to the east did, THE MELBA Theater bit it a few years ago, mostly due to roof caving in from decades of neglect.
PHOTOS: Photo #1. In this particular photo there are 4 small businesses, Bail Bonds since Courthouse is almost across street, and who doesn't need a bail bond. Well, maybe Yolanda Saldivar. The small place on right of the four was (to me) always one that was occupied by something or another. As a kid, this side of street was safer than other side with the 3-4 cantinas. If you went right La Terraza Ballroom, to the left is Josephs Pawn Store, just next to little yellow place, which also a Bail Bonds place.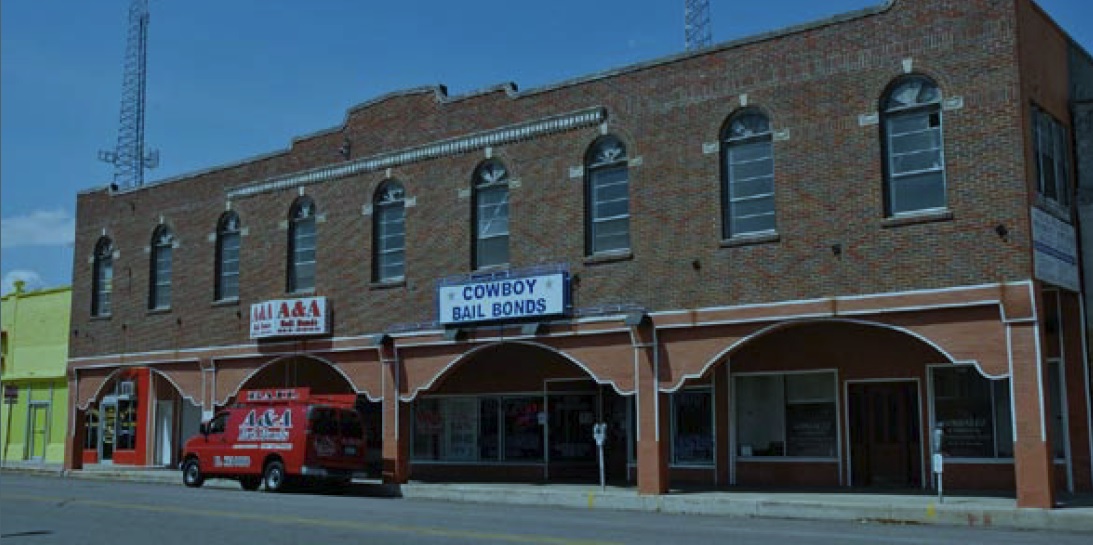 Photo #2. This is a different out in middle of Leopard taking photo like a fool photo. But shows whole block, La Terraza on right, the overhang, and brickwork on roof, and down near Valero is Josephs Pawn Store on this side, this is all north side of Leopard.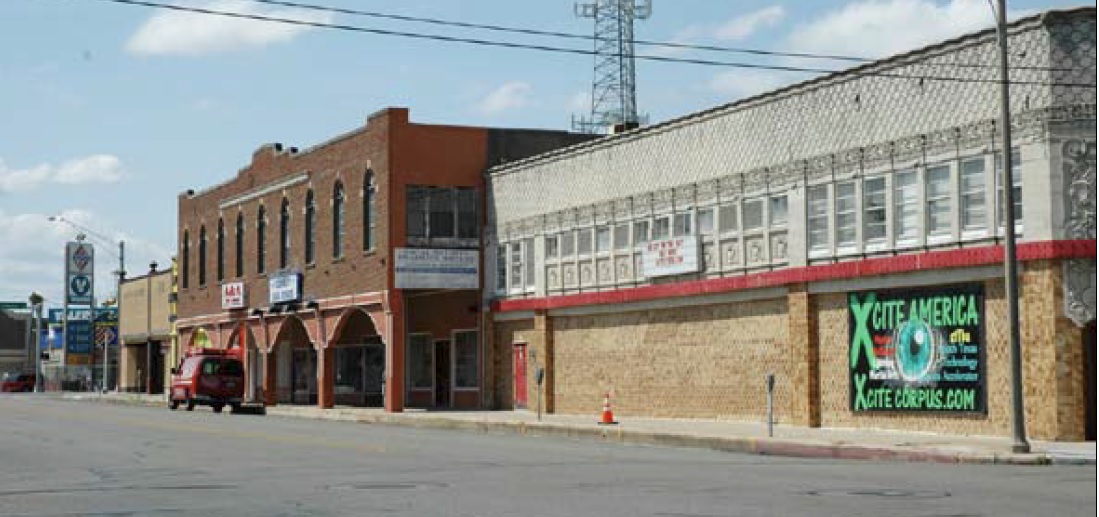 Photo #3. Nothing sez love like competing Bail Bonds stores. You can barely see the intricate tile works of Josephs Pawn Shop lower left of photo. Alamo Bail Bonds is OPEN 24 HOURS. You know at one time, there were restaurants like Hasty Tasty open 24 hours on Leopard, the Nixon Café under Wilson tower too, think about that. I wonder if they charge parking fees in the meters at 3AM?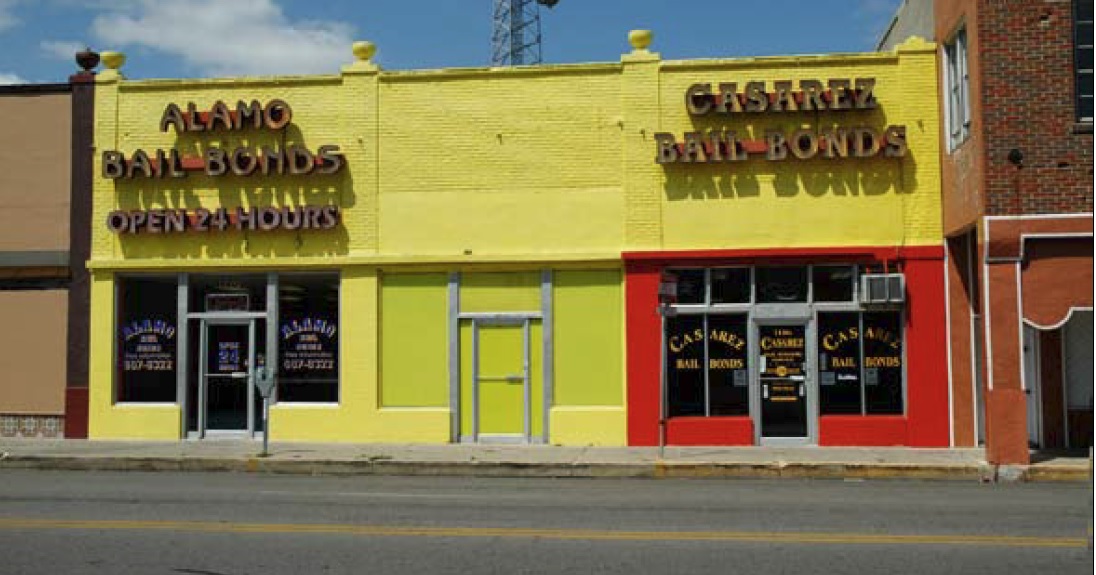 Photo #4. One of the occupied spaces inside the larger building with the overhang is Gonzalez & Associates. Lawyers, Perry Masons, or as they say in Spanish Abogado, a word I can't say without spitting and slobbering like Sylvester The Cat. You know you can say Abogado for dudes, and Abogadas for chicks just one of them words. So looks like 4 Bails Bonds places & a Laywer occupancy north side of block, not counting Josephs & La Terraza.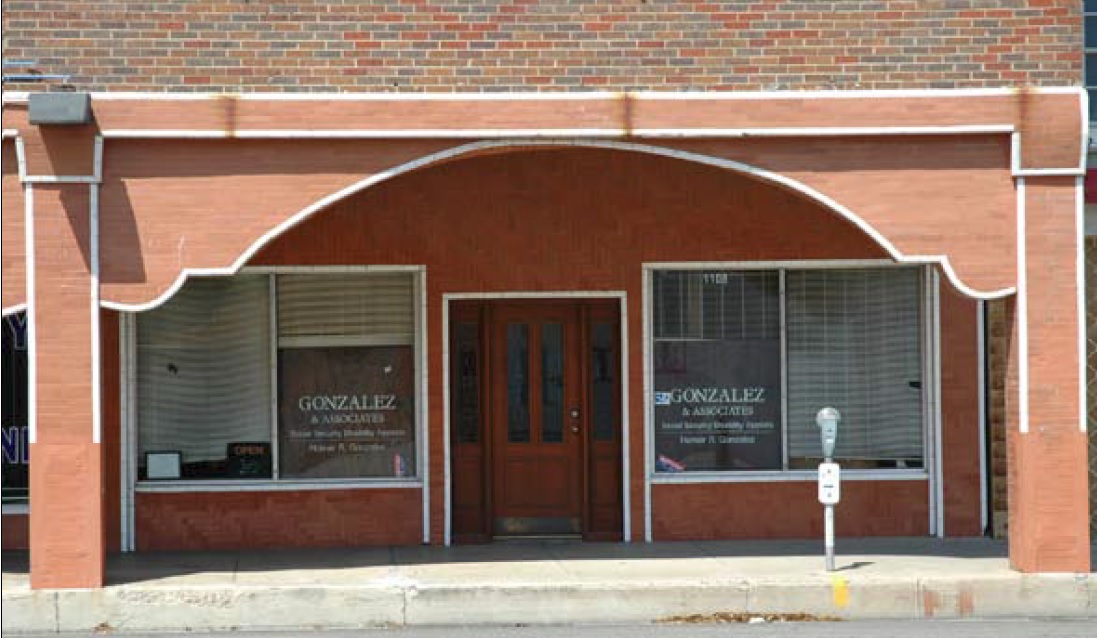 Photo #5. Well this photo from 1930s facing east at Staples on Leopard, shows the larger of the buildings with brickwork on top. Looks like it changed, possibly after Beaulah or Celia but same places left side of photo.