62 Gonzalez-Cantu (Angelus) Funeral Home


CANTU FUNERAL HOME It was just next to Schaffer's Muffler shop. A big, I mean BIG white house with two huge round brush something or other either side of steps. The steps though was what was imposing. About 20 of them led up to a porch and creepy door. I do not remember the name of this big white house funeral home. I can tell you that my grandma when still had legs, we would walk past it and her step would quicken and she would murmur 'fantasmas!' which is 'ghosts!' in spanish. I didn't know what she was mumbling about she was grandma and always mumbled, and whistled. I was more concerned about the bag she was carrying as we used to walk up to Mirabel's bakery behind Shaffer's muffler shop and walk home, about 6 blocks. People DID that then on Leopard IT WAS SAFE. Well, not safe if I get ahold of those Mexican sweetbreads in bag bwaha hahhaha! This funeral home was also home to a 1968 or 69 Dodge Charger. As I got older into teens, I had my eye on it. I just could not figure out why they let it sit and rot next to the funeral home between Montalbano Tire & funeral home, next to building, this was a parking lot for people to come view dead folks I guess. I had zero interest in buying it, as my dad was working at All American Motors downtown, and was a AMC man, even though Lew Williams Chevrolet tried to hire him away repeatedly. But there the Crarger sat. And sat and was STILL there in 1983 when I moved to Houston, by now, probably unsaveable.

And full of damned fantasmas! Eating sweetbreads from Mirabels! During my living in this area 6 or so blocks away, name changed from Angelus, to Cantu to Gonzalez-Cantu. Same place, huge steps leading up to heaven, same Dodge Charger sitting on side of place.

Photo #1. This is NOT Angelus Cantu funeral home, but looked similiar and had big concrete steps in front to sidewalk.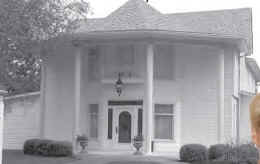 Photo #2. That orange Dodge Charger sat next to the funeral home like forever and of course the Corpus Christi salty air ate it alive. Some of those Chargers restored now bring $250,000+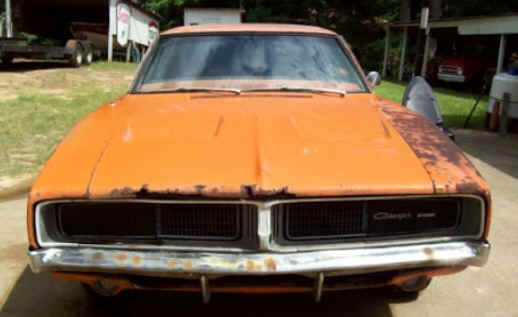 Photo #3. Small coat of arms