51 Bekin's Moving & Storage

BEKIN'S: This was a really cool place only because the Missouri Pacific train tracks came from between Leopard & Lipan and a cut off, went between buildings, KZFM, Cages, Beils, and just barely across Doss and stopped at Bekins. It might still be there, but a STOP at end of tracks kept the boxcars, always boxcars, from plowing into apartments in Coke street. The stop was some gadget end of tracks for wheels, then a large amount of rail road ties, big stinky creosote ties, made sure no farther. Don't touch creosote, it can burn you is tar & other chemicals, stinky black stuff.
Would not hurt as much as the belt or Hot Wheels track on your ass when momma found it on clothes as could not get out. But the big treat was looking out front door or off porch and seeing big locomotive with boxcar or two ON YOUR STREET just across Leopard, I don't know how the hell none of ever got hit flying across to go check out the choo choo. As poor kids, this was pretty much going to a baseball game!
Bekin's we thought was for rich people but wasn't. They did haul a lot of furniture and what not for people, as we would watch them take from train, put in trucks and it was residential deliveries, all that personal things, wished we could have boxcar full of nice stuff. Well, we could not afford or have all that nice stuff so we took the boxes bwahahah. The big wooden boxes us kids would play I, around, under, on top of, plywood. And my dad, genius that he was, took one and adapted it to back of his old Chevy pickup truck like camper, even had windows. The Bekin's people didn't mind and told him to take several! So! Not only did he make camper, he put a "T" pipe to our gas stove, ran some pipes into one side of house and put small radiator in it. Instant poor man's sauna. We would put pans of water above the little flame, and boy, would it steam up box! He thought (as did momma) that it would help her lose weight like Turkish Bath! A bunch of us kids sat in therewith towels around us when cold, and hot, steamy, talking about anything. Don't think we lost any weight maybe brain cells, but was FUN.
Soon other neighbors asked my dad to help them get big wood box, and set up same. But there was just something special about seeing big locomotive in area one would not think to see one, next to Bekin's...on OUR street, and then slowly lumbering between buildings Doss, Lester, then back over to 'where supposed to be'. In the little strip from behind KZFM (used to be Post Office) behind Cages, Beils, this small alley way quite amazing how train tracks stuffed in there, the locomotive and boxcars so close to the back alley apartments could reach out and touch them. Now fenced from Lester, Doss, but next time down there I'll scale fence & get some photos. All those years of jumping fences at CPL still GOT IT.

Photo #1 This is a photo of me on North Beach when I was 15. Bootsy got pregnant, had one little her whole life, there are 3 of the puppies there. Patsy, Curly Murphy, O'Brien, O'Toole, Dolly. Not sure which ones which there, but we would drive them over to North Beach to let them play in water, wash away fleas. It was at this time well, we also living no electricity, hot water, AC, indoor plumbing. And there is the ONLY photo I have of a Bekin's Box! And driving across the harbor bridge on windy day with that on it...wow, adventure!, would have loved to see my dad's face, learn some new cuss words as he drove over Harbor Bridge in this truck, but I was always in back sliding around with puppies. At later date, we had these dogs all chained up in yard (had to or get killed on I-37 our front yard) but two of the dogs sort of close chained up0 getting it on, us teens laughing and brother Tommy nick named them Humper & Pumper ha ha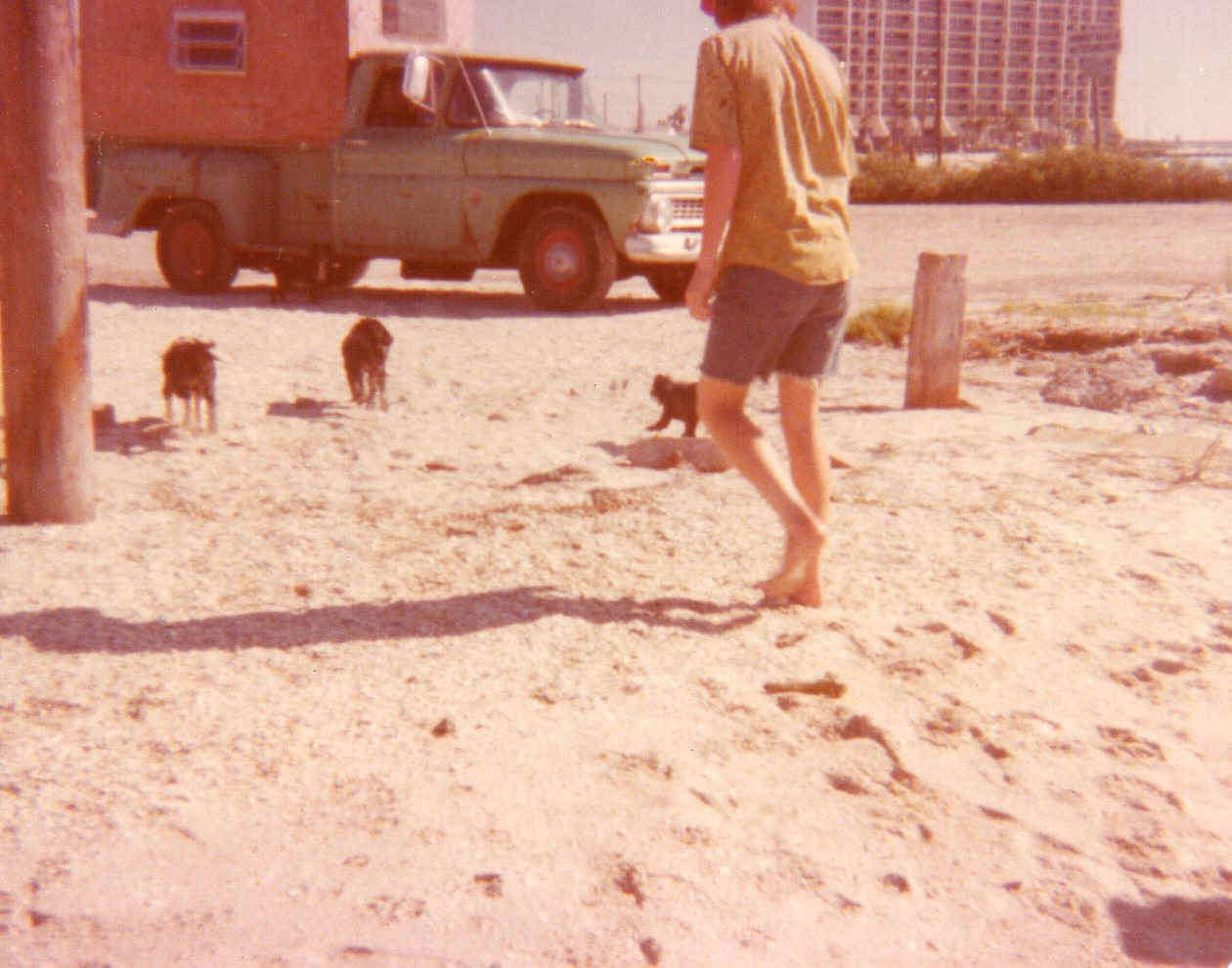 Photo #2 This lonely photo shows gated off on Doss facing west towards Port. This is where the train came thru to stop at Bekin's about where standing in photo. Farther down behind the building on right was Beil's. And the back of their building had cement enclosure room for all trash, veggies, everything and we used to catch mice in there, then wait for traffic to come down Leopard from Port when stoplight changed, and toss the mice in street, ha ha, squish! There was also 'the wino behind Beil's' who scared us kids, he would eat the old rotted food back there. The building on right was at one time (in 1960s) was Kelly's Tires.