Bunks Cafe
BUNK'S CAFÉ, Leopard & Sam Rankin. Coming in at #87, between #63 Schaffer's Muffler Shop & #65 Godoy's Pool Hall & #66 Chat N Chew, #87 is the triangular little building facing I guess Hameuei's Waco Food Store as it didn't really face Leopard or Sam Rankin.
I can tell you easily that it was a favorite place to go not only on dates, before AND after high school games at Miller stadium down the street, but after W B Ray Ritter dances place could fill up with kickers after they got thru doing what kickers do, dancing on the T-Head to all that yee hah music. Being block from Corpus Christi Police Department (#10 on the map, corner of Brownlee & I-37) the place day & night full of uniformed cops, and dicks.
The Dick Tracys undercover, detectives cuddled up with paperwork, while slurping hot coffee, reading maybe sports page of Caller Times. Mister Bunk was extremely pro cop and known as a Cops Best Friend. My dad worked for a little time in CCPD I may add. The cooks always clean wearing pressed white shirts & khakis, and old school aprons. Dad said mister Bunk was a people person, I would not know what that meant for decades later working in the bar business, means he was a really personable fellow who engaged his customers, what a novel concept!
I always though the place sat maybe 25 on a good day, it might have sat more, but where? Several places in the 1960s I have written about along Leopard from Port up to about Carancahua when it came to little restaurant & diners, Bunks was in thick of them in 1960s. You had La Villita on corner of Carranza, Guzman's corner of Staples, about 20 steps from Bunks was Chat & Chew, down near our crappy house on Doss & Antelope, on Leopard you had Noe's Café, behind Coca Cola, and on NE corner of Port & Leopard Hasty Tasty & across from them SE corner was Sheffield's, where eventually Vicks would be. Lots to choose from! You would think that next door Chat & Chew would be bitter rivals with Bunk's, but no, Jack & Maudie Wilson who owned Chat & Chew, good friends with Bunk & Tommie Spence who owned Bunk's. Cool!
In 1966 there was so many cops eating there all the time the owner installed a Hot Line for POLICE ONLY, as if some customer using regular phone, cops could not call in. It was painted BRIGHT RED, similar to the Bat Phone Commissioner Gordon used to only contact Batman. Cool Factor #10 and of course more cops would come to eat and drink coffees.
My dad raved about this place even though Noe's was a 3 iron from our house.
T-Bone $1.25, Chicken Fried Steak 65 cents, cheeseburgers 30 cents, good food & great prices. The most popular items on menu seemed to be Huevos Rancheros, which is eggs with a little hot sauce on top, salsa, of course came with toast, jelly, ham or bacon yum. Cheeseburger Steak loaded with grilled onions & gravy, Hot Roast Beef piled high with mile of fries, and Chili, the brown gravy people STILL talk about. I wonder if someone has the recipe squirreled away somewhere, would like to put it up like I did with Ship Ahoy orange salad dressing recipe from when I worked there. But seems Corpus Christi was hooked on Hot Burgers. Hamburger bun covered with delicious gravy, mashed potatoes and little tomato & lettuce on side, there goes my diet just thinking about it. Wonder if any place in Corpus Christi serves same now?
Years before was Bunks was King Service Station which proudly serves Texaco products. The little triangular building now houses Estrella De Jalisco restaurant, and same size. Schaffer's Tires still across street, but Mirabel Bakery, Chat & Chew, Godoy's Sears, Hameuei's all faded into history. Bunk's opened during the Great Depression & closed down in mid 1970s , I probably went inside it maybe, 4-6, 7 times in my life, and all in 1960s, ok, 1-2 in early 70s, and mostly to try to sell Worlds Finest Chocolates for Cathedral.
Dad went there more than me in 1960s, but he had money. You know the T-bone was same price at Noe's near us, and Hasty Tasty too. Some of the photos here are from epic legendary Doc McGregor collection, others from his family.
PHOTOS: Photo #1. Dial 4-6882 to order from Bunks. The menu has all the favorites and note that you could "Get Breakfast Anytime" which to me, was a nod to the coppers who came in there! Mister Bunk shown in end photo.

Photo #2. Looking at the car, which appears to be a Plymouth or Studebaker, this photo appears to be from 1940s early. In upper right corner has a Coca Cola sign with "Roy" on it, this would have been where Godoy's eventually would be. The outside blinds were for BLACKOUT times in World War II when city ordered blackout from Germans. Seriously, look it up you young ones!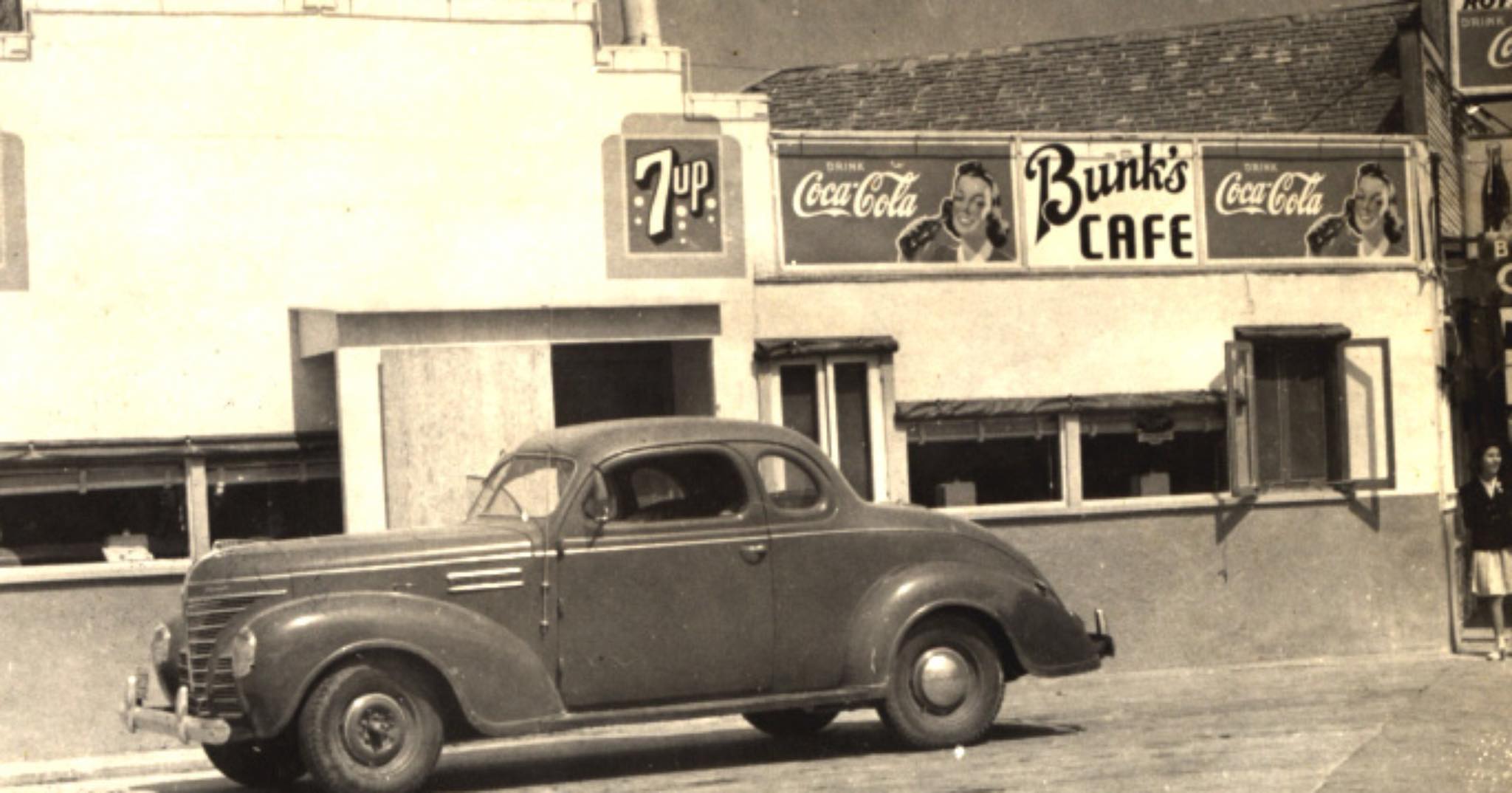 Photo #3. Mister Bunk walking down the street. Behind him a sign is McGrory $1 Store. The name partially obscured though. At the time, Leopard was a extremely popular, and vibrant place with lots of stores, theaters, little bars, and resell shops.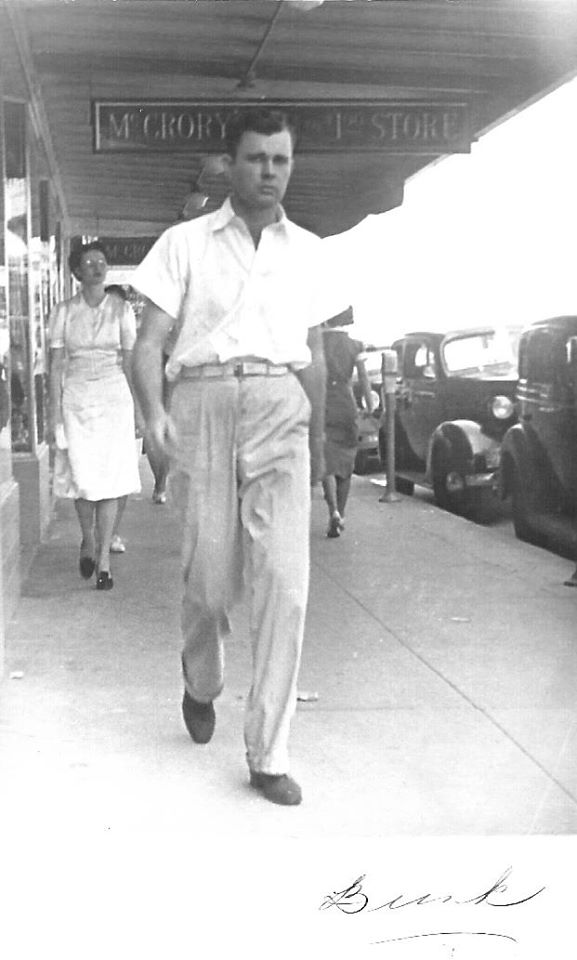 Photo #4. Inside Bunk's Café, a lot of people didn't know they used a real egg in their shakes and malts. I will have to try that sometime just to be nosy. Here, John R. Spence seated just off to left, Dorthy Seward barbie & cook Marshall Robertson behind counter. Note the Butter Pecan shake sign above his head. Waffles 25 cents, pork chops 70 cents, yes please!!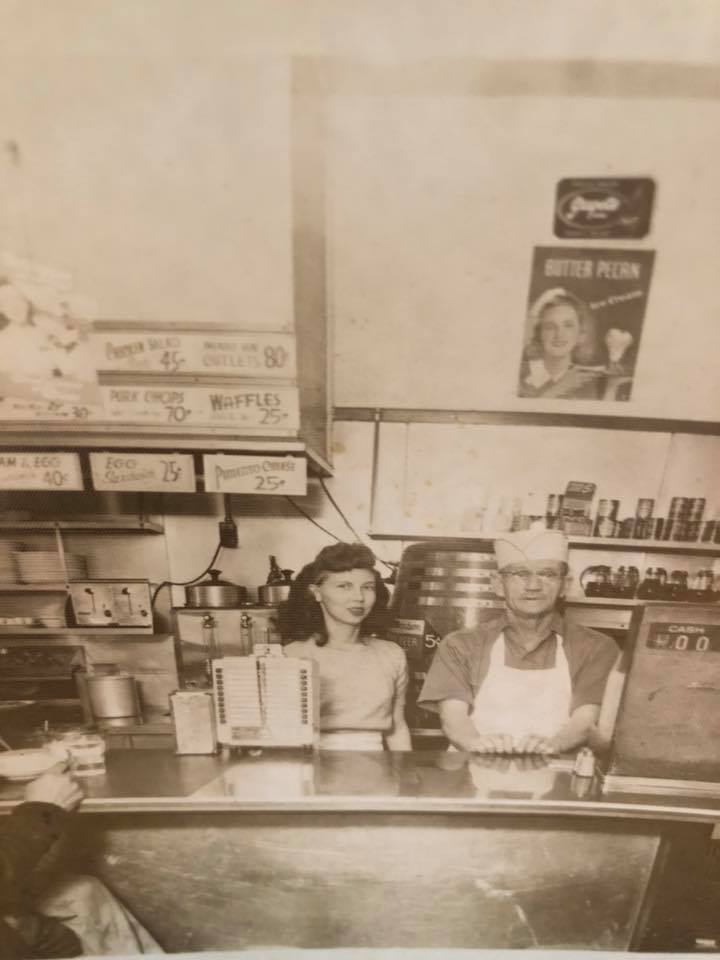 Photo #5. Tiny little ad from King Service Station at location of Bunk's Café before it was Bunk's Café. Free Offer for all purchases of 25 cents or more... hmmmm, now am wondering as that 25 cents would have gotten me stack of waffles at Bunk's.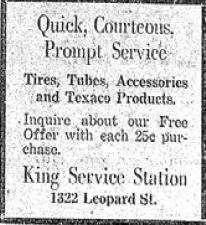 Photo #6. Bunk's Café as I last saw it when visited my hometown in 2019, is Mexican restaurant now called Estrella De Jalisco. I WILL visit it as I love trying new places when I visit with family, and of course old haunts that have paid their dues might still be in business. But would like to see this place inside not to see how and if, it has changed from LAST time I saw inside about 1972.

Photo #7. This iconic photo shows front of building late 1930s early 1940s. Name had changed. The Curb Service sign, never seen that and unsure how long that lasted. At Sheffield's corner of Port & Leopard where Vick's would eventually be decades later, you could flash your headlights and waitress come out. note Popeye's always broke friend Wimpy there lower right "I'll Gladly Pay You Tuesday For A Hamburger Today!"