Good Year Tires (Leopard & North Alameda) #67.
Conveniently located at 1302 Leopard in mid 1960s, Telephone TU-4-6361; this was on the corner of Leopard & North Alameda, one block west of Staples. Or directly across from Sears, and next door was Chat N Chew. Large glass windows one could look in and see the different types of rims, tires, many of them standing up in small displays. Good Year Tires is Number #67 on the BIG MAP.
While we drove up and down Leopard almost daily in our Rambler wagon, we never stopped here. Seriously, never stopped with family. But I did stop on my bike a number of times, not only to sell my boxes of World's Finest Chocolates for Cathedral up the road, but also just to go in and twist the gumball machine handles to see if any freebies pop up, of which they did most times. And of course to drink from the water cooler that was almost as tall as I was. Ever twist gumball machines handles to see if free stuff falls down? Still do it 50+ years later, not sure why.
The smell of tire stores is absolutely wonderful. All these brand new tires stinking up the store with their.. their tire smell. Yea, I could have moved my mattress in here and slept in showroom. Goodyear also had snow tires in here, not sure why unless savvy surfers using them at beach. Also fond of looking in chrome Cragar's rims as it bends your face like a goofy sideshow mirror. Next time you go into a Discount Tire, or NTB, take a big whiff & think of me. Well, not think of me smelling like that, just think about me as a 8 year old kid going into place like that. Sears didn't smell like that, popcorn smell overwhelming, Schaffers Mufflers didn't smell like that as much. Kelly's always had doors open it seemed so south to north Corpus Christi endless breeze for the workers.
My late dad, Homer T Stakes was a "car guy" like me. He used to talk of "Tire Wars" not to be confused with Star Wars a decade later. Tire Wars was like Gas Wars. Gas Wars was when you had several gas stations on one intersection that would try to outdo each other, like Agnes & Port or Port & Gollihar near the "Y" but only 3 stations there as big CPL mess of things on one corner. So one station might be 69.9 cents a gallon, other 67.9, other
65.9 you go to lowest priced one we all win. Especially if they also giving out Texas Green stamps or S & H Green stamps, of gold colored tumblers, ashtrays! Sometimes local Corpus news KRIS-6, KZTV-10 or KIII-3 would pick up on a gas war and do live broadcast from intersection, needless to say, whole intersection would have heavy traffic afterwards.
But the "Tire Wars" were different that you had to search newspaper to see specials, not drive along. And in my old hood along Leopard in mid 1960s-70s, it was brutal, at SW corner of Leopard & Staples you had B. F.
Goodrich, you had Goodyear here block down, across street Sears, a block down Schaffers Muffler Shops which sold tires, next to the Angelus Cantu funeral home Montalbano tires, further down past crosstown where Antelope hit Leopard a small tire store I don't remember name of, next to Beils Kelly's Tires. Fierce competition for YOUR tire dollar!
The Good Year logo shoe with wing on it I never understood, until was a teen and found out it is Greek god Mercury shoe with wing. When I bought my own first car, a 1970 AMC Javelin from old black preacher man mister Fawcett at Fawcett Motors in front of Miller, in 1976, it was only then I realized what dad meant about tire wars so started paying more attention to specials. But most of my tires came from Skip, who ran Delta Tire on SPID & Ayers next to Wolfies. Gee, and a few years later I would work at Wolfies too ha ha. And also at Foxy's across SPID. The difference between two strip clubs was how many teeth strippers had!
Photos: Photo #1 A lot of Goodyear Tire stores looked same, this is how I remember Goodyear on Leopard & Alameda in mid 1960s, blue & gold, the service bays to one side, the big plate glass inviting windows, not for rocks I threw at cars on I-37, but for seeing great, big, inviting, showroom, day or night. Just to left would be Chat & Chew. Then Godoy's Pool Hall. Then Bunks Café. This photo is from about 2016.

Photo #2. The Goodyear Tire store is now called Brooks Tire, of which sells all sorts of tires including B. F. Goodrich, Kelly's Tires, and Yokohama. Oh, the B. F. Goodrich Tires at corner of Staples & Leopard a block over, it never had any service bays, then later a insurance company.

Photo #3. In 2019 the basic structure of Goodyear still same as way I remember it from 1966. Chat & Chew, Godoy's, Bunk's buildings all still there, but Sears gone across street is some courthouse.

Photo #4. If all you can afford is Retreads, then get them, they still make them, good way to recycle tires, lots of truckers also use them. Here is a ad from 1960s and $11 a tire. Remember when your dad is making $156 a week in 1960s working for a AMC Dealership on Water Street in Corpus Christi, $44 for set of tires a BIG INVESTMENT. Get the white walls those are cool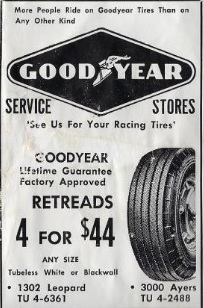 Photo #5. Good Year Wide Boots & Cragar chrome rims, probably SS or Raiders.
I am in heaven. Ok, really in heaven since there are hot chicks in go go mod boots and not one, but THREE American Motors 2 seat AMXs here. This is actual ad for Good Year in 1969 featuring new GT type tires, AMX, beautiful women, and boots. My only complaint? Wished more of close up of ladies & cars!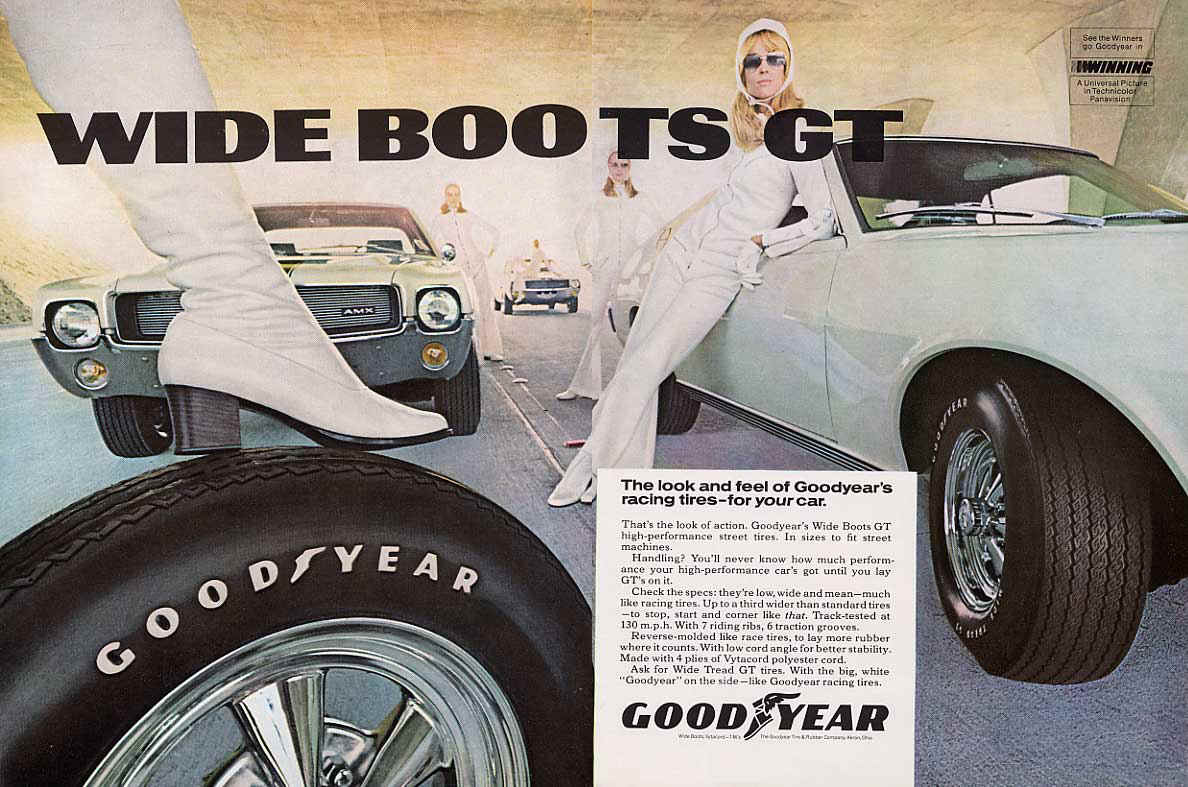 Photo #6. A Good Year tire ad from 1967 with all new American Motors 1968 Javelin with new Good Year GT "Wide Boots" mounted on 1968 only chrome Magnum 500 rims. The 68 Javelin 1 year only fender emblem, and appears to be a 390V8 in back, yes, I looked at it under magnify glass, duh. Hot looking blonde with go go boots, all the rage, saw them on Laugh In TV show too. The new GT Tires rated up to 130mph. The AMC Javelin (have owned 395 AMC cars since 1976, 9 currently, mostly AMX & Javelin, it is my business since 1983 you know) the Javelin could probably do more than the 130 miles per hour, but it would be 1969 before the AMX & Javelin got the BIG 140mph speedometer.