56 Gulf Gas & 57 FINA Gas Station
GULF & FINA Gas Stations Corner & of Brownlee & Leopard. Rising like a second sun was a very large Gulf gas station sign about the crosstown expressway corner of Leopard Street in 1960s/70s and into 1980s. From our old house at 723 Doss it was a friendly beacon, although annoying as they never turned damned thing off. The gas station was run by a myriad of individuals from God knows where countries around world that use letters never used on Wheel of Fortune like K, X, V. Letters I use playing wife in scrabble until she throws board and tiles across room.
If you were quick.. you could come flying off the Crosstown and jump 3 lanes over to Gulf for gas, or other necessities like cold beverages, ice cream, smokes and beer. For whatever reason the Corpus Christi Police liked FINA across street on their way to work at station corner of Brownlee & I-37 other side of freeway at The Cut. Not sure why but maybe it was not to jump 3 lanes over off crosstown directly into Gulf. Could go thru light, across Leopard, and turn leisurely into FINA.
Since I frequented both as a kid on my bike, I can't give one or the other nod. Didn't steal anything from either, didn't smoke, drink booze, but DID buy candy. And sodas. No comic books at either could go a few blocks and Mister Hamewei at Hamewei's Waco Food Store next to Sears could hook me up for that. But the FINA always had fresh donuts, and want to catch a cop, there you go. The Gulf had good honeybuns though. Both had ice cold sodas.
In the 70s, on other side of freeway, back towards my house, KAYO (#35 on the big map) had closed down after a shooting which killed the nice man who worked there, Jose, Juan, don't remember his name but darn it, was nice man to all us kids. So now only Gulf & FINA battle it out. My dad would call any gas stations on corners 'gas wars' which stations would see who could drop the price of gas lowest.
There were a number of times that people came off the exit ramp and into the Gulf station, not to buy gas, just drunk or lost control or really didn't know you go down under ramp on Lipan, they up to exist, and stop light on Leopard right in front of you. Bad design in 1960s there, saw a lot of wrecks, but really didn't like to see gas station hit.
From out house, the soft orange glow of the familiar globe rose directly above the Ortiz's drab olive green shotgun house on Cleveland. None of us could ever figure out why if faced the way it did, as it faced I-37. But you could not get to it easily. Sure as hell could not get to it from eastbound.
And if on crosstown, could not see it due to angle. Too bad it didn't spin like the huge green and red "W" on Wilson tower, then everyone all angles see it.
In the 1970s when I was living in attic at our old house, yup, no electricity, hot water, AC, indoor plumbing, but from the attic two windows where I had my bed close to for the breeze, I had good view of it. Sometimes stared at it to go asleep it was that boring. But was like a friend too. As I started to drive many times would buy gas there also, not the FINA (FINA is #57 on the big map) but really depended who had cheapest gas you know.
If you didn't live thru or experience the OPEC oil embargo back in 1970s, you probably don't know what the hell am talking about, could only buy gas on certain days, had to buy depending on even or odd number on license plate, limited amount of gas too, some places limit 8 or 12 gallons. And I had a 1970 AMC Javelin with 4 barrel, 360V8 that liked gas. Lots of gas, maybe 10-12 miles per gallon.
At the Gulf one day I had a bad day at work and was putting gas in my car, and went inside to pay for $10 of gas, and buy a Fanta Red. Was putting gas and a school bus stopped on Brownlee at stop light. Kids as kids do yelling, screaming out of windows, and I glanced over to see two of them throw finger at me. I threw my almost full Fanta Red at them and can flew into bus spraying kids and bus lumbered off. Darn it, had to go back inside Gulf and buy another $49 cent Fanta Red. About 1/3rd cost of gallon of gas though.
Often wondered about gas sold at either of these two places after Leopard street flooded, so would go crosstown to buy gas. Leopard street is a bowl here and these places could go under easily, and tanks underground.
FINA closed and reopened up as a Diamond Shamrock. Fill up get free glasses, plates, cool stuff. But was better than drinking out of paper cups and paper plates at our house, just no place to wash them except outside. Diamond Shamrock, now called dumb Valero name, eventually closed down and No Name gas station opened up, don't even remember what it was called. Gulf soldiered on, and probably never turned off their sign either. Ironically this little building on NE corner of Leopard & Brownlee would have its longest run as Olszewski's Glass, which makes some stunning stained glass, like windows of Cathedral.
PHOTOS: Photo #1. No longer gas, and war torn area of Brownlee & Leopard long forgotten by the city. The trash that accumulates here still same from 1960s due to wind blowing down from Lipan hill on right, and I guess Leopard hill on left. Ok, not a meteorologist (but I did read meters for CPL ha ha) but for whatever reason trash always been a issue at this corner. Unknown gas station in 2019.

Photo #2. With the Gulf gas stations "second sun" approval looming over the Ortiz' drab olive green shotgun house just to left of my ego, this was my late brother Tommy's wedding day. More on La Terraza Ballroom later date. My dad, Homer T Stakes Sr, in middle. This was in 1980s, I drove down from Houston for his and Maria's wedding. 78 AMC Matador behind Tommy. Too bad Gulf sign not programmable like some signs to say 'Happy Wedding Day' but nah, that is creepy and white trash like getting married at Wal Mart pet or cleaning section.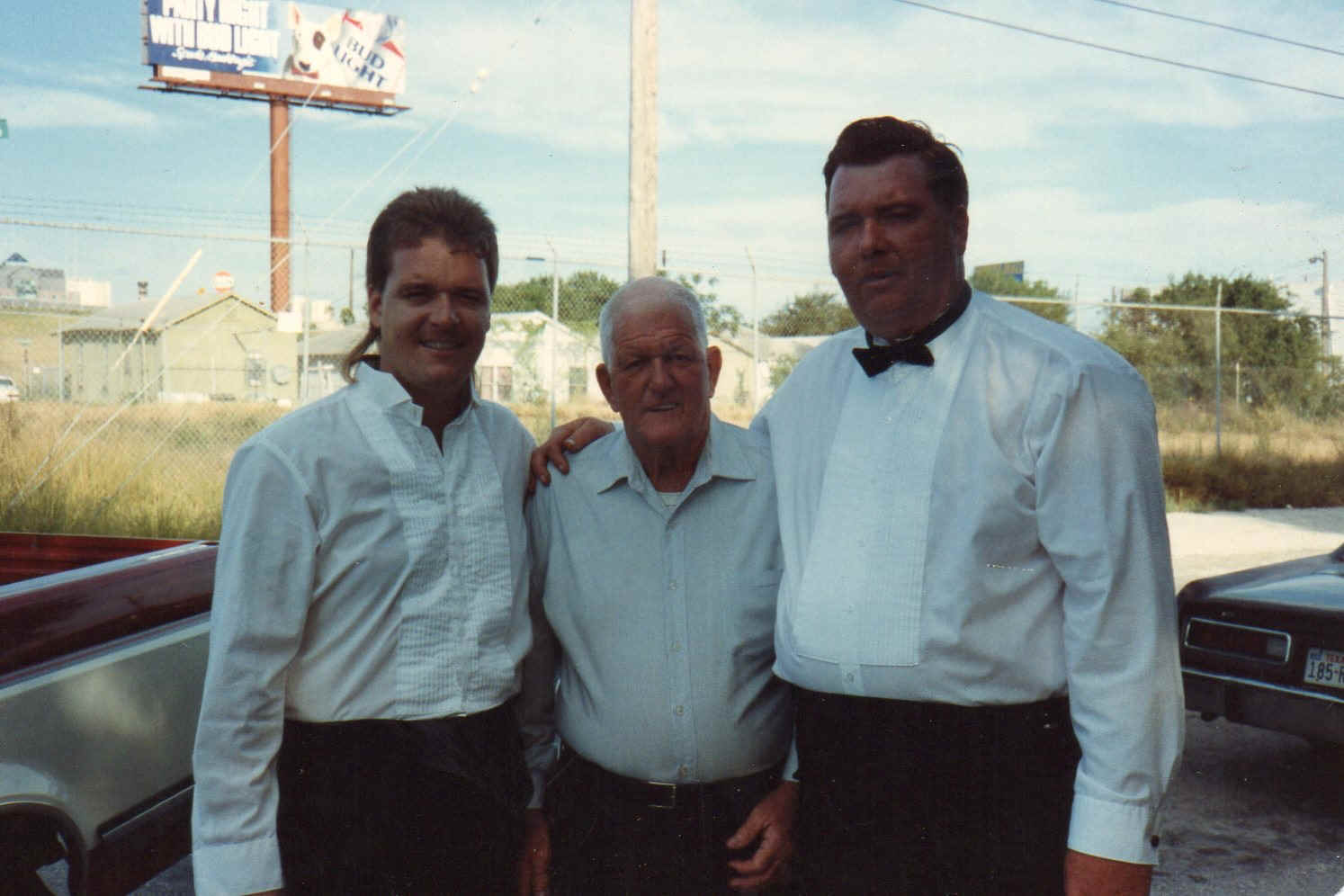 Photo #3. The Gulf big globe was larger when you saw it up close. Still scratching my head as to why it was pointed at our house, not crosstown which was easy access. As with everything in Corpus Christi, rust never sleeps as the old song goes, and even with "rust preventive paint' (a real oxymoron!) rust paint gets eaten by barrage of salty air. The sign was about as big as my efficiency apartment at The Landing.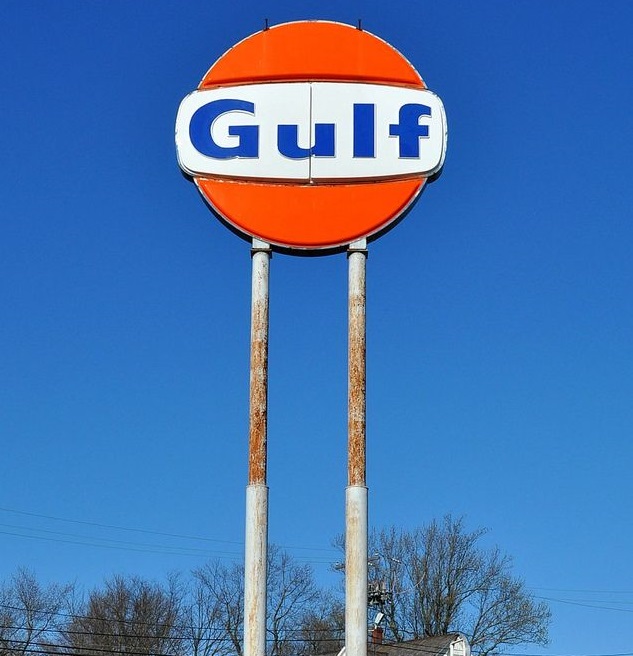 Photo #4. Olszewski's Glass puts out some stunningly beautiful stained glass. Not only for churches, but bars, restaurants and other facilities. This particular piece is Saint Jude. I'm Catholic so you fixing to find out St. Jude novena, otherwise a nun will smack me again. "Most holy Apostle, St. Jude, faithful servant and friend of Jesus, the Church honors and invokes you universally, as the patron of difficult cases, of things almost despaired of, Pray for me, I am so helpless and alone. Intercede with God for me that He bring visible and speedy help where help is almost despaired of. Come to my assistance in this great need that I may receive the consolation and help of heaven in all my necessities, tribulations, and sufferings, particularly -(make your request here)- and that I may praise God with you and all the saints forever. I promise, O Blessed St. Jude, to be ever mindful of this great favor granted me by God and to always honor you as my special and powerful patron, and to gratefully encourage devotion to you. Amen. " It works for me and has a few times, thanks Saint Jude. I do not know if the glass company will survive the I-37 & Crosstown interchange nightmare going on.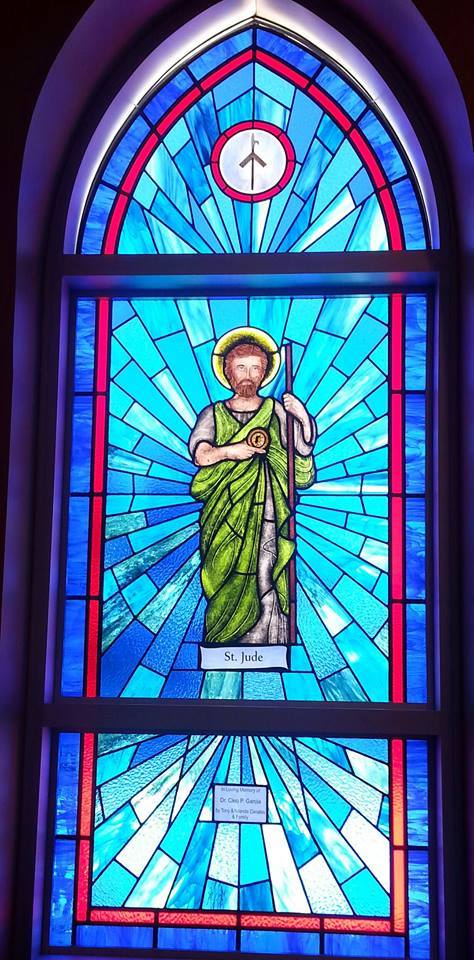 Photo #5. Gas crisis in 1970s. As mentioned, if you didn't live thru it, this was lines across United States, Corpus Christi included. You could only buy gas on even/odd license plate days, limited to X amount. and nothing worse than waiting in line hours only for station to run out feet from pump. 73 AMC Ambassador in front of the man with lawnmower, no you not special, get in line. He is looking at a Datsun Z car, in front of it a Chevy Monte Carlo. Car people will see a Cadillac Eldorado staring at you with a early 60s Vette too. Also shown is a Thunderbird with opera window, Maverick, and Pinto wagon. And Superman's phone booth to change!