Guzmans Mexican Restaurant Corner of Leopard & Staples
On the southeast corner of heavily travelled Leopard & Staples is Alma's Bail Bonds But in 1960s this was a small Mexican restaurant Guzmans, that you would not leave hungry. A number of small places dotted Leopard and side streets well before courthouse and jail built, many businesses flourished like Braslau's, Sears. And these little places fed the employees...
Last I looked was Alma's Bail Bonds, but could have changed yet again since then. Was sandwiched between B F Goodrich on west across Staples, north was Josephs Pawn Shop across Leopard, and east was Mexican cantinas, a little farther down was Braslaus' Furniture, and opposite side Sears. Across the street was big Pawn Shop, and Staples disappeared over Interstate 37 into The Cut. In the little corner restaurant you could drive or walk by, and people sitting at tables reading Corpus Christi Caller Times, having steaming cup of coffee. A "breakfast platter" was eggs how you want them cooked, refried beans, a few potatoes, or papas, and some tortillas. Lot of food for under $2.
It might have sat 60 people maximum. The roof of this place has small towers for a few doors down. When I was a kid, 3 of them were cantinas with borrachos (drunks) in them, dark, seedy, maybe a dart board or two, some pool tables, small bar, and mostly beer and wine, some could bring own bottle. I was told to stay away from them, but on a dare one time, did walk thru from alley behind them, to Leopard, the few customers and barmaid stared at me in Cathedral clothes as I smiled and walked thru, made a dime for dare. The little street behind these places was Mestina, no longer there, well, at least in this position.
Inside the bar, smelled like stale beer, same smell like Lucky Lady where ain't no ladies and no one ever got lucky, on Leopard block from our house next to KC Hall. Same smell, at all these little cantinas although some permeated with urine and heavy smokes like Pall Mall, Viceroy & Lucky Strike! To a kid, that smelled like crap. Still do but not a lot of places allow smoking, and with exception of a number of east end barrio bars in Houston, smell like that, yuck! I don't remember the names of the little cantinas, but they had names hand painted on front glass, none were boarded up windows, real glass, and tinted or painted black.
Don't want to call this a strip center but guess it was back then, and 5-6 businesses in there, on the opposite end of little restaurant, was not one but two, insurance companies.
PHOTOS: Photo #1. on the southeast corner of Staples & Leopard is Alma's Bail Bonds. This photo looking south down Staples from Leopard. The glass windows boarded up, but used to be glass, walk past, look in, people enjoying delicious cheap food. A bunch of us working for CPL also invaded this place before working this side of town in late 1970s.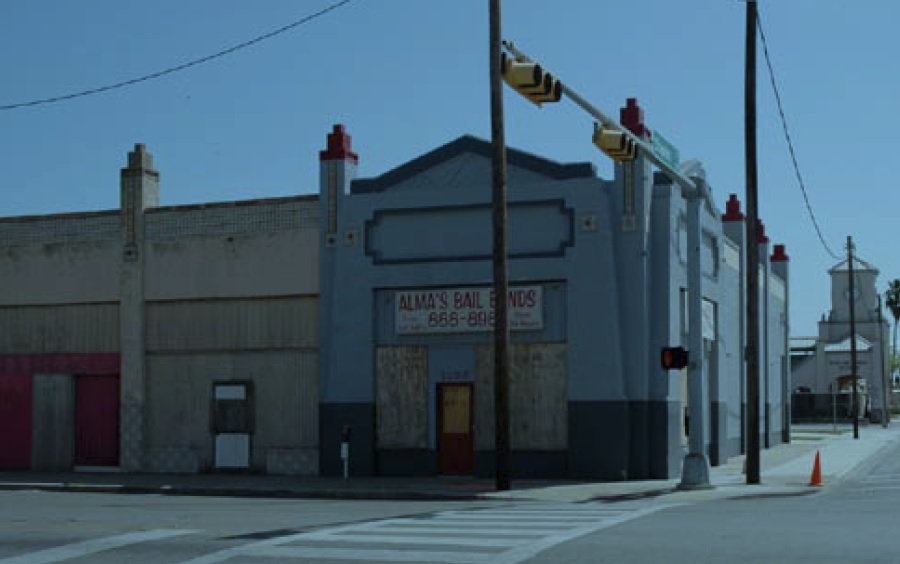 Photo #2. Standing in middle of Leopard & Staples intersection facing East/SouthEast, guess will tell you about whole shopping center besides little Mexican restaurant, the red door, white door with sign above it and just this side of yellow door were the three cantinas.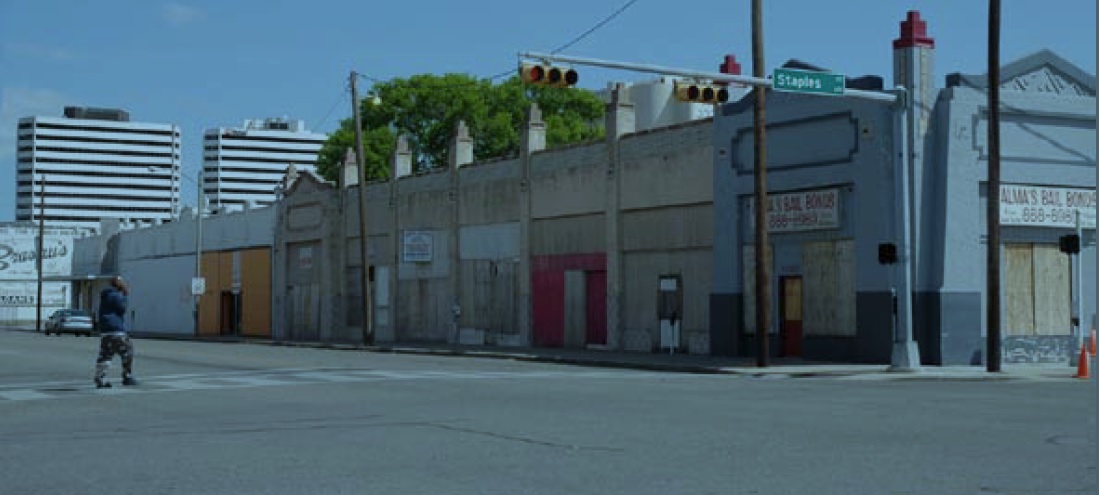 Photo #3. Far east corner of this little strip of stores and what not was a insurance company. Braslau's Fine Furniture next block over, Wilson tower a few more blocks down.