85. The Hamauei's Waco Food Store Leopard & Sam Rankin (next to Sears). The Hamauei's had a two story white building sandwiched between Sears Automotive Garage & a car lot facing Leopard near corner of Sam Rankin. Across street was Schaffer's Muffler Shop, the big white funeral home with the old Dodge Charger on the side parking lot & Montabano's tire. To first familiarize yourself with the location, see big map up above, #85 is Hamaueis Their store was nothing short of organized chaos. Thru the front door which was screen & I believe had Butter Krust on it, you entered a near convenience store chock full of damned near everything. Smack dab in front of you was two ice cream coolers with sliding glass horizontal doors filled with goodies like Nutty Buddy, Creamsickle, Maltos, and Borden & Hygeia battled it out for ice cream supremacy. And why not? Both had factories in Corpus Christi. Behind it was the counter where you pay. Sometimes so much stuff there didn't know where to pay but the daddy wave you over to a clearing next to old push button register that probably should have been retired in 1940s, but seemed to work fine in 1960s. Off to the side you had arab type stuff like cookies. Things I was not familiar with pastries and what not, but just didn't know much about those, besides less than 50 yards away behind Schaffer's Muffler shop there was Mirabel Bakery, a 'panderia' Mexican sweetbread pan dulce place my grandma & mom took us too, so was familiar with those sweets. A little too damned familiar with those conches, empanadas, campechanas, filled cookies I think I just put on 2 pounds thinking about that stuff now. However! Like Mirabel's Bakery (& Sears next door with wafting smell of fresh popcorn) Hamawei's place when you opened the door, the aroma hit you in the face. And as a kid, never it seemed to be the same. I never knew where it came from, just different, and made you hungry. In all the times I went there, I never saw the momma, or maybe I DID see the momma, just never knew it was THE momma you know. I always dealt with the daddy. Mister Hamawei was a portly fellow, round jovial face who always seemed to be smiling. And wearing a long apron. And 'doing something' by that I mean stocking apples, fruits, veggies, boxes, cigars, sweeping, you name it, one man gang. But always smiling!
Off to one side was a comic book rack. And he knew that was what I was there for. Not gum, not sodas, not ice cream, comic books. So on my way home from Cathedral on old bike, would stop in, still in Cathedral khaki pants & plaid shirt. He see me come in and say stuff like 'hey...I just got in new Supermans' or 'big batch of April 1966 issues came in today, on rack!' as comic books issued by month back then, and us kids seemed to know when they came out like some know date of new Iphone date. Uncanny! Comics were 10 cents too, so I didn't just read them like I did at HEB at Port & Leopard, here I would buy them, same with Al's News Stands downtown, one near Cathedral, other in Forbidden Zone poppa take me to. I could 'speed read' some comics, but didn't want clerk to get mad, so many times ended up reading 'rest of story at home' by buying it. You know we still had modern things like electricity, even telephone at this time.
This was a big one room downstairs here with EVERYTHING shoved into it, sometimes up to ceiling, for sale or stored. I am making a guess here that the extended family lived upstairs. Could hear footsteps inside ceiling like people walking around, sometimes voices too. My dad always thought these people were Syrians or Albanians, but someone told me they were Lebanese Christians. That I guess would make more sense since one of the girls was Alberta, and she was in my class at Cathedral. Seems the Hamauei's must have had a kid in each damned grade or were breeding like rabbits, as I believe there was one in my late brother Tommy's class, possibly Mike(?), and several more in grades below me. Alberta had long black hair, quick with a smile, and sort of a tomboy. By that I mean she liked stuff like sports, we didn't have any team per se at Cathedral although we were called Corpus Christi Cathedral Cougars. Yup, CCCC almost like to old Soviet space program CCCP. But we did play kickball between church & school, also had basket ball hoops on cement pillars on school itself between 1st & 2nd then 3rd & 4th, so lots of HORSE games. She was pretty good at stuff like that, and she could probably kick a lot of the guys asses to boot, tough girl that Alberta. I never seemed to see the kids at the little store though. I can tell you there was a big nest of them.
Anyways, the old man is who I dealt with personally. And out conversations were only about comics, sometimes Cathedral. I never stole anything from this place. For whatever reason I simply saw a hard working man who had competition stacked against him with Beils being 6 blocks west, and HEB at corner of Port & Leopard 2 blocks further. So (to me as a kid) it seemed he simply had to work HARDER to get customer's dollar in 1960s and while the money I spent there on comics was not life changing, and may or may not have made a difference, I would give this little store the nod over bigger places. My mom or dad never shopped there, but mom rarely shopped at Beils either, even though could look out front door, down towards Gulf Radiator and right there, right THERE across Leopard 1/2 football field away, there it was. Now I wished had more money as a kid, but we were poor you know, but if I had more money would have bought some of those yummy looking deli sandwiches made fresh daily there, or the fruits, or even some of the strange arab looking sweet things. Obviously they had a large following from area places like Sears, Good Year, even up street like Wilson tower, 600 Building, Driscoll Hotel, maybe even other side of Crosstown like Lew Williams. I don't know what ever happened to the Hamauei's, as lost touch with Alberta after 6th grade, she went some school, I went to CC Academy. The building was still there when I moved from Corpus Christi, but gone now. Cheers to the Hamauei family & God bless them, were hard working good people & hope some of the kids later on in life ended up in the food & restaurant industry with some of the obviously delicious recipes as Corpus Christi & beyond would be a better place for it. But you would NOT leave the Hamauei store without buying something!
Photos: #1 inside the store was similar to this, just packed with stuff, even to ceiling. Like Home Depot, Lowes in modern stores, guess most was storage making use of limited space.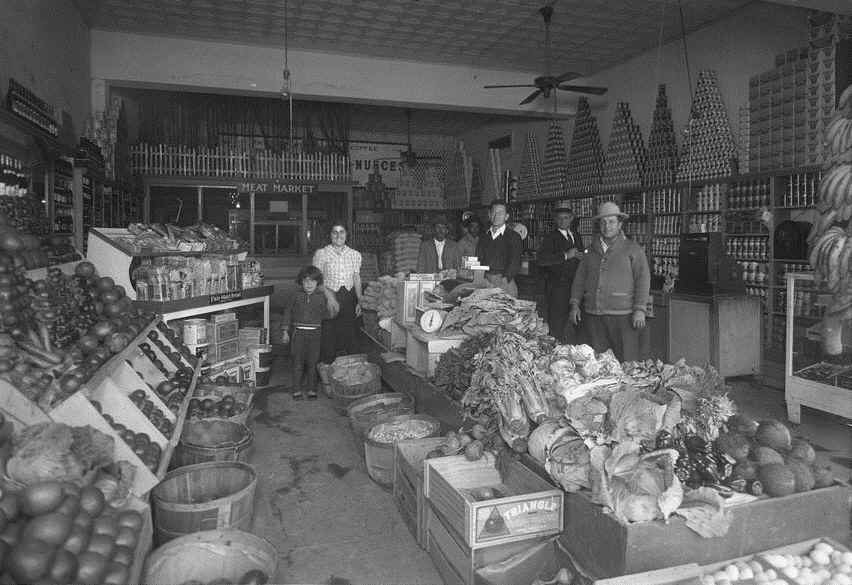 Photo #2. Hey kid! you gonna buy something or stand there all day? Well, uh, uh, ok! And I would usually buy something 10 cents, sometimes 12 cents a book. Sharp eyed folks will see Little Lulu, Woody Woodpecker, Casper, Mystic, Matt Slade/Gunfighter, Action Comics, Bob Hope, Dennis The Menace to name a few, all popular. But my hard earned coins were reserved for: Superman, Batman, Green Lantern, Action Comics/Superman, Detective Comics/Batman and some Archie & Jughead. Imagine going thru life with name like Jughead, must have gotten his ass kicked a lot. And old Bruce Wayne aka Batman, if you ever wonder how he could afford luxurious Wayne Manor & expensive butler Alfred, it was by all the comics he sold to us kids.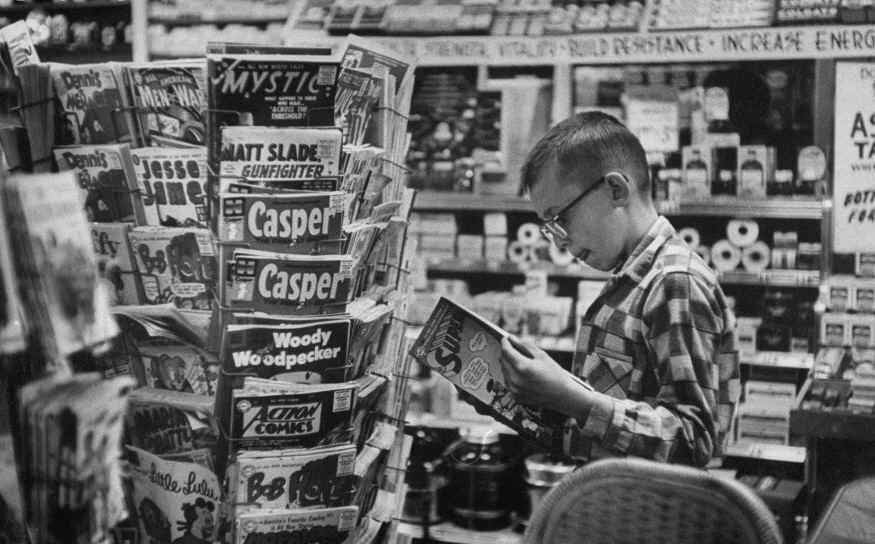 Photo #3. This is called a 'Comics Book Stand Topper' these metal pieces rested on top of the spinning comics books stand and was like throwing a bottle water in middle of Flint, Michigan to us kids. Or television set after tubs glow orange and warm up on Saturday morning 5:00 AM to watch Go Go Gophers, Underdog & Bugs Bunny. A mint condition 'comic book stand topper' sold in 2018 for $24,000.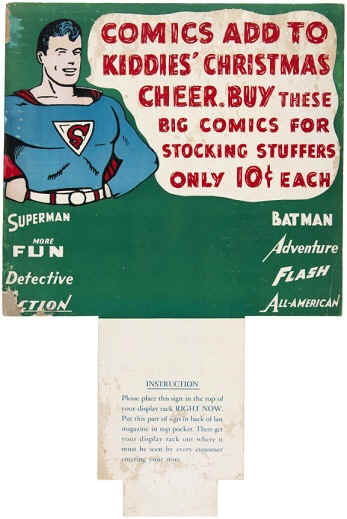 Photo #4. Kraft! Velveeta! Yes, two of the five main food groups. Oops, covered up the register, where do these palookas pay now eh?