6. & 7. My Freeway Sign & The Hill of Death
And...The Fall Of The Hill of Death

The hill provided us poor kids in the area a lot of 'double dog dares' and no one ever broke anything that I am aware of, there was a number of kids flying thru air, bikes flying higher, good X Games youtube 'highlight reels' there. Needless to say on a quick road trip to Corpus Christi at end of July 2018, I found myself drawn back to my old crappy forgotten & long neglected neighborhood and was surprised to see the amount of work going on as new roads, highways, and bridge goes on.
Crawled up hill thru sticker burrs (ha ha we used to call them Flour Bluff Strawberries) to top, over rail and voila! Standing in middle of Interstate 37 facing "THE SIGN" As I wrote about before, since we rarely, if ever took photos inside house due to junk, no lights or electricity, this old sig sort of photobombs a LOT of my old photos of youth that were not destroyed in hurricane Celia. So might be brother & me going to wedding, there is sign.
Me standing outside (we never invited people into house) there is sign in background like a 'hey bro!' I crawled across inside this sign a few times, first time I did made momma cry though.
The sign, like hill of death, is fixing to be nothing more than distant memory. Decades from now someone will ask 'what was The Hill of Death? or "what was The Sign" or "where was Coca Cola" or "was there really train tracks in this area?" so yes, all of above. I stood there in the repressive heat I had brought down with me to share from Houston. Face to face with The Sign one last time. I will have to kick the gang member's ass who scribbled that BS on the "I37/Bayfront" though, well, if I could read that, stay the hell off my sign like a Gran Torino or 'you kids get outta my yard!' senior moment. The inbound traffic whizzing by in outbound rerouted lanes.
The widening at the Hill of Death surprised me, figured since there was a big grassy \/ shaped median between inbound & outbound they would have enough room, but looks like it is moving farther over, a good thing, as the one lane from I-37 here to Crosstown (Texas 286, Crosstown Expwy, "H" exit 1-C) was always too small and single lane, maybe they won't let Texas A&M Aggies design this new stretch & have 'two lanes' to turn. Or maybe Ags will put bike trail there, ha ha.
Anyways, my sons thought I was nuts crawling up here in construction zone and yes, I am nuts but admit it. Wife stayed in car running, down next to where I grew up, now a abandoned, overgrown lot. My late brother Tommy let taxes slip on this property for years, finally city took it over for something like $2800 or $2400 owed.
Photos! Of course I took photos. Photo #1 shows me face to face in middle of Interstate 37 for the final time. Had to salute the old sign that has appeared in many family photos since mid 1960s.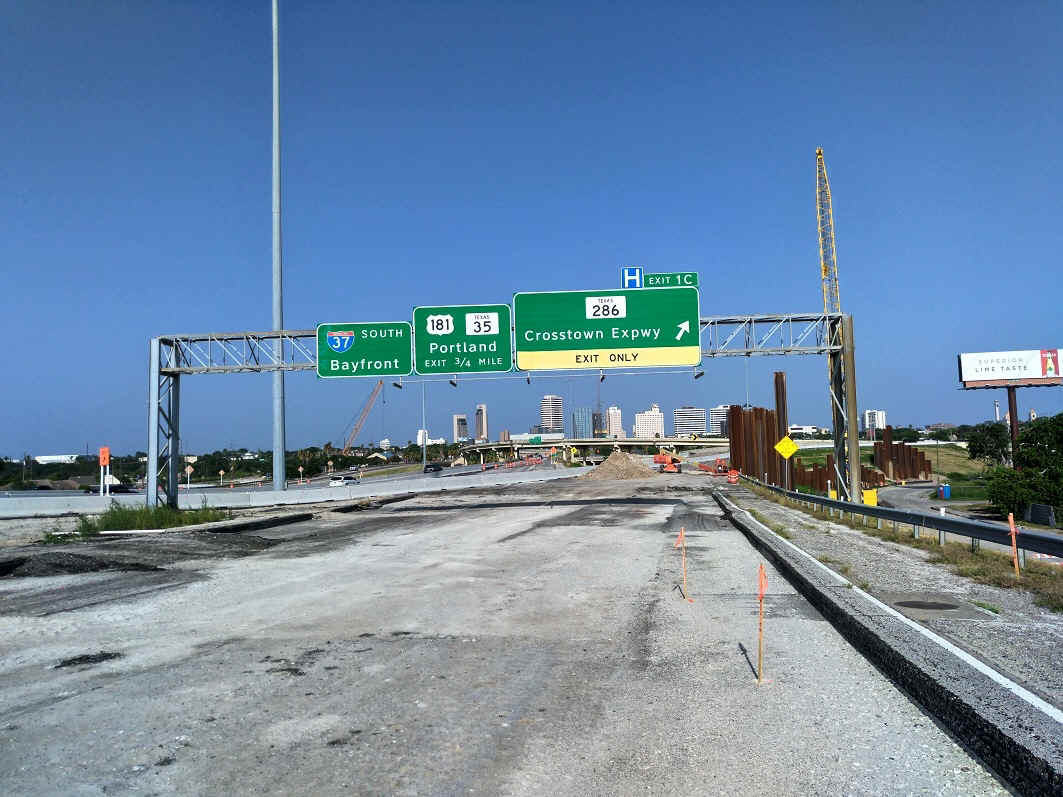 Photo #2 shows The Hill of Death "as it was" in 1960s/70s, hell until recently. On TOP of the Hill of Death looking downward! Go ahead, ride your bike down this now punks. Triple dog dare you, will buy you a Triple Burger at Vicks if you can.



Maybe they should have put this in the CC museum with moon rock. Photo #3 ok, scratch that museum thing, Hill of Death reduced to old 1960s dirt. Sure smelled good, but keep in mind this dirt had not been uncovered since LBJ was president. My kids found some coins here also, all from 1960s. Probably from kids flying uncontrollably thru air after bike hit bottom.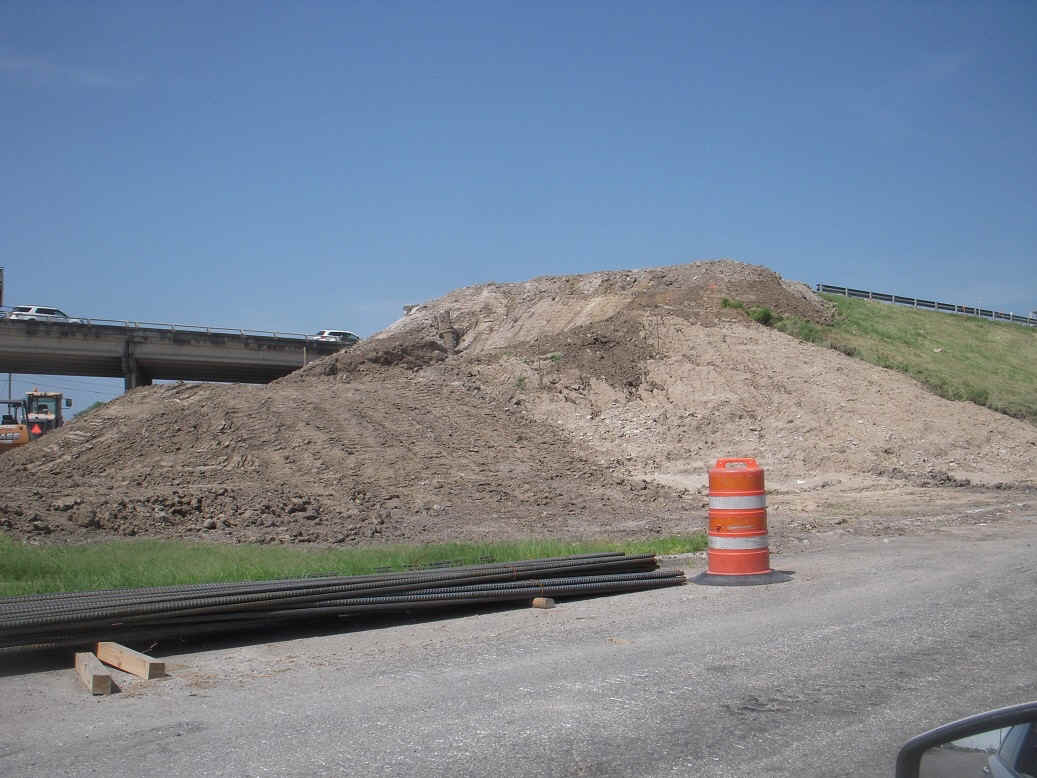 Photo #4. The Sign from what was our front yard from 1950s thru when brother, wife, and dad moved in 1990s.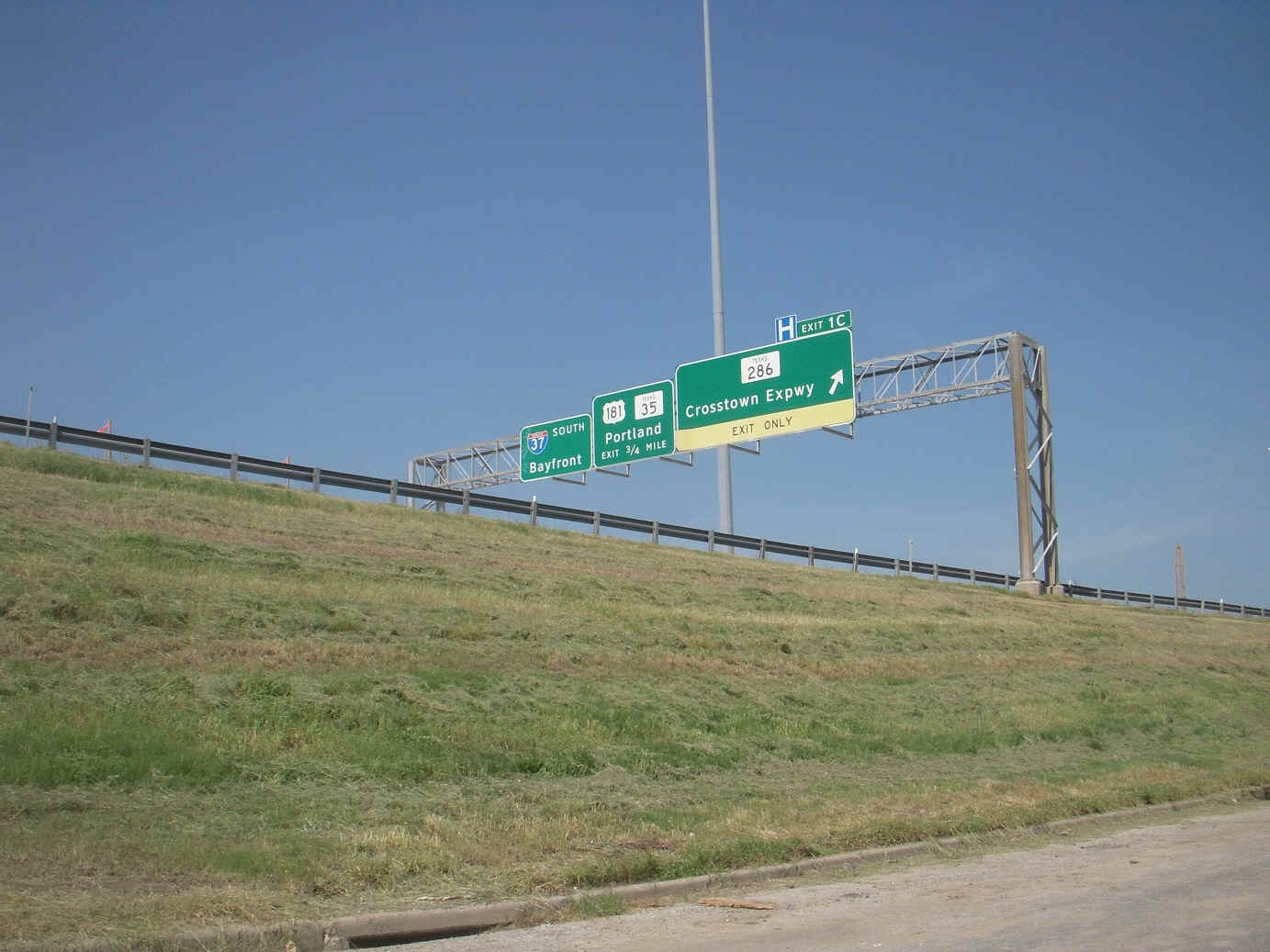 Photo #5 on top of I-37 looking directly at my old yard where two homes once stood. There is a LOT of memories stacked into this small parcel, over 1/2 CENTURY of them. Over 80 years if you count my grandma Maria D Alcala. In the corner of this lot homeless sleep. In the corner of this lot there are hundreds, yes, hundreds of pets buried, many of them strays people used to drop off in middle of night as they knew my mom, with big heart for animals, 'would take care of them'. A lot of them did get care from what a poor woman could afford, often times not buying her heart & diabetes medicines instead buying cat & dog food. The Rabago's duplexes are next to lot, look closely, the roof is caving in but someone obviously STILL living in there. And Gulf Radiator can be seen at end of block!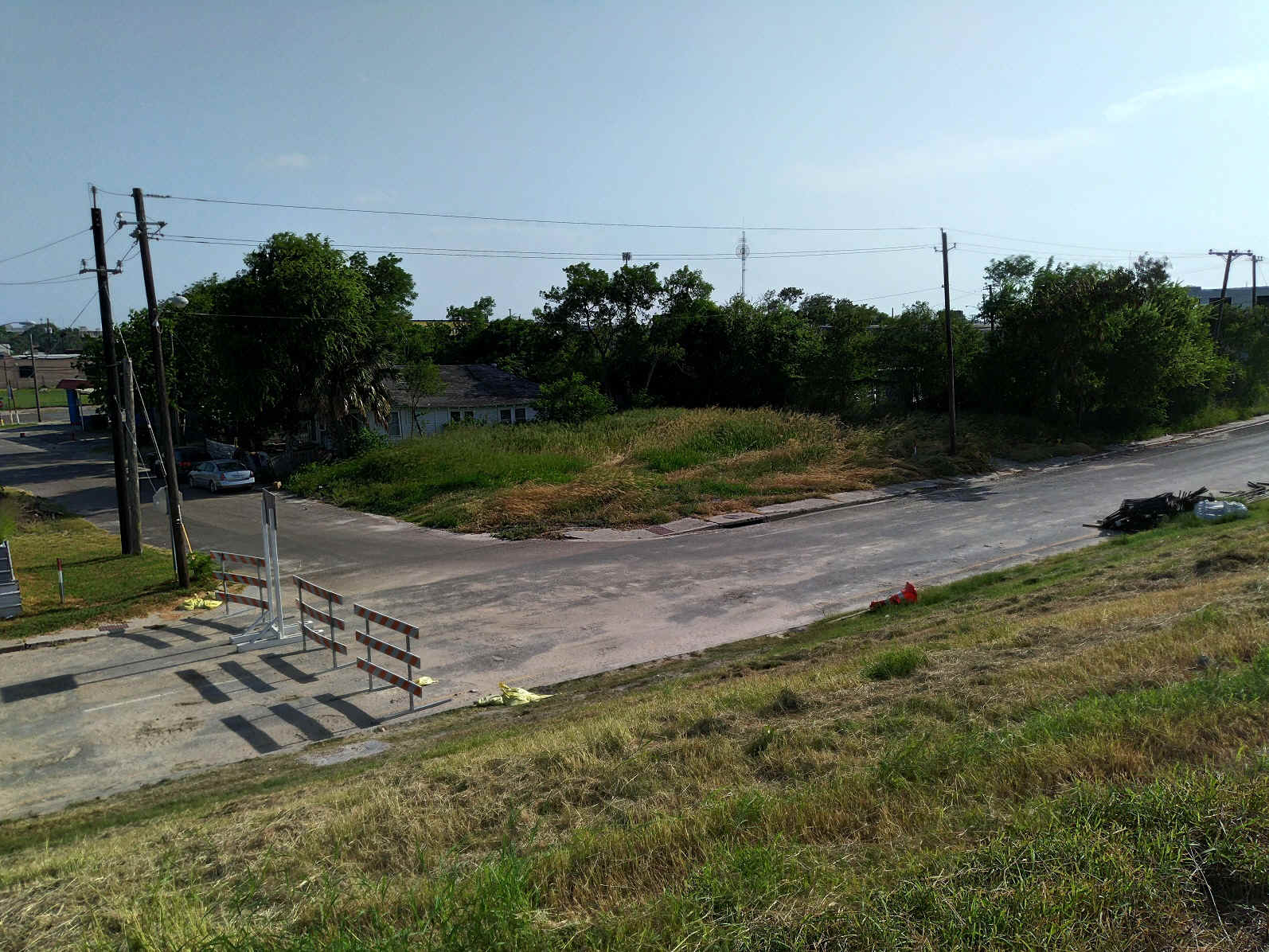 Photo #6. I am up on top of The Hill of Death for the LAST TIME. Looking Southwest at what would have been Missouri Pacific railroad, Devine Printing Press, big HEB on corner of Leopard & Port, and across from it, Lew Williams Chevrolet.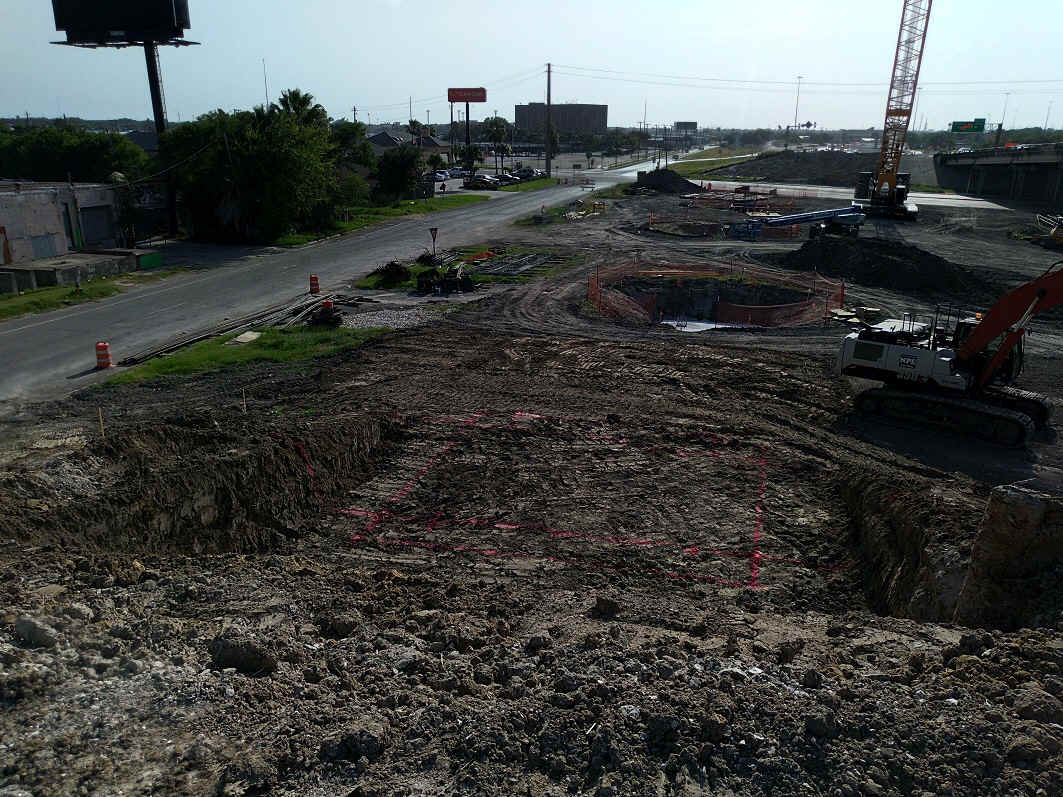 MORE ON THE SIGN & THE HILL OF DEATH.
It Must Be A SIGN! And The Hill Of Death! #6 on my big map stands out like sore thumb. Ok, Interstate 37 sign in our front yard photobombed many a old photo before word photobomb ever invented. Even before 'Al Gore Invented The Internet' or whatever that was about. We had little disposable Kodak cameras, cheap, and old Polaroids, but those more expensive. The sign, pretty much up the hill from Doss & Antelope intersection and lets drivers eastbound know go right for Crosstown or straight to shoreline & downtown.
It was put up in 1963. It stretches across all three lanes. If you crawled up the // and \\ metal rails, first rail you can see St. Josephs church from it, over Crosstown can see most of Wilson Tower, 600 building & Driscoll hotel even steeple of Sacred Heart off Lipan or that next street. So could see a lot from good vantage point.
I crawled across this a few times, the traffic whizzing under me 60-70 miles per hour, as long as you kept steady footing and sound mind, you could do it, very easy. After momma found out I did this she simply cried. Don't make your momma cry, that is screwed up. There was no lecture, no silent treatment, just crying and I never crawled over it again to middle of grassy median. The sign for some reason always seems to be in background, but that was mostly as we took photos outside, never took photos in our crappy rundown ghetto house 2009 Antelope or 723 Doss. Even the camera would try to get out of the house. So took photos with whatever little cheap camera we had, outside. And like the song John Mellencamp sings about "Little Pink Houses" where old black man lives with freeway in front yard & God Is So Good, that was us. THE HILL OF DEATH! Only for the brave, this big cement hill hold up bridge in the turnaround at I-37 directly across from Coca Cola company at Lester. None of the other Hills of Death, 2 at Port, other opposite at Buffalo...mattered. This was the one that me & the kids in the hood dared each other to go down on bikes. No...there was no deaths, and believe it or not, no broken bones either. But some spectacular crashes with bikes and kids, flying thru air like Evel Keneivel though, lots of road rash. How did we survive? Was easy, if you had balls enough to take the dare, push bike to top, stand there looking at forever in front of you facing SW towards HEB & Lew Williams...you rode your brake pedal down. Yes it would leave skid mark, but better skid mark on cement that in your shorts from fear. You could waste a whole tire going down skidding. And my dad sold bike tires at our house so business sometimes good. If you DID go down no brake, you only had seconds to jump curb on turnaround maybe 20 yards, then jump other side of curb, then you are headed towards Missouri Pacific rail road tracks and rocks. But a truck here was hit brakes as soon as you hit grass if you could hold on, as the jolt was bone shaking and this is where sometimes kids flew thru air without capes of secret decoder rings.
If you ever wonder why most of my photos taken outside, is we didn't let people into out shithole of a house.
Photo #1, my dad Homer T Stakes sits in high grass in front of and across street from our house on I-37 hill, THE SIGN in background.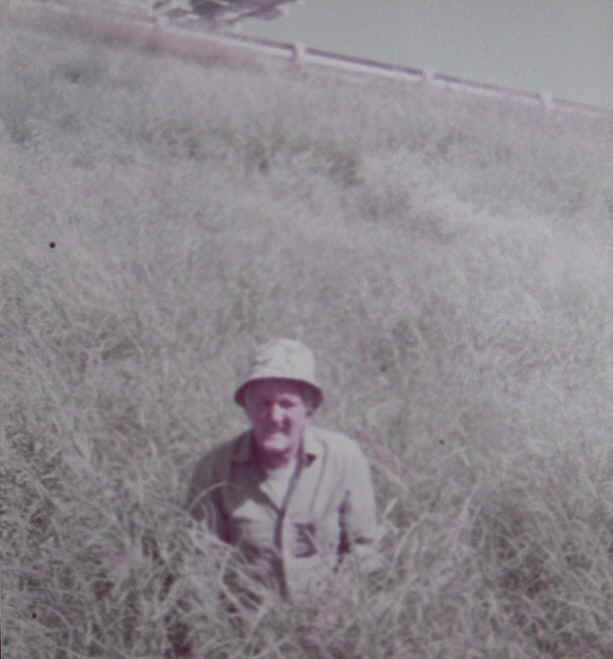 Photo #2, Tommy & me clean up pretty well considering had to take showers outside in hot and cold weather with pipe. THE SIGN in background.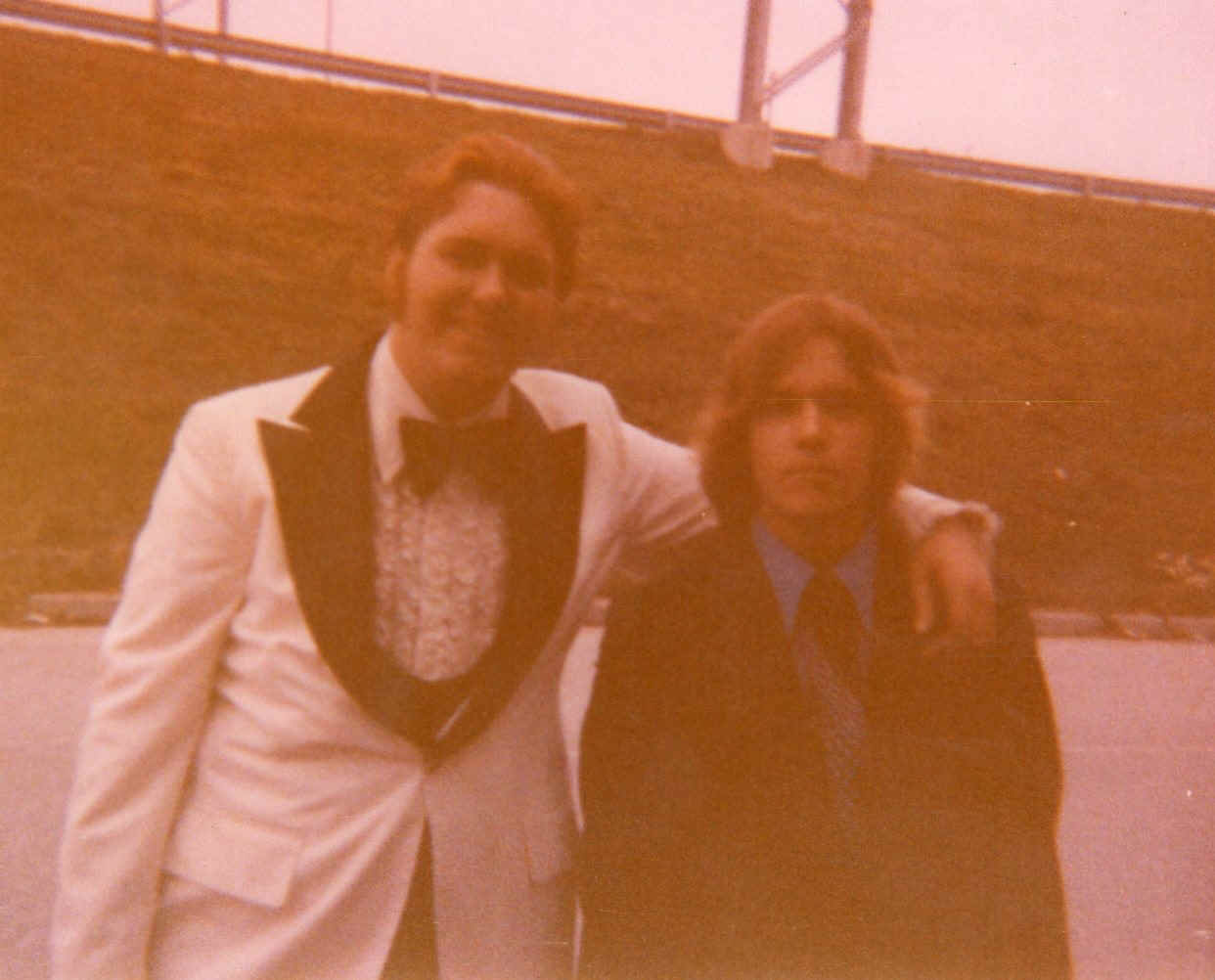 Photo #3. The HILL OF DEATH in background on right in this 1980s photo of my family.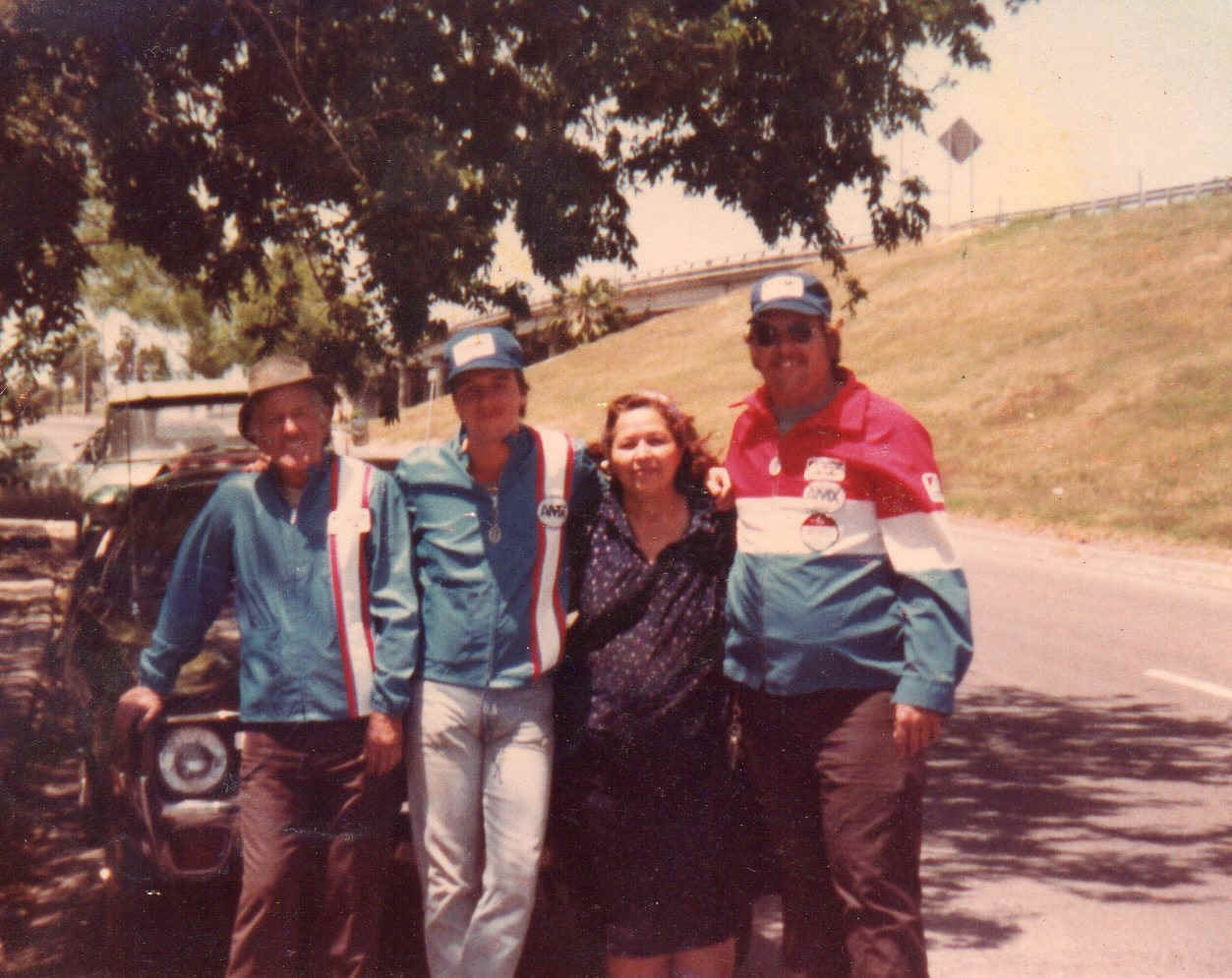 Photo #4. Wife Paige had heard about THE HILL OF DEATH & while didn't ride down it, rode down grassy hill towards house on one of the bikes my dad had for sale. So does not count.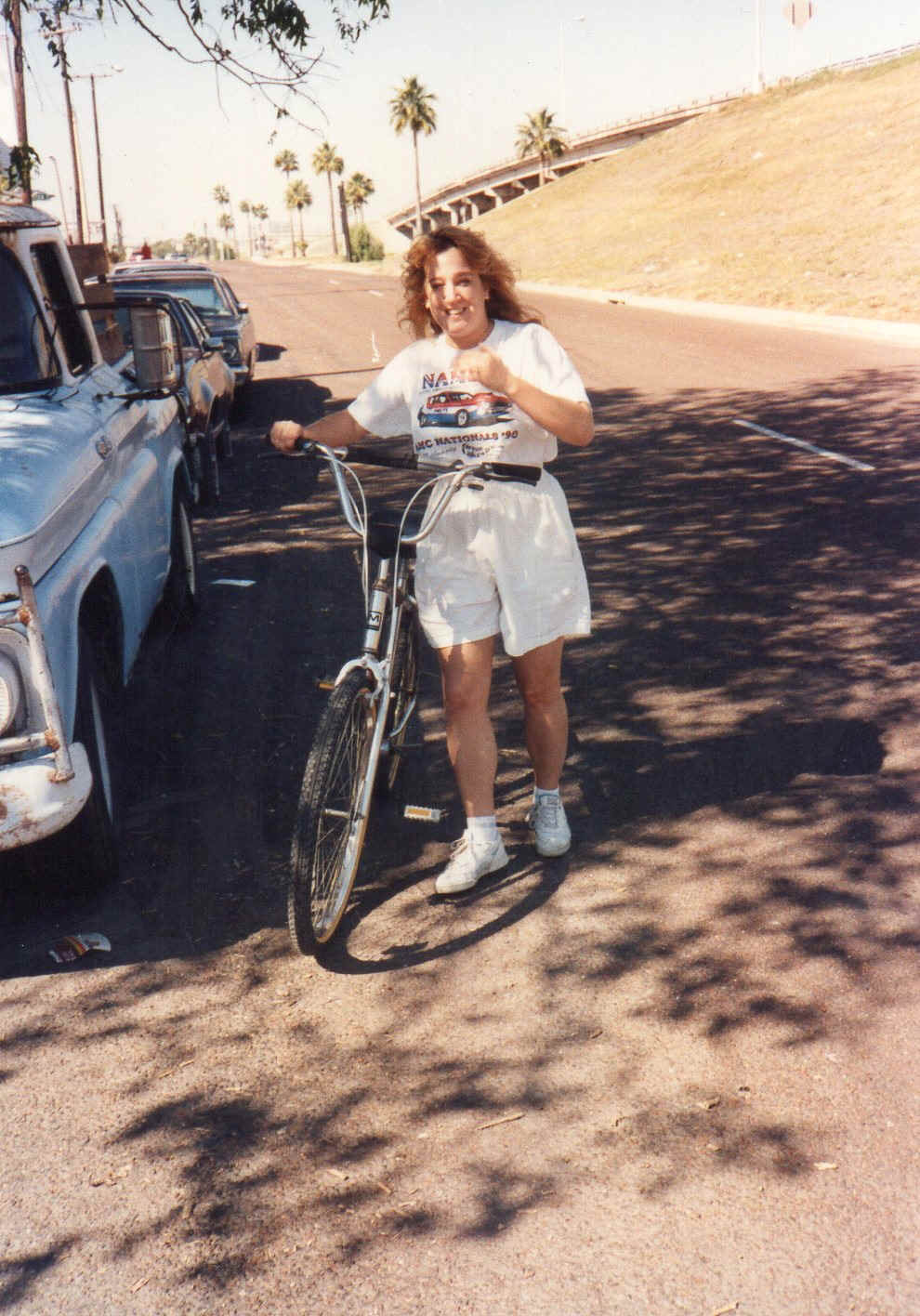 Photo #5, me & my old buddy THE SIGN in background.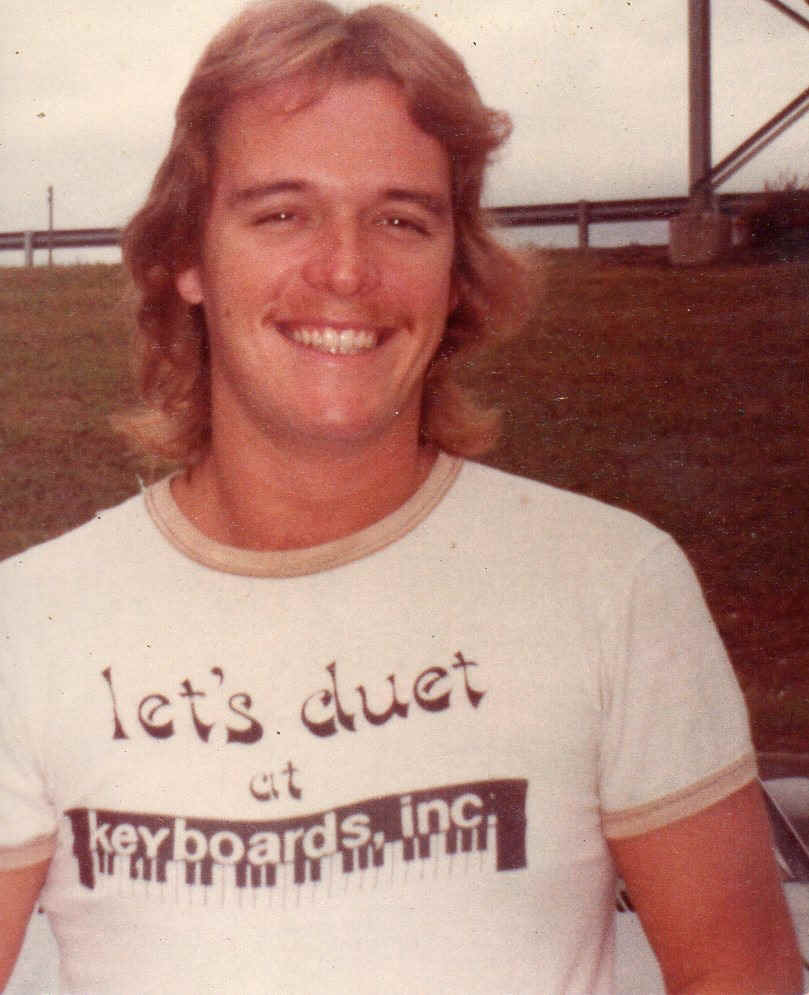 Photo #6 Es todo la familia (the whole family!) momma had already died, and here is a whole mess of Stakes. The HILL OF DEATH approves this photo looming omnipresence in background. Clockwise: Paige, me, Tommy, Homer, Maria & new baby Sarah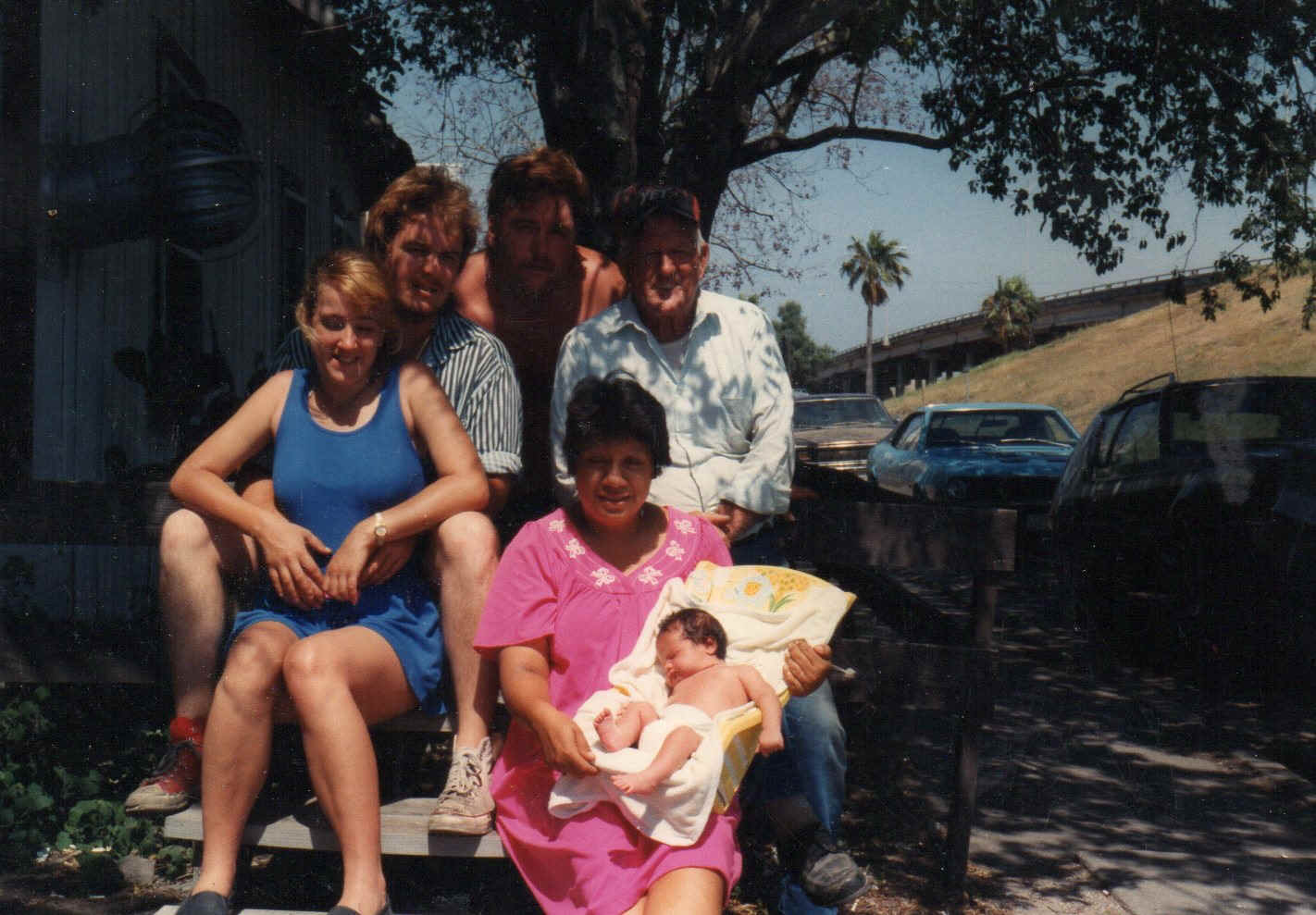 Photo #7. Baby Sarah being babysat by THE HILL OF DEATH in background. These are a mess of bikes my dad rented and sold, to visiting sailors