This is MY neighborhood in Corpus Christi, Texas in 1966.
The Stakes family lived at corner of Doss & Antelope Street (723 Doss & 2009 Antelope) the Antelope house was a small, straight shotgun house, the Doss one was my grandmothers next door, Maria D Alcala, a boarding house from early 1900s. I have numbered places of interest. The descriptions (and my thoughts) are below this huge photo, courtesy of Corpus Christi Public Library from 1965-66.
THE TIMELINE:
BC= Before Celia Aug 3rd, 1970 when our house 723 Antelope destroyed and knocked back into stone age. Before that we lived fine, had telephone, electricity, and hot water, indoor plumbing, after than we were screwed. Momma Sarah Stakes died January 30th, 1988 (age 62) after 6 year battle with scourge of breast cancer. My dad, Homer T Stakes died in 2005 (age 79) right after evacuation of the retirement community he was living at, evacuated in light of Category 5 Hurricane Rita in gulf, it was largest evacuation in US history and millions fled inland, I still think this killed him going to Laredo with others in busses. And my brother Tommy Stakes passed away in April 2016, was only 60 years old.
So a TIMELINE here is all these stories of my youth are sandwiched between what all I remember as a kid, up to when I moved from Corpus Christi since was no Bartender work... in 1983.
#1 being our houses, and fans out. As kids we were told not to go other side of I-37, because of black kids. and downtown, Forbidden Zone was north of Schatzell, due to all the tiddie bars, so boundaries set early on, this area was tough, industrial, and we were shit poor. Both my late brother Tommy Stakes, who passed away in 2016, and me, went to Cathedral, just off this big map to south of Wilson Tower.
South boundaries included Lipan, east basically seawall, but more of Water Street, north Interstate 37 (which WAS our front yard 15 yards from 2009 Antelope front door) and west around Rainbo Bakery. This is where most of my comments will be centered even though a lot of area here!
While we were dirt poor, life was not all that bad and I found things to keep busy, riding my bike with dog Bootsy in tow, picking up rocks at Missouri Pacific railroad tracks to throw at cars on I-37, playing occasional baseball, Hot Wheels, and just doing kids stuff in ghetto like digging in trash. You will see reoccuring theme in some of my stories about digging in trash, and of course stealing stuff.
I am going to slowly fill in the numbers here for people. I may need help on some of this over 50 year old stuff, but wish to preserve a memory of my youth growing up in Corpus Christi. I am the last Stakes standing. Since I like to document things (as evidence of my love for AMC cars & 11,000+ files on my site here!) thought would document my youth too. So here goes, all subject to change and more will be added as time goes on, if you have something to help me ID email me at eddie@planethoustonamx.com
A good group of Corpus Christians there who like to share memories of the Sparkling City By The Sea are also on Facebook if you do that...I try to post in both of them time permitting & most of my posts are here on this growing file and centered on my youth in 1960s & 70s, some 80s before I moved from Corpus Christi to Houston in 1983. Feel free to join one or both!
On May 2020 I was kicked out of the Facebook "Corpus Christi Memories Past & Present" for using word "ass" & "crap" in my stories. Son Jacob was also "banned for life" for posting two Corpus Christi stories, one about big crowds on Padre Island Memorial Day 2020 & a record breaking hammerhead shark caught on Bob Hall Pier.
Read more, and yes, with photos!
Below huge photo is from about 1966. And has totally changed now with old harbor bridge going to be torn down, new bridge in place, even the crossovers into The Cut now gone, and Crosstown & I-37 interchange also reconfigured.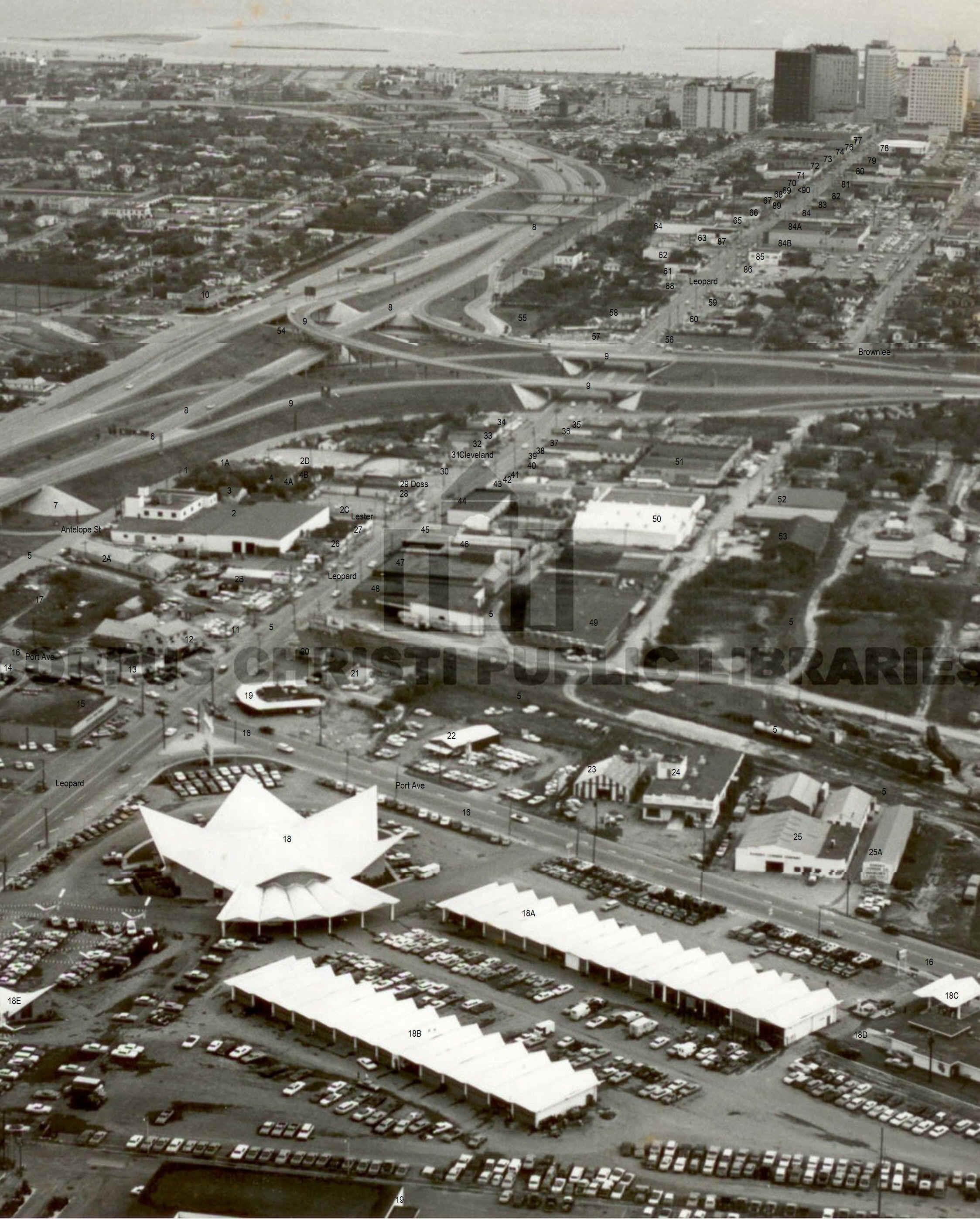 The Stakes Family Grandma Maria D Alcala (Pancho Villa Socialistas)

1 2009 Antelope Street & 1A 723 Doss

2 & 2A & 2B Coca Cola Bottling Company on Lester 3 Mister Bates house on Lester across from Coca Cola Company 4 The Rabago's Houses 5 Missouri Pacific Railroad (Lipan north into The Cut)

6 & 7 My Freeway Sign & The Hill of Death

8 Interstate 37 Our Front Yard

9 The Interstate 37 & Crosstown interchange

12 Unknown big ass house

14 The Devine Printing Company & slap heard thruout the Cathedral

16 Port Avenue Antelope to Lipan

18 Lew Williams Chevrolet

22 Unnamed Car Lot Behind Auto Center

23 Carl Kuhen's Paint & Body

24 Monita's Tortilla Factory

25 Zarsky's Lumber Company

26 & 27 Noe's Cafe & Mario's Barber Shop

28 & 29 Gulf Radiator & Sandlins Radiators

30 Mobil Gas Station

32 Black Tile Building 1900 Leopard

33 The "Lucky Lady" in 1900 Block Leopard

34

35 KAYO Gas

36 Fire Station Corner of Coke & Leopard

39

40

41

44 Bill Ferrell Furniture Store

46 White Upper Apartments (above Cages)

49 L. L. Harris Warehouse Groceries

53 Two story building facing Mestina at Doss

54.

56 Gulf & 57 FINA Gas Stations

62 Gonzalez-Cantu Angelus Funeral Home

63 Schaffer's Muffler shop

64 Mirabel Bakery

65 Godoy's Pool Hall
66 Chat & Chew

69 & 70 1100 Block Leopard St North Side

70 1000 Leopard Insurance/Garzas Groceries

76.

77.

78 La Villita Mexican Restaurant

79.

No Number Mexican Cantinas 1100 Block Leopard St South

81 Guzman's Mexican Restaurant

82.

83. B. F. Goodrich Tire Company

88 Unknown Car Lot (between Josephine & Mexico)

89 Resell Shops 1214 Leopard (north side)

The few stories below are OFF THE GRID. That is behind the BIG MAP photo way above. So just WEST of Intersection of Port & Leopard to roughly Rainbo Bread at Palm. They were in my Zone where I rode bike so figured would write about them.

Sheps Little Chicken Shack

Mc Nabb Liquor

Franks Speghetti House

Charlie Thomas Ford

Radio Shack


Click Here For *MORE* Corpus Christi Stories