18. Lew Williams Chevrolet
Lew Williams Chevrolet was our neighbor. Located at the corner of Port & Leopard, 2 blocks from our old house(s) at corner of Doss & Antelope. #18, 18A, 18B, 18C.
From our house at night you could see the glow of the lights from this place, was brighter than even the glow of I-37 in our front yard. Across the street was Sheffields, (#19 on my file) a Snapkas like Drive In which is where Vicks stands today. At the NE corner was Hasty Tasty restaurant and at NW corner was HEB.
Lew Williams for years tried to lure my dad away from All American Motors, then Andy Anders Rambler downtown. But he liked working both places, and was ace certified mechanic. He liked Chevrolet too, even had two 1962-63 trucks I never found out why he never made the move, after all, when Coca Cola bought 1/2 of the Bates property which ran from Antelope on north, down all of Lester facing Coca Cola on west, and on east backed up to our property, the barbed wire fence actually hung over our roof, momma was pissed about that, and on the south Leopard, so when Coca Cola bought 1/2 of the property while Miss Bates still alive, for some reason Lew Williams stored brand new cars in there, sort of like sub lease from Coca Cola.
As kids, we used wooden Coke crates to prop up fence, crawl under it, and play in the new cars, would have paid to see a worker get in car, wipers, heater, radio full blast, everything turned on except lights and ignition..we never stole anything nor destroyed anything. The stealing stuff come later when older with Coke cases & bottles.
At the Chevrolet dealership, photo #1 shows the back area is was the most active. On the right is the Service area, where you would bring car, check it in, then get work done. On the left is the Used Cars building, same Jetsons type art deco design. The Used Car building is # 18 E on the big map photo. You can see all the Quality Used Cars, and the flags hanging in lot in the arial photo in the land before drones. # 18 A & # 18 B are Service areas, more on those below. I hope Corpus Christi never tears down these buildings, but Corpus like Houston, not know to saving historic stuff.

Photo #2 shows a number of new Chevy II, and Novas on showroom floor about 1966-67. When this iconic building was designed, I don't think they thought about annoying kids taking their bikes up the ramp in middle of photo, to ride bikes on top of building, which was FUN. The security guards here were much like the security dogs next to our house that 'guarded' the cars, could be bribed, or just not interested. And these ramps area all around building so if guards standing on Port side, we just rode down Leopard side an escaped down Lexington or other street, ha ha. Or even worse...escaped to Charlie Thomas iams arch nemesis a block away next to Rainbo Bread, bwahhahahah. As they say in Scooby Doo "I would have gotten away with it if not for you meddling kids!!"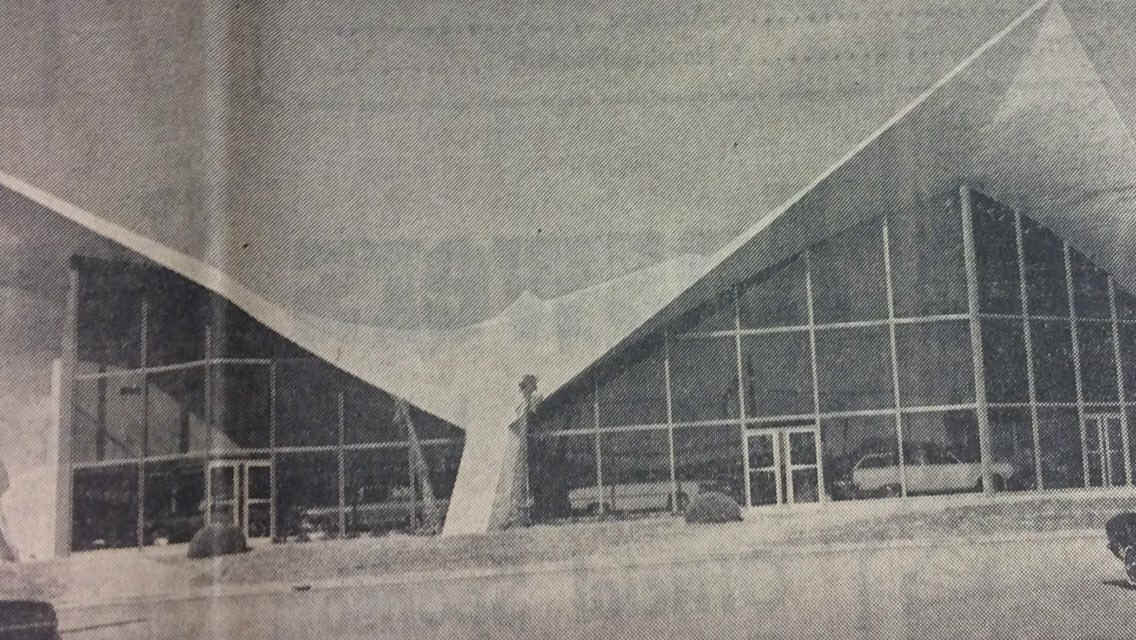 Photo #3 is about 1966-67 and Port Avenue side which faced downtown for those of you wihout a compass. In foreground are new Corvettes. Lew Williams NEVER parked those

next to our house in fenced in Coca Cola lot, I wonder why. Behind it is row of Corvairs that Ralph Nader claimed would destroy America. I sort of like Corvairs and run into a number of owners at car shows of which I vend and attend. On the Showroom floor appears to be some Biscaynes, Impalas too.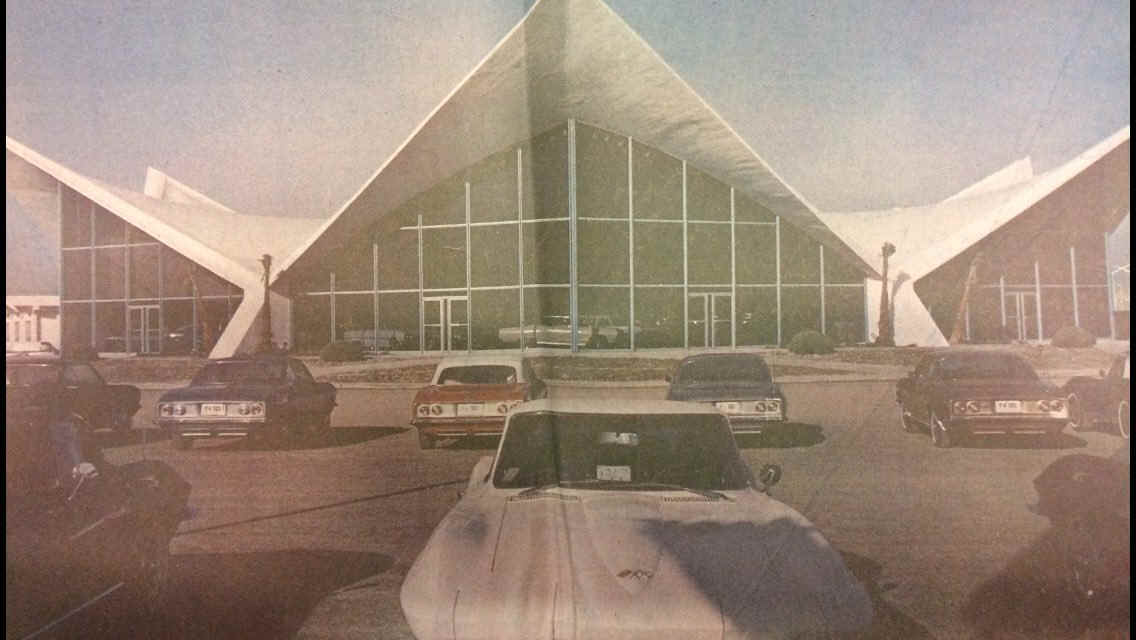 Inside on showroom floor I walked around like I owned the place. Ther were mod and bright banners, posters, racing posters, and many glass cibicles where the salesmen retreated to sell you a new Chevy. I would knock as a courtesy before entering and can't tell you how many Worlds Finest Chocolates BOXES of them, I sold at this place to raise funds for Cathedral. The sheer amounf of glass at this place made me think what would happen if hurricane have to wait long to find out in August 3rd, 1970 with Celia, lots of glass lost. But replaced.
Photo #4 is a shot of iconic Chevrolet sign from Leopard Street side. This neat photo courtesy of old Caller Times ad shows whole building at street level, sans cars. The cars were there, just below photo.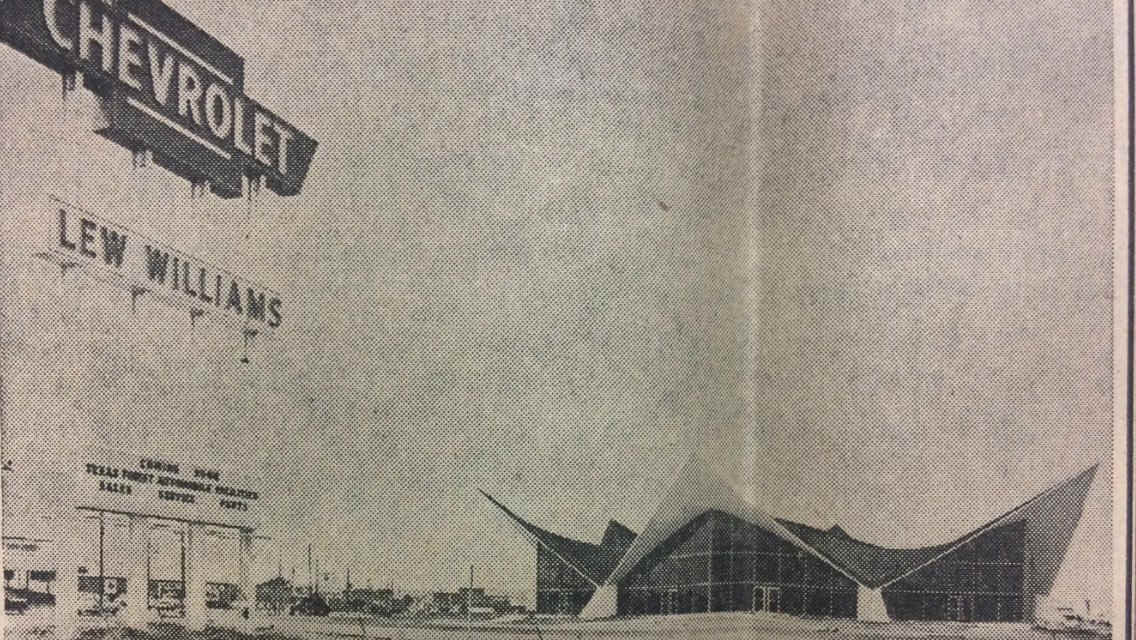 Photo #5 shows the Service area from different angle. As a kid, we sort of stayed away from THIS area anyways, several salesmen and reps told us to, which we did, just because you could get squished on your bike.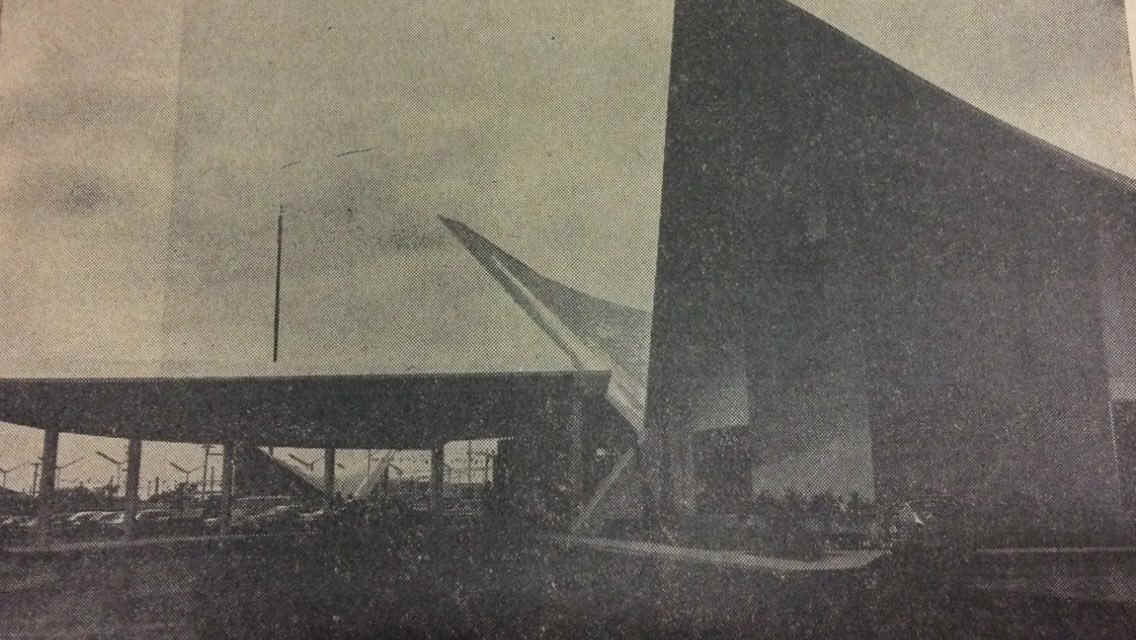 Back to the BIG photo on my site, # 18C & # 18D. Not bra sizes, but 18C was a Exxon at the far corner of this dealership, this is at Lipan & Port, way over there. They had M&M and peanut machines in this place, also free maps, (which i would sell at Cathedral for 50 cents each) here was a super cool car wash located here also, that is 18D. I could stand there on my bike for hours with dog Bootsy and watch the guys drive up car, they would bar behind the car, put car in neutral, and a chain driven conveyor would hook up with vertical bar and push car forward thru big buffers...first soap, then wash/rinse, then sometimes wax. At the end, guys would hustle and jump in car (still rolling as in neutral!) and pull it up next to the CPL fence to dry off and detail interior, tires. I believe the Royal Chevrolet treatment was $5 in 1966-68. A really wonderful experience I am guessing for those whose cars were given the royal treatment, again, that is # 18 D on the map.
The double rows of cars & trucks facing Port next to this place are NEW.
Farther down in front of main building single row of NEW cars. # 18 A & # 18 B are the Service Stalls. This is where they tried for years to get my dad to work, was top of line stuff, they did alignments, oil changes, brakes, transmissions, even rebuild engines in here. The only was I know was I walked around in here 2 times a year selling my candies. Ok, seriously I knew this damned place like back of hand. At far bottom of the big photo on my site is # 19, all these cars BEHIND # 18 A & # 18 B are waiting for some service. Not to say they were bad cars, could have been easy things like oil change, tire rotation, but big business then...and now! Or maybe Charlie Thomas good sabotaging their arch rivals cars at night. Or could have been stuff us kids did, hope not!

Photo #6 this is Leopard Street side facing Port avenue. Lew Williams had 'Quality Used Cars!' and "OK Cars!" signs.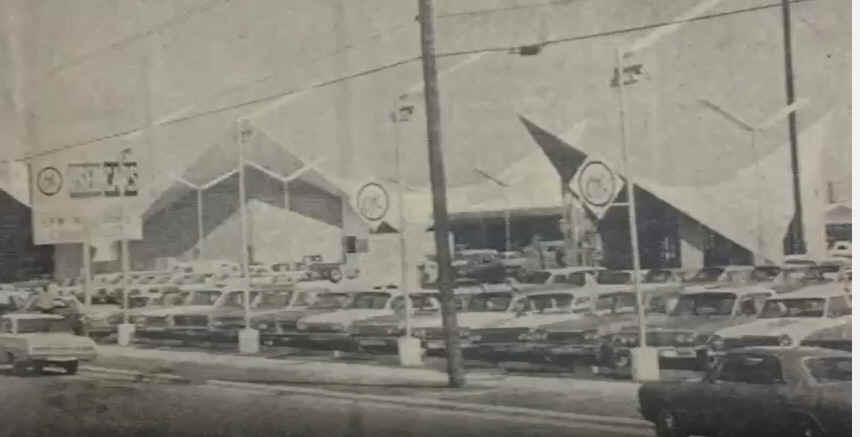 Photo #7 inside the showroom facing North towards Leopard. Besides the Biscayne or Impala there, look past north and will see the big HEB sign that would glow a wonderful lavender at night. On the right is THE CHEVY SHOW! touring big van!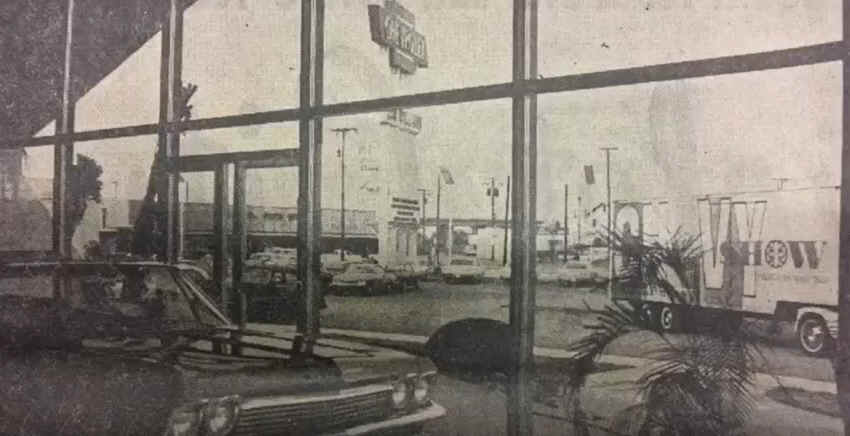 Photo #8: Inside showroom facing south, Chevy II, Nova, Impalam, wagons, oh my. The booths on the right in photo is where I would walk in, and sell a hell of a lot of Worlds Finests chocolates for my school, being a car guy, the tail lights on ther Impala with butt facing you is 65 or 66.