38 LIGHTHOUSE FOR THE BLIND 1900 Leopard street

In the 1960s a place sandwiched between the fire station on corner of Coke Street and a small printing press, across from the Lucky Lady where there ain't no ladies and no one got lucky, popped up. Lighthouse for the Blind. This a sort of large place for Leopard street, and in a strip center. Glass on front and you could see the people inside working like ants.

We were told to 'leave them alone' by parents, yet we still would stop and stare. 'Make monkey face!' & 'Devil with horns!' & 'lick the glass!!!' & 'el cucui!!' (slang spanish for boogeyman monster) while out front, not big deal they can't see us anyways. Or so we thought, every now and then one or more... would turn and check us out and we did spin outs on bikes getting out of there, laughing.

I had already stolen a pencil from a blind man at the Upper Broadway Post Office, this was 2 blocks from Cathedral where I went to school, and my dad would sometimes mail stuff from there even though we lived mile away. He just....stood...there staring, ok, not staring as he could not see, but stoic face, had pencils, candies, and what not on small desk. And I snuck up, looked up at him, didn't move, grabbed a pencil and left. Regretted it since and of course Monsignor Schmidt absolved me of that sin at confession which us Catholics do. I to this day don't know if the old blind man worked with the Lighthouse For The Blind people. But since then told he probably did.

You could see some of their products they made inside in their assembly line like place, some sitting, some standing, all hard at work, probably waiting for us smart ass kids to come back by and whup up on us with products. They had mops, brooms, and they suddenly, when we were pilfering around behind the business, where the Missouri Pacific tracks dead ended at Bekins Moving & Storage, we found wooden palates. Since Coca Cola was block away, Coca Cola started letting them repair broken wooden palates, how cool is that.

Later on more people to make faces at inside while we were outside on sidewalk. They also now doing produced rubber doormats for scraping shoes, and also took on several small projects for Memorial Hospital, and sea-dye markers, helmet pads, portfolio cases, postal trays, three-ring binders, mouse pads and candles.

We had one blind guy come by our crappy house in 1970s, trying to sell us candles. Momma was thrilled a solicitation came by, usually the 10-15 dogs in yard on car chains scared off most people including city Neighborhood Improvement! Good! Tax people too. Mom had a small shrine inside house, we had electricity you know before Celia, but had a small shrine in there with Jesus statue, and put the candles, long skinny ones, she bought for 50 cents from the blind guy. Those two small candles which dripped different color wax came in handy week later as she desperately tried to save a dog, someone dropped off at our house middle of night. People were always dropping off pets at our place and sometimes poppa's check or a lot of it, spent for animal food. Or dog meds. Well this dog had tapeworms coming out of everywhere, square little nasty things, and momma did best to comfort the dying dog, and I still to this day, remember those two Lighthouse For The Blind candles lit on our front porch near the dog as she cleaned him trying to make last hours comfortable on earth. Never did replace the candles either.

We moved away to 642 Naples street 3 years, then got evicted and back to hellhole of 723 Doss, as 2009 Antelope had gaping hole in roof, so abandoned although stuff still in there ruined. Sometime in about 1973, I heard a loud ring, ring, this went on about 15-20 times, annoying as hell and sounded like alarm bell or Cathedral bell for class letting out. Off I went on my bike with trusty Bootsy by my side, tail waggin, tongue hanging out. During the day while I was at school, someone came along and put up STOP LIGHTS in front of Lucky Lady & Lighthouse. Were there blind drunks? Was that for possibly only lady ever to step foot in place? What are those big stripes all the way across street? This is stop light to nowhere! Cool you push button and traffic on Leopard street HAS to stop while you walk across, can do this all day, check out those people's angry faces. So used this crosswalk to go to KAYO gas station next to firehouse and drink free cold water. If timed right could stop a whole mess of cars coming east bound from Port Avenue ha ha.

Well, after a few near misses I didn't know about, the blind folks trying to get to work there took Saxet Heights or Calallen bus, and it let them out corner of Cleveland & Leopard, then they on their own trying to get across Leopard like a bad game of Frogger video game. I don't think any of them got squished, but dad said there were some close calls. I can see that as about all of them had a stick when walking, but of course on Leopard even us kids had to time the stop lights at Port to try to get to Beil's without being squished. Mondo got hit by car in front of Beil's flew thru air like Superman, his bike took brunt of it he was ok, crapped on himself, but he always crapped on himself, even watching Godzilla at Center theater. He was ok though.

The stop lights were for the BLIND! How cool was that! But the BELLS! Wow, it rang LOUD for about 15 seconds, then ring, ring, ring, countdown letting blind people know they better step it up. The bell was so loud you could hear it at Coca Cola. And even though Knights of Columbus 2 story building blocked it from our house, really loud there too. Probably freaked out a lot of firemen in fire house out of sleep, and maybe caused a few drunks to lose buzz in Lucky Lady where ain't no ladys.

Long after I moved from Corpus Christi due to lack of jobs, the Lighthouse for the Blind, bought big place out near CC Speedway on Agnes. CC Speedway is closed, more on that later. But the warehouse is about 70,000 square feet on Agnes and along the way they opened up a big manufacturing facility in Victoria, Texas, up the road from CC. I guess no more brooms & mops but now U.S. Government items and include a variety of sizes and colors of three-ring binders, computer mouse pads and wrist pads, index tabs, candles, mail trays for the U.S. Postal Service and flyers gloves for the military.

Along with that they also operate base service stores at military bases in Texas, Mississippi and California. These include Naval Air Station Corpus Christi, Naval Air Station Kingsville, Naval Station Ingleside, Naval Air Station Meridian, Columbus Air Force Base, and Travis Air Force Base. They also operate the Safety Store at Corpus Christi Army Depot and HAZMAT facilities on three military bases.

PHOTOS: Photo #1 This is the old Lighthouse For The Blind facility on Leopard, just a stone's throw from Crosstown and directly across from where Lucky Lady & Black Tile building was, so I am standing pretty much Cleveland & Leopard for this photo. The place was not all boarded up back then, was all big plate glass windows to stick tongues out, make silly faces at the blind people you know. Damned kids. Photo Aug. 2019.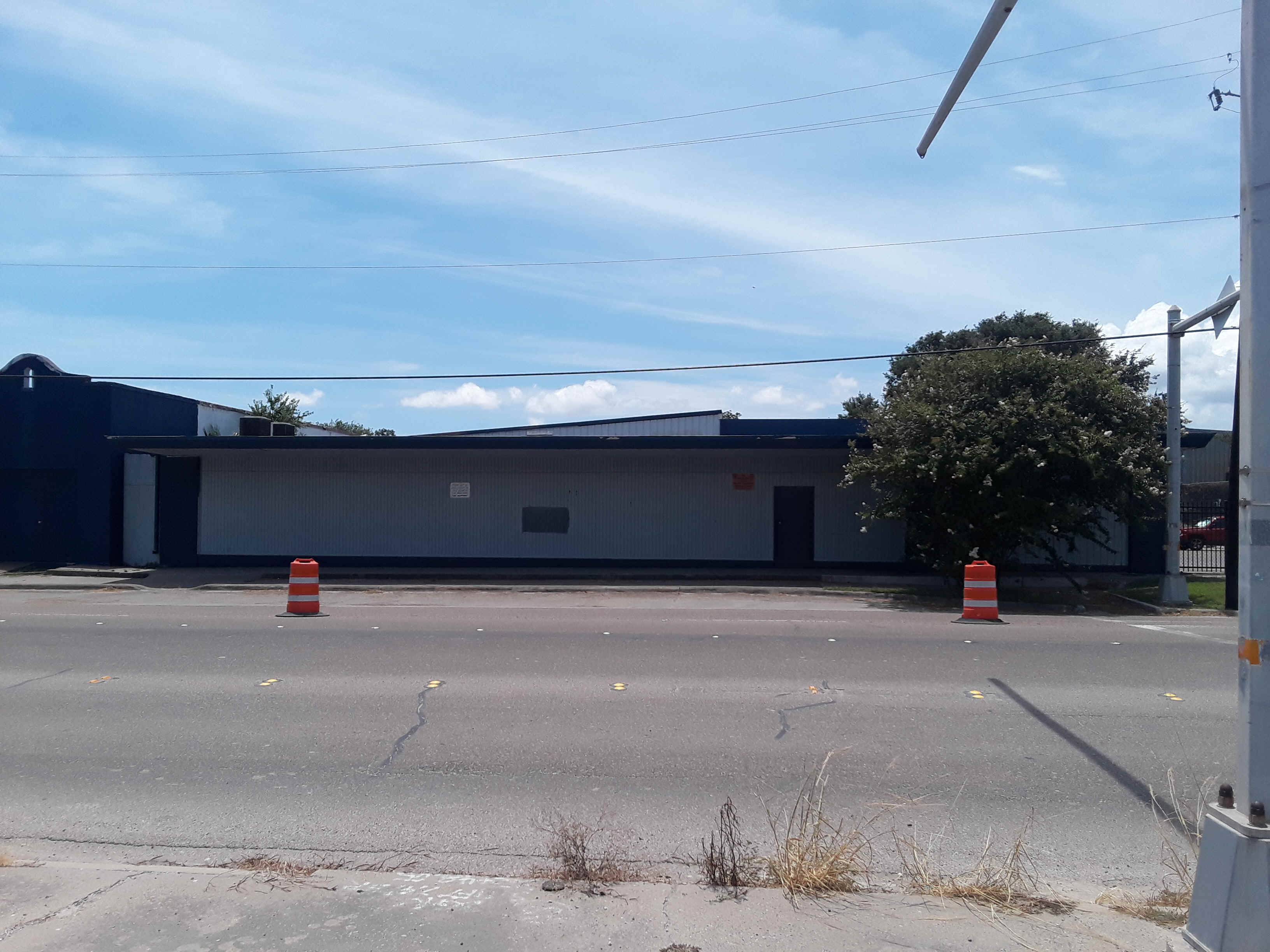 Photo #2. I really can't believe the blind man crossing is STILL THERE in 2019! Well poles are, the stop lights and that loud as hell bell long since gone, but if you drive on Leopard street, you might have wondered what the heck this is middle of nowhere, now you know. And took a 7 year old kid to tell you how it was 50+ years ago. Wonder how many people on floats hit heads on that during Buccaneer Day Parade???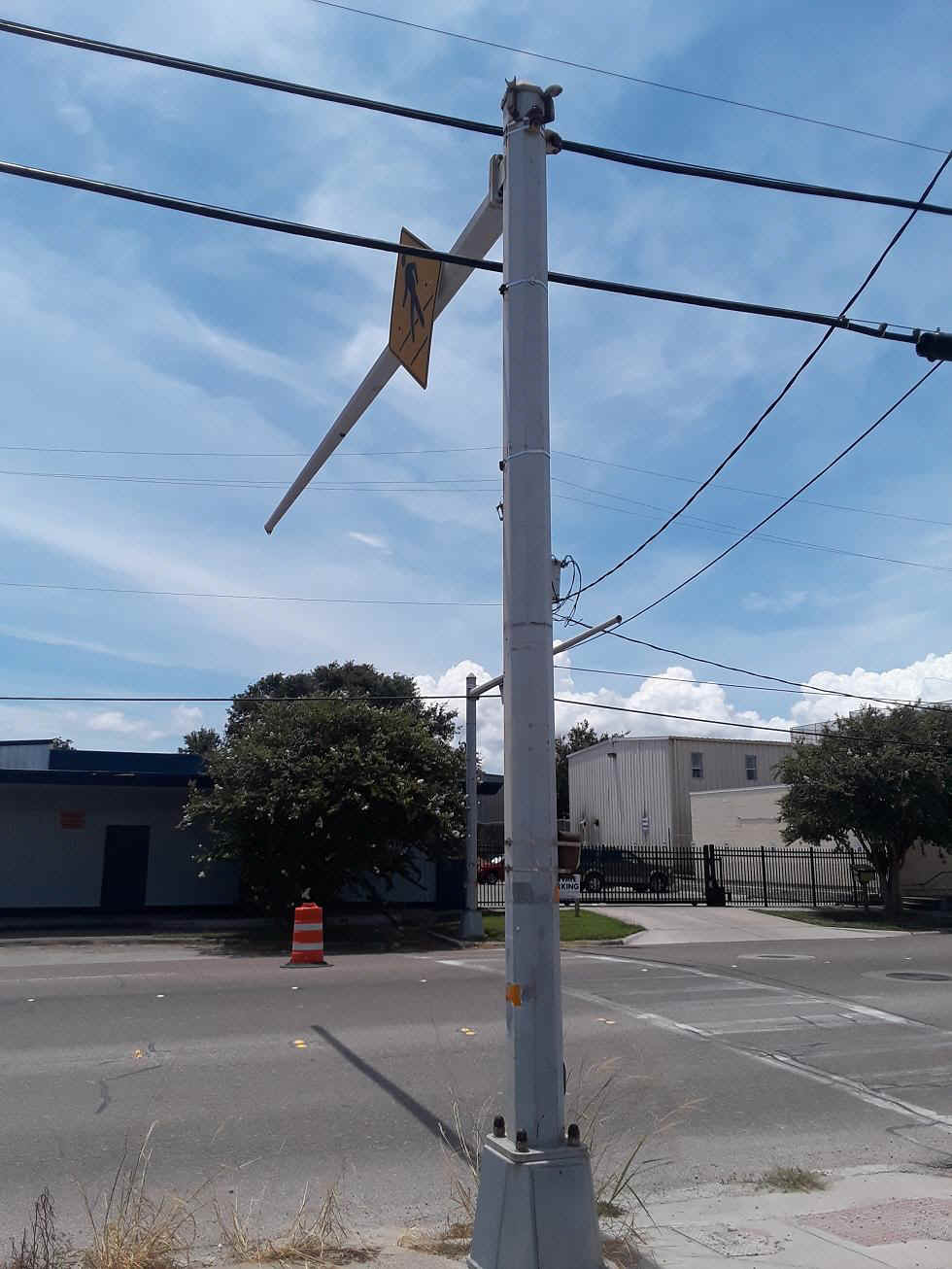 Photo #3. This is the actual crosswalk still paint on Leopard, one of the stop light poles other side of street. The door to Lighthouse was to the left of building, not where shown now back then. It crossed my mind why no Corpus Christi potholes here that can swallow a 18 wheeler.... don't worry, go down near Lew Williams Chevrolet 3 blocks west and Leopard has potholes so big they have own ZIP code.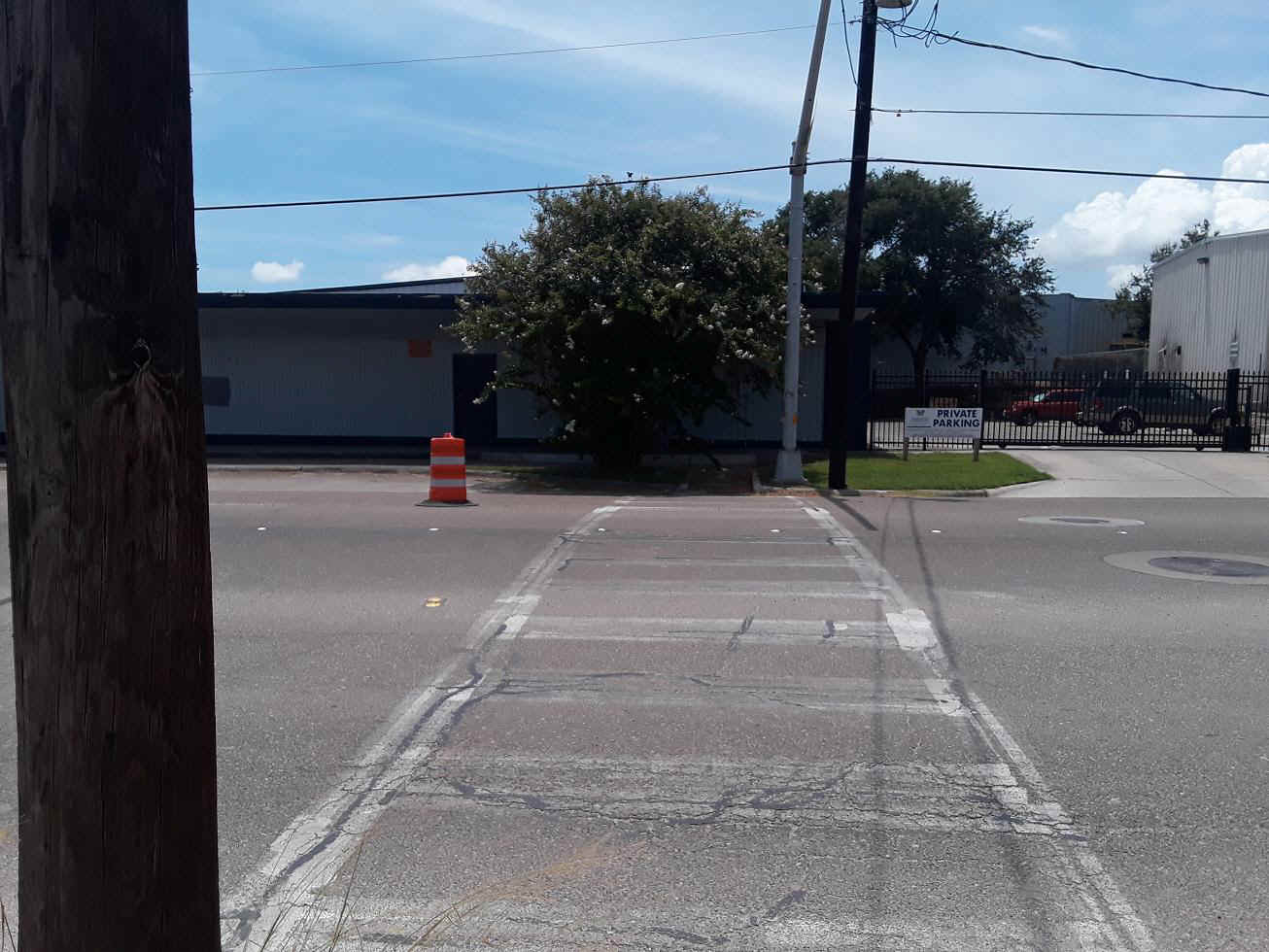 Photo #4. On my way to take photos on a recent trip to my hometown Aug 1-3, 2019, was going to take photos of Gulf Iron Works. And saw this on Agnes and did abrupt 360 to go other way and take this photo, this was not planned, like most of my 7 kids I fathered, it sort of uh, just happened. So here is their 70,000 square foot warehouse, it was too hot and window too high for me to crawl up there and make money face and lick glass.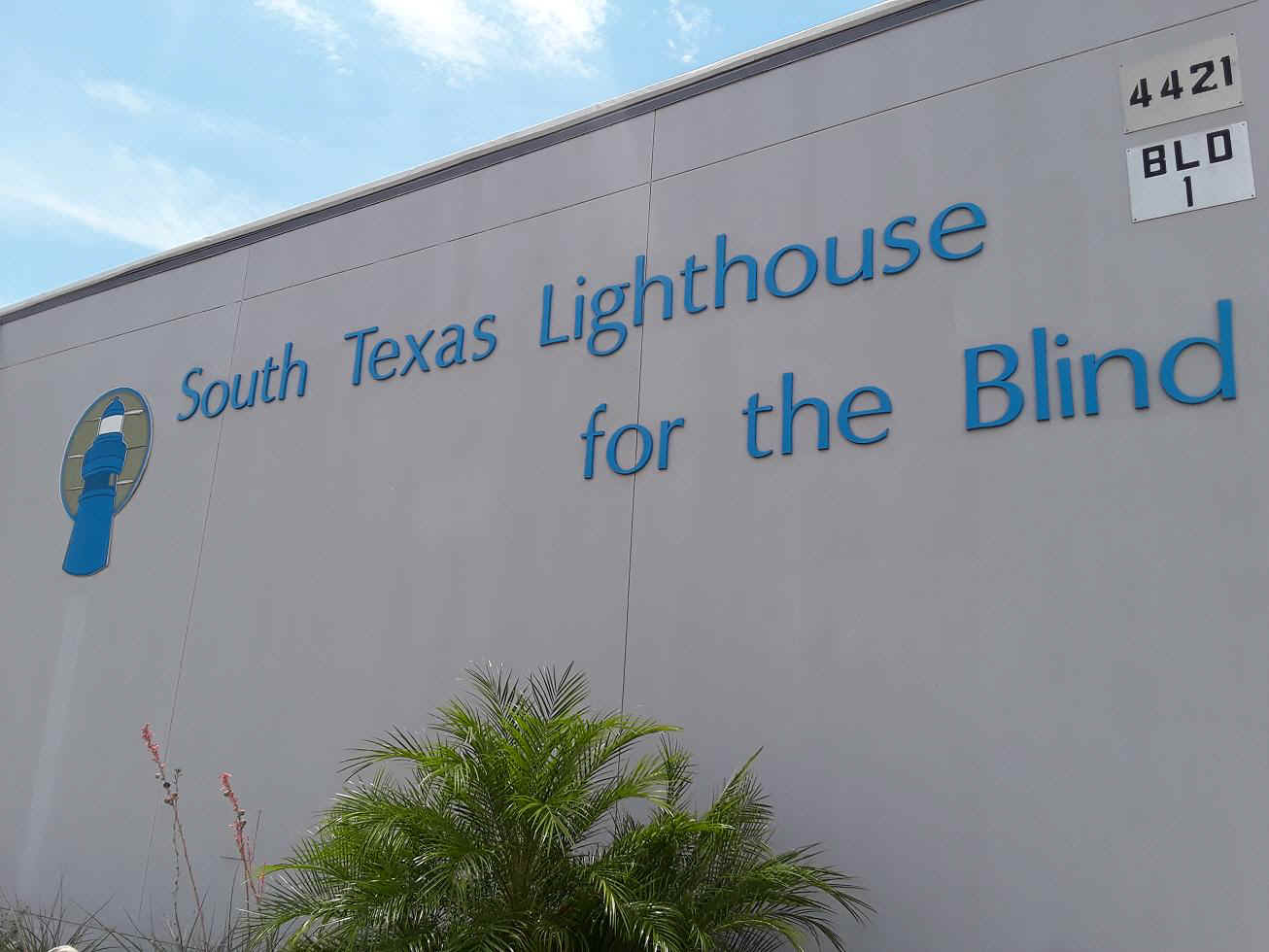 Photo #5 Inside the newer Lighthouse facility quite spacious, not all small cubicles like was on Leopard in 1960s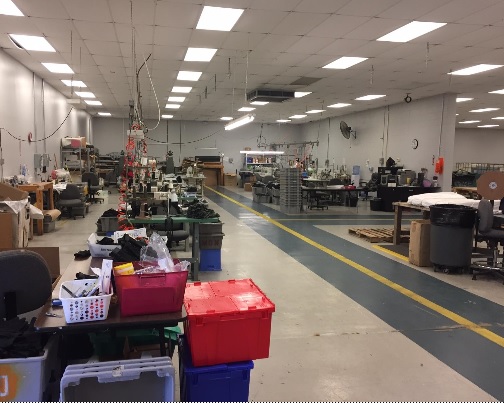 Photo #6 Stevie Wonder who is blind, was Atari spokesman back in 1970s. This is a actual ad. No, don't write me "deer meester ette, you mean boy I tell you momma!" Because like with the nuns, it falls on deaf ears with me. And you know, some of you better check your closets, not for Stevie, but for Atari stuff, a rare Atari video game cartridge sold for $175,000 a few years ago. Deer Meester Ette.....