55 Lovenskiold Park

Corner of Antelope & Brownlee. I grew up on Antelope you know but it was other side of Crosstown V where it hits I-37. Earlier in life you could have walked from our house straight down to the park. After I-37 came thru cut us off though.
There was a mess of Lovenskiold's and a building downtown named for one, and one of them was a mayor of Corpus Christi 1921-1931. Park named after him I was told. Yet another founded Corpus Christi Academy.
This cool little park was always well kept, only block from Corpus Christi Police Station, and many people would simply miss it on freeway where many head from Crosstown to Downtown, crossing over Brownlee. As kids, we would have loved to play in this park as was nice, well kept St. Augustine grass.
But was another one of those "Forbidden Zones" I write about parents, mine included, would not let us go to. The Cut, Downtown north of Schatzell (where Zales was) as all strip clubs north of that, so we had perimeters.
But why the little forlorn park few people used? Every now and then would see a car stop, and mom and pop playing with kids on swings. But riding my bike to school up the road to Cathedral, sometimes come down the long hill of Antelope, as opposed to more often Leopard, and well, no one there. It just looked lonely.
The park in 1960s was bounded by Mexico Street on east, Antelope on north, Brownlee on west, but south you had a FINA gas station corner of Brownlee & Leopard, then next to it the Scooby Doo Mystery House with door leading to nowhere on 2nd floor, and behind it, about 5 small little kitchenettes, each one with a big chained dog or two. Maybe the dogs were owned by same person, but like our house on 2009 Antelope, we had a number of chained up dogs, junk cars to keep bad guys away. And between the little park and FINA and other stuff was big mess of oleanders. So if you tried to play, dogs, growling wanting to get at you. Bigger problem was winos.
The park had nice cement with wood benches and of course those good to lay out on and sleep off whatever. Your bathroom was the oleanders. Your store was FINA. Later date the FINA shut down, changed to Diamond Shamrock. Later on it was Olszewski's Glass. The police never bothered those drunks either, or if druggies there, not bother them either unless dancing like Shes A Maniac girl crazy. Bottles, Mad Dog 2020, Boones farm, and sadly even syringes at the park in 1970s we found. Still not supposed to be there but by now was about 14-15 year old, a little more freedom, not 8-9 in 1960s.
This park when I was 14, 15 would have been awesome to toss frisbee in with friends as you have natural barrier of olenaders blocking south to north wind, and could have gotten some serious distance across park with 165 gram frisbees. Sure, our front yard was I-37 but it was a hill, not same effect.
And block away was sprawling I-37 bridges & The Hill of Death, where Missouri Pacific trains rumbled under & Port Avenue too, but was filled with rocks, stickers, and concrete pillars. So not good frisbee area. Lovenskiold Park looking back would have been awesome frisbee area. If...not for....issues.
The little forgotten park is now closed off while construction goes around it for Crosstown & I-37 interchange, been there done that. Gone is Olszewski's Glass the little kitchenettes, mean dogs on chains, across street Gulf station, Lloyd Rempel's car lot, only thing still there for moment is Scooby Doo Mystery House on whole block!
Am hoping this small historic park is saved and people won't just pass it by like they did in 1960s, 1970s when I lived really close to it, but could not visit it due to stuff out of my control and should have not been exposed to.
For now, it is fenced off since 2015. Corpus Christi has a small chance to make it right here, maybe swings, merry go rounds, monkey bars perhaps, and if cops pass by see something, stop & tell them to move on! Park is for kids!
PHOTOS: Photo #1. Lovenskiold Park Antelope street facing west with the crosstown looming behind it. By now, city had put fence around it as was public nuisance. Also gone were the kiddie things like swings, from my youth in 1960s.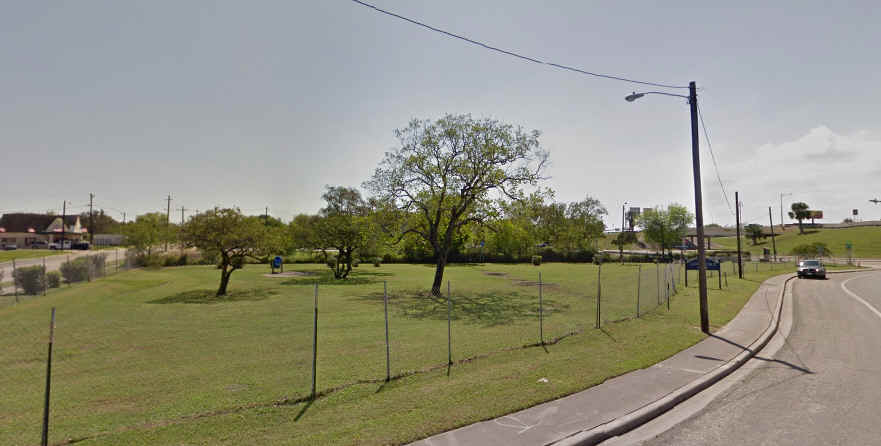 Photo #2. Park from across Brownlee facing east, downtown in background. Antelope on left side, and Olszewski's Glass on right with small warehouse. Between the two the oleanders from when I was a kid still proudly stood as a property line. Wished those could talk would have lots of stories.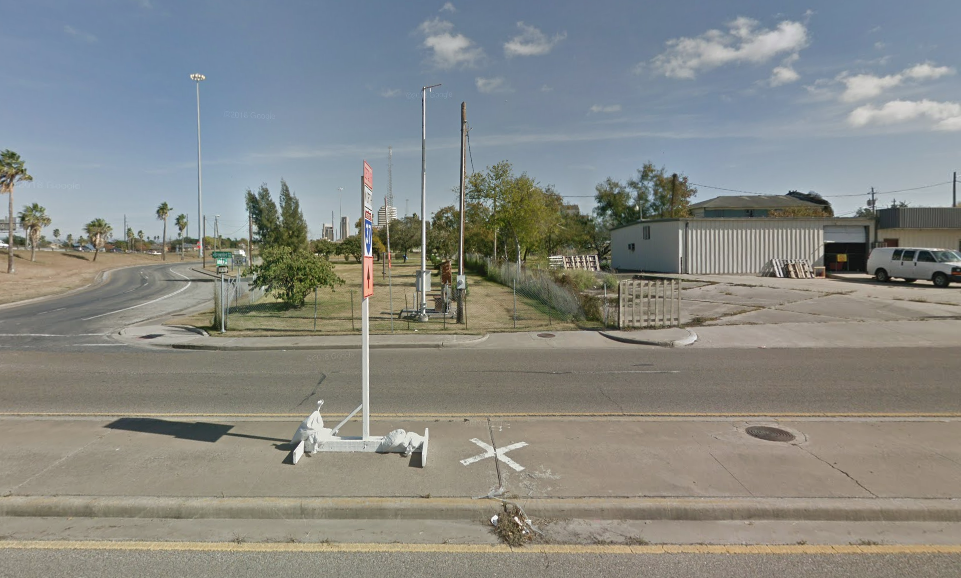 Photo #3. another angle of park facing southwest, in background the Leopard street overpass, in foreground the small sign city placed there after I left Corpus Christi in 1983. There was a different sign back when I was a kid, taller on a pole though.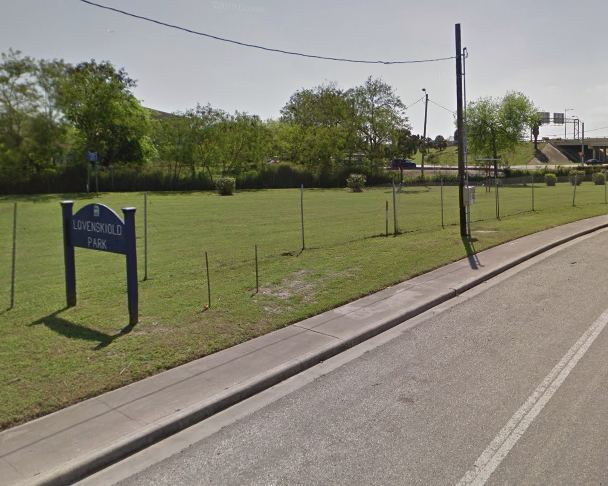 Photo #4. Corner of Mexico & Antelope facing south, that is Leopard at end of block, the white building is rod's Car Sales, which used to be a Texaco when I was a kid, then changed to Coca Cola truck repair garage. The mean dogs long since faded into history and the oleanders have been cut down to 3-4 feet, but they come back. They always come back.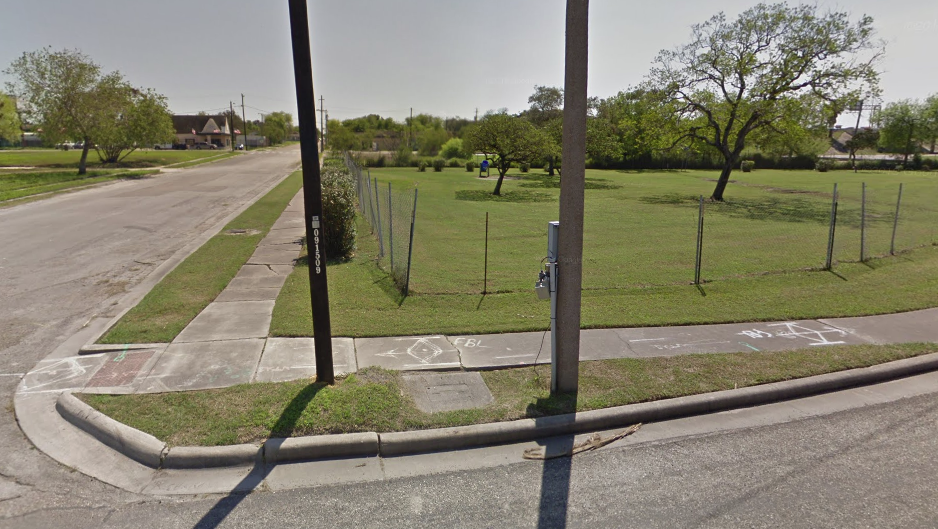 Photo #5. On Mexico street facing west, Antelope on right and behind it I-37 crossover to Crosstown high bridge I wrote about. Still there...for now. Those are olenaders in front of you, and along property line on left of photo. Why oleanders? Who knows but they are heat resistant, don't use much water, and massive beautiful blooms. Don't eat them are poisonous, duh.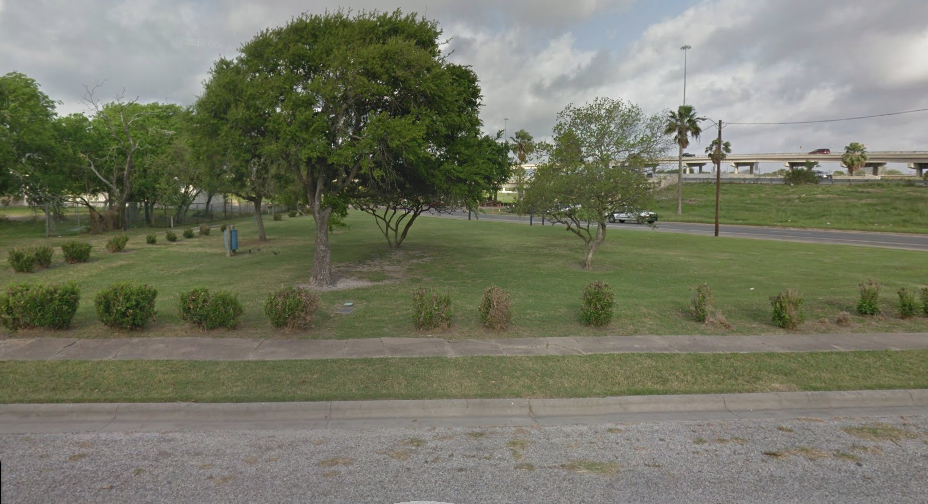 Photo #6. From 2015, this is KIII: "city puts temporary fence around Lovenskiold Park. Officials say Lovenskiold Park has been a popular hangout for the homeless & drug pushers in the arear near City Hall, but on Monday (November 30th, 2015) a temporary fence was placed around it."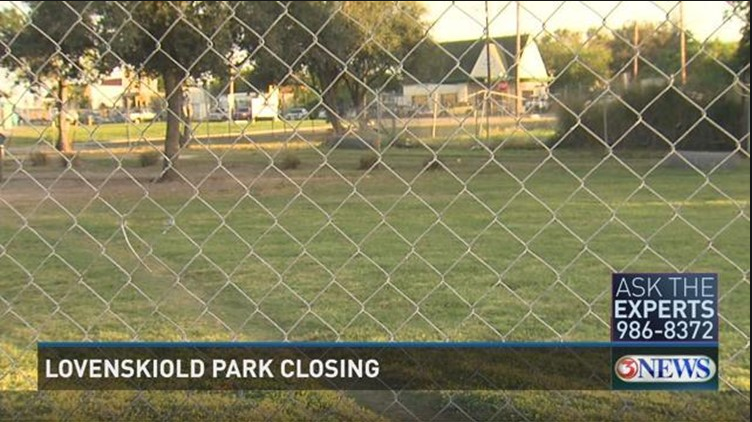 I wonder what our former Mayor the Honorable Perry Lovenskiold would have thought about this development, he has a wonderful history behind him