Grandma Maria De Alcala
Maria D. Alcala: She was my grandmother. Sometimes spelled Maria DeAlcala.
Born November 4th, 1892 in the indigenous region indian Chiapas, Mexico's southernmost state. At some point she moved to Saltillo west of Monterrey.
She got caught up in Pancho Villa's mess, the women who loved the revolution were called Socialistas. I do not know what role they played in actual trying to overthrow Porfirio Díaz and Victoriano Huerta. I really don't know what all role they played period. Not sure why anyone would follow that or believe in it either.
I can tell you that later in life, she renounced all her revolutionary Marxist or Leninist or Communist (if that is what it was) times. And regretted it. Still, this was a woman who didn't have much, and made good.
Her relatives of which I met some of them in 1970s in Saltillo, MX, were wealthy. Like most families, not all shared. Her actual family lived in stark poverty in Chiapas, hundreds of miles from Saltillo. But night and day, really like comparing our house on Doss Street with Hewit drive, worlds apart money wise. At the big house some of her relatives lived in Saltillo, it was large compared to some of the other homes, and farther out you went just seemed to get more ghetto. Might have changed by now who knows I have not been there since 1975 or so. Was a beautiful city then though. Might be all drug cartels now. I never did see her birth home in Chipapas.
I did dig up some things on Andrew, Vera & Rosie. One photo was cleaning in big Cathedral 4 foot frame and out from behind it... a baby photo from 1800s. Wow, startled the hell out of me. Who is the baby? Unknown. Will have to take photo to share it not that anyone would know this far down the line.
I don't honestly have a whole lot to go on except memory from stories she told me when I was a kid and teen of her "Pancho Villa" times. But like my dad Homer Stakes who didn't like to talk of World War 2, she really didn't like to focus on her past in that time. Can't blame her I did lots of stupid stuff in my teens too ha ha. Some of the old photos have writing which I have studied under bright light, different angles, different magnifying glasses. On front, really surprised some of these photos still here at all.
One flaked off small pieces when picked up while writing this so it will be first to go into frame.
Maria D Alcala emigrated to San Antonio, Texas in late 1920s, was early 30s, with my mom Sarah Stakes who was a toddler. I do not know who daddy of my mom was, am still researching that time permitting. The house she rented and eventually owned was where the Hemisphere Plaza would be built many years later in 1960s. But it is my understanding she moved to Corpus Christi about 1939, so in her 40s. Bought the lot with two houses 2009 Antelope and 723 Doss on same lot. There was no freeway in front yard. Some of the photos on my site show Antelope street which bordered The Cut, so can see across just businesses and houses. The 723 Doss house in it's day was a boarding house, no air conditions, but had small heater radiators in rooms, a central kitchen, and one bathroom with bath back of house. She rented the rooms and well, paid off house and land! And sent my mom to some Catholic schools. Mom didn't do well in these schools and dropped out at 8th grade Incarnate Word Academy, more later on that.
She saved her money otherwise and was known as a miser ha ha. I know zero about who she married, that sadly like a lot of her history is lost with time me being only fellow trying to salvage this. Ancestry .com or 23 & me zero help. Maybe border issue. About only thing she really bought I remember was a car and stove. And loved to cook, and loved flowered dresses.
In her later years she would get up every morning and make 150 tortillas.
House smelled GREAT, and it was good, cheap food. Made too many of damned things so would also give them to Cathedral priests, and neighbors, even Coca Cola workers next door. In the 1960s she scraped her leg on a old pipe we had sticking up in yard on the south side 723 Doss. On the south side of house used to be swing sets, slides, a small brick pool maybe 4 inches deep.
and a cool merry go round. So guess some of the tenants had kids before I was born but we utilized all those, as did neighbors later! Well, she scraped her leg on pipe, and gangrene set in. Doctors amputated leg above knee. A few years later, rosebush got her, guess what, amputated leg below other knee, so really screwed mobility wise, dad built a ramp for her back door, but she had trouble doing normal things no legs. No more tortillas factory either, Monita's probably happy on that front. In 2016 when I visited Corpus, the little kiddie brick pool still exists in yard.
Eventually she got too tough to care for, and had to be moved to a assisted living facility, first the tall building on Baldwin in front of Memorial Hospital, then to a smaller place on Alameda a block north from Tower theater, later to a place behind then HEB & Ayres Theater on Fig street. I seemed to be the only one to go visit her. If you ever walk into these old folks homes the people's eyes gravitate to you like "are you here to see me?" hoping you are a relative or friend or someone you know, can really choke you up, at least it did me. But I would find time to visit when in that area working for Central Power & Light, so 1 time a month surprise her. Do grandmas shit, hug, kiss and pinch cheek ha ha. Show me off to her friends. And ask why her daughter, my brother Tommy & my dad Homer never come to see her, I had no answers. When she died she was buried in a grave at the cemetery behind Rainbo Bakery off Lipan. Unmarked grave. She deserved better.
Here are a few photos that many are so fragile I left them in frames. A few the faded writing on back illegible. Others, I would love to know more about them, maybe the people in them, as have some Cathedral frames and several dated from 1800s. Those NOT here but no one alive from 1800s anymore. I know several of the people on them from my youth, others name only. So bear with me on these, as I didn't get these until my brother Tommy passed away in
2016 at age 60, and ended up with loads of photos. Will try to describe them best I can going on few clues and scribbling on back. Again, some of these I barely want to touch they are so fragile over 100 years old. And others framed, and won't take them out of frame so won't turn to dust.
Photo #1. A big group of Socialistas post for camera in this dated photo 1921. Maria is center back row, holding the Mexican flag. About 29 years old in this photo. And it looks like she is almost smiling. Socialistas. Dressed nice!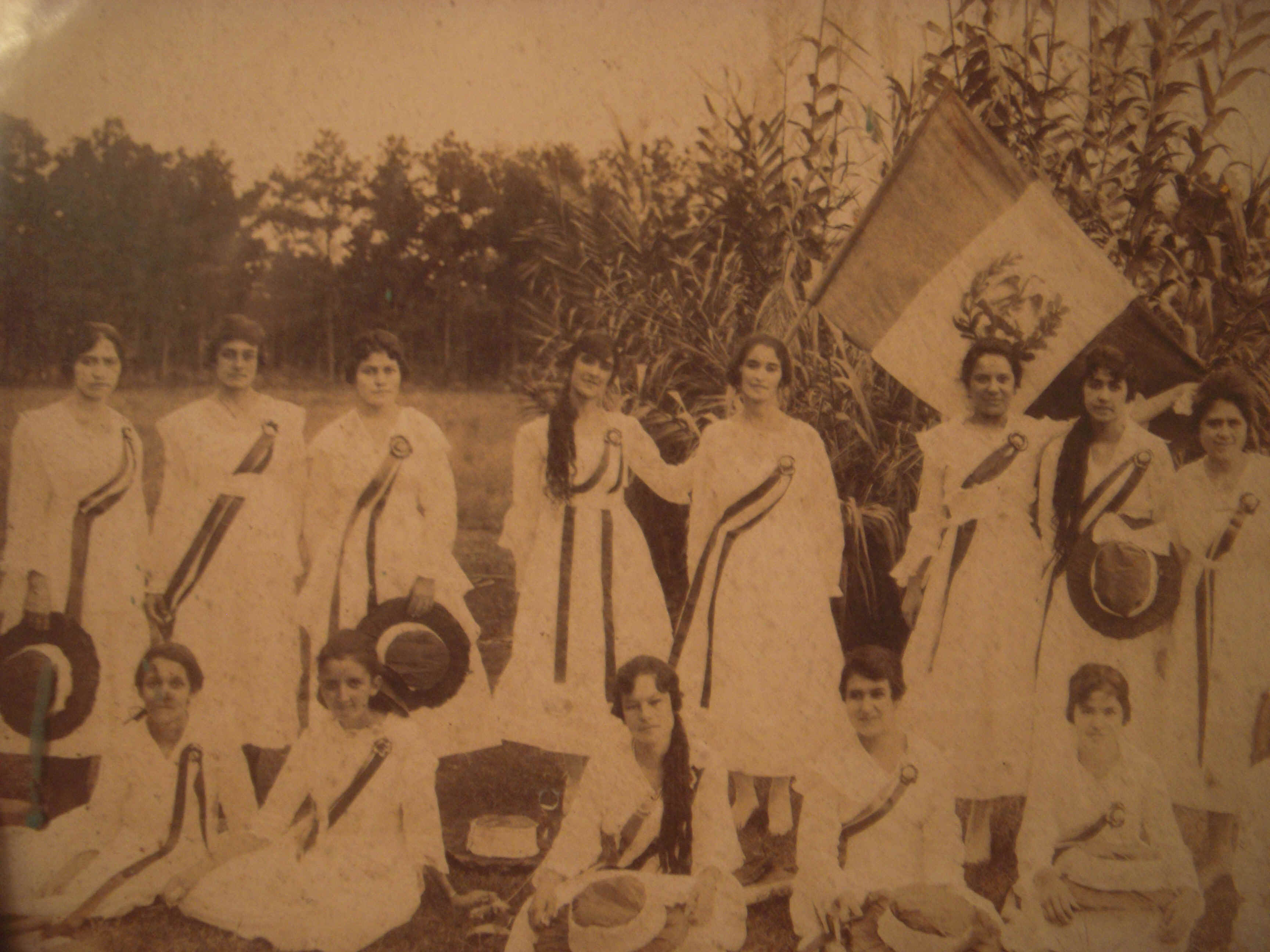 Photo #2 Maria D Alcala wearing her Mexican Indian attire, no idea why she never seemed to look at camera, maybe ashamed, maybe regret, maybe rebellion? There was a big revolution going on you know. On back shows date 1915, so this would have had to been in Mexico still, note the black maid on porch behind them. I do not know who the lady & man are.
Photo #3. Dated 1915 also, my grandmother is on far left in almost same outfit. I can't read the name of the school on back of this photo however. She looks lost in her thoughts and probably not wanting to have photo taken, much less be there. A attractive woman she would have been about 23.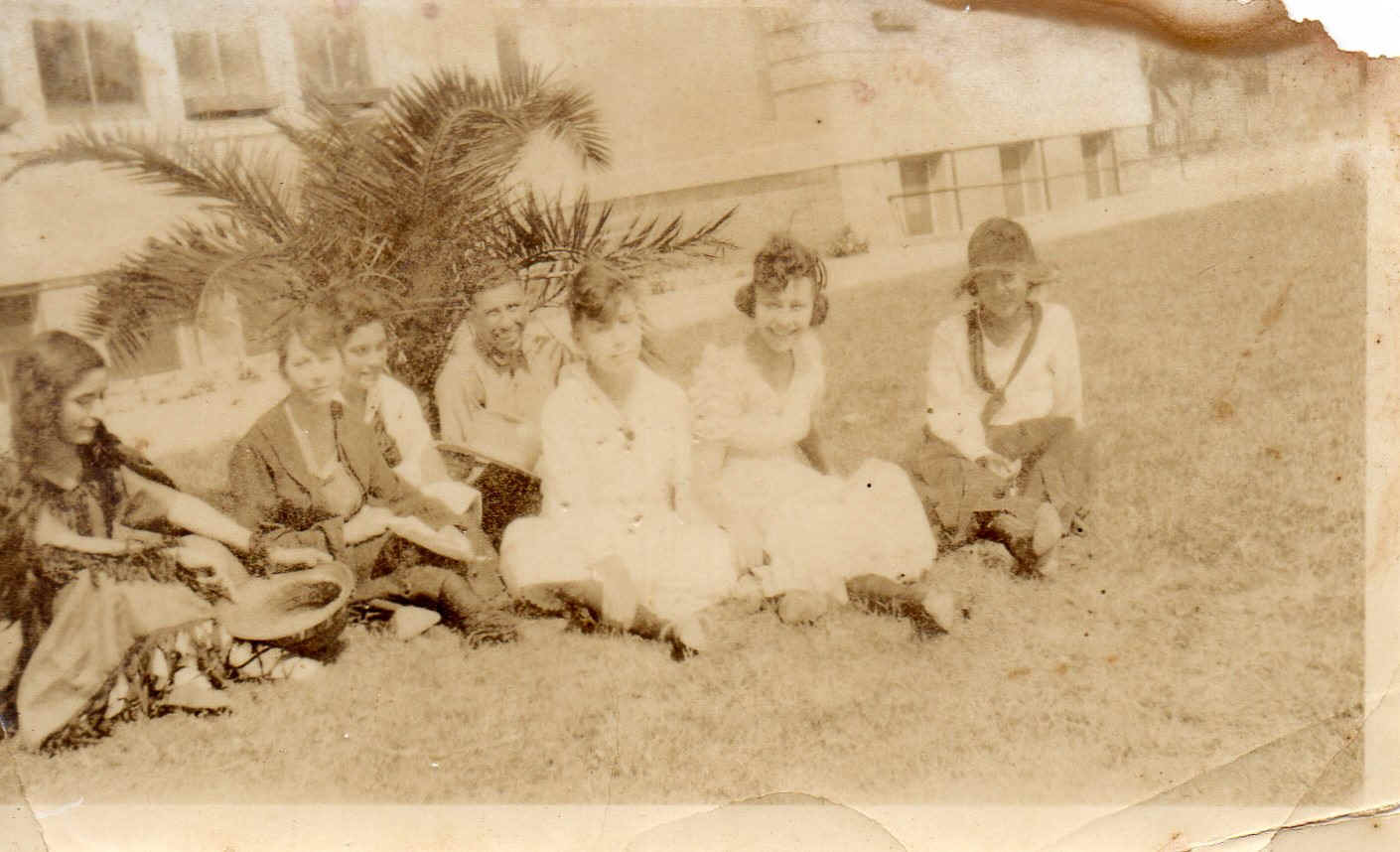 Photo #4 Big group of Mexicans on front porch of 2009 Antelope in I believe shows 1940 (maybe 41) on back of photo. Can read the Corpus Christi part easily too. At a later date the pillars would come down, and replaced, this is facing towards what would be Interstate 37 almost 20 years later. This is smallest photo and I do not know anyone here. But the lady upper right does look like Maria after she got rid of all the Indian Mexican clothing and cut hair.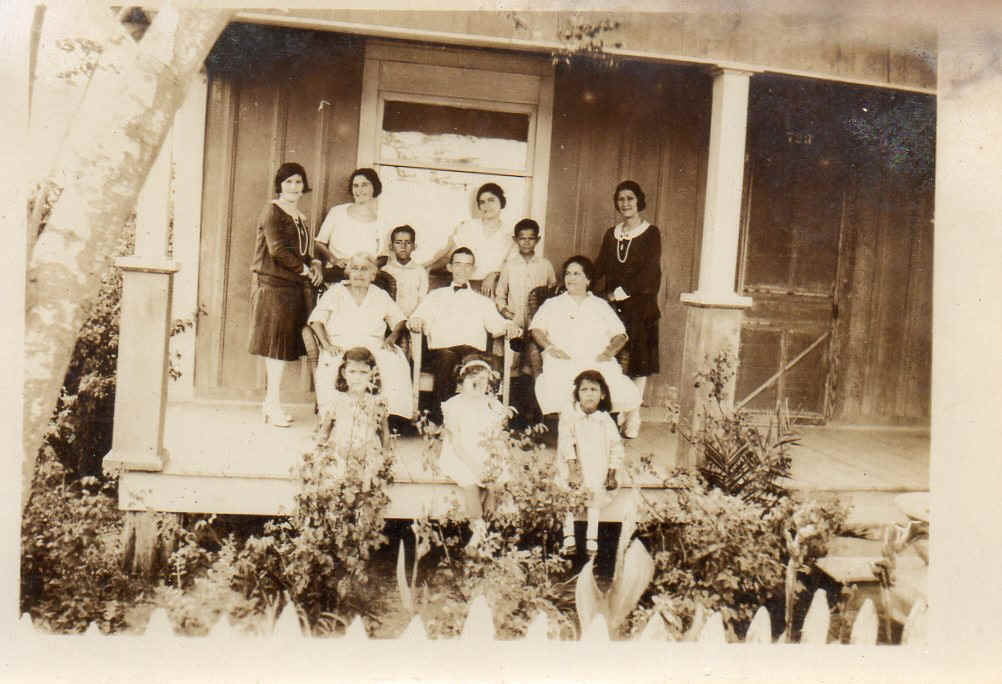 Photo #5. Nothing known about this photo but get those fellows out of way so can see that beautiful old Cord, Deucenberg, Dodge Essex of whatever. Check out the guy in middle back row, was hung over or got in fight or both. If I was alive then would be standing there like guy on far right.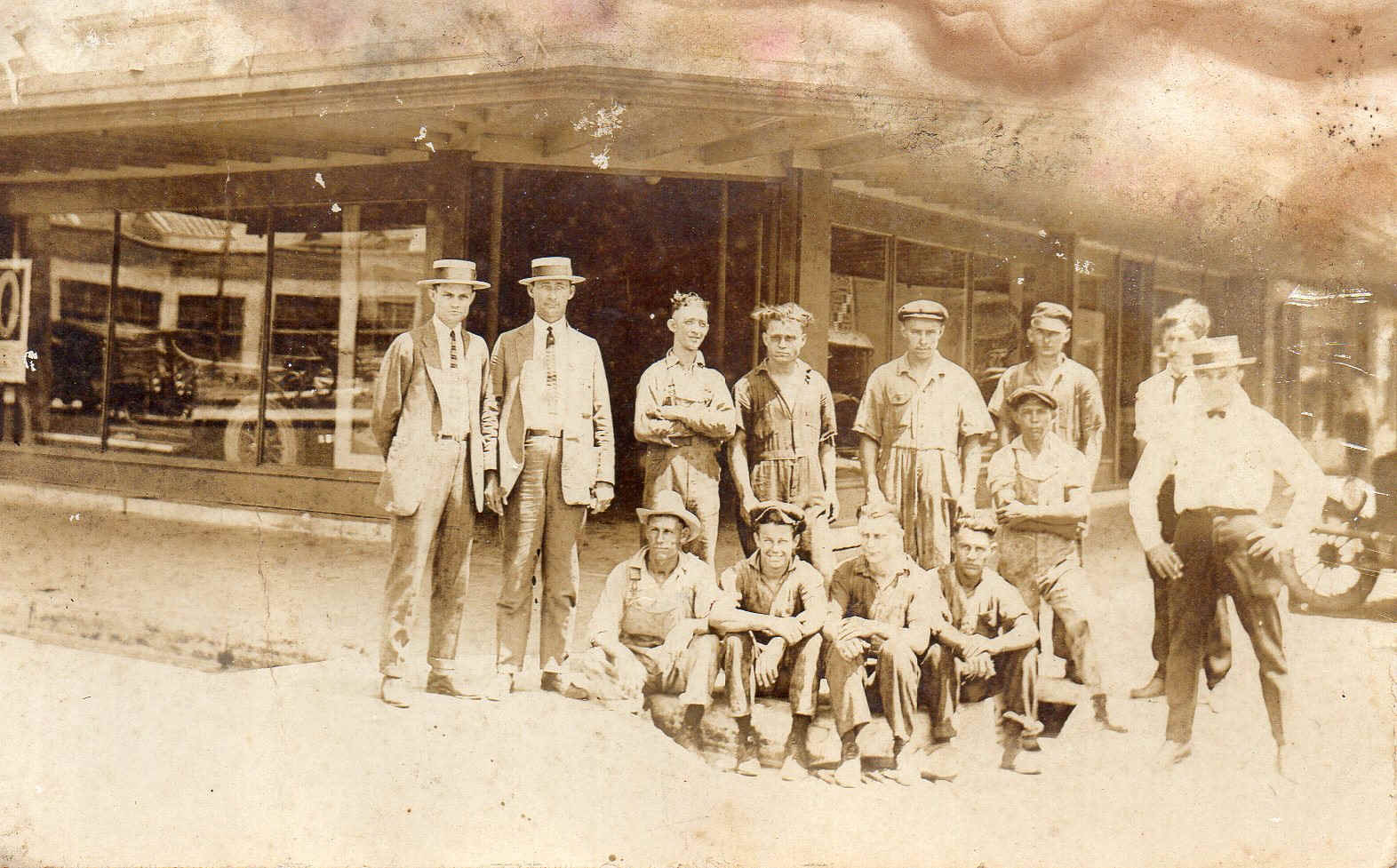 Photo #6. Grandma Maria D. Alcala is 6th from right lower row. Holding flower bouquet next to small boy. Appears to be from 1930s, maybe 40s, and a guess here is that is the 2009 Antelope side of house. Looks like a BIG wedding party though. The rest of people unknown.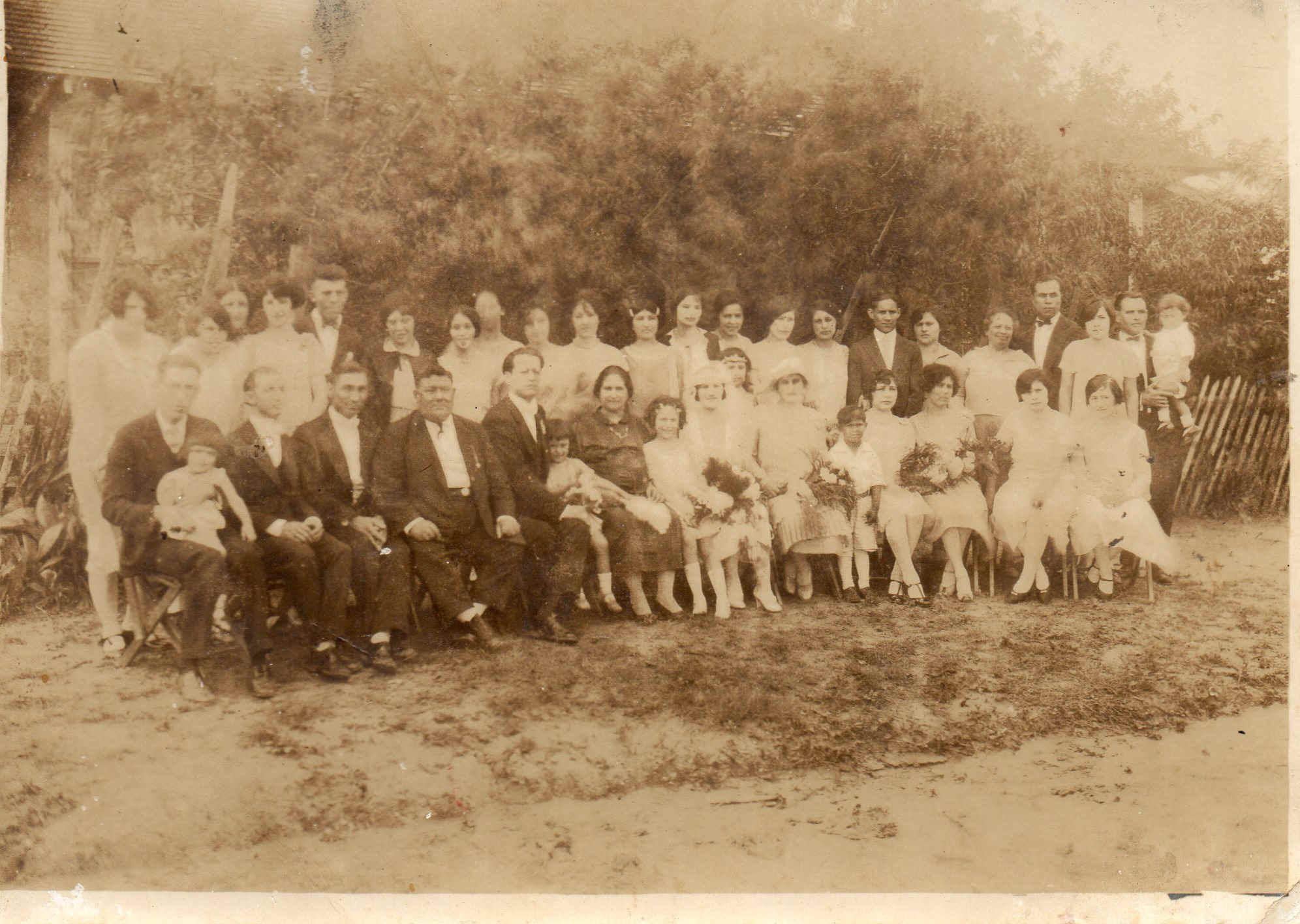 Photo #7. This big framed photo I won't take out of frame as fragile. Really fragile. I do not know the Mexican soldiers shown except the one sitting. That is Andrew, who was a Colonel. He had 3 sisters, Maria & Vera, Rosie. At later date Vera lived in Houston & we would drive up here to say hi to Stakes relatives & Alcala relatives in mid 1960s. I have another photo of him in big Cathedral frame in hallway. This one I just pulled off wall, didn't even bother to dust, sorry. Vera is also buried in the cemetery in Corpus Christi on Lipan. Rosie too, can't tell you too much anything about her.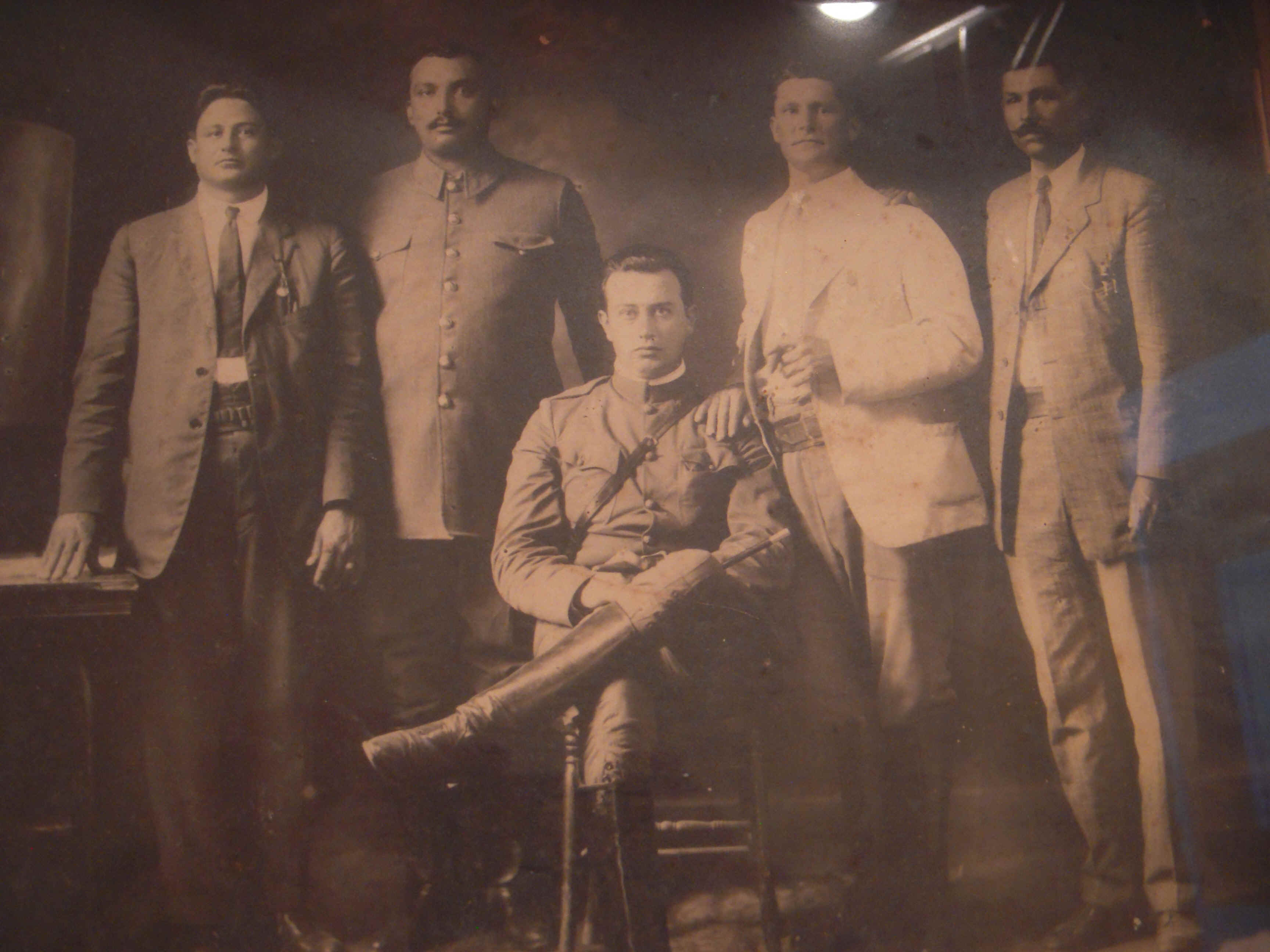 Photo #8. Maria D Alcala on Antelope Street in 1953/54. Photo by Culli's! By now she was successful landlord of 723 Doss. And we lived next to it at 2009 Antelope. Both houses kept spic and span. Yard too, well until later when she scratched herself on pipe, then rosebush and lost both legs. This photo is before I was hatched. Mom & dad had just bought a new Nash, believe it was Ambassador or Airflyte. Look behind here and there is Fulton company. Of course no interstate 37 in front yard then.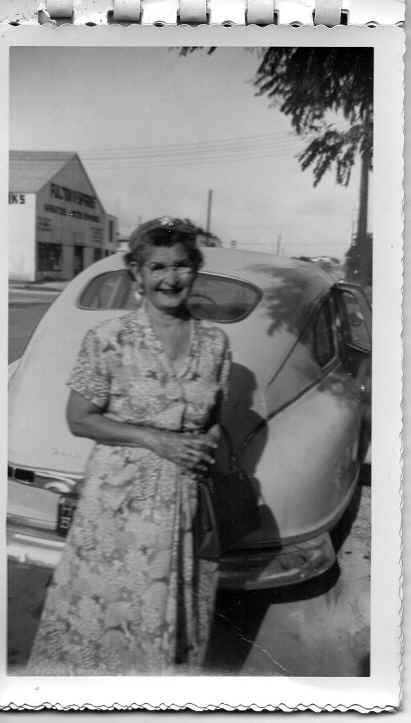 Photo #9. This is last photo I have of Maria D Alcala, holding my new daughter Jennifer Lorraine Stakes with my mom standing in background (wearing 5-6 layers of clothes, check out smile) but only photo I have of all three generations, taken with a little Polaroid camera. Date is a cold December day in Corpus Christi, Spohn Hospital, 29th, 1978. Dios te bendiga mi abuela, estás en mis oraciones por siempre.