72 The Melba Grand Theater (across from Braslaus)
Located directly across from Braslau's Fine Furniture on Leopard street, is #72 on my BIG MAP here way up Leopard. Easily visible. It opened in 1927 (or so) about same time my mom and dad were born. Corpus Christi's main drag was Leopard, a gateway as it was called. So not only many, many small shops, but theaters, grocery stores. I can't tell you a whole lot about the place except I did peek inside one time, just being nosy kid. When it was open, you had a lot of nice lights out front and inside small foyer near where ticket booth was. Then more doors, then another foyer, then more doors to movie theater. I am guessing like Ritz downtown and Amusu also downtown, the area between sitting and front was for smokers.It was legal then and everyone lit up.
Judging by the 1930s photo it looks like some country movie must have been the showcase, not sure if it by then had 'talkies' or movies with sound or not. There is some cowboy on the marquee. The old movie theater went the way of 8-tracks, drive inn movies, and Blockbuster to put it in sort of timeline. At one time, going to movie theater was a event! Get all dressed up, we had to wear shoes, and put on our Cathedral church clothes. And the old movie houses were quite spectacular inside like Ritz, some even had chandeliers. The Melba closed in 1966, and I was still at Cathedral being altar boy, but would ride past it. There were still old posters inside the glass encasings in front, or course, those got broke and glass everywhere. I didn't do that though. In the 70s, by then it was changed to a homeless shelter, but not much shelter as roof had holes, which continued to get worse as whoever the landlord was of it, let it rot. So rained inside as much as outside. Stripped of all the fancy chairs, light fixtures and more, I believe the name of it was now Bread of Life, or something like that, go in, get Bible lesson and then eat, and if want, a cot to sleep. It got to point where building was dangerous and would have to be demolished. This is a short 2 minute video from Caller Times of it being torn down in 2014. https://www.youtube.com/watch?v=dima7opHdT8\
It is a parking lot now I understand, as is Braslau's Fine Furniture across street.
PHOTOS: Photo #1 A split photo showing The Melba in 1930s and in 1980s.

Photo #2. Looking east at The Melba on Leopard street towards uptown. This is in 1990s.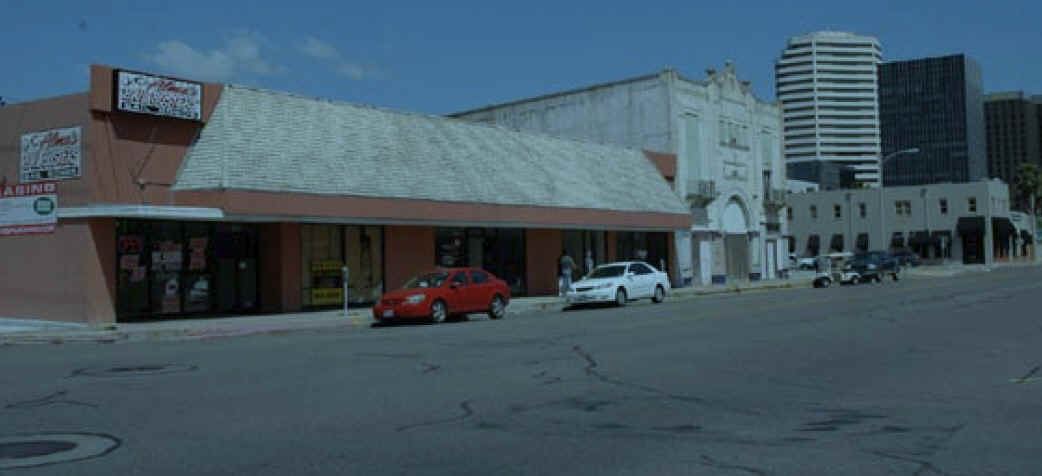 Photo #3. Not sure how the cases for movie posters survived so long as were aluminum! A photo of The Melba in 1990s showing intricate artwork and construction on front fašade. Especially near top. Note one walled up small opening on right had now bucked, showing contents inside.