38 MISSION PRINTING 1900 Leopard Street.

Sandwiched between Lighthouse for the Blind, and a Dry Cleaners, directly across street from Knights of Columbus Hall was Mission Printers. This is on south side of Leopard between Doss & Coke streets. This was a smaller printing place that inside long and skinny, but had a lot of equipment.

Their dumpster was fun to dig in, not as much as Devine Printing on Port behind HEB on corner of Leopard, that was much larger printing place, maybe 3X the size of Mission. I stayed away from Devine unless they were closed simply because the crazy Easter Bunny lady who ate Whataburgers, rolled fruit down aisles, and grabbed the microphone from father White in middle of Eucharist to welcome everyone to the Glen Campbell Goodtime Hour on Channel 10.... at Cathedral, slapped the holy hell out of my when monsignor Schmidt and I was giving her the communion bread at altar when was about 8 or 9. So unless Devine Printing was closed, then I just didn't go dig in trash.

But Missions 'dumpster' was just some big bins out front. And to me and other poor kids in the neighborhood in mid 1960s, this was fun stuff, some of it was simple misprints, test papers, and still good. so we would load up, and use at home to draw, color, or even take some to schools. You have to have nothing but imagination sometimes to make stuff work you find in trash. KC Hall across street was great for used bingo cards too you know!

Sometimes we found important printing things like ink, bottles that looked like drug aspirin bottles, we could clean those out with hose at home and use for all sorts of things.

There was a lady who I always thought owned this place, older lady in maybe 60s, cat eye glasses which seemed to be the rage back then, and she maybe had 3-6 employees. There was paper sheets in there I often wondered what type of tree you could get a sheet like that from size of bedsheet. Inside the place, and yes, I would go inside by myself like I owned the damned place as a kid, all these Leopard street places except the stinky bars near Staples, but inside this place, if you have ever went inside a printing place, it has a strange odor.

The strange odor here was the different chemicals used for various printing orders, maybe ink too. Sometimes burn eyes, sometimes make you sneeze, guess they used to it, and like many of us on that side of town, they opened front door and am guessing had a back door, window, vent, something and made use of the wonderful south to north Corpus Christi wind that never seems to stop, and blow place out. The lady didn't welcome all the kids in the neighborhood, some she just didn't like. Maybe she saw us making stupid faces at the blind people or licking glass, monkey faces and dumb things next door at Lighthouse for Blind. So some kids not welcome in her place.

She liked me, and might have been because I was more Dennis the Menace type, come in sell Cathedral World's finest Chocolates, or just stop by to see what is going on, she would give me pencils, and even papers and notebooks!

To a kid... whose family many times could not afford simple things in life, this was huge, at least to me. Made momma smile someone gave her child school supplies too.

I don't remember the dry cleaners next to it corner of Doss & Leopard, but was always full of cops and a lot of nice Mexican ladies worked there. And on a day when usual breeze blew the way they supposed to blow, you could smell the dry cleaners at our house, totally different smell than inside printing press. The lady by the way looked like my Aunt Kat. I do not know when they moved or went out of business, but was busy place in 1960s and mid 1970s too.

PHOTOS: Photo #1. I took this photo in Summer of 2019. Can't believe the Lighthouse For The Blind stop light crossing poles still there! This is the actual crossing paint still there, and pole for Stop Light, the blind folks push button on poles, loud as hell bell ring, red light stop traffic on Leopard, and they scurry across with canes. Well, you see the Private Parking sign? The parking area was Mission Printing in 1960s.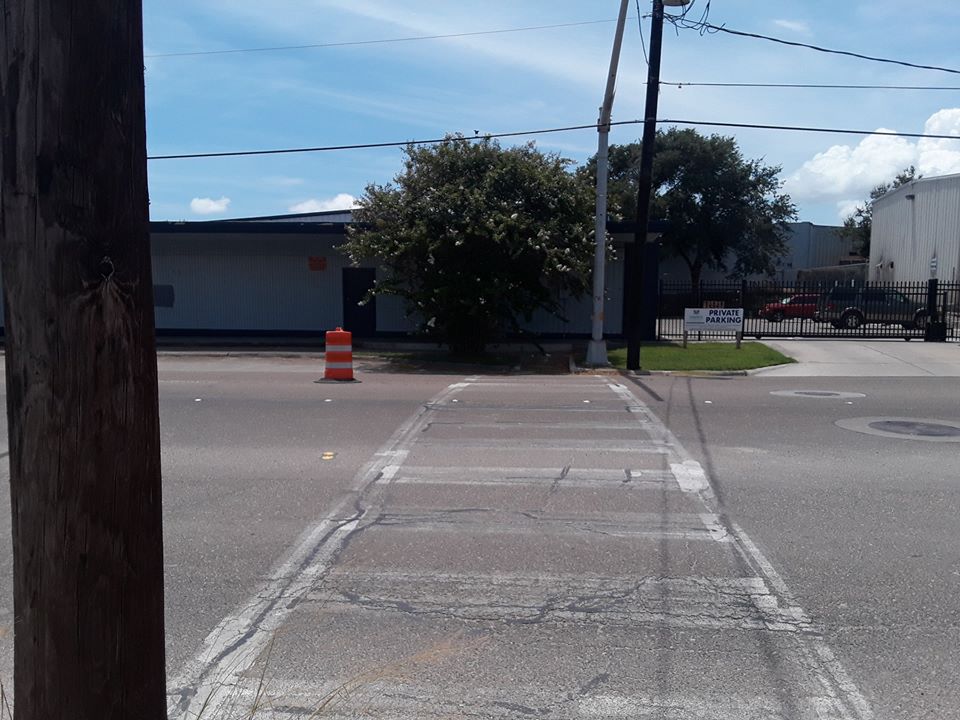 Photo #2. This is not Mission Printing, but Jack Bonner Printing Company in Corpus Christi which was downtown. Looks pretty much same inside as Mission Printing did except is wider, same machines, piles of freshly printed papers, and for some reason the lady Ant Kat & employees at Mission all wore aprons like this too. maybe for ink splatter?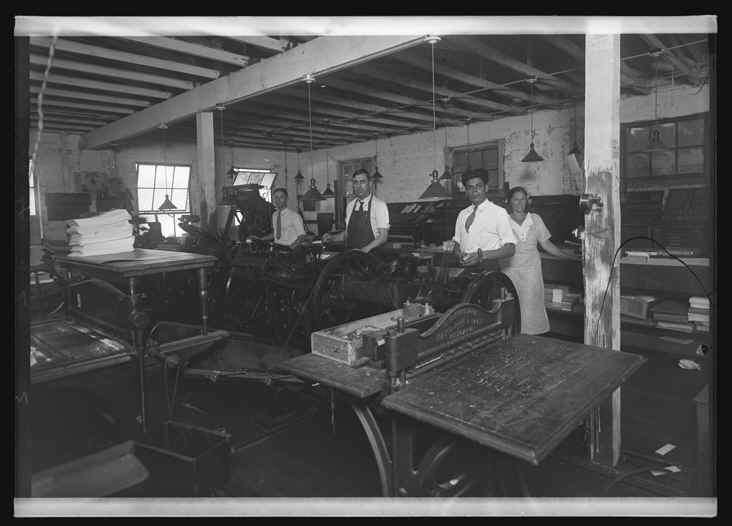 Photo #3. Another photo of Jack Bonner Printing downtown Corpus Christi simply because I don't have any photos of inside Mission from 50+ years ago. There is that back window for venting place out I mentioned in left of photo. Check out all those dies!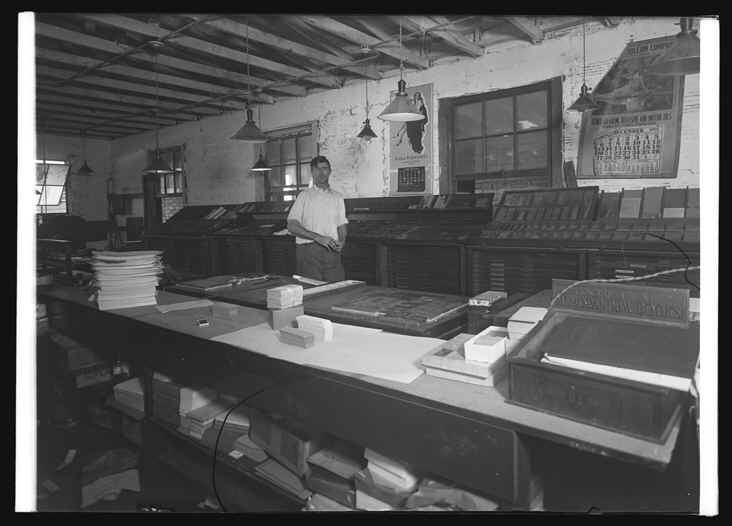 Photo #4. My Ant Kat shown holding big brother Tommy, lived at 2205 Lanier right off Port Avenue. She was a spitting image of the lady who ran the Mission Printing on Leopard. They didn't know each other, just doppelgangers. Brother Tommy, he never went inside Mission Printing.