5. Missouri Pacific Railroad (Lipan north into The Cut)

Missouri Pacific trains/Leopard Street. In the 1960s, the rail road tracks were about 200 yards from our house at corner of Doss & Antelope. Only thing that separated us was Coca Cola Company on Lester. I had always been fascinated with trains as a kid, and soon learned that I could follow them around in a train yard between Lipan & Leopard. Was about 6-8 years old. Dog Bootsy accompanied me for these journeys, mindful of staying near me, and my bike. So when the trains whistle blew from coming from Port area near Minton or Winnebago in the black area of town (The Cut) I could easily here it. If not doing homework or playing with neighborhood kids, off I went. Could get to Antelope & rail road tracks in sheer 2 minutes! There is the big diesel coming towards me, maybe 5-10mph if that....from Port area. It would blow whistle whoo-whoo.....whoo whoooooo which signals a crossing in 'train talk' I would later learn. It also had bells that would clang, not sure if it clanged those going thru the other side, but did near me, but no houses there, just industrial. Before get too far along, Missouri Pacific rail lines on north side, Antelop, Larry, Lipan, Port, anyoplace tyou see NUMBER #5 is Missouri Pacific rail lines!
So #1 & 1A is our two old houses. 2A & 2B the back side of Coca Cola where they fixed up broken Coke machines. #11 is the no name car lot. Where #5 crosses Leopard is #20 & #21, Auto Center & their big garage. Was like a Auto Zone or O'Reilleys is today. #22 this was a overflow Lew Williams Chevrolet car lot, then a regular person bought it. The striped building on Port is a Cal Kuhen's car repair shop where they did paint & body, #24 is Monita Tortilla Factory, damn that place smelled good, #25 is Zarsky Lumber Company & 25A is Zarsky's lumber area, they had a lot of lumber stored on shelves in this place. The train tracks ran behind all of them. Look closely there is two taker cars sitting on the rails waiting to go somewhere.
And look even closer, #5 train tracks curve east behind #49 LL Bean, #48 KZFM radio station, of which was a US post office at one time also, #45 Cages Hardware, #43 Biels store, the upstairs apartments on top of Cages #46 and would stop at a hill just past Doss at #51 Bekins Moving & Storage more on all those later, but was neat alley for train & nothing like looking down Doss south over Leopard and seeing a big TRAIN at Bekins as a kid, wow.
Following the train around, the engineers always friendly and wave. Sometimes they would park in the yard just past the trigger thing that made the lights and bells go nuts on Leopard to warn of a train, so if they parked just past that...no noise even though they were just yard from intersection. Here they would leave train running, and walk over to Noe's Café. Noe's is #26 on the map, many people remember them fondly. I knew "A" Noe who as tall, lanky kid, good at baseball when a bunch of kids in the hood played in the field in front of our house, but don't think café named after him. Had a $1.25 breakfast there back in 1960s. Could smoke cigarettes at little diner bar, or at tables, but then you could do that at Sheffield's (#19 on the map the big U shaped building, or Hasty Tasty across street (#13 on map). I only went in Noe's about 10 times, not because food was not good, but ain't got no money thing, and if I did would get the 10 cent toast at Hasty Tasty & load dozen butters and little jelly packs on it.
None of the slow moving, lumbering trains had a cross arms at any of the crossings. Leopard, Lipan, none of them, just lights, bells. Sometimes a stray train would be pushing boxcars around: Texas Mexican, Santa Fe, even Southern Pacific. One time saw a Canadian Northern locomotive, he must have been lost, far from home. I had quite a racket going on, would buy sack of double head nails from Cages, they were something like penny for 2-3, the old man would weigh them in a scale that hung from ceiling. I would take these nails a few at time, and tape them to the rail road track sometimes with shiny pennies too. Train run over them, the little nails about 5 inches long, turn into cool swords, the pennies...wafer thin. Next day would take to Cathedral and sell them 5 cents each. Nuns never figured out who was selling them either.
The engineers invited Bootsy & me onto the engine locomotive a number of times, would be stopped, behind Auto Center, or Monitas, and we would walk up steps in front. The sheer power of these was fascinating to a kid like me. Many times when the engine headed to points unknown which was past Comanche street where the locomotive would disappear between houses on way to I guess Agnes, or back east under I-37 & Buffalo street towards Port cotton warehouses, it would leave a boxcar, tank car or something behind in the train yard. That was fair game and would crawl all over those! When the train had all the cars stopped on Leopard, I boldly escorted it across street in front of cars like I was getting paid for my services ha ha.
There was zero fear in being a child on a bike with a dog in a yard filled with tons of mechanical huge beasts that thunders, made loud noises and belched plumes of long black smoke. I certainly had no fear of these as had Lionel choo choo trains at house 2009 Antelope. Was there a difference? To me under 10 years old? Oh hell no. I kept my distance, about 15-20 years, not one time in the years I followed these trains did I have a engineer shoo me away. I had a healthy dose of respect for not only the men who commandeered them, but of the big machines themselves. Bootsy kept her distance too.
Fast forward over fifty years later....as...I....stood alone on a silent Sunday morning on Antelope where the tracks of my youth once stood, I looked east beyond Buffalo towards the Port, nature has reclaimed what was once hers. The Coca Cola company, fence leaning, some windows gone, quiet, the men capped their last bottle, the salt table and peanut machine with light bulb ran dry. Holes remain in the ground where my Rail Road Crossing "X" signs, with two big red flashing lights and big silver bell on top, each either side of Antelope (& Buffalo) long since gone. Nothing but a stupid laughing gull breaking the silence, a passing car on Port at Antelope where Mobil station used to be, Devine Printing I HEB only exist in my mind now. For a moment, it was mid 1960s all over again. Pocketful of flattened nails & coins for fellow students at Cathedral. Bootsy wagging here tail next to me waiting for the next adventure, me on my bike with ram handlebars waiting for my big Superman friend, the train, to come by.
Photo #1. Missouri Pacific locomotive off Port Avenue in Corpus Christi ready for another day of hard work.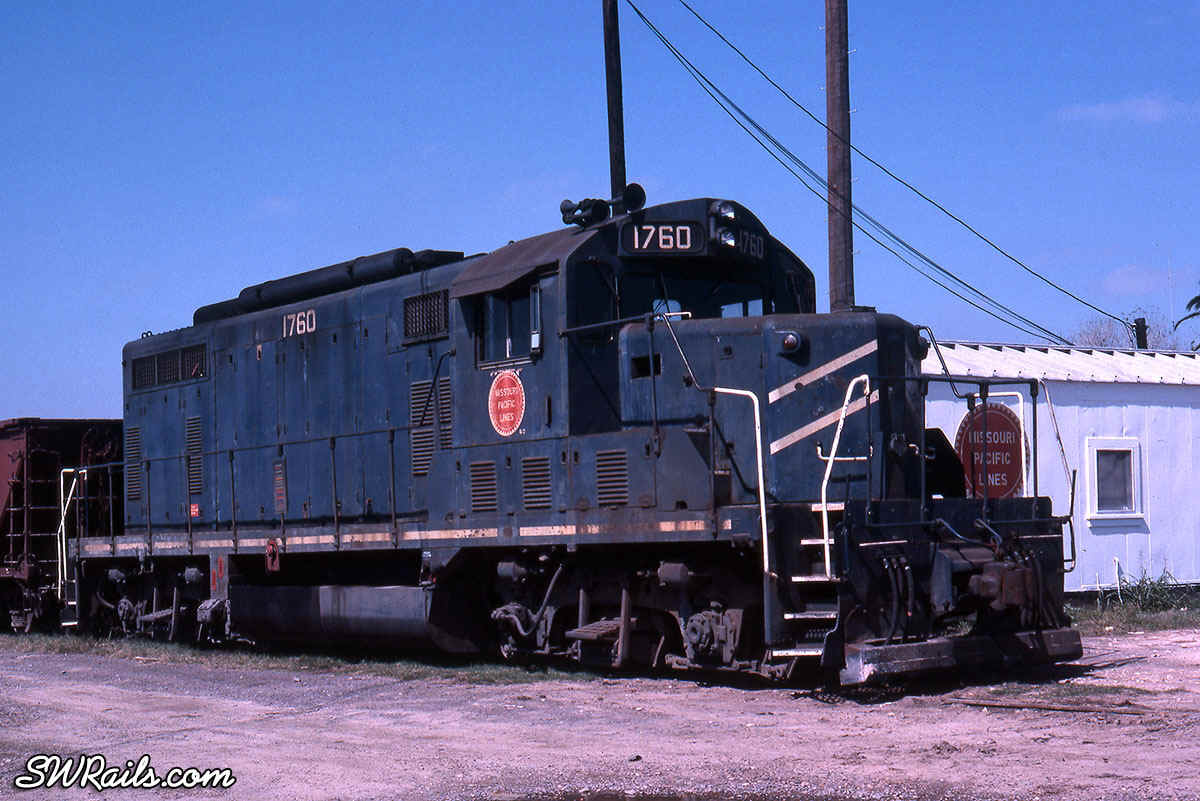 Photo #2 In 1980 Missouri Pacific put up a huge wall of dirt, cement in anticipation of arrival of Hurricane Allen. This was off Stroman Avenue farther down Port Avenue to protect from the flood surge. Whataburger Field not far from here now.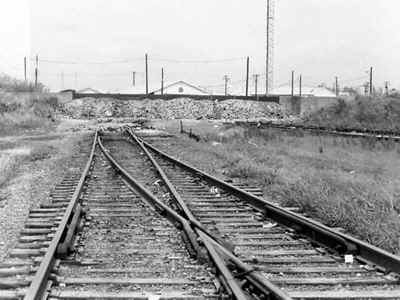 Photo #3, this is the Transfer Yard, about 1980 and tracks here were owned by Terminal Association of which shared the rails: Missouri Pacific, Texas Mexican & Southern Pacific. Not sure how other locomotives made it here, including a shiny red Burlington Northern one, and the Canadian one I saw.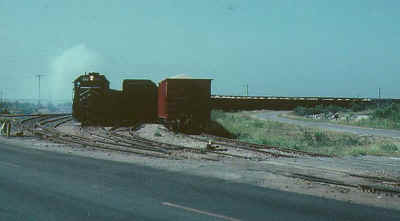 Photo #4 the rail yard, if you look closely will see Wilson Tower photobombing upper right. Would find train spikes here loose from rails & take them home.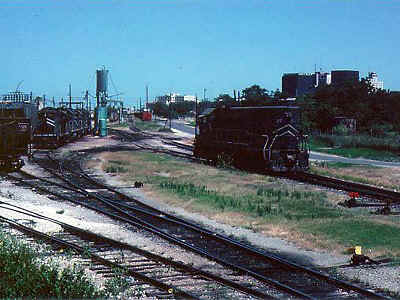 Photo #5. As soon as the engineers get back from Noe's Café, or Hasty Tasty or Sheffield's there is more boxcars to haul around!