OK Used Car Lot
OK USED CAR LOT (next to Hameuei's Waco Food Store) 1410 Leopard. In the mid 1960s Leopard street was lined with car lots! As a kid, was a car guy even then as dad was working downtown at several American Motors & Rambler dealerships. But Leopard Street (and Staples too, ok, Port too) lined with car lots. Can tell you all about it, as used to ride bike to Hameuei's food store next door, "my comic book go to place" where mister Hameuei would let me know what all new ones just came in. How did he know that with so much stuff in store, could barely see cash register! The car lots. I can name a number of them like Ordners Charlie Thomas, Lew Williams, OK Used Cars, but two escape me. OK was sandwiched between Sears (& Hameuei's) on east at Sam Rankin & Josephine on the west. Faced Leopard. Always had about 4 rows of cars, maybe stacked 10-15 across, sort of close. The reason I say sort of close is was tough to ride bike between the cars at night. Had no business riding bike up there at night but car lots on Leopard at night were cool. And I wasn't stealing anything off them like hood ornaments. Or emblems.
This car lot had a long wave in it, ran length of lot, a 3-4 four foot long hump so cars parked farther back could also be see from Leopard. When the car lot closed down, vacant lot, and great to ride home on bike from Cathedral, and go up, down, the "hill" until get to Josephine street. But sometimes also backed up to Sam Rankin, revved my bike, timed the Brownlee stop light and took off downhill while it was red! Going as fast as cars, blew thru it as it turned green, didn't even have to pedal was going so fast.
Ok, enough of that, back to the little car lot. The small trailer this car lot one day vanished along with the pretty cars. And so did all the neat edison bulbs that hung about it to light the cars up at night. For whatever reason, in the 1960s many car lots had bulbs on strings. And flags that never stood still in the Corpus Christi breeze. Anything to capture your attention and stand out, but everyone did it anyhows. Some big fancy lots like Lew Williams had florescent lights on poles though. Every now and then put streamer flags out on Leopard side with 'OK Used Cars' signs. Even antenna flags! Easy to uh, borrow and put in pocket! "OK Used Cars" not to be confused with, uh, OK Used Cars.
PHOTOS: Photo #1. Cars just look better under these lights, now they all have the LED and florescent lights, they all look same. Here you can pick out a Plymouth in 2nd row, front row has a T-Bird, Charger, looks like Mercury on end. but oh, those lights and streamer flags pull you into another century.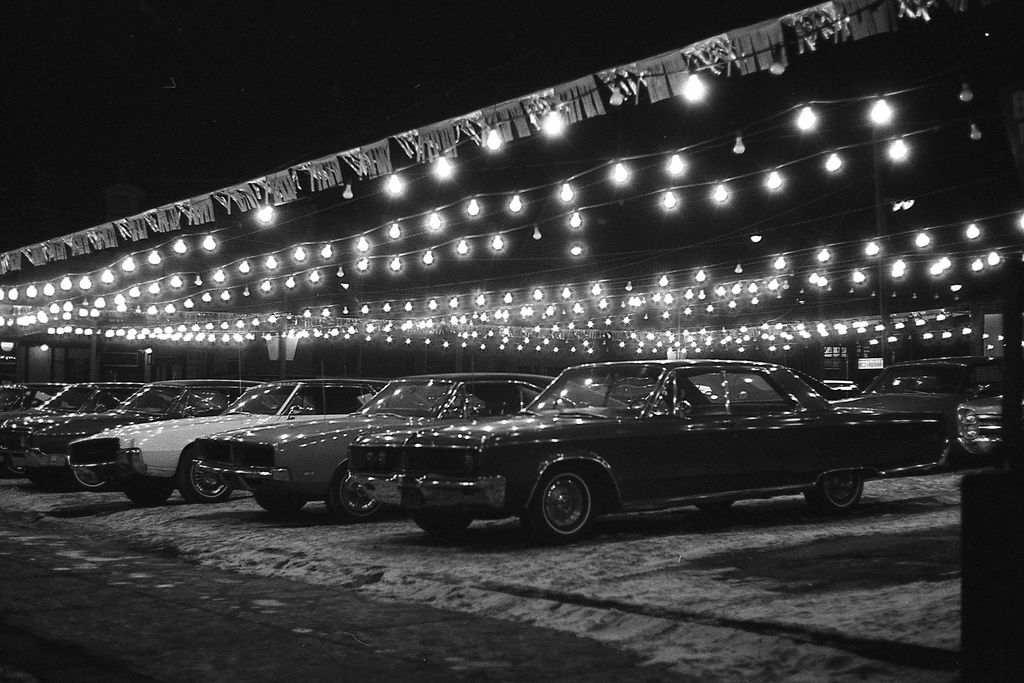 Photo #2. This desolate shot is corner of Josephine and Leopard looking east. Over 50 years ago you would be looking at some cool cars in this lot of OK Used Cars, the "hill" about 15 feet from sidewalk, and Hameuei's food store there with blue long building Sears Auto Repair behind it. The Sears though could see above that flat building. The slabe of Sears Auto Garage is still there, along with Hamuei's store slab, but the "hill" of OK used cars flattened so not worth riding bike there now.

Photo #3. Not OK car lot but made me think of me looking in cars, sometimes salesman come out and yell at me like they did at number of places up and down Leopard. 'HEY KID, GIT AWAY FROM DA CAR!' And off I went. Some places they followed me around like Cage's Hardware. So I would walk up and down aisles trying to lose them or make them dizzy.

Photo #4. Ok, #86 WAS supposed to be the LAST number on "the big map" but had to write about Bunk's café. Bunk's easily visible at #87, but NOW....and going to have to add Unknown Car Lot #88 across the street almost from #86, this OK Used Car Lot. So map continues to grow, and I continue to write. Off we go with dog Bootsy in tow on my bike. "Hey Kid! Git the dog away from the car too!!!" OK eventually moved down near Brownlee on Leopard, I didn't know that, just though another car lot popped up as they came and went all the time.