#11 ORDNER'S USED CAR LOT.

#11 ORDNER'S USED CAR LOT. At #11, Ordner's Used car Lot was next to Missouri Pacific train track on Leopard. Now we have that squared away, Ordner's was a small car lot, there were lots of them dotting Leopard Street in 1960s, this being about 1966. My dad knew him being a car guy and at the time, was working for a Rambler Dealership downtown. Was not BFF's or anything, just knew him. The office was a small garage type structure that appeared to have been a old house at one time.

From Leopard, it looked like a 1950s house, but from train tracks, back end of it was garage and also where they washed the cars.

Wash the cars. The cars were resells, probably trade ins bought at auctions at Lew Williams across street and other places. Always appeared to be clean.

And considering that it was maybe 15 feet from Missouri Pacific train tracks and train went by sometimes multiple times daily, the cars would get dusty.

Inside the old office looked like La Retama library but with ashtrays and cigarettes. Never saw the old fellow smoke but guess someone there did. I would only go in solicitation purposes you know selling World's Finest Chocolate candy bars for Cathedral. He had a stand alone water fountain in there, cold water, but not as cold as KAYO gas station or even Gulf Radiator or Sandlin Radiator place. But you use it anyways, so can check out place while drinking. Girlie calendar too just like Kelly's Tires, didn't want to see that when was 7, but few years later as teen, coveted possessions ha ha.

There was no showroom of course.

The big locomotive, when it rumbled by, barely went over 10 miles per hour.

And due to weight, you could watch the rails under in bend and creak under sheer weight. And I usually stood 10 feet away. Everything around you trembles if you have ever been close to a train like that. Even the cars behind me at Ordner's jiggled.

I would later go to school with Ordner's at Corpus Christi Academy, one guy, Mike Ordner was in my 7th grade class with Mister Muttera teaching. Kid was smart. Another was in late brother Tommy's class, Ordner lady, don't remember her name but seems all the Ordner's had blonde hair. Bright, sunny, blonde hair. She was one of maybe handful of girls at Corpus Christi Academy then as was 'all boys school' in 1971, more on that later, getting ahead of myself time wise.

My dad could not understand why Ordner was selling used cars as "he was rich" living out near Academy. I didn't think the neighborhood across from Saint Teresa's on Lantana was rich, just better off than we were. Everyone was better off than we were. Sigh. But I know a number of successful Used Car Salesmen now. Maybe was same back then, put more than beans & rice on table.

The Ordner car lot at night was decked out with strands of light that could be found at many car lots of that era. Staples, Port, all of them seemed to have flags and Edison or regular type light bulbs in sockets, gave the cars nice look, would not be until a few years later lots started using florescent bulbs like Charlie Thomas Ford and Lew Williams a block or two over.

Photo #1. Many car lots in Corpus Christi had these type lights in 1960s. 70s too, but in 1960s, Ordner's was one of them that caught your eye at least for a moment, away from huge Lew Williams 100 yards away at Port & Leopard. As a kid.... seeing something you can't buy or afford, these lights were magnetic, like moth to flame, and when poppa stopped to have a look (at night no annoying salesmen around) Tommy & me go with him, and not sure what we liked more, the lights, the reflections or the cars.

Photo #2. No, this not Ordner's as don't remember anyone there ever wearing a suit. Nice shirt perhaps, just no suit. Why would someone wear one when the big train come by and dust you up? But these type streamer flags, used to have a friend's mom & pop in 1970s that is how they made their living, putting up flags all over Corpus Christi car lots, no job too small, was amazed at how they did it. They lived on Louisiana Parkway and house behind Trinity Lutheran church. Son's name was LJ with girlfriend Kim.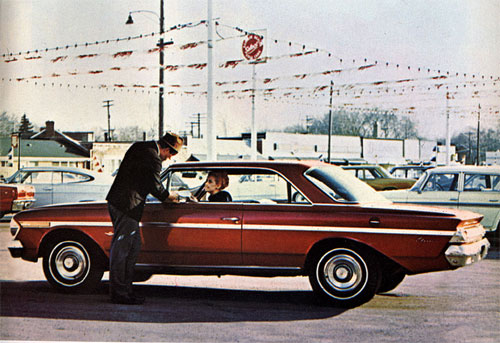 Photo #3. This big blue fellow, a number of them, rumbled back and forth next to Ordner's car lot, wonder how photos stayed on walls there with all the shaking, rattling. I used to tape nails from cage's Hardware on tracks, train run over them, make little swords I would sell at school. People buy anything in 1960s, now more so, maybe need to start buying those nails again. The engineers seemed to know Mister Ordner, and would sometimes park their train between Antelope & Leopard, but not close enough to Leopard to make the rail road crossing lights triggered and go off. Then they all go to Noe's Café a few yards east of the tracks to eat.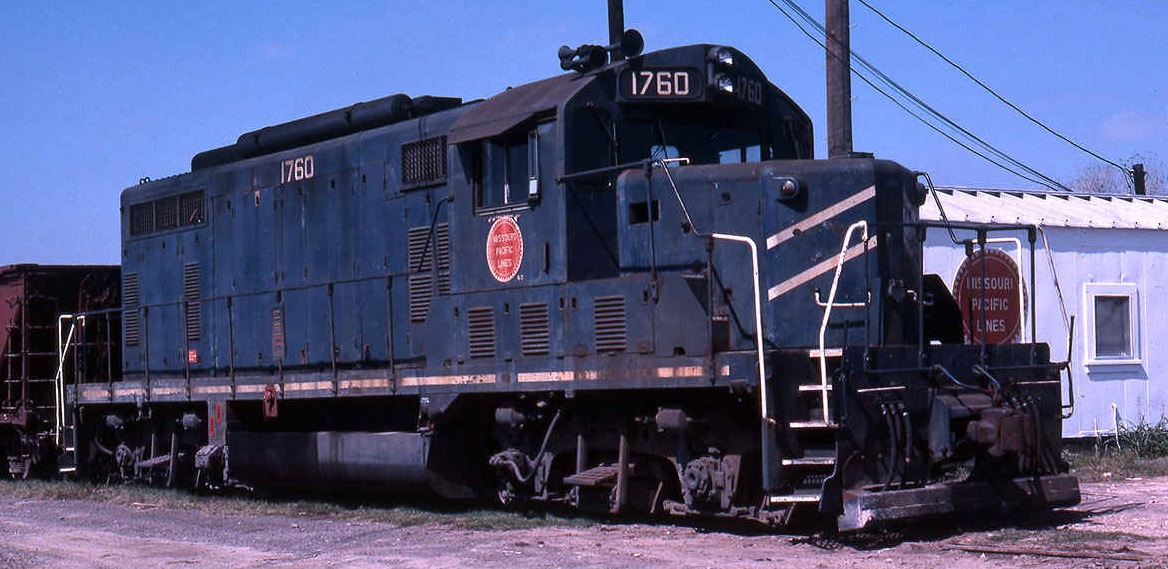 Photo #4. Cropped photo of huge photo on my site shows a number of vehicles on the Ordner's lot next to Missouri Pacific railroad tracks, and Hasty Tasty off to side.