PATRICK CONWAY FACEBOOK GROUP CORPUS CHRISTI MEMORIES PAST & PRESENT. I got kicked off this Facebook group May 2020 for using word "crap" & "ass" in my posts. You can't make this shit up. Not calling anyone names, just using them in story.

My son Jacob was "banned for life" for posting two Corpus Christi posts, one about large crowds on Padre Island Memorial Day 2020, the other about a record hammerhead shark caught on Bob Hall Pier! Corpus Christi posts! This is about the record hammerhead shark caught

https://www.facebook.com/Jetty-Rats-439209826882190/

This is the airplane flying over Padre Island Memorial Day showing crowds

https://www.facebook.com/portasouthjetty/

For the record, Rockport, Port A, Aransas Pass, Kingsville, a lot of towns are looked at as "Corpus Christi Metropolitian Area" My son Noah was sent a intimidating messenger email below. I don't fully comprehend it, but wish to address a few things.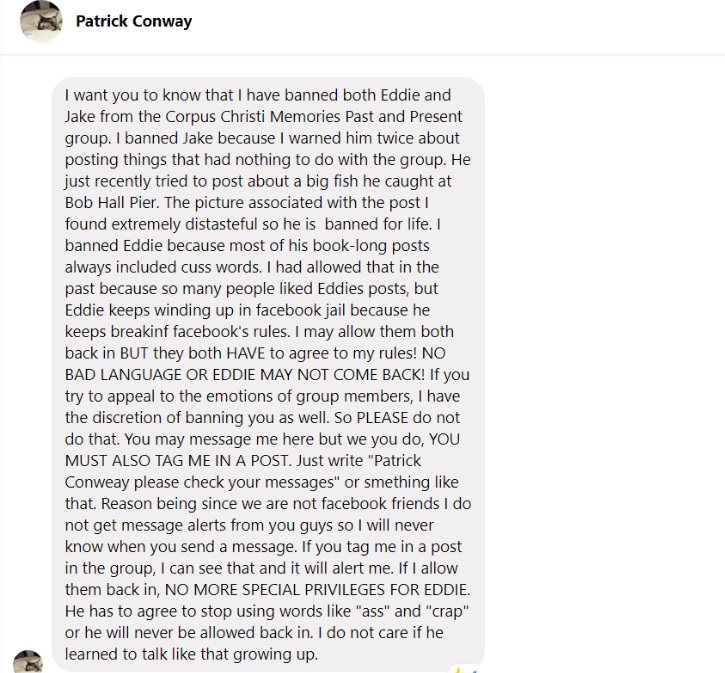 One. I do NOT get paid for my posts about Corpus Christi in the 1960s/70s and have written over TWO HUNDRED STORIES for this and another Corpus Christi group. The stories end up on my own website Planet Houston AMX.One is about Leopard Street & the shithole area I grew up in dirt poor
http://www.planethoustonamx.com/Corpus-Christi-1960s/index.htm
the other file everything else Corpus until I moved in 1983 to Houston
http://www.planethoustonamx.com/corpus-christi/index.htm
My posts were shared over 250,000 times in 2019, at least that is what facebook told me. I don't get paid from facebook either. If you think facebook is all that, you are wrong. I got kicked off facebook for wishing people Happy Birthday after facebook asked me to uh, wish them Happy Birthday. You can't make this shit up:
Communication. Patrick, and others, I am easy to reach and if there was something objectionable just google EDDIE STAKES and there is all the information to easily get ahold of me. There is absolutely no reason to shame any member in the group. I, nor was Jacob, ever notified of a issue. Jacob looked thru his messenger and nothing. I can still messenger though for moment am in facebook jail. But will be out 1st week of June 2020. Sad was "banned" while in facebook jail too, that is wrong on whole bunch of reasons.
I was in facebook jail for making fun of isis propaganda photo that WAS ON FACEBOOK. I commented "aw they blow up so fast!!" and guess the facebook isis fan club got offended. Think about that. What happens to me OUTSIDE of this group should not have any bearing on anything else.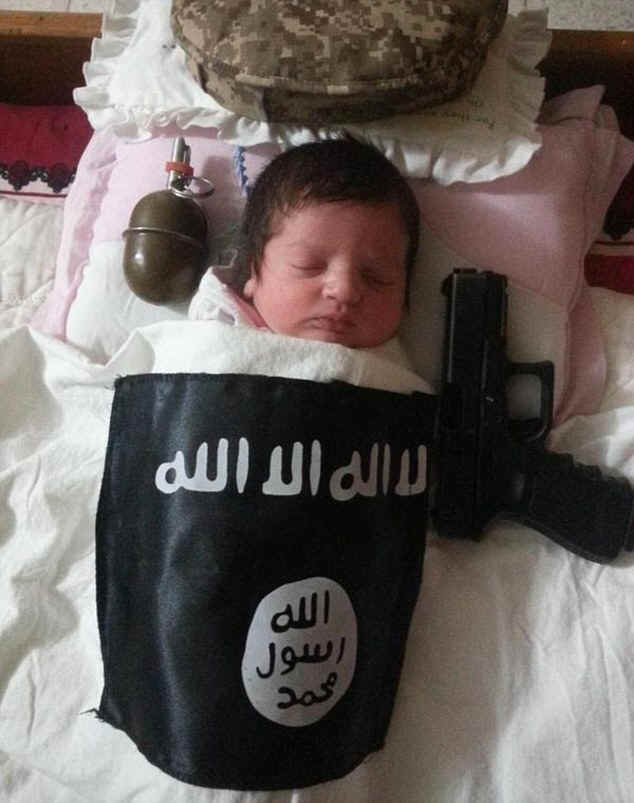 Never have I heard "my posts are too long" except from wife, and in this CC Memories group. Any articles I have written for decades, including before facebook for national automobile magazines, welcomed, and appreciated. I do NOT get paid for those either.
Too many Corpus Christi posts are "who remembers Panchos?" & "who remembers fishing?" ugly billboards like below. No substance, most do not have a story, and all seem to be just 'I do" & 'yes I remember" which is fine, just nothing to them. Besides everyone has different memory of life.
I have learned it is not how many people in a group, it is how many contribute. A group on facebook had 200,000+ members about old cars, but administrator would kick people out on posts he didn't like. Gone are the historians, editors of national magazines, and fellow old car groups. People got intimidated and quit posting. Its too bad as could have been a big, large and active group if not mismanaged or micro managed.
QUALITY, not QUANTITY
If you have constant whiners in the Corpus Christi Memories Past & Present, you have a problem, as these people will tag and complain and report anything they object to. And THEY are the problem as they don't contribute a damned thing except bitching.
I'm not easily intimidated working in Houston & Corpus Christi bars most of life. I don't like being threatened either. And I also learned as a kid growing up in shithole ghetto Corpus Christi area to don't hang around where I am NOT wanted either. The black area The Cut & also Ben Garza Park quickly come to mind.
Not sure why Patrick Conway the Administrator of the Corpus Christi Memories Past & Present didn't bother to messenger me, call me, or email me if there WAS a problem, but I don't see a issue, other opinions may vary. First time I have been kicked out of any facebook group, and one I thought was family. I appreciate whoever it was who invited me into the group years ago, and have enjoyed telling stories of my youth since am only one in my family left to tell them.
I have never asked for any special privilege, special treatment in anything in life, much less a damned facebook group. Even in my own AMX & Javelin big ass group.
I am Catholic and a forgiving man, but while a number of people have told me to move on, I think it sucks Jacob kicked out after posting two Corpus Christi related posts. The kid is enthusiastic when it comes to my hometown and we can vacation anywhere we want, but he, and Noah, always want "lets go to Corpus Christi poppa!" And see Hooks play, visit my brother Tommy's widow Maria, go to beach and I take them to places if still there I remember 50+ years ago. And write about it. And hope people enjoy the story not about Pancho's again or another billboard.
And so it goes.