84 Sears's Roebuck (corner of Leopard & Sam Rankin)


At the corner of Sam Rankin & Leopard in 1960s was a sprawling Sears store.

They had EVERYTHING, well, except food, that was left to Beil's on other side of crosstown a few blocks west, and 2 blocks from there at corner of Port & Leopard, a big HEB. Sears was about 6 blocks, short Corpus Christi blocks, from out house 2009 Antelope & grandma's house next to it 723 Doss. So we could ride bikes over there.

Sometimes a whole group of us kids rode over there and invaded the store. No one ever used the front entrances facing Leopard, there were some big plate glass windows with neat things from mannekins in dresses, to lawnmowers, to tools. And Christmas time, toys, lots of toys. Everyone went in back doors, more parking, we could park bikes there no one bothered them either. And then you go down about 20 steps, but from the perch as soon as you walked into the store, could smell the popcorn, cotton candy.....

My dad, Homer T Stakes Sr, used to buy his tools there as Craftsman tool are some of the best in world, even back then, Made in USA stuff. And he was ace mechanic in ths time frame for some downtown American Motors dealershisp so tools were his 'right hand' he used to say. Besides the stuff mentioned above, Sears was loaded with neat reasonably priced clothes, modern black & wite televisions, and bikes! The area around the bikes always smelled great with new tires. Us kids would sit on the bikes hoping Santa would bring that new banana seat Schwinn to one of us for Christmas.

Sears also had a large area with iceboxes, freezers, washers and dryers like their Kenmore brand, this was located in the "84A" area of my big map. Just to west of Sam Rankin in spitting distance was a long, and I mena LONG row of bays to work on cars. Sears did alignments, engine repair, brakes, you name it, had lifts in there for the cars. That is "84B" on my big map.

Behind the Sears automotive repair building was a Coca Cola machine that you put dime in, it drops a cup, drops shaved ice, then fills cup and ice with soda. Quite novel in 1960s, but no match for me. After everyone went home, was dark, or on Sundays when closed, I would ride my bike up there, sometimes with dog Bootsy in tow, and stick my hand up inside machine, easy to grab a cup and pull down, then bend the nozzle to spray soda, sometimes you got Sprite, sometimes Fanta, sometimes yucky Fresca. Sometimes soda ran down arm, so sticky arm, but free soda no ice.

We bought a number of things from this Sears store on Leopard, momma bought material to make curtains, we had clothes, socks, even icebox (this was all BC Before Celia) but the thing that permeats my brain about this Sears store 50+ years later is the smell of it inside, and the UFO type lamps that hung from ceiling. Before you went down stairs inside store, you were looking straight across at all the lamps, sometimes thought could grab them. And the smell, now I believe this was Sears selling technique with no ventilation for popcorn, cotton candy (they had tons of different nuts like cashews and candys too!) but it just would hit you as soon as you walked in store no matter what door.

At a later time on east side they had some Credit Union stuffed in there, possibly with a Lay Away too. The Sears looked similiar to Sears in last photo, but I do not know if any Sears photos of the actual building on Leopard & Sam Rankin from 1960s exists still. Was a great time & place to be a kid!

Photos! Photo #1 Sears entrance facing Leopard Street.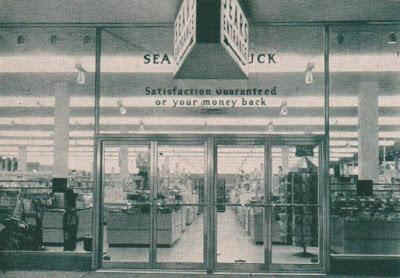 Photos #2, #3, #4 inside of Sears offered wide array of items, clothes, televisions, tools
Photo #5, dude you have greatest job in world, meet hot chicks all day, don't look so bummed out for that $1.75 a hour job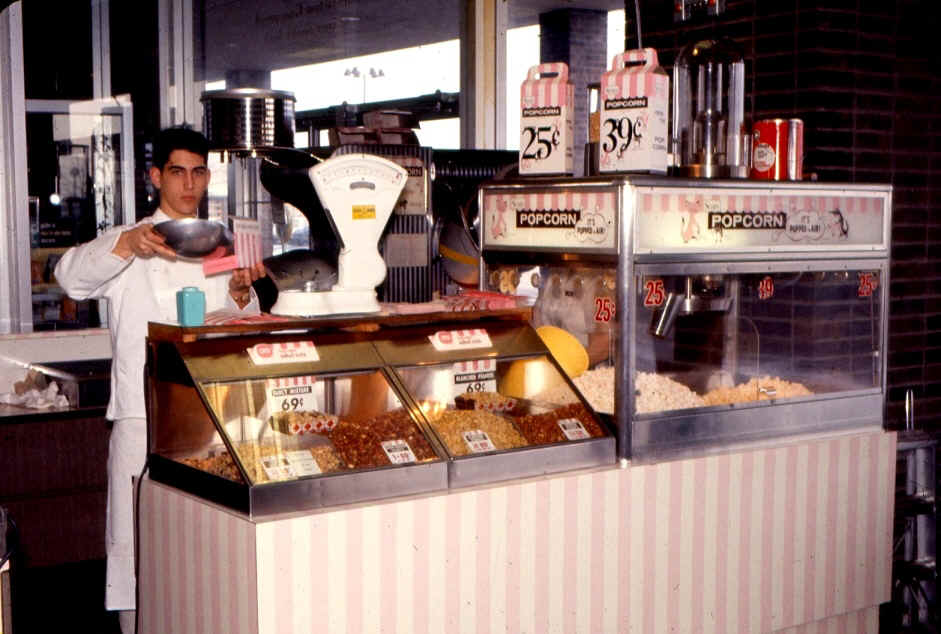 Photo #6. Rare photo of Sears on Leopard taken from corner of Sam Rankin, it would later expend to include large auto repair place next to Hameueis store.