59 Texaco & Rods Car Sales

In mid 1960s, Leopard Street had every gasoline you could need or want, Leaded, even high octane Ethyl! And no shortage of gas stations on Leopard street. The Man with the Star

Since my posts pretty well are documenting from Port & Leopard east to about Wilson Tower, I'll name the gas stations for you before we get started. Doss & Leopard Mobil #30; KAYO corner of Crosstown & Leopard #35; there was a sort of generic gas station across from KAYO corner of Antelope & Leopard #34; Gulf was at corner of Brownlee & Leopard #56; across from it was FINA corner of Brownlee & Leopard #57. And Texaco #59 corner of Mexico & Leopard.

I don't remember any more gas stations farther towards uptown but might be missing one.

At the time, there were stop lights hanging from Leopard every block just about inward, these not cheap Chinese plastic stop lights now, each one weighed about 100-200 pounds, so cables along with electrical wires up there. So Mexico, Josephine, Sam Rankin, North Alameda, Staples, Waco, Artesian, Carrizo, north Tancahua, and Carancahua. That is a stop light EVERY block, and just dumb if you ask me, but most were timed to traffic at 30mph and well, Leopard WAS the gateway to Sparkling City By The Sea. Later as traffic volume slowed, they came down right and left.

The Texaco was one of three really well built gas stations I remember in 1960s, other was Mobil & generic place across from KAYO. All three still stand. Texaco colors were green & white, a red star in the middle. This location was arched like house, and big glass windows in front, side facing Mexico street & Lloyd Remple's car lot there. To the east of building was two stalls which provided all sorts of work, including oil changes, brakes, alignments, and more. Was not a huge volume seller of gas, but most of the money made on services, often thought many people drop car off in morning, the suits go to work a few blocks down at Wilson Tower & 600 building, and come back, car ready to drive home to burbs.

Texaco "The Man With The Star" closed down sometime in 1970s, and Coca Cola of which the sprawling complex was next to us at 2009 Antelope & 723 Doss, I don't know if they rented or bought property, but stuck coca Cola big red sign on it, put up 12 foot hurricane fence around it, and started using place to fix their delivery trucks, so full of Coca Cola trucks now.

Here is a 1 minute commercial of You Can Trust Your Car To The Man Who Wears The Star Texaco ad touting new High Performance Star Chief gasoline, won't be able to get the jingle out of head though

https://www.youtube.com/watch?v=RPk-lRVpDq4

When Coca Cola moved, they pretty much were out of room over there on Lester & Antelope, and had tried to buy our property for $28,000; well, when the moved out to off Greenwood & SPID, this Texaco, then Coca cola Repair shut down. Was vacant for some time, and for sale or rent. The east side stalls had been filled in, and some of the large plate glass windows not smaller.

Gas pumps long gone of course, but thew cool overhang still remained, and one large pillar into the area where two gas pumps used to reside.

At some point old Corpus Christi friend Rodney Page set up his Used Cars sales there. And it became Rod's Car Sales, so building had worn a number of hats since 1960s! I don't know when the 12 foot hurricane fence Coca Cola put around it was taken down and the wrought iron fence replaced it. The building is not vacant as whole area pretty much under construction due to expansion of Crosstown next to it. Scooby Doo Mystery House with mysterious 2nd floor door still there across from Texas though.

PHOTOS: Photo #1 Texaco, aka Coca Cola Truck Repair aka Rods Auto Sales physical address is 1519 Leopard, and corner of Leopard & Mexico. Yes, when it was Texaco they used to give out Texas Gold Stamps with purchase!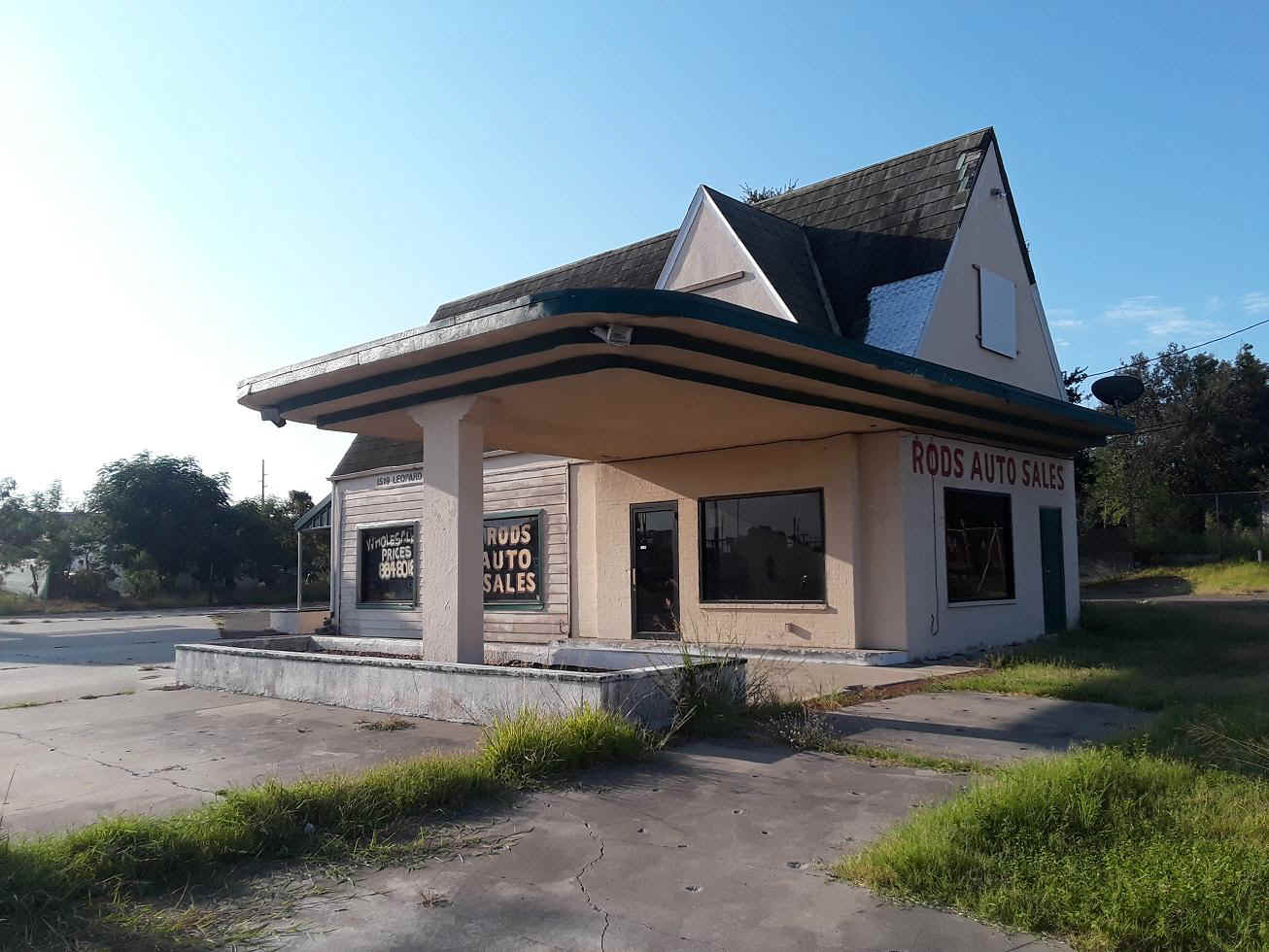 Photo #2, this photo along with #1 taken early August 2019. Shows newer wrought iron fence to keep out winos and crack heads, one guy at 9:00 in morning when taking this photo approached me asking if I had any spare change, I got a buzz just off his breath. In background I believe that is a courthouse, and where Sears used to stand facing towards bay.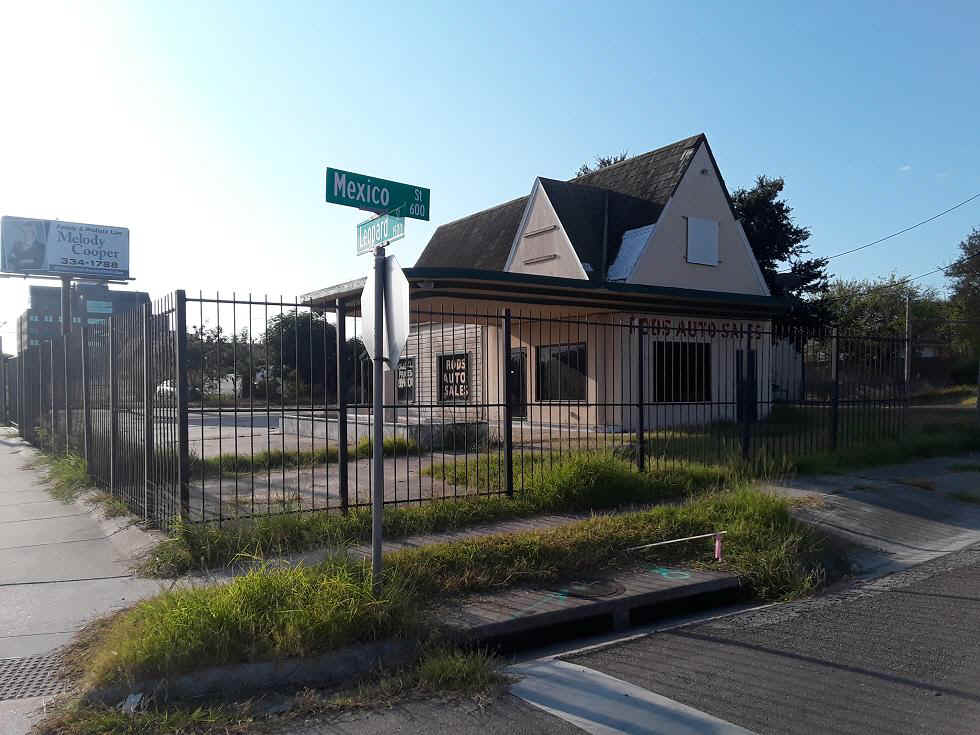 Photo #3. Not the Leopard Street Texaco this photo just used to show one the colors Texaco used to use, and pretty much same setup as Leopard one, with stalls to left of main building. Big letters show WASH & LUBE. Check out pumps!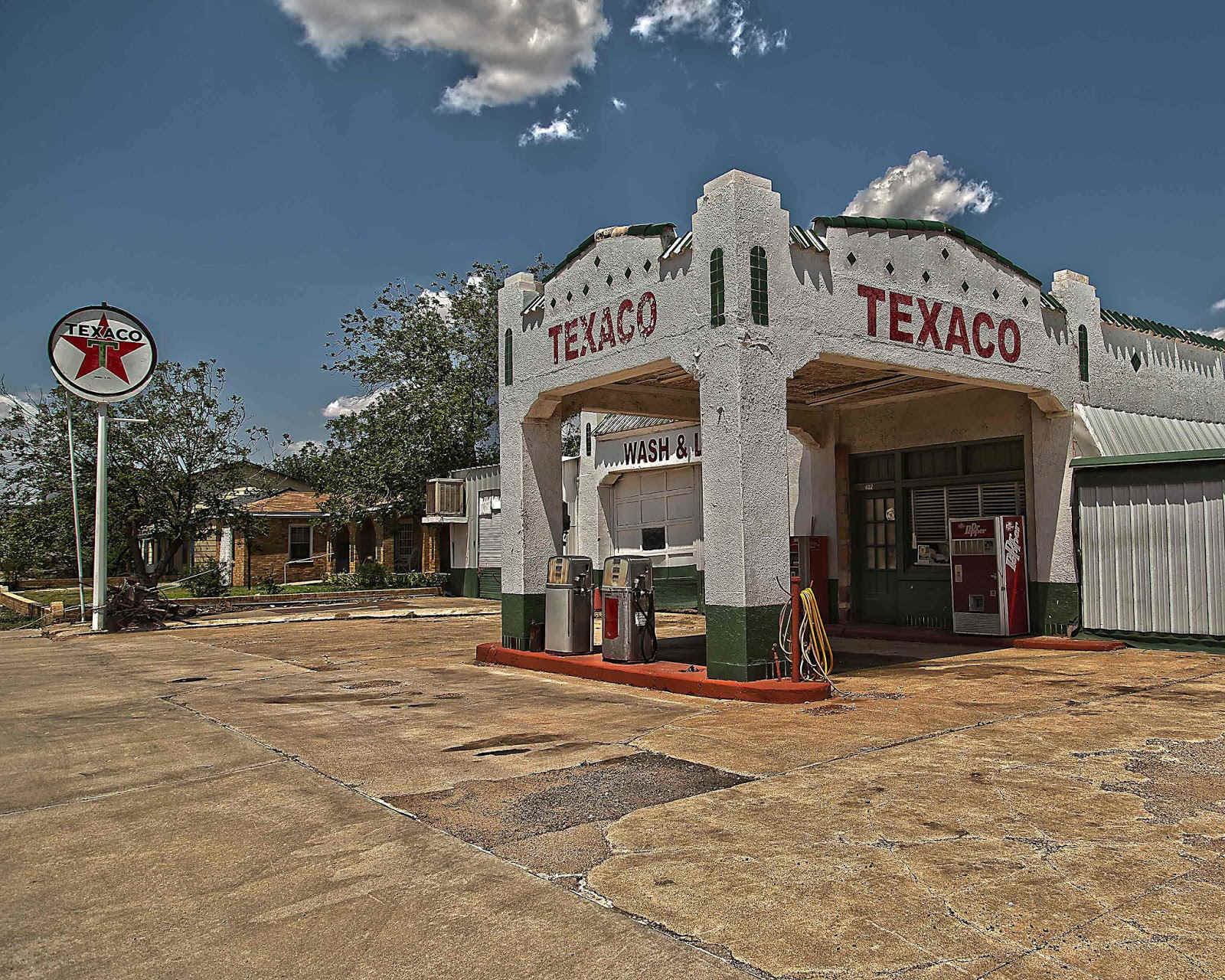 Photo #4 always embarrassing to ask for gas station keys, many stations would not only lock doors, but give you the eye if you didn't buy something, and to further humiliate you, the keys were usually on telephone poles! Texaco had their own cool key holder fob that looked like sign that graced outside most places.
Photo #5. If you momma & poppa rich, they could get realistic miniature Texaco gas station like this, only $350.00. But remember, that was in 1960s money so sort of expensive, would have taken my day 2 1/2 checks to pay for that. But if you can find one of these now, they are not only uber rare, but will set you back thousands of dollars!