Unknown Car Lot 1501 Leopard
UNKNOWN CAR LOT (north side 1501 Leopard between Josephine & Mexico) This UNKNOWN car lot (at least for now!) was on north side of Leopard sandwiched between Mexico & Josephine streets. It stretched back to the oyster shell alley that ran from behind Bunks, along Mirabel bakery, there were little white, clean shotgun houses back there in 1960s. This car lot (to me) was HUGE, but in reality was only 2X the size of the OK car lot catty corner across street in 1960s next to Hameuei's food store.
As with the other car lot, this one had wonderful edison lights, flags, but being bigger, had a circus like tent pole in middle near salesmen's trailer, and strung out all around, like a circus tent were those lights. So not only could this capture your eye from Leopard on which it was based, but from
I-37 just over Antelope street. Hell, you could see this from inside city jail. Ask me how I know. Ok, back up Officer Mudd.
This location also bought used cars from the dealership my dad worked ad, those are called Trade Ins. The cars at this place also spaced farther apart unlike other lot, which close together. Not sure how they knew I was riding bike look at cars in parking lot, but they knew. I don't think they had cameras, just ESP or something. At the end of their lot facing Leopard was Scooby Doo Mystery House with door to nowhere.
My dad walked with me at night several times in this one, was awesome looking up at the bulbs. And just being with dad, felt safer than if alone.
He avoided salesmen like corona virus plague, could not stand most of them with high pressure sales tactics. Keep in mind he worked with them downtown too at this time.
This location lasted well into 1970s unlike the smaller lot next to Hameuei's next to Sears though. Then one day, the circus pole with lights, all the cars, little salesmen trailer, just vanished like many things on Leopard street. Too bad the City abandoned this side of town, and especially Leopard street which was one time, the Gateway to Corpus Christi.
Oh! It is downhill along Leopard headed west towards Brownlee from Sam Rankin. You could learn to use to advantage on a bike. Rarely took Antelope as you end up at Lovenski Park full of drug addicts and winos, so stayed on Leopard and "timed the light" at Brownlee to blow thru it, sometimes faster than the cars. But! Next to Mirabel Bakery on Sam Rankin there was a nice, oyster shell alley that ran from Sam Rankin west to Mexico street. You could blast thru there also, but watch for cars (never were any) on Josephine, and also look at cars at the back of the big car Unknown Car Lot mentioned here!
They had a car wash, hoses back there if you wanted to stop and drink water.
But...if you were hauling ass, when you go to Mexico... you BETTER HAVE BRAKES on your bike as behind the Scooby Doo Mystery House was a series of small shotgun houses with a LOT of mean, chained up dogs! So I would start skidding well before Mexico street to slow down! Never went back there, lot of dogs, mean dogs, big hungry kid eating dogs.
PHOTOS: Photo #1. Early on the Unknown Car Lot on Leopard between Josephine & Mexico street looked like any other car lot on Leopard. Beautiful edison bulbs lit it up at night, shiny slightly used cars. Wonder when word "used" became a sort of dirty word when describing cars. On the left looks like early 60s Buick, 2nd car also looks like Buick, 3rd car is a Ford Galaxie, 5th car a Ford Thunderbird, and on far right, a early 1960s Rambler, now we talking!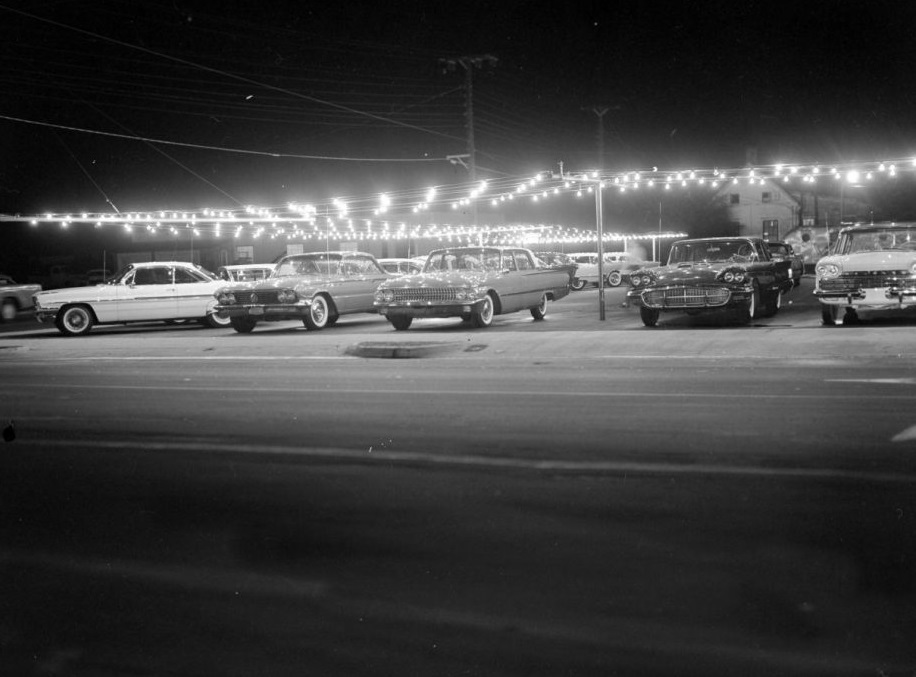 Photo #2. This is type of big circus type ten lights the Unknown Car Lot put up. They could raise, and lower the center of wiring on pole, like putting up a flag, and all the lights came down to where could replace them easily.
Brilliant. I won't bore you with all the wonderful cars here, ok, a few. Far left is a early 60s Chevrolet truck, dad had 2 of these. Next a Corvair, and a Rambler next to it! The Nova is a Chevy II type, my late brother Tommy built one, straight axel, 396, 4 speed, purple, fastest car in town, people see him coming and turn off side streets. Another Corvair, and what looks like Mercury Comet. How about that big moon.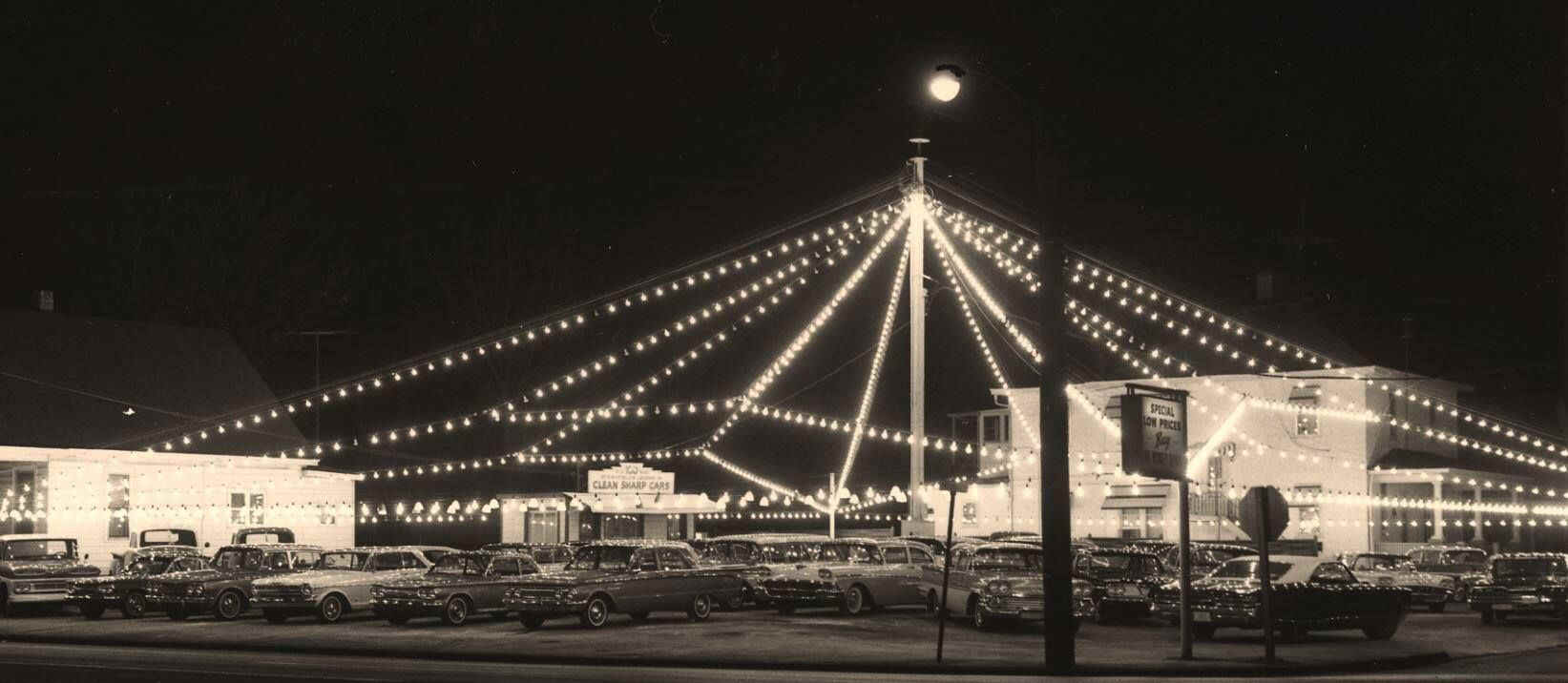 Photo #3. This is a 2019 photo of where the Unknown Car Lot once stood, taken from Leopard street. Closer to Josephine than Mexico Street, looking North, Antelope & I-37 in background.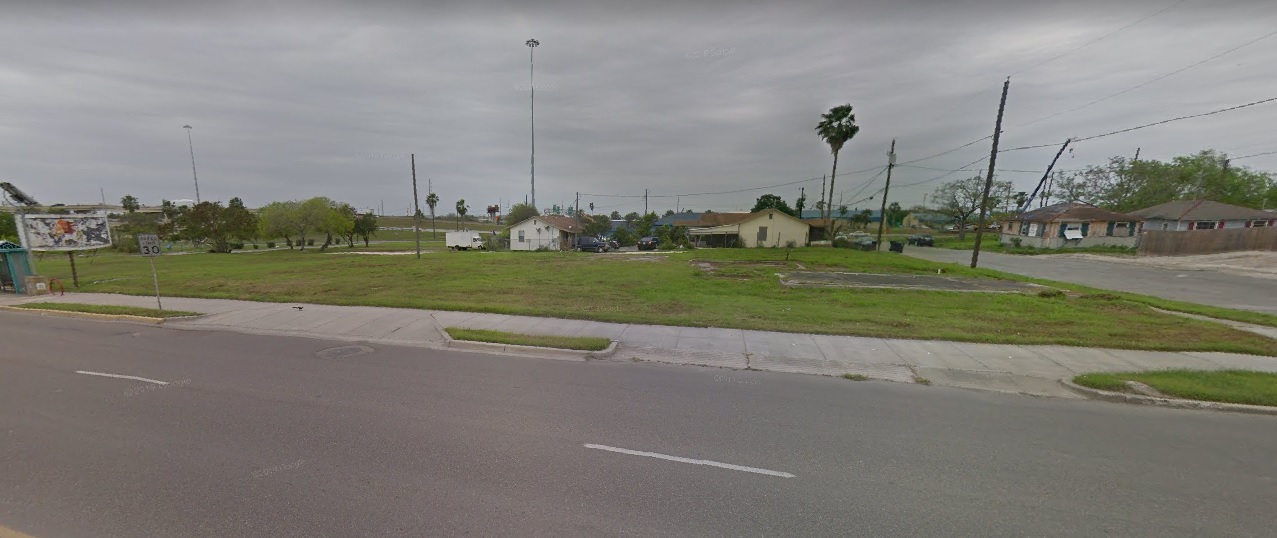 Photo #4. The long unknown car lot looking west from Josephine street towards Mexico street & Brownlee, look farther back behind small billboard on Leopard and there is Scooby Doo Mystery House. The white & green building on left was good friend Rodney Page's Rods Auto Sales, but in my time in 1960s, was Texaco, then Coca Cola Truck Repair. On the right, only small part of the oyster shell driveway now still there.

Photo #5. This is the bad dog house behind Scooby Doo Mystery House. All bad dogs on chains ready to eat kids and eat their bike too. There is only 14 of them here, I believe there was more of them in 1960s. And hungry. Trying to break chain and get kids on beat up Schwinn bikes that may or may not had brake pads.