Action Man!
American Motors Vignale AMX Prototype Campaign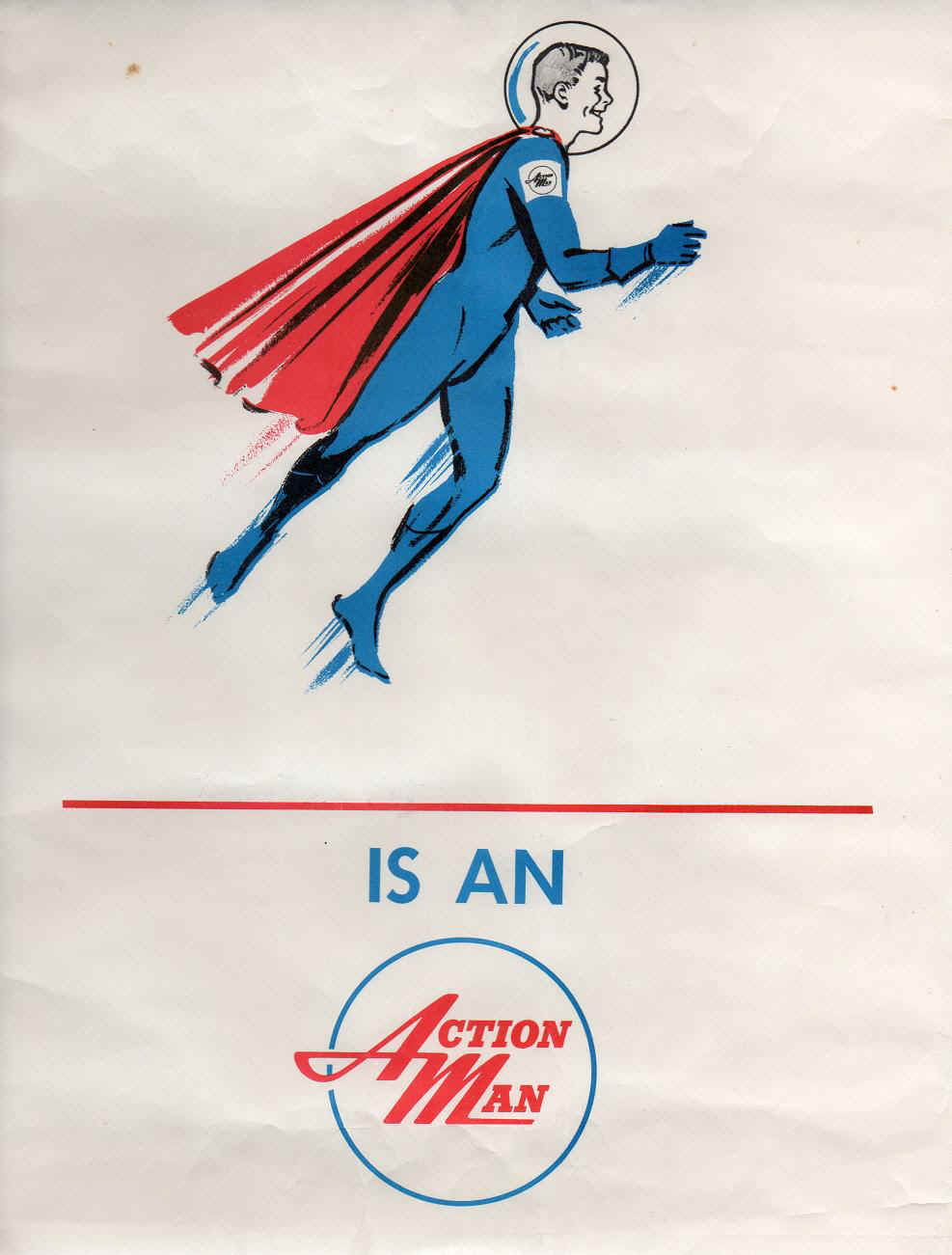 American Motors & Rambler Dealers were caught off guard by AMC's "new direction" the company was headed in. In April 1st, 1964, AMC's Automotive Sales Vice President, Thomas J. Coupe had touted "The Only Race We Care About Is Human Race" when asked about new new horsepower wars erupting with automakers in 1964. The official memo about AMC's view on horsepower appeared in the Press Release 04.01.1964 "Our basic policy on horsepower is unchanged" Coupe mentions, "We believe in having throughly adequate horsepower in our Rambler cars. We STILL oppose manufacturer participation in racing and in the glamorizing of speed and horsepower thru advertising and promotion." A copy of this release is shown here: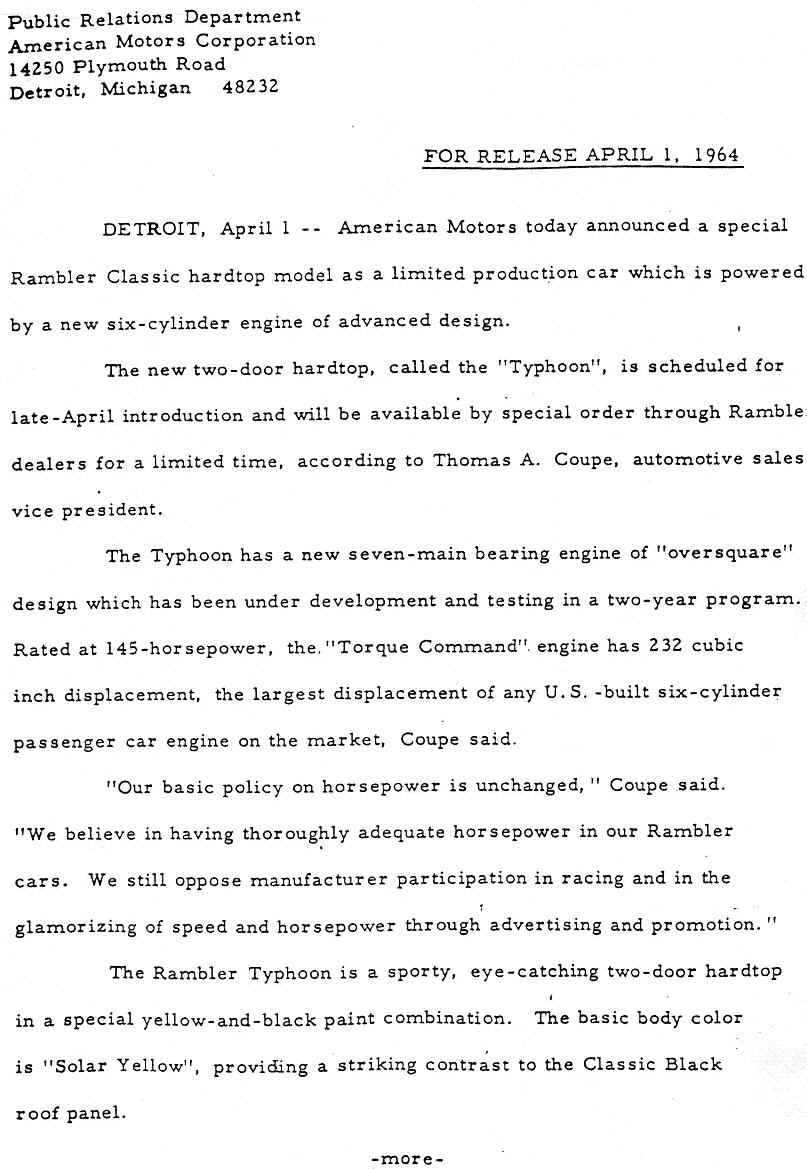 History can't be too harsh on AMC's "official word" as just year before in 1963, AMC & Rambler had won Motor Trends coveted Car Of The Year Award.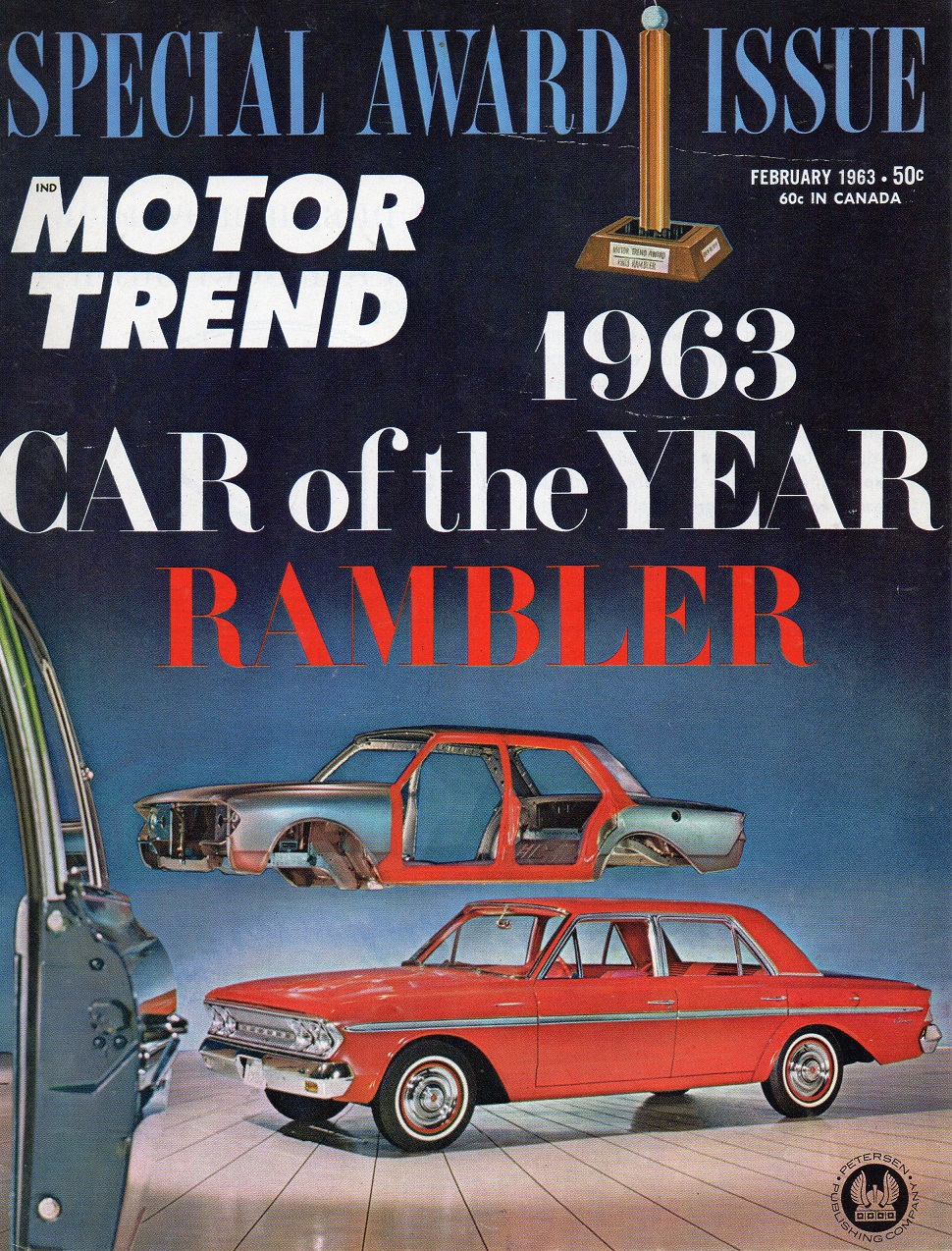 And sales were brisk of Ramblers. And when the April 1st memo about horsepower wars was being released, Ford two weeks later debuted it's new Ford Mustang, which was similiar to AMC Typhoon. The first Mustangs rolled off Ford's assembly line March 9th, 1964, 3 weeks before the Typhoon memo. So when the Mustang debuted at New York Auto Show April 17th, 1964, just 16 days after AMC's Typhoon memo, Ford had taken 22,000 orders for the new Mustang at the auto show, which AMC brass sat up & took notice.
Enter the dragon. Legendary auto designer Dick Teague countered with the AMX in 1965, his wonderful design team putting together a series of automobile sketches of 'what if' cars. Many, MANY wonderful sketches came from Eric Kugler, George Krispinsky, and Norbert Ostrouski. Jim Pappas sketched the interior. At any given point there were 20 people involved working 40+ hours per week. Frank Wild, Chuck Hosper, Ron David, Frank Lindsey worked tirelessly on a clay prototype, which began life as a wooden buck. This AMX originally had stacked headlights, but changed to singles during production.
The final product was this clay model, which is clay covered with Di-noc and painted gold.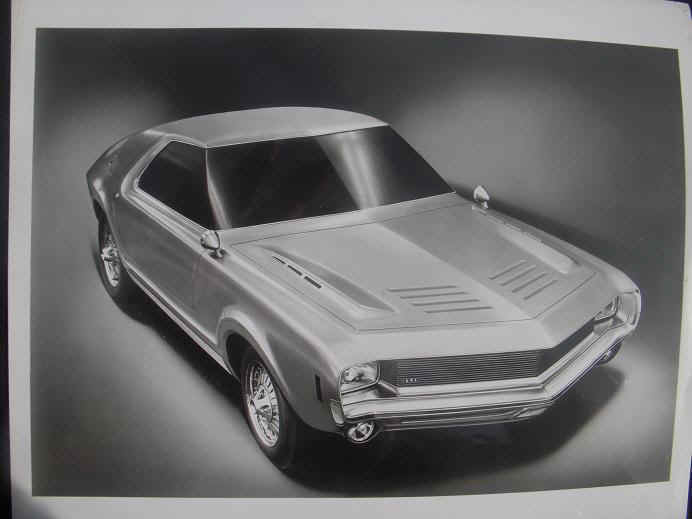 AMC's Advanced Styling section under the late Chuck Mashigan, built it in fiberglass. There pushmobile debuted at the SAE Convention in Detroit in Janaury 1966. These are two photos from my personal collection of that event never seen before.
This was the official American Motors postcard released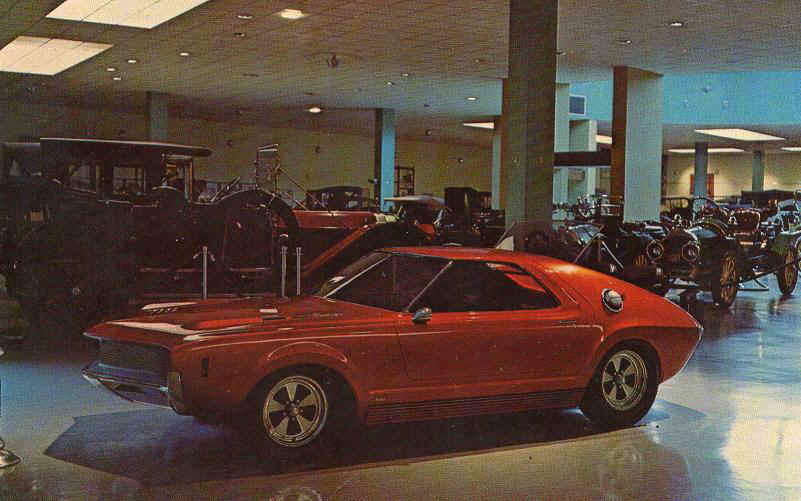 While this was going on, 2 more fiberglass prototypes were built and AMC hired Vignale in Torino, Italy to built a steel version. This car would also go on the tour circuit. The steel Vignale was built in less than 80 days and would make it's debut to lots of fanfare at the New York Auto Show in June 1966. At one time this car was white, then blue, then tangerine. The tangerine was most interesting as it was a color shifting paint. Guy Hadsall Jr was in charge of AMC's Automotive Display at this time period.
A second postcard from AMC was not only given out at auto shows, but sent to dealers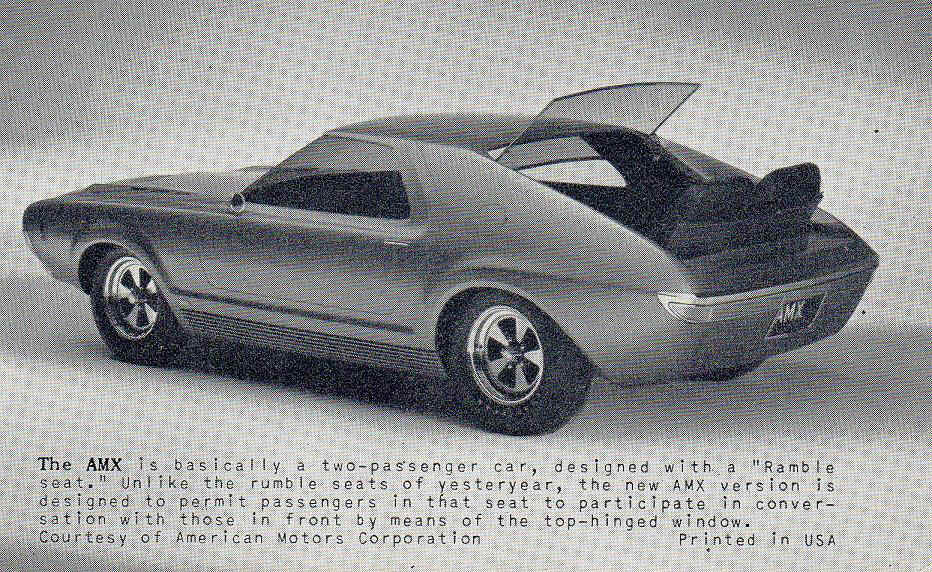 The rims are Radir. Later it would wear Dayton wire wheels. The Vignale AMX prototype had a lot of neat electrical gadgets which would open winged doors, electric rear ramble seat, hideaway headlights. Two gas tanks on either side inside the 1/4 panels, the car got great reviews in the 10 cities AMC hauled this to as part of their '"Project IV" campaign, which also included the AMC Cavalier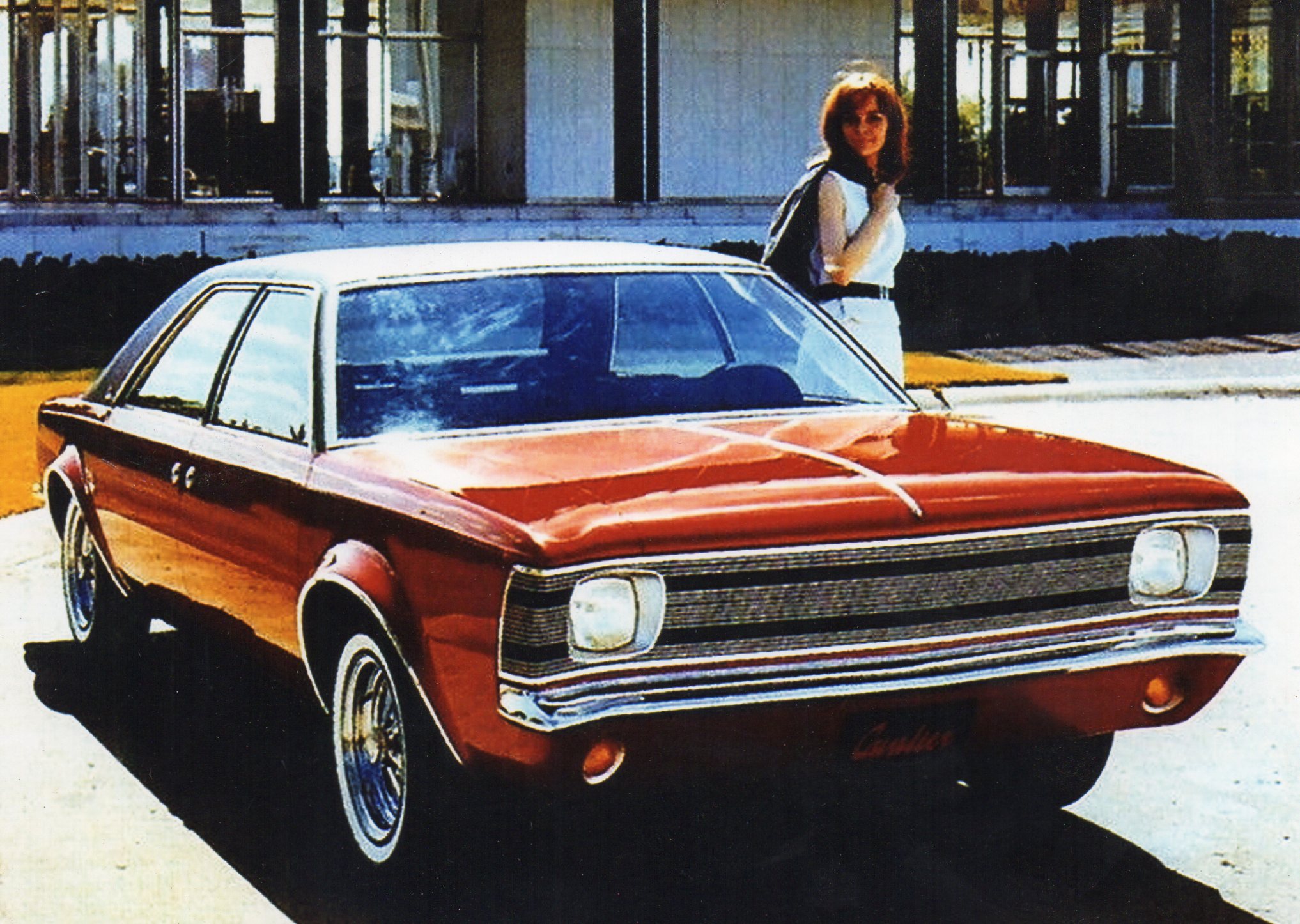 the AMC Vixen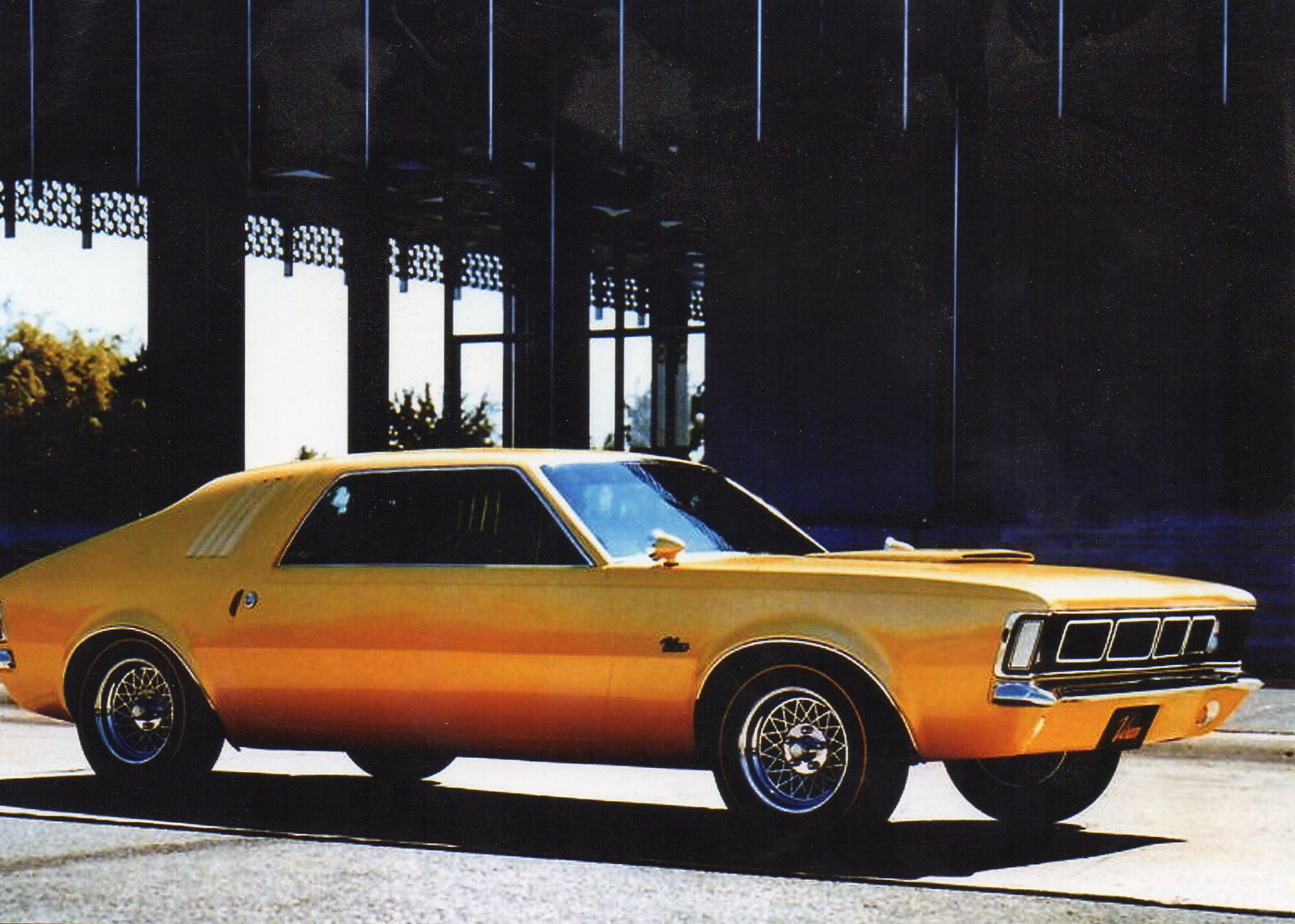 and the AMX II, which was a 2+2 coupe designed by freelance artist Vince Gardner.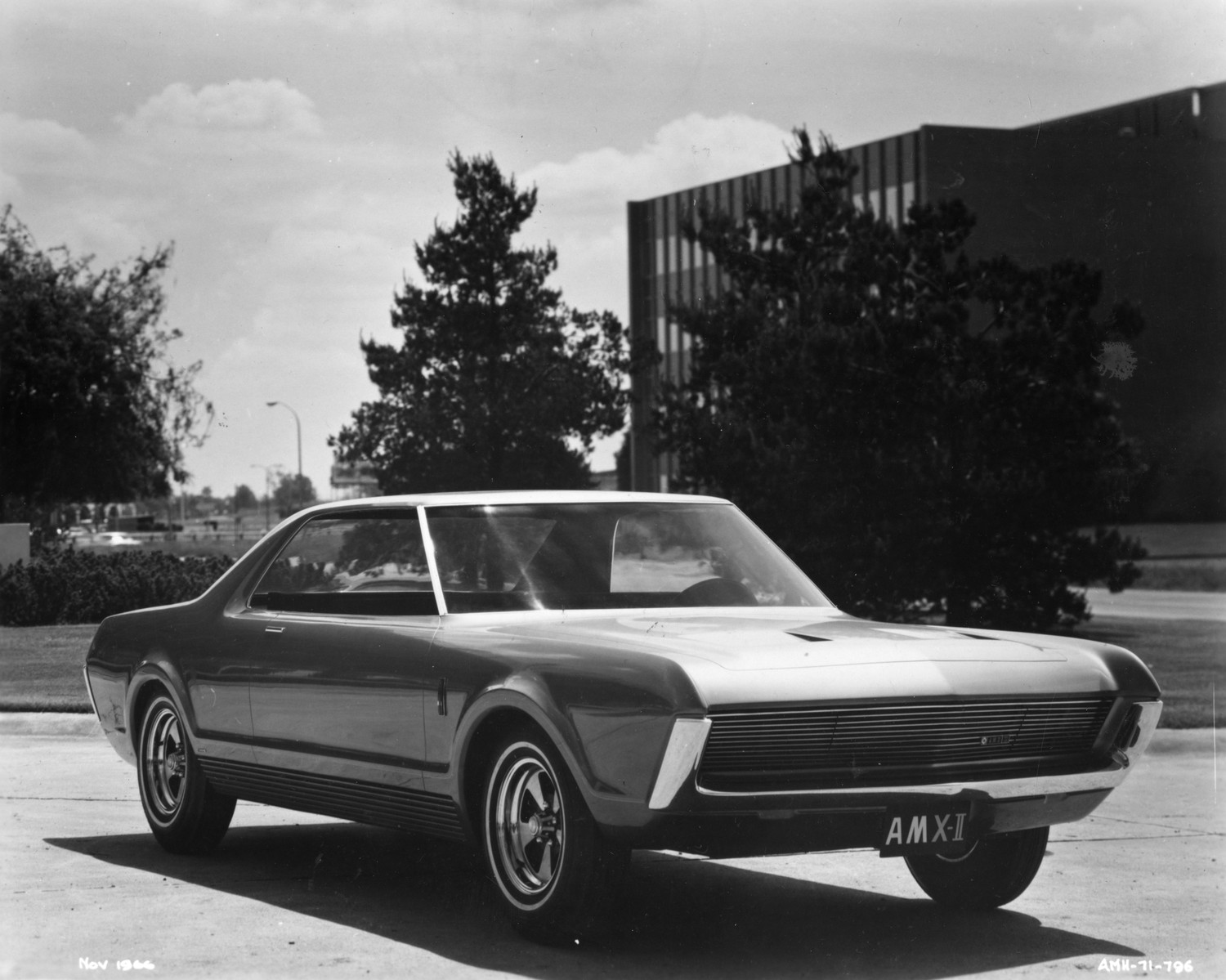 By now the AMX was well onto the show circuit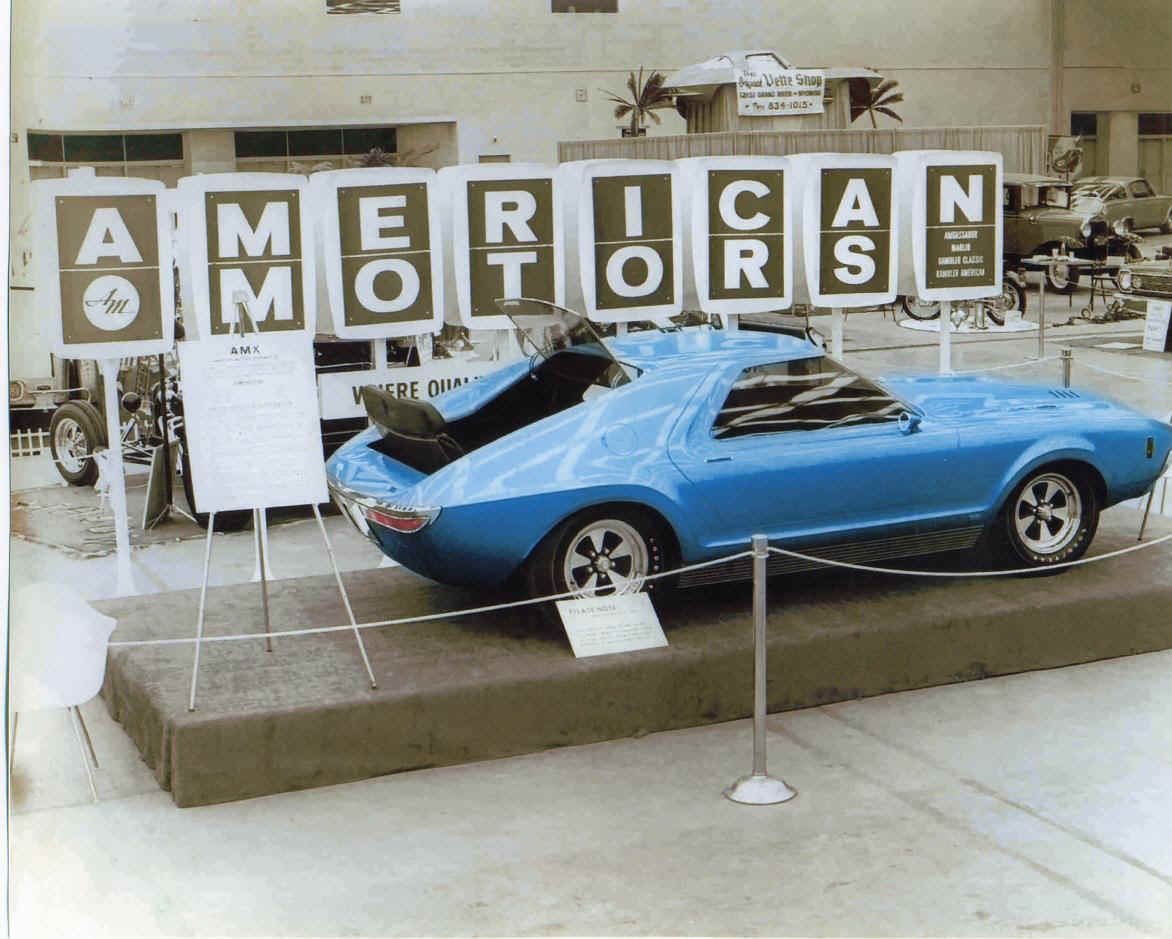 and word spreading that American Motors was changing course. I can't go on about AMC's prototypes here as would take up a ton of space, and some of the stories behind them lost forever.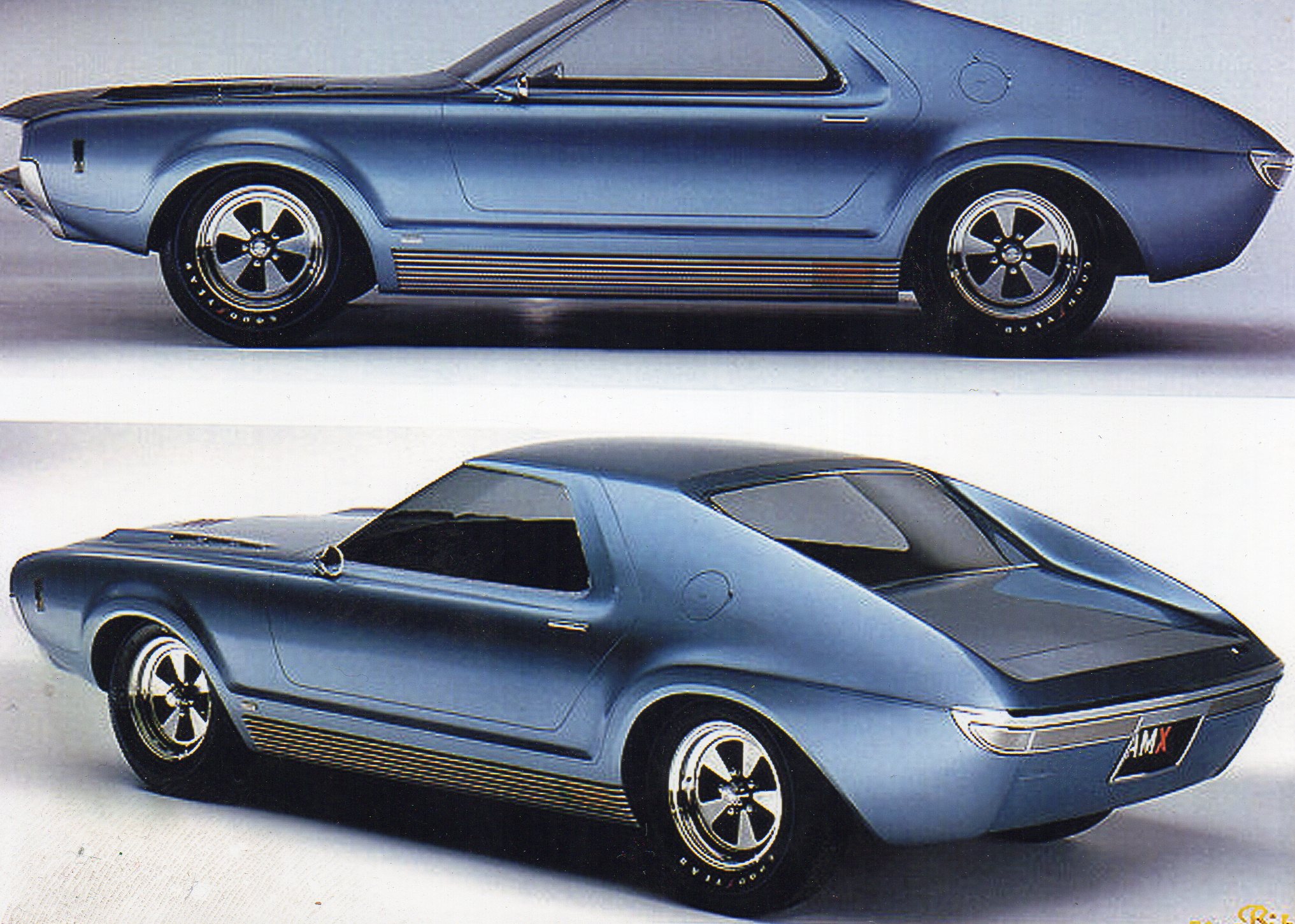 This is a glowing review from Chicago Tribune write John McDonnell that appeared in Sunday February 20th, 1966 of the pushmobile AMX (in blue at this time) tickets were $1 for adults, 50 cents for kids under 12. "Two of "Dream Cars" pictured on this page, the AMX by American Motors and a Chrysler Plymoutn 300X are being shown to public for first time. Favorible public reaction could make Rambler's experimental AMX a production reality in a few years, the car has a cantilever roof." And "this radical new AMX car features a cantilever roof which eliminates the front support pillars. The roof is supported by inner structal members which also searve as a roll bar. The AMX (pronounced AMEX) is basically a two passenger car, altho the design calls for two 'jump seats' in the rear plus a modern version of the old rumble seat. Top hinged windows protect the passengers in this so called 'Ramble' seat from weather and windw. The AMX has a overall length of 179 inches, it is 72 inches wide and 48 inches high and has a 98 inch wheelbase."
This is my copy of the Chicago paper from that day:
So how about our little space hero Action Man?
Dealers were sent a mailing tube 'teaser' with a large poster, a card and flyer. No description but the poster would have definately picqued interest and probably all of them ended up in dealers office walls. American Motors would soon let dealers know their true intentions and how the company would turn around and get into the game, late, but get into the game with horsepower wars, and also stylish new models from a design team on a limited budget. Soon, there would be all new models which would translate into showroom and dealer traffic and sales. But had to be patient as Action Man was sent to dealers in summer of 1966. Some of the larger dealers in the cities AMC would have been familiar with the AMX prototype as AMC would have had their "new" cars at these shows. But a majority of the 2636 AMC & Rambler Dealers would have not known about this campaign. So they got the tube.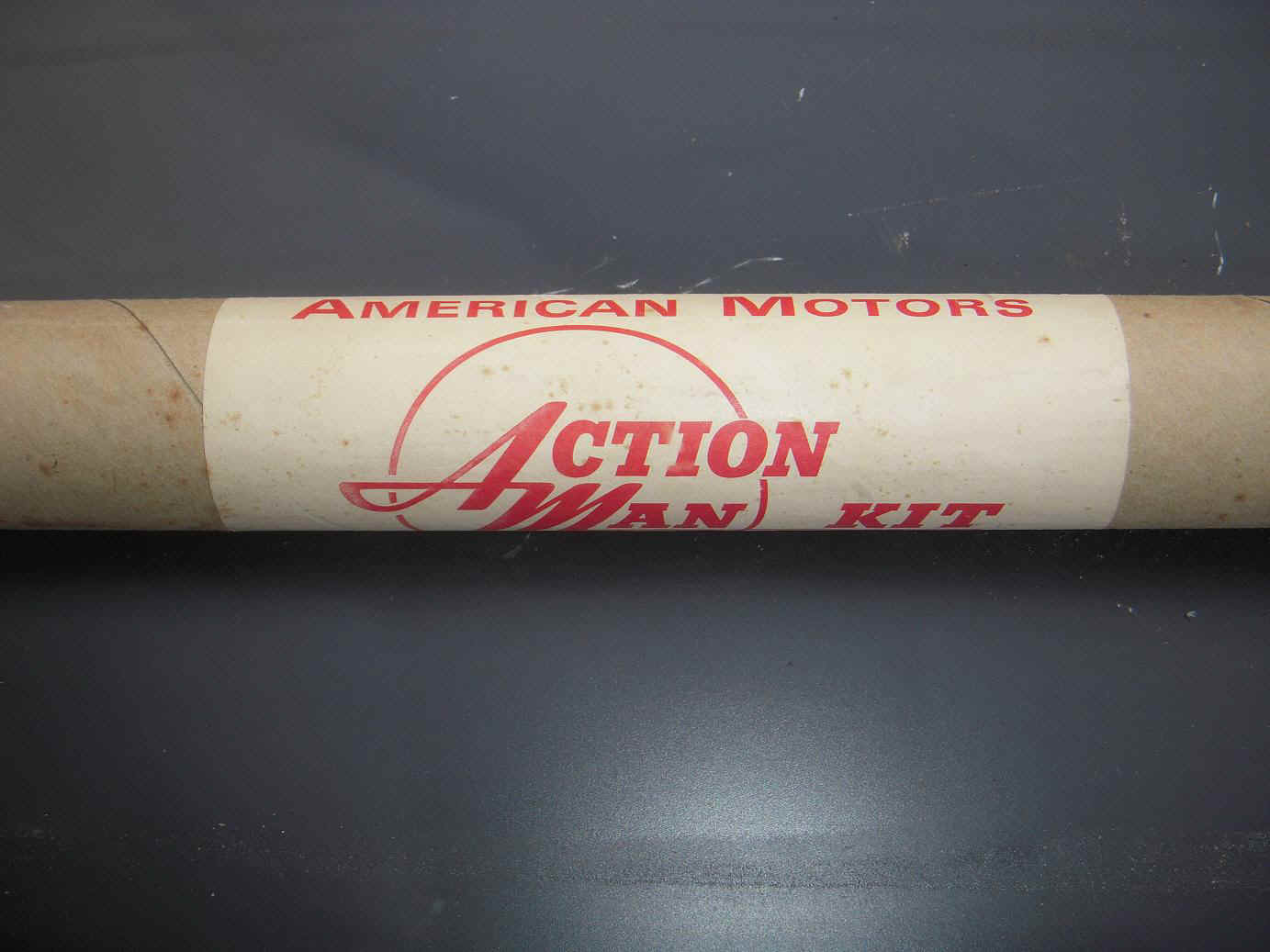 and card: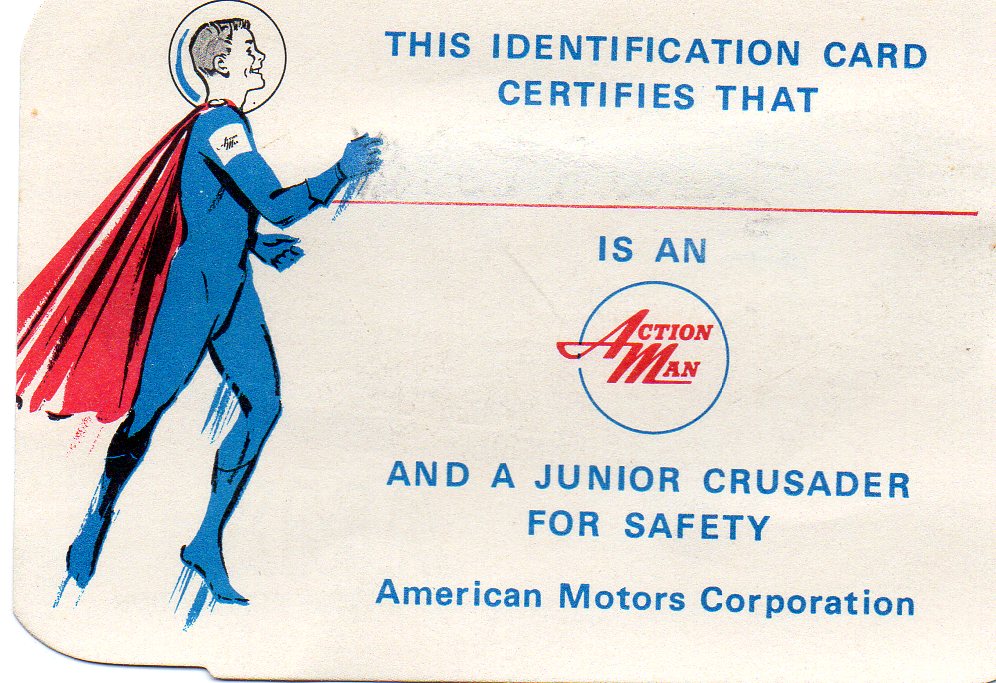 a small 3x5 card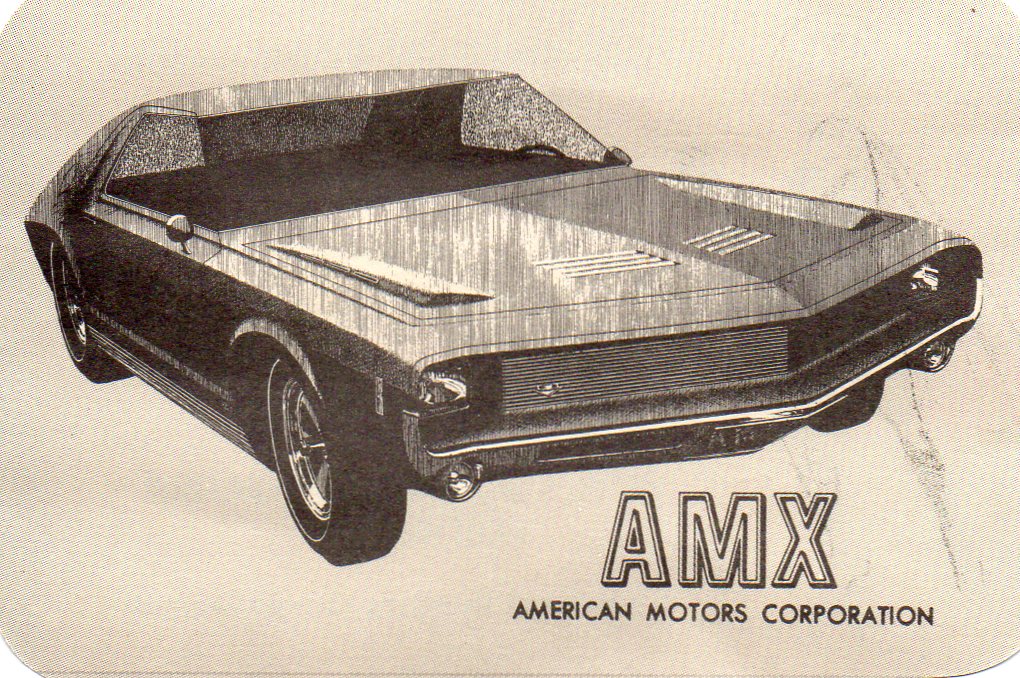 and large poster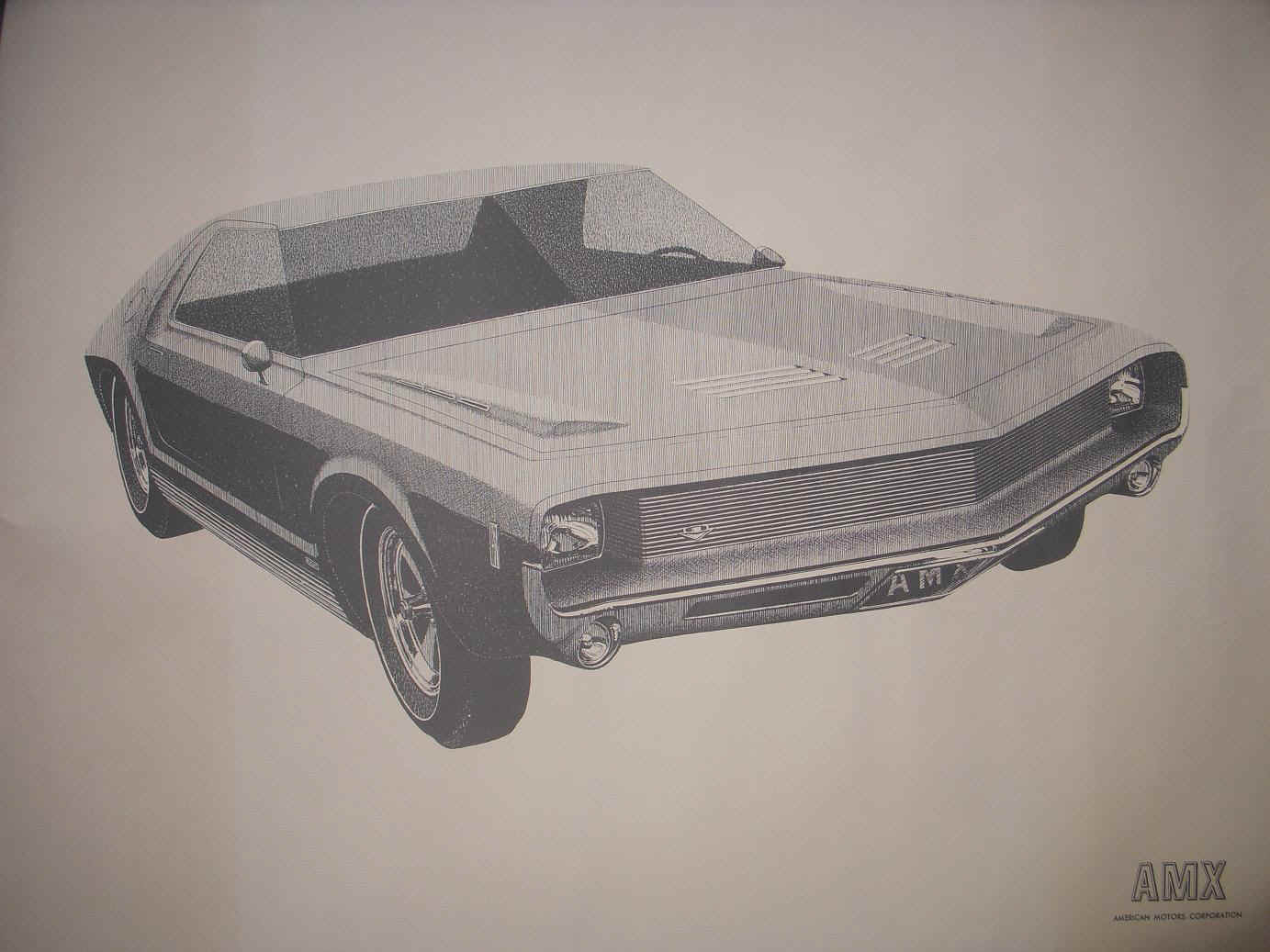 As to not totally leave them in dark! Soon, AMC would be debuting "The Now Cars" for 1967, and the 'dream' cars would be a reality year after that. I never have found out what a "Junior Crusader For Safety" was, nor do I know who sketched the Superman ripoff (ok, he IS wearing a helmet with no oxygen tank) but do not believe it was AMC's advertising agency of Wells, Rich & Green though. And now you know how AMC's little Action Man came about, and very few AMC fans have ever seen, or heard of this obscure dealers mailer.