AMC Manufacturing Plants &
The Myths AMC Didn't Make Their Own Parts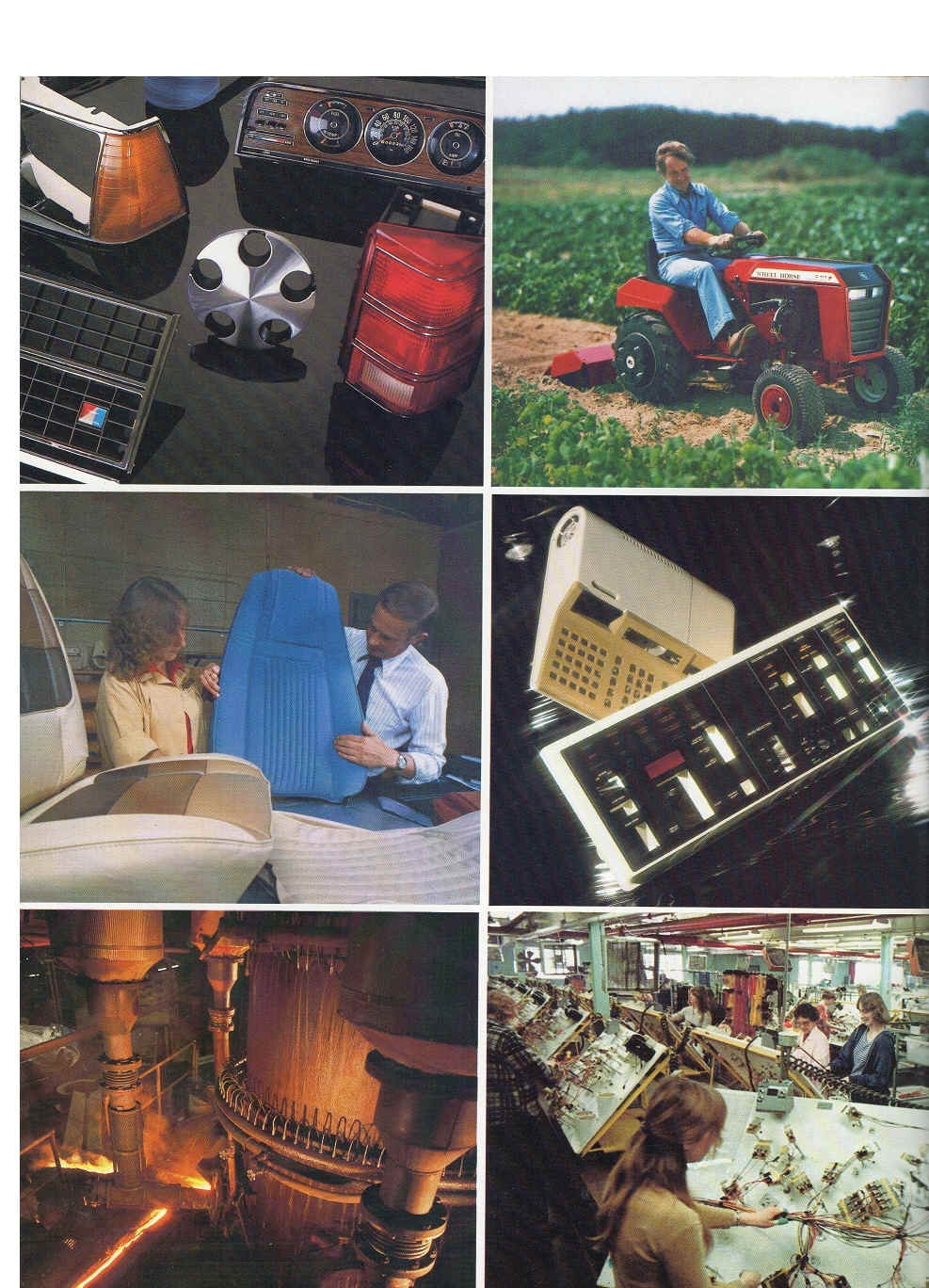 Clockwise some of AMC "suppliers" and companies: Evart's plastic automotive components, Wheel Horse garden tractor; Windsor Plastics calculator and copying machine covers; Coleman production line of electrical wiring harnesses; Holmes Foundry casting engine components; Canadian Fabricated Products seat coverings. A huge myth out there that AMC didn't use own parts. No one did. Still don't.
Ford, Chevrolet, Chrysler, GM used "outside suppliers" just like modern times. AMC was a
huge, worldwide company with thousands of automotive SUPPLIERS, just like all auto companies back in the day...and NOW. Witness the latest RECALL...this time for air bags made by Takata Honda, Toyota, a number of automakers use these airbags which have exploded and killed people. It is not a 'Ford' or 'Toyota' or 'Honda' airbag made by them but a supplier of a faulty product. I just wished people would not simply believe all the hogwash they read on wikipedia or allpar as that perpetuates a lot of issues out there that AMC was "all makes combined". Mercury Plastics of Mount Clemens, Michigan provided large, plastic injection molded parts in 1970s for General Motors, Ford & Chrysler for example. You won't hear any Ford person saying "uh, that is a AMC part" even though AMC owned Mercury Plastics. Windsor Plasitcs of Evansville, Indiana provided many automakers decorative injection molded parts including television, radio equipment, appliances and business machines for example. And they sold to the big 4 automakers. Teaco and later Evart made metal emblems, but also made plastics specifically for American Motors in 1970s. These were American Motors "non automotive operations and suppliers" that provided many, many items for various automakers, yet people back then, and now continue to believe the myths. Rims? Made by Detroit Wheel or Kelsey Hayes. Brakes by Bendix, transmissions by Borg Warner to name a few "outside suppliers" wiring harneses made by Coleman, metal emblems by Univex and Teaco. Forged steel cranks and rods by Holmes
American Motors had "Commercial & Utility Vehicle manufacturing plants in: Cordoba, Argentina; Brisbane, Australia; Colombo, Ceylon; Bogota, Columbia; San Jose, Costa Rica; St. Denis, France; Bombay, India; Djakarta, Indonesia; Teheran, Iran; Haifa, Israel; Tokyo, Japan; Seoul, South Korea; Tananarive, Malagasy Republic; Kuala Lumpur, Malaysia; Mexico City, Mexico; Casablanca, Morocco; Karachi, Pakistan; Manila, Philippines; Lisbon, Portugal; Pretoria, South Africa; Zaragoza, Spain; Taipei, Taiwan; Bangkok, Thailand; Istanbul, Turkey; Montevideo, Uruguay; Tijeras, Venezuela; Lusaka, Zambia.
Manufacturing plants for "Passenger Cars" included Cordoba, Argentina; Melbourne, Australia; San Jose, Costa Rica; Mexico City, Mexico; Durban, South Africa and Mariara, Venezuela.
The Manufacturing & Final Assembly Plants are well known of Brampton, Ontario, Canada; Kenosha, Wisconsin & Milwaukee, Wisconsin.
AMC's Corporate Office was in Detroit, not Kenosha, another common myth.
The final Assembly Plant for Commercial & Utility Vehicles was Toledo, Ohio.
The Manufacturing & Final Assembly Plants for AM General were all in Indiana: Indianapolis, Mishawaka and South Bend. AMC's "Plastics groups" included Evansville, Indiana for plastic injection moldings; Evart, Michigan for injection molded parts and Mount Clemens, Michigan for custom injection moldings.
Other plants included Sarnia, Ontario, Canada for engine blocks and castings like rods; Stratford, Ontario, Canada for automotive soft trims and Coleman, Wisconsin for auto wiring harnesses.
A Ford 390 is NOT a AMC 390, two different birds, same with AMC 360 vs Mopar 360, AMC 401 vs Buick 401, AMC 327 vs Chevy 327 (AMC came out with their 327V8 a full 6 years before Chevy did) the list goes on. These myths perpetuate on and on thru years simply due to sheer ignorance. American Motors was great at adapting existing parts (all automakers were and STILL DO) from outside suppliers. Why spend development costs for something that already exists and has a proven track record?
Compare automatic transmissions. How many different suppliers do you see here that cross reference with another automobile manufacturer?
These myths were around in the 1960s and people used to say AMC meant 'All Makes Combined' for instance. Still do. Thru the decades I have purposed parked next to Torinos, Fairlanes and Mustangs with Ford 390, pop my AMX or Javelin hood to show my 390, yet even side by side someone 'doesn't get it' as 'they knew a dealer' or 'worked for a friend of a friend of a friend' or 'seen it on the internet so it must be true'. I tell them to look at distributor placment, still usually to no avail.
While I won't say it is a no win battle, it is a bigger war that has been going on for many decades. And I have never known why just AMC 'singled out' yet all the other automakers get a free pass. Sometimes I get tired of decades old 'AMC didn't make their own parts' or 'everything made in Kenosha' and other myths. Maybe we as AMCers have to teach people, one by one, the differences, but old car fans must be willing to learn.
AMC's Evart Plant in Evart, Michigan was 130,000+ square feet in 1974, and handled most of AMC internal plastics. Mercury Plastics did the rest. AMC owned both.