AMC Miniature Dealerships &
Kenosha Wisconsin Points of Interest!
These were built with two things in mind. Ok, three. One was to honor my father, Homer T. Stakes, Sr. who passed away October 30th, 2005 at the age of 79. He worked for American Motors for many years and it was this exposure to the dealerships, employees, and cars, that got me hooked. Two was/is that I will be damned if I will let American Motors wonderful Dealership history fade away into automotive history. All the cars came from somewhere and each dealership, no matter how large or small, has hundreds of stories to tell. While I can't tell them, I can however remind people of those dealerships and their glorious pasts. Third and possibly most important, it was a way to get both my two small boys, Noah and Jacob, involved. Both have formidable Hot Wheels collections, massive considering the one Hot Wheel car I was allowed per week in 1968. Hey, dad worked for AMC and made $156 a week for a family of 4. So spending 39 cents on a Hot Wheels when you could get a gallon of gas for our Rambler wagon, or 2 loaves of bread at the Rainbo day old bread store, we did what we could. So Noah & Jacob are lucky to have so many, some even in blister packs still. But it was my intention to get them involved and learn about AMC (ok, among other things!) at a early age like I did and it has worked and both are really car oriented for their ages.
So with that in mind, this is TEN AMC Dealerships and Kenosha Factories in miniature I put together. Hope someone learns something and will build some too. All of these will be sold on ebay after I am finished with them. Hopefully each one carries a unique significance to those who ends up with them and they have as much fun with them as me & the boys did building them!
Some of the BRAND NEW CARS used!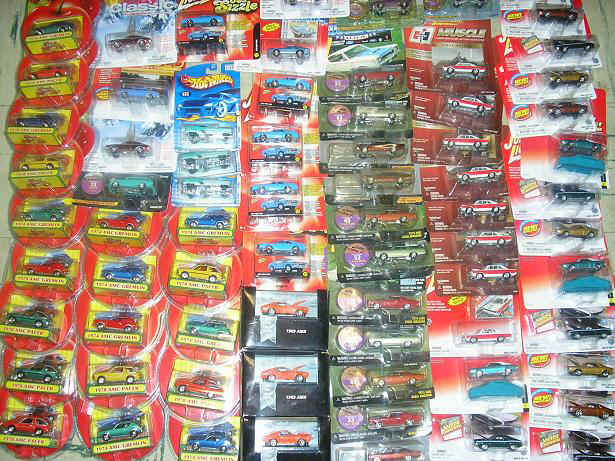 =============================================
AMC Dealership #1

This is a American Motors dealership I put together, those are all new cars,
all metal diecast miniatures;
and inside and outside the dealership is how many a classic small town AMC
dealership looked in the 60s/70s. Inside are ultra tiny recreations of AMC
posters and dealership ads and banners. Outside is classic AMX with a Peter
Max AMX billboard to grab passing motorists attention. If that don't do it,
the beautiful lineup of cars will. A 1970 Rebel Machine in red, white and
blue, 1972 AMX in Sonic Silver, 1968 Javelin SST in Alamosa Aqua and white
vinyl top, 1969 Hurst SC/Rambler "A" paint scheme, 1969 AMX wearing Saturn
Blue with Go Pack stripes! Inside is probably the dealership Drag Car a 1973
Hornet hatchback with awesome flame paint job, and next to it is a beautiful
Gremlin in Matador Red! Part of AMC's marketing with the Hurst SC/Rambler
was to put them on dealership showrooms. This not only increased traffic,
but also when those wildly painted Ramblers started showing up at local drag
strips turning 14 second 1/4 mile times (and 13s if you let them) people
came by the dealerships....whereas salesmen would then try to sell from
stock! Worked great with the Rebel Machine also. The vertical pillar sign
first started appearing sometime in 1971. I sell reproductions of this sign,
simply Google "amc signs" and a file off my site, with photos, comes up. Or
click on "parts" on my own site.

Every vehicle here is brand new, fresh out of original blister pack. Some
are extremely difficult to find, others are not. You can
add/subtract your own miniatures, or change anything you wish, like add your
own dealership name easily. There is a original small bulb inside the
dealership to light it up at night, you will have to connect it to a HO
Scale transformer found on many train sets. This would make a awesome
addition to any train set too.

My father, Homer T. Stakes Sr. worked for AMC for about 18 years, at a
variety of dealerships in Corpus Christi, Texas. Some were small mom and
pop, others were grinders with a constant flow of vehicles. The AMC &
Rambler Dealerships are often overlooked when it comes to anything AMC, but
they were a intergral part of getting the wonderful cars we love, to you.
Each one has a story and should not be forgotten. There is a huge file on my
site dedicated to his memory, and to all those who worked at Rambler, and
American Motors Dealerships around the world. Stop in and visit!
~~~~~~~~~~~~~~~~~~~~~~~~~~~~~~~~~~~~~~~~~~~~~~~~
AMC Dealership #2
BIG BAD AMC DEALERSHIP!
This is a American Motors dealership I put together, those are all new cars,
all metal diecast miniatures; ALL FRESH OUT OF BLISTER PACKS.
and inside and outside the dealership is how many a classic small town AMC
dealership looked in the 60s/70s. Inside are ultra tiny recreations of AMC
posters and dealership ads and banners. Outside is classic AMX with a Peter
Max AMX billboard to grab passing motorists attention.

The vehicles are a interesting bunch in themselves. All AMC Power! On the
right is a AMX in original Big Bad Green. Next to it is a Big Bad Blue AMX
and on the corner is a Big Bad Orange AMX. Parked out front and center is a
"A" paint Hurst SC/Rambler. Next to it is a metallic flake "blown" 390V8
Rebel Machine. Inside the dealership front and center is AMC's new offering
a Gremlin, and on the lift sits a Sonic Silver AMX. It has white interior
and I am unsure if this is a coveted White Lightning. All the great American
Motors vehicle shown are ADULT COLLECTIBLES. Most...if not all....have REAL
RUBBER TIRES. Some of these were extremely rare when on the shelves. Most
hoods open and some are extremely detailed, including the engines like the
Hot Wheels BBO AMX; and the paint on the Playing Mantis Machine is stunning.
Extraordinary detail on all including the blue Gremlin loaded with roof
spoiler and factory hubcaps.

THE DARK PHOTO IS TAKEN UNDER A REAL BLACKLIGHT!
~~~~~~~~~~~~~~~~~~~~~~~~~~~~~~~~~~~~~~~~~~~~~~~~~~~~~~~~~~~~~~~~
Unnamed AMC Dealership #3.
This hand built unique dealership features some real
collectible, whether miniature diecasts or real cars, all of them
collectible! On the side of the lot is a billboard with a rare ad "The AMX:
It takes more than money to get one" letting customers know that this
dealership will be more than happy to put your butt in some serious muscle,
or a economy minded vehicle, whatever it takes to make the customer happy.
The feature cars are: a formidable red, white and blue Rebel Machine on the
side lot. 1936 of those last year Rebel's made. Looks like this one has
shown some time at the local drag strip making brand x drivers miserable. A
really rare candy chrome orange Hornet hatchaback sits next to it. Looks to
be a 73, and with a 360 lurking under the hood, it is easy to get 'stung'
by one of these sleepers. Check out it's Cragars and white letter tires.
Chances are it could probably spin those tires off at a stop light; no
problem there is a Genuine AMC tire rack in front of it. On the corner
facing the street is a Jolly Green 72 AMX. 3220 people ordered AMX's in
1972, and only a handful in D1 Jolly Green. Chances are the dealership put
that on the corner because it is eye catching. Either that or the 401,
4speed makes people take a second look. Hmmm....it also sports the optional
functional Cowl Induction hood with flapper assembly and dual snorkel.
Sweet....In front of the dealership getting serviced is a 69 Hurst
SC/Rambler with "A" paint scheme. 1512 produced. There are about 5-6
different paint codes for these, but who cares. Great looking Ramblers. The
attendant appears to be gassing it up for the lady with Ethyl. You remember
Ethyl I hope or am I showing my age? The lady is standing next to the pump
which if you look close, she is leaning on a big case of American Motors
Group 15 Accessories like windshield cleaner, oil, chrome cleaner and auto
polish. I'm going to hang around and watch her light it up when she leaves.
Heck the car might not even be her's, might belong to the dealership. Not
every AMC Dealership got a Hurst SC/Rambler in 1969, and those were solely
intended to get people into dealerships with their wild red, white and blue
paint; which they did. Behind it is a 69 AMX in Big Bad Blue P2 paint.
Unusual paint, only 195 Big Bad Blues left Kenosha in 1969 of 8293 AMX's
produced, and less than 40 still known to exist. Neat color, this one sports
a 390V8. Might be a trade in. Looks barely driven. Inside the dealership you
will find a Friendly American Motors Dealer at the counter waiting to help
you. This fellow looks "old school" and inside there are muscle car ads and
posters all around, Rebel Machine, SC/Rambler, a blown Javelin, Playboy
Mission AMX poster, a series of Big Bad posters and a ultra rare Have A
Penskes or Donohue on your Gift List? poster, which details the Trans Am
AMCs. That is a 68 Javelin SST in paint P48 Tahiti Turquoise and white vinyl
top inside the bay and on the showroom floor is a highly detailed 74 Gremlin
in F7 Deep Blue Poly, what a striking looking car. Outside on west wall is a
big 3D authentic real AMC emblem. Look closely, "American Motors Means More
For American" banner above opening bay doors. Below them is a air tank and
phone! This originally had a real light inside.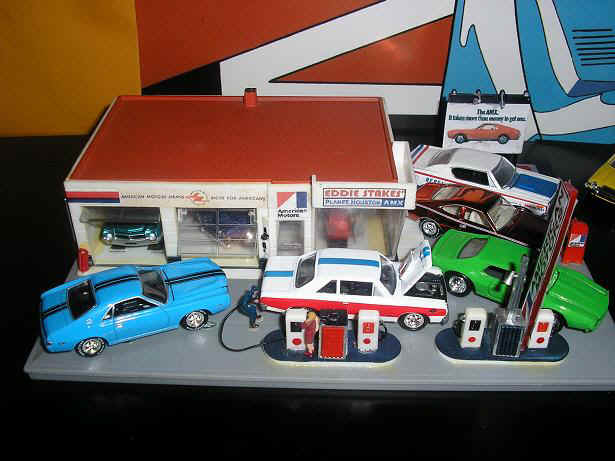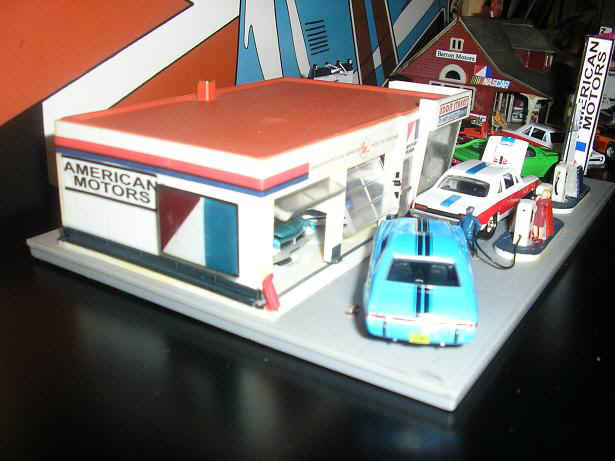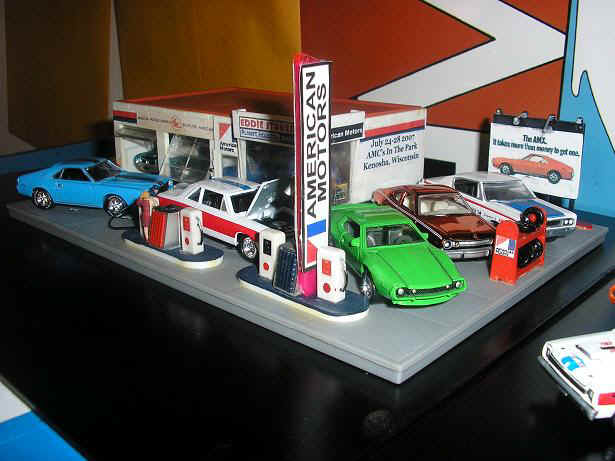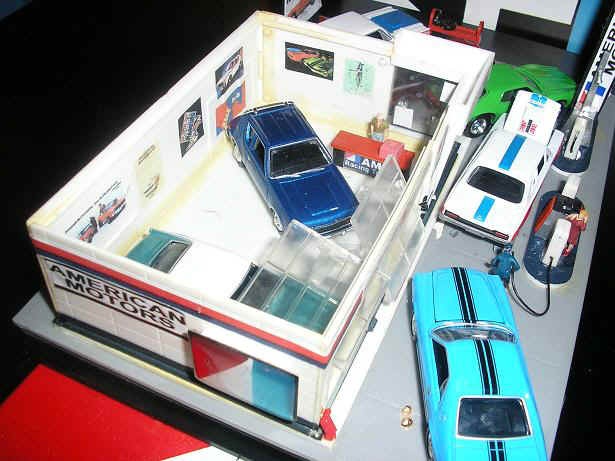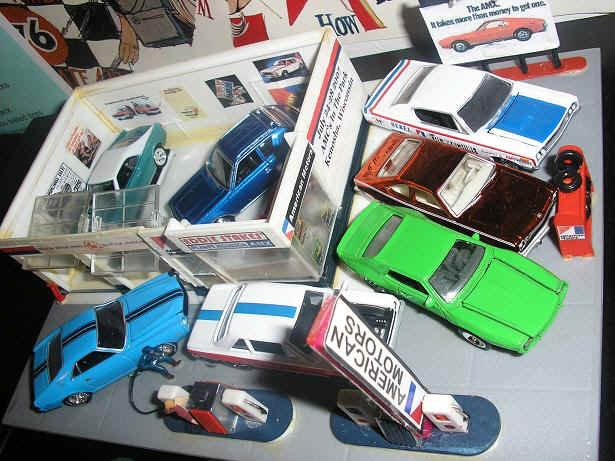 ~~~~~~~~~~~~~~~~~~~~~~~~~~~~~~~~~~~~~~~~~~~~~~~~~~~~~~~
AMC Kenosha Skunkworks #4

Kenosha Skunkworks. This is a unusual one. AMC was the KINGS when it came to making wonderful
designs on a budget. This particular one here is dedicated to American
Motors design teams.....and to Steven Schall, who was a AMC fan
extraordinaire and who built that neat red AMX Convertible many of you AMC
fans drooled over at meets. Steve passed away June 6th, this year. He is in
good company now up there with my dad who preceded him to AMC Heaven. Check
it out.....that is Steve's Convertible AMX being admired on the front steps
of the studio, how cool is that. This little factory full of talented
designers (aw, ok, the fellows out front just came back from Freddy's West
where they had a few poorboys and Schlitz's for lunch and have a few minutes
left so are shooting some craps) but this design studio is packed full of
1967 and 1968 AMXs. Some up on racks while the engineering department checks
out suspension, looks like one there is a clay mockup. There is lots to
inspire the Team here, like a Peter Max coming thru the wall AMX on one end
and a larger than life "The AMX. It Takes More Than Money To get One" 68
poster on other end. Look closely and you will see a X-Ray AMX inside the
door, but it is not visible in any of the photos! This unit LIGHTS UP and
has a factory lamp inside you can hook up to your transformer on any HO
scale setup including train set or AFX type racetrack. Inspired by those
then who inspired us now almost 20 years after American Motors is
gone.....thanks for the memories.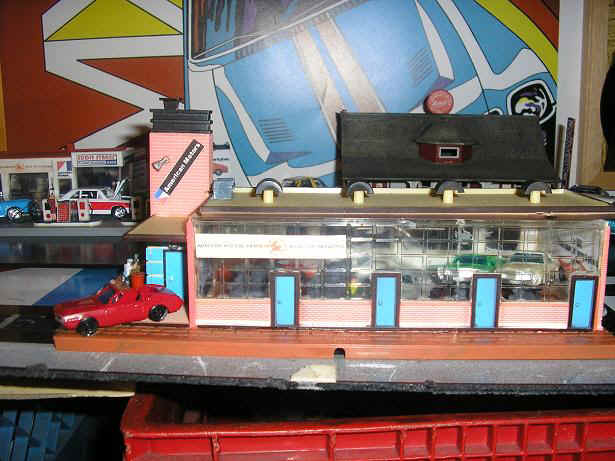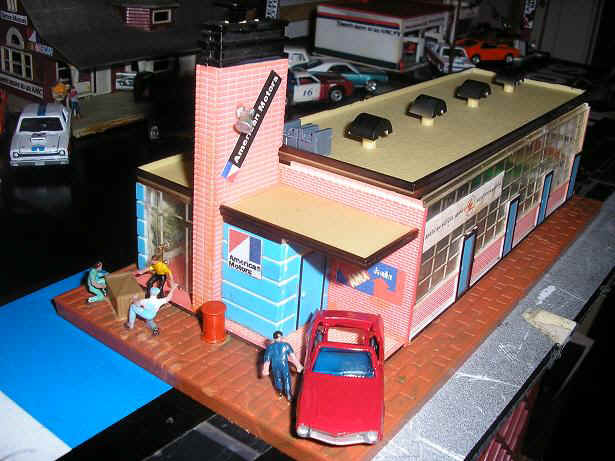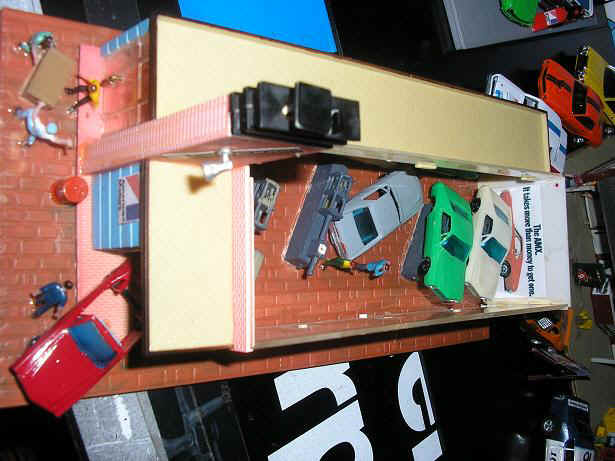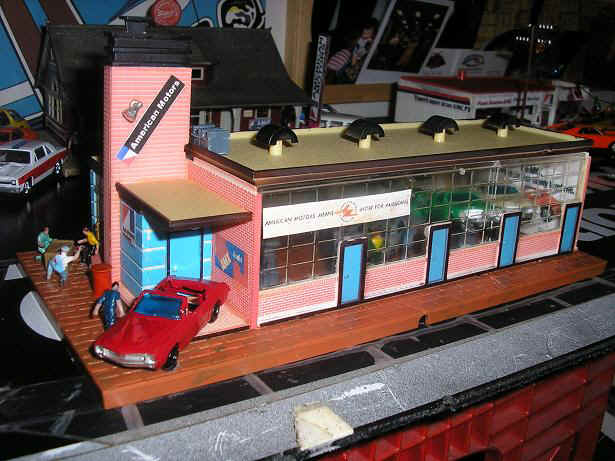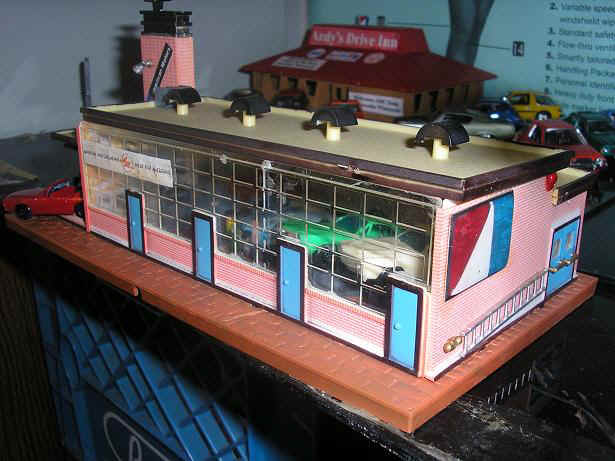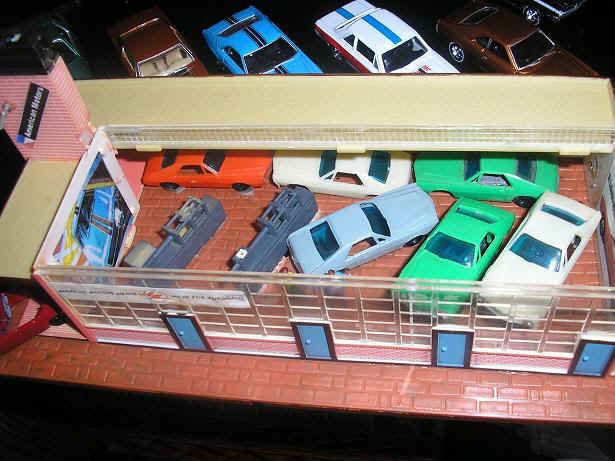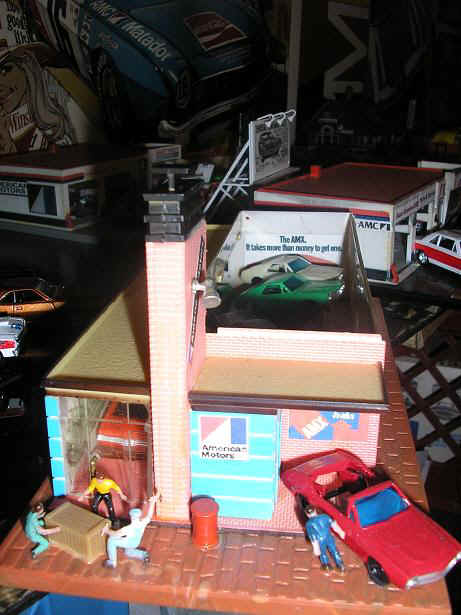 ~~~~~~~~~~~~~~~~~~~~~~~~~~~~~~~~~~~~~~~~~~~~~~~~~~~~~~~~~~~~
Barton Motors, Staunton, VA #5
I had the pleasure to cross paths with
Linn Barton of Barton Motors years ago here in Houston. This AMC Dealership
is dedicated to him and his family a 3rd gen Nash/Rambler/AMC Dealerhip.
They had the highest volume of sales in the Washington AMC Zone according to
some of the dealership archives I got from him years ago. Quite a feat. They
were heavily involved in AMC's NASCAR racing effort and you will find a
array of Press Photos with him riding the hood, or in the pits filling up
the car, or the whole team with Allison and Penske. A whole lot of HISTORY
there folks! Many people don't even know American Motors HAD a NASCAR Racing
Team, and they won a few races too. Woody Woodard was crew chief, Roger
Penske owner, Drivers: Mark Donohue, Bobby Allison, Dave Marcis, Gary
Bettenhausen to name a few famous NASCAR names people knew THEN and NOW
raced the mighty AMCs. Check my other auctions for a number of AMC NASCAR
items. This AMC Dealership is lucky to have not ONE, but TWO NASCAR MATADORS
on the lot!

The 73 NASCAR Matador IS ONE OF A KIND and HAND PAINTED. These are authentic
AFX racers. The #5 NASCAR Matador is equally rare and a factory paint scheme
seldom seen before Coca Cola became sponsor.

Looks like Linn & family have some nice AMC's for sale to go along with the
promotion. See the billboard out front? Yes, you get to meet legendary Bobby
Allison here! That is him standing behind the beautiful Tahiti Turquoise
Javelin with white vinyl roof. Yes, he has on his RED, WHITE AND BLUE AMC
Racing Team Jacket! Under the overhang is some AMC NASCAR posters and a AMC
Racing Team banner. Off to the right is a beautiful loaded Gremlin X 1974 in
F7 Dark Blue Poly, appears to be a heavily loaded X Edition, even sports a
Group 15 Accessory stainless air deflector on the roof! Next to it is a
white custom Rambler wagon. Frost White with flames around the front
wheelwells, this is old school and would not surprise me if a turbo powered
401 under the hood of this beast. Is it is rare WHITE LIGHTNING? White
interior......think about it....in front of it is a beautiful 68 Javelin in
the aforementioned Tahiti Turquoise. White vinyl roof and Rally Rims,
appears to be 343 Typhoon powered. Next to it is a early NASCAR MATADOR #16.
Custom painted by me. Race ready. I believe Mark Donohue God Bless him,
raced this one or so I was told. There is a big Bobby Allison poster there
welcoming AMC fans on this particular date. Next to it is a 74 NASCAR
Matador. This is a early paint job and I believe Bettenhausen and Allison
raced this one. Few AMCers have ever even seen it making it a real prize
here. To the right of it is a 69 Hurst SC/Rambler in A paint, looks like
these fellow showed up to get Bobby's autograph. Next to it is a 69 Big Bad
Orange AMX, 390, 4spd, might be Chris Zinn's AMX it is so detailed, you have
to hold this one upside down to see the mega detail! And who added a STR-11
Cross Ram intake on it, yow, stay away from this one! Danger Will Robinson,
looks like it could turn low 11s sitting still....in the back is a beautiful
Pacer coupe in paint 6V Sunshine Yellow. This might belong to the fellow
with the beard sitting on the porch behind the cigarette machine enjoying a
smoke. Who stuffed a 304V8 into that coupe, are you nuts? Quite a sleeper
you got there podner.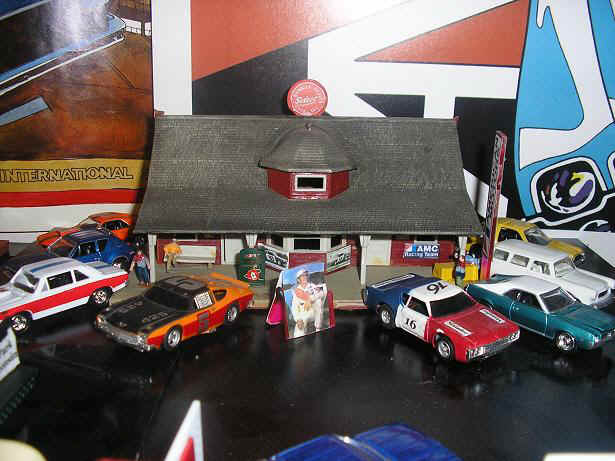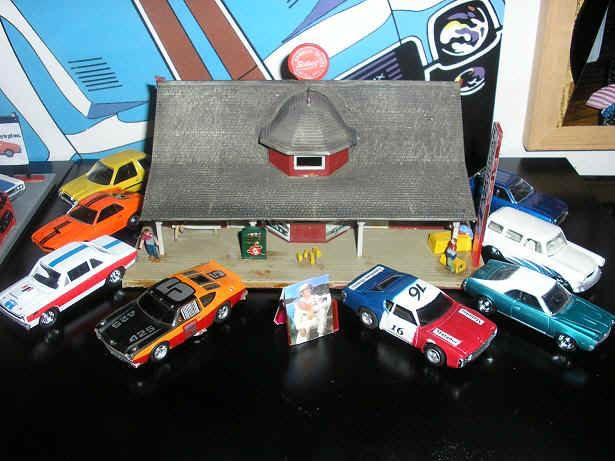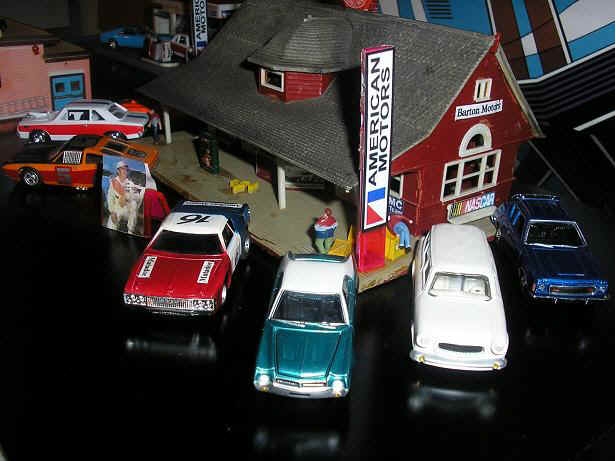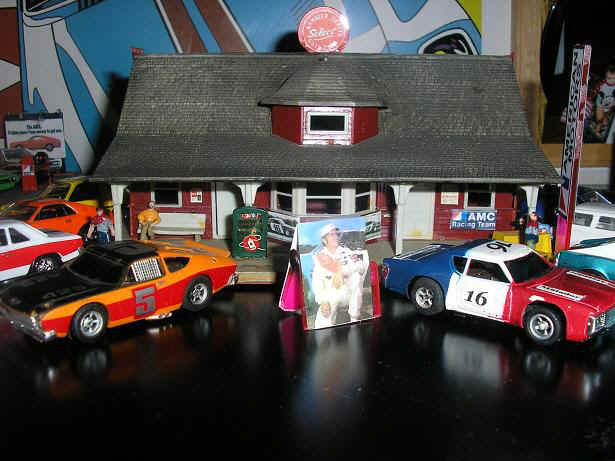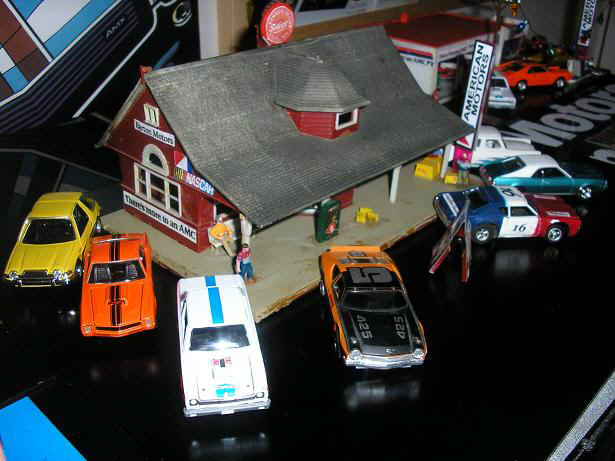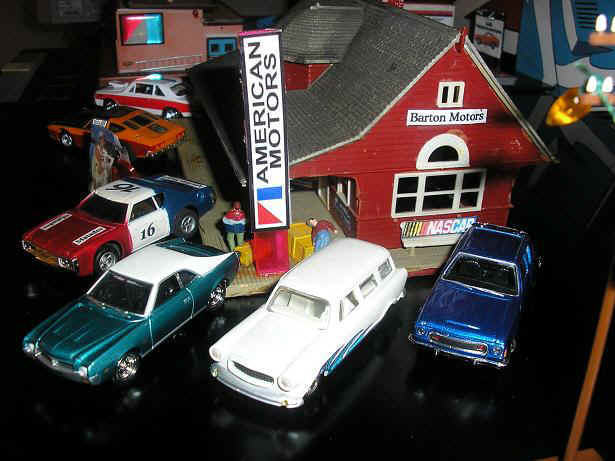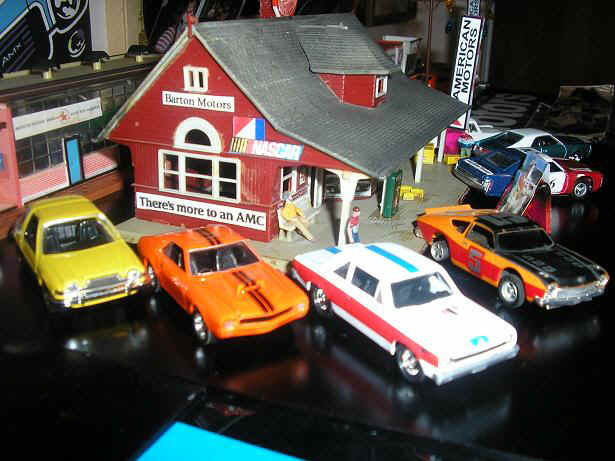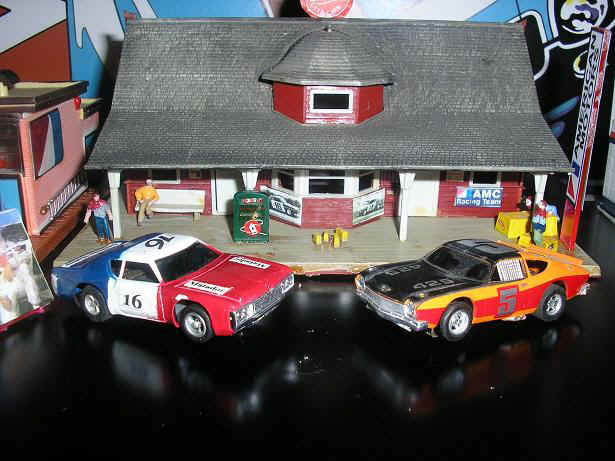 ~~~~~~~~~~~~~~~~~~~~~~~~~~~~~~~~~~~~~~~~~~~~~~~~~~~
Kenosha Brat Stop #6
Brat Stop, Kenosha, Wisconsin. Looks like a flurry of activity at the corner of I-49 & Hwy 50 on the outskirts of Kenosha, Wisconsin. I have some really fond memories of the Brat Stop from AMC national meets gone by. So I had to commemorate this neat place up there where I seemed to have gained a few pounds via cheese and brats and well, beer. The Brat Stop appears to be all decked out with AMC Banners of the National AMC clubs: AMO, NAMDRA and AMCRC, welcoming their members to Kenosha, and it looks like some early birds are already there! Out front on a raised display is the 69 Shirley Shahan SS/AMX. Only 4800 miniatures like this was made and this is #2536 on the bottom. It features high detail, real drag slicks and tires, and correct paint! Behind it is a AFX Trans Am Javelin. Roger Penske's Team decided to bring out this 72, which was raced by Mark Donohue, out of retirement, for this display. You can drive it later however on your own AFX/Tyco track, as it works great. Looks like the City of Kenosha also is getting into the act with a old Nash tanker truck. My guess is Pepsi is one of the Sponsors of this meet. That means I will have to drink Dr. Pepper or Big Red. Behind the SS/AMX appears to be a 68 Javelin in P-47 Rally Green, looks like this booger is a 390 with Go Pack and a SST to boot. The hood opens to revel some great display, looks like this one might debut in the Bronze AMO class. Next to it is a sweet 75 Gremlin X in D7 Trans Am Red. This little Gremmie someone must be proud of and it appears to be optioned out with a good array of Group 15 Accessories like bumper guards, flower pedal hubcaps, luggage rack and rear air roof deflector. Sweet. To the right of it is a very clean 69 Big Bad Blue AMX; paint code P2. I'm a fool for Cragar rims which are timeless and this has a mint set. I wonder if he wans to sell the rims, hee hee. The hood opens and that is a finely detailed engine! Next to it on the corner, and I had to BRIBE the parking lot attendant $10 for this spot to park, is my ONE OF A KIND Convertible Rebel Machine finished in P47 Rally Green. Yes, one of none made. Powered by a LAPD Police Interceptor, this thing has been featured in a lot of car rags. Go ahead open the hood and see the SRT-11 Cross Ram on this miniature. I guess I will have to clean the driver side off which has a scuff, you know I drive my cars and this one has 127,000 miles on it since being restored in 1988. And I drove it up from Houston, Texas...TOP DOWN. Behind my convertible Machine is a really nice looking Hurst SC/Rambler in "A" paint; I'm not sure what paint code of the 5 SC/Rambler paint codes this one has, maybe SPEC, don't know as I didn't check. Looks like he is here for the drag racing NAMDRA is putting on Sunday at Union Grove Drag-A-Way; he has his drag slicks already on the car. My guess is he will also find out the hot spot strip to race fellow AMCers Satuday night, maybe out on Sheridan Road! To the SC/Rambler's right is a full blown Rebel Machine. I have seen this car turn low 11's several times and the front end lift off the ground when launching. I'd really like to see that SC/Rambler go up against this Rebel Machine, but we will have to wait until Sunday at the strip to see if they get matched up! That 401 looks plenty potent. Great looking sparkly candy apple red custom paint too. I wonder if that is actually P50A 1968 color Calcutta Russet with glitter? At the corner is a 78 Pacer coupe, and sports original 7L Loden Green paint; someone has really taken care of this thru the years. You can usually tell the 78-81 Pacers by their raised grill like this one has. Looks like a sleeper to me as inside it sports a factory vertical tachometer and Rally Pack 4-gauge cluster. I wonder if it is a 304 under the hood? Nest to it is a really sweet and nicely restored 69 Javelin in Bittersweet Orange P79A with 290 Typhoon. What a timeless body style on the 68-69 Javelins. This one's 290 when you open the hood is expertly detailed. And while this one is not looking to turn 11's, expect him/her to do very well when the judging goes on Saturday! Next to the Javelin is a 1976 Gremlin in 6K Limefire paint. Another well taken care of classic that appears will do great come Judgment Day on Saturday night at the AMO Banquet over at the Italian American Club. To the right of it is a really rad Metropolitian Funny Car. Called the "MetroRail" this thing is fully decked out in factory 1961 paint P72 Frost White and P8 Chatsworth Green! Check out the mill sticking out of the hood. My guess is he is inside talking to the Machine owner. Damned thing has wheeline bars on back of it! To the right of it sits a 78 Pacer in 6V Sunshine Yellow. What a well kept clean car, this one looks like someone just brought it off the showroom floor. A loaded D/L Edition to boot.
--------------------------------------------------------------
Planet Houston AMX, Houston, Texas #7

Planet Houston AMX, Houston, Texas.The ad on the billboard reads:
We have just purchased 35 new and executive
American Motors Cars! This is your chance to buy a new or near new car at
big savings! EXAMPLE---New 1970 Javelin SST. 2 door hardtop with 360 cubic
inch engine, automatic transmission, power steering and brakes, tachometer,
ducktail spoiler, mag wheels, push button radio, blue with white vinyl roof.
Original sticker price $4205.25. SALE PRICE $3250. All new American Motors
car scary a full 5 year or 50,000 mile warranty. 6 REBELS for IMMEDIATE
DELIVERY. 4---REBEL MACHINES with console automatic transmissions available
in turquoise, orange, dark green and dark blue.

Looks like Christmas time here. Time for some specials on AMC vehicles to
move them off this lot. The Christmas lights are a nice touch, but Homer
needs to be careful hanging them on the telephone poles there. That is Homer
battling with the American Motors banner sitting there next to the gas pump.
He is easy to stop wearing his AMC red, white and blue jacket though. On
this particular lot you find a neat array of colors, as colorful as the
Christmas lights themselves. Starting on the side, you have a 1970 Rebel
Machine. This is a interesting car, probably a Dealership Promotion for a
Marvel/DC Comi-Con event here where attendees all dress up like favorite
super heroes and villains. This powerful Machine sports Spider Man. Not that
Spider Man would need a Machine to get around in, but a great looking car to
park outside the convention center where the comicon is going on. Did you
know that the Rebel Machine was introduced in Dallas, Texas on October
25th, 1969? You had not one but two packages, MRM and MCP for the mighty
Machine. Google 'amc build sheets' to learn more. You could not get a Rebel
Machine in Regular Production Colors and Trims until AFTER March 1970 from
AMC. So methinks Peter Parker had to get this one P72 White one between Oct
69 thru end of Feb 70. Is he that old? Next to it parked in front of the
Genuine AMC Tires on the rack, is a cool looking orange Pacer painted in Sun
Orange 7Z paint! Might be a X, maybe a D/L Edition. It is a coupe however
and who knows, could be one of those fabled giant killers with a 304V8
stuffed in it. Great looking car, highly detailed, I think Homer washed and
waxed it before attempting to battle that banner there though. On the front
corner of the lot there is a good looking 68 or 69 Javelin SST. I believe it
is a 68 however, and P52A Scarab Gold to boot. Don't see many Scarab Gold 68
AMXs or Javelins, so this one should not last long on the lot, don't be
surprised if Homer takes it home a few nights as a 'demonstrator' either.
The hood opens on this, just like the Rebel. In the middle front row is a 69
AMX in Big Bad Orange. Looks to be a Hot Wheels package. The detail on this
one is staggering. Even on the list inside the dealership the mufflers are
details. And it sports a SRT-11 Edelbrock CrossRam intake. Chances are all
people see of this beast on the streets at night is taillights. Nice looking
Cragars too. Like many of these it has real rubber tires. Not sure what type
of gas on the pumps there it would use, but probably 103 is my guess. The
details under the hood of this would easily make for a AMO America's Cup
winner. I wonder if Chris Zinn owned it? I'll go ask Homer but he is still
battling that damned banner. In front of the stalls is a "A" paint Hurst
SC/Rambler, also from 1969. Interesting car, only 1512 made and few exist,
heck, few were seen at AMC dealerships, but the dealerships that did get
them made the most of them, some raced them, others promoted them at tracks
and events, and on showrooms, anything to get people into the showrooms, and
these worked. This might belong to one of the mechanics or maybe it was a
trade in. Note behind it is a air pump, telephone also. And inside the main
window of the dealership is a 1970 Gremlin poster! Above it is a seldom seen
American motors emblem. This type of logo with Chevrons almost became a
reality in 1967 for AMC but was voted down. So few have ever seen it, much
less know about it. I wonder how this dealership ended up with a banner of
it? Maybe they know a AMC honcho. Inside the dealership it looks like Eddie
is getting bitched at by his wife Paige at the main counter because of the
AMC Playboy Mission AMX poster he just hung there behind the country. She
should be more concerned with the wife beater t-shirt he is wearing, not a
Playboy girl. Besides, since that Mission AMX photo was took, that girl is
probably now in her late 60s! I think Eddie will send Paige outside to go
help Homer who has been battling that banner since mid 1980s. Maybe Paige
can walk down to dollar Store and buy Eddie a shirt. Nice shirt with Mexican
Beer logo or collar. Inside the dealership you will notice many authentic
micro mini posters of AMC. Even aMC racing Team on the main counter. In the
showroom is a beautiful 74 Gremlin in D7 Trans Am Red. Really optioned out
this one has zero miles on it. Even has a roof rack that Eddie will tie
Paige to if she don't leave him alone about the Playboy poster. Next to it
is a customized Rambler wagon. It originally started out it's life in
Kenosha as P26 Valley Green, but some ornery fool dropped in a 401 Stroker
and 4 speed, and painted it Big Bad Green (or is it 1977 Lime Green?) with a
black Shadow Mask. It has White interior, could it be a mysterious WHITE
LIGHTNING Rambler? Only the Shadow Mask knows. The only car on this lot that
can kick it's butt is the 69 BBO AMX, but only barely. This thing can easily
turn 10's. Problem is all the damned cops in town know it, so hard to drive
it. Sort of like the guy in American Graffiti with the glovebox chock full
of tickets. Back outside, if you notice on the east side of the building
behind the Pacer there is a real 3D soft to the fell emblem for "Rambler"
which shows the world. Ultra rare emblem. Next to it is a banner with "AMCS
IN THE PARK, Kenosha Wisconsin, July 24-36 2007" looks like a AMC meet
coming up perhaps. Next to the Rambler sign is three original micro posters:
AMX at Monte Carlo; Nurburgring & Elkhart Lake. And of course out fron the
American Motors "Vertical Pillar" we all remember fondly.
--------------------------------------------------------------
Stakes Conoco, Corpus Christi, Texas #8
Stakes' Conoco. Located off Interstate 37 in Calallen, Texas, which when I was a kid, was on the far fringe of Corpus, Christi, Texas. Leopard Street was the main drag into Corpus from the west as was Hiway 44/Agnes Street. But when the new I-37 was built, it paralleled Leopard and many of the businesses on Leopard suffered. Stakes Conoco was NOT one of those as this is about as close as Leopard would get to I-37, less than a block away. So uncle Buster Stakes opened a large Truck Stop there. And business it did, always filled with 18 wheelers heading into Corpus, or out towards San Antonio. Buster was my dad's brother. My dad, Homer T Stakes, and Buster were from a extended family of 11 children. My dad was the last one of this big clan, passing away in 2005; while I believe Buster passed away in the 70s. My memory of uncle Buster was he always had a damned toothpick in his mouth and passed a lot of gas. Not only selling gas at the station, but seemed to have more gas than Jupiter. Every time he came by the house to BS with my dad on the front porch, he would amuse brother Tommy and me by almost farting Amazing Grace after a big meal. So this one is dedicated to his memory. That of course is not the only memory I have of him, as he was one hard working man, up early in the morning and go home late at night smelling of diesel, oil, grease. There was a small car lot there, but most of the business was from the sheer volume truckers that came thru. Many of you who travel have probably stopped by a Truck Stop to grab a bite to eat, smoke, restroom, buy gas, or just stretch your legs. You know some of the best food in the world is found at Truck Stops in the USA. Buster's dealership features these unusual American Motors cars on the lot, and as you can see, SERVICE is #1 at this place. Open to Close. And they stay open late. In front there is a mechanic looking over a beautiful Bittersweet Orange Javelin. Buster would put his fist in your face, and he was a big man, if you ever called this color BSO. So don't say that here, hell, don't say it anywhere, just call it the name AMC called it unless you can't spell it. It ain't KFC, it is Kentucky Fried Chicken duh. But I'm not sure why the hood is up on this car, check out the mags! Next to it is a extremely rare P1 Classic Black 69 AMX. Looks to have Centerlines on it also. You would have had to special order this baby, appears almost Stealth looking and probably so. The attendant is filling it up with Ethyl. The real stuff. There is a possibility that Buster might take a rare night off and take this one out personally and ruin the night of a number of Street Racers in West Corpus. Must be Christmas around here also, sure are nice looking Christmas lights hanging around the place. Next to it is a chrome Candy Orange Hornet Hatchback. Note the white interior. I wonder if this is a WHITE LIGHTNING? Might run like white Lightning with a 360 under the hood. What a great paint job, looks high dollar custom. And Buster says it 'shines like a marble in a goat's ass' I'm not sure what he means, nor do I want to try to find out. Nest to it appears to be a Saturn Blue AMX. Those Go Pack stripes really make this one and look closely, it has rare blue interior. My guess is that they will use those tires on the rack in front of this one for customers and save the real meat for this AMX or the Matador Red Rebel Machine next to it. You need to come over and look at this on the far part of the lot. I popped the hood and damned it if don't have a STR-11 Edelbrock Cross Ram intake on it. This 340+hp monster will probably need those tires on the rack there as it could easily waste a set sitting at a stop light with that much power. Note the 1960's Conoco triangle signs. And check out the big Peter Max AMX billboard. Wonder when Buster got that? And I wonder HOW he got that, you can easily spot that from I-37!!! If you step inside you will notice there is a customized Rambler wagon on the rack. I'm not sure what is under the hood of this, but it appears whatever it is would give any of the cars on the lot outside a run for their money. Do you see the sign on the wall behind Buster's counter? It clearly states: WE CAME, WE RACED, WE KICKED SOME BUTT. I don't doubt it! Note on the inside of the back wall the prices are clearly stated, must be for vehicles only, not the 18 wheelers though: oil change $3.99; filter .75 cents; alignment $12.99; wipers 50 cents; used tires $2.50 up and lubes $2.99. Wow, Buster has really moved up here and it is a major full service place. Next to the ever busy counter is a beautiful red Gremlin, might be a 74 thru 76, not sure. Makes for a great presentation inside here and many a trucker stop by to check it out, most are astonished at the window sticker showing the great gas mileage it gets. Back outside on the right wall is a original 3D American Motors sign. You can see it right next to the air pump. On the corner, is a young lady who looks like she has just used the telephone on the pole on the corner and might be heading over to Buster's clean spotless restrooms. If you look on the tire rack there is a "Rest Rooms" sign there showing just because this is a major Truck Stop, that the restrooms don't have to be filthy. And Buster will clean them himself with a toothbrush if he has to, as that is a AAA Certification, not easy to get. I can't seem to get my eyes off that Stealth Black AMX up front however and will have to go back and take another peek at it. Hope Buster don't mind!
-----------------------------------------------------------
Andy's Drive Inn, Kenosha, Wisconsin #9

Andy's Drive Inn.......On Roosevelt Road, this is a MUST for AMC fans when you are in Kenosha. Some of the best burgers I have ever had, and remember that I live in Houston, Texas where there are thousands of mom and pop places that have burgers. Thru the years when Paige & me would go up to the National events in and around Kenosha, we usually gravitated to this place, and yes, it was usually filled with AMC fans and their cars. Many times the cars were parked up and down the surrounding streets, as Andy's only holds about 15-25 cars if that, so if you go there early, you go prime spot. Ain't that the way it is with all cruises? And like all cruises, it never failed that some folks would invite Paige & me on a cruise, so we would always leave our rental car off premise (hey, the lot was overrun with American Motors cars, don't want to clog it up with some crappy import or domestic faceless clone rented at O'Hare!) but we would cruise in style in a American Motors built car, sometimes up and down Sheridan, sometimes back out to I-94 @ I-50 to the various hotels, park and walk around and talk to fellow AMC fans. And sometimes also go down to Kennedy Park or Kemper Center, depending on where the meet would be held in the coming days, and well, park and walk around like tourists. Not to mention the host hotel, usually holiday Inn, but it was long since plopped out the old NO VACANCY sign, as many AMC'ers had made their reservations a year in advance for this meet! Still, you remember who you are who gave Paige & me rides in your Marlin, Javelin, Rebel and later model AMX to name a few and we remember it to this day. Back to Andy's where the cars continue to come and go. The management looks hurried and hopes the shift will end soon! Can't blame them, as been there done that the past quarter century here in Houston so can relate to 'A RUSH!' It appears Andy's has pulled out all the stops to make American Motors fans feel welcome, sort of .like Kenosha itself this time around. Nice set of dollin up the old place! There is big banners welcoming the three major AMC & Rambler National clubs, and it looks like they bought one of my AMC dealership flags to hoist on top of the roof! Ramblers, Javelins, Rebels, Pacers, AMXs, what a nice array of cars. If you stay here a couple of hours the whole fleet of cars is constantly changing! Or if you took a cruise with me & Paige in the Marlin around town, by the time we come back, most of the cars have moved on, and a whole new mess of them have replaced them! Constantly evolving cruise night! Even Kenosha's finest stopped by and walked thru the place, checking out the iron, good to see the local police like these cars as much as everyone else here does! The cops even turned a blind eye when the customized early 60's red & black Rambler lit up it's tires on the way down Roosevelt! Cool! Great to see all the AMC miniature models and American Motors memorabilia inside this place they have added to the walls thru the years. So here is a big Texan's Thank Ya'll to a small place up north that has always made us feel welcome and have decades of great memories of the people, food, cars, hospitality and times.
--------------------------------------------------------------------
Texas Takeover #10
At the corner of one of the busiest intersections in the Great State of Texas lies a small Shell gas station. This is the corner of Westheimer and Loop 610 in the world famous Galleria in Houston. When I first moved to Houston from Corpus Christi, Texas this small Shell used to be overrun on Saturday nights by old car fans. A block away on the other side of the loop the "Greater Classic AMX Club" used to meet at a diner that I don't remember the name of. Several car clubs use to meet there as it was, well, just a cool old school place for car clubs, great burgers, shakes and what not and you are on the "Strip" in Houston (Westheimer) that from where it turns to Westheimer downtown at Elgin, well past Hiway 6 is over 50+ miles. So you could cruise all night from Fulshear to Downtown Houston with other hot rodders, classics, and well, others who wanted to see and be seen, whether stretch limosines, Houston sports stars, mega millionaires in oil & gas and energy, business, to plain folks who work all week, then want to come out and show off their iron. On this particula night it would be tough to get a Slurpee, as the place is packed with a Candy Orange Hornet Sportabout, what a neat paint job, looks like chrome, must have been done at Frank's Custom on Conrad Sauer; A wicked blown Rebel Machine with blower sticking above the roofline, might be a Herman Lewis intake, and wow, this thing is so loud it drowns out those crappy stereos; there is a 76 Gremin X with 304V8, a righteous sleeper with fw made in 1976; a great looking stock 68, maybe 69? Javelin with Go Pack stripe, hood is up so must be proud of what ever is lurking there, will have to go check; a "A" paint Hurst SC/Rambler, nuff said on that, I'm sure it has made a few people mad on the Strip tonight; and probably not as mad as stretched out Metropolitian Funny Car has; I guarantee you he is not street legal, but what the hell, many of the cars tonight on The Strip are NOT "street legal" anyhows, so pick one and run it! The local AMC club was no different, myself included. In the almost 10,000 square miles of Houston, you will find out there are a number of cruise nights and informal get togethers of people with old cars on any given Saturday Night. But this Shell STILL exists. It is modern updated now, and if you ever come to Houston, there are lots of ricers, minis and "Fast & Furious Wannabees" over there, and as usual, the overflow of cars spills into the NE corner of the Galleria parking lot. So this small Shell is featured here as it might have looked....basically taken over in early 1980s by AMC fans in Houston on a Saturday Night. Maybe that is where the term "Texas Takeover" originated from.....
------------------------------------------------------------
Kenosha Lakefront Plant Factory #11

The East & West Lines are quiet now. Most if not all of the workers have headed home for the short Christmas break. Did you know American motors employed 34,000 people in 1974? You would never know it by looking at this line, as they are all with their families in Kenosha, Burlington, Racine, Milwaukee and surrounding areas. So let's take a little look around. The guard said it is cool. I bribed him like I do Federales in Mexico. But this guard I bribed not with money, but with some brats and blackberry brandy to keep him warm on this long, cold Kenosha Kristmas night. He said in a almost apologetic voice "We Build Dreams Here" pointing to the large billboards on the cold north side of the building. One of them said: THE PRIDE OF KENOSHA, WISCONSIN: AMERICAN MOTORS; the other had a large Pacer that looked like it was grinning and possibly AMC's great Advertising Agency with it's awesome sense of humor (humour if Canadian) had below the Pacer: STOCK UP FOR THE HOLIDAYS! It was a stark contrast to the bleak, almost Soviet style industrial surroundings that this drab, gray factory was producing happiness and dreams that would span generations to come for those who took a moment of their busy lives to invest in a work of art hundreds of people had built lovingly for them to enjoy. But their fine craftmanship was evident on the premises on this dark night. Maybe this is 52nd street, maybe 50th street, I was too timid to ask the night watchman, who had already devoured two of the brats, covering them with sauerkraut. Hey, I didn't bribe him with sauerkraut, must have had some stashed away in his Batbelt! At the corner of the lot was a small lit old style English Clock. How fitting that on the corner is four of AMC's red, white and blue cars. Next to the pole is a red, white and blue Rebel Machine with neat mags and lettered tires. To the left of it is a A scheme 69 Hurst SC/Rambler, and next to it a 71 Trans Am Penske/Donohue Javelin. Next to it is a red, white and blue Rambler wagon. I will go out on a limb here and guess both this and the r/w/b 71 Javelin next to it are possibly prototypes, but why would they be on the lot and not in the design team studios still? Hmmm....Might be employees cars too! A vicious looking Bid Bad Blue AMX parked next to a dark green (Hunter Green?) (Rally Green?) makes for a neat twosome side by side, but if you turn around, there is a identical Javelin parked in front of the Hurst SC/Rambler next to the building. Upon closer review, the VINs are A8M797X100078 and A8M797T100079 one is a 343 the other a 390, both are SST's and amazingly enough they were one behind the other in the East line!!! What are the odds, will have to go pick Wisconsin Lotto later over that. The electrical poles to the south of the plant break the cold silence with their crackle of frozen humidity on the lines. There is no snow, only bitter chill, and my guess the lake intensifies the chill on a starless night. But those poles cracking makes it all the eerier as the lack of anything moving in a place that is always on 24/7 is striking. At least to this stray Texan. On either side of the plant there is a huge angled AMERICAN MOTORS sign hung at a angle. Looks to be same sort of sign that hung over the street near the engine plant in AMC's heyday, but also reminiscent of the AMC dealership signs that sprouted up like 45 degree mushrooms at dealerships across this great land in the early 1970s and beyond. I meander thru the back door, of which the huge metal door is open, revealing a nice array of American cars built with pride and care. At this moment frozen in time I think of what my dad told me when he brought home a Javelin one night as a demonstrator, the smell of the new plastics, carpet, all mixed together as a elixir that is timeless as the Javelin itself. He said "a lot of pride was taken by many people to produce this car, don't spill your shake in the back seat or I'll take the belt to your ass when we get home!" I had the death grip on my old cardboard like McDonalds cup that night. And in 2006 still have death grip on any beverage inside any of my AMCs. But the smell of the brand new car inside transcends time itself, and if you....close....your....eyes....for just a second, it is still 1968, and the impression of seeing and smelling inside a beautiful new American Motors car when you are 9 years old; is forever etched inside one's memory. So turning a corner like this and being face to face with the closed West and East lines on Christ's Birthday was quite a treat. Someone just wrap up any of these and I'll take it. On the West line where usually the intermediates were built like Rebels, Ambassadors, Matadors, there are three Rebel's in a row. All Machines. Sometimes demand for smaller AMCs, made on the East line, was so much that the West line would shut down quickly and be used for East line smaller cars like AMX, Gremlin, Hornet. On this day it looks like AMC had it going on, as there are two rows of smaller AMCs, one is all Javelins, one a combination of Pacers and Gremlins. I see besides the night watchman, I am not alone, as a cat seeking shelter from the cold scampers past me. He will probably find some comfort on top of a Pacer tire inside the wheelwell, and if he is lucky, the guard will share those bribe brats with him. On the walls of either side of the factory are many original posters and ads from the different models made here. Rebel Raider. Gremlin. Pacer. And look closely up in the rafters near the skylight is THERE'S MORE TO A AMC and THE PRIDE OF KENOSHA banners. One catches my eye and I have never seen before: It has a father and son and dad is showing his younger son some AMC miniatures. The caption reads: "HAVE A PENSKE OR DONOHUE ON YOUR GIFT LIST?" There is not much light in here, only cold. So I can't see all of the influential poster, but the message hits home nonetheless as another cold blast shoots thru. Brrr... I place my hand on back of a green Gremlin and tie my shoelace on my sneaker on the bumper of the orange Pacer. Nice looking car. All of them. Orange. Interesting. Raised hood, I wonder if a 304 Pacer perhaps? The time has escaped me once again. The little English clock on the corner is showing 10:10pm. It, along with the Exxon sign, has been turned out. A look upwards thru the skylights indicates the Kenoshan Winter is settling in, the sky is lowering, and now a light snowfall, something rarely seen to one who has grew up in on the beach in more tropical climes. I don't get to inspect the bright green AMX, nor the customized Rebel Machine with the blower thru the hood out front. The guard looks happy now, oblivious to the freezing weather. Might be the brats, but if I called my bookie he would say 2-1 odds on the blackberry brandy. Looks for a long night for him and I hope the cat inside found some shelter. I turn to look at this scene behind me for one last time, knowing that it will change. It all changes. The building. The old neon AMC emblem between the doors. The cars silently with blank stare thru the still open doors. And the weather. It will change too. The guard perhaps might be a lifer. I wished I had brought a camera, maybe a winter coat. Time was not on my side, however the lasting impression I see here will last a lifetime. And with it the words echoed by the old timer guard "They Make Dreams Here". Yes they did. And still do. Restore AMC.
-------------------------------------------------------------
Dick Allen Motors, Inglewood, California "The Home Of AMC High Performance"#12
Dick Allen Motors was already well known in AMC circles for their racing efforts, but WELL KNOWN in the west racing circles for wrecking havoc on drag strips. The first photo shows the dealership with a massive arsenal of AMC weaponry that would stop any race fan in their tracks. Charlie Brown (Super Stock Javelin on car hauler; Breedlove AMX (on trailer); Grant Rebel (Funny Car); The Pointed Stick Super Stock Javelin; Breedlove Speed Spectacular Javelin; The Menace (67 Rouge); A 68 Javelin called "Catchup" (Bracket Racer); 69 SS/AMX called "The Big Menace & two other high performance AMCs not shown. With that in mind, and spirit, here is a miniature AMC Dick Allen AMC Dealership sporting a brand new set of MIB NOS (mint in box/new old stock; taken out of original blister packs to build this dealership in November 2008!) American Motors High Performance cars. Note some of the cars feature opening hoods, real rubber tires and some are LIMITED PRODUCTION. Like this dealership which IS HANDBUILT AND ONE OF ONE. Make no mistake about it, this is not your grandfather's Rambler and if it is, it turns 10 second quarter mile ET's! Out front is a full blown candy paint Rebel with blower! Looks like two employees are admiring this monster. Those gas pumps are full of Ethyl and Hi Octane gas, not unlead spew. Next to the mighty Rebel is a off the showroom floor Hurst SC/Rambler, and it appears to sport a Edelbrock STR-11 Crossram intake. Bet that makes some brand X owners miserable at the strip on weekends. To it's right is a California 500 AMX in Big Bad Green, most, if not all, of the California AM Dealership got one of these for a big promotion at Riverside in 1969. Lurking in back in front of the Peter Max MOD looking AMX billboard is a fully customized and blown Metropolitian. Stretched out this funny car is well known as the Metrorail! Next to the building is a SS/AMX, could that be THE BIG MENACE perhaps? Inside near the Group 19 High Performance Parts Counter, you can order Mallory, Trendsetters, Hedmans, everything AMC high performance. And next to the counter is The fearsome Drag On Lady of Shirley Shahan! Sure to bring in race fans for a look. The Dealer Showroom is filled with neat memorabilia like AMC racing posters, original American Motors ads and more! On the rack inside is a brand new Gremlin, looks like the Allen's will be yanking the trusty six and beefing it up with a 390 and Ford 9 inch rear! This is a place where I would have loved to hang out as a kid, just to see this much muscle by American Motors in one place. Thanks to the Allen's for use of one of their original photos from the 1960s. The Dick Allen Dealership has all brand new cars and was hand build by me and two sons in November 2008. The dealership has opening garage doors, factory miniature ads and posters, gas pump, Union 76 sign, and THIS DEALERSHIP LIGHTS UP FROM INSIDE and is HO Scale.
----------------------------------------------------------------
Kenosha AMC Meet Host Motel Las Siesta #13
AMC fans know the routine. Get there EARLY. The "Host Motel" for the multi national AMC Club meet is the Siesta Motel. And like all hotels and motels in the Kenosha and surrounding area, it will be really packed in coming days as the 'big days' are Friday and Saturday for show and swap. Like most places, AMC fans know a good deal and many have made their reservations a YEAR IN ADVANCE to stay here as in the past, the little motel has been outstanding ins ervice and has unlimited amount of parking for those who drove or trailered their American Motors built vehicles. The sign shows VACANCY but it is only Wednesday! And if you are like me and other AMC fans, there will be 5-10 people per room. Where will I put all the NOS and reproduction parts and literature I buy??? Early arrivals are a stunning 78 Pacer coupe in orange, wow, someone must have had fun driving that from Georgia up here! Next to it is a beautiful 1970 Rebel Machine with Shadow Mask, this one sports a Mosport Green or Golden Lime paint job, quite unusual to see a rare Machine in that particular color. Earlier the hood was up and the engine is extremely detailed. Can't wait to hear this one fire up. Next to it is a Funny Car Metropolitan. Known as Metrorail, this beast has a blower that sits up higher than the roofline! Chances are it was trailered, but like most AMC big meets in Kenosha, don't be surprised to see this thing driving down the street to Andy's Drive Inn as Kenosha's Police turn a blind eye. Heck even THE cops like a great car show event and the tourist dollars it brings into the city coffers, but many of them are AMC fans also! To the side of it is a beautiful 69 Javelin in Hunter Green Metallic with a Go Pack Stripe. Sporting a 343 Typhoon V8 ands Automatic, this one will be probably cruising all over Kenosha streets showing off a beautiful timeless body style. In front of the office is a bright Trans Am Red Gremlin. This looks like it just rolled off the assembly line and my guess is that it will probably debut high in class, possibly a Junior Silver. Has some great Group 15 Accessories of which I am a big fan of like roof luggage chrome rack, and rear upper air dam. In the foyer there is a Super Stock AMX, looks like Drag On Lady but I don't recognize the colors, chances are someone has built a tribute car, but this one looks rather authentic sans color. I'll have to seek out the owner as I want to document this AMX, possibly they are in the office or out by the pool. That is my own Rebel convertible "Machine" parked out back you see. Top down as usual, the weather is cooperating this time of year in Wisconsin. Drew in instant crowd when Paige, kids & me pulled up earlier. Can't believe we drove this from houston, only 22 hours one way but what the heck, this is big meet. I might have to bribe the Siesta Motel owner to let me have those AMO, NAMDRA and AMCRC banners on the side of their place as would like them for my collection. Next to the glistening pool, which will be filled with AMCers as the days draw on, is a stunning 69 Big Bad Orange MOD series Javelin. This thing is extremely detailed and one of only 941 produced in 1969. It looks to have all the bells and whistles and someone has done a tremendous job restoring it to stock. Chances are one will have a hard time finding the pool area as this place fills up Thursday and then No Vacancy sign Friday! This miniature Kenosha Siesta Motel was built by me and sons in November 2008. It features opening doors, miniature national club signs, a neat small pool, chairs also. With that in mind, and spirit, here is a miniature AMC Kenosha Meet Host Motel sporting a brand new set of MIB NOS (mint in box/new old stock; taken out of original blister packs to build this in November 2008! Some of the cars feature opening hoods, real rubber tires and some are LIMITED PRODUCTION. This AMC Miniature Hotel which IS HAND BUILT AND ONE OF ONE.
-------------------------------------------------------------------------
Topel Rambler/AMC Kenosha Wisconsin #14
Earl C. Topel's Rambler Dealership started out Nash but evolved as AMC did. Topel Rambler Sales, located at 1020 60th Street in Kenosha, was well known, and respected. Topel also had a inside line on some of American Motors "skunkwork" cars, that is, cars AMC specifically built to be heavily modified by AMC's engineers in Kenosha. AMC's headquarters were in Detroit, not Kenosha. Most of the actual design and development was off Plymouth Road in Detroit, however, in Kenosha proper, you had the engineers that were close to actual product. The cars. And Production. But more importantly, the test, or proving grounds close by in Burlington Wisconsin where a modified vehicle could be put thru all sorts of tests. Carl Chakmakian at the time, 1966 thru 1970 was head of AMC's Performance Activities and thought what better place to build "hot rods" and "test vehicles" from pre production and actual production vehicles...and test them....than out of Kenosha where the finished product would originate? Enter Topel who gladly obliged by letting AMC, and Carl, use his well know Rambler Dealership as a front in a win/win situation simply due to the sheer publicity it would bring to Topel's when Rambler Hot Rods made a showing at area drag strips like Union Grove. More traffic at Topel's and AMC got to play! And gearheads from Milwaukee to Chicago came out to check out the mighty Ramblers. This miniature dealership sports some of that factory muscl from decades ago. There is a formidable amount of AMC Firepower on Topel's lot, even local Kenoshans are coming out. Off to the side is a extremely rare solid colored Matador Red Rebel Machine. Of the 2308 Machines built in 1970, it is estimated less than 30 were this solid color. There is 340 horses hiding under that factory Shadow Mask hood also. Next to it is a sparkling new 73 Hornet Hatchback in "chrome tangerine/orange' the paint is a mirror and must be some new Di-Noc paint AMC is experimenting with, you know, the stuff they used on AMX prototypes, as the paint is "color shifting" which changes colors with different lighting. Sure is a nice looking car and one legendary Wally Booth would shortly break all sorts of records in for AMC in NHRA. This might be a WHITE LIGHTNING perhaps, check out that bright white interior, rather striking against the chrome orange paint. Next to it is a beautiful 69 Javelin, 343, AT in Forest Green Metallic. This sports a Go Pack and looks like it is a real low miler and extremely well taken care of. With 280hp under the hood you will have no trouble hanging with the big boys. A Hurst SC/Rambler in "A" paint sits next to the Javelin, It has it's hood up showing it's hot stock 390V8. Basically a factory built drag car, the Rambler went out with a bang and 1512 made. I'm sure this "Hot Rod Rambler" has pulled more than it's share of curious car buffs into Topel's to take a closer look. Don't be surprised if you see it on the track on weekends whupping up brand x cars either. To it's right is a 69 Big Bad Orange AMX. slightly modified with a SS/AMX hood scoop and Cragars this is one bad boy. The engine bay alone is extremely detailed and crawling under the car, there is no way that this rolled off the Kenosha Assembly Line a mile away like this! Only 284 made in 1969, this one has indeed been taken to another level by Topel's! There is a small hydraulic jack next to it, possibly someone will be putting on drag slicks for a few runs later, testing out those various Group 19 parts. Inside there is a green Machine. Not sure why but possibly this is a Topel 'Skunkworks' car in the making perhaps like others. Maybe painted horizontal red, white and blue, the American Motors corporate colors, and then drivetrain yanked, modified and Chakmakian and Topel take it out to Union Grove over the weekend, along with AMC execs, and make a few passes perhaps? This miniature AMC dealership was built by me and sons in November 2008. Dedicated to all AM Dealers, large and small that made a difference. The garage doors open and close, this one sports a small Coke machine, hydraulic jack, miniature gas pumps too. The cars are all NOS/MIB (new old stock & mint in box) taken out of original blister pack to build this dealership. Inside and outside Topel's there is a variety of signs, banners and original AMC ads! Some of the cars feature opening hoods, real rubber tires and some are LIMITED PRODUCTION, including Hot Wheels and Johnny Lightning. This AMC Miniature Dealership IS HAND BUILT AND ONE OF ONE.
On December 7th, 2010, "Doc" aka Michael R Deubel of the Baadassgremlin Yahoo group and the Amc-list....passed away after a lengthy illness. His model building skills were inspirational and mind numbing to see the intricate attention to detail he could put into something.....so.....tiny. His countless tips on building miniature American Motors models helped anyone who read his posts, myself included. Paige & me befriended Doc at the AMC national meet in Berlin, Connecticut in 2000 where we hit it right off, Doc was a easily approachable character like most AMCers are. With his big Santa beard and funny "Doc Says Jingle This" shirt pointing at a area Brett Farve likes to text photos of, anyone who saw him in that shirt could not help but laugh. His love for his daily driver AMCs, including beloved Hornet was infectious to say the least and hopefully inspired others to take their cars out and simply enjoy them. God Bless you Doc, Paige & me and anyone who knew you or just benefited from your wise sage advise will miss you.