Barker Furniture Center &
Don-A-Vee Rambler, Bellflower, California
Giveaway 1967 AMC Rambler Rebel to Miss Ora Marie Long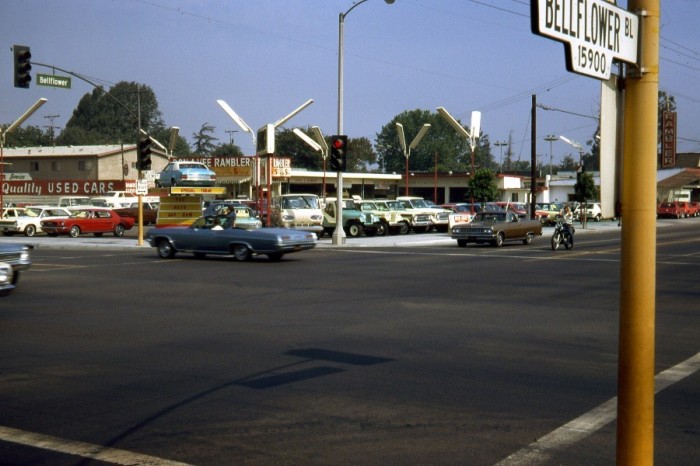 In their own words: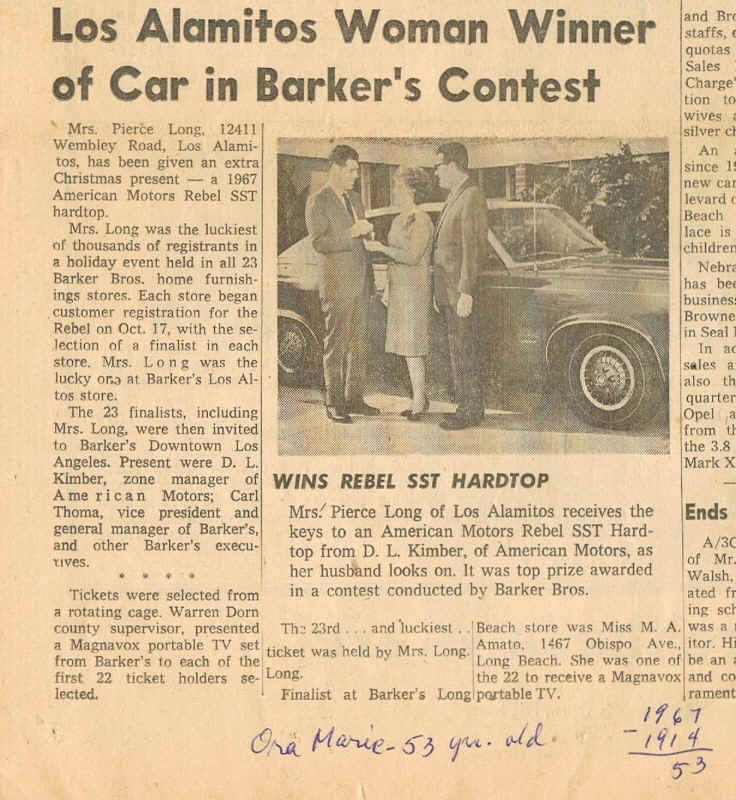 Mrs. Ora Marie Long receiving the keys to the Rebel from D.L Kimber, of American Motors, as her husband Pierce looks on. Accepting in her home's driveway -12411 Wembley Road, Los Alamitos!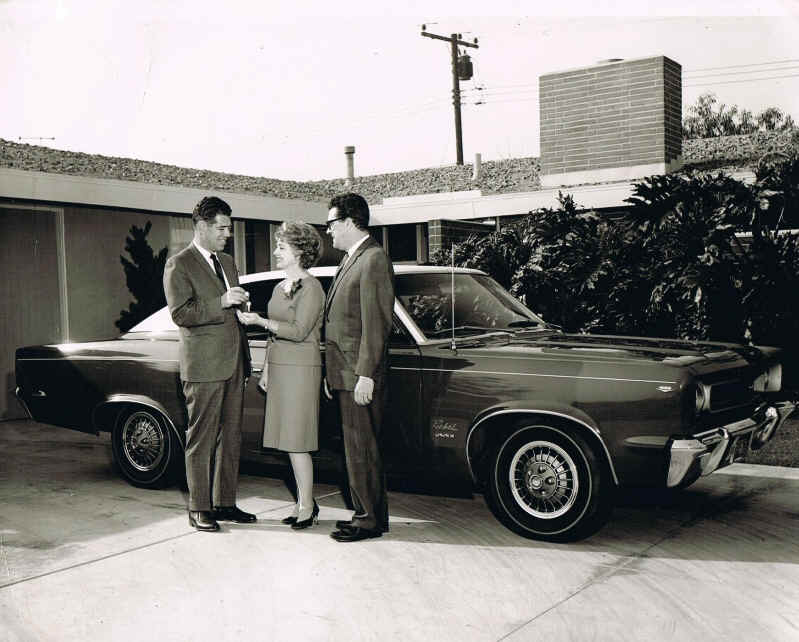 Another newspaper ad from mid January of 67'. These one in front of the dealership "Don-A-Vee Rambler" in Bellflower, Calif. Top of the original newspaper is written "Sorry it took so long - but here they are. Lots of Luck with your your new car - Don Williamson Don is referring to the tires as Ora Marie wanted the thin walls switched to the thicker white walls. See top & bottom photo to compare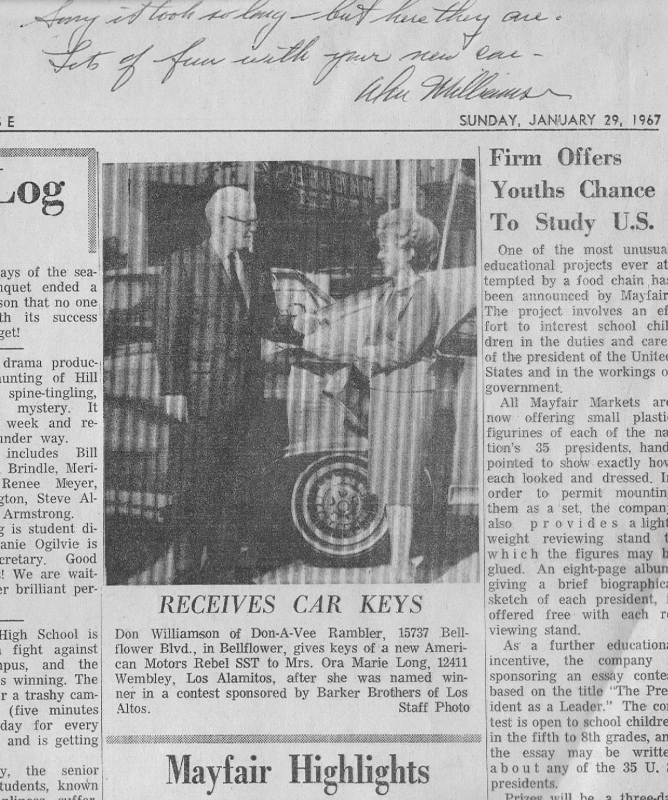 Ora Marie Long was 53 years old when she won the 1967 Rebel SST in January of 67'. The AMC has only lived in one garage it's entire life "12411 Wembley Road".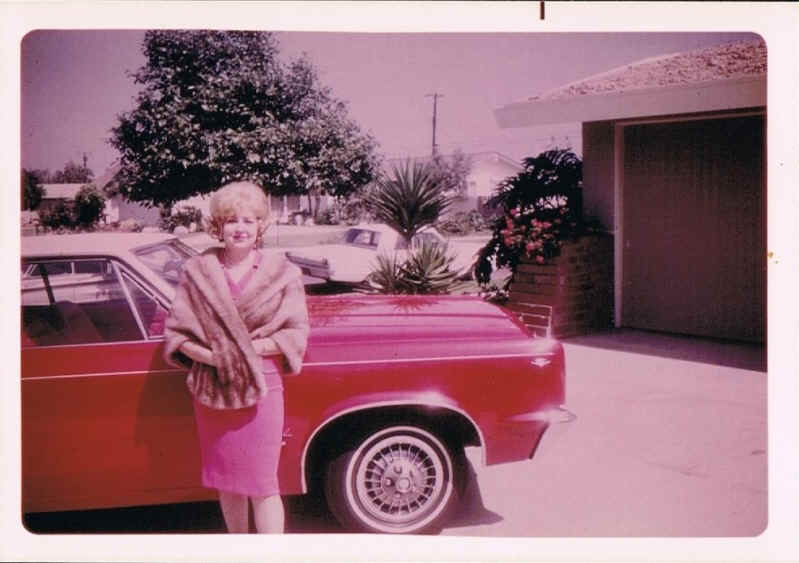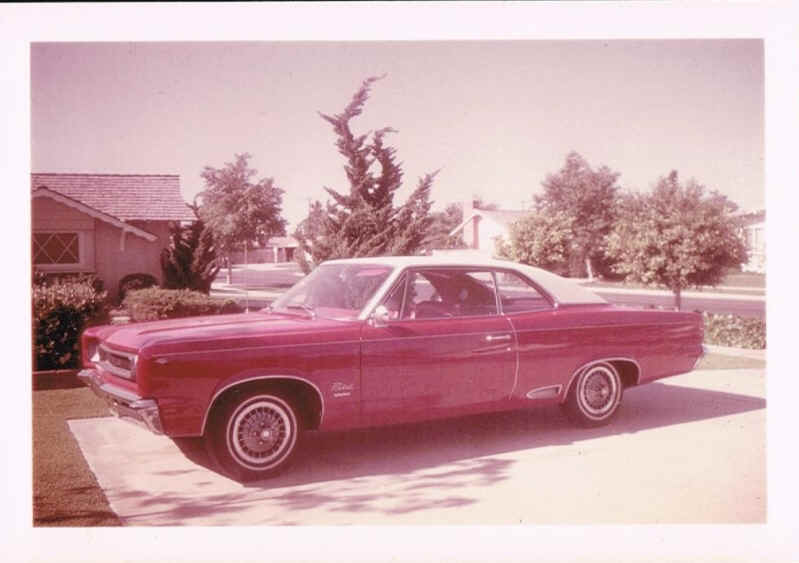 The last time Ora drove the Rebel to a car show in 2001 was the Rossmoor Family Picnic & Car Show May 6th, 2001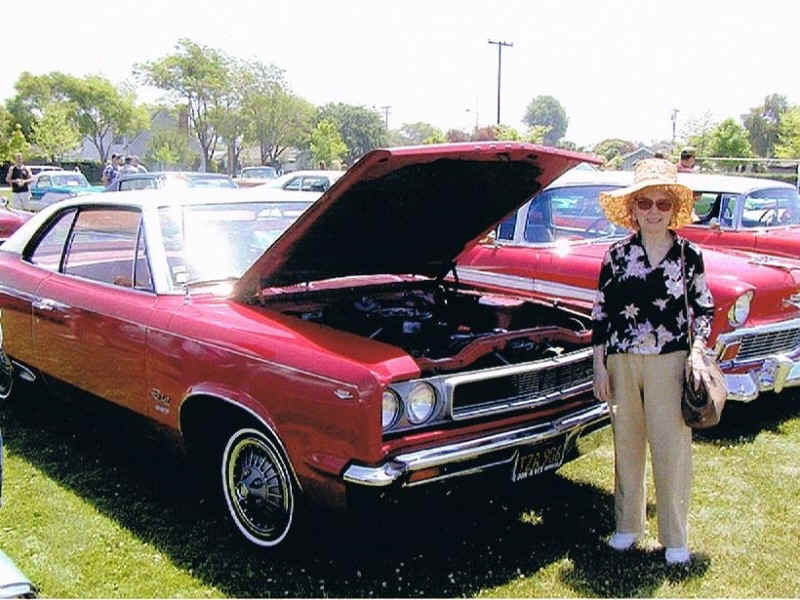 Has never been for up for sale... literally. The last time it was in a auction being offered was in a Holiday raffle in late 1966... Up for sale for the very first time - a rare chance to own a Survivor at No Reserve
This is a fully original - well documented - unrestored & all number matching 1967 AMC Rebel SST 290 V8 Hardtop Coupe. Only has 24,590 actual miles since new & is proven to be the true total mileage the car has traveled. The service records, condition & certified inspector has the mileage to be true. Documentation documenting the mileage since1971. One older lady owner since she won it new till her passing in Jan. 2013. Only been driven by two people it's entire life, the owner & her husband, Pierce Long.
Documented with factory manuals / warranty book - Service records & California emission certificates since 1971 - Original keys
Original Newspapers Articles covering the raffle & photos of the Rebel being delivered to her home where it has been stored at until Feb. 2013
Exterior:
Spent it's entire life in Southern California that has never left the city. Retains it's close to mint black & gold plates that still have the original dealer frames attached. Been always garaged since Day 1. A fine example of a rust free California classic. Never seen harsh weather or let to rot, has always been cherished. Factory Matador Red with Red vinyl & cloth interior, beautiful color combination. It still holds it's original paint & better yet, the original white vinyl roof cover in pristine condition.The car shows off very well for it's age with just a few paint flaws (usage dings, couple blemishes). The car has been waxed over the years many of times over the years with some chalk around the emblems. It shows it has been well taken care. Doors,hood & trunk lid all fit very well, have no play in the hinges. All the trim is in excellent shape for being original and shows that it has been garage.
Interior:
The car has a totally original interior with the stock bucket seats in very good shape. The driver seat upholstery shows worn by use, see photos. The side panels and visors are in very nice condition; the factory arm rests are exceptional & shows very careful use through the years. The plastic headliner is near mint condition, as well as the package tray. It does have a clear rubber AM floor mat that has protected for a very long time. The factory stock steering wheel is in fantastic shape, no cracking & shows very delicate use (working horn). The dash is an exceptionally nice original condition (it proves the garaged terms). Excellent dash compartment & instrument panel. The owner was a non smoker with no kids nor pets, barley anyone sat in the back. The only visible addition is a small digital clock that i'm repairing the battery & keep in honor of the long time that it has been there.
Drivetrain:
Numbers matchings, Factory V8 290cid 2 barrel Automatic transmission Column shift. The engine bay has never been detailed before & is very clean. Strong running & driving with a long line of kept of service records. May I mention again it has only 24k actual miles. This engine has never been taken apart, rebuilt or modified. Going thru all the records, the ignition system got enhanced by the Cartier Control Box to comply with California emissions in March of 71'. All original under the hood including the hood insulation, air cleaner & paint. All the decals are in place except for the air cleaner (small dent on snorkel), looks to have peeled off. Factory distributor, mechanical fuel pump & 35A alternator. The suspension is original, shows road grime but looks very well maintained. The rear end is dry with no excessive play. Excellent original AMC wheel covers & wheels, show very minimal wear. The tires have some flat spots from sitting in the same location for a long time. The 3 speed automatic transmission feels nice & shifts great; the brakes work. Regular maintenance will make sure this car is a fantastic driver again & ready for the summer showing.
Trunk/Floors:
The trunk area is extremely clean, holds it original synthetic trunk mat & the original spare that has never touched the ground with the matching jack / tool in pristine condition. The undercarriage is 100% solid & original. Never been restored or cleaned. Factory pans including all other panels.
Overall:
This is a once in a life time chance to own a extremely low mileage AMC Rebel SST with perfect one owner ownership in "Survivor" condition. Well maintain & cherished, never let to just sit in the garage. It was always started every few months, either by the owner, her nephew or the next door neighbor. It will be nearly impossible to find another one in this sort of shape & past history.
Someone will be very lucky to win this Rebel, just as the original owner Ora Marie did back in 1967.