The Estate Sale happened in 2005. Don Burkette, formerly of Auto Exotica is in prison. The cars were all still in New Smyrna Beach, Florida where he was based out of for years. However, his ex wife and him are going to try to settle differences it is my understanding after he serves his time handed down for several felony counts. I do not however know what will happen to many of these cars, as you can tell from the photos below, about 5 are salvageable, the rest have too long been exposed from all sides to Florida's climate Coast cars and are total rustbucket losses, only good to surrender items that don't rust like glass, stainless and plastic items. I heard/believe someone in VA bought this collection, God help them moving most of these cars which are rotted in place. Do NOT contact me on these vehicles, I have absolutely nothing to do with either of the parties involved, nor any possible future sell off. This file is closed on my website, and I also emailed everyone in July 2005 that were on a database informing them of Mr. Burkette's personal situation in Florida. The page with photos was created in anticipation of a sell off by his ex wife, back in December 2004. Again, I have zero contact with either parties, I was flown in by wife to Florida to document the inventory & vehiclkes of the collection. There was another warehouse full of items, found later near the beach by investigators I never got to see or document. THIS IS ONLY A FRACTION OF THE PHOTOS TAKEN. I wish both Don and Amika well, I will always consider them friends.
Update 2014. Don served his prison time & is out of prison. Most of the cars below were scrapped. The restorable ones, along with a lot of parts, were sold to the fellow who is head of the Carolina AMC chapters. He sold off a number of the bodies, and possible restoration candidates, the others left in Florida for scrap. He has sold off many of the parts on ebay since 2006. I do not know his user ID.
AMC ESTATE SALE
January thru March 2005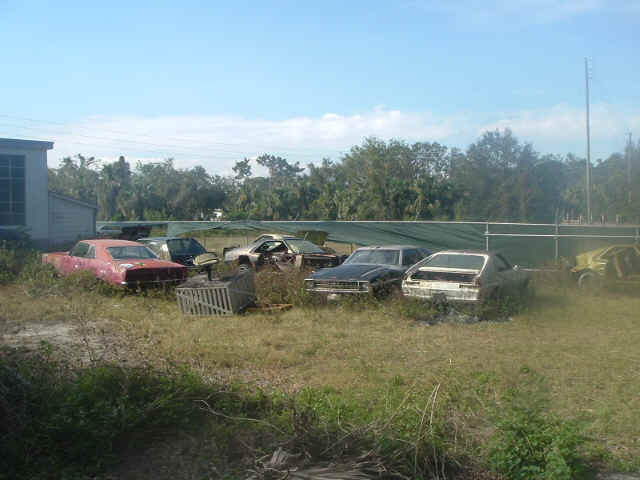 Overview Outside shown: 68 Rebel, 78 Gremlin, 68/9 AMX
68/9 AMX, 72 Javelin SST, 69 AMX, 70 AMX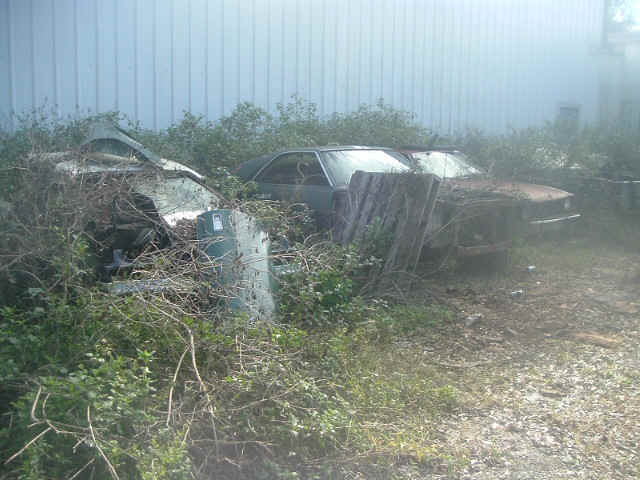 Side of warehouse, Rattlesnake Row: 70 Javelin, 68 AMX, 74 Hornet, 78 AMX
1973 Hornet Hatchback
A3A037E701880, Canadian built. Body 78188. Trim 336-B. Paint E9
First Year Hatchback. Lots to salvage off this, or create your own Wally Booth
Dragster!
Production total=40,110
1968 Rebel 2door, red, restorable parts car, no engine, trans, nice interior, glass
A8A195B201011, great parts car, nice seats, dash, impossible to find glass,
some chrome, tailights, misc parts. Has rust. Great possibilities, or a parts bonanza
of a very rare, seldom seen body style.
Production total=4420
1978 Gremlin, 4.2 litre, green, restorable parts car, glass, chrome, dash good
A8A464C260189, hit in rear, great dash, door panels, glass, front bumper,
hood, grill, rear glass unique to 77-78 only commands $250+
This is a LAST YEAR production Gremlin! And the Gremlin single handedly
kept American Motors in business from 1970-78.
Production total=22104
1970 Rebel Machine parts car, green, 2 machine rims, bumpers, glass good
VIN unk, could not get to driver side of car. Has most glass, bumpers inside or in trunk,
has 2 original Machine rims w/caps, has crossmember, has rear end, possibly 3.91;
has some stainless, radiator, misc more parts in trunk, no sheetmetal, has rare bubble
in hood, hood itself is toast, car is still able to surrender a number of rare, and
valuable 35 year old parts however!
Production total=1936
81 Spirit, black, easy fixer upper or partscar/drag/driver
??XXX50BKXXXXXX, could not read whole VIN, sorry, black, complete car,
looked to have mint interior; appears to be really loaded example, no seats,
but all else, glass, dash, drivetrain, ect.
Production total=2367
1968-69 AMX partscar, yellow, rear, suspension, some glass
parts car, has wiring, V8 crossmember, some glass, suspension, rear end, possibly Twin Grip
Production total=1968/6725; 1969=8293
68-69 AMX, black, partscar, crossmember, rearend, few parts
has V8 crossmember, suspension, rear end, possibly Twin Grip, torque links
Production total=1968/6725; 1969=8293
70 AMX, green, partscar, crossmember, rearend, few parts
This fellow has a few more parts to surrender. Possibly a Twin Grip, a V8 crossmember and suspension like torque links. V8 crossmembers are at a premium, selling for about $350. You can put them in any 66-69 Rambler, American, Rogue; or 70-78 Gremlin or Hornet, and 78-79 Concord Series.
72 Javelin SST, silver, functional cowl hood, has engine/trans complete, louvers
Wow, a Oakland Raiders fan's car, A2A797H101970, SST, R10173, Trim 163R, paint A5A(?)
look at this early East line Body Number E050000;
good interior, has rust in roof,
has ultrarare functional cowl induction hood, aluminum intake, engine size is unknown,
has rare rear louvers, good bumpers, fenders, there are more parts in trunk
Production total=22,964
69 AMX white, partscar or dragcar, has V8, glass, red interior
A9M397N227087, only 619 290V8/4spd 69 AMXs made. R038263; Trim 935F; Paint 72A, Body #E097351. has a engine, possibly original 290V8, has trans, possibly original Borg Warner Super T-10 4 speed, has glass, stainless, and most rare red interior.
Production total=8293; production with 290V8/225hpcid & Hurst 4speed=619
1978 AMX was rare LEVI'S Edition (less than 100 made) some salvagable, possible twin grip
A8M039C350060, Rare little car, but not much left of it, possibly some interior, rear end.
Production total=1931
74 Hornet, 4door, complete, gold, great for parts or easy fix up driver
VIN unk (could not get to), appeared to be a complete car, great interior for someone wishing to restore
a SC/360, Hornet, Gremlin or possibly just get this one going and drive and enjoy.
Production total=29,754
68 AMX, resto/partscar/dragcar, has doors, fenders, pleated interior, both VIN's missing
has seats, door panels, both redone in diamond tuck, has dash, rims, rear end, possibly a Twin Grip, some glass, both fenders, 1/4 panels and both doors, suspension. Restorable, or drag or lots of parts.
Production total=6725
70 Javelin Rattlesnake partscar, white, damned snake in car
Can't tell you much about this, as there was a rattlesnake under it and didn't have my gun to send him to hell.
But much has been cut off this car, it possibly has suspension and a few other rare 1970 only goodies to surrender.
I just didn't think my damned life was worth tangling with Mr. Snake, who was rattling under the car. And for those of you with good eyes, there is a molted snakeskin he/she had shed in the trunk!
Production total=8496/Base or 19,714/SST
70 Rebel Machine, yellow, has rear suspension
A Hialeah Yellow Rebel Machine. 390cid, AT. Rust and stripped. Has rear end, possibly a twin grip, some suspension, and not much else. For those of you who dislike the crappy trunnion front suspension system on the 67-69 Ambassadors and Rebels, this would be your ticket to cut out the superior 70 style non trunnion suspension. Of the estimated 2326 (or 1931, depends on what production figure you believe) less than 25 Hialeah Yellow Machines left Kenosha, making that color equally as rare as Classic BlACK Machines. Of course rarity does not equate market value as we see here.
Production total=2326
74 Javelin, yellow, 304, loaded, 29K miles, easy restoration
A4C797H416689, 071008; Trim 428Q; Paint E9-W8; Body E242142. 304V8, AT 904 Torqueflite,
PS, PDB, tint, bumper guards, AMC aluminum slot dish mags, luggage rack, has rust in lower 1/4s, hood and upper roofline. Black interior needs cleaning but car appears to be complete.
Production total=22,556
72 AMX, green, 360, 60K miles, loaded non Go Pack, Machine rims
A2C798P125256, ultra early build date of September 1971 (5th week of production!); 011266; Trim 264-S; Paint C9; Body #W018543; 360V8, AT/727, PS, PDB, tint, extremely rare 15X7 styled steel wheels (Rebel Machine rims), rear spoiler, bumper guards, green on green, appears moslty complete, did not see hood for this vehicle. Notice it has 120mph speedo. I have owned about a dozen non Rally Pack 1971-74 AMXs, rather unusual.
Production total=2729
74 AMX, copper, 304, AT, loaded, easy restoration
A4C798H351707, Paint E9(?); Trim 425-Q, 304, AT 904 Torqueflite, PS, PDB, AC, Rally Pack, has rust in 1/4s, all impossible to find AMX specific parts appear to be there. LAST YEAR production!
Production total=4082
68-69 AMX 390 engine, valve cover #209X22, AMC Edlebrock R4B intake, complete
Looks like a recent rebuild perhaps, has rare AMC Part Number Edelbrock 4485720 intake, new alt, clean engine; very desirable hard to find; this will be listed as 390 engine #2
68-69 AMX 390 engine, valve cover #110W30, complete
Appears to be a complete 68-69 390V8 from intake to pan; very desirable and hard to find; this will be listed as 390 engine #1
70 AMC 390V8 engine, valve cover #302X02, No casting Machine block
The most desirable 390V8 AMC produced, and produced one year only 35 years ago. No engine casting number on block, but there is a small '390' underneath head on driver side. Intake is a original Dual Plane; AMC casting number #3199762-C. The intake alone sells or $600 when, and if, you can ever find one for sale!!!! This is THE MOST POWERFUL PRODUCTION ENGINE AMERICAN MOTORS PRODUCED WITH A STAGGERING 340 HORSEPOWER. Carb appears to be original Autolite/Motorcraft Series used for 1970. Still hooked up to the Borg Warner M11/M12 trans. I am not sure but believe this 390 came from either the Hialeah Yellow Machine or the Red/White/Blue Machine in this warehouse. This will be listed as 390 engine #3.
68 AMX, yellow, no engine/trans, no VIN plates, partscar/dragcar, long term restoration
Fairly solid body. 1/4 panels appear fine, as does sill panel. No engine, or trans. To me at least, this would be a easy restoration, or a awesome drag car.
Production=6725
72 AMX, 360, AT, 101K miles, red, some rust, easy restoration
A2C798P277702; 090864; Trim 261-R, Paint D7, Body #W091578. 360V8, AT/727 (first year the indestructible 727 used in AMC), Rally Pack, Go Pack, PS, PDB, AC, tint, bumper guards, rare functional cowl induction hood, good grill, appears most AMX specific items intact.
Production=2729
71 AMX, blue, 401, AT, loaded, awesome, 2054 produced, less than 300 remain
A1C798Z163059; Z code 401V8cid/330hp. R008643; Trim 163-R; Paint B6; Body E039873. Ultra early production of the lowest production run of all 7 years of the AMX from 1968 thru 1974. Shows October 1970 build, which would be 10th-12th week of production! Has rare functional cowl induction, PS, PDB, AC. Rally Pack, Go Pack, Rim Blow steering wheel, tint, heated rear glass, split white vinyl t-top, 15 inch AMC 8 slot rims, appears to have had many new or reproduction parts installed. The most complete of this collection. And probably the rarest. Has minor bubbles in lower 1/4 panels.
Production=2054
70 Rebel Machine, red/white/blue dragcar, no VIN, less than 400 known to exist
No VIN as car was under restoration. No dash, interior, engine, trans. Has suspension, extra set of doors. Body appears to be very solid. Rare red, white and blue edition. Car appeared to be originally a 390cid/340hp with a automatic. Appears to have had front disc brake work. This is the information I got off the driver side metal door tag: Body=Q54543; Model= 701-9; Trim-051F; Paint=25A, #05558. If I recall my Rebel Machines,
only the first 1000 were red, white and blue editions, then the remaining production could be had in any regular production color.
Production=2326
70 AMX Big Bad Green shell, 74 produced, 19 exist, car appears to be undergoing restoration
has hood, fenders, must dolly as there is no suspension on front. This car appears to have been on a rotisserie and body is professionally done. I did not see any of the parts that go with this vehicle that had been removed prior to restoration such as stainless, bumpers, wiring, seats, anything. This is a shell. The shell is solid however. And it is my understanding the fellow was restoring the vehicle for another party. There is nothing on this vehicle except the sheetmetal and rear, but it is a ultra rare color as mentioned in subject above.
This car is straight as a arrow and has been media blasted!
70 AMX Production=4116; 70 AMXs produced in Big Bad Green=74
70 AMX, 390, 4spd, restoration or glorified parts car
A0M397300180, original a Matador Red 70 AMX. Has engine, presumably the original 325hp 390.
Also has the four speed, which is probably the original borg Warner Super T-10. Car also features PS, PB. Vehicle does not have fenders, hood, grill, dash and doors, but has seats. Vehicle has rust. Vehicle has seats, suspension, Twin Grip. Sorry for dark photos.
70 AMX Production-4116; w 390V8-325hp & Hurst 4speed=1632
71 AMX, body, orig 360, no engine/trans, early build October 1970 partscar or restore long term
A1C798P168653, very early production of October 1970. Vehicle has no engine, trans, interior, door tag or grill. Vehicle has glass, fenders, suspension however.
71 AMX Production=2054
70 Javelin SST 360, mostly complete, appears like most Javelins to been cannibalized for AMX parts, restoration/parts
360V8, AT, 4barrel, AC, PS, grill, dash, seats, glass, much more inside and in trunk. Car originally was Bittersweet Orange. Did not see a hood for this vehicle. May or may not have doors. Engine should be 52cc heads.Could be a Donohue. Unfortunately like most 70 Javelins, the parts worth more than car whole.
Production=19,714 SST
69 AMX, 390, 4spd, owners pride & joy, former showcar, best in show
A9M397162961, R013149; Trim 931-F; Paint 71A, Body E031891.
originally a 390, 4spd, there is no engine and trans. There is a staggering amount of NOS and reproduction parts on this car. The interior is wonderful. New things I noticed were carpet, seats, headliner, scuffs, weatherstrips to name a few. Dash was very nice. Odometer shows 00050 miles. AMX Dash Serial #09161. Appears to be new Leather seats! Appears to have new rare center armrest. New grill. Clear glass, electric wipers, PDB, Rally rims. Many more parts in trunk. Hood is off to side of car. $600 set of rear louvers.
Body is shiny Maxi Blue with Black Shadow Mask. Car is former showcar and was extremely well kept. It is my understanding this was the seller(s) personal ride, that is why so much attention and work. Drop your engine and trans in and pick up a trophy
69 AMX Production=8293. Production w/390V8-315hp/4speed Hurst=3620
Mystery Mopar! I do not, repeat, not know Chrysler products like I do AMC. I have always liked Mopars
and was delighted to see this one sitting in one section by itself, only a stray AMC 390V8 on a stand and some boxes in this room. I'm sorry the photos are not brighter. I do not know what year, make or model this vehicle is.
For a moment, I thought of the possibilities of a Max Wedge, or 413(?) or Hemi something or another, as a friend of mine just sold his Hemi Challenger for a astonishing $1.1 million dollars in 2004. Yes, dollar signs danced thru my head as I consumed another delicious Honey Bun roll. Or maybe it was the 7-11 coffee. Either way, I did not lift the hood. It may not even have a damned engine. It looks like a Pro Street or Drag Car. Given the sheer limited amount of time I had to try to document these cars and items, I only took these four photos. Should I be tapped for auction duty by the seller(s) I guarantee you I will get great photos inside and out, a VIN, and as much information as posible for those interested in the fine and great products Chrysler produced like this!