american motors
group 15 accessories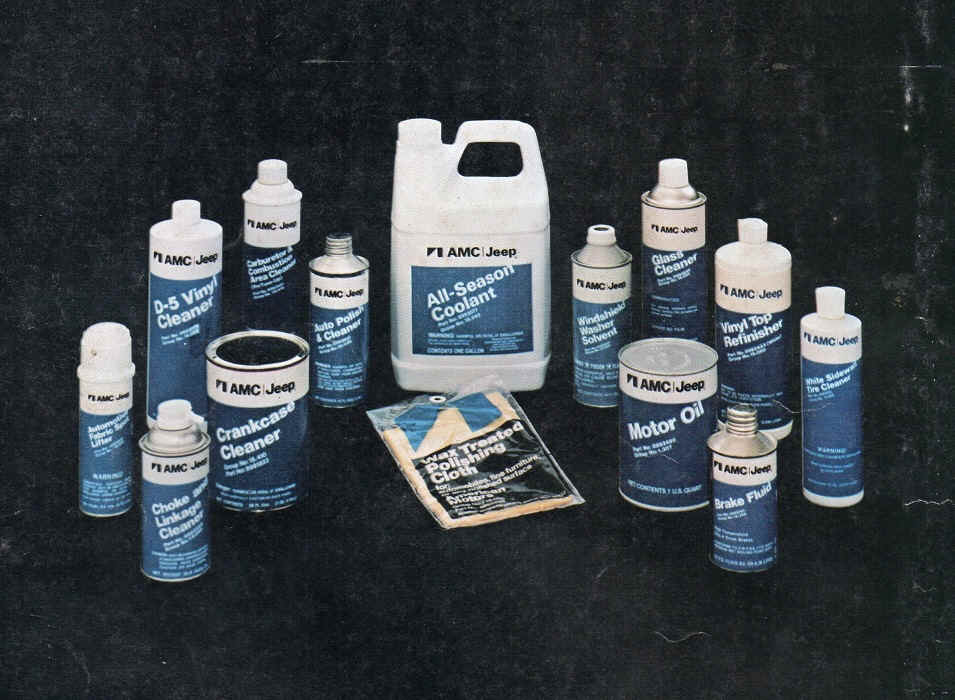 A illustrated walk thru some of the wonderful accessories AMC would nickle & dime your ass to death with!
AMC Vanity Mirror: There are several types of these, about 5 I know of, some drill thru sunvisor on passenger side, others have chrome surround with RAMBLER or AMERICAN MOTORS on them. AMC got rid of those in pipeline and started using stick on ones like this in 1968. The chrome surround ones still could be found at Dealerships however, this is just another rolling change from supplier. If you have a wife, and frequent car shows and cruise nights, I HIGHLY RECOMMEND having a AMC Vanity Mirror!
Hornet & Concord hatchback tent first appeared in 1973. A neat accessory for hatchback Hornets, these would be offered into 1980. You sometimes see them at national AMC meets installed on cars, quite a treat.
AMC Radios: AMC had about 7 suppliers of radios thru the years that I know of. No, they didn't 'make' their radios, they simply slapped a AM logo on them, whether molded in face, flap or decal. Krako, Mitsubushi, Motorola, RCA are a few I can think of that supplied radios to AMC. Good mark up on radios too. For instance a factory AM/FM for a 1968-70 AMX or Javelin was $94.25 dealer net, suggested wholesale $117.85 & suggested list $157.40. When you consider your new base AMX was about $3000 in 1960s dollars, $157 was a LOT of money.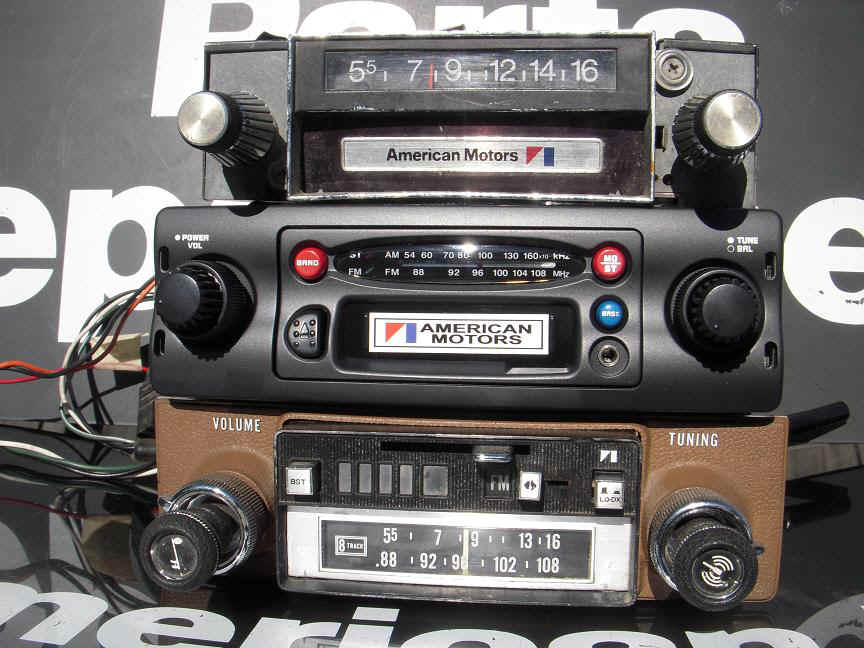 if you got a AMC with door speakers like Multiplex stereo, AM/FM/CB, AM/FM, AM/AM/8 track or AM/FM/Cassette to name a few, your car would have Group 15 speaker covers in front door like these from a 73 AMX. The speaker covers were a FoMoCo (Ford) item. All 71-74 AMX & Javelin (and many other models!) had precut holes in the lower door panel. Go ahead & look, cardboard over vinyl or molded plastic, the holes are there just not punched out. This forward thinking by AMC was in case someone opted for speakers, whether ordering the car at dealer and on order form or after delivery and dealer installed. There were also a variety of stereo fader switches used with many models before the fader was built into the radio itself.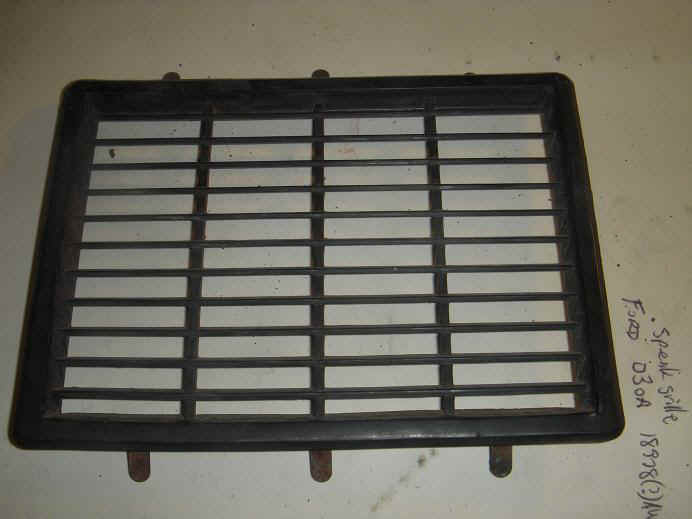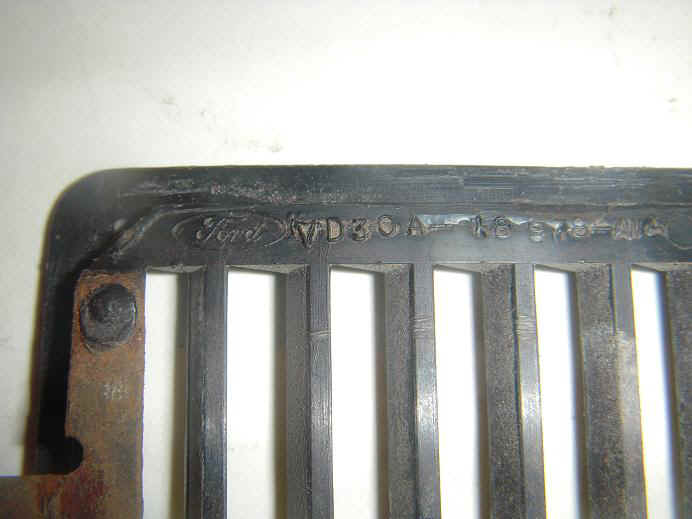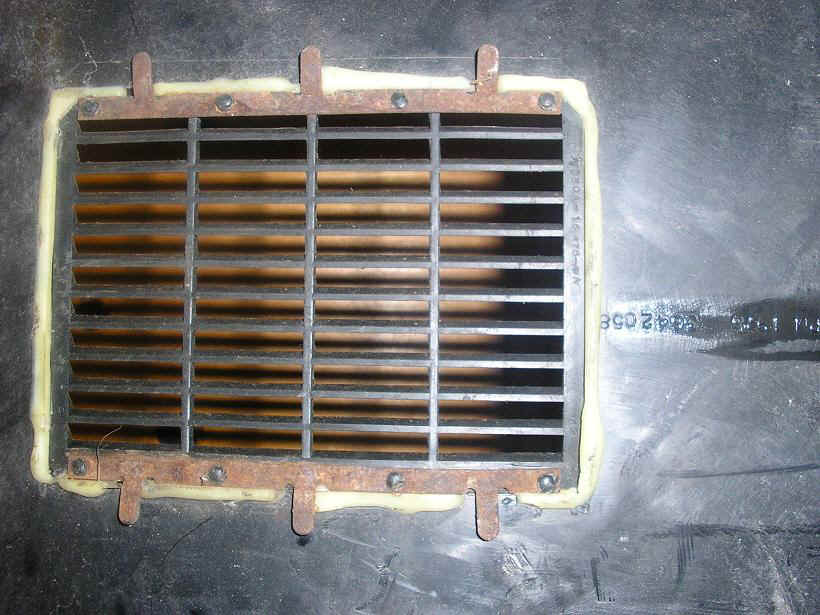 The last photo is how AMC sealed the Ford speaker covers into the door of AMX & Javelin Series 1971-74. Kenosha glue at it's finest hour, this kept them in place & from rattling in the plastic door panels.
AMC Rebel, Ambassador & Matador 8 track player, the last photo shows the original one in my 68 Rebel convertible, those are chrome 'wings' or legs these units came with to lift them above console hump.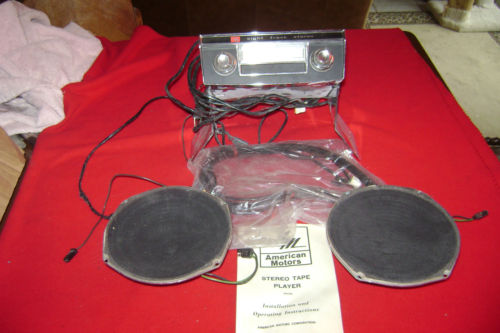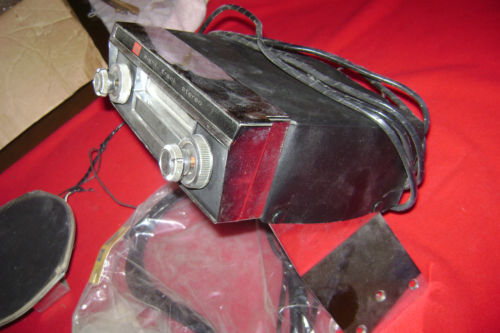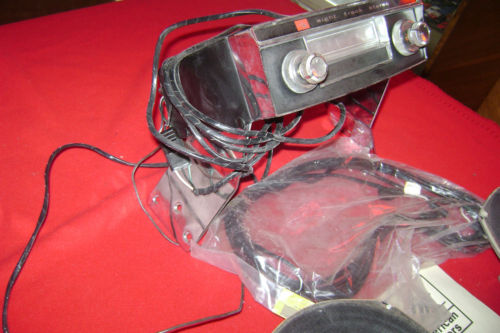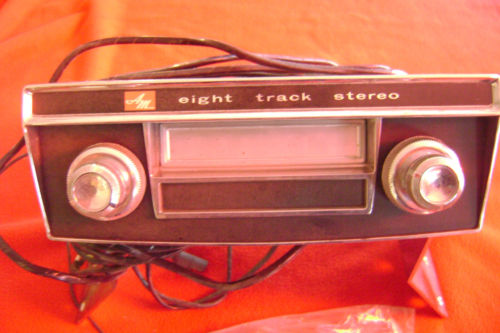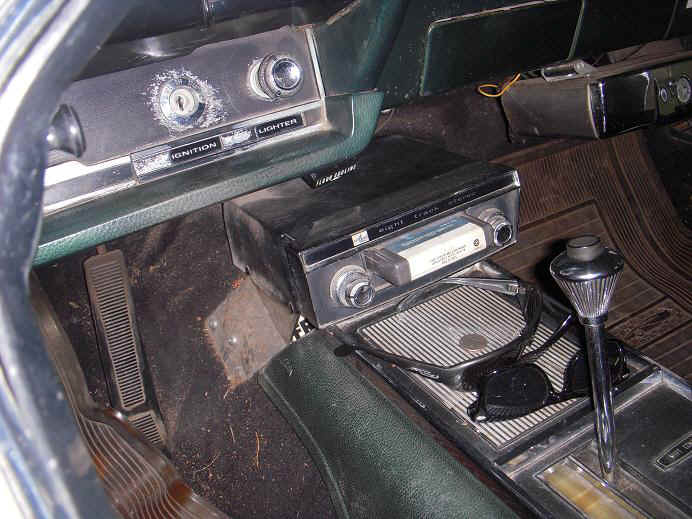 AMC would also sell you their own 8 track tapes called "The American Sound" I do not know what year these first appeared for AMC but earliest ones I personally have seen are from 1970. This one is from about 1973. Check out the music on back. Vikki Carr & Johnny Mathis would make this one work, maybe toss in "In The Still of the Night" (go search for this version on youtube). Photos #3 & #4 is "The Americanb Sound" AMC 8 track tapes from 1973. Theme from Love story while dual open exhaust on your 401V8, yea...
More AMC 8-track tapes, take a moment to look at the songs from various years. You will see a lot of these have not "A" songs, or "B" songs, but many times "C" songs that ended up on editing cutting room floor & might not have even been on a album. How many of them I wonder ended up being hits afterwards? You can find these like I did on ebay, do simple search for 'AMC 8 track tape' these bought from $10-$30 each.
*Recommendation! If your classic AMC has a AM/8 Track player, get one of these tapes to put in it for shows, judges NOTICE.
AMC & Rambler Vibra Tone; this odd box vibrated the sound 1 second from original, so it had eerie echo sound. Great if you had a bong in car listening to Pink Floyd however. These first appeared in Ramblers but could be had in ANY AMC like the unit shown here in 1969 Big Bad Blue Javelin. If you ever see one of these in a AMC at a national meet, ask the owner to fire up the radio and listen to it, wonderful stereo/echo sound from 1960s.
If you ordered a AM/8 track for your classic 1968-69 AMX or Javelin, AMC carved out the radio pod for it to fit. This is a factory cut, there is a template (paper) AMC had for dealers with the Group 15 radio to show where to cut the pod in this configuration although if you ordered one with your AMX or Javelin, it was cut like this in Kenosha!
AMC Ski Rack these appeared in mid 1970s for mostly Gremlin & Hornet Series but I think some were available for Matador. Later they available for Spirit, Concord & Eagle. These doubled as a bike rack also, shown below is a NOS one in my collection.
AMC Trailer Hitch, were available for virtually ALL AMC models, nothing like drawing a crowd at a meet pulling up in your AMX pulling a SC/Rambler. One of the neatest things you will ever see is called 'Load Leveller' which is a factory installed air compressor under hood, of which you then level up the rear air shocks once trailer is hitched so car & trailer level not in a "V". Before these came about in middle 1970s, the Ambassador, Rebel & Matador had air balloons inside the rear springs...sort of same effect, but small air inlet under bumper or inside trunk you fill up to inflate.
The second two photos is of my low miler original 82 Concord DL wagon with factory installed 'Load Leveller System' & Class II towing hitch. In the flyers for these, it showed people at beach, you could inflate beach balls, bike tires, rubber tubes & more.
Heated Rear Window Defroster & Blower Motors
In 1969 for the 1970 models, AMC introduced a heated rear window for AMX & Javelin finally. Only 56 1970 AMX's got this from factory, while number of Javelins unknown however it was something you could walk into your friendly AMC dealership and have installed. This grid type rear window defroster could also be installed on 1968-69 AMX & Javelin series. But it was not until 70 production that a Dealer Order Number assigned for it. The regulator shown on right went under dash while the control knob is also shown, these usually mounted to right of lower steering column in plastic cover. Before 1973 these were grid lines in back glass, however there is no timeline cutoff date here like most options & accessories. RUNNING CHANGES were extremely common with AMC, so if you bought a new 1973 AMC & wanted this feature, you might have gotten the grid style, or the new fan blower motor centered between speakers in package tray in back, as all 1973s were not being pressed with the hole there, (Amb, Mat, Jav, AMX) whether you ordered it or not.
Amc Tissue Dispenser
there were 4-6 different types of these as AMC used different companies thru the decades as suppliers. Some bolted to dash, others were combination tissue dispensers & litter containers that had sand filled ears and flopped on the transmission hump. Kleenex was the feature tissue here.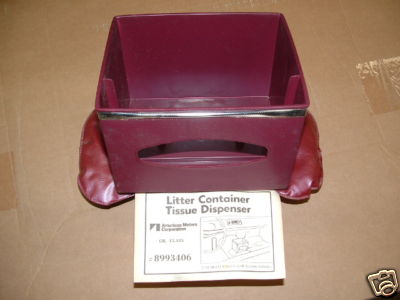 This is a Pontiac Tissue Dispenser, also used by AMC & Volkswagen. AMC was not only company to slap their logo on a accessory & sell to customers! This type used for Ambassador, Classic, Rebel, Matador, however many also found their way into American, Rambler, Rogue Series.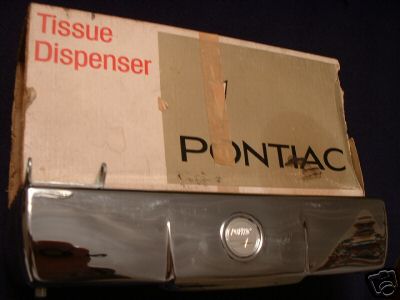 This smaller type was used specifically for AMX & Javelin, would not surprise me if some made into different models, but due to limited dash space on AMX & Javelin, these slnder units mounted directly below ignition switch on 68-69 and same location for 1970.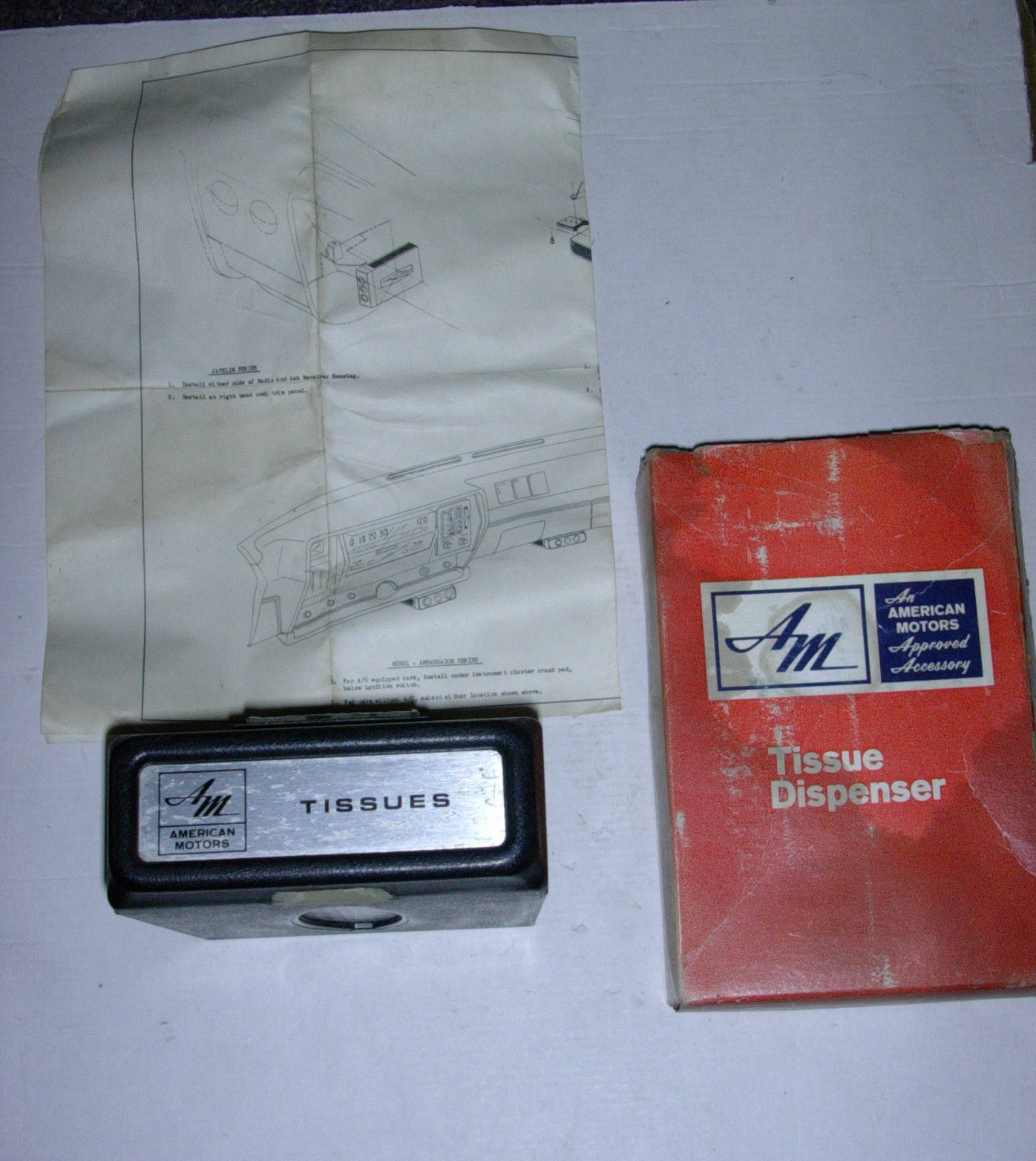 more views and instruction sheets for this smaller tissue dispensers. Note this type could also be had on the big body Ambassador & Rebel according to instruction sheet, but mostly found on AMX & Javelin Series.
AMX & Javelin Spoilers. All front spoilers were Group 15 accessories. However, you will find like many 'options' AMC offered, these are also listed in Group 19 (Performance) Accessories. So "crossover" items. I used a NOS one & did not only Group 19 68-70 fiberglass ones, but 71-74 fiberglass ones, years ago, and occasionally have them in stock, maybe do 10-20 per year. Check my AMX PARTS section to see if any currently in stock, price & order.
AMC Fuse Installer. Neat item appeared in mid 1960s. Some AM dealers would give them away free with purchase of new car.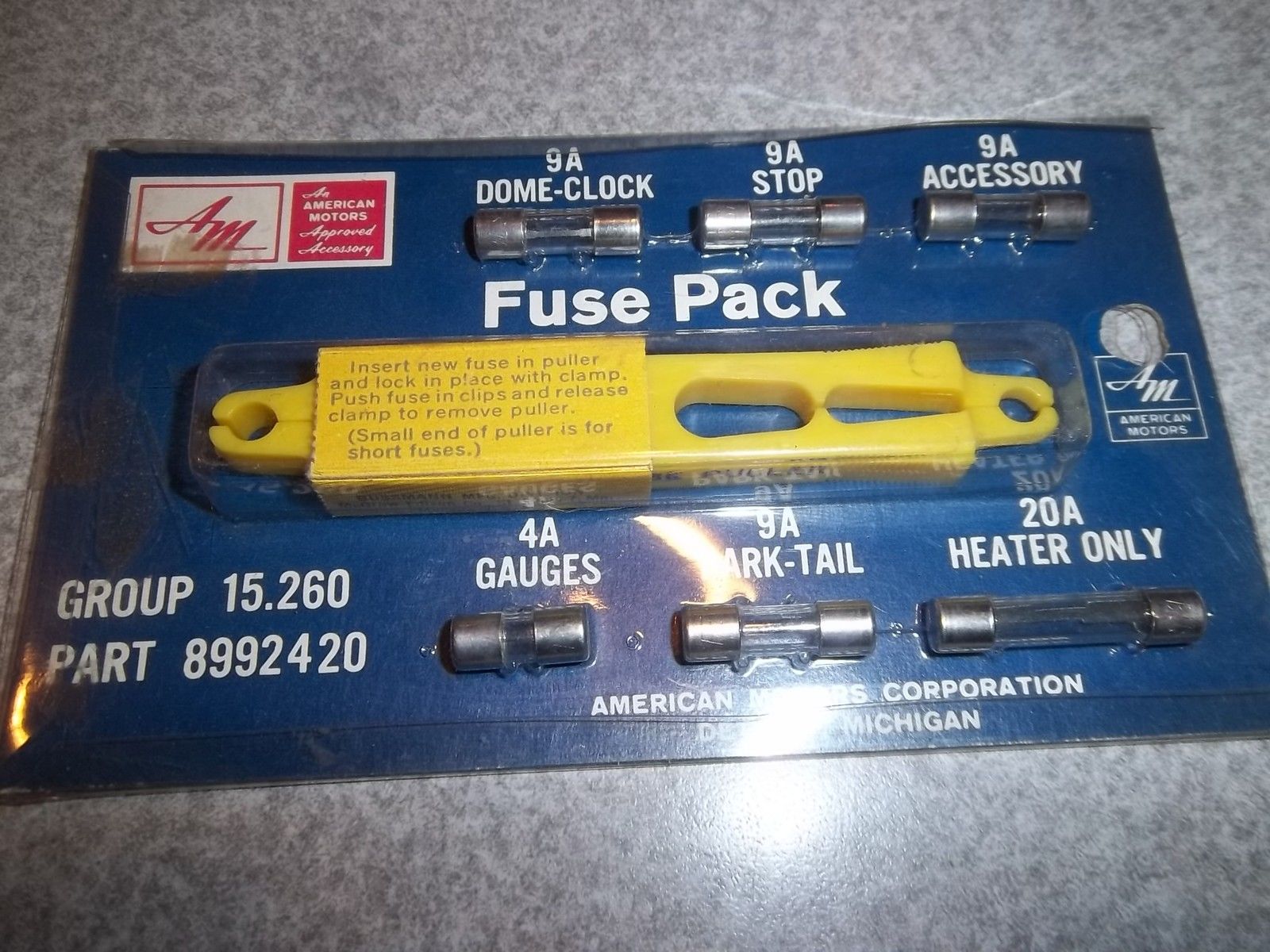 AMC clocks....most of them before digital type in 1979 were supplied by Borg Instruments of Delavan, Wisconsin, who supplied many clocks and gauges to different automakers. This is back of a NOS 68-70 AMX/Jav one.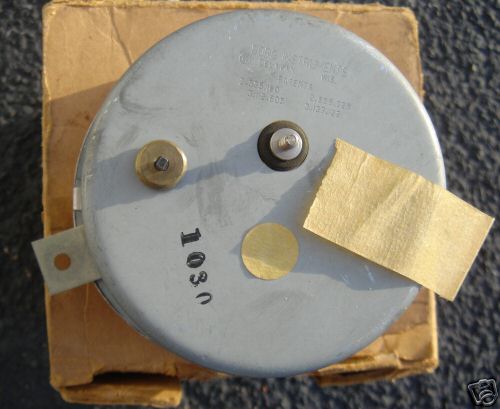 AMC Gas Door edge guard. These were "supposed" to protect your paint from gas nozzles. Used on Ambassador, Rebel & Matador series, all 2door, 4door and wagons and of course 67-68 convertibles. Hard to find, but a nice item to add to your car if found.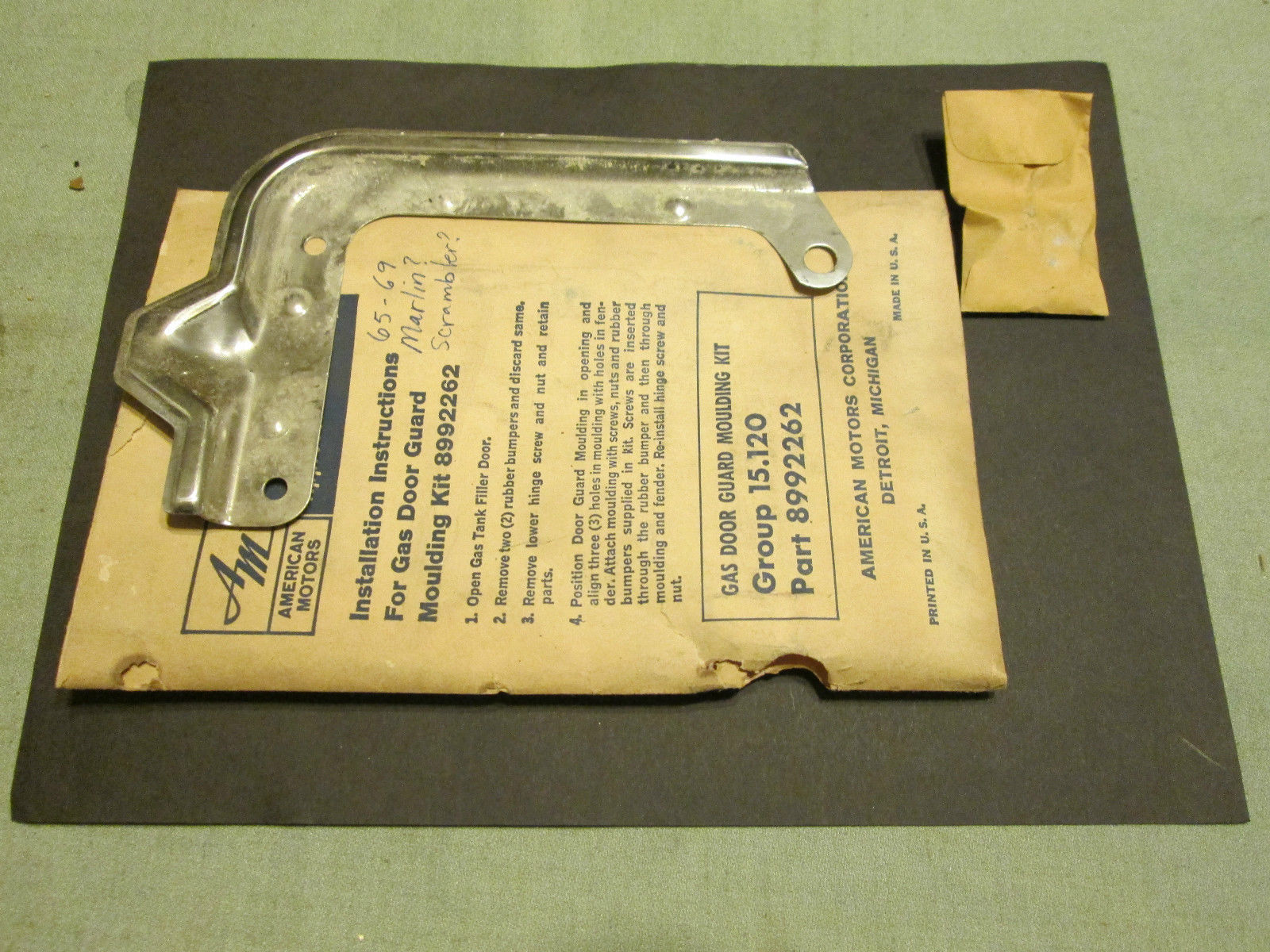 Rally Pack Gauges also Group 15 Accessories it depends on what years it was, as 1968-70 were individual gauges while these shown are for 1971-74 AMX & Javelin. However! You could also get Rally Packs in: Ambassador, (74); Matador (74-78); Gremlin (72-78), Hornet (72-77); Pacer (75-80); Spirit, Eagle, Concord so virtually all of them. Some were standard like 77 AMX, 78 AMX, 79-80 AMX & some GT, & Limiteds, while in the Ambassador & Matador these consisted of a OIL & AMP Stewart Warner gauge in clock position. For Hornet & Gremlin this was a small 2 gauge setup in middle of lower dash, oil & amp. These appear under 'miscellaneous' or sometimes 'electrical' in AMC Dealer Books.
Rally Pack File for AMX & Javelin.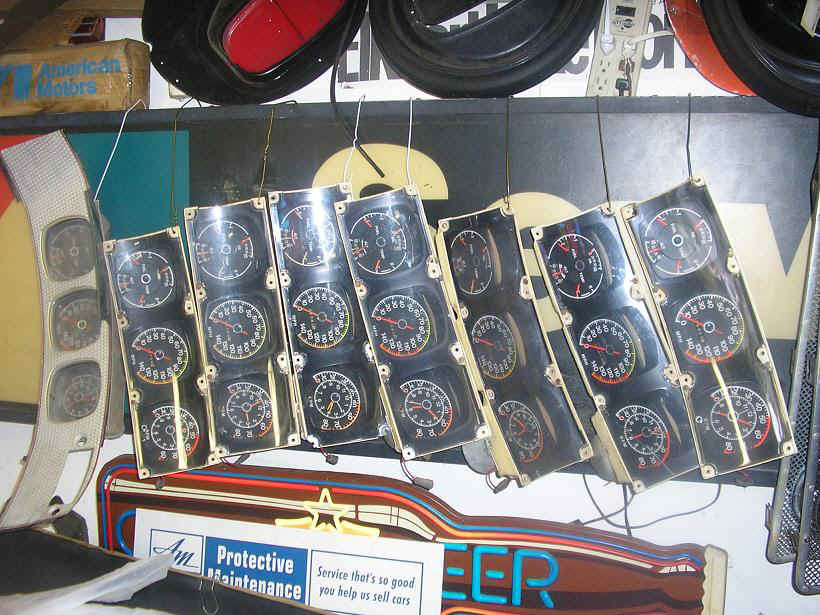 AMC Low Fuel Warning for 1970-1971.
Electric Wipers.....Wipers were not only a option, but accessory as well. For the like of me, I have never been able to figure out why AMC was last major US automaker to still sell vacuum wipers. For the 71 AMX & Javelin, this was a huge waste of valuable resources to make a LEGO like gadget like this for only 71 AMX & Javelin. This is a actual vacuum wiper & washer dash switch. Few were made with this but what a waste of resources, just tell customers you no longer sell vac wipers & upsale them electric wipers for $24!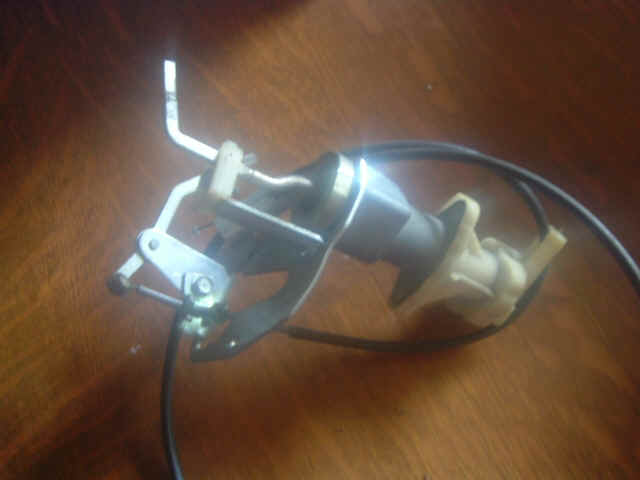 AMC Engine Block Heaters
These available for all AMC sixes and V8s, usually found in northern climates. Really simple, you plug it into electrical cord, and the plug fits snugly into a freeze plug hole on engine, and warms up engine on frozen days before you drive to work, school, or wherever. Shown are a Rambler & AMC Engine Block heater including English & French (Canadian) instructions. In last several photos this shows NOS engine block heaters in my collection from 1960s, 70s, 80s!
This is close up of a number of my NOS AMC Engine Block Heaters from collection: Lower row: early 1970s (1971) middle is 1965-70; lower right late 1970s/early 1980s; yup, 1980s to end of production. The large AMC "Part Numbers" started being used in 1970s, AMC commonly superceded their part numbers, updating books. This was a good thing, but also confusing as hell to people like me who want to date code stuff now!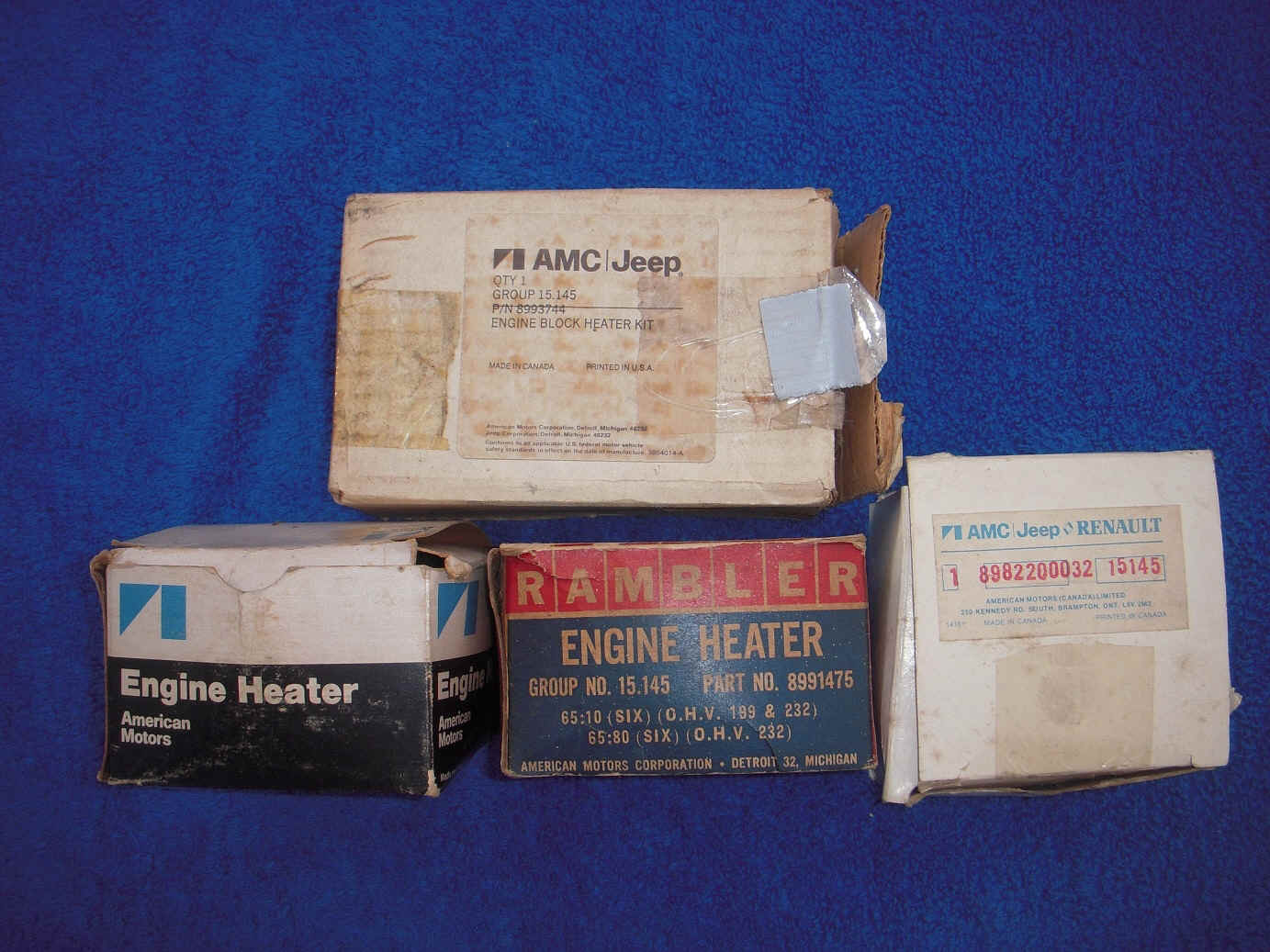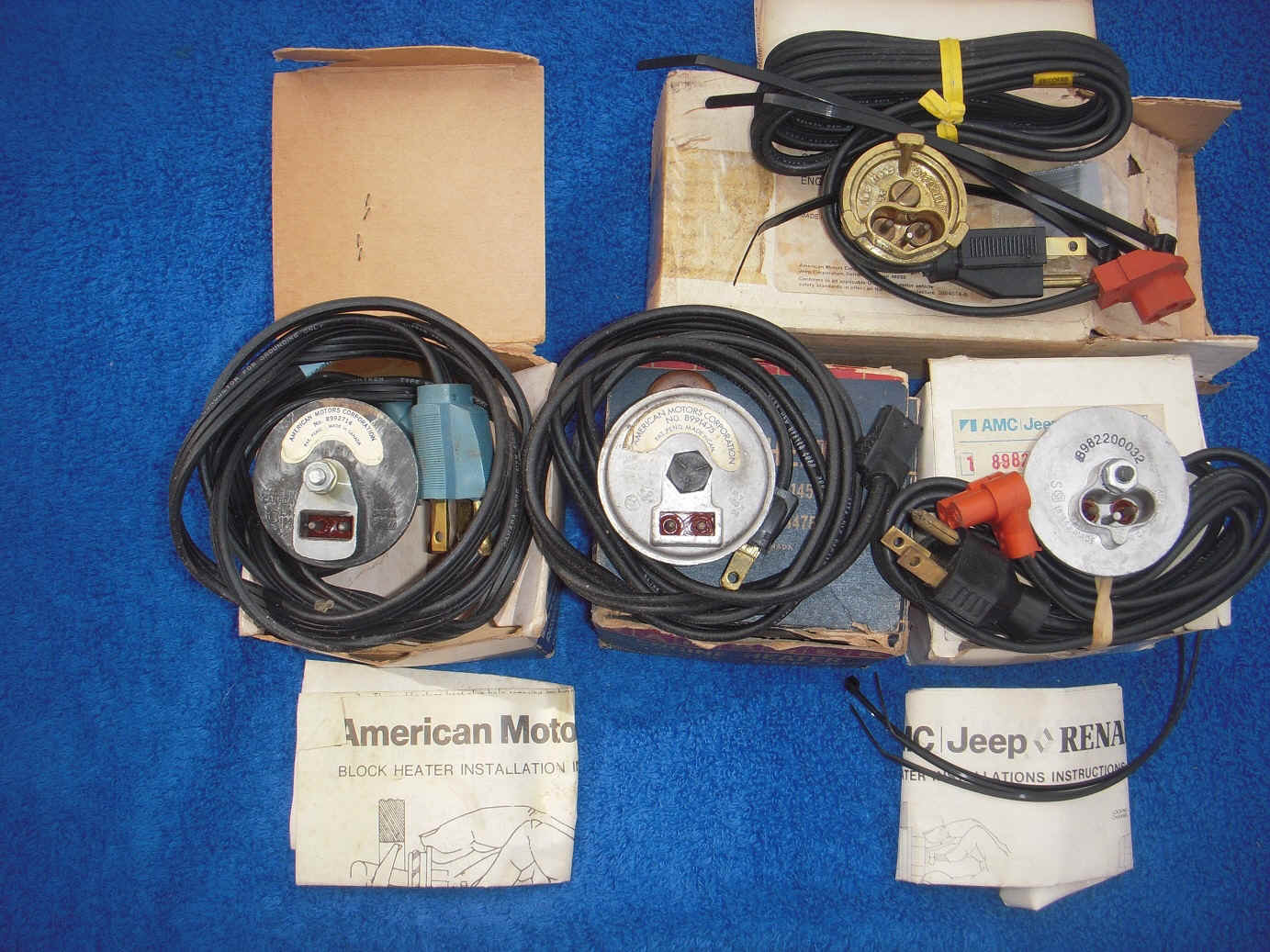 AMC Travel Bed Mattress & Nash, AMC & Rambler Beds
You would be naive as hell to think that many of us were not conceived in a Nash. Or Rambler. The AMC Travel Bed Mattress in first 4 photos was intended for trips, camping, uh, drive inn movie theaters. But wait! There's more! Nash exploited their interiors folding down into a bed. After all, the war was over, millions of people looking to relax, travel, camp and more & Nash exploited this. Of course some saw the Nash cars with seats that fold down into a bed as a 'den of sin'. But was a great selling point. The 5th photo shows Nash advertising at it's best, with family trying to distract little Johnny with food, also against the car, a crossbow, rifle and fishing net. The bed is set up already so if little Johnny make himself scarce hunting bears, mom & dad can work on a little sister or brother in the Nash. The 5th photo is legendary comic Bob Hope getting the business from unknown Nash exec. This was one of several custom Nashes that toured Auto Shows in the US. You know Bob is surely cracking a few one liners about getting laid in there and the 'window'. It's sealed shut with plexiglas. In the last photo is my mom. Sitting on hood of the new 1953 Nash, mom (I love & miss you momma) wrote 'our new Nash, has bed inside, very comfortable, great for long trips' well right after that brother Tommie was born. Then me. So the Nash, later, Rambler & AMC beds, reclining seats into beds and of course the 'Travel Mattresses' worked!
AMC Levis Dealers Bag Gremlin & Hornet Series *You did not have to buy a car to get one.
AMC Group 15 Axle Lube Can
AMC Dealers V8 Tune Up Kit. While this tune up kit is shown in Group 3, it was sold under the Group 15 Accessories. Consists of Champion N12Y spark plugs, rotor and condensor, this would make any AMC 66 1/2 V8 run like should.
AMC Compass
There were about 5 different compasses (that I know of) in AMC's history, but that is only to about 1965, chances are I don't have some of the previous years in my collection. TPhotos #1 & #2 this odd shaped UFO looking one is lighted. AMC never 'made' compasses, they had outside suppliers who made them, and just tossed them in their own boxes. What is unique about this besides being lighted is that it has the Rambler name inside glass. Photos 3, 4, 5 show one from 1972. Photo 6 is a original mopunting instruction from one in 1970s. Photo 7 is a NOS Jeep one, yes, with emblem not level ha ha. Photo 8 is several from my personal collection, 1960s, 1970s Jeep used into early 1980s, and 1970s AMC one from about 1978. Photo 9 is close up of 1970s NOS American Motors logoed one.
AMC Dealer desk stamp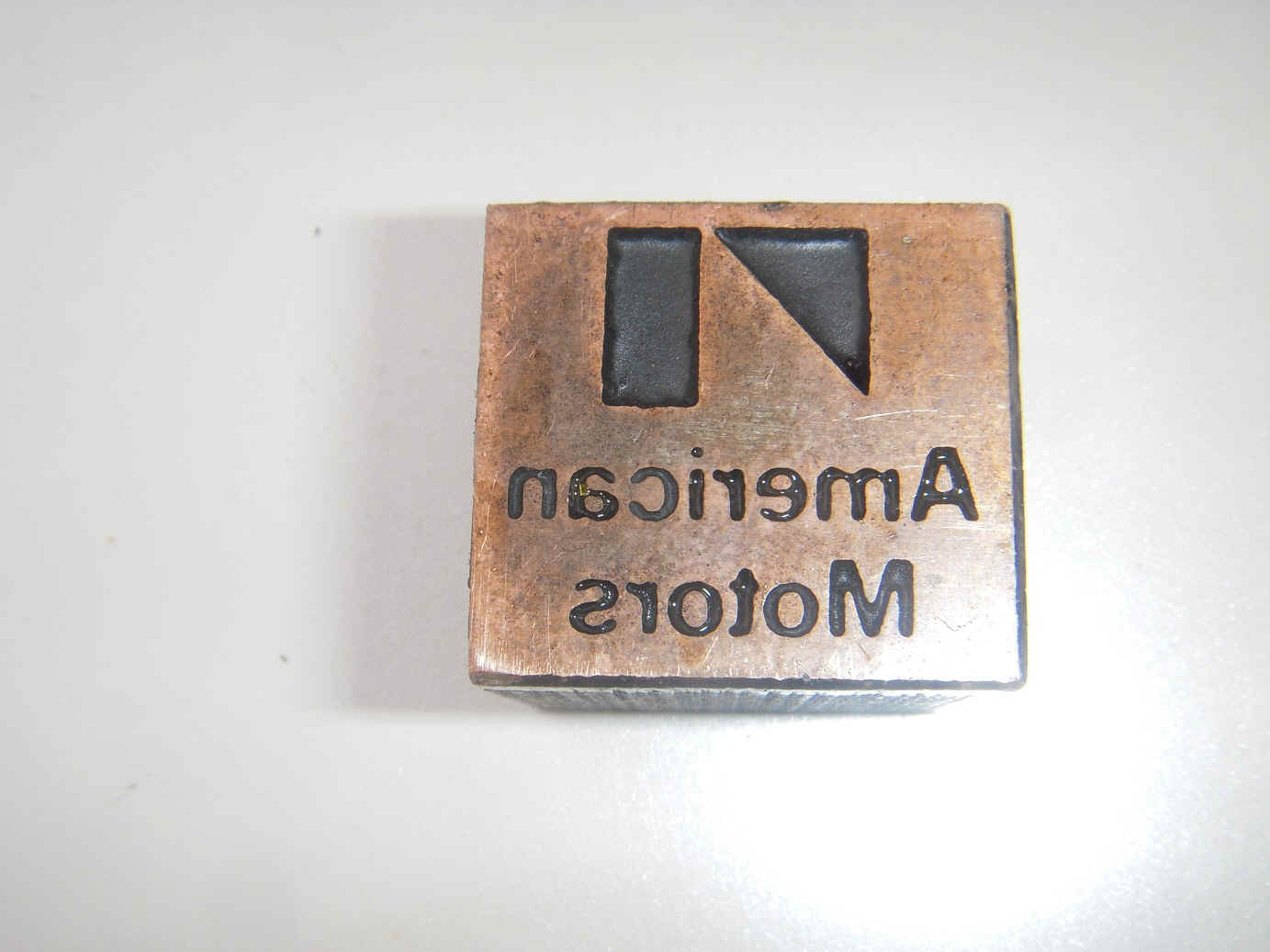 This was not available to public AMC dealers ONLY and is a solid metal desk stamp, about 1 inch x 1 inch, it uses a lot of ink.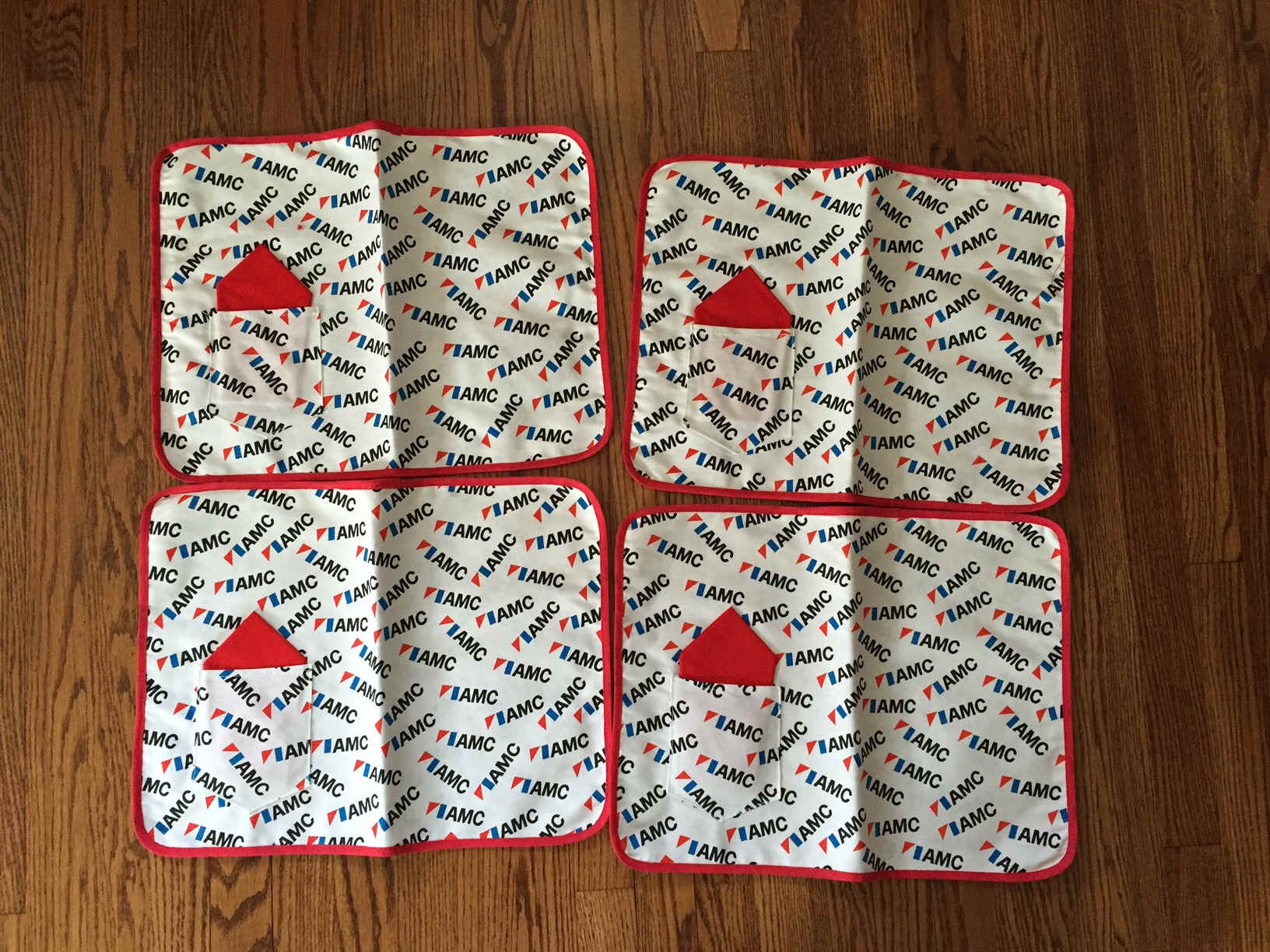 AMC logoed placmats for table makes food just tasted better. I bought these off ebay for $25.00 If you look thru the AMC TOYS & COLLECTIBLES section of my site, you will see more AMC logoed Group 15 Accessories (also were part of the AMC Merchandising) but I have pants, halter tops, cook aprons, cook hats, shirts.
AMC NOS Lights On Buzzer. Quite neat, these buzzed furiously if you left lights on your AMC. At one time I had box of over 100 of them. The 67-69 ones are different from 70 type but can work if you need a buzz. Used until 1974. The buzzers were made by AMC Supplier, Faria Corp of Uncasville, Connecticut
70 AMC Group 15 Accessories Dealers Book
74 AMC Group 15 Accessories Dealers Book