American Motors & Rambler Police Cars & Fleet Vehicles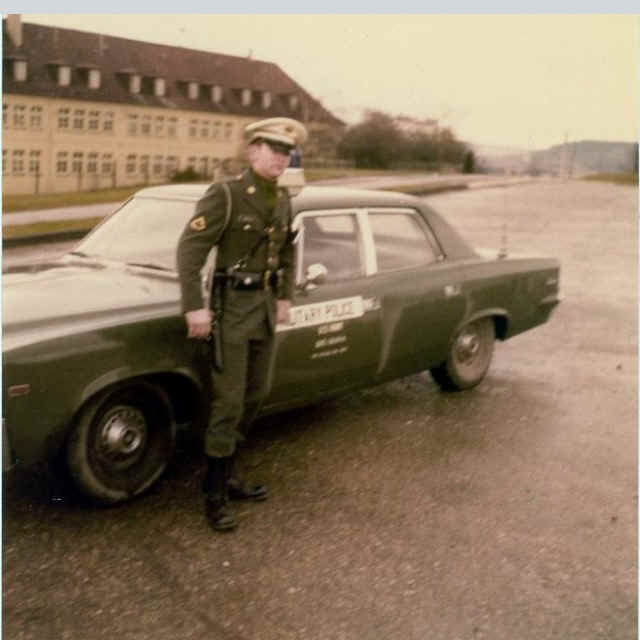 A number of military Ambassador, Rebel Matador Series was sold from where dad worked in Corpus Christi, All American Motors.


Kenosha Police Matador pulling over a Hornet hatchback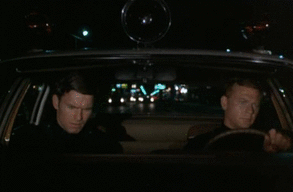 American Motors Fleet Sales in photos. AMC's Fleet Sales were a integral part of their sales throughout their history. While the most famous of their police vehicles were the LAPD Police Matadors from the CHiPs series with Ponch & Jon (shown above) & the 71-72 Alabama Highway Patrol Javelins, the bottom line is you could get a AMC "police" car in just about any series from Metropolitian, Rambler & Gremlin to top end Ambassador & Matador Series. And fleet sales consisted of large & small orders to not only corporate customers (SouthWest Airlines, ATT, Delta, Continental Airlines) & had "SPECIAL COLORS" you would not find in regular paint production charts for "fleet vehicles" such as Con Edison Beige, Florida Power Company Orange, NJ Bell Orange, Yellow Cab Yellow, Southwestern Bell Grey, Checker Cab Green for instance. See Dealer Fleet Sales/special Equipment" at bottom of page.
AMC also waived the $54 "surcharge" on all black cars which while a regular production color throughout it's history, no one has ever known why the fee for black cars. This "fee" eventually was gone for good starting with 1973 production, and black became one of the hottest colors behind Trans Am Red, & Wild Plum for 1973. With this file I will try to concentrate on mostly Police & Taxi vehicles which was the bulk of AMC Fleet Sales. No one knows, or will ever know, how many fleet cars sold to services like Army, Navy, Air Force, Marines, Coast Guard for inatance, but growing up in Corpus Christi, Texas with dad working at AMC dealerships & Corpus being a 'military town' with CC Naval Air Station, Kingsville Naval Air Station & Beeville Naval Air Station all within a 50 mile radius, you would see a lot of drab green, dark blue, beige military vehicles, mostly Ambassador, Rebel & Matador.
A number of cable shows feature AMC police & fleet cars. These few photos captured from History Channel of the 1964 UFO sighting case of Ronnie Zamora in New Mexico, one of the most famous UFO cases. Sharp eyed viewers will note the Police Ambassador is a 1969 in the dash photo, only year AMC used the bottom of steering coulmn ignition switch. The car is approaching 100mph, fast enough to catch a UFO. That is two different Ambassadors, one with the 1964 text from show, another chacing a 1957 Chevy. No big deal, at least they used some great American Motors cars for scenes.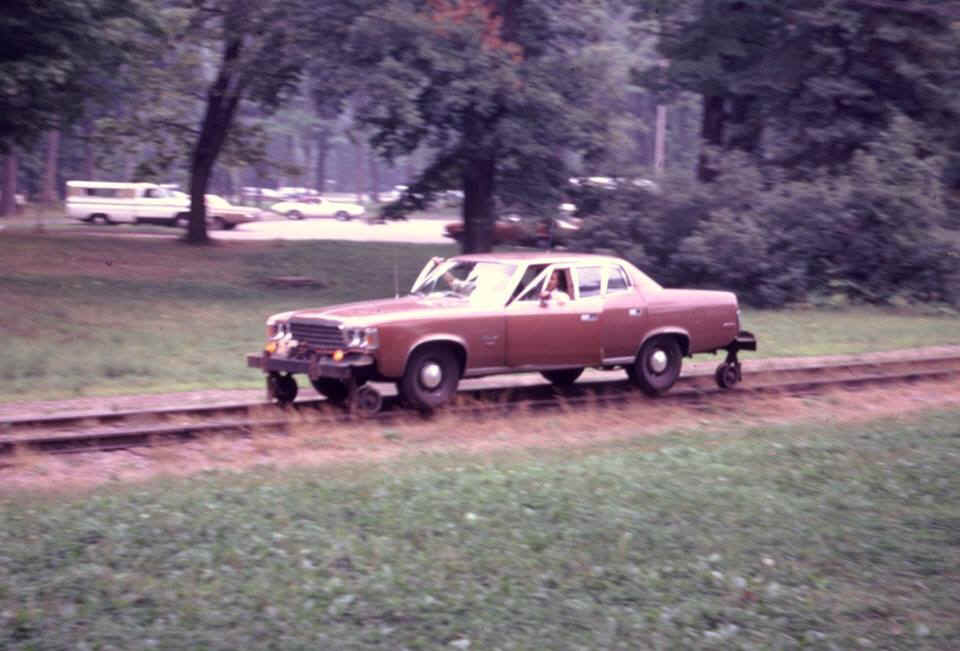 Not a police car, but railroad track car, possibly Misouri Pacific Ambassador, these used mostly for track inspection, and had a secondary suspension under them. Here in Texas, you see pick up trucks modified on tracks like this all the time, quite neat always have to do double take though.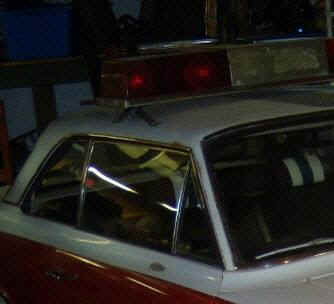 AMC Hurst SC/Rambler police car.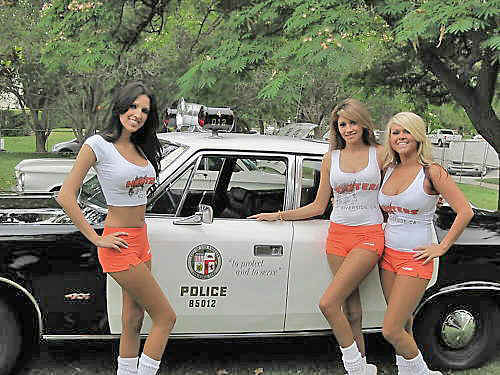 1973 AMC Los Angeles Police Matador with some Hooters girls!
1982 AMC Concord Bureau Of Indian Affiards (South Dakota) Hearse. Seriously. Either the Indians were really short or they folded them in 1/2.This neat car was for sale for $2500.00. Note NO door window handles or cranks on back doors inside panel. And check out the wooden plank for the stiff. I told my wife maybe this was used for those little midget dwarf bitches she watches on Bravo always fighting and arguing, they could fit a dozen of them in here like clown car.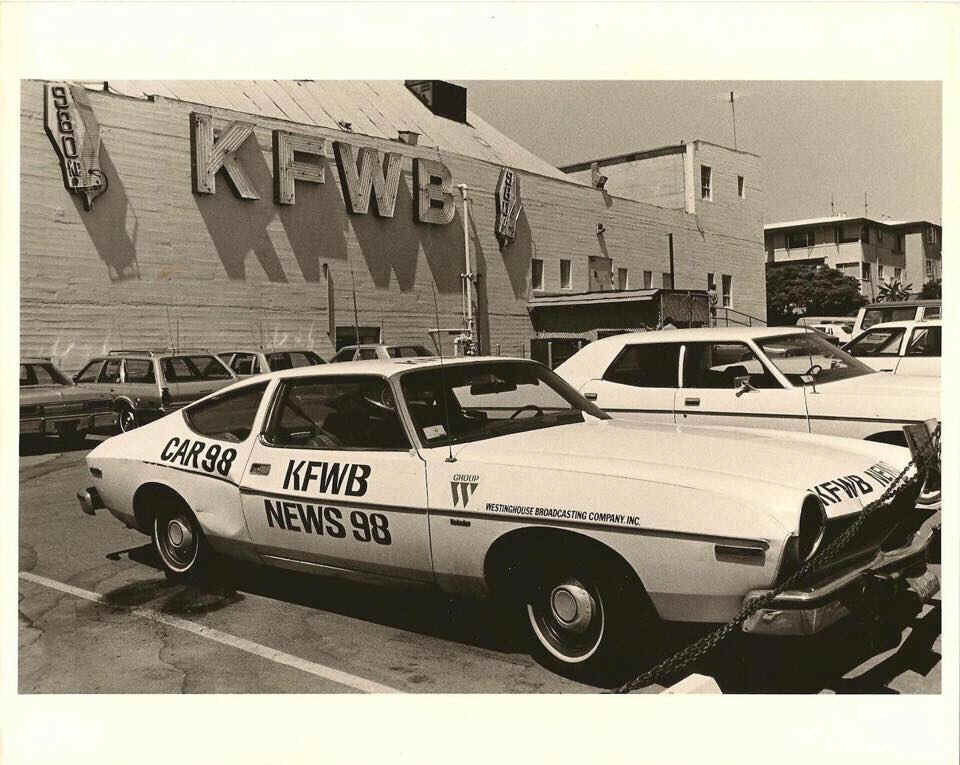 News ON THE SPOT with KFWB Car 98 AMC Matador on the scene. KFWB is 980 on the dial in Los Angeles, California.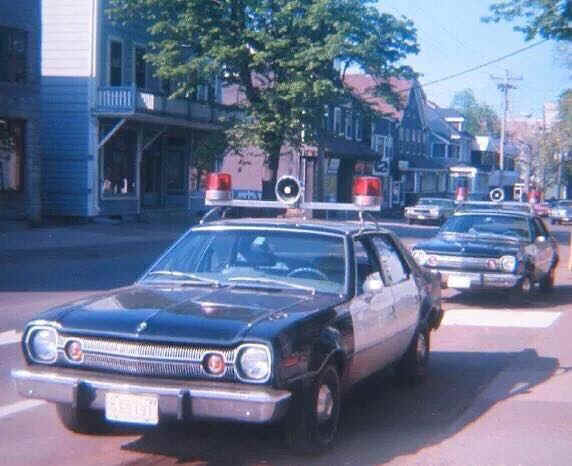 AMC Hornet police vehicles line up to fight crime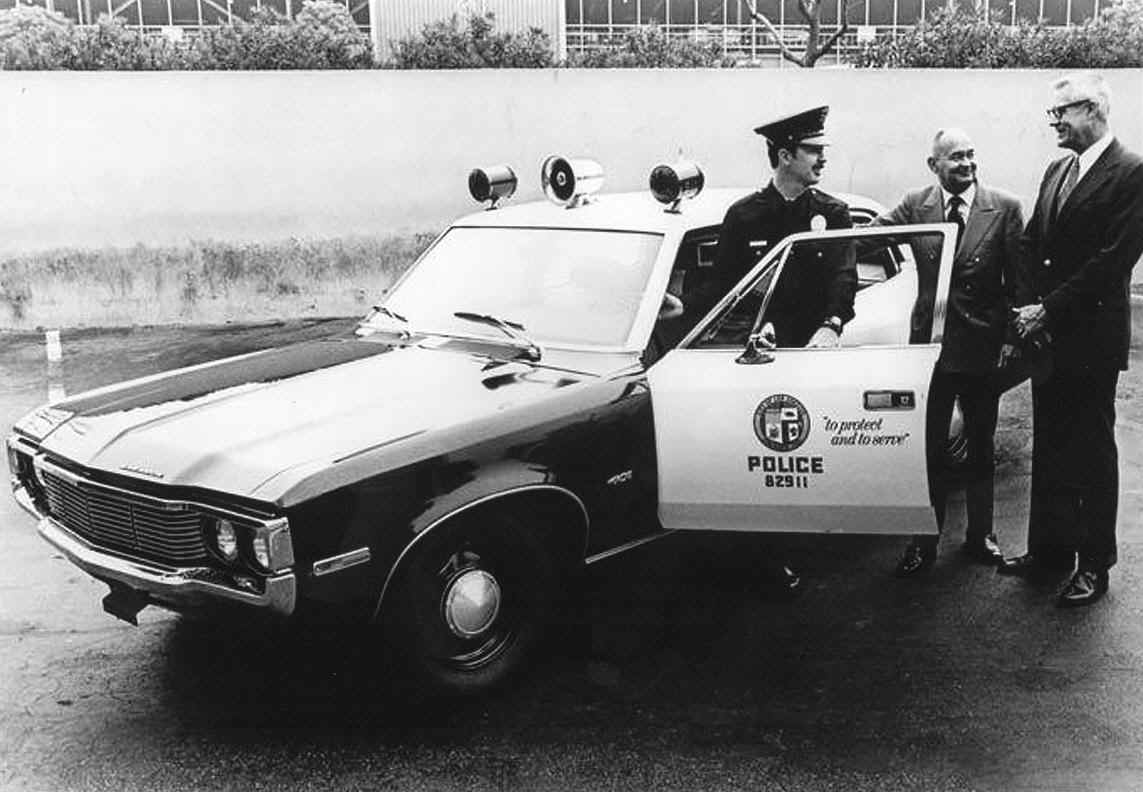 1972 LAPD (police) Matador American Motors executives Stuart Reed (C) VP Manufacturing & John F Anderson (R) VP Engineering/Research, stand with a
unidentified Los Angeles Police Officer in 1971 next to new 1972 AMC Matador 401. LAPD ordered a substantial amount of these 401 Matadors after testing
them against Plymouth & Dodge. The rest is history. The press photo was inhouse to share holders in memo about AMC's growing 'Fleet Sales'. The 73 & 73 Matadors were also featured in CHiPs & Adam 12 Series, along with Dukes of Hazzard shows. Note LAPD Matty does not have all police decals and logos
in this early photo. The popular CHiPs televison series ADAM 12 made these the most visible of all AMC police cars. Later, many would appear in Cannonball Run, Kojak & Dukes of Hazzard to name a few popular shows. CODE 3 ADAM 12!!!
1972 Alabama Highway (State Police) Patrol Javelins are the other well known AMC, not as well known as the CHiPs AMC Matadors simply because of exposure with Ponch & Jon in your living room each night fighting LA crime like too much botox. These are well known mostly with AMC fans. Not much exposure but equally as popular with AMC fans as the Mattys.
This is some rare photos of a Alabama Police Javelin UNDERCOVER "unmarked!!" vehicle. Courtesy Sgt. Dixon (retired)
In 2013, Greenlight, makers of small 1:64th size (Hot Wheel & Matchbox size) released a miniature Alabama Highway Patrol Javelin. The details, like all greenlight miniatures, is excellent. You can usually find them on ebay under $10 new, this is what one looks like: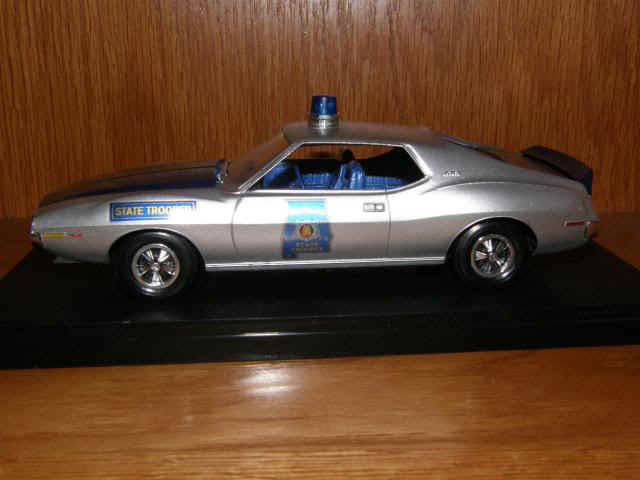 Courtesy Dwight Bryan:

Eddie, Just a bit of data I know is correct for total production of 1971 & 1972 401 equipped Javelins for the Alabama Department of Public Safety's Police Pursuit use; 60

- 1971 Base Code Javelins, and

1

1971 401 AMX (Donated N/C to ADPS by Reinhardt Motors in Montgomery) with the 401 for trial after the 304 supplied unit did not measure up to their needs. They also ordered for testing, and paid for a 1971 340 Challenger, and a 1971 351 Mustang Grande to go with the Donated Silver 401 AMX with Black roof inserts, so

61

Javelins were provided in total which included

10

unmarked units for investigations & lieutenants and undercover work.

worThe Challenger, Mustang & a Corvette as well as a big block V8 in a VW bus were also used for undercover work, so Alabama was way ahead of the curve from my 20+ years of research on this, and have all the documents for all the police purchased Police units from AMC & the others as well.

72 -1972 SST 401 Javelins with the first 12 being painted in Solid 1971 Quick Silver, and 52 two tone with Hoods, and Spoiler equipped trunks painted Admiral Blue with the rest of the car painted Stardust Silver. 8 unmarked unit were ordered with two Consecutive VIN #'s in Yuca Tan (GOLD). One assigned to the Major of the Hwy Division serving 9 years (The Longest Serving unit), and the other assigned to the Attorney General served 7 years the second Longest Serving unit at ADPS. In total 133 Javelins were assigned to the ADPS for their use.

Georgia State Police then expressed an interest, and the AMC Stone Mountain Zone Office was quick to order two equipped like the ADPS 401 units which were already in the production lineup both painted if the Georgia paint Admiral Blue with White Vinyl Top inserts for trial use by various Post around the State who had them for trial use, and were equipped with GE MASTR-PRO 100 Watt radios, lights, Sireno Siren etc. the same used by ADPS. Clyde Bailey was the Zone Manager who had the first 1971 sent from Kenosha delivered to Stone Mountain, and then he drove it to Montgomery for Motor Pool to install radios, control heads, speakers, lights, siren & any other equipment like Radar to see if the AMC Police wiring set up was good to go, and Clyde said after just three days he was on his way back to the Zone office, and it was used to wire the total of production including the two for Georgia. So in reality AMC produced 135 Javelins 1971 &1972 Javelins which were used for Pursuit Police cars, and were the first of their kind in Law Enforcement anywhere.

Let me know if you have any questions, as I have indisputable records from the ADPS, and anecdotal from Georgia. P.S. 150 1972 401 Ambassador base codes models were ordered in 1972 with 30 being unmarked, and I have the VIN #'s for all AMC Cars Bought by ADPS, and One of the Two Georgia trial cars. Only one of those 150 Ambassador's is known to exist, and is unmarked in Butterscotch Gold. After serving in undercover work it was assigned to the Attorney Generals Office in nice condition and is still stored inside. There were 285 AMC 401 equipped cars sold for Police Duty in 1971 & 1972 in Alabama, and Georgia. No one else has compiled this data as comprehensive as I have found except for the time I gathered and recorded it, and have shared it with all in 20 plus year of follow up, interviews at all levels from the Major to the Motor pool, State Troopers & others. Many True experiences of stories no one else has, because no one else had the opportunity to facilitate this research, and I am so glad I had it and did.

You could not outrun them in Arizona, here a 1973 Ambassador 401 police car gets the bad guys, while on highway, a 73 Matador 401 police car awaits dury with several other mixed make police cars.

AMC Matador AXF & Aurora slot cars. There are a wide array of AMC miniature electric slot cars that were made by companies like AFX, TYCO, Aurora still for sale, color variations, some have lights, others do not, others are NASCAR type body, while others are the Matador coupes. Generally under $25 on ebay, although some of the rarest ones not sold in US can easily top $100. This is a AFX type I picked up for $18 at swap meet, it is the 71-73 Matador body.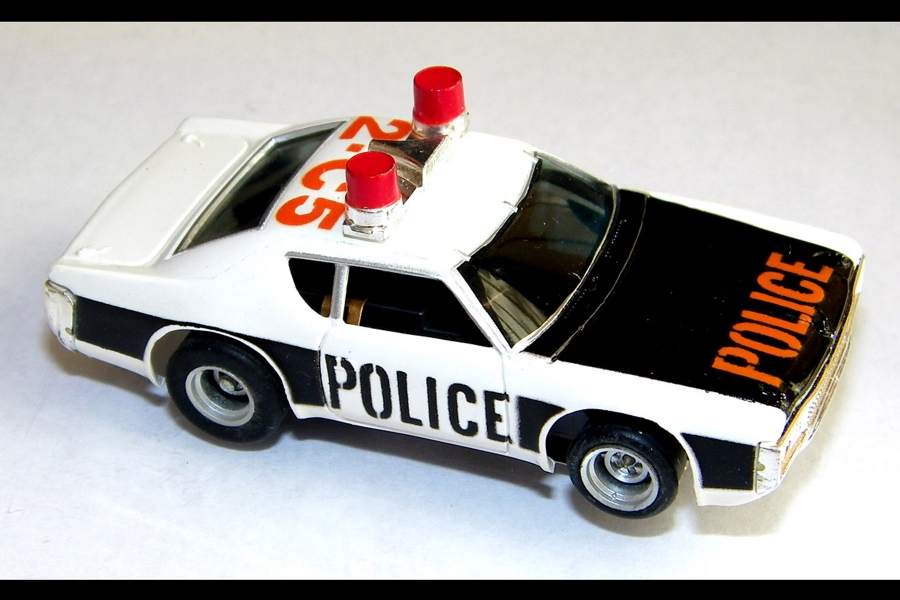 1960 AMC Rambler Metropolitian Police Flyers. About town, which meant travelling the well travelled route between the town's 5 stop lights to both Krispy Kreme Donut shops. You would not be chasing down speeding Rambler Rebels or Buicks, but these were great for parking detail and other mundane jobs without calling the job mundane. The flyer touts for two officers, however, if you have ever sat in a Met, you know that it is space challenged, especially with Captain Odell of the Huntington, CA Police Dept shown there. Imagine taking a criminal arrested for throwing gum on sidewalk to jail in this. The good Captain would have to put the treats on passenger seat somewhere...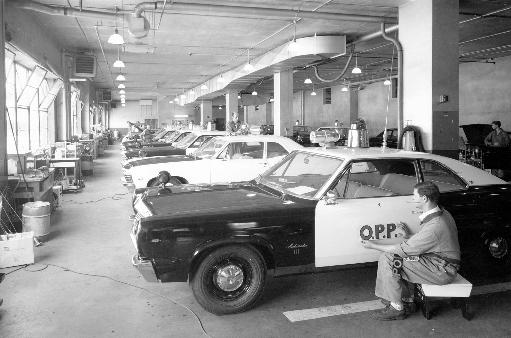 1968 AMC Ambassador Police Car receiving decal kit. The OPP stands for ONTARIO PROVENTIAL POLICE, so Canadian Police cars; note other police vehicles in background.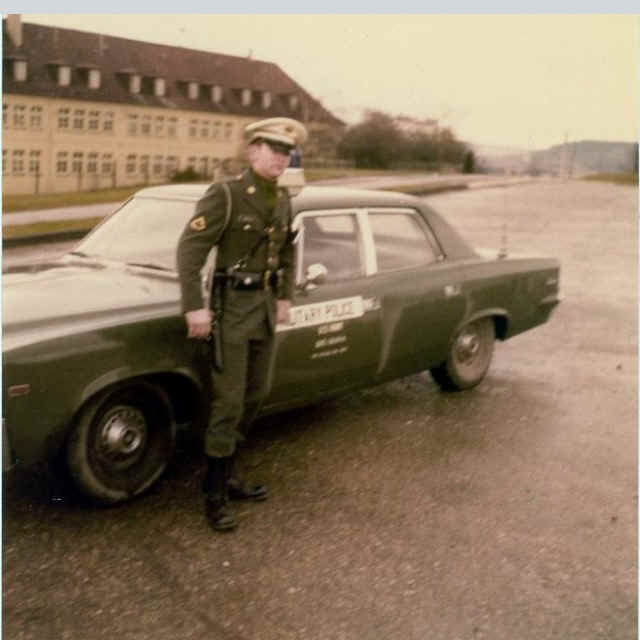 Many bases (including Corpus Christi Naval Air Station) had American Motors "fleet cars" like this military Ambassador. A lot of the cars came from the AM Dealership my dad was at, All American Motors, he even DELIVERED several of them, whereas a number of people from the dealership would drive them single file from dealer on Water Street & IH-37, down Shoreline to Ocean Drive strait to base 15 miles away! Other delivered to Kingsvill Naval Air Station & Beeville Naval Air Station in area. We would get to see some of them again at the "Navy Relief Festival" the base has every year, huge attendance for civilians.
1966 AMC Rambler Ambassador press photo for police departments. Farther down below there is the actual flyer with text for this vehicle. Worth reading to see how AMC's Marketing Department pushed this top of line car to police.
1982 AMC Concord Baltimore Police Department. Before Baltimore was rioting and buring things down, these would have kept the peace when someone saw these of course everyone would have forgot what rioting and buring down their city for and be saying 'cool cop cars'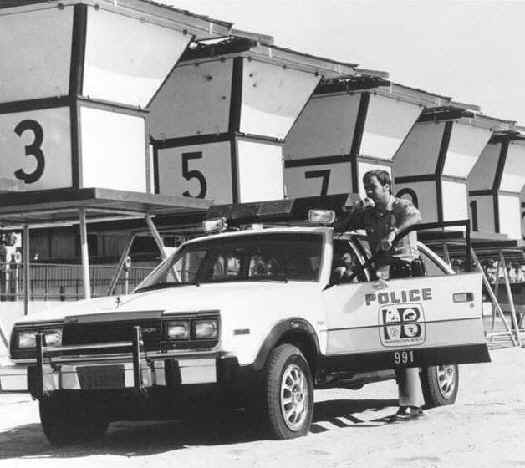 1982 Eagle Kammback Police Vehicle.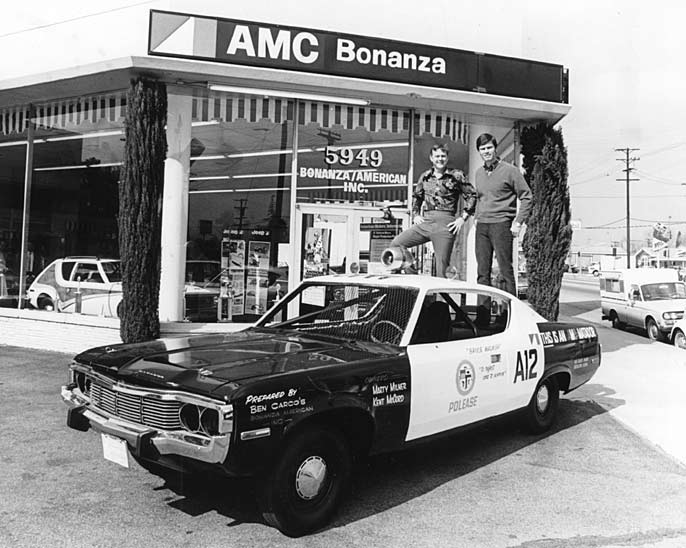 1972 Matador 'fake' Police Car from Ben Carco's Bonanza AMC Dealership, Los Angeles. Unknown actors on back, note Police spelled 'polease' and on 1/4 panel is THIS IS A AMC MATADOR, which the car was probably used for promotional purposes, but has real police gear.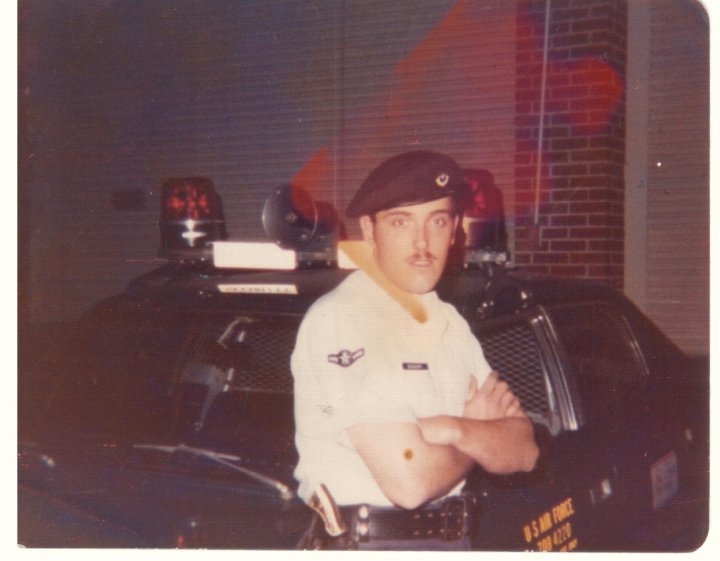 Chanute Air Force Base Military Base Police Matador, appears to be a 1973. Bad ass cop is unknown. Chanute Air Force Base was in Rantoul, Illinois, until it's closing.
AMC 72 Gremlin Police Car. It's my understanding this is a police car from the Pharr-San Juan-Alamo region in far south Texas near the Mexican border just north of Brownsville. It also housed a German Shepard K9 police dog. Not sure where he/she would ride in the car, maybe shotgun, maybe drove it. The back seats of Gremlins are next best thing to birth control, so no room. But at base price of $1998 (1970) for a Gremlin, a number of municiaplties took AMC up on their budgetary vehicles.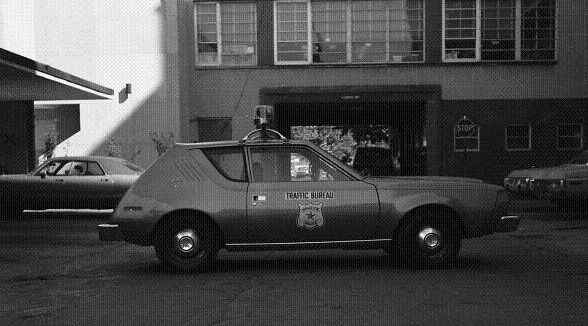 1974 AMC Houston Police Gremlin. The Houston Police Department used AMC Gremlins for 'downtown parking detail' from 1971-on. By on, I mean until the car wore out. Many were retired after 5-7 years of service. The cherries on top were 1/2 the size of the vehicle. The Gremlin was not used for police chases, just parking tickets, checking meters, and it's 232 gas sipping engine made them ideal for this work. These were equipped with Motorola two way radios.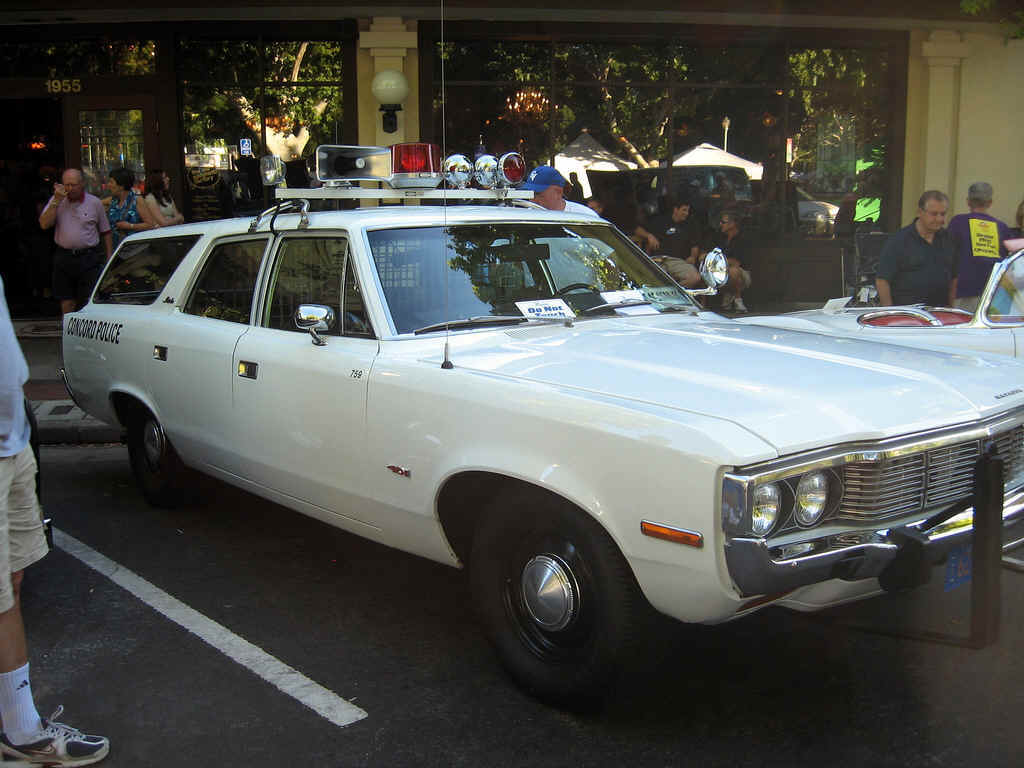 1973 AMC Matador Police Wagon, Concord, CA. This unit is equipped with a 401/727 so not many bad guys could escape it. Think LAPD Matador with balls 7 then some. Like most fleet vehicles, this one has little if any trims, dog dish (or poverty ) hubcaps, and standard police equipment including spotlight, cherry siren bar, and large push guards for traffic control on front. Inside has steel cage.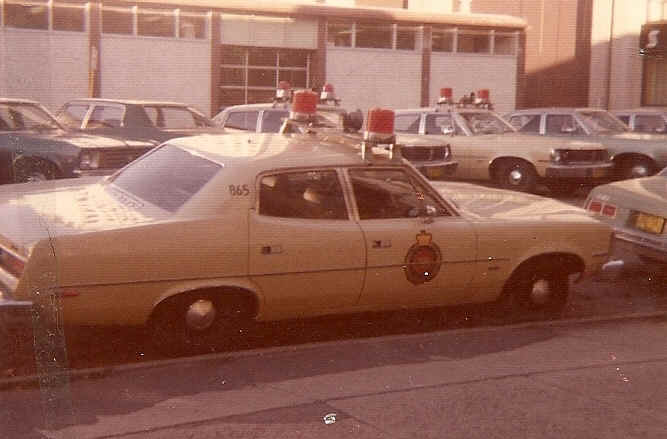 1975 AMC Matador Police Cars in front of station, Edmonton, Alberta, Canada. There are four of them shown in this photo, three marked, and one unmarked.
1971 AMC Matador Police Car from Yonkers, NY. Not sure why hood is slightly lifted on one side. Has cage inside, cherrys on top, but no spotlight.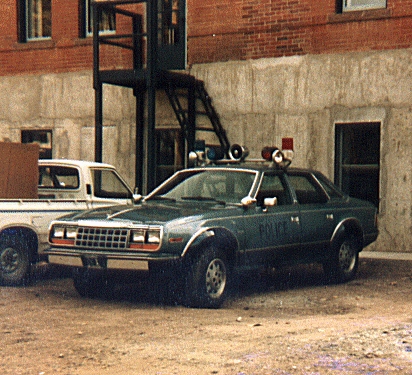 AMC Eagle Police Car, unknown location.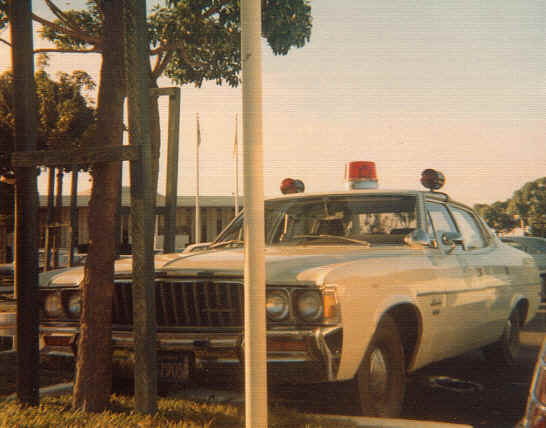 1971 AMC Ambassador Police Car, Sand City, CA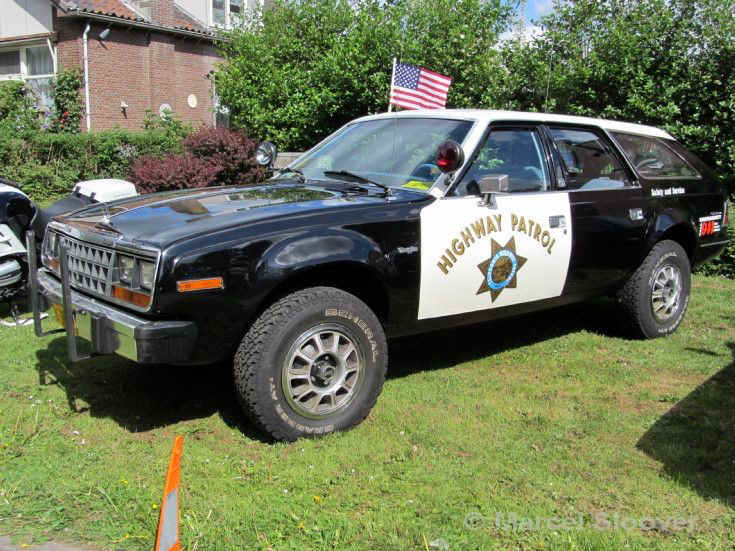 1983 AMC State Police California Highway Patrol Eagle (Chips)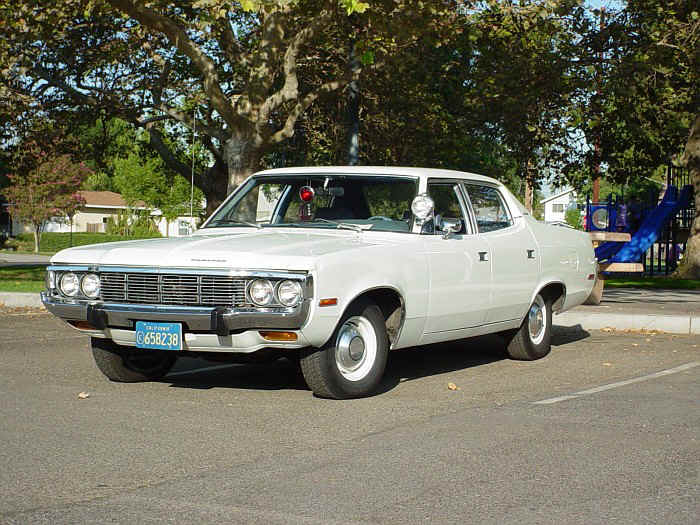 1973 AMC "unmarked" Los Angeles LAPD Police Matador. Note removable red stop light inside windshield.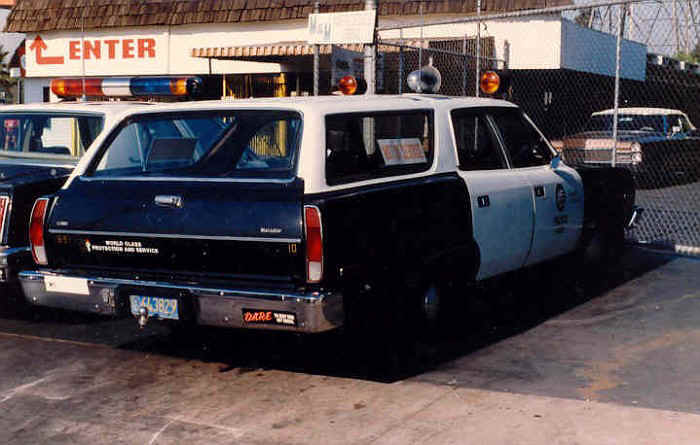 1973 AMC Los Angeles LAPD Police Matador wagon. Many times the higher ups, whether captains, supervisors, sargents, got the station wagons. Same with military, the bottom feeders for a fleet vehicle where maybe a key was a option, such as a 69 Ambassador, 232, 3speed column, no AM radio, no AC, zero options. Bt their commanding officer for base got same 69 with AC, PS, PDB, tilt, tined glass, so loaded out and a V8.
1974 AMC Matador Police Car Milwaukee Police Department & 1961 Rambler Ambassador Police vehicles. Milwaukee with it's close proximity to Kenosha supported the home team with large fleet sales for decades even in the 1980s.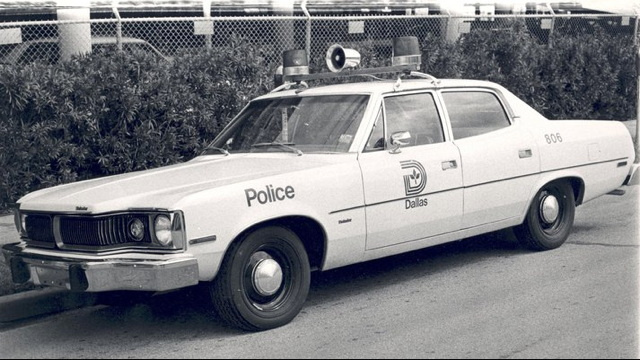 1974 AMC Matador Police Car Dallas, Texas. These beauties were all powered by AMC's trust and indestructible 360V8. Not to be confused with a Mopar V8, the AMC 360s were all bored, stroked & cast AMC equipment.
1970 AMC Rebel Police Car, unknown department.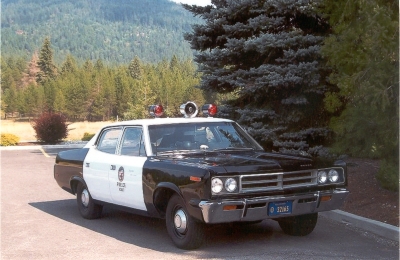 1974 AMC Javelin Police Car, unknown department.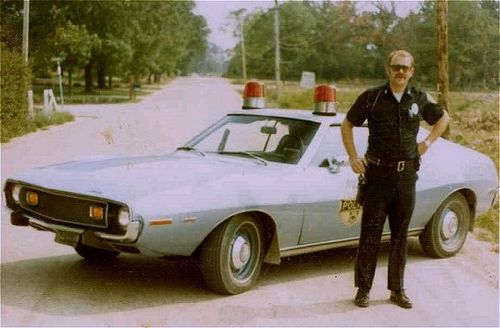 1973 AMC Ambassador Police Car, Denver, CO with kiddies. Great to work the neighborhood & get involved with those you serve & protect. Note one siren, and one light.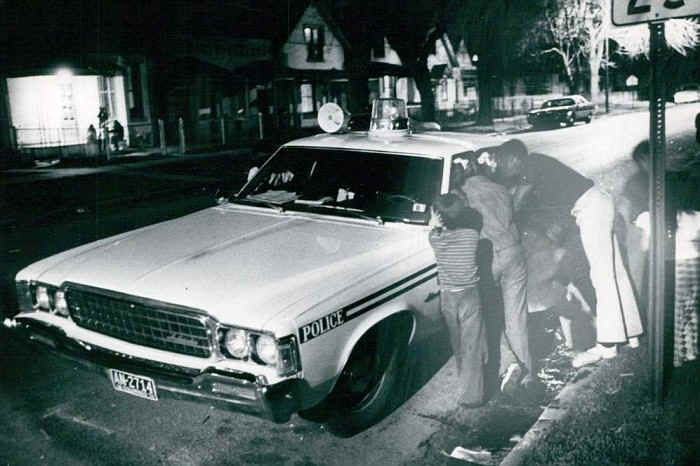 1953 Nash Ambassador Sheriff Car, Kenosha, WI. Everyone who is anyone that knows American Motors knows the scene here and AMC's Kenosha engine plant sprawled across 50th street. The name might have changed from NASH to later huge AMERICAN MOTORS sign, but same building these great cars built in. Appears to be a special occasion with a bus, and parade of new Nash vehicles lined up. I'm going to go out on a limb here and either everyone is headed up I-94 to Green Bay to Packers game (common) or everyone headed down 50th to Brat Stop at I-94 to indulge in cheese wheels, fresh brats, sauerkraut, blackberry brandy, Ligenkugel Beer (or...Miller, Strohs, Blatz or Schlitz!). My $$ would be on the latter. GO PACK GO!!!! This is a Green Bay Packers place I used to run in Houston, Texas, damn, those people can drink.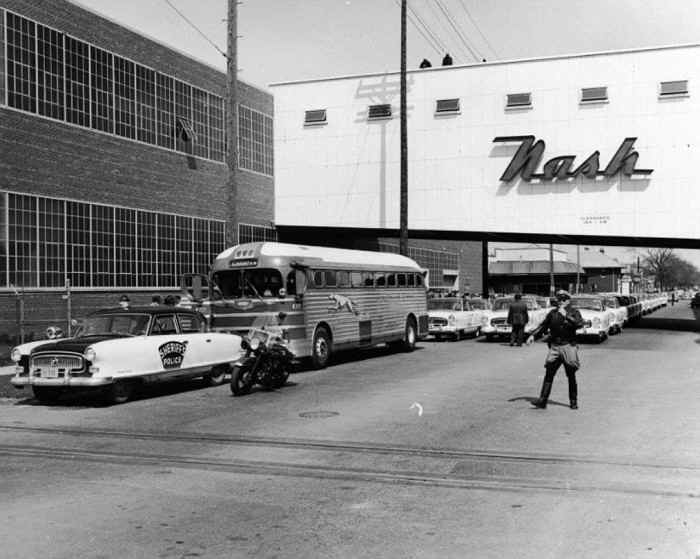 AMC's pitch for fleet sales:
1957 AMC Rambler Taxi Cab Flyers touting benefits of Rambler. Hard to bet the "lower costs" of owning these for your business.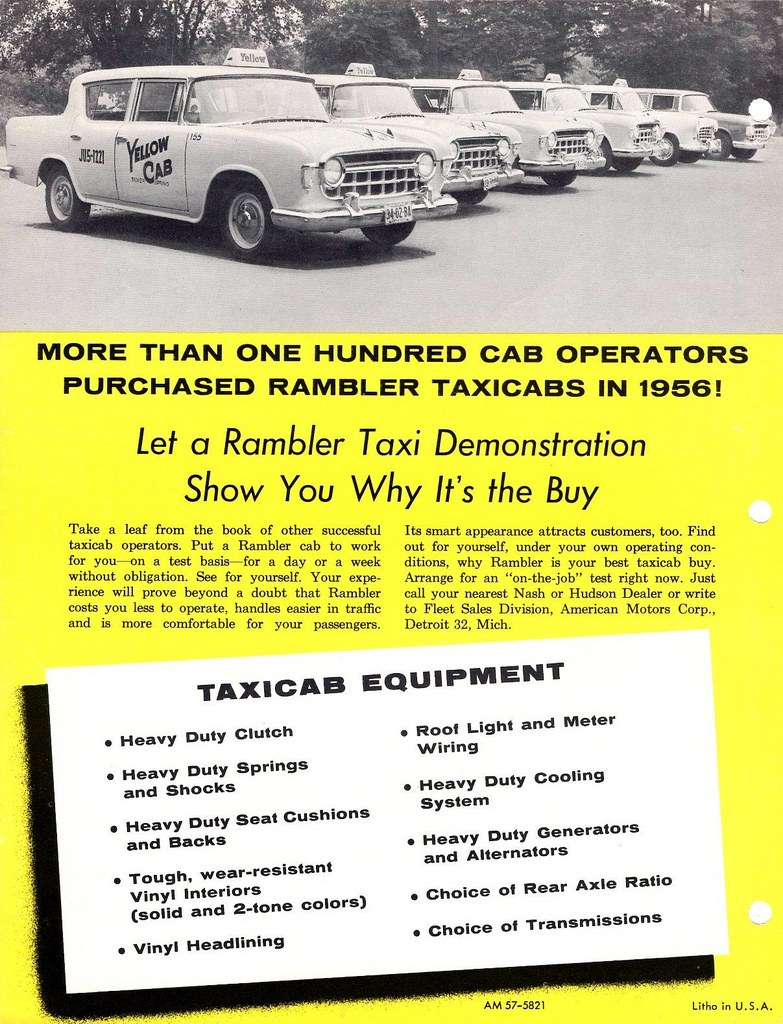 1957 AMC Rambler Taxi Cab flyer touting Yellow Cab. Using Yellow Cab, one of the oldest and most respected cab companies in the US in their ads was nothing short of brilliant marketing. If the Rambler Taxis can take the punishing day to day wear and tear Yellow Cabs put out, then these would be more than enough for your city.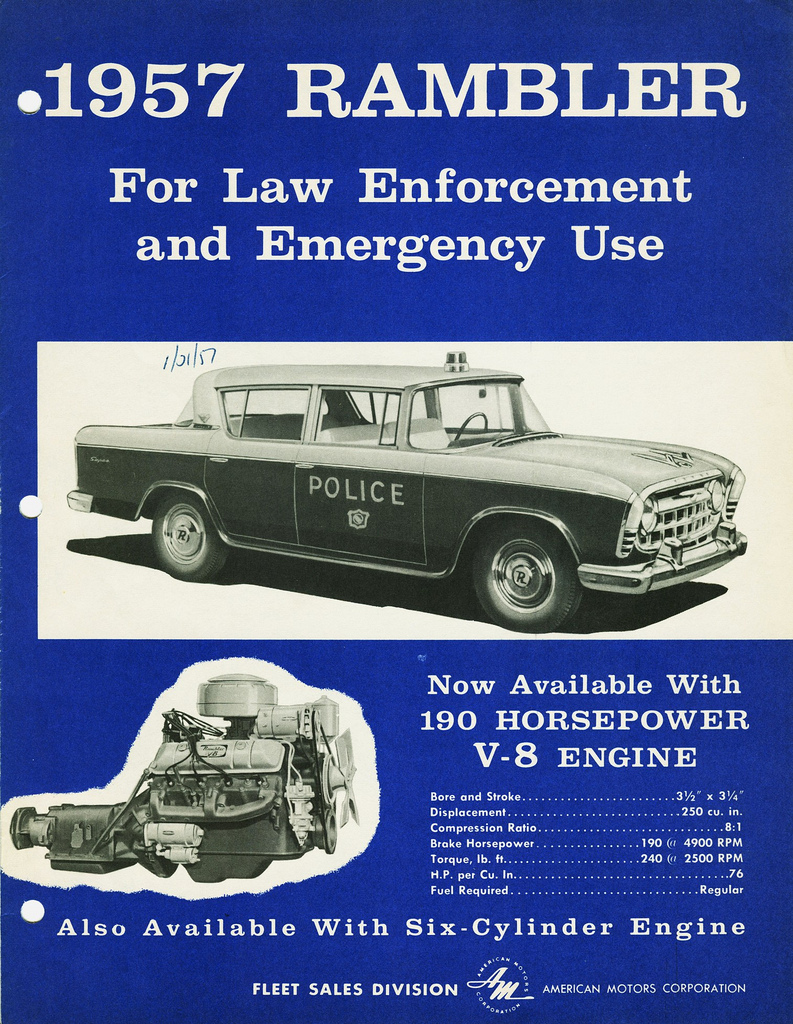 1957 AMC Rambler Rebel Police car flyer. In 1957, the Rebel was fastest production car built in US sans the 'fuelie' Vette. It had broken many records and was a muscle car BEFORE the term muscle car invented by Al Gore while he was inventing internet while filming Love Story or whatever the hell that was. The 327 powered "silver & gold" 57 Rebel saw only limited production of 1500 units. But from the exposure the Rebel was receiving in the press for it's achievments, chances are AMC sold a number of these equipped Rebels above to law enforcement due to that exposure.
1958-1959 AMC Rambler Taxi Cab Fleet Sale Flyers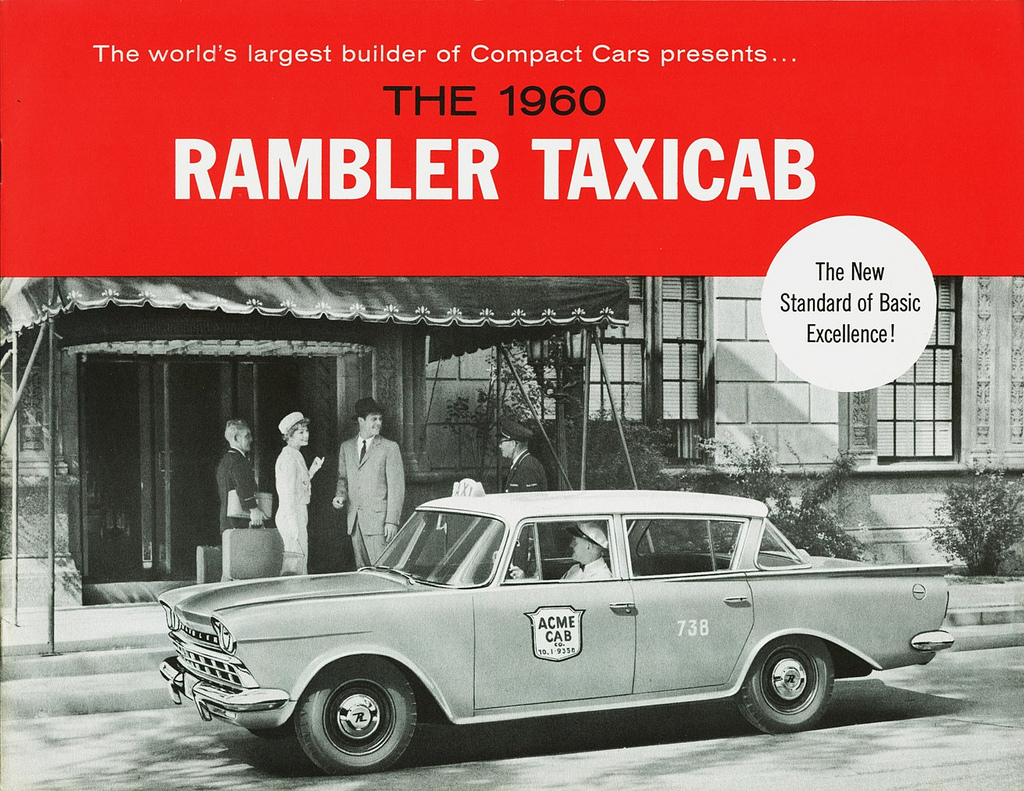 1960 AMC Rambler Taxi Cab Fleet Sales Flyer. Note comment at top of flyer.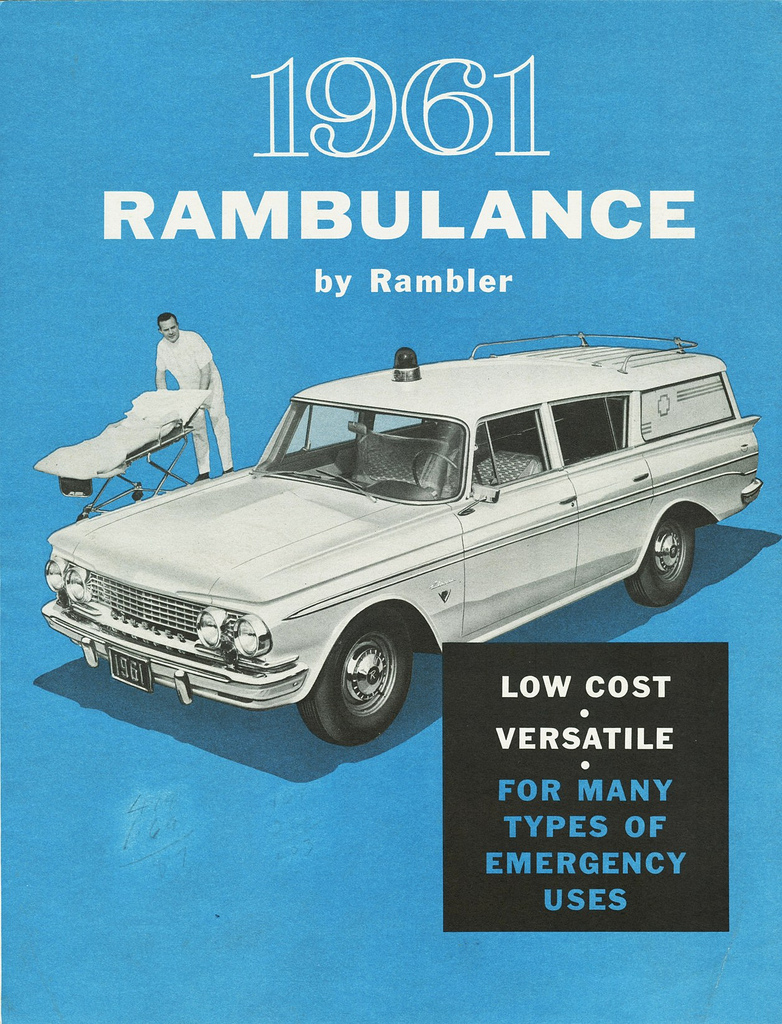 1961 AMC Rambler Flyer. The 'Rambulance" ambulances were well known, but not a lot built. I am only speculating here, but would guess a number of municapalities might have bought base Rambler and converted it themselves.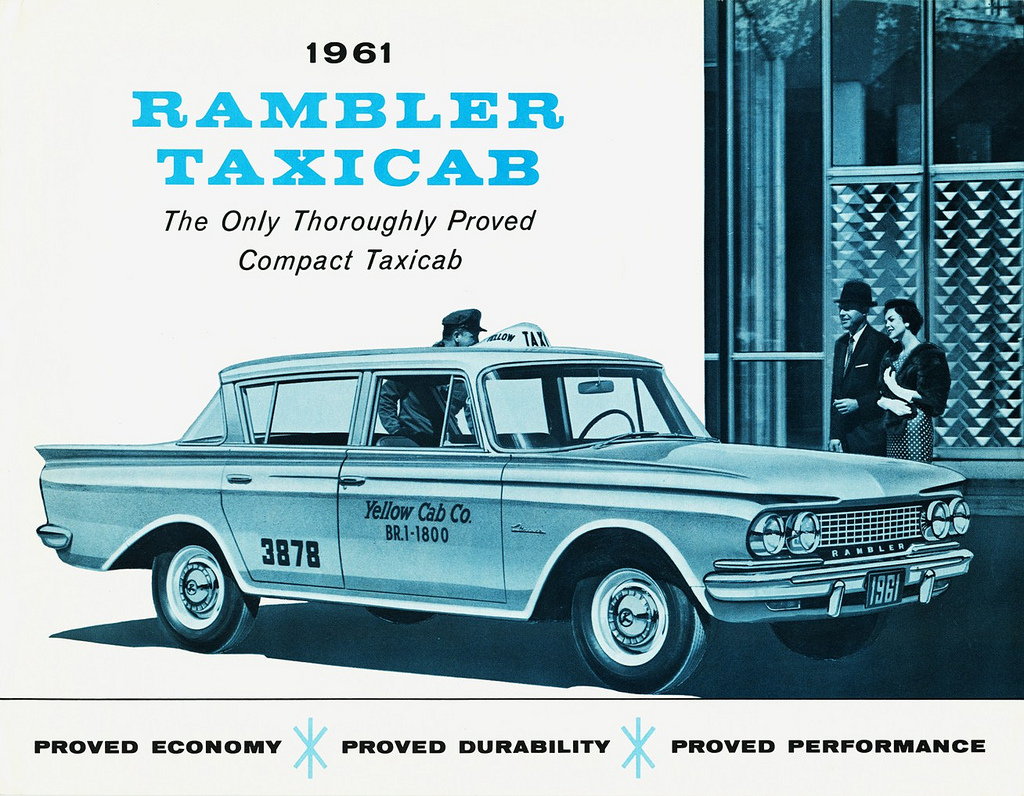 1961 AMC Rambler Taxi Cab Fleet Flyer cover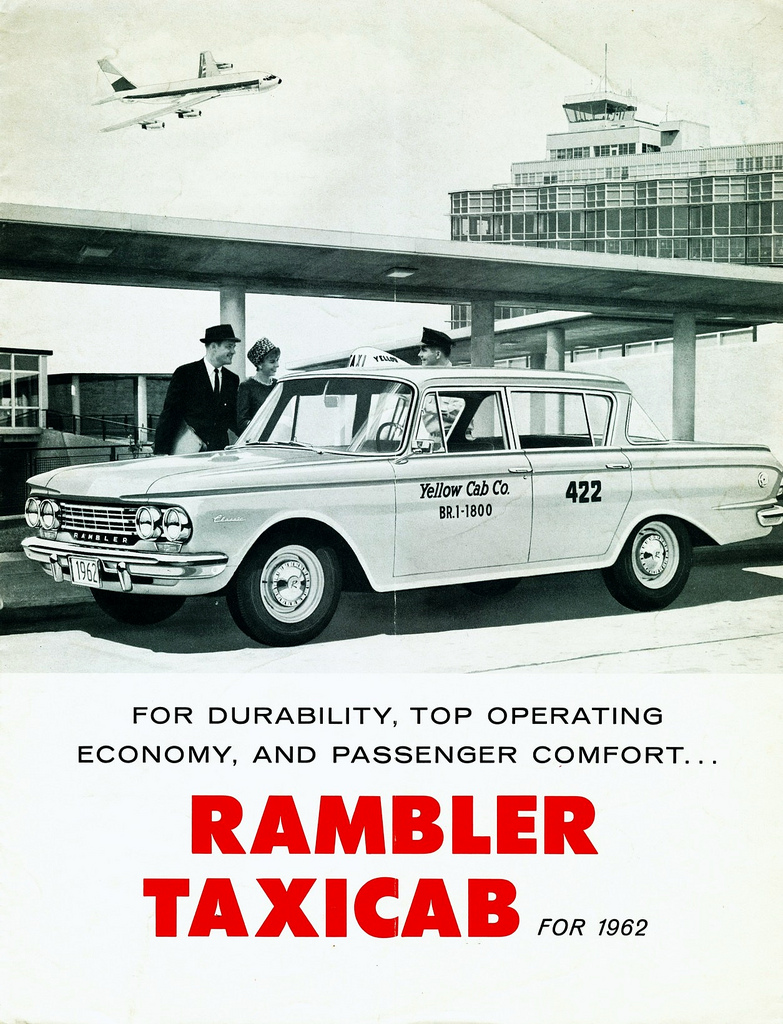 1962 AMC Rambler Taxi Cab Fleet Sales Flyer cover. AMC still had it going on with Yellow Cab.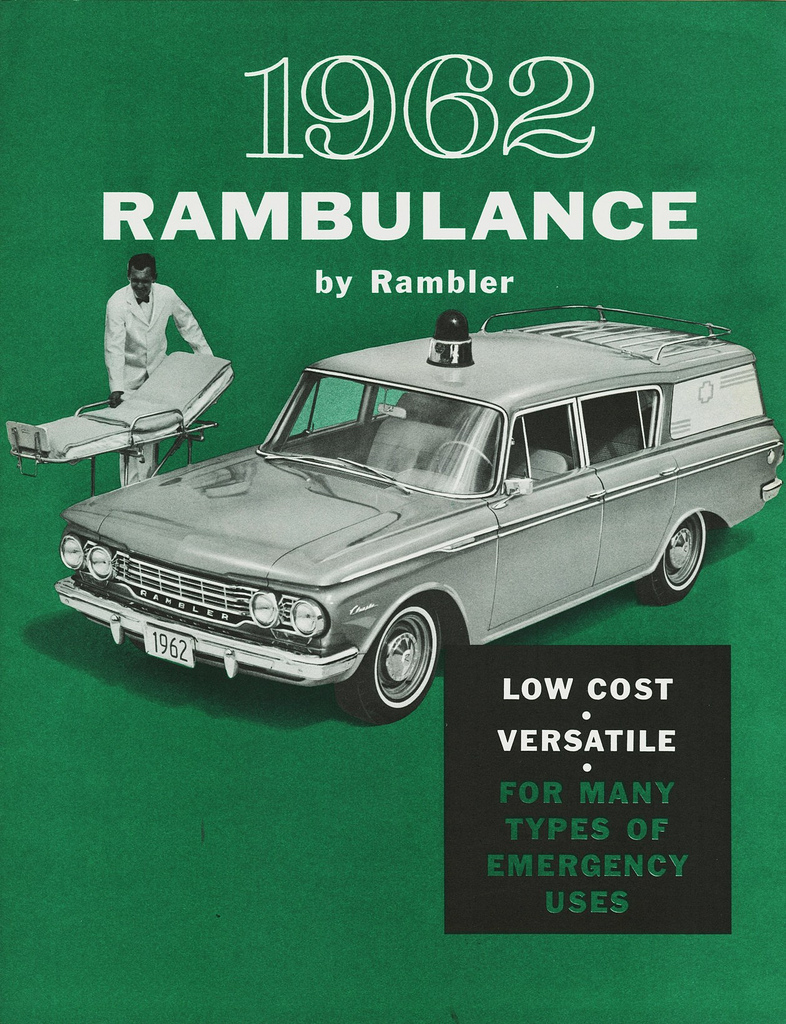 1962 AMC Rambler Flyer. The "Rambulance" for 1962 were and are, better known than the 61 above. It's my understanding less than 100 were built. Again, that is from Kenosha, not cars ordered then built to specs by the new owner's departments. I could see something like these being used on Army, Navy, Air Force & Marines bases.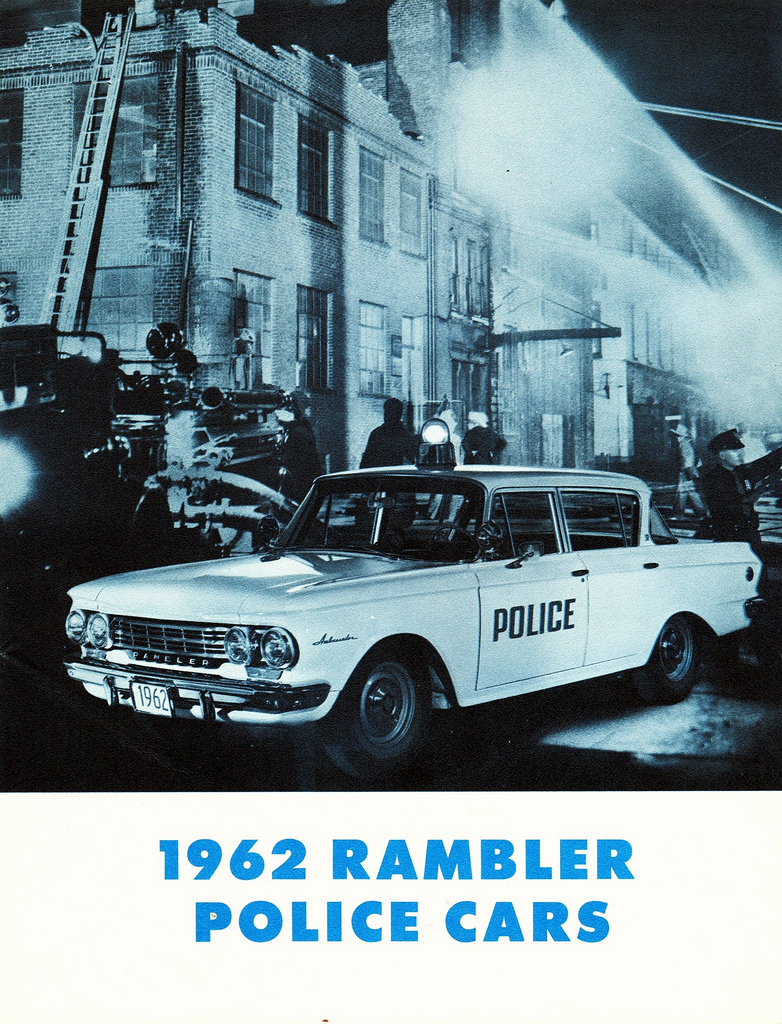 1962 AMC Rambler Fleet Flyer cover, Police Cars. Great action scene.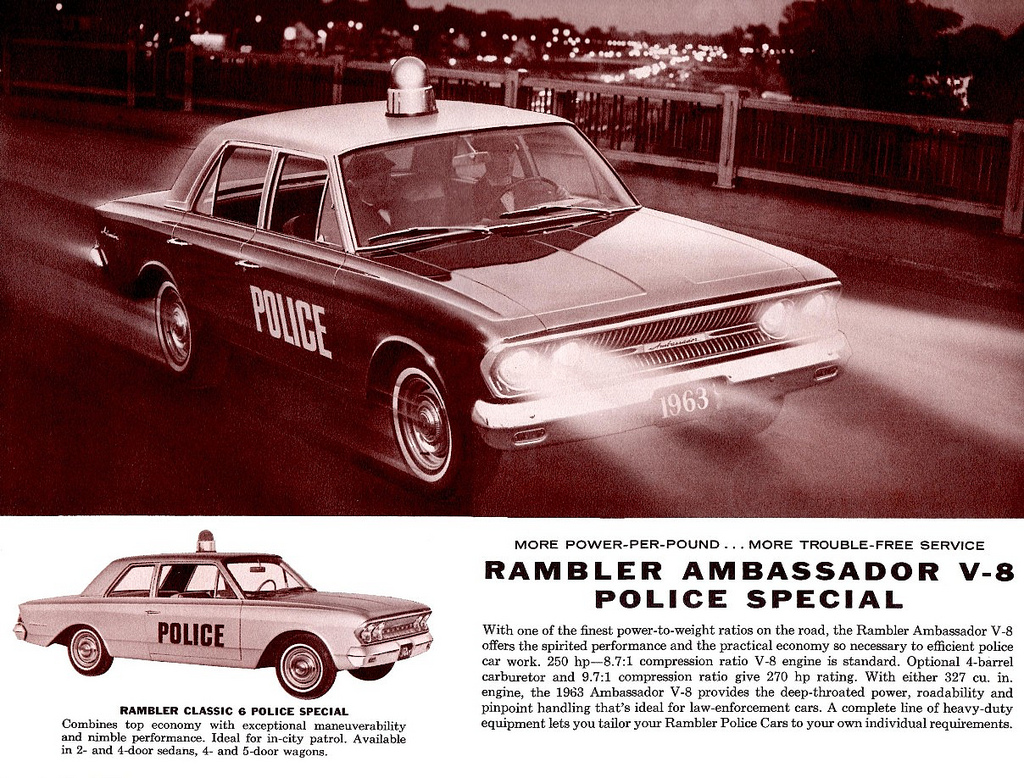 1963 AMC Rambler Ambassador & Classic Police Fleet Flyer. "Ideal For In City Patrol" note 270hp and could be had in 2dr, 4dr, wagons.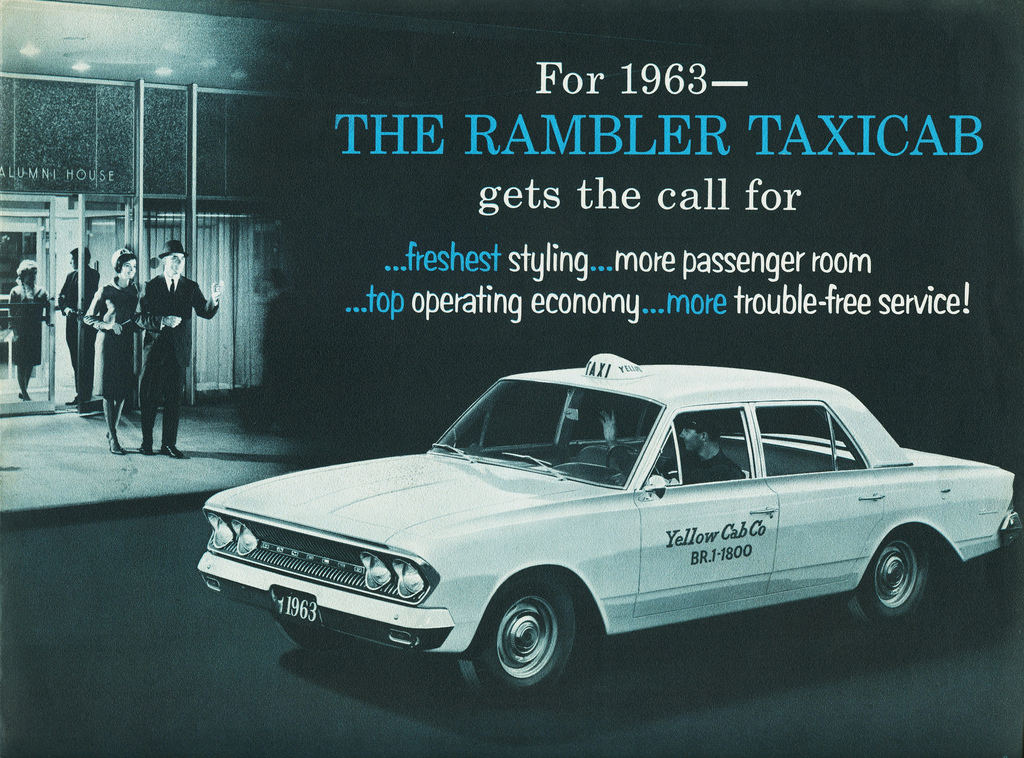 1963 Rambler Taxi Cab Flyer Yellow Cab. AMC continued to use Yellow Cab in it's Taxi flyers as was one of their biggest fleet customers.
1966 AMC Rambler Ambassador Police Flyer Fleet Sales, with text. If Barney Fife & company are going to sit around and wait for shit to happen, why not do it in luxury? The top of the line Ambassador front seat is better than some home couches I have owned. And while texting and sexting and playing Candy Crush sage and Facebook had not been invented then, donuts had been, so here is nice comfy police car so sit in all day sipping coffee and grazing on donuts while fighting crime like that jaywalker over there. Stop or I'll shoot! Dammit Jim, you spilled coffee on the Motorola radio.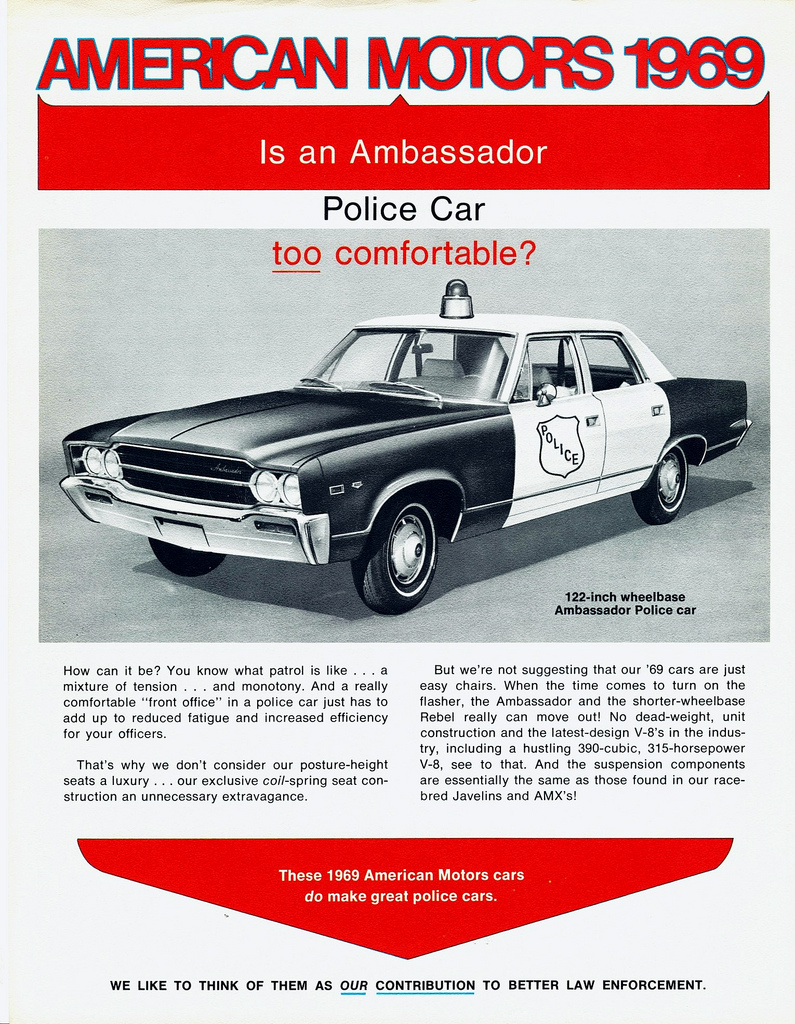 1969 AMC Ambassador Police Car Flyer. AMC continued to tout that law enforcement spends many hours behind the wheel, which they DID, so why not spend it behind the wheel of something that at least was not like sitting on a frozen bench at Lambeau Field? Besides that, not a whole lot of Detroit iron that would get away from you with the AMX 390V8 stuffed under hood as shown. However, only 5672 69 Ambassadors left Kenosha with a 390 V8. Some like a 4 door DPL 390 Ambo wagon...only 28 produced, while only 19 (yes nineteen) 69 Ambassador 2door 390 V8s left Kenosha. How many of them were "fleet" cars, no one knows. How many of those were police? AMC didn't keep those figures. See 1969 AMC PRODUCTION file here. The Ambassadors are the "80 Series" columns towards bottom.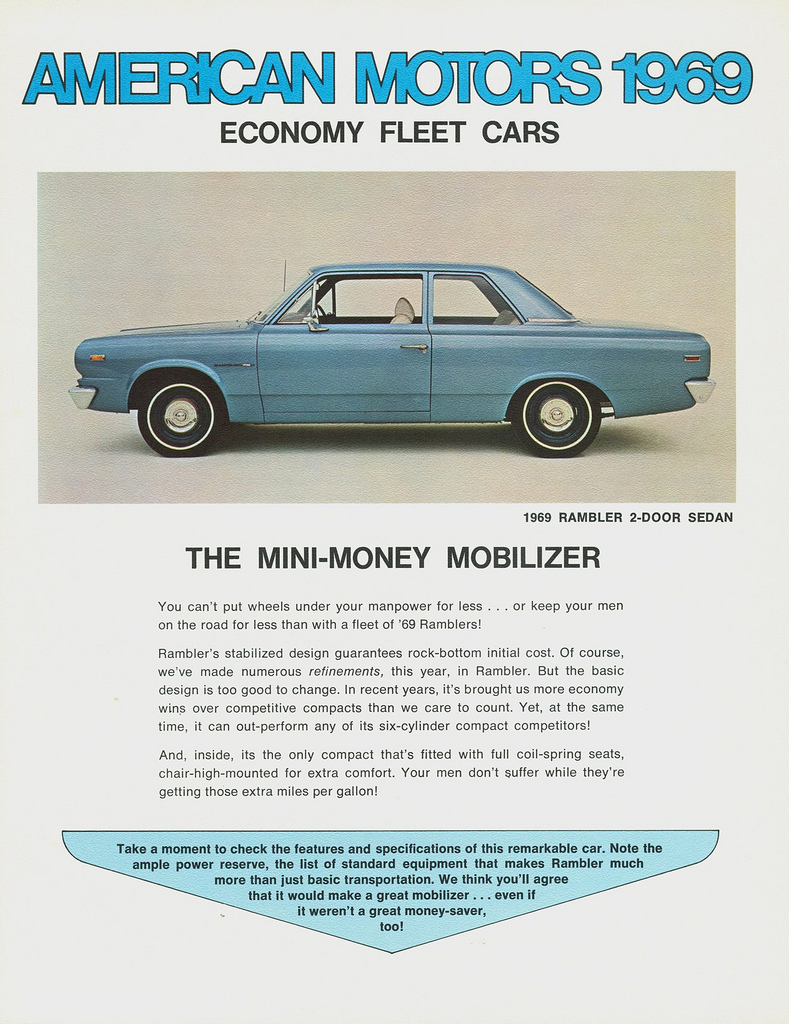 1969 AMC Rambler Fleet Flyer. This generic flyer was aimed not towards law enforcement but companies. Did they take AMC up on it? Yes a LOT of them did such as ATT buying over 1000 of them.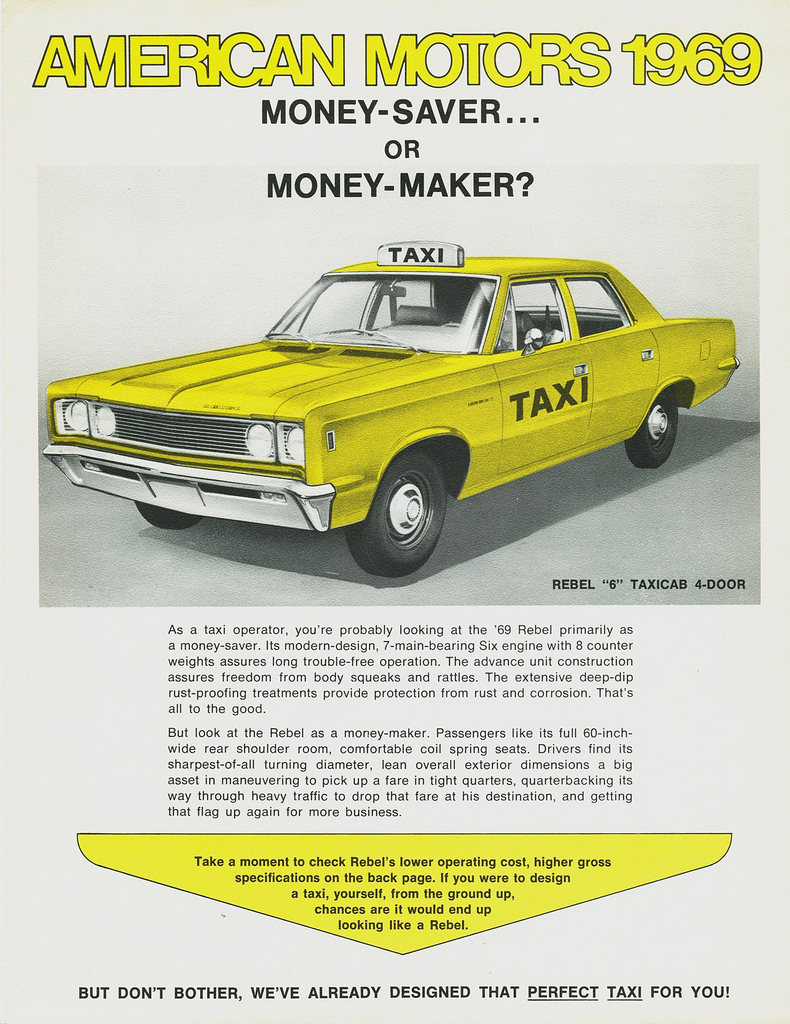 1969 AMC Rebel Taxi Flyer. Touting AMC's economical six cylinder engine, this would have made sense for taxis given many of them are driven hard & put up wet. And mileage is extreme, but AMC's 232 was known for doing 100,000, 200,000+ miles with general maintainence. A bol,d good looking car, there is room for six passengers and lots of leg room if you have ever been in one. It is unknown how many were sold. The Rebel in 1969 was the "10 Series" and 22293 Rebels rolled out of Kenosha with the 232. See 1969 Production file
here Rebel is 6915 thru 6919-7 totals.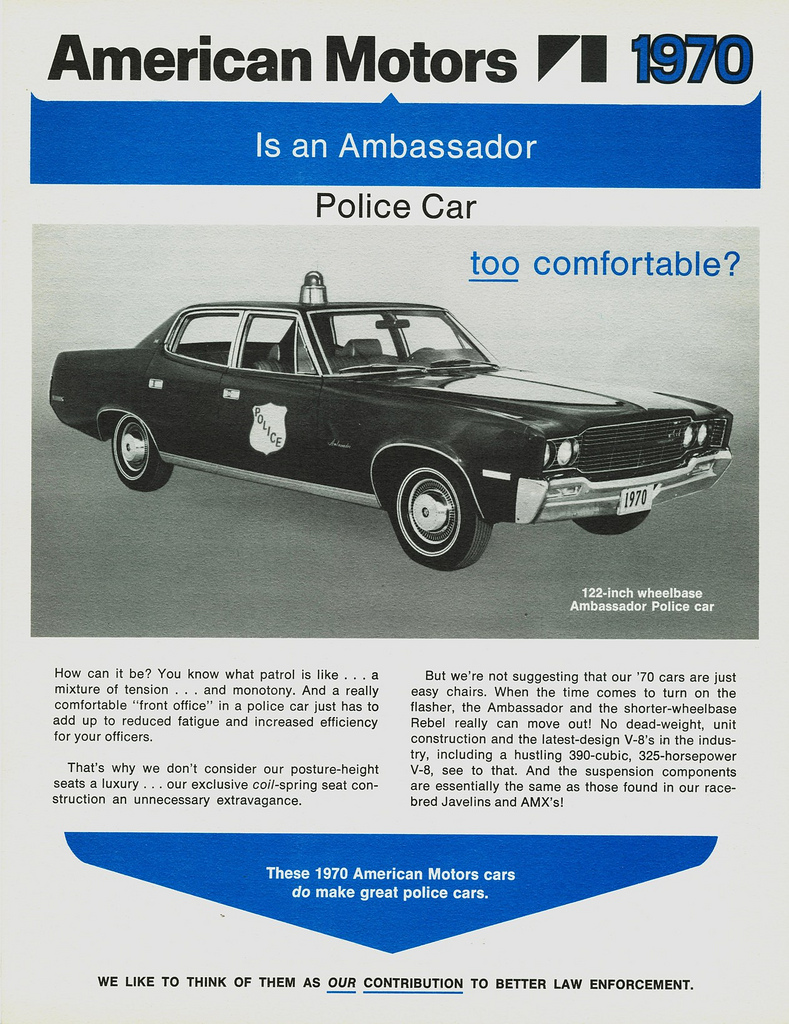 1970 AMC Ambassador Police Car Flyer. "we like to think of them as our contribution to law enforcement" AMC unleashed it's most (to date) powerful production engine in 1970, the 390 rated at 325hp. Some of the Rebel...and Ambassador production with a AMX 390 engine are amazing. There was only ONE 70 base REBEL wagon (7018-0 Series) built with a 390. Only 22 4 door SST wagons (7015-7 Series) saw the 390, while ZERO four door base Rebels (7015-0 Series & ZERO 2 door Rebel base (7019-0 Series) while only 144 2 door Rebel SST (7019-7 Series) got a 390V8. But on the 70 Ambassador side higher numbers 300 base Ambassador 4 doors got a 390 (7085-2 Series) as shown in photo above, 94 DPL 4 door Ambassadors rolled out with a 390, and 44 2dr SST Amboats got a 390. I have seen a number of 69-70 Ambassador 4 door law enforcement cars, including a 69 Nevada State Police Ambassador 390 that sold for $1500 on ebay in 2013 up for grabs. Not sure how many of the agencies that bought into this flyer opted for a 390, seems most would want a six.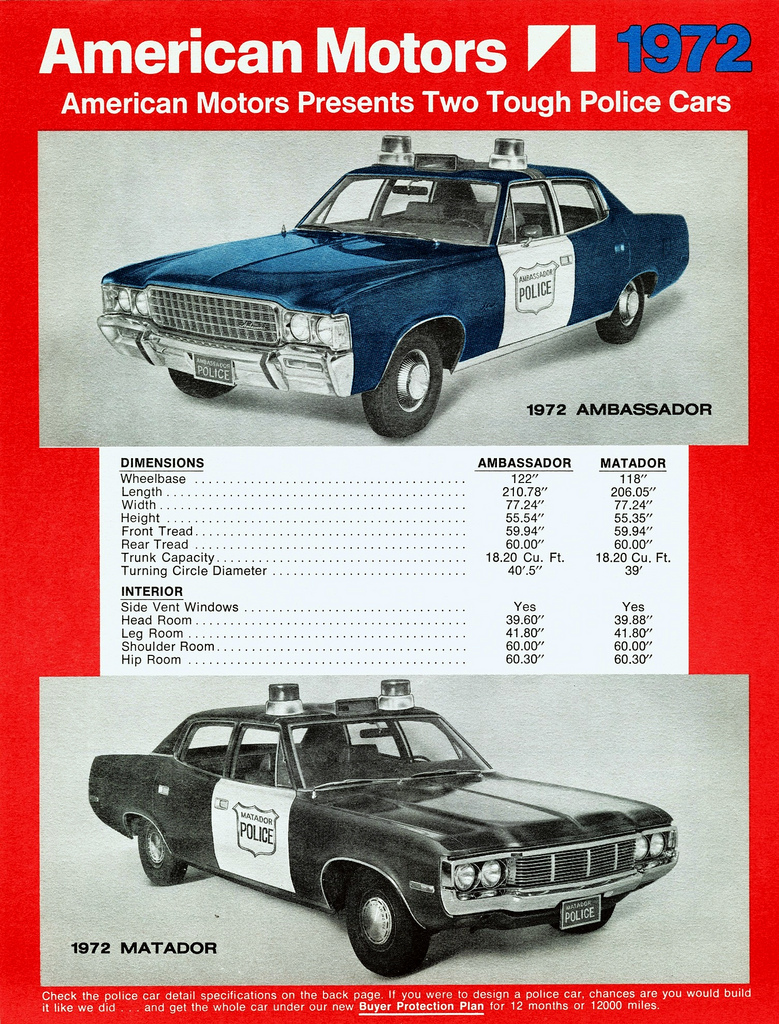 1972 AMC Ambassador & Matador Police Flyer. AMC was well into the game by now with police vehicles, and word spreads in the law community that the cars were indestructible, especially larger departments like Los Angeles.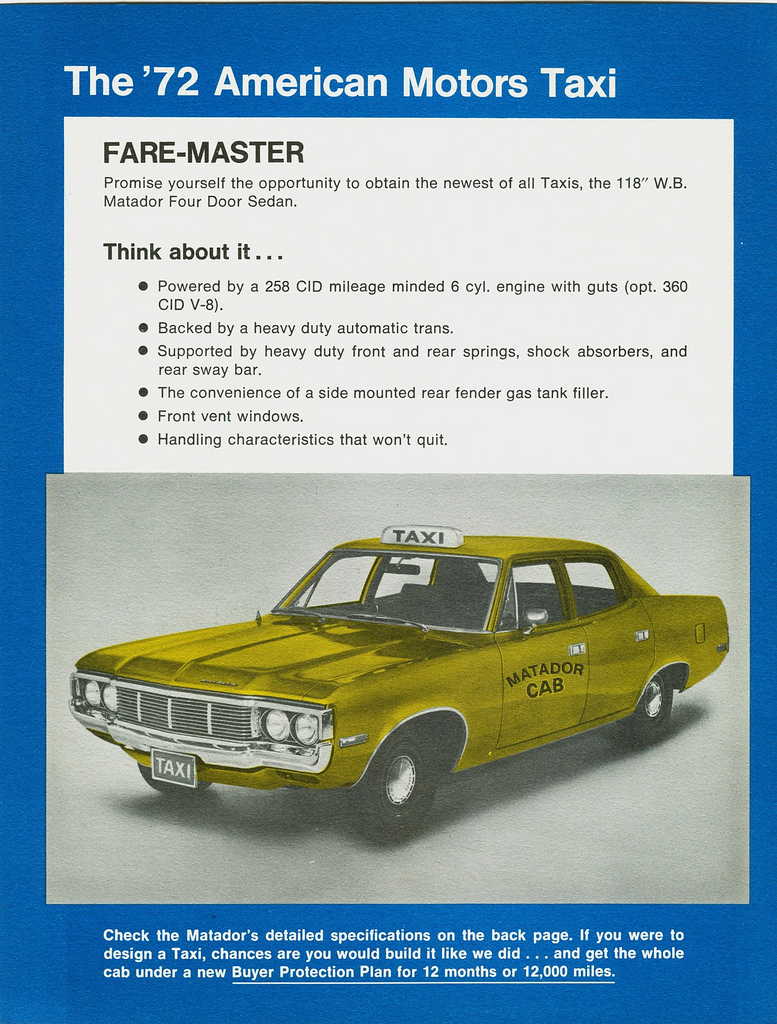 1972 AMC Matador Taxi Flyer.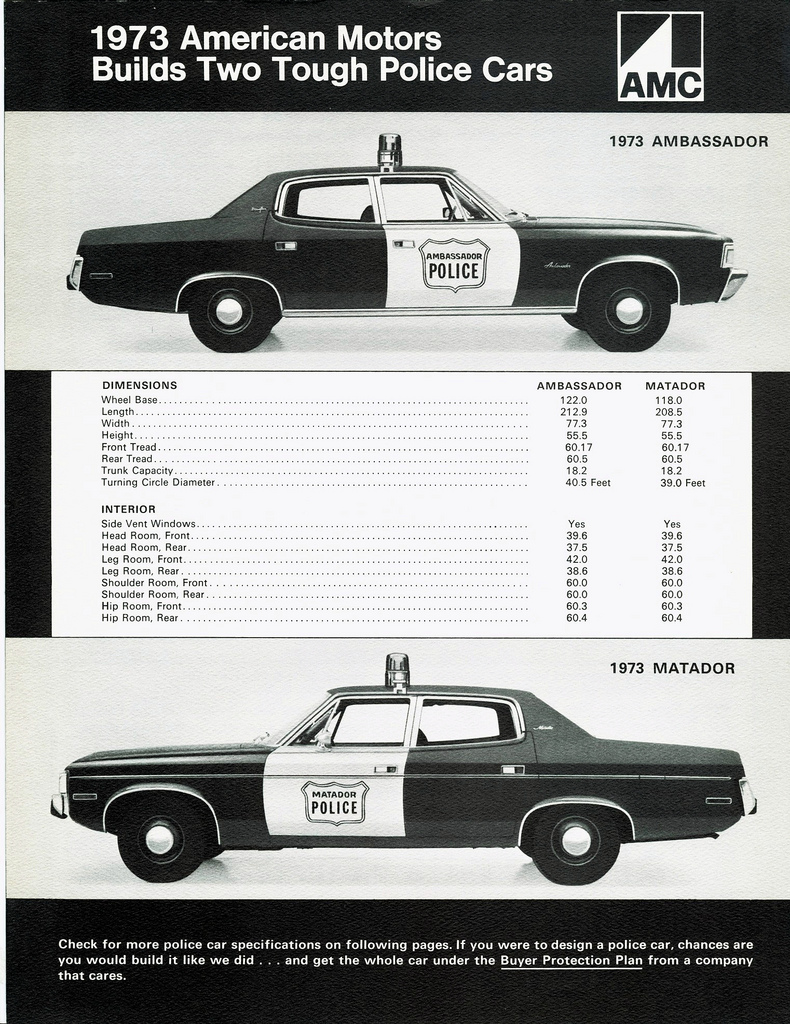 1973 AMC Ambassador & Matador Police Car Flyer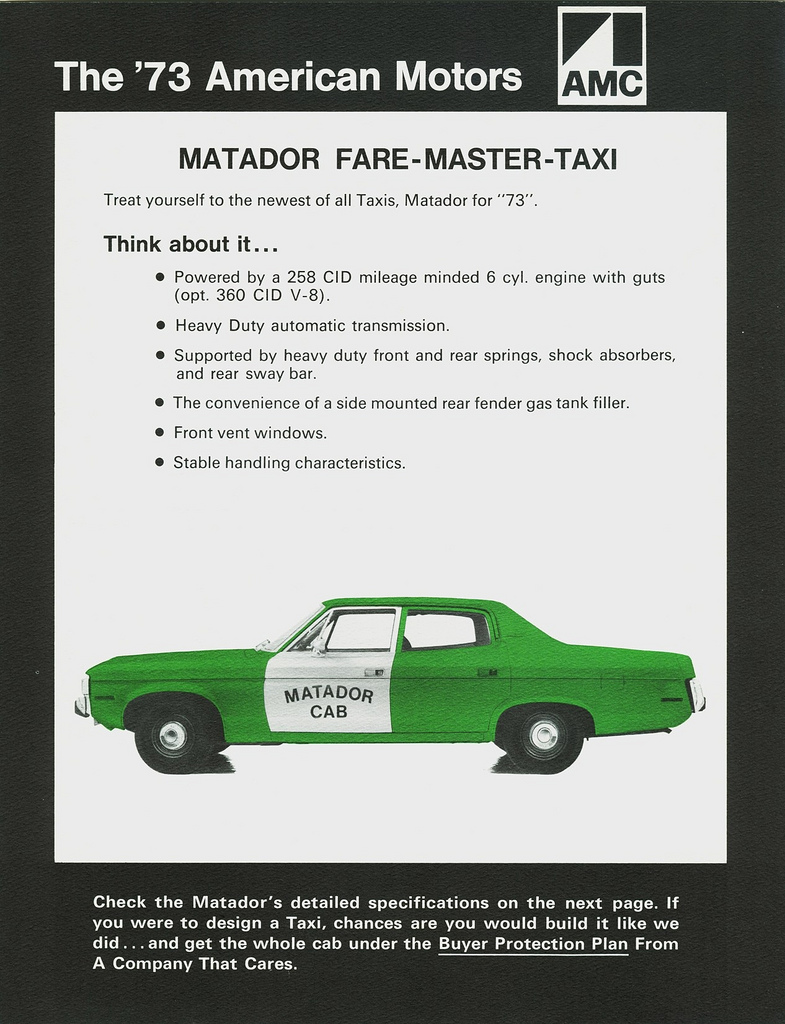 1973 AMC Matador Taxi Cab Flyer
1974 AMC Ambassador & Matador Police Car & Taxi Flyer. This was first year of the "coffin nosed" front ends on Matador & Ambassador & judging by the cops' face he is probably thinking "WTF? Who is the drunken idiot who designed the ugly ass front ends of these? I have lost my appetite for donuts now". Well, if you can cover up the front end, the rest of the car looked pretty nice and even modern by today's design standards. But can't get over the damned front end I have seen chihuahuas butts that are more appealing. This was LAST YEAR of the long serving Ambassador nameplate (along with Javelin), but the Matador would live on until 1978. These hoods were and are notorious for breaking near hood hinges as they were too heavy to support. But AMC continued to offer a excellent intermediate product (for law enforcement) to agencies not only in US, but Canada & around world.
FLEET SALES AM DEALERS PRICE
LISTS FOR SELECT YEARS.
Police & Taxi Groups. Select Years from my archives.
1961 AMC Fleet Sales--Dealer Prices--Heavy Duty--Special Equipment, Rambler, Classic & Ambassador
1964 AMC Fleet Sales--Dealer Prices--Heavy Duty--Special Equipment. Rambler, Classic & Ambassador
1967 AMC Fleet Sales--Dealer Prices--Heavy Duty--Special Equipment, Ambassador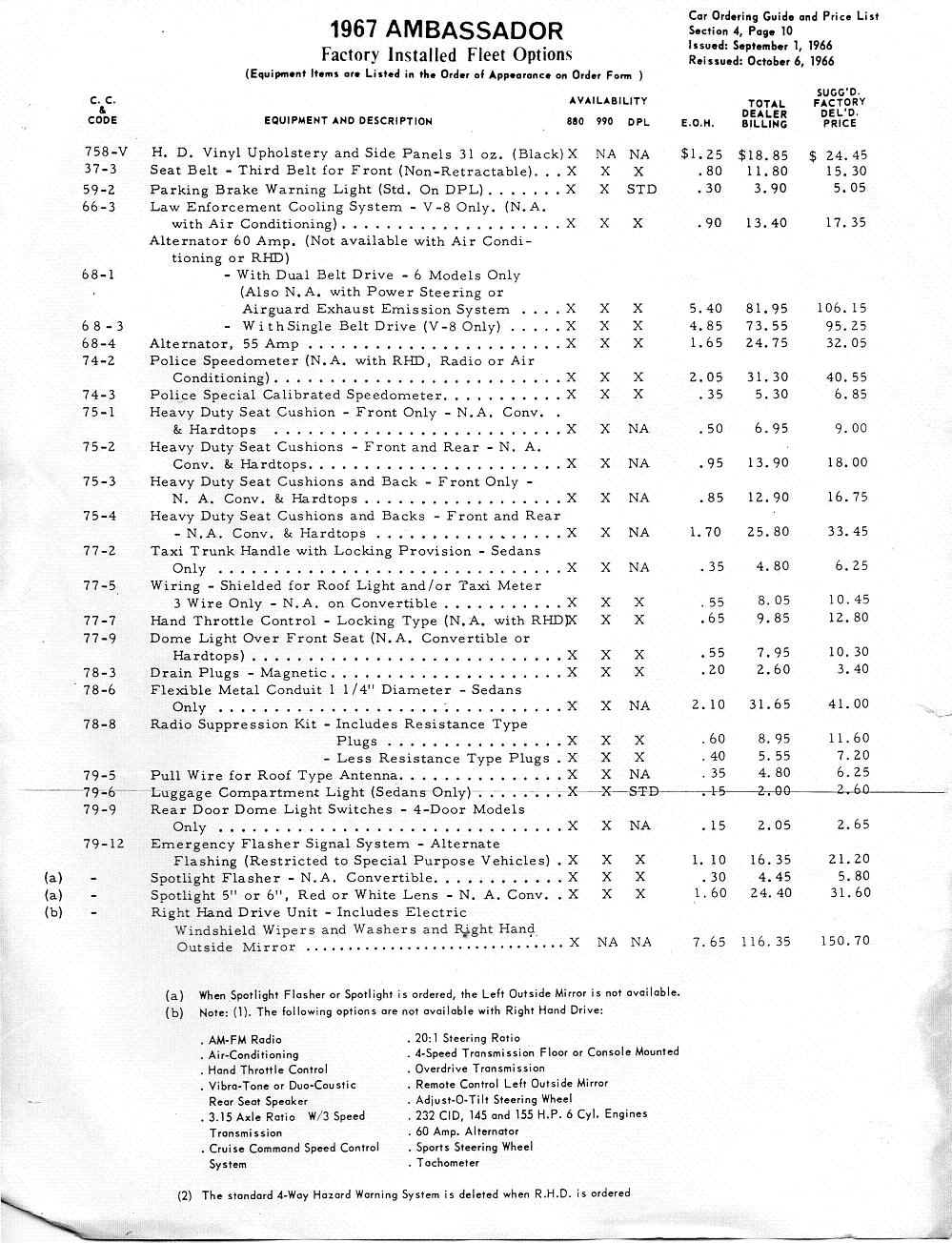 Recommended Viewing!
John Rosa's AMC Police Car Registry
Hemmings Find of the Day blog LAPD Matador