AMC Toys, Diecasts, Models, Promos
This page is dedicated to American Motors miniature toys, models, diecasts from various manufacturers from 1960s to current. In the 2000s, we saw a explosion of miniature AMC vehicles built and on shelves in stores. Hot Wheels, Johnny Lightning (RIP), Green Light, Matchbox, Flying Cherries, Yat Ming, to name a few, and old standbys like Pilen, Juguinsa, Jo-Han (RIP), AMT, and the popularity rose each time with movies like Pixar's CARs series with Grem the Gremlin & Acer the Pacer. There has been a number of "new releases" out of you build it type models, so keep watch on sheves for those at hobby stores like Hobby Lobby or ebay. From small 1.64th scale (Hot Wheels) to larger 1.18th scale (American Muscle) there seems to be something for everyone with Matador coupes, Hornet Hatchbacks, Pacer coupes & station wagons, Super Stock AMXs, Rebel Machines, Hurst SC/Ramblers and the most popular Javelins & AMXs.
Not all models, diecasts, promotional dealer kits are listed, nor will all of them ever be known. I will not list a degree of difficulty of finding them as some were impossible to get when new like the red, white, blue Johan promotional models, (68 Trans Am Javelin & 70 Trans Am Mark Donohue) only available thru your friendly AMC dealers. Others not available in the USA, so have to find thru country of origin. I do NOT sell my models, so don't ask, nor do I build them. Many I have been collecting since 1960s.
The American Motors Owners Association (AMO) has a extremely active "model building" bunch of people that include built models that are highly detailed and dioramas. They award trophies at their AMC National events also, so if you want to show off your handiwork with a miniature, bring it along.
Some of you are familiar with my hand built, one of a kind,"Miniature AMC Dealerships & Kenosha Points of Interest" thru the years. If you like the next photo, and wish to see more, CLICK HERE.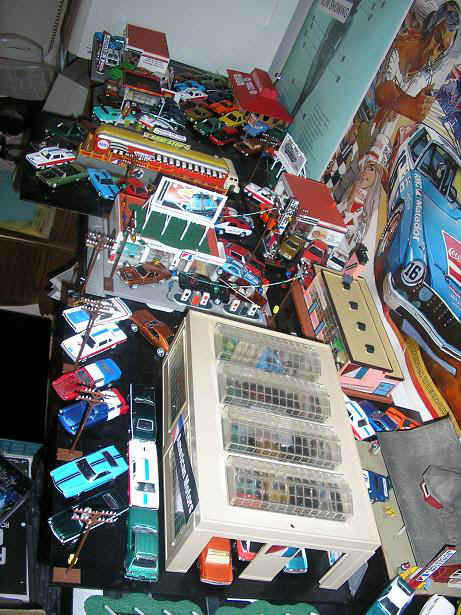 My "Kenosha Main Street" with factory, dealers, gas stations, diners above.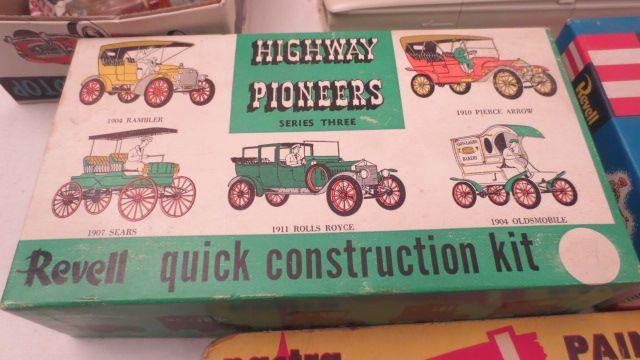 02 Rambler Model by Revell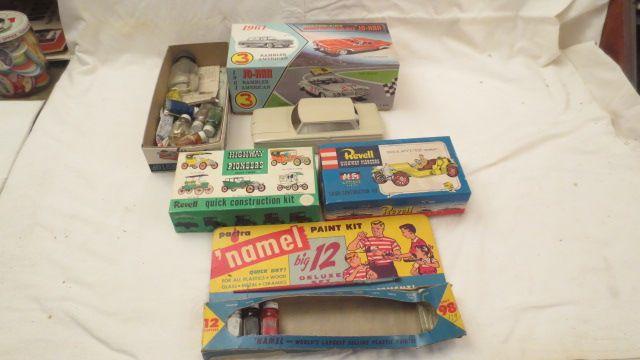 Mixed AMC Models & Paint Kits circa 1962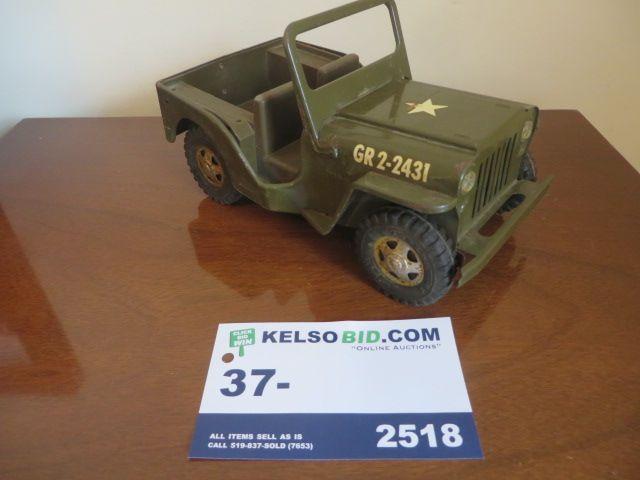 AMC Willys Army Jeep Metal Toy (possibly Tonka)
40s Nash 'Canadian' Statesman Metal Bank, manufacturer unknown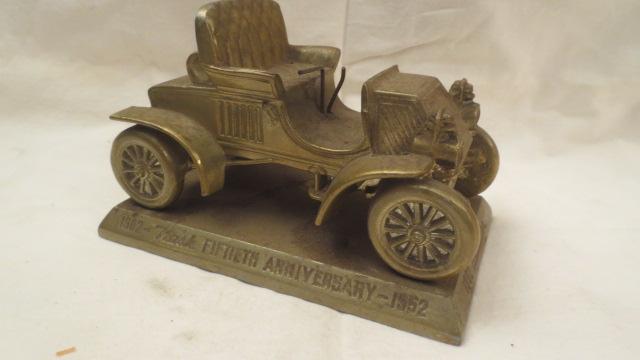 Nash 50th Aniversary Bronze Bank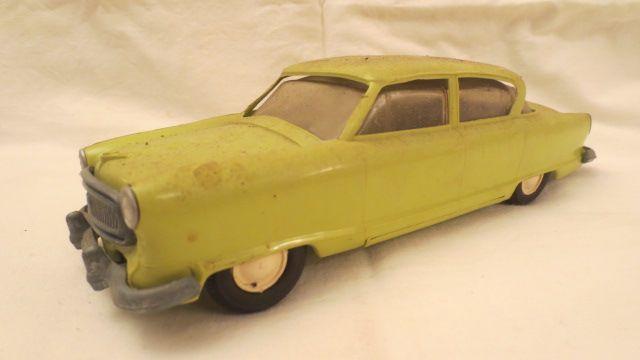 50's Nash Ambassador Friction metal toy Made in Japan, manufacturer unknown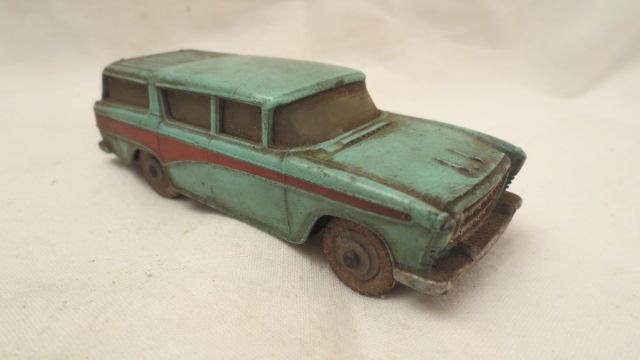 50's Hudson metal diecast by Dinky
59 Rambler American Metal Wagon by Dinky
61 Rambler Classic Station Wagon by Johan
61 AMC Rambler Classic Station Wagon (Friction drive wheels) by Johan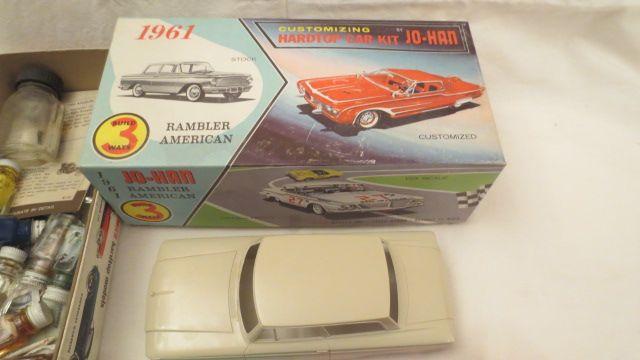 61 AMC Rambler American 3 in 1 Custom by Johan
62 Rambler American 400m Convertible Model by Johan
63 Rambler Wagon Metal Toy by Dinky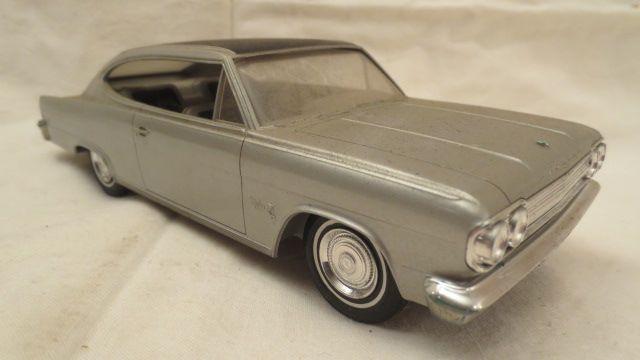 66 Rambler Marlin by Johan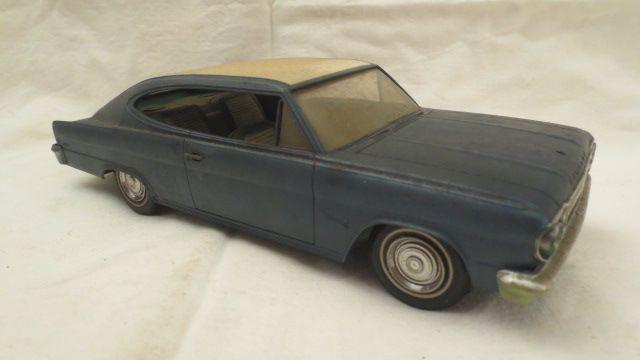 66 Rambler Marlin by Johan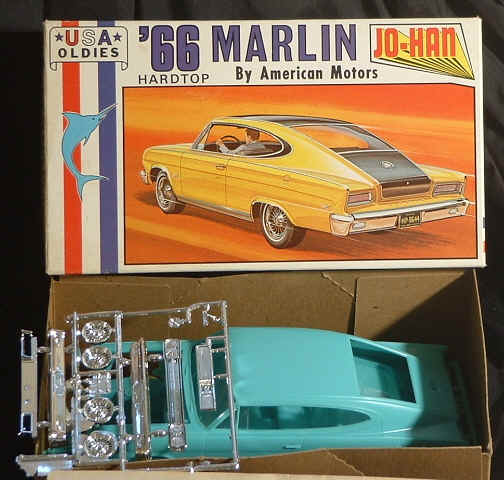 66 Marlin model by Johan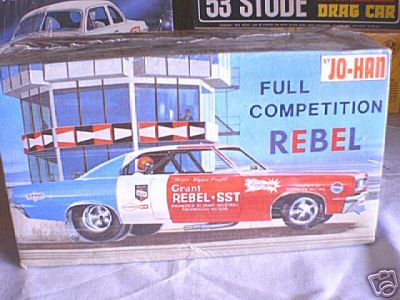 68 Grant Rebel SST Funny Car by Johan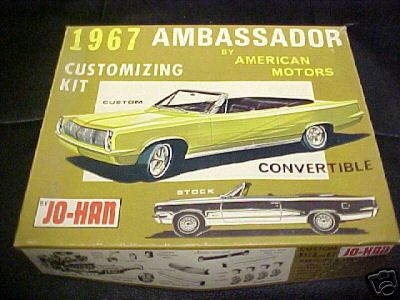 67 Ambassador Custom convertible by Johan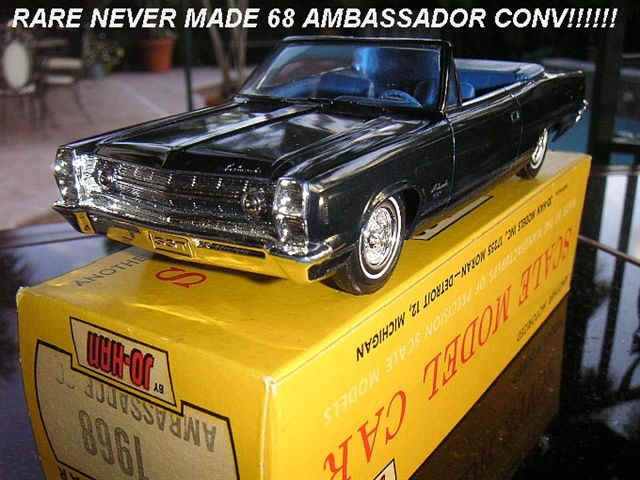 68 Ambassador convertible by Johan. *Worth noting is AMC never built a 1968 Ambassador convertible, Johan jumped gun & didn't realize AMC had stopped production on 68 Ambassador convertibles (68 Rebels were made, last year AMC made a ragtop) but the models ended up out there anyways.
68 AMX First Issue by AMT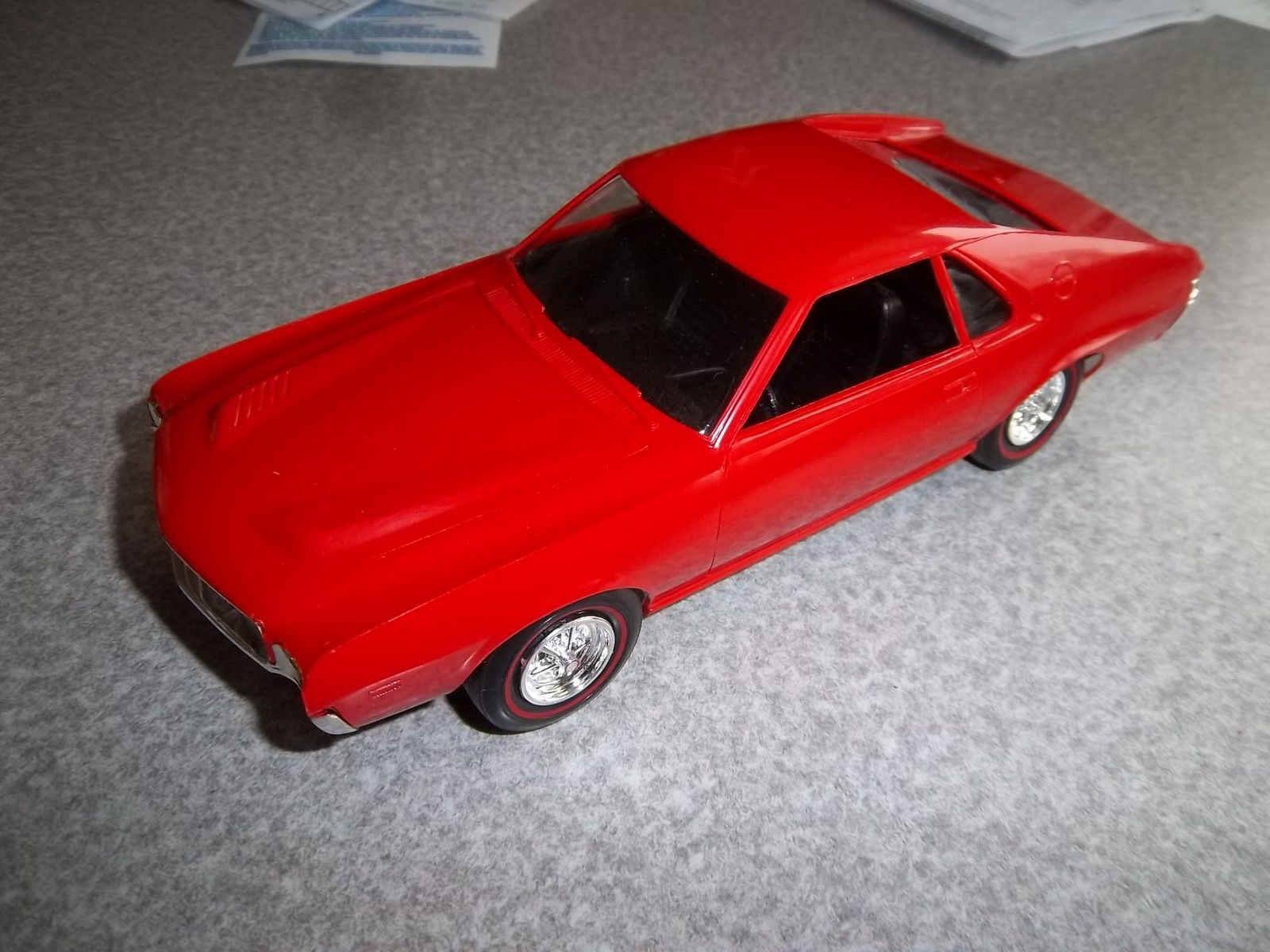 68 AMX in Matador Red by Johan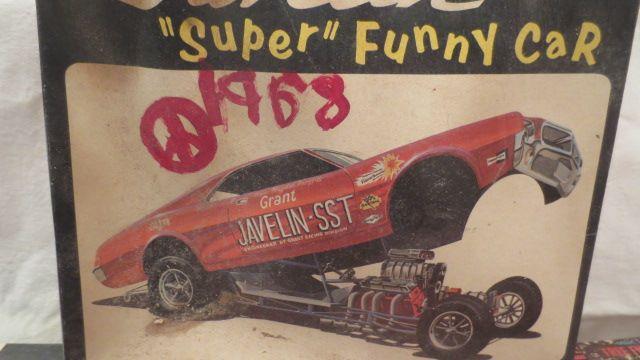 68 AMC Javelin Grant Funny Car by MPC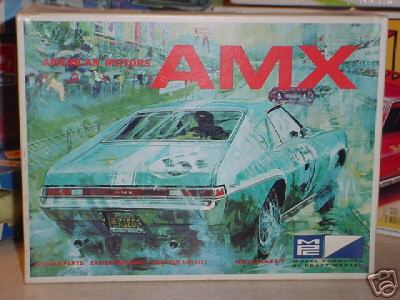 68 AMX Nurburgring track model by MPC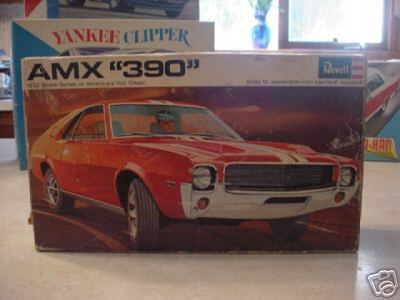 68 AMX "390" by Revell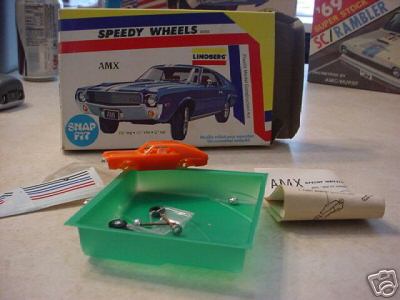 68 AMX "Speedy" model by Lindbergh Toys
68 Trans Am Javelin by Johan. This was a "built" promomotional (promo) model given out (and sold) at AMC Dealerships.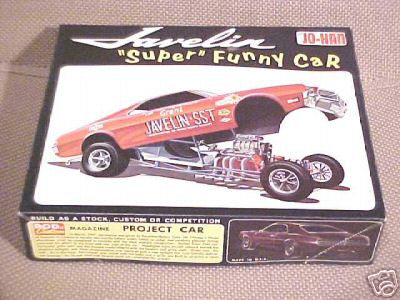 68 Javelin Super Funny Car by Johan, Rod & Custom Magazine, Grant Industries
68 Javelin in Scarab Gold by Johan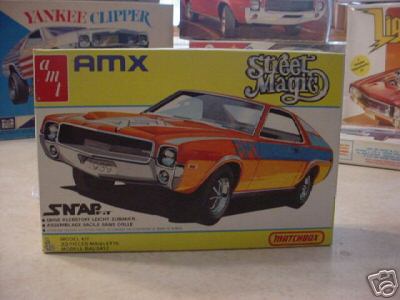 69 AMX Street Magic by Matchbox 1:43rd scale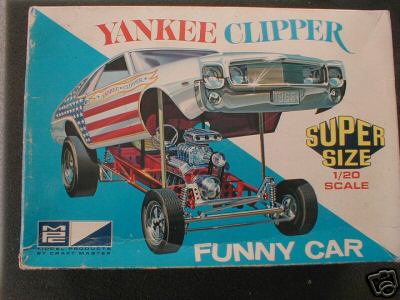 69 AMX The Yankee Clipper by MPC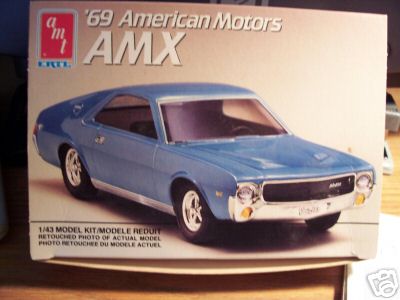 69 AMX Snap Together 1:43rd model by AMT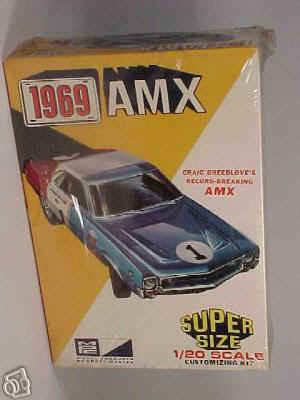 69 AMX Craig Bredlove #1 model by MPC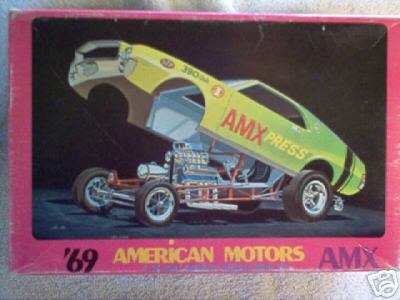 69 AMX EXpress by AMT
AMC 69 Javelin MOD in Ascot Gray. I have never seen a real AMX or Javelin in this 1969 only color.Note "MOD" fake scoops.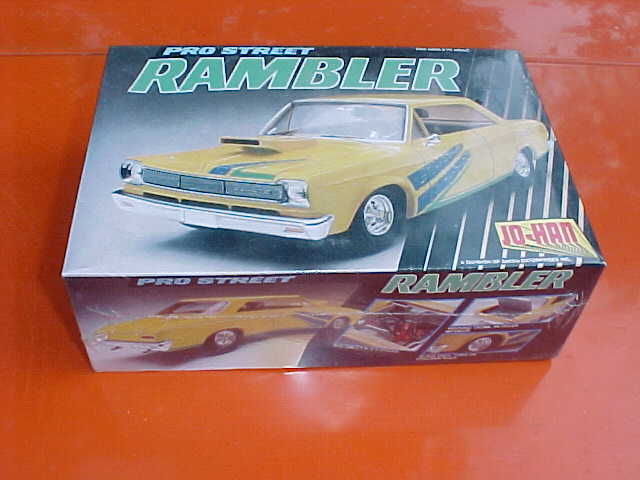 69 Pro Street Rambler by Johan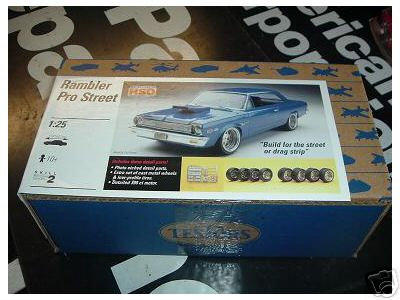 69 Pro Street Rambler by Testors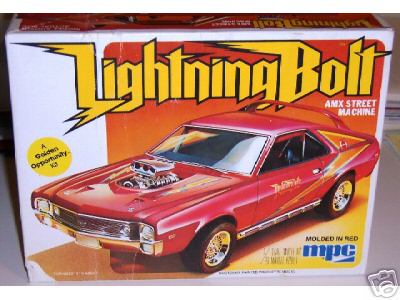 70 AMX Lightning Bolt by MPC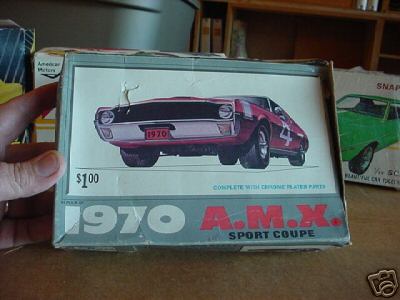 70 AMX by Palmer
70 AMX by MPC this is a re-release from 2014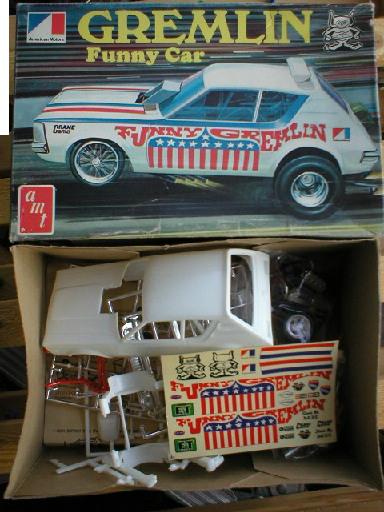 70 Gremlin Funny Car Lou Azar by AMT
70 Hornet Funny Car The Green Hornet by Johan
70 Rebel Machine Super Stock Drag Car by Johan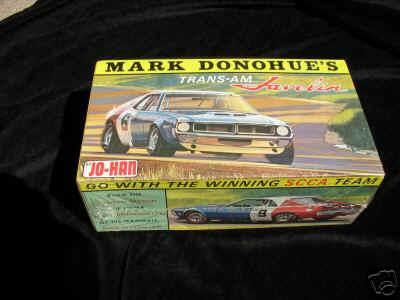 70-71 Gremlin Grabber by Lindberg
70 Trans Am Javelin Mark Donohue by Johan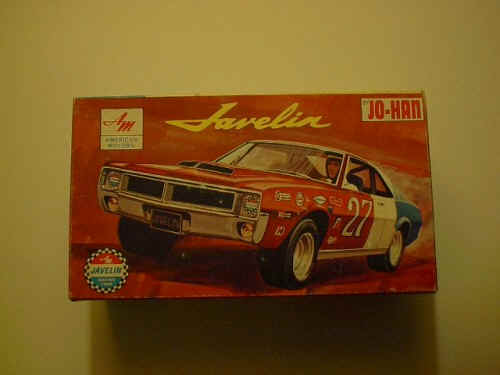 70 Trans Am Javelin Mark Donohue red, white & blue promotional by Johan (dealers only)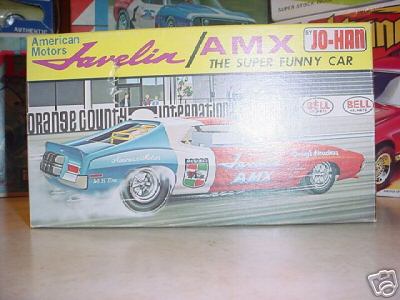 70 AMX 3 way model by MPC
71 AMX Super Funny Car by Johan
71 Trans Am Javelin AMX George Follmer by Johan (Roy Woods Racing Team issue)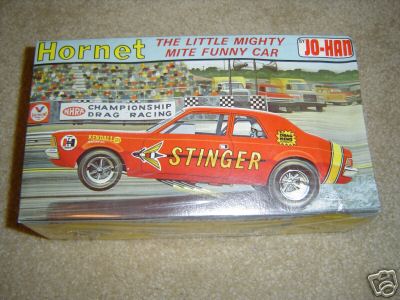 71 AMC Hornet Funny Car The Stinger by Johan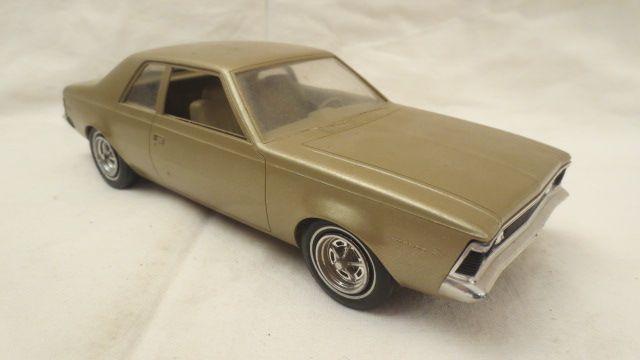 71 AMC Hornet by Johan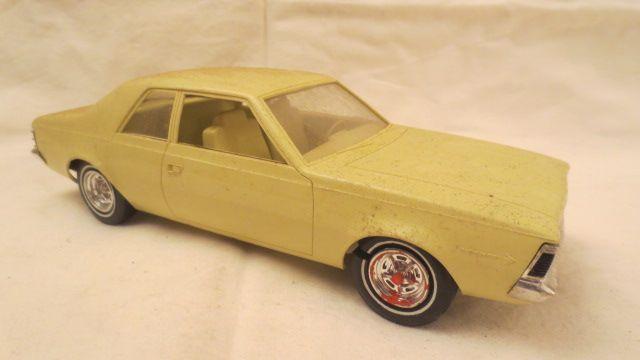 71 AMC Hornet by Johan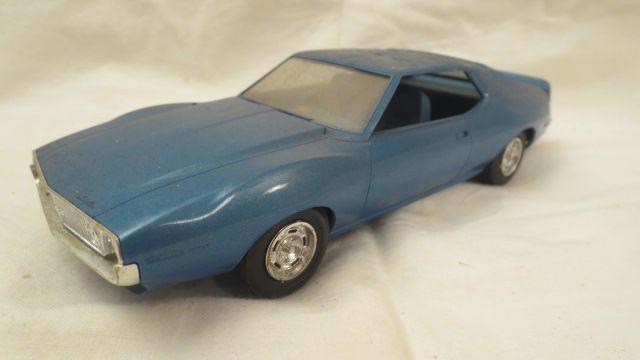 71 AMC AMX by Johan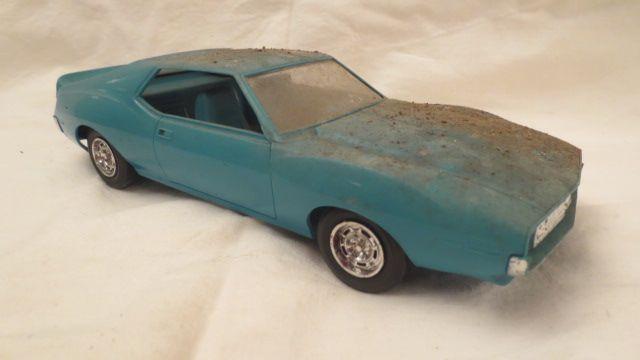 71 Gremlin "Grremlin" Funny Car by Monogram
72 AMC AMX by Johan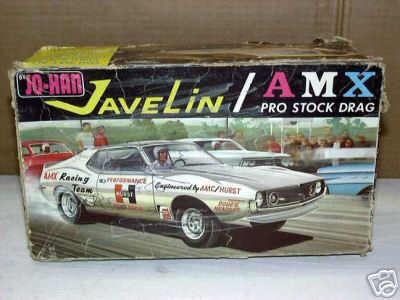 72 Javelin AMX Hurst AMX Racing Team by Johan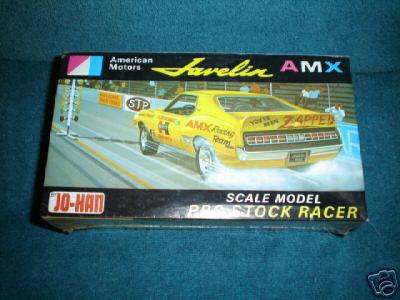 72 Javelin AMX Pro Stock by Johan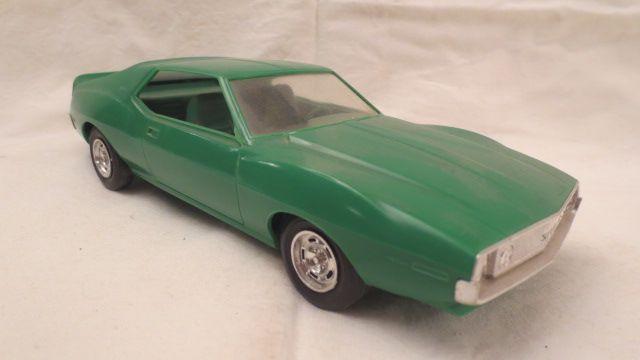 72 AMC AMX Javelin by Johan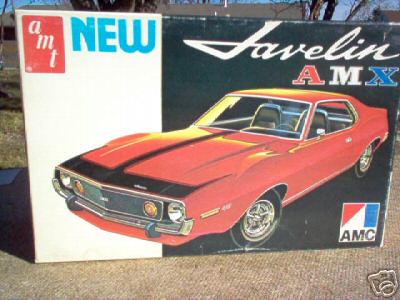 73 Javelin AMX by AMT
74 Gremlin X Mini Musclecar by AMT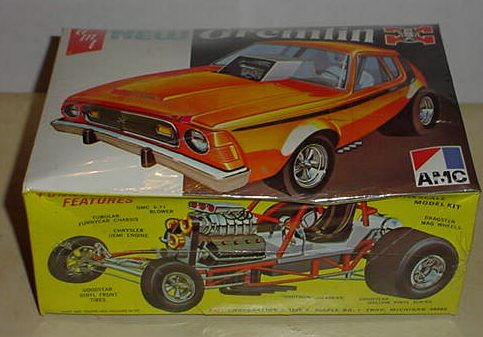 74 Gremlin X Funny Car by AMT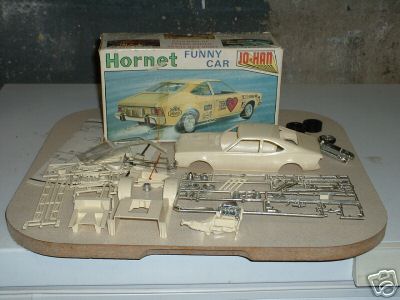 74 Hornet Hatchback Funny Car Potluck by Johan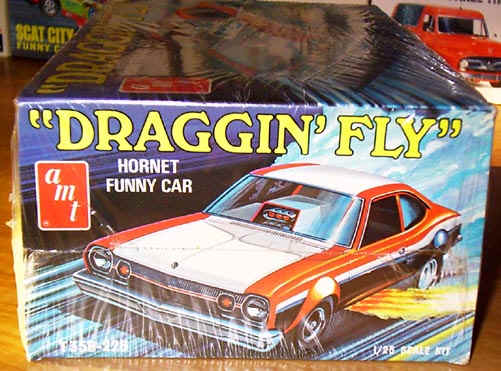 74 Hornet Hatchbackl Funny Car Draggin Fly by AMT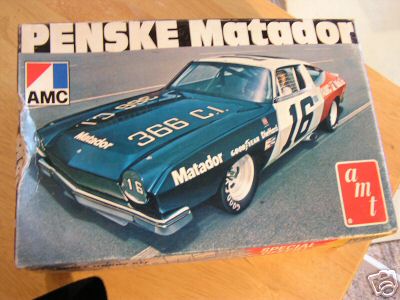 74 NASCAR Matador by AMT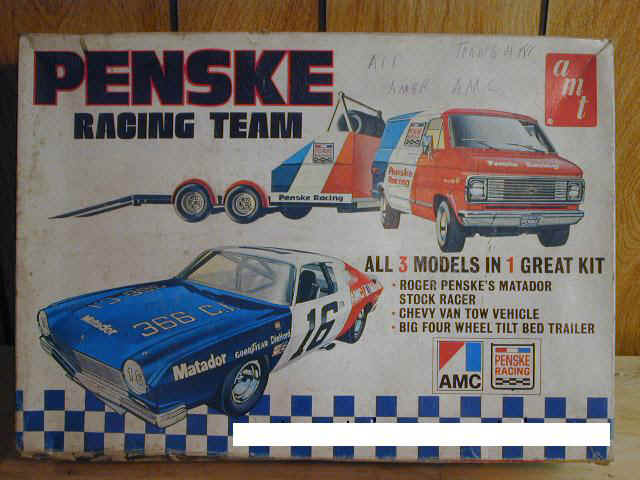 74 NASCAR Matador Team kit by AMT. This included all seen including towing van, trailer.
75 Matador X by AMT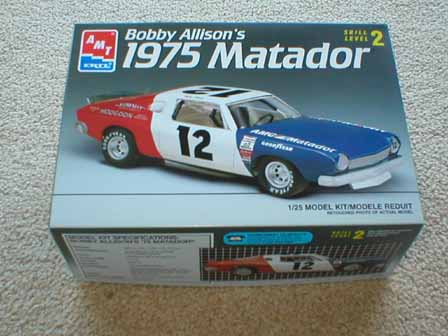 75 NASCAR Bobby Allison Matador by AMT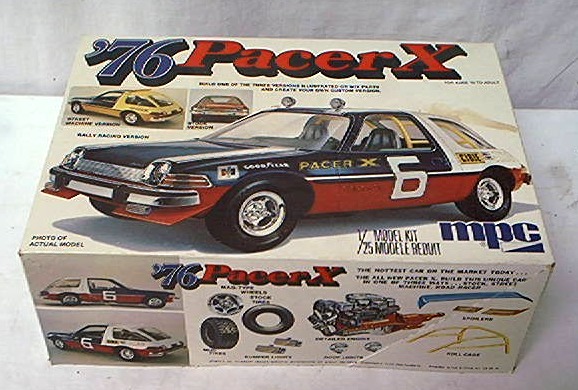 76 Pacer X model by MPC. This is actually a three in one model, you can build it 3 different configurations.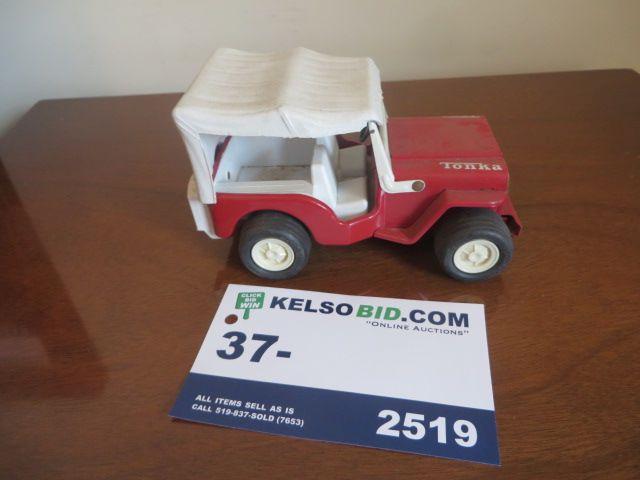 70s Metal Red Jeep by Tonka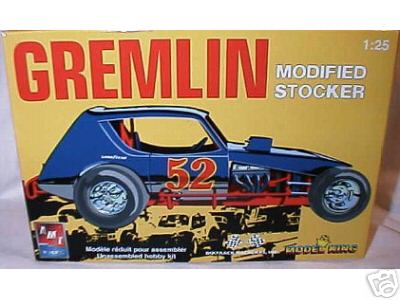 77 Gremlin Stocker model by AMT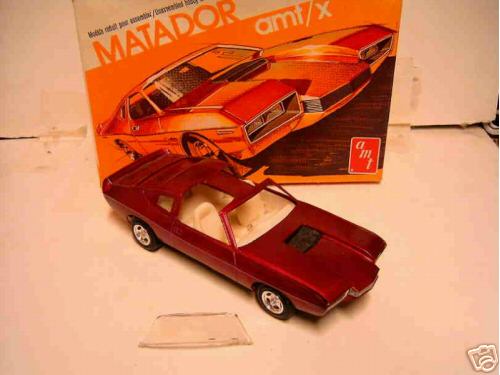 77 Matador Coupe Custom model by AMT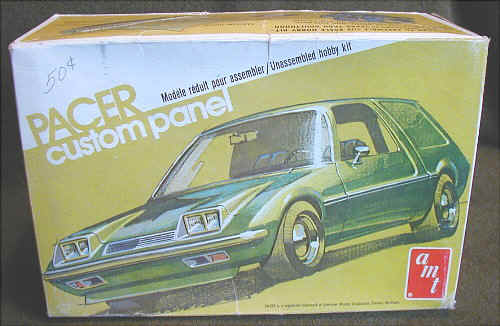 77 Pacer Custom wagon model by AMT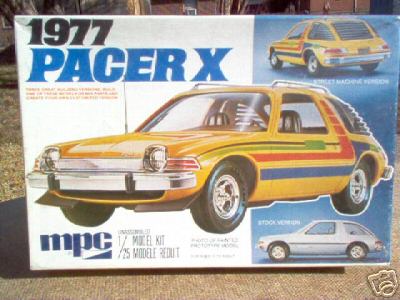 78 Pacer X by MPC. Could build this stock or custom.
78 Pacer X model by MPC. Could build this stock or custom.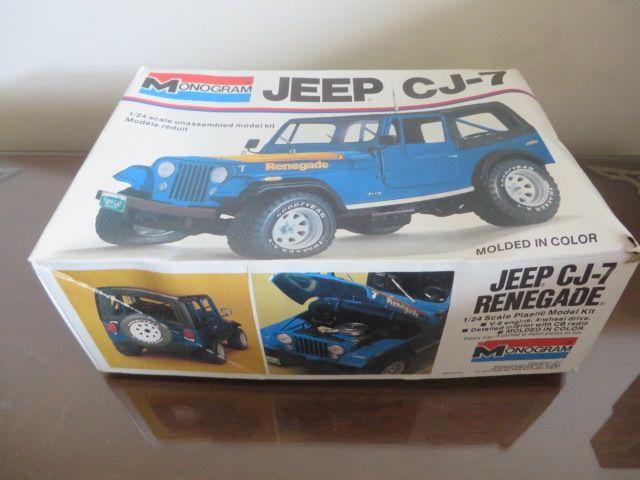 76-77 AMC Jeep CJ7 model by Monogram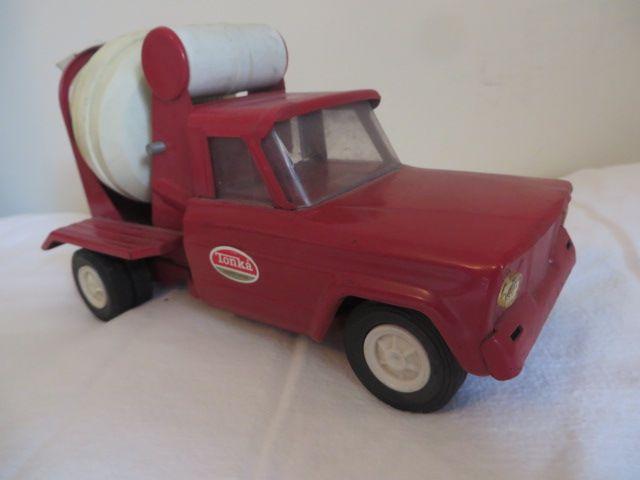 70's AMC Jeep Metal Cement Truck by Tonka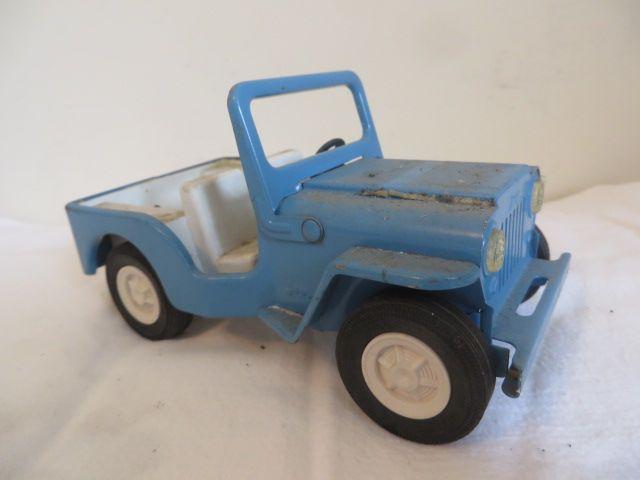 70's AMC Jeep Metal CJ5 by Tonka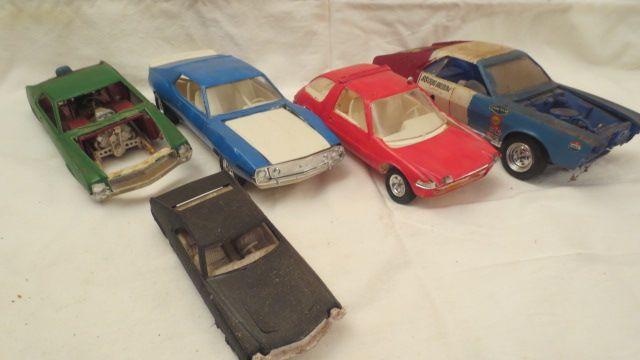 AMC Mixed Toys & Models (Everyone has a model junkyard)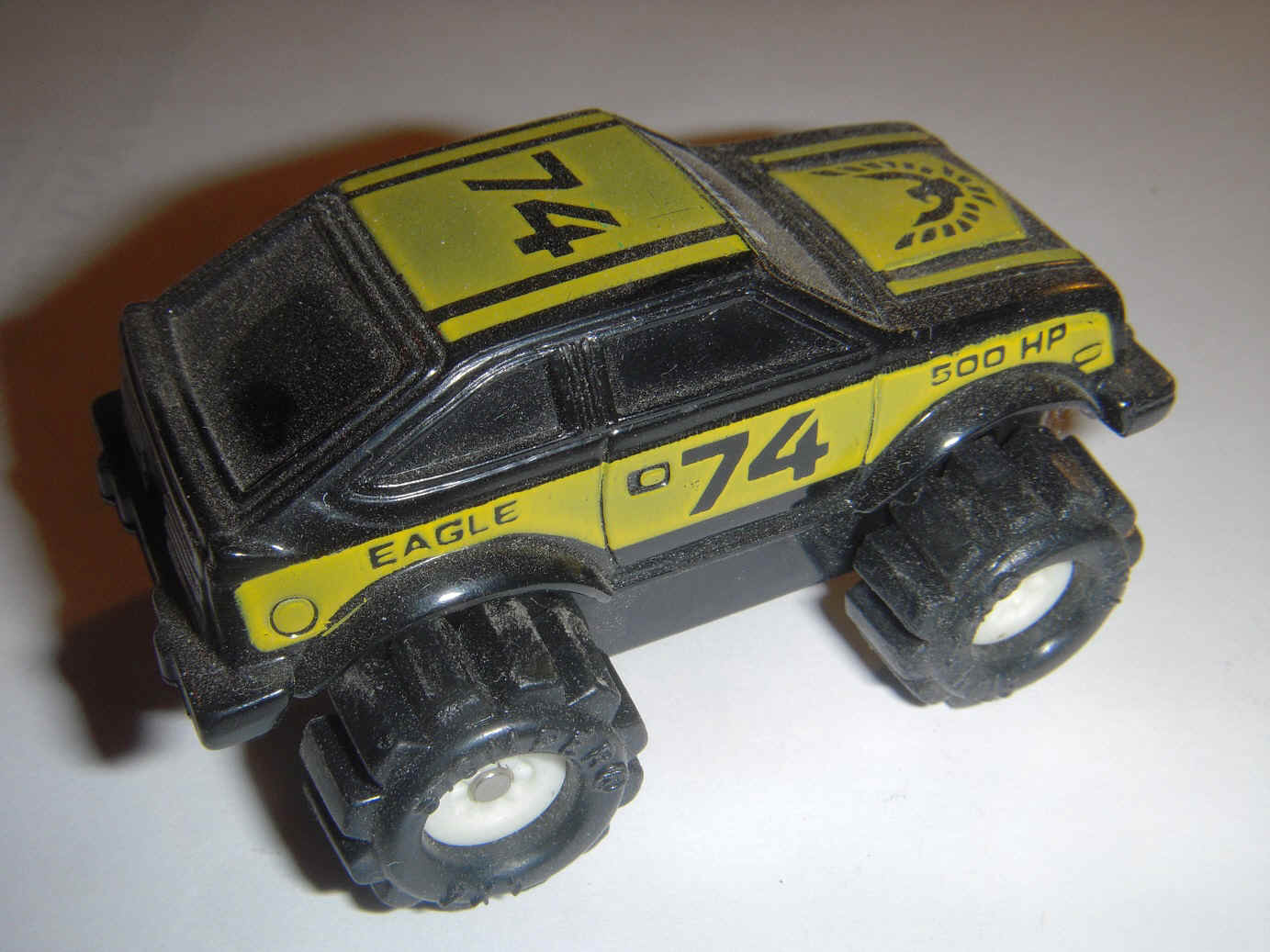 AMC Eagle SX/4 McDonalds Happy Meal Stomper Toy (released 1980)
AMC Collector Items
AMC Travel Bed Mattress also a Group 15 Accessory. These originally appeared with Nash models with the "den of sin" fold down seats in early 1950s many of use were conceived in which the seats folded down into a bed. But they were sold well into 1970s. Popular with campers, fishermen & I guess prostitutes, above legendary comedian Bob Hope is shown by Nash in 1974 where he was made a man in the bed. The caption from ym PRESS PHOTOS: 1947 Nash Ambassador Twin Beds Bob Hope This was a specially built Nash Ambassador '47 for shows and events. There was no passenger side door, it was to specifically 'sell' the unique Nash feature of TWIN BEDS that could sleep 3-4 people inside the vehicle. So it was a big draw at shows, which in turn, would translate into Nash sales. In this rare photo, the late, great comedian Bob Hope is checking out the interior, and chances are cracking a few jokes, we miss & love you Bob! The fellow on the far right and far left are as yet (by me) unidentified. Look closely, that passenger side area is sealed shut, and has plexiglas over it! We miss your service to the USO Bob. Rare item & while i know it was offered into 1970s, not sure how many made...or sold.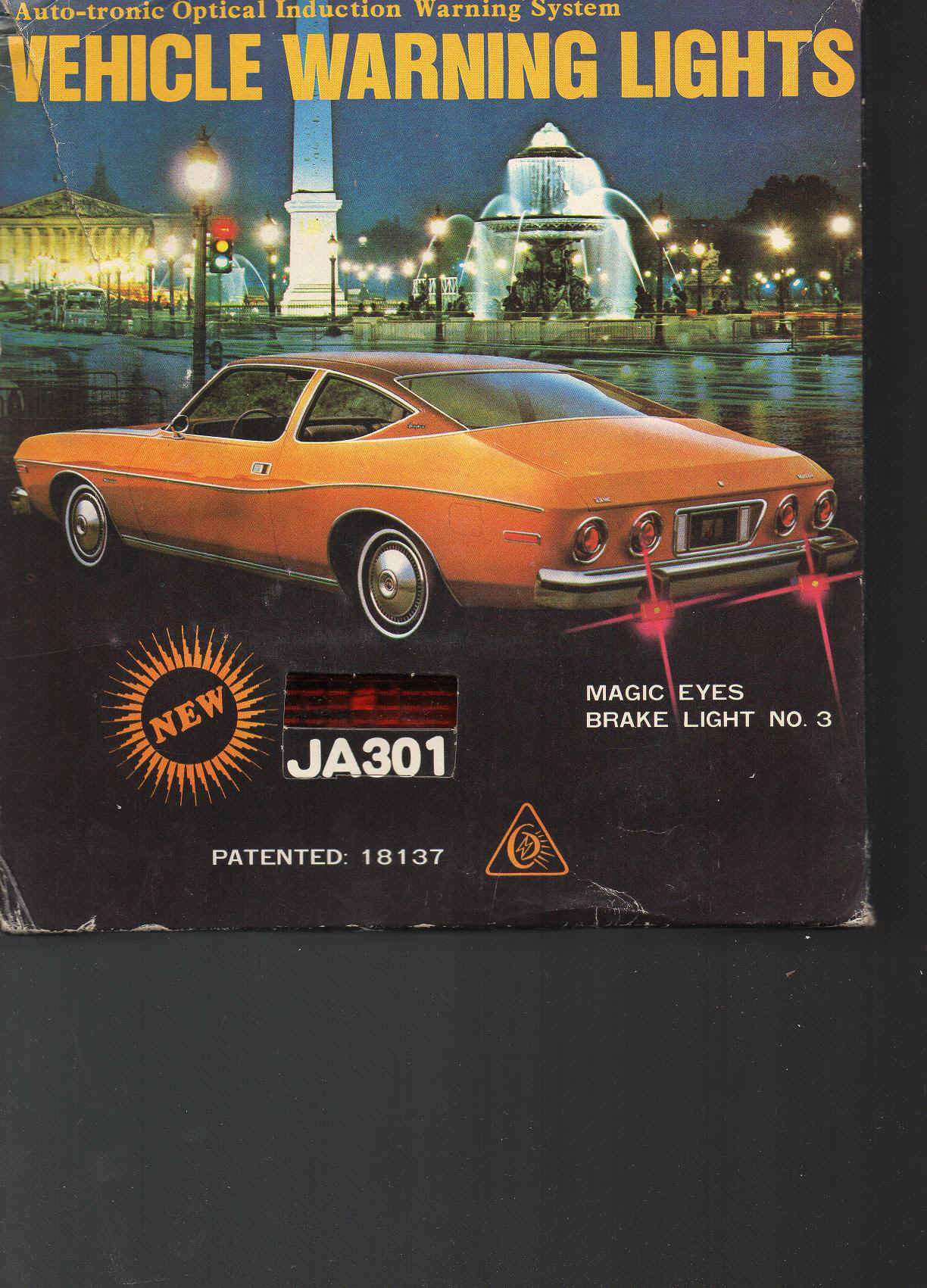 Way ahead of it's time, this was a Autotronic "third brake light" system for 1970s cars, they just happened to use a Matador coupe on cover, but was made for any brand cars. The kit I have has never been installed. Decades later many automakers would add a 3rd brake light on rear spoiler, inside back glass, on trunk lid, on in line of view.
AMC offered 8 tracks thru their "AMC Merchandising Aids" catalog to dealers starting about 1971. These pop up for sale at big AMC meets, and ebay. While not really a top 40 anything, they did put together some good tunes for listening to while driving your new AMC. A AM/8track player sold for about $179 until 1974 when AM/FM/8track players appeared in Matador, then Pacer (75) & those sold new for $250. They are worth buying even if you don't own a 8 track player.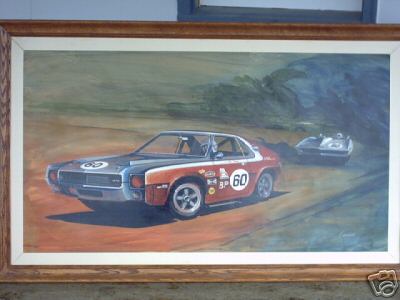 This is a rare one of a kind painting, artist unknown to me, that used to hang in Kenosha. If anyone knows the artist, let me know. Earlier it used to hang in AMC's Cobo Hall in /detroit. I should have bought it, it eventually sold for $190.00 on ebay.
Made by RUPP. AMC offered thru dealers (and other places like magazines!) a Gremlin & Pacer Go Cart. You can see these sometimes cruising the grounds at big AMC events when owners bring them out to play. Hard to find, would like to see someone fab them and drop on modern go carts.
You had to order these thru the dealerships you know, just could not go out and buy one. This is a extremely rare AMC Dealership "Traffic Builder" packet for these.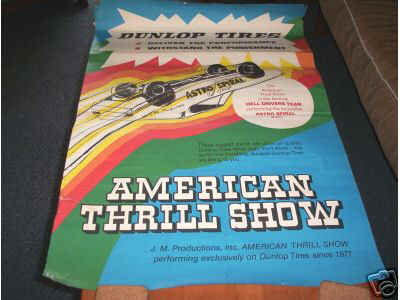 Hells Drivers American Thrill Shows poster. These featured new 1972 Javelins that many remember from the stunt in Houston Astrodome with the Javelin driven by Chick Galliano, doing a 360 on ramps. This later would be done in 'The Man With The Golden Gun' in the canal scene, see it on youtube. You can see some great still images press photos in my AMC PRESS PHOTOS also. These cars were based in Buffalo, NY and several of them are still in warehouses up there. Would be great to see some restored.
A matador red AMX appears on cover of a Star Trek comic book. Nice drawing! To bad the story line really sucks! The story is called A BOMB IN TIME: THE PSYCHOCRYSTALS. You can find this on ebay every now and then, usually under $20. Check vintage comic book stores too.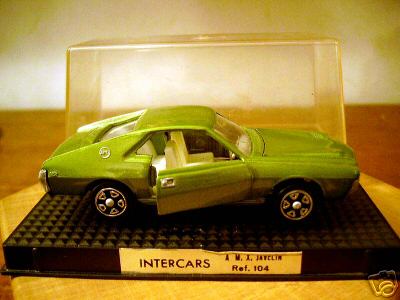 Intercars 68-69 AMX "Javelin" 1:43rd scale diecast. Not uncommon with toy makers back then to label the AMX a Javelin either due to confusion of two different, but similiar looking models.
Matchbox Superfast Brazilian 71-74 AMX
Pilen 70 AMX Starsky & Hutch. These were actually sold with little diorama. Most of us have gotten used to unwashed masses thinking Mad Max cars were American Motors cars, they weren't but millions still think so. Well, this is a new take on a AMX as it sported a 70 Javelin grille, maybe they could not find a obsolete 70 AMX grille? But the Starsky & Hutch thing is wrong on so many levels. They drove a Ford in the series. And they solved crimes Barnaby Jones & Kojak could not sole in a hour. Hard to find. Not reruns of Starsky & Hutch, but this 1:43rd scale metal AMX import by Pilen.
Playart AMC 68-69 Javelin & AMX. Playart based in Hong Kong had some good little 1:64th scale toys. Granted, when they cast them it looked like someone drug the mold thru sand after a bottle of swigging saki. You have to remember that some 4 year old working part time for Playart from his real job at Nike making your shoes, sniffing the lead based paint on these (no shit!) was not a skilled craftsman. He was a 4 year old. Ill fitting shit, but if you closed one eye after smoking a joint (medicinal purposes) and looked at the toy, you could tell, barely, that it was SOMETHING AMC. Uber rare to find with original box, which includes Klingon writing of some sort in upper left, not sure if Korean, Chinese, Japanese or Hong Kong Phooese. The red car is the Javelin, the blue car is the AMX. Hard to find.
What Happens In A Car Factory by Arthur Shay. Published by Chicago, Reilly & Lee in 1968, this (to me at least!) historical book takes a look at how a auto is built. And of course it is our favorite automaker involved, AMC, and you take a tour of the Kenosha plants. Extremely rare book to find (hardbound, long out of print) these usually sell in the $100/beat to $300/mint range. Go ahead and google it, some antique bookstores might have one, even Amazon occasionally. suggestion? The photos are timeless from design studios, to production lines, to offices with big computers, a inside look at American Motors in 1968/69. This is a children's book but a must for anyone's collection. Jump on it if found for sale.
Kenner Light Beam Solar Powered AMX. Like AMC, way ahead of it's time, these came out in 1969 and were solar powered with two small solar cells on the top of the car! There was also a Dodge Charger. But the little AMX, battery powered, would move when you shined the flashlight (which came in the box) on the roof of the car! Pretty amazingly little car, 1:20th scale, about a foot long. High degree of difficulty to find used or new, not sure Kenner still even in toy business. Some of these came with a 1970 ram air hood, not sure how or why that happened, but makes them more rare than the ones with 69 hoods. The rear license plate also reads 1969. My dad brought home 2 of these from the AMC Dealership he was working at in 1969. I still have them.
Kenner Light Beam MORE PHOTOS. This is a NOS Kenner Solar Light Powered AMX in box, this one has the "third wheel" which was a stuipd snap on wheel in front (in red) so your front tires never touched ground and car could turn. The problem with this is these easily snapped off.
The above car was picked up by Hemmings Blog's Dan Strohl in a blog.
What AMC or NASCAR fan or Bobby Allison fan would NOT sleep better with a authentic NASCAR AMC Matador pillow? I do not know what company made these but these have all the sponsors on it, top to bottom, Penske Racing Team, Bobby Allison driver, Coca Cola, and are really well made. And rare. The NASCAR pillows were made by Success Promotions Route 3, Box 621, Randleman, North Carolina. There were "other" NASCAR pillows made same time I believe the company was owned by Roger Penske Enterprises, someone correct me if wrong, might have been Allison family. Here are some others from same time frame to keep eyes out for in case you collect NASCAR vintage stuff!
Tyco! If you owned and like Tyco HO Scale racing and trains, they did not forget American Motors. Here are a few neat Tyco items you can still find for sale if you have a good eye.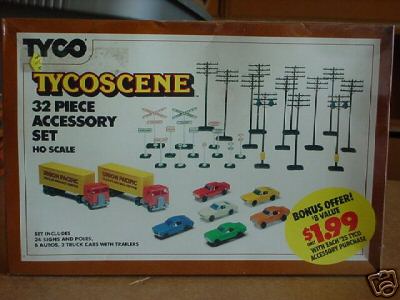 TYCOscene: featured a number of tiny 68-69 AMXs. This setup was for your rail road set and what a nice compliment it would add. To add a realistic touch to any train layout, you could add a number of Tyco railcars also known as Autoloaders.
This Tyco Autoloader featured six vehicles, three AMX, three Camaro. In the business they were called 'Trailer Trains'.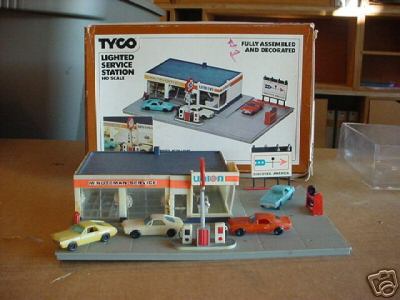 In your massive layout, everyone would need a authentic Tyco Union 76 Gas Station with AMXs.
And if you were like many of us, you had a TYCO Pro Trans Am Javelin Racing Game.
Many HO scale train layouts featured some sort of car track, simply because Tyco kept adding new items you could continually build. One of those was a railroad/car crossing. I still have mine and can't tell you how many AMXs went flying across the room when hit by a row of Burlington Northern locomotives. Some spectacular crashes happened at this intersection when we were kids.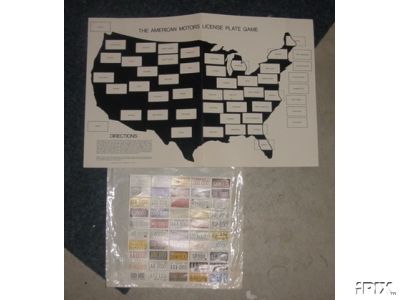 AMC License Plate Game from 1969: which was a US map, and featured stamps you would stick on the state of which you saw those plates in traffic. This would take away from talking on the cell phone, painting your nails, picking your nose, text messaging, and applying makeup now so this game would be dangerous! Actually it was for the kids. I would say 99% of them never saw a Hawaii and Alaska license plate so cheated and stuck the stamp on there anyhows. Rare item.
Some of the rarest literature out there is original AMC DATA BOOKS. These were usually tossed away by dealerships after only a few years. So few exist. These had all the information you would need if you were a salesman, like actual pieces of paint in charts, real pieces of vinyl, leather and corduroy and other seat materials and vinyl roof materials. Why? Because when you, as a customer, asked questions about a color of a car, or what the seats felt like, the salesman could answer your questions thoroughly, and by that, would lead to more sales. Above is a 69 AMC Data Book, with actual seat materials you could feel there at dealership, options, accessories, ect. Above is a 1969 AMC Data Book.When a salesman brought this out, he was pulling out stops to make the sale. Hard to find any year and expensive if found, especially pre-1975.
Data Book for AMC Year 1972. Seat Materials for new 72 Gremlin, Javelin, AMX Series, and look closely, there is actual seat fabric from the 1972 Gucci Hornet Sportabouts in tri-color. Besides that AMC also had paint chip charts, and salesmen commonly would take prospective buyers outside to look at the colors ina ctual sunshine, a novel idea.
Data Book for AMC Year 1973. You could now get Levi's interior in your Gremlin. Look closely here, in your AMX or Javelin besides the usual interiors, Domino fabric but on the left, Pierre Cardin interiors which was first introduced in 1971 for 1972 mid year models, was available also on AMX, not only Javelin. Yes, tough it, feel it, order it, it feels like a Scotchguard material. Not a whole lot of people did from 72 thru 74 however. Learn more about Cardin Javelins & AMXs on the Cardin Registry.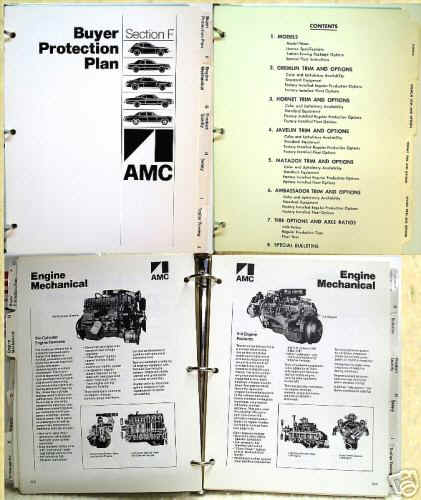 And of course, the big winner here, Buyer Protection Plan, had other automakers playing catchup!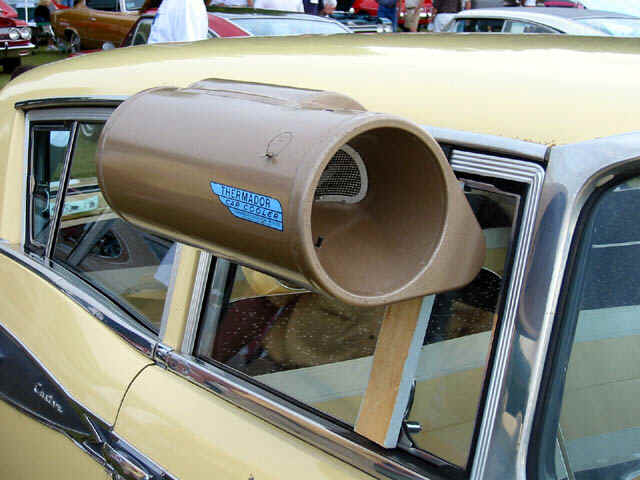 Nash AC systen Thermador: Not for AMX, Javelin, or anything after the 1950's this is still worth showing. Why? Simply because no matter how old or young you are, few see them. This was a early AMC (and other automakers) attempt at Air Conditioning. Called a Thermador, you filled it with ice and drove. And the wind did the rest.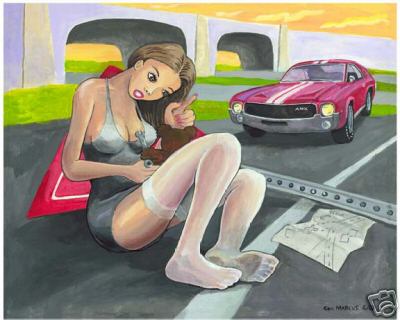 I find some odd shit on ebay. This is one of them, a print with a AMX in background, some girl on meth scolding a teddy bear in street. I don't understand it either but bought a print and framed in office creepy as it is. The seller, or artist, has a number of prints they sell with American Motors cars in background, I don't understand those either like the freaked out chick with flames near a Matador cop car, what is all that about, stay on the meds.
AMC Dealership NOS Clock. At one time, you could find these in damned near every American Motors dealerships, some of them sported 2-5 of them. Offices, showrooms, parts department. This one above popped up on ebay and was NOS in 2007, but bidding sailed past my $300 bid. Chances are it was the last remaining NOS AMC Dealership clock in the world though.
AMC Tool Kit sometimes appeared in Group 15 Accessories catalogs, other time in AMC Dealer Merchandising Aids catalogs. About $10 in 1973 at your friendly AMC Dealership.
AMC AMX Dealership posters. The AMX at Monte Carlo one was given out at Auto Shows in US, but the AMX at Elkhart Lake & AMX at Nurburgring you had to order thru dealers or write to AMC HQ in Detroit. There was three different issues of these posters, earliest ones had script on bottom:
"DREAM! TAKE A FREE AMX POSTER" and only a limited amount of these given out at auto shows in US in early 1968. The paper on the early ones is flimsy, but what the hell, they were free. The legendary auto artist Walter Gotschke penned them and the artwork would later appear on MPC model boxes.
This is what the 1967 ones looked like:
The text at bottom removed, and a larger set of these prints were circulated to dealers. I have never seen a set of the large ones, but several AMC people in the know tell me they do exist. Those also made on crackly paper. The fits run above and last run below were 18" x 23" almost a matted finish. Then the final run of the posters were run in 1969.
This is the ones I sell mentioned in the AMC LITERATURE section:
"The Story Of American Automobiles" was a interesting small booklet produced by American Motors. It was almost like it was geared towards children (sort of like Arthur Shay's book way above!).....then however went into a hard sell on the new 1968 AMX and Javelin, touting performance, options and accessories! But the beginning of the book starts out with minerals used to make a vehicle, from Africa, Europe and around the world. Then traces how the materials are used by auto manufacturers to create a car. It is extremely informative, and make no mistake about it, the book is filled with wonderful photos of inside the Kenosha Assembly Plant to boot. The title is a little misleading, as it implies I guess all automakers, however, this is ALL AMC and no one else. Like the larger book "What Happens In a Car Factory" mentioned way above, and even the 1969 release of "THE STORY OF AMERICAN AUTOMOBILES" (which was a condensed version with more photos...and updated with mention of the 1970 model line) both of these are a must for the serious AMX and Javelin collector.
This is the 1968 edition:
This is the 69 edition: If I have any of these left for sale they will still be listed in the AMC LITERATURE section:
AMC AMX Peter Max Dick Teague poster. When Dick Teague the legendary stylist (see last photo above, that is him with Javelin on forehead) decided to retire after a long, and glorious career at AMC, they honored him with a poster of which while he was responsible for many, many designs that made it to production from AMX, Gremlin, Hornet, Matador coupe, with his epic design team, AMC came out with this poster seen below, which was available at dealerships afterwards. Rumor has it Peter Max had something to do with it, but unfounded so far. Dick Teague was a workaholic and his designs can be seen on many non AMC cars to this day and will always remain timeless. Should you want one of these posters, see AMC LITERATURE & POSTERS section.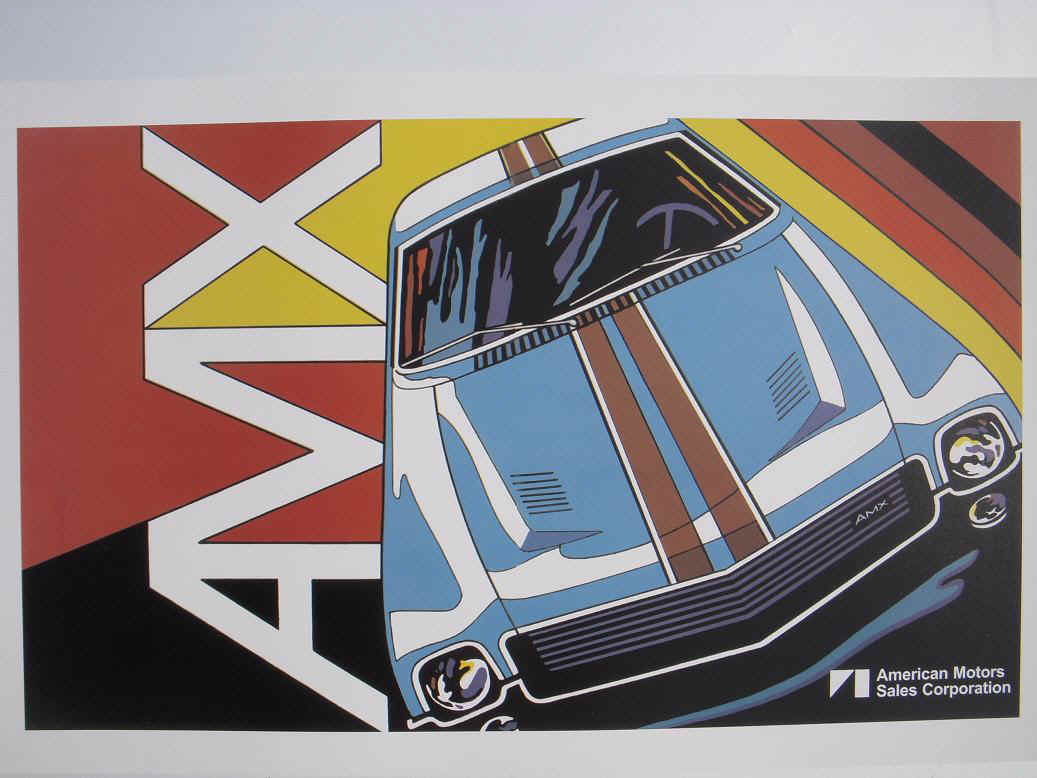 AMC AMX Playboy Bunny Poster. These were supposed to be only for dealers but eventually got into the hands of salsemen, and maybe even kids much to the chagrin of moms & pops. I'm sure pop didn't mind and plastered her on garage wall, along with girlie calenders. There is a whole file dedicated to American Motors complex relationship with Playboy which went on many, many years. A good thing unlike Hugh Hefner's marriages. Should you want a AMC AMX Playboy poster for your collection see AMC LITERATURE & POSTERS section
Want to learn more about AMC & Playboy?
Visit MISSION AMX.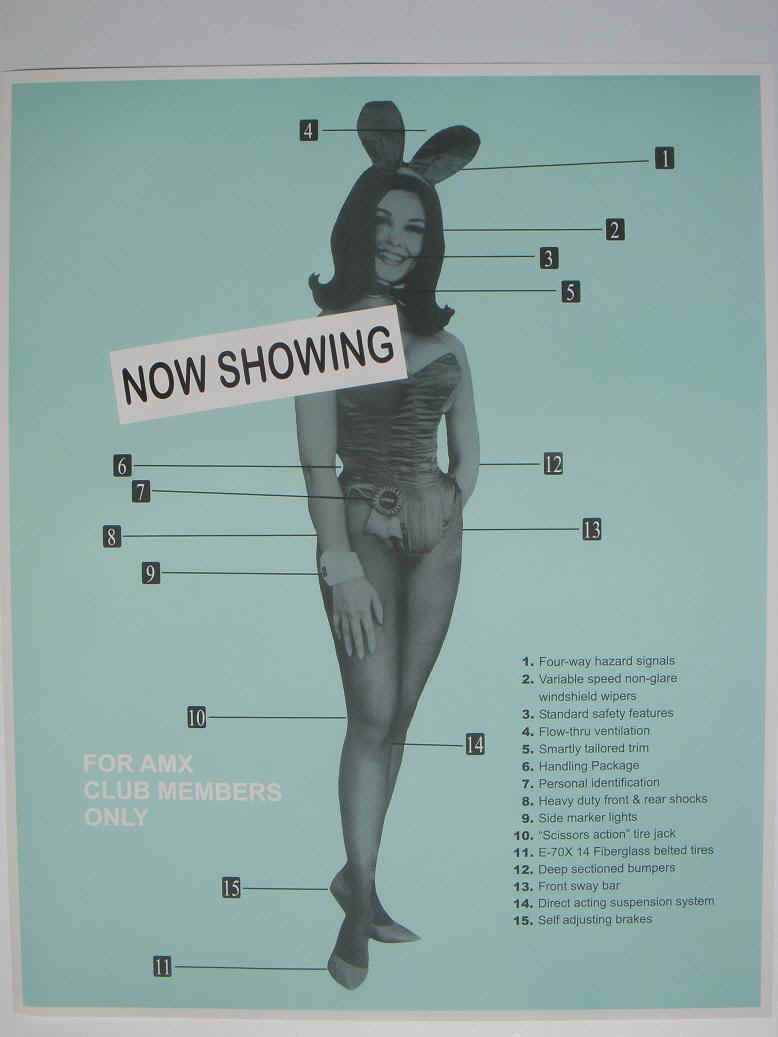 AMC Trans Am Javelin AMX X-Ray poster. Team Roger Penske, driver Mark Donohue. AMC never offered this poster. I do. You can get one for your collection, see the
AMC LITERATURE & POSTERS section of my site to order one of these LIMITED PRODUCTION posters.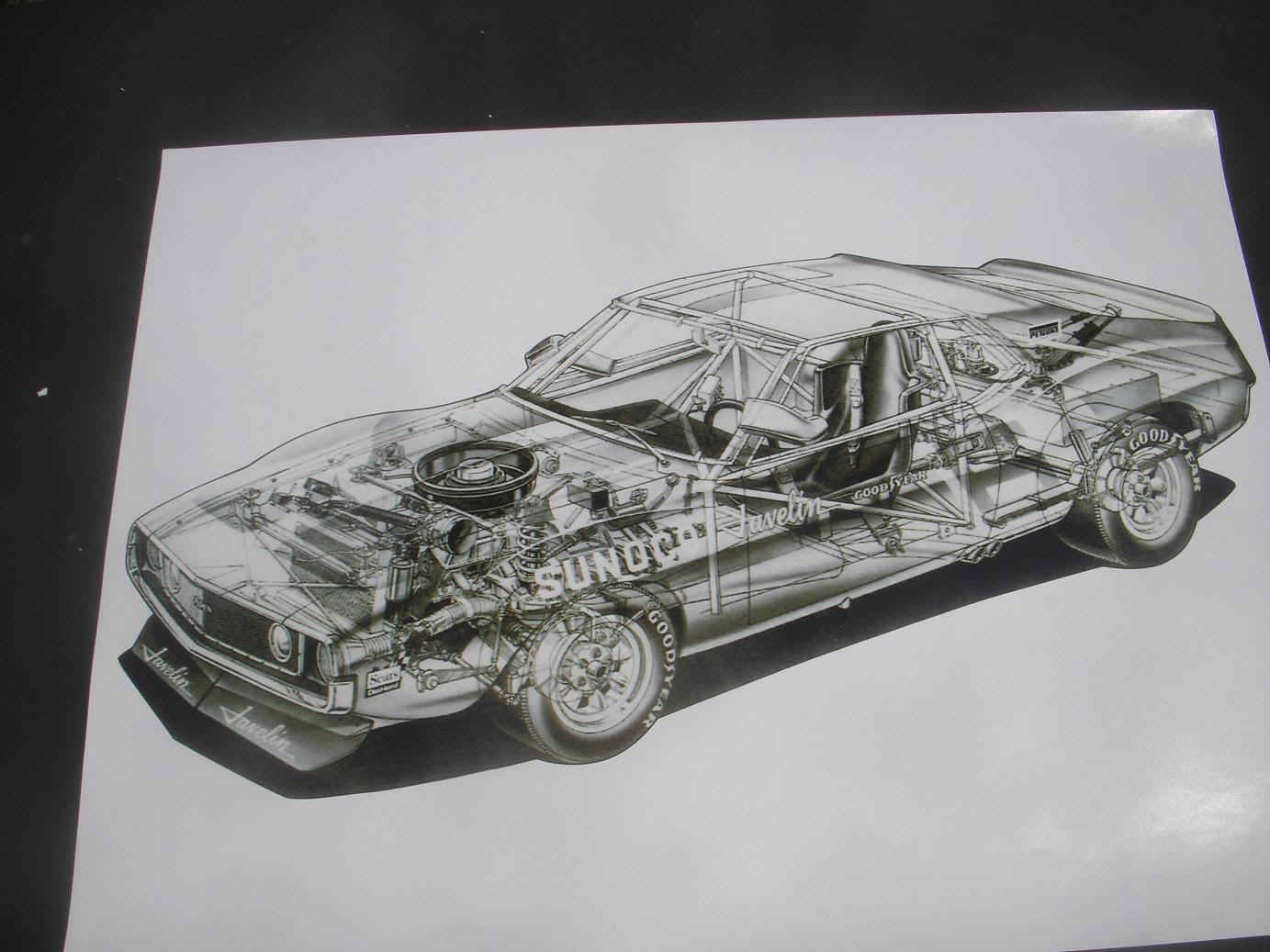 Eldon Intelligent car. Looks like a AMC Pacer crossed with Deora. From about 1968. These foot long battery powered cars or truck, you place these small triangular pieces in the back and turn it on. It would follow the commands of the signs in back of the car! The plastic pieces look like the controls Superman had in his Fortress of Solitude or the crystals that controled the doomsday bomb in Beneath The Planet Of the Apes, on back they are all different designs, and when they hit the rotating motor inside, it would turn right, left, back up, u turn, quite intelligent for late 1960s. Compare it to modern Roomba.
COX AMC Matador Stocker (NASCAR) Gasoline powered! Yes, runs on real gas. These big COX AMC Matador Stockers not only ran on real gasoline (back when it was 29 cents a gallon, but also had pneumatic steering, real rubber tires. Patterened off the successes of American Motors efforts in NASCAR (Team Penske) these wore red, white and blue paint. The two here, one is NOS, other used, both from my collection. They made a pppfffffffttttt sound and the LONG steering wheel tube used to get in way, but as you walked along with the car, you were driving a REAL GAS powered car. As a kid. These could really scoot along at a good clip I may add. Nowhere does it mention 'adult supervision' or like toys now, warn you not to do shots of unleaded gas and light a lighter to mouth like Gene Simmons of KISS. I'm sure some kids thought about it, but was more fun to cruise up and down street with a REAL GAS powered car. At least it was for me. Dad never realized the gas came from otr 62 Rambler wagon anyways, hee hee.
Mattel Hot Wheels Supercharger 1968. When these came out, they were the bomb. Put some D cell batteries in them, and hook them up to a oval track, and let the cars do the rest. You simply counted how many times certain cars could go around, the cars would come screaming out of this, propelled by two rubber/foam wheels. Some cars did better than others and like Hot Wheels modern tracks, some cars left wheels, headers, and other pieces behind. The longest "run" was a Cadillac Custom Eldorado in Spectraflame Blue which did 1102 laps before batteries on Supercharger gave out. This is my original unit and I drew fans and for some reason scissors on it, giving it a personal touch only 9 year old boy can do. Why is this pictured here? Hot Wheels released a POSTER about same time if you were in their club (or mail away) which showed a AMX screaming out of a Hot Wheels Supercharger! Possibly one of the best toys Mattel ever made to go with Hot Wheels cars, you can easily find these vintage units all over ebay. Artwork by legendary Otto Kunhi who did much of the artwork on Hot Wheels blister packs, boxes for decades, even into the 1990s, then back again in 2000s, that is 50-60 years (from 1962!!!) of stunning artwork. The original box is shown here with AMX, a 2010 poster with chrome AMX is last photo, you can find them on ebay, amazon also.
Jo-Han AMC Radio..Jo-Han models released a series of their AMC models with actual functioning AM Radios inside them. The last ones I believe they did was for 1968 like this Ambassador. AM was king of the dial back then with FM spotty except down here where you could pull Wolfman Jack out of Mexico. These are actual AMC promotional models with a AM radio, so could take to beach, anywhere like people do phones now. Except this Ambassador was about as large as a early 1980s cell phone. Still fun stuff. Like most AM radios with little if any, reception, my radio car will never play any more songs as the battery has been in it since 1970 and the Corpus Christi, Texas humidity did the rest. You can see the dial and speaker inside car. I was inseperable with this for awhile in late 1960s, & my dog Bootsie and me listened to it when there was actually music on AM side of dial.
Eldon AMC AMX 69-70 steerable air car. Battery powered, this like the big Matador by COX above, had 'pneumatic' steering that is, a small hand held bellows that would turn wheels right or left. Of you got good at it, you could steer it straight ahead but took some practice. The license plate read 1970 BUT it was a 69 AMX. Eldon toys rocked and this was no different. A battery in this could last whole day! It was like walking the dog, except it was a AMX. Not as neat as the 'gas' powered Matador but same effect. And years BEFORE the Matador came out. The photos below is of a NOS unit I have, and have a used one in collection, both from 1969. I am guessing that Eldon used a 1970 license plate on them thinking AMC would not change design on the two seater for 1970, after all Jo Han had released a "convertible" 68 Ambassador which never saw production.
Cragstan AMX. Cragstan used to make a lot of tin metal toys back in the 50s/60s. All sorts with lots of movement, like that damned monkey that hits cymbals while slapping drum, really innovative stuff. The little AMC AMXs like this that were friction powered had a little grindy wheel inside (at least the ones I had) that when you push the toy, the wheel on bottom would spin with a hypnotic effect, not that anyone was looking at it (we used to hold it in hand to look at it) but inside the car, tiny sparks would fly, lighting up inside of car like bad Cheech & Chong movie. My brother & me took one apart in late 1960s to see what made it work, there was little thin piece of metal slat that would rub against the wheel to make it spark while friction did it's job. Quite neat, Cragstan made a number of US car models that did this including Olds, Buick and Chevrolet.
Building and customizing a model yourself is fun as seen with this detailed red, white & blue Hayden Proffitt 68 Grant Rebel SST Funny car coming to life.
This is a AMX Phaze 2 metal Chapparal type racecar by Politoys some of the boxes shows it to be a AMX/2 and has a 343V8. I have two of these and sometimes things made overseas baffle me like the Starsky & Hutch Javelin see way up above. The box actually shows this as a AMX although looks more like a Chapparal.

Original AMC 3 spoke steering wheel watches sold thru dealerships. These were really well made and you would find them in the AMC Merchandising Catalog. I have been asked thru years to reproduce them, they were SWISS made!
Some AMC UAW badges picked up in Kenosha & a AMC Rambler Dealer keychain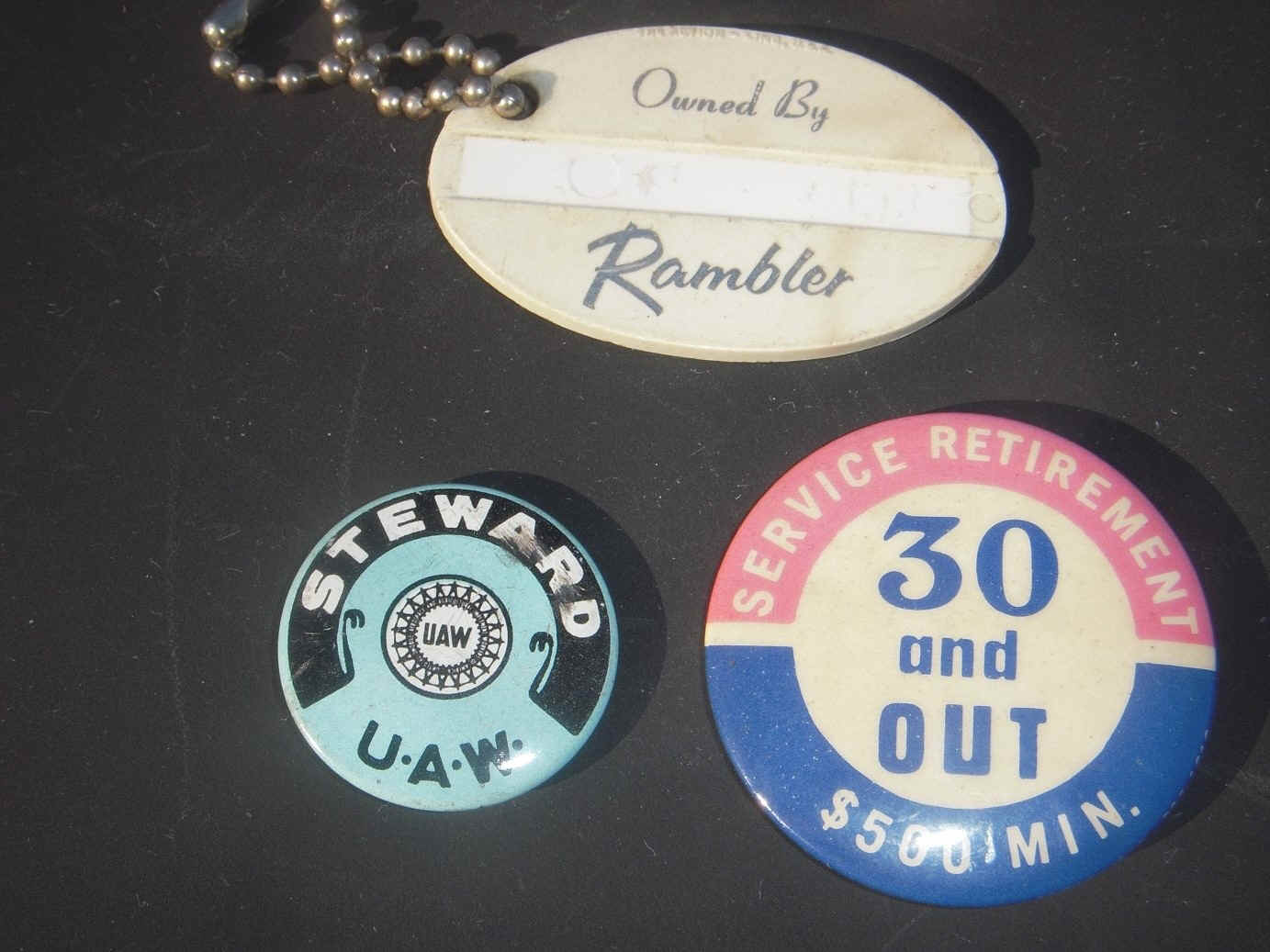 This AMC Matador coupe dartboard has never been out of bag. These were given to dealers to take pot shots at the competition, of course the new Matador coupe was the ONLY ALL NEW American car released in 1974, everything else was just cosmetic recycled shit. I can just imagine salesmen sitting in offices, bored, gambling for after work beers, or spare change in pocket of smokes with this board.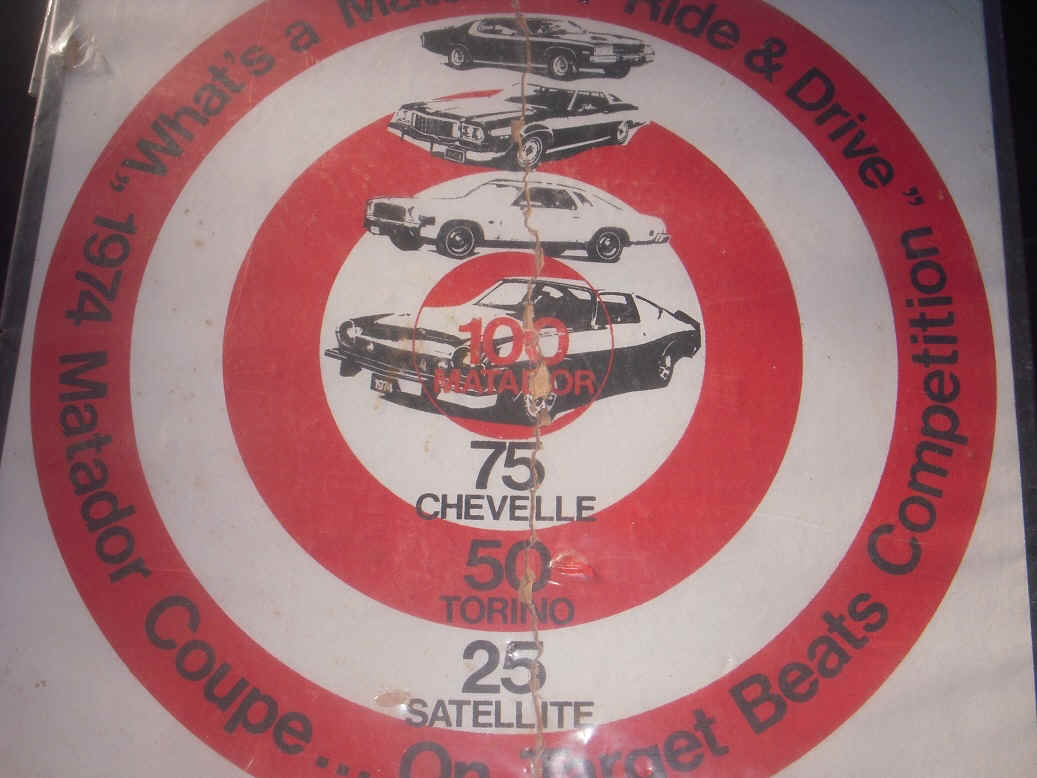 This is actaully a Group 15 item but figured would put in this file also. AMC had a variety of suppliers who made thei rcompasses thru decades, I have 5 different ones. This is possibly the oddest, a flat, lighted Rambler on actual logo inside glass. Most of the others have the usual AMC or Rambler decal on them, not this baby. This is extremely well made and shaped like pie pan UFO.
This is a AMC Dealers stamp for I would guess invoices, letters and such. It is SOLID METAL, about 1 inch x 1 inch. Back when ink was cheap this could soak up a lot of ink, possibly to fade thru several order sheets or invoices, it does use a LOT of ink, as have tried it several times. Ink is expensive as hell now, so this would be a expensive stamp!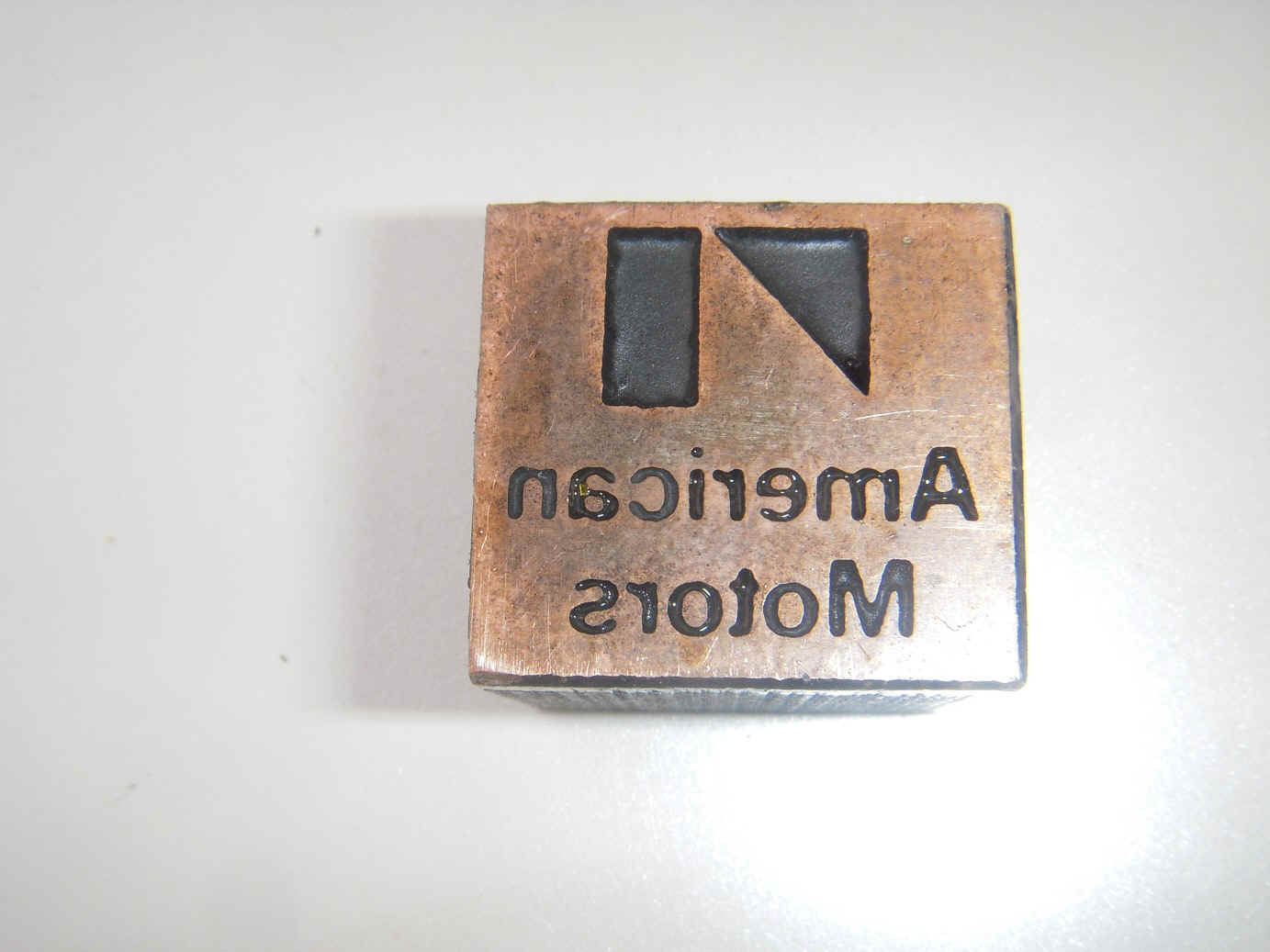 I have saved this little NOS AMC logo since 1973 as I have often wonder who in the hell was asleep at Windsor Plastics at the time this was made. Yes the AMC logo is UPSIDE DOWN. How in the hell did this get past all the quality control? Who cares, it has been in my collection since Nixon was president. AMC bought Windor Plastios & Mercury Plastics in early 1970s, both companies supplied a hoard of plastic injection moldings, interior hard and soft pieces, emblems and the like to AMC before AMC simply bought both places.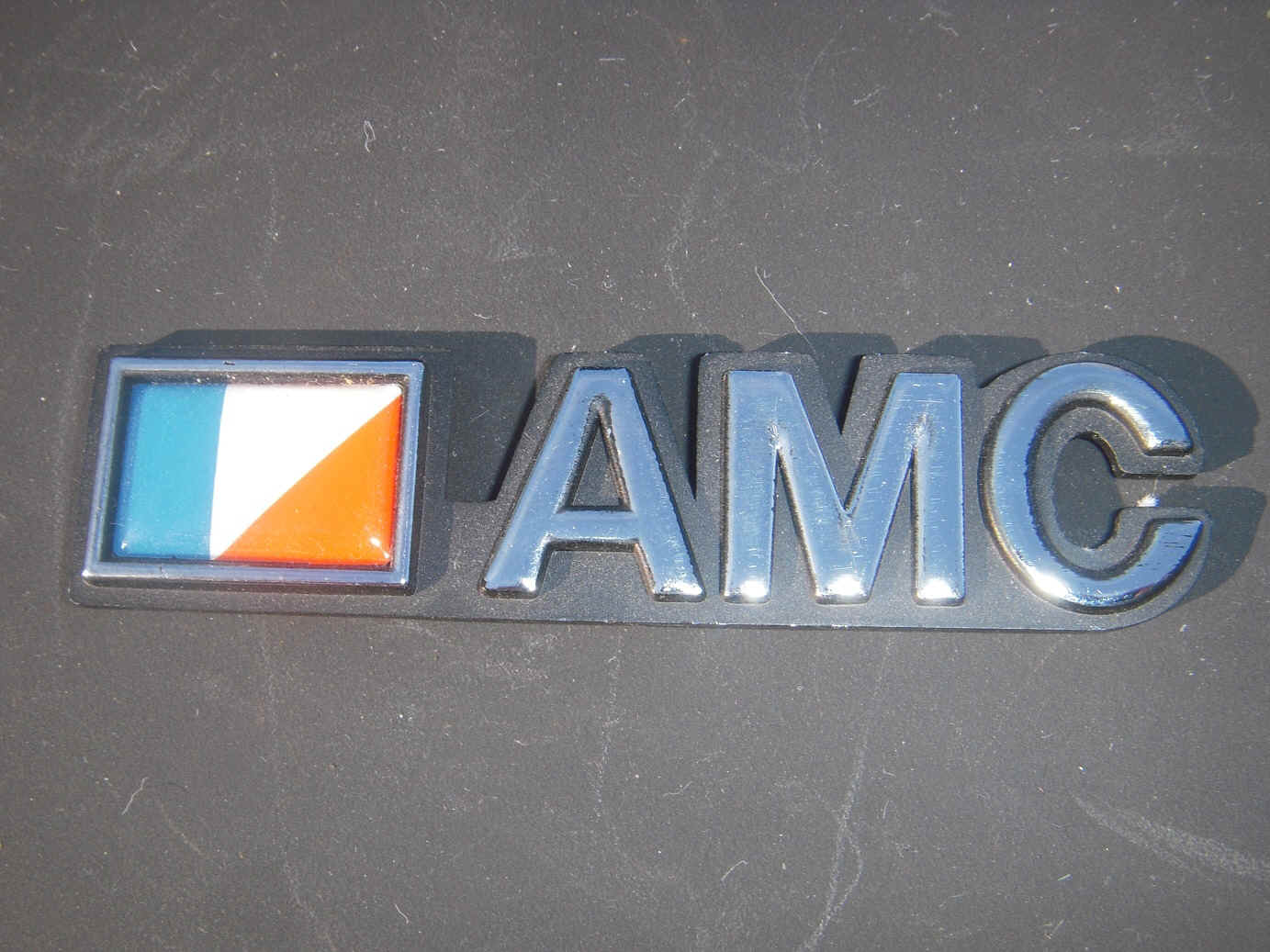 AMC stamp, these are real stamps one can use to mail stuff. This is a AMX stamp from island of St. Lucia. There are other countries that died this including some eastern Europe (Lavtia or Estonia) that had actual American Motors postage stamps, now if we could just get sorry ass collasping US postal system to do a AMC stamp.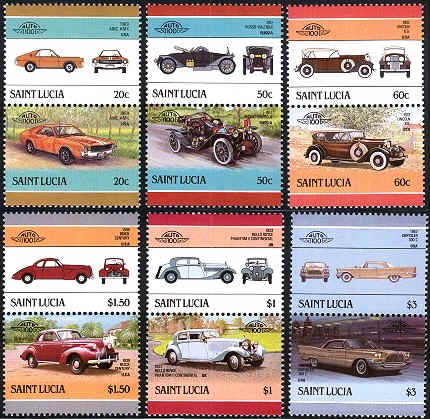 Falling into the "ART" category, depends on how you look at it, are these custom tables, front clips, one is a 68 Ambassador. The 68 Ambassador with 56,000 miles original owner car was going to be hauled to scrap before a Houston artist who does custom work stepped in. I called about the 290 no one wanted and asked if he would 'sell the remainder of the car' as I hate to see shit wasted, in this case, uber rare parts off a low mileage car. Remember this car was headed to CRUSHER by original owner. So I bought 'remainder of car' and parted it out on spot where you see it sitting in his driveway in Heights. He cut off front clip and you see the finished product below for $2500. He has done a number of these out of 'real cars' including Corvettes, Hudsons, Chevies, and I am sure some who whine about lack of parts groan when they see shit like this but what the hell, alternative was whole car would be gone by now. I do not know how many man hours Doc the artist had into this. The other is a custom Hornet hatch BAR B QUE pit. Not sure how it keeps the tail lights from melting, however a guess here is that it is heavily insulated behind that with heat shield. Quite nice I am sure all the que tastes better cooked on a Hornet ass.
From Russia with love comes this small metal diecast, 1:64th scal Pacer. Like most Russian toys, it has sharp edges for the kiddies and nice Chernobyl lead based paint that glows when the lights go dim weekly in Soviet Union.Even on it's worst day still better than owning a Soviet Lada.
Original metal license plate frames, it seems most of them were for west of Mississippi dealers, AZ, NV, CA, OR and WA. Rarely do you come across the METAL license plate frames from 1960s and 70s in other regions, but they do appear on ebay. The nicer, the more expensive, but usually top out at $200. Trenfel Rambler I bought at local swap meet for $10, while Randall AMC is sort of priceless, they were home of the Randall XR-401 Gremlins of AMC folklore.
American Motors "AMC" logoed clothes. These were available from the AMC Merchandising Catalog for AM Dealers, abd AMC's NASCAR Team commonly wore them at events. This is some of the NOS ones from collection. There is no truth that I jogged up Stone Mountain, Georgia in a AMC logoed thong and the mountian was evacuated and Hazmat called. I had some ";fun" in 1999 at at Regional there, that is about it......
LEFT TO RIGHT:
Bellbottoms, chef apron, chef hat; two different sizes of ladies halter tops, a number of AMC logoed pants, bellbottom and straight leg, on my fence, set of XL sized shorts, a original tag inside a pait of pants (note no manufacturer) and whole NASCAR Team at Southern 500, that is Bobby Allison with trophy, Linn barton on left holding flag, Crew Chief Wood Woodard in upper right and the late little Davey Allison with cast on arm, note the guys pants!
I'd Rather Be Driving My AMX. These iconic bumper stickers first appeared in middle of 1970s. They were paper and didn't last long unless you didn't affix them to car. So not best drawing, font, or bumper sticker. In 2015 I reproduced a limited number of them but in vonyl, same AMX, font, just vinyl. Black & white if you want one $5 each. While they last. You can stick it on your other AMC or brand x car or truck. 9 1/4" x 3 1/2".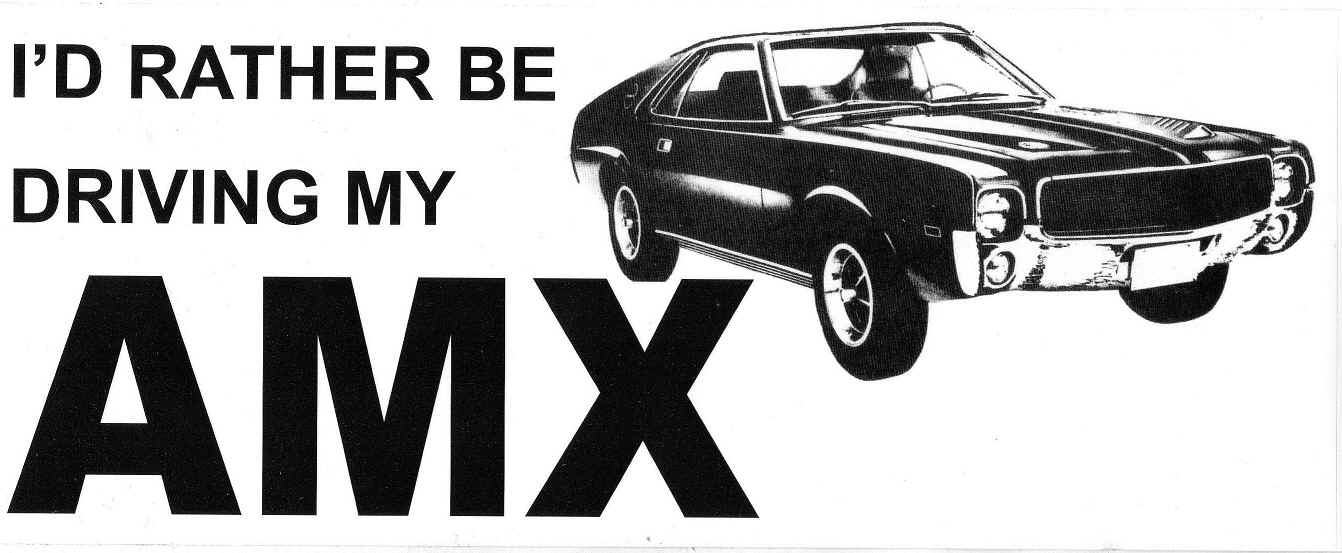 Mattel released a Hot Wheels poster years ago which featured a Hot Wheels silver AMX. The art is by legendary Otto Kuhne, the poster shows a AMX flying thru the air, with a tow truck, a US Mail vehicle, some black car & a Cadillac in the photo. The 2nd photo is close up of the AMX. These sometime appear for sale on ebay but also at swap meets where Hot Wheels are sold.
A real tough poster to find is the long, colorful AMC Dealership issued AMC NASCAR Matador poster. Features Penske, Winston smokes & more. Sponsored by Coca-Cola, I have never seen one for sale at any AMC national or regional, nor ebay. The first photo is whole poster, the 2nd photo is left then right sides.