AMC ESTATE SALE
ED HOOPER COLLECTION
50+ AMCs.

Serious Buyers Only Cash/Money Order accepted
for information Tommy
PHONE 214-586-6245

First off a word about Ed Hooper who was a friend of mine. Actually anyone in the south here probably knew Ed who had over 100 AMC, Rambler and Nash cars. Ed would travel a lot, and find American Motors cars like no one's business. Uncanny knack for that. And he would buy them, maybe low milers, bread and butter and cars many might pass on like wagons. He rarely did anything with them, hauling them to Fate, Texas, NE of Dallas, where had property.
At one time he wanted to trailer one down per month, let me detail and sell it, and keep portion of profits. He used to also tell me that 'the ultimate place to have a AMC SW Regional would be where the series 'Dallas' was filmed, SOUTHFORK RANCH, as they rented out the ranch for events' this is something he rode me on since at least 1985!
Ed was a humble, soft spoken man whose love for anything American Motors was uncompromising. He built several large Tuff Shed like buildings on his 10+ acres to house some of the more collectible ones, while others simply were hauled in and lined up as future projects. He once told me that 'sometimes he just likes to walk along and run his hand over the fender, wondering what story that car could tell, from assembly line, to owner, driver, dealer' which I thought fascinating.
My wife and I, Paige, went to Dallas on business in 2008, and stayed off Mockingbird lane, near the old original, well known, AMC dealership Mockingbird American, and a stone's throw from AMC's Dallas Zone office on Ambassador Row. Ed and me tried for 5 days to hook up, but either he could not make it, or I couldn't, as had Noah & Jacob with me during day. Ed wanted me to go up to Fate, about hour from where we were staying near Irving, to document the cars. We never hooked up. And on the last day we were in Dallas, Paige got off early from training (the oil field company she works for) and we decided to leave early.
I never spoke to Ed again and really regret it. It's my understanding he went to the doctor in winter 2009 for sniffles, as Dallas had a crummy winter, snowed several times, which is rare. But doctor told Ed he had cancer and Ed passed away March 2010 quietly.
Ed Hooper was a fixture at many AMC and mixed make meets, we would cross paths at some of the meets I vended at: Pate, Del Mar, Conroe, Chickasaw, Arlington, Rosanky, and of course, the AMC SouthWest Regional. He always was friendly, cordial, and enjoyed the people at these meets as much as looking at the cars themselves.
He will be sorely missed by any AMC fan who ever crossed his path.
With that in mind, the family wishes to sell off the collection, as the property has been sold. I flew to Dallas, and drove to Fate to try to document the cars, of which many photos appear below. You will have to contact Tommy who is handling sales.
This is a list of transport companies to haul cars off my Planet Houston AMX VENDORS list to help you if you buy a car or cars. These cars are all being sold as is, where is, and

(#1) 74 AMX A4C798P185615 Trim: 014093; 74798-423Q, F2; E058183
360, AT, AC, PS, PDB, tilt, tint, rally wheels, rally pack SOLD
(#2) 76 Cherokee Chief Jeep J6A17LZ079317; J158694, 12, 6R, 16E
PS, PB, AC, tilt, rally wheels, gauge pack SOLD $800
(#3) 80 Spirit Kammback, A0A460B233389; L051956; 8046-0; 006X; 9B; W055969
151 4cylinder, PS, PB, AC, tint, RARE LOW production! SOLD $400
(#4) 74 Hornet X hatchback, A4C037A432191; 169256; 7403-7; 413-R; D7; E329447; 258-6, PS, PB, AC, Levis interior, Floor shift, AM radio, tachometer, Rally Pack, Dealer demonstrator.
*Yes, this is factory paint job, red with blue interior and "blued out door metal areas*
SOLD $600
(#5) 76 Pacer X; A6C667A110703; L003114; 7666-7; 626Q; 6P; E004214
258 six, AC, PS, 56K miles, rally wheel, floor shift, buckets, tint, luggage rack, rally rims
SOLD $1325
(#6) 83(?) Eagle wagon, 2CCCK3856G706783; 16785; 385; 35R; 39;
258 six; PS, PB, AC, tilt, heated rear glass, luggage rack
SOLD $400
(#7) 75 Matador wagon, A5A887H260347; M051750; 7588-7; 566-L; H4-W0; W054706;
304V8, AT, PS, PDB, AC, AM/FM, tint SOLD $400
(#8) 83 Eagle wagon; 2CCCK3851D8701230;
258-6; AT, PS, PDB, AC, tilt, tint, 47K miles, rear defrost, AM/FM, tow package
SOLD $400
(#9) Nash Metropolitan year unknown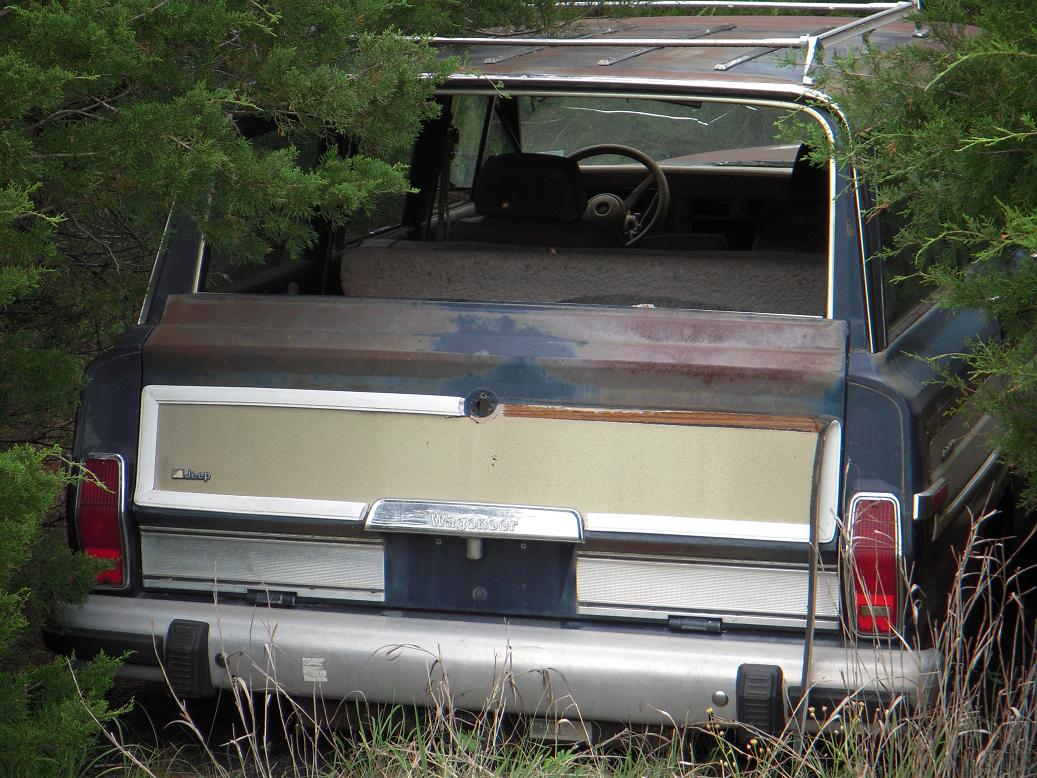 (#10) Jeep Wagoneer in bushes. This Jeep has massive bee hive in it, was told to stay away from it, you can actually see the bees swarming in this photo coming in and out tail gate glass. Obviously a big hive, suggestion would be to bring 5-10 poison fog bombs to lug into this before getting within 5 feet of vehicle. Ed was fond of 401 Wagoneers this could be one of them, you will have to be braver than I was though. *I have been told by a fellow AMCer weeks later that after this Jeep was pulled from bushes and hauled to front of property that is is a 401 engine.
SOLD $200
(#11) 83(?) Eagle station wagon
Rare five speed manual Eagle wagon, the fellow put a battery in it, cranked it up and was driving it around yard, so I don't have any information on this particular one, might be a 83.
Sold $500
(#12) 71 Hornet Sportabout wagon; A1A087E304500; no door tag information as could not open door 232 six; AT, PS, PB, AC, tow package, tint, luggage rack
SOLD $400
(#13) 1970 Mark Donohue Javelin SST, A0C797P222760; R022957; 7079-7; 069E; 84A; E062626, Mar 70 360, AT, PS, PB, landau roof, non go pack, I have known this car since 80s before Ed owned it. Actually I could have bought it in 1981. SOLD $500
(#14) Year unknown 60-61(?) Rambler 220 2 door; 3610105
(#15) 1982 Jeep Cherokee Chief 2dr, six cyl, granny stick, loaded, was running a few years ago, but engine problems, easy resto on rare and solid truck. LAST YEAR CHEROKEE CHIEF this style body made SOLD
(#16) 70 Rebel Machine body, A0M109Y171193; 033529; 7019; 051F; 25A; W034211
Ram Air hood, no engine or transmission, has AC
SOLD $700
(#17) 67 Rebel SST convertible; A7KA77H104050
290V8; AT, PS
SOLD $500
(#18) 77 Hornet Sportabout 304V8 wagon; A7A087H197759; K044204; 7708-7; 716-L; 7B; E044969 304V8,. PS, PB, floor shift, cruise, rally wheels, tint, AC, leather, luggage rack, heated rear glass, was former AM Dealer Demonstrator vehicle Ed beat me to this one in 1980s
SOLD $600
(#19) 72 Gremlin; A2E465E110503; no door tag info; could not open door
232, 3spd, AC, luggage rack, rare grille intact, has cuts on rockers, otherwise easy resto
SOLD $300
(#20) 69 Rambler 440 wagon; A9A085B115932; 004780; 6908-5; 941-D; 6872-A; E008162
232, AT, last year Rambler wagon, only year 440 wagon, rare two tone
(#21) 65 Rambler American; 079628; 6506; 522-C; 4A; E148058
Engine size unk/could not open hood; AC, 3spd SOLD $300
(#22) 73 Matador 2dr, A3A197H130132, could not open door to view door tag
304, AT, PS, PB, bucket seats, last year this body style SOLD $800
(#23) 80 Pacer wagon A0A685C135078; L019626; 8068-5; 025-P; 9P; W0221467
258, AT, AC, PS, PB, luggage rack, AM/FM, tilt, electric locks SOLD $400
(#24) 69 Rebel SST, 2dr, A9A197C239864; 071421; 6919-7; 973C; 65A; W072443
232 six cylinder, AM radio SOLD $800
(#25) 70 Rebel 2dr, A0A109G142786; R012287; 6819-7; 873E; 72A; W034575
360(?) V8; PS, PB, tint, I do not remember the fellow who sold this to Ed, but he was a frequent fixture at a number of northern Texas swap meets like Arlington and Pate. Not a 'real' Machine, but looked great, sounded great and unsure when Ed bought it. SOLD $800
(#26) 81(?) Spirit 1AMCA4358BK205771
could not open doors to get door tag information or unlatch hood
(#27) 81 Eagle 4x4 Kammback 2ACC606BK185920 C30785; 8156-0; 156X; OK-1E; E054998
258 six(?), AT/floor, bucket seats, rare only handful made, never see at national meets, odd Gremlin/Eagle four wheel drive hybrid only made 2 years SOLD $500
(#28) 79 Spirit AMX; L031313; 7943-9; 901-U; P1; W031403
304 originally, but might be a 390 or 401, has 390 valve covers SOLD $400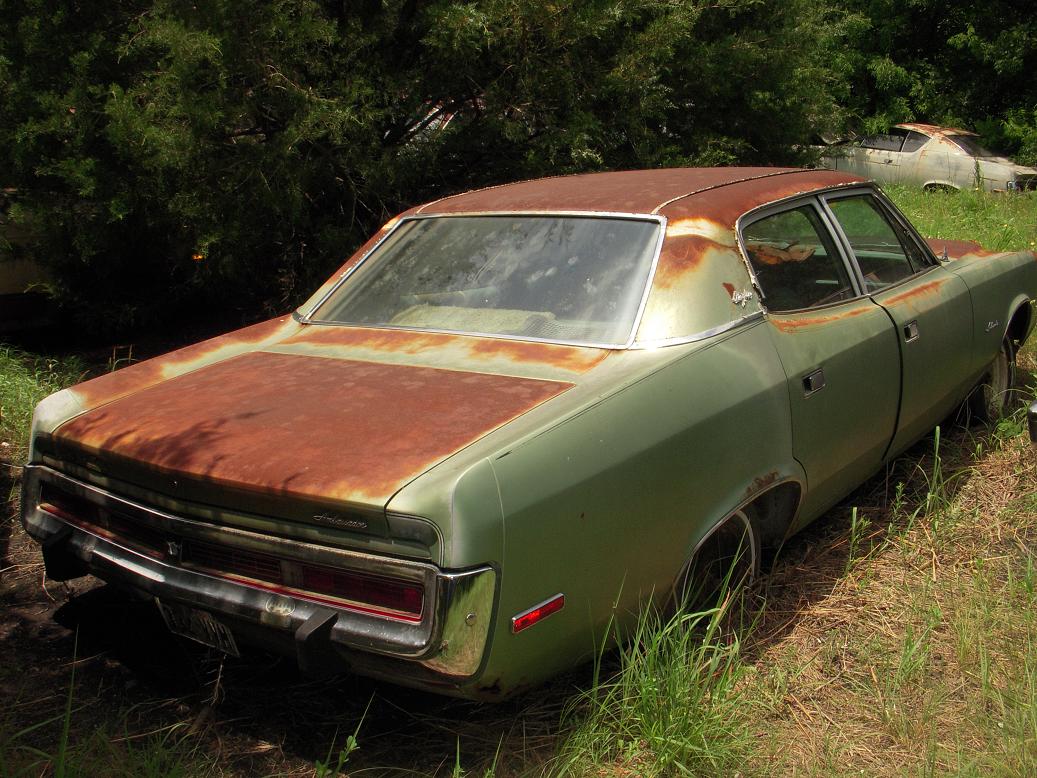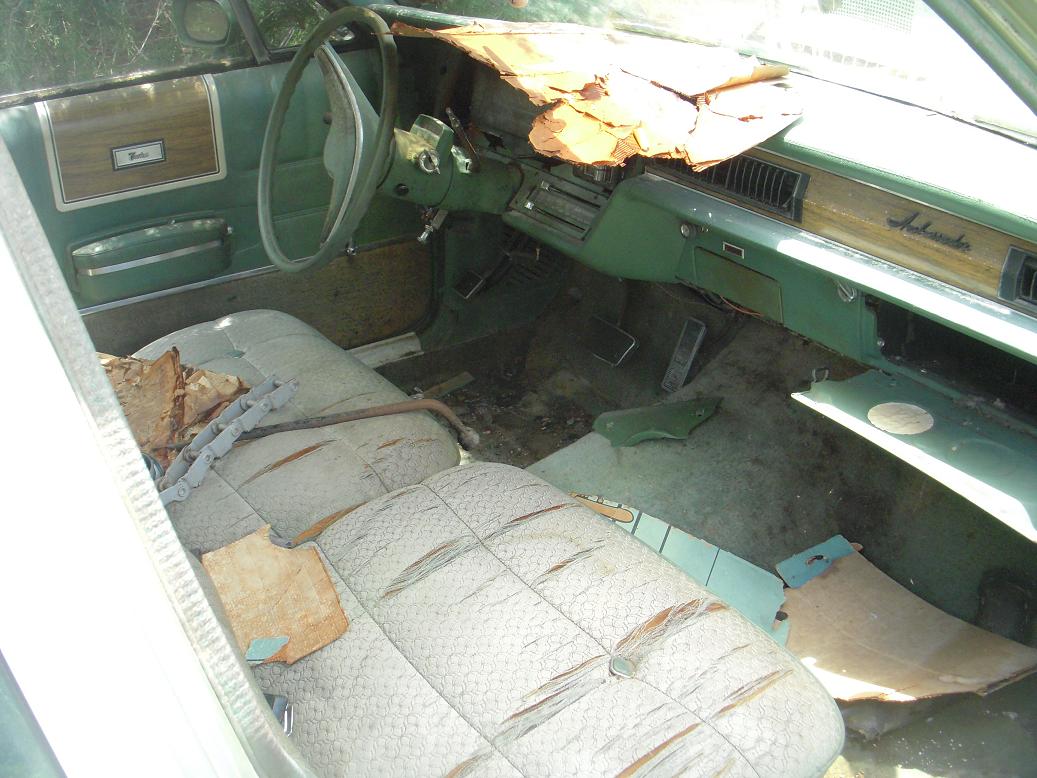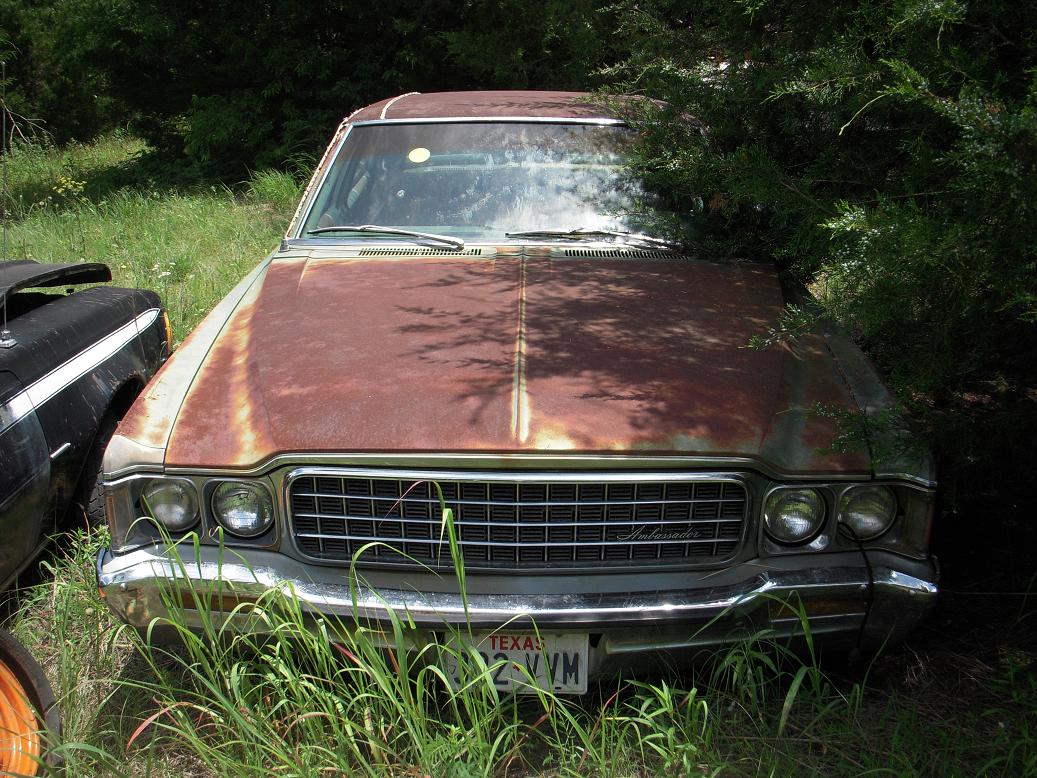 (#29) 73 Ambassador 4 door; A3A857N148033; could not get to door tag due to tree360V8, AT, PB, AC, tilt, tint
SOLD $400
(#30) 76 Gremlin X 304 Dealer demonstrator, factory black. This was my dad's car, Homer T. Stakes, Sr. for many years. Extremely loaded, P1 black, last year AMC put V8 in a Gremlin, only 876 produced (from memory). Was All American Motors Demonstrator; dad got to drive this around, then bought it. Ed bought it directly from him in 80s. Warning, serious rust issues due to time spent in Corpus Christi, Texas. I was overcome seeing my dad's car (dad passed away in 2005 and is up there in AMC heaven, now and boy is the AMC bullshit flying could not get damned word in edgewise when those two crossed paths) but was so overcome at seeing this again I forgot to write down any information on it as had to take a break in 90 degree heat.
SOLD $300
(#31) 66 Rambler American; 054406; 6609-5; 645-D; 03A; E082716
232 six, rare 'console' automatic, looks to be original red
(#32) 79 Pacer 304V8 wagon; A9C687H144964; L018450; 7968-7; 926P; 9K-9A; W820630 304V8, AT, PS, PB, leather, cruise, heated rear glass
SOLD $500
(#33) 76 Pacer, A6C667C340473; L102683; 7666-7; 629-P; 6P; E163266
258 six, AT/floor shift, bucket seats, AC, PS, PB
(#34) 69 Rambler drag car 002411; 6906; 923Q; 72A; E004094
360V8, AT, Was raced competitively in Texas and Louisiana. No VIN, not street legal. SOLD
(#35) 79 Spirit AMX; A9C439C166168; L021765; 7943-9; 906U; 9L; W027538
258-6; AT, AC, PS, console, rally pack, some flairs intact
SOLD $1500
(#36) 77 Hornet AMX, K030393; 71037; 71Aq; G7; E031233
304V8, AT, PS, PB, AC, rally pack, cruise, tint, heated rear glass, aluminum rims, all flairs, and louvers intact,
THIS IS IN MY COLLECTION CURRENTLY
(#37) 70 Hornet SST 2 door; A0A067E257151; 053496; 7006-7; 041A; 91A-01A; E080848 232 six, AT, AC, 47K original miles, nicest car in collection, first year Hornet, never seen one TWO tone paint. This will be a concourse level car with minor detailing would debut in Gold Class, quite a rare find.
SOLD $1700
(#38) 73 Gremlin X V8; A3A465H203854; 059632; 7346-5; 315-S; D7-GX; E057893
304V8, AT, PS, AC, 8 track, luggage rack, was running when I was there; sounds great,
SOLD $2500
(#39) 81 Eagle SX/4 SPORT; L003952; 81-535; 156V; 1MOT; W003592
258-six; AT, AC, PS, PB, tachometer, rally pack, 104K miles, buckets, one of the nicest SX/4s I have seen in last 20 years. Appears to be original paint and interior. These 4x4 small two doors only produced 3 years by AMC, from thru
1981 THRU 1983, this will be a easy trophy for someone with minimal effort!
SOLD $3000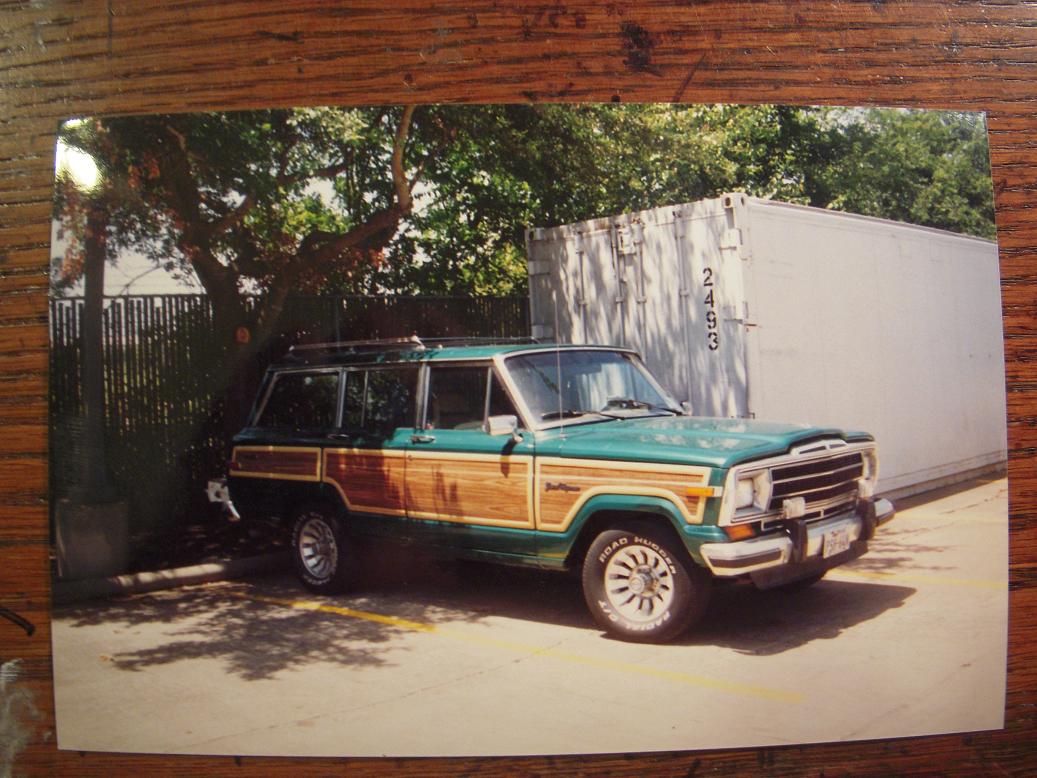 #40 Jeep Wagoneer. This is a photo I took at the AMC national meet we did here in Houston back in 2001. Ed drove this down and boy, was it nice, loaded, and green. Had lots of looks at it all day. THIS PHOTO IS FROM 2001. I am pretty sure this is the one vehicle I didn't get to take a photo of up in Fate, Texas, May 22nd, this Jeep is away from the building and other cars, sandwiched between some cedars. It is supposed to still be running condition. My apologies for not getting a photo of it as simply forgot due to time constraints. Ed was mighty proud of this Jeep and took extremely good care of it maintenance wise. It looked to be in rather good shape also at the place in Fate, I just forgot about it since 50 yards away near front of property! SOLD $800
MOPARS & CHECKER CABS
Dodge Magnum VIN XS22K9R207827 Date Mfg: 2-79
Dodge van 81(?); Ed used to drive this to swap meets and load it up with stuff he would but, sometimes my AMC stuff graced the panels of this old warrior.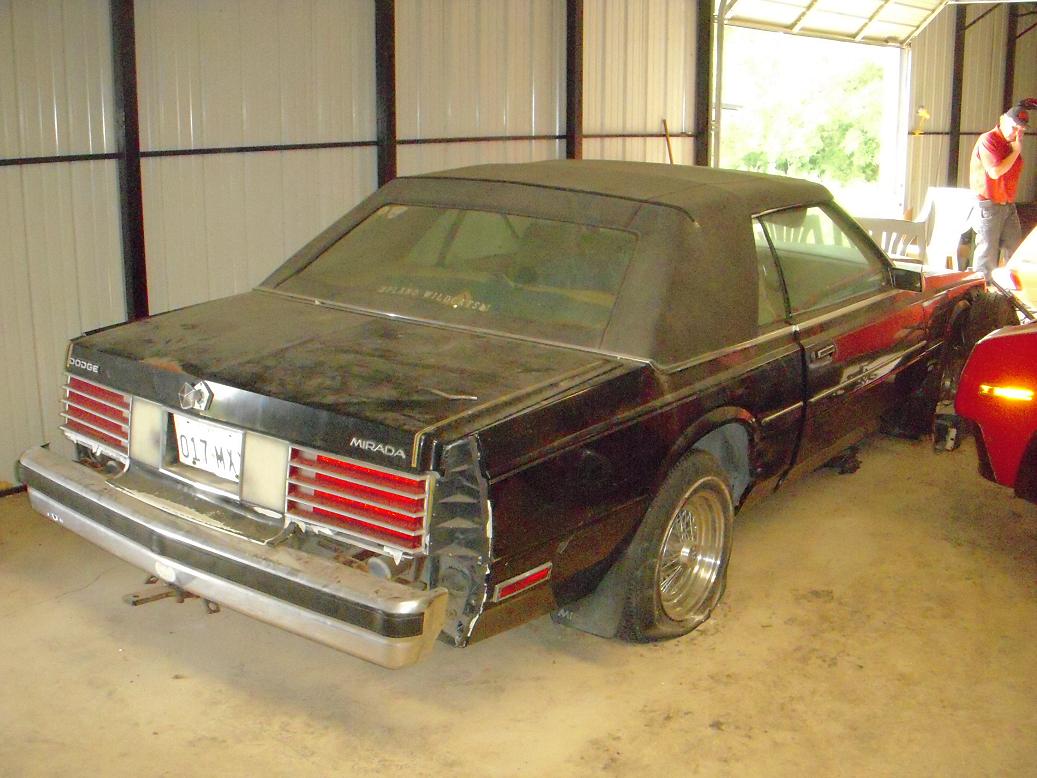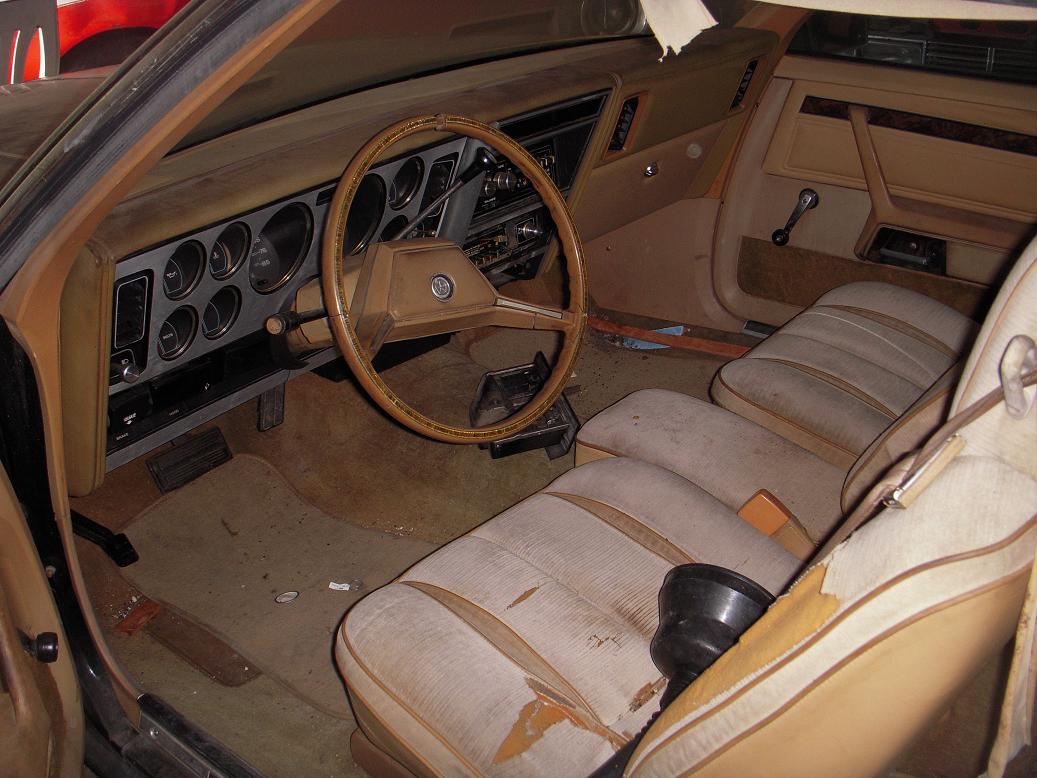 Dodge Mirada
Appears to be top of line for this type car with fake convertible top, loaded out, spinners, gauges SOLD $400
Checker Cabs!
YELLOW CAB SOLD $1500
FAMILY CONTACT:
Tommy at 214-586-6245.
The cars are located in Fate, Texas. They are "INOPS" which is "inoperable vehicle" (dead battery, brakes no good, trans shot, ect) you will need to mention this to transport company. You will also need TO GIVE THEM ZIP CODE of 75132.
AUTO TRANSPORTS:
RY Auto Transport; Grand Prairie, Texas (Dallas Metro, this is less than hour to Fate, Texas where cars stored) PHONE 972-264-3977; FAX 972-642-7613
Jim Guinn, Nocona, Texas. PHONE 940- 389-8997 jjimsresto@aol.com Single Car Hauler

CSI Transports, Houston, Texas PHONE 713-451-1515 FAX 713-453-7889
Passport Transport, St. Louis, MO, TOLL FREE 800-325-4267; PHONE 314-878-5777; FAX 314-878-7295
Arrow Auto Transports; Louisville, TN; TOLL FREE 877-60-ARROW; PHONE 865-379-5535; FAX 865-681-9291
*Not associated with this AMC sale, but I am PARTING OUT A 1974 AMX AND 88 EAGLE WAGON in Houston, Texas. Also look thru my
ebay stuff for lots of AMX & Javelin items.
Final thought. Ed was as nice of a guy, as the Texas day is long. He had a slow, low, drawl to his voice and would 'crawl' words like 'welllll Eddie, sure wish you'd buyyyy that Matadorrrrr wagon' for instance. Helpful at AMC meets, always kind and considerate, you could stand and talk to him for hours at meets.
Big problem! Ed would commonly buy AMCs and ask the seller's if he could leave them for awhile there at the place he bought them. 99% of them would say no problem. My dad, Homer T. Stakes own Dealer demonstrator, a 75 P1 Black 304 Gremlin X was one like this. Ed bought if from my dad, and asked if it was ok to leave it 'for a few months' down in Corpus Christi, Texas. It was there 8 months before Ed brought it up to Dallas. Ed has cars scattered in Texas, Oklahom, Louisiana, Arkansas, Georgia and possibly Missouri and New Mexico however. The family will be hard pressed to locate these cars. While some may/may not have a title, if they do have a title the title may not be in last known owner's (seller) name!
I would estimate that of the 50 cars that ARE in Fate, Texas when Ed passed away unexpectedly, that there is probably 50-100 MORE out there he never brought home. We will never know. Sure, the family might get lucky and locate a handful later thru title searches or following up leads, bills of sales, and what not, but most I guarantee you Ed sadly took all knowledge of them to his grave, and the seller's in all these sates won't know Ed passed away.
The last time I talked to Ed Hooper was the Dallas trip in 2008/summer. He mentioned a SC/360, Matador wagon, Ambassador police car, and several AMXs and Javelins "he had bought but not had time to bring in" so I know for fact at least 10 of them were 'out there' then.....not sure he got them to Fate in the 2 years that passed, however, I DO know the SC/360, damaged by tornado, never made it as I was interested in it. Hopefully thru some sleuth work and vigilance the family can somehow locate all those American Motors vehicles Ed bought.....but never brought.....to Fate.
SOLD TO A GOOD AMC HOME!!!
the below have been sold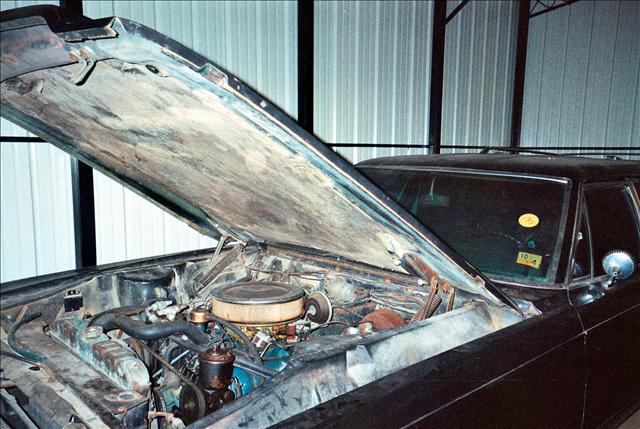 69 Ambassador SST station wagon, 390V8, factory P1 black, A9A887X210850, this was a Dallas area funeral home 'flower car' $775.00
70 AMX Big Bad Green/Shadow, 390, AT, sold $3500
74 Javelin, 360 AT, $900
69 AMX, 390, 4spd,
72 Javelin SST, 360, AT