AMC Cars In Barns
& Rotting Ramblers!
(new photos)
Bring your barf bag to view this file. You know them & you have seen them. It could be in your yard, near your double wide trailer. It could be behind your best friend's house. Maybe it is one of the local AMC club members who 'promises to fix it up one day' while it rusts into hell. It could be a 'collector' or 'hoarder' who likes to buy every AMC they see like some old skanky folks with mental problems collect stray dogs and cats or on the cable show Hoarders. Problem is, the cars are out there. So are their owners. It could be financial. "I'm gonna fix it up when I get employed" (They haven't worked in 10+ years). It could be sentimental. "The car was bought new by my uncle's dad who was his cousin."
Sometimes it is reasons for, uh, reasons. "The car is a good place to store stuff since it ain't got no rear seats." Or "I can't find parts for it since it be sittin on the ground there since 1982." And 90% of the time it is just fucking stupidity of the owner. Yes, stupid owners of old cars letting them sit where they last ran, or where they died, or where they last pushed them, windows open, flat tires, trees growing thru the hoods, the 68-70 AMX is one of America's finest flowerpots, very biodegradable, they always return to the Earth as a fossil fuel. Some of the cars you see on my website's 'my cars gallery' are just that, pieces of shit that only exist in a photo now due to the idiots who once owned them. Uh, ME included. This webpage is dedicated to those 1968-70 AMXs that have met their fate one way or another due to some of the reasons listed above. We want to honor their memory while also showing the world that IDIOTS exist in all forms in the Old Car World, not only Mopars like in the Cars in Barns website, but also with our favorite marque: AMC. If you wish to send me your own horror story and a photo of the offending AMX, please do, jpg file only with a brief note of the city/town, the year, and owner if known. Happy viewing here on a empty stomach!
Nothing says totalled like a Rebel Machine that tangled with a F3 tornado
This is how we like to remember it....for sale at Houston car lot for $3500.00 cash!
At least they are inside! Not sure who sent this but there is a Machine, looks possibly a SS/AMX, Pacer, Rogue or American, and check out the little Pacer Go Cart on the floor. Not to mention all the pedal cars up top! Neat collection that is not outside rotting!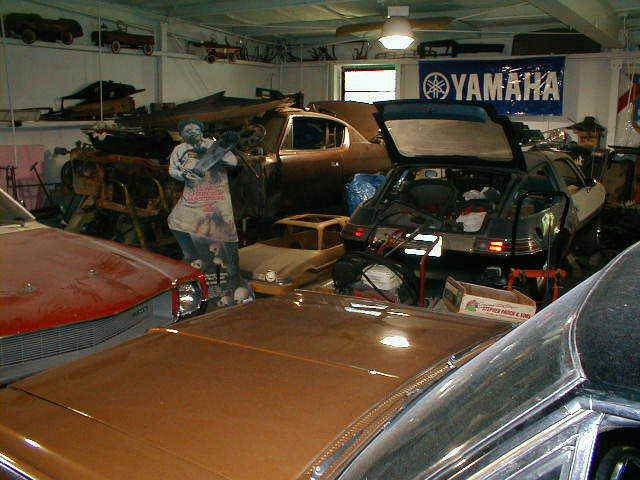 Here is one to get you started. 1969 AMX, 390 AT, some blue originally,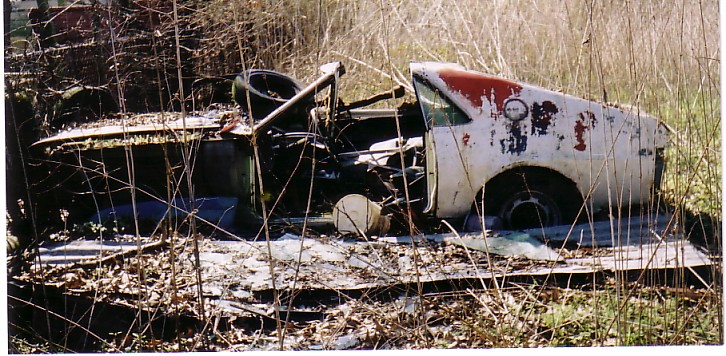 t/tops cut into it, has it's own garden growing in the troughs on either side where fenders used to be. Car goes 1/2 way underwater in east Houston when the area floods. Car is stuck to the ground solid. Door glass broken out on each side, trunk is rotted thru to gas tank. Car amazingly still has the 390V8, console, dash, 1/4 glass and Twin Grip. Owner Unknown of property. Photo taken February 2003, Houston, Texas.
====================
Alan & Kelly Cardin comments: "Found these cars in field alongside Hwy. 101 in Santa Rosa, CA. about 3 years ago. Made several attempts to locate the owner, which went unanswered. All the cars have since disappeared, probably for good." This 70 AMX with reverse shadow mask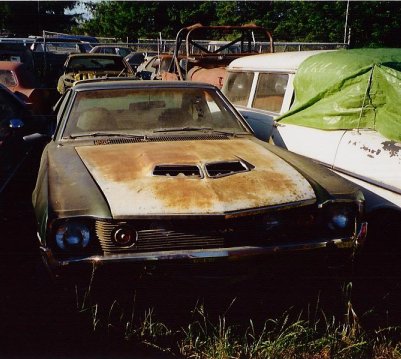 was one of three in the yard. Alan affectionately called these photos he sent 'lost loves' which is appropriate but also sad, as the owner of the yard had a lot more desirable iron in there than AMXs, but sadly, like many of these folks, let them go to shit.
Two Ugly AMXs: Frost White AMX & Big Bad Green AMX
and was one of only 286 made in 1969 and about 20-30 BBGs known to still exist. Nice hole drilled in the center of the hood, if they knew how hard it is to find a damned 68-69 AMX steel hood, much less what one costs, maybe they would not have done that. But then maybe they didn't give a shit either. As with most of these cars, they probably only remain on film and have went to AMC Heaven.

The Frost White one sports a luggage rack and appears to have red interior. This would have been a brilliant combination if fixed up. The Big Bad Green looks to have tan interior. Not to many colors go with that Catholic Schoolroom Green color. Plaid maybe. Both cars sport 390V8 emblems. There was some serious old car iron in this yard. Alan jokingly referred to these three AMXs as 'lost loves'.
=========================
Joe Fulton of Salinas, Calfornia writes: "Here's a 68 AMX,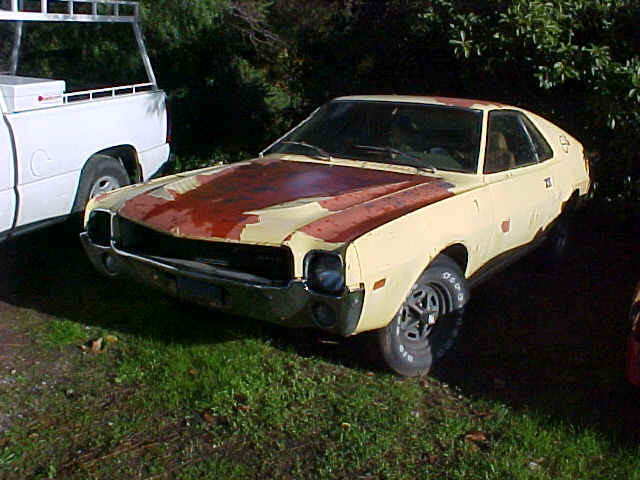 Actually this car is not that bad, was originally Bayshore Blue and may still be for sale in San Luis Obispo CA. The owner may kill me if he knows I sent this." This car while ugly, only looks like it has a bad case of mange. A quick trip to Pet Smart for some Growpup Wash usually cures this. But then a few shots of Cabo Wabo Blue Agave Tequila also makes the fat broad with three green teeth sitting at the end of the bar look good around last call too.
Joe, don't get killed taking pix of ugly AMXs!
=====================

This one is not too bad, sent from Ralph Winslow who comments: "Yes this is a sort of ugly 68 AMX,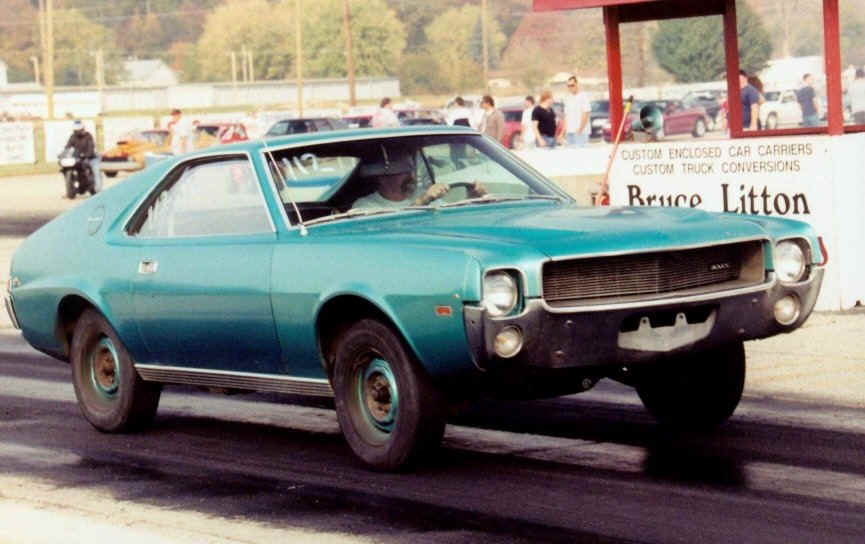 but it runs high 14's on 185-14 tires with a 3.15 rear and B/W automatic and is pretty much dead ugly stock other than 075 head gaskets installed by the previous owner so he could run it on "Farm Gas". This is with a non functioning accelerator pump
that makes launches difficult!" But some of these cars HAVE WAY TOO MUCH POWER AND TORQUE, and on the very next run, Ralph said the car twisted itself into a "U" and blocked both staging lanes, sort of like you see those refurbished Hyundais driving along the freeway sideways.
This AMX looks like it needs Ex-Lax! Or way too much torque. Same fellow photoshopped this for me.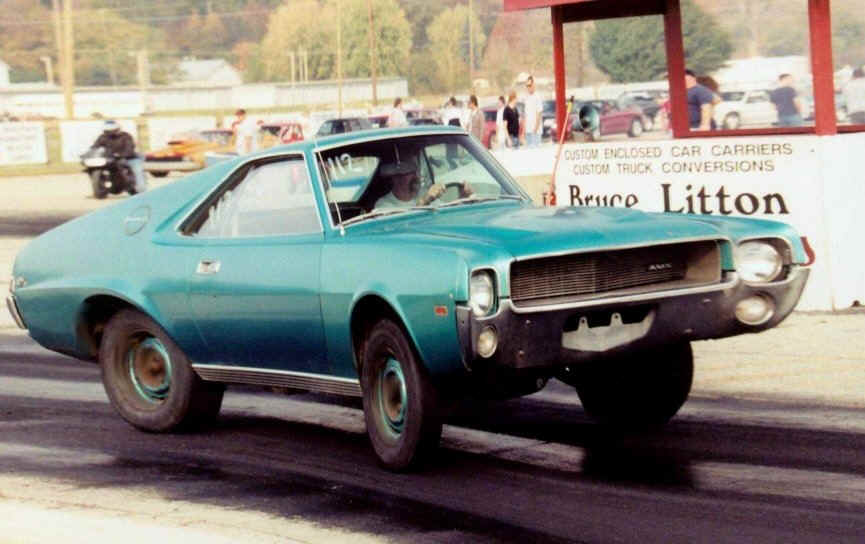 ========================
AMC's make great chicken coops.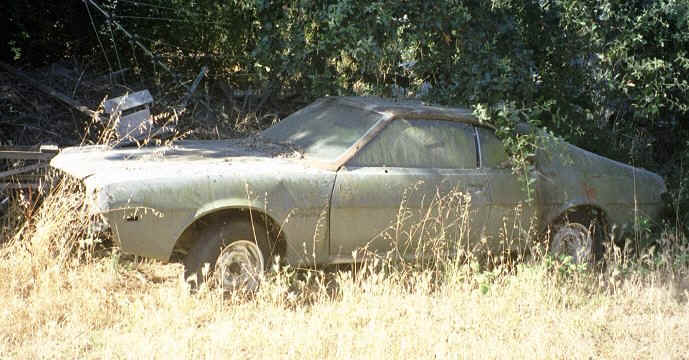 The chickens can roost on the steering wheel, shitting all over the Ventilair Vinyl seats where the maggots eat thru, leaving only the frame for Farmer John. The smell is almost like you would smell in a new Toiletota. Oh what a feeling! Only fresher. The eggs roll out the drain holes on the bottom for easy collection.
This one smelly ass Ugly photo sent by Alan Cardin.The car has been sitting like this since 1980s.
========================
This piece of crap has a happy ending! "Saw your post on the forum, so thought I'd send this one. 69 AMX, 343,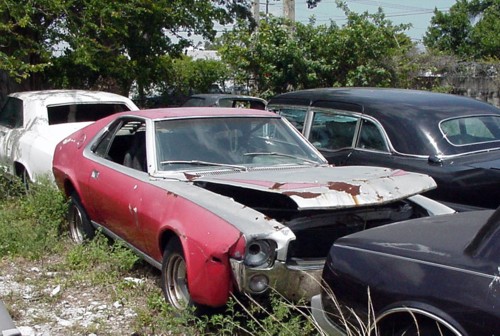 was sitting in a yard in Ft. Lauderdale. Wanted way to much for me (I was going to part it out). Turns out, a guy I know bought it two years ago and it's almost
restored. I sold him a bunch of parts for it: Steve Singer"
========================
Eddie , Jack Pennington from Great Lakes AMC This 69 AMX
was near Port Huron MI. Listed in local auto trader. The guy living in the trailer on the land where it had sat for 10+ years with open windows., wouldn't take less than $1600.00 for it. Hope he likes looking at it. No floors no rockers, "a" pillars were rusted through; had trendsetters (inside the car naturally). Jack, that car is ugly, he should sell the trailer and move into this ugly AMX, there is enough room in the back wihout a seat to fit a family of four!
========================
I bought this pair of Ugly AMXs from a fellow on the east side of Houston. They had been sitting there in a Frozen drag race since 1983....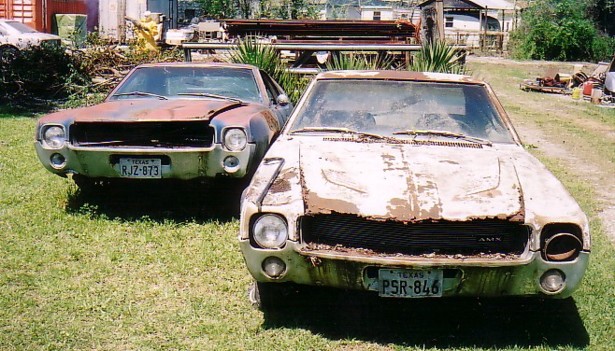 Channelview, TX is just east of Houston, and we are about 50 miles from the Gulf Of Mexico, so the humidity is over 70% year round and while it might not be the same type of rust many yanquis are used to seeing, this 'humidity rust' starts from the top down and eats the cars alive. This blue 68 AMX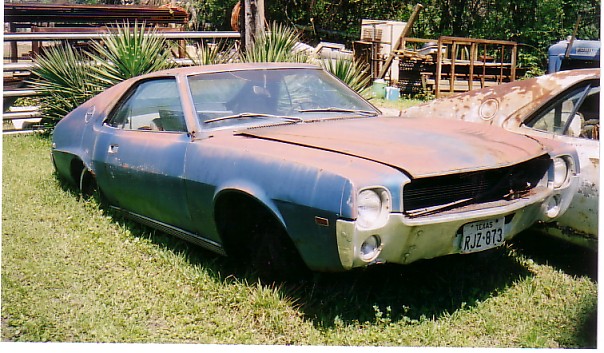 took almost a day to get the rear brakes/drums unlocked as it was filled with fire ant nests, rust, and had literally welded itself together. This white 68 AMX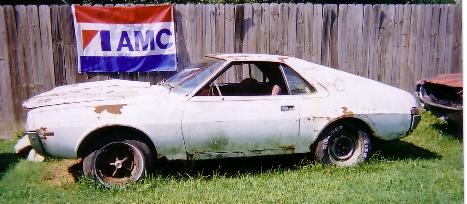 was once a stunning car (geez, all of these son of a bitches above were!) but this AMX originally started it's life out as Laredo Tan with Red Interior, 390, 4spd, a stunning color combination and one of only two I have ever seen in that combo. Now you can poke your finger thru the roof, and the trunk photo shows this car has it's own ecosystem with minnow, frogs, and other endangered species. This 68 AMX trunk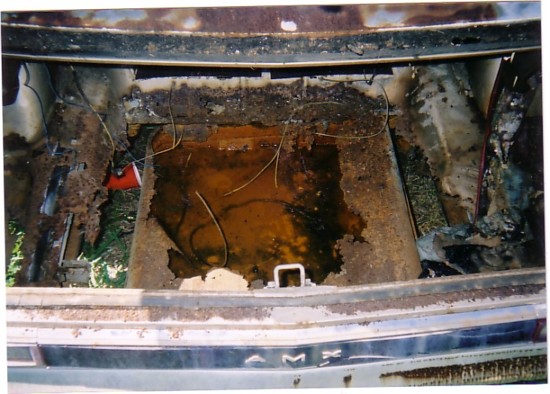 area, this is the bottom of the gas tank you are looking into. And yes, it does have live animals in it.
=========================
This 70 AMX has seen better days. What is amazing is that it still has some good parts to surrender. Yes, some AMC fan had a sense of humor spraying 'big bad' on the rear.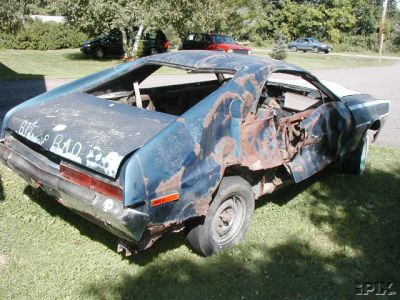 =========================
This 68 Red AMX has also seen better days. It was parted out in a driveway much to the civic organization's chagrin. Not worth losing your home over a ugly Rambler; but parting one out can take less than a day.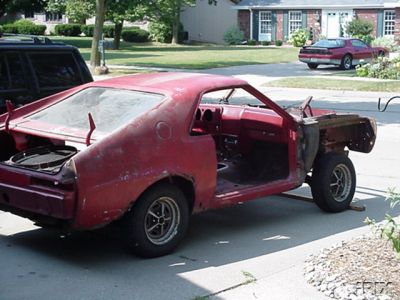 =========================
A beater 69 AMX in Arkansas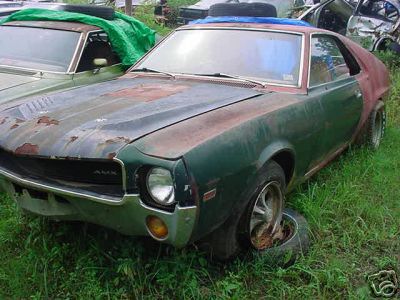 in green kept popping up on ebay like herpes over and over with no cure. AMCers are not idiots and no one bid on this piece of shit the three times it appeared for $900. For $900 you could buy AMC back from Chrysler, and Lee Iocrappa would toss in a few K cars. I don't know what ever happened to this car, this is a classic case of the car is worth more in parts.
=========================
A 70 Big Bad Blue AMX one of less than 125 made, deserves a better fate. Parted out sadly.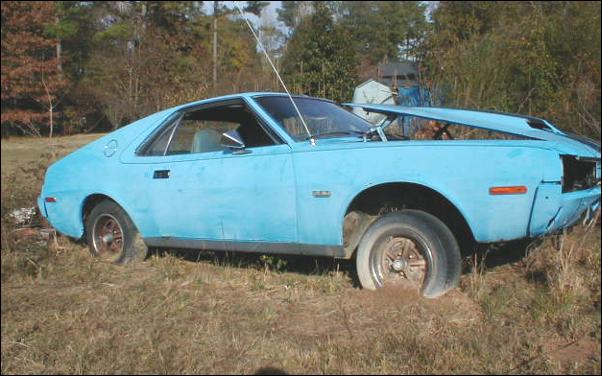 =========================
A sad 71 AMX once blistered American highways, now quietly rusts in a field, 2054 made.....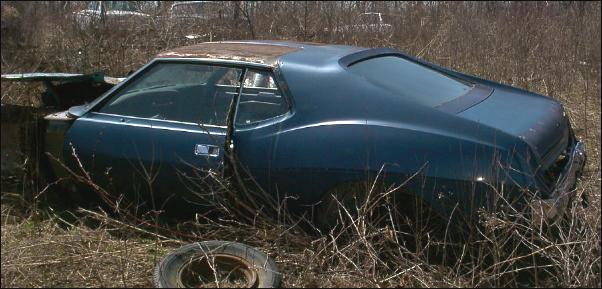 =========================
Yet another 71 AMC AMX, 401, was on ebay and no buyers in Feb 2005 for $1000; owner dropped the price to $900 but still no takers, was advertised as a 'great parts car or restore'.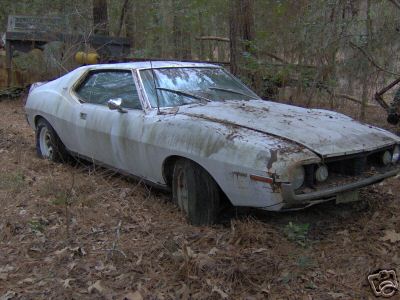 =========================
I have preached since the 80s not everyone wants, nor appreciates these fine cars like us AMC fans do. Here is a solid 72 Javelin 360/727 Chances are it will be the last time you ever see it.


=========================
This 72 Javelin is a easy restoration for someone, whether a pro or kid wanting a first muscle car. Equipped with a 304, AT and loaded, someone hopefully will get this one in time to make a difference. This car was in Louisiana. **Update! This car sold for $500 and was in process of being restored!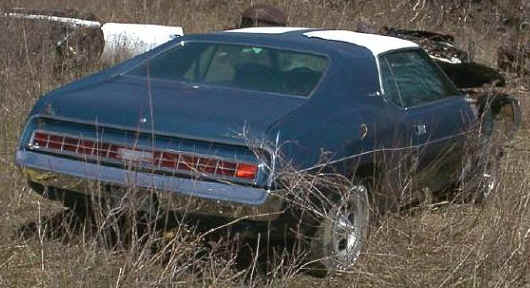 =========================
Most of the photos in this file are, well, sad, this one I call 'broken dreams' the reason why is that the 74 AMX
simply almost looks peacefully at home in the mountains, forgotten by time. I do not know where this photo was taken or I would have already stolen the grill and hood off it, that would not have been too peaceful.
=========================
This file is dedicated to AMXs and Javelins, however, there will be a occasional odd ball that people like myself deem collectible. This is a original US Postal Service 68 Ambassador, sitting up near Texarkana, Texas. Yes, it is a factory RIGHT HAND DRIVE car also, and sports a 232-6 with automatic.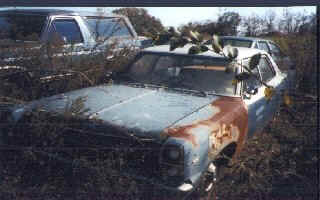 =========================
What better place to have a beer than in the woods when you find a crapload of old cars, one of them being a Matador Red 69 AMX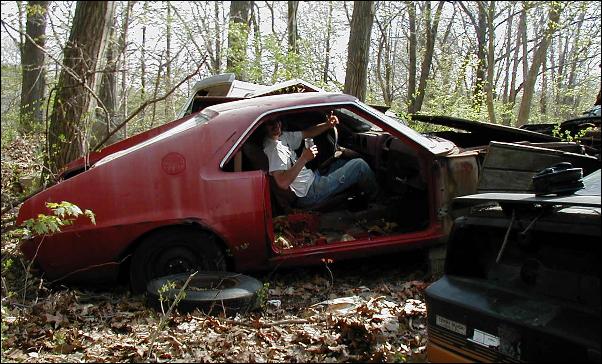 Yup, pop open a Schlitz and pretend that car is actually popping a wheelie as you go on to win Top Eliminator at the NHRA Winternationals in 1969!
==========================
Torched 1968 AMX is still able to possibly surrender one or two last parts.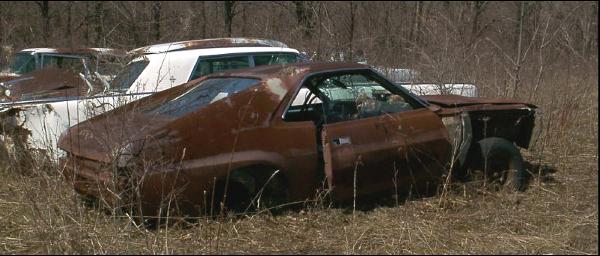 ==========================
This "nest" of Javelins and AMXs quietly wait to either surrender parts or someone to take a chance on them to restore them to former beauty. All the cars here in my humble opinion were restorable, but while they are restorable, a bigger problem looms, and that is the parts crisis AMCers face, as these cars would be worth more in parts than whole sadly. This forgotten AMC Javelin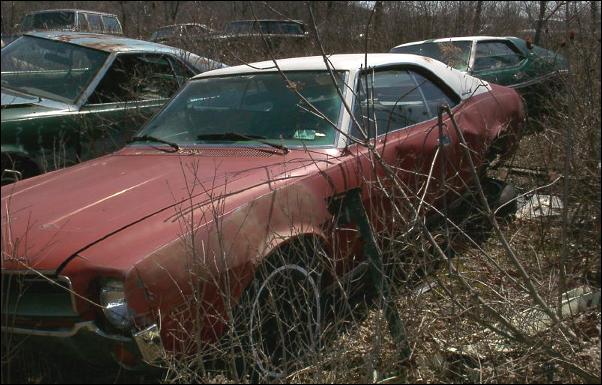 sports a 290V8, AT, and host of nice desirable options. Note behind it a 71 Javelin and 69 AMX.
==========================
While only 1936 Rebel Machines were built in model year 1970, I estimate less than 350 remain. But when you think about how many were factory Big Bad Orange originally, the number would be extremely low, possibly less than 10. So in all my years in the hobby, going back to before these cars were new, this is possibly the only Big Bad Orange Rebel Machine in existence, And time....is not on it's side.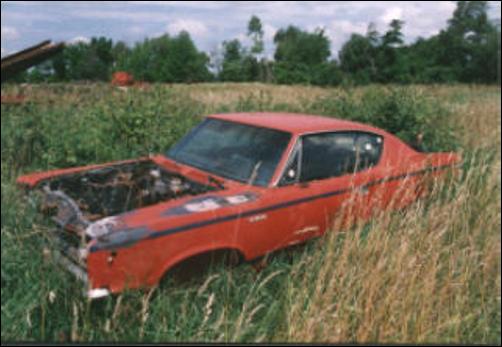 ==========================
Some photos you just wonder about. Sort of like the people you read on the news who the SPCA raids them, and confiscates dozens of dogs and cats. Some folks are like that with cars. And the longer they hold onto them, the worse off the cars are for it, especially like the animals, the "hoarders" simply are overwhelmed. I understand this is in western NY, not a great place for vehicles to begin with due to the long blistering winters and the different chemicals dumped on the roads during winter. This Matador Red 70 AMX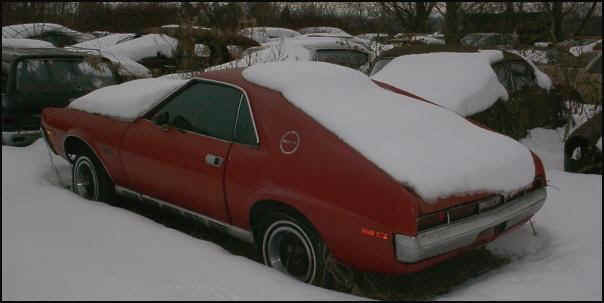 appears as a frozen wheelie. But at least from the photo, it is a very restorable car with lots of possible promise. This 71 Javelin in Frost White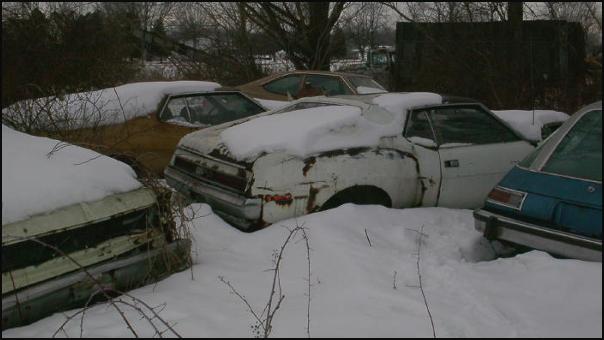 is covered with Frost White Snow. Behind it lurks a 72 Javelin, beyond that a 73-77 Hornet hatchback, rare in it's own right, and in the far right of photo, a little blue Pacer wants to crank up the heater and defroster. A frozen 72 AMX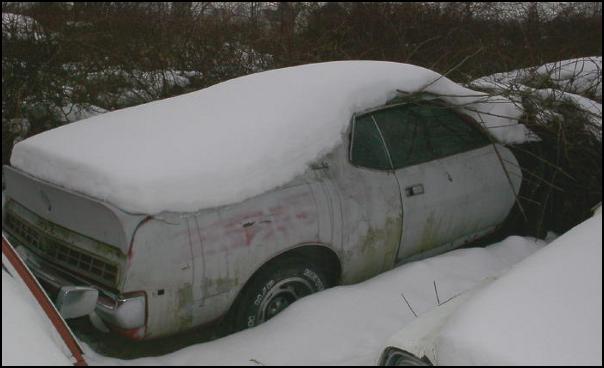 also wearing Frost White on Frost White Snow appears to also be restorable. Those are highly desirable 8 slot rims on it also. One thing I look at besides the vehicles themselves is the parts on them should they not be restorable.
Continuing the winter wonderland amc tour, here is a solid 72 Javelin in Jolly Green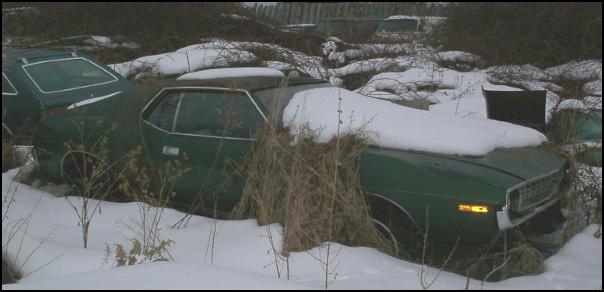 Not too Jolly sitting there frozen stiff however, a Hornet Sportabout warming the space behind it. A too far gone by now
73 AMX, appears to be Wild Plum,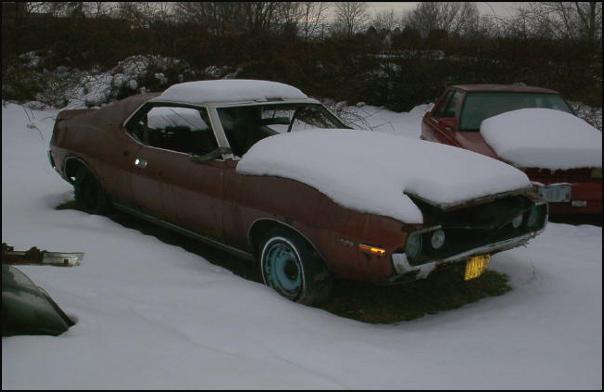 once sported the formidable 401V8, the emblem frozen in time on the fender, probably held on with rust.
74 AMX with Rally Pack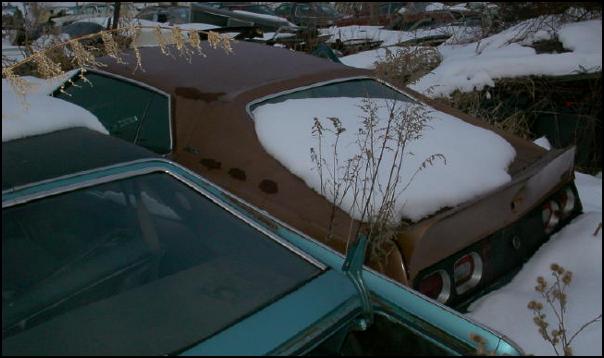 blackout bumper treatment and 69 Javelin with rare vinyl roof chrome silently await the thaw, and maybe a new owner, sort of like walking into the dog pound, they all look good and all want to go home with you for a better life.
==========================
I don't remember where I got this, or who sent it, but a rotting Big Bad Green Mark Donohue Javelin would have been a formidable car in 1970, only 2501 made, and I estimate less than 80 in BBG. Too bad, this is one of them.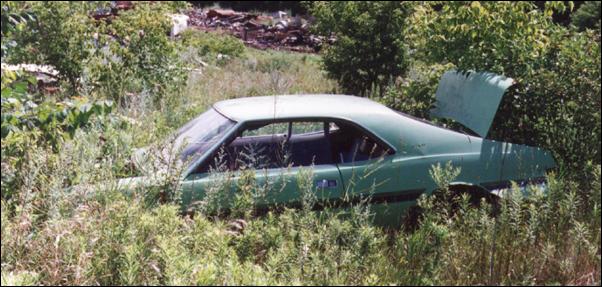 ==========================
A unusual hip option for 1969 was what is called the MOD package for the Javelin. This usually consisted of, but not always, a roof spoiler, simulated side exhaust moldings and twin fake hood scoops. This was the only year you could get the twin scoops, as the MOD Package rolled over into model year 1970 for the Javelin the hoods were different. To see some original MOD Press Photos, click on 'literature' in my 'parts' section.
This sad looking 69 MOD Javelin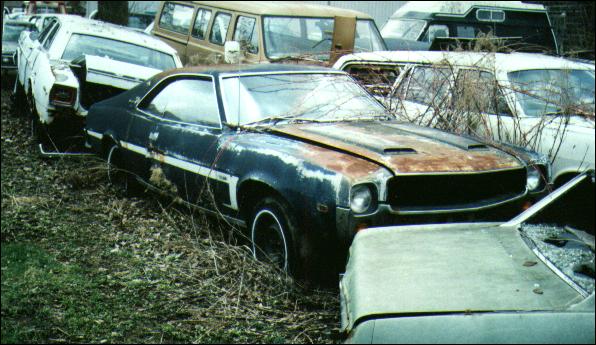 appears to be restorable, but might also only exist as a photo now since it was in a junkyard and junkyards were clearing out stock in light of record prices being paid for steel and scrap by Chinese and Greeks since 2002.
=========================
Unusual to see two rotting 70 Rebel Machines together.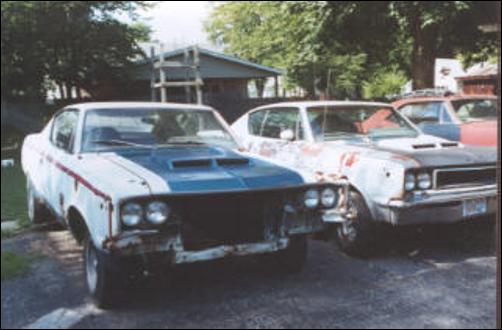 These two are worth more in parts than whole. The owner, Rob commented: "The two Machines rotting together were mine...you are right they were worth more in parts then together...winters are long in Indiana and salt is the ice remover of choice up here so this is what happens to most Indiana Machines...On a note though I tried for about a year to sell them for 1200.00 for the pair...then I took them apart and made enough to buy my current Machine plus some"
=========================
No one bothered this ugly 69 Hurst SC/Rambler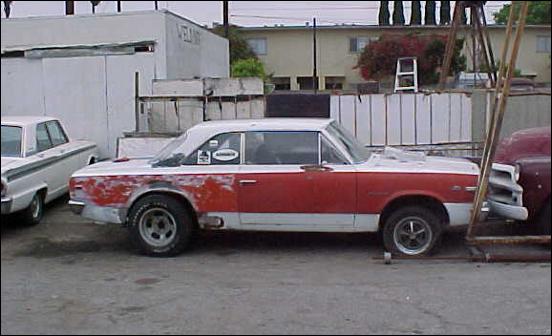 with the clown paint job and backwards scoop. Even gang members walked away from it. But....someone has big plans for it, and it appears that the rust will be fixed and this rare little Rambler, one of 1512 made and one of about left in existence, will live another day to make Brand X foes lives miserable on the street and track.
========================
Some photos just make you want to cry. This Target Practice Javelin (appears to be what's left of a 70)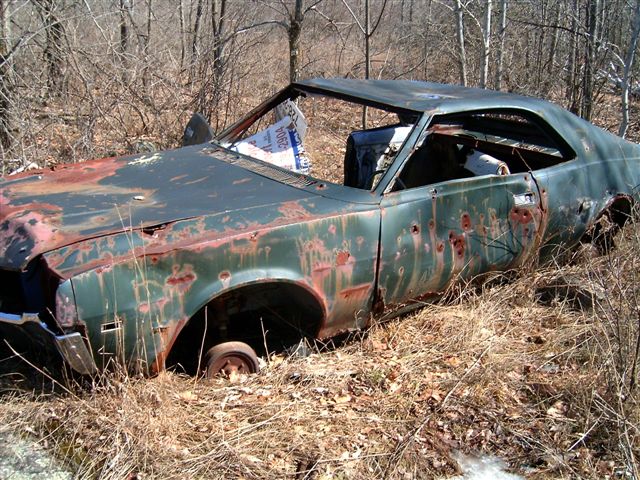 once rolled off the line in Kenosha, and the people who built it with pride in 1969 probably never imagined their hard work, sweat, would one day look like this. They probably imagined that this car would outlive them, and make a variety of people happy thru the different owners it had thru the decades. Like a poor cat or dog dropped off in a strange place, this once proud Javelin ended up abandoned. Then stripped. Then used for target practice who where the land owner would not even bother to haul it away in dignity. Amazingly enough, it still could provide a organ donor part like drums, and lower control arms. Proud to the bitter end.
========================
A totalled out 70 AMC Rebel Machine is a goner, and strangely enough, I have taken cars in WORSE SHAPE and brought them back to life. It ain't like these will ever be made again, but sometimes we try.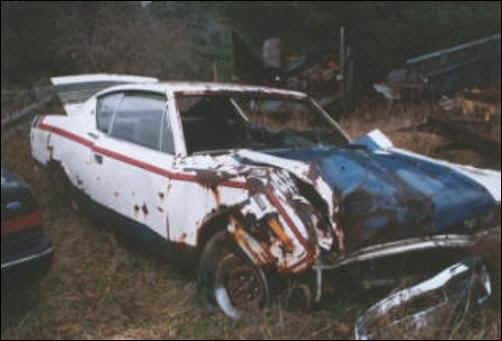 ========================
A rare color, 1969 Castillian Grey AMX sits behind a construction site near apartments. This one looks like a easy restoration for someone providing the kids in the complex don't use it for target practice.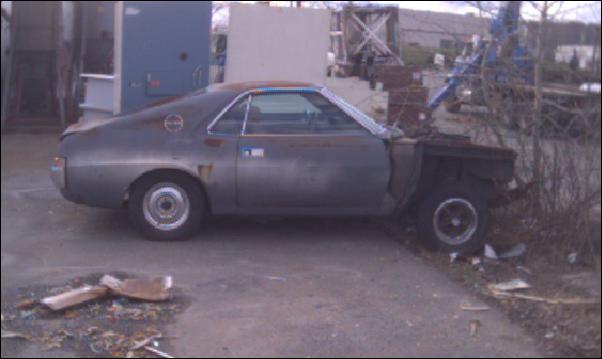 ========================
Two 69 AMXs (& Javelin on side) this one sporting a Javelin hood, were complete, both 343 Typhoons. As with most junkyards, the owner of the operation says he will get around to them one day. By then, like most cars in his lot, they will be biodegradable and will have returned to the earth from whence they came.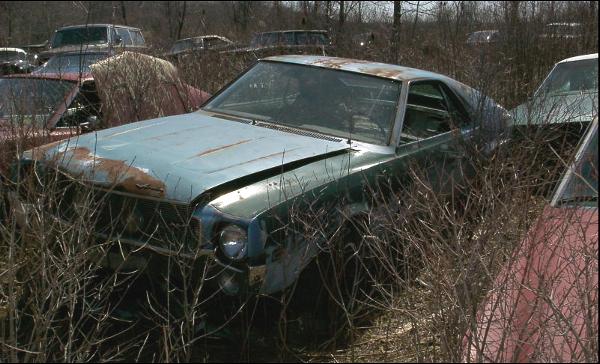 ========================
Rotting, rusty, Hurst AMC SC/Rambler has seen better days than winos pissing and shitting in it like it is a damned skid-o-can. At least put the old warrior inside the building or buy a $20 car cover at Wal Mart.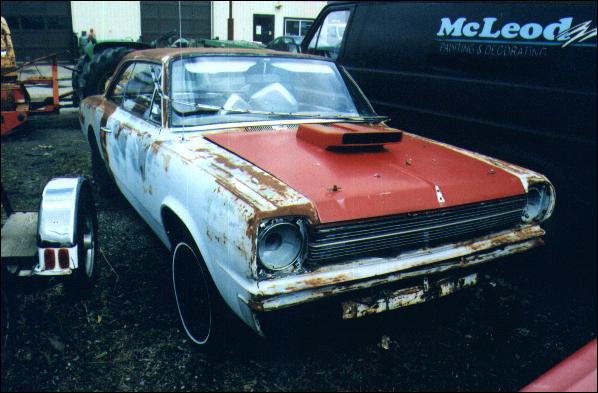 ========================
I call this photo "Wasted Dreams" as there is 3 Javelins, 1 AMX in this photo, any of them would make a great father son project, and keep a kid out of trouble, and would learn a trade.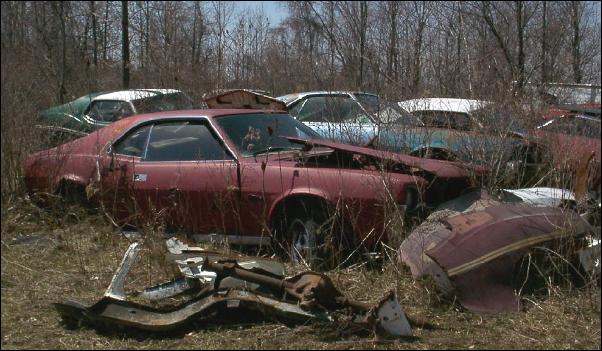 ========================
A wasted & fogotten, lonely, Hurst SC/Rambler one of 1512 made, sits in the snow, the mailbox type scoop filled with snow, I understand the car was completely covered in snow a week earlier. This one may be restorable one the tundra thaws.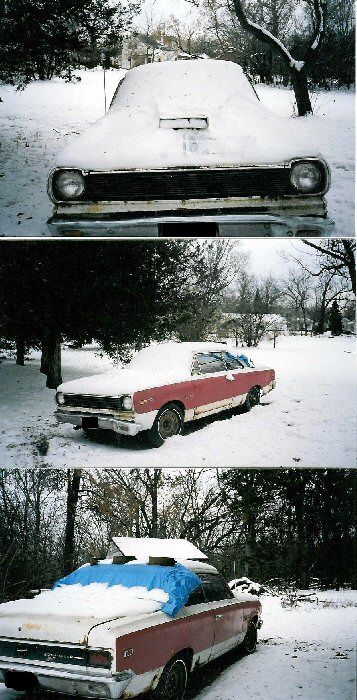 ========================
Cuidado Con La Perro Muy Bravo! Yes, the DOG IS BRAVE! And also uses a AMX as a doghouse, at least he has more class than the owners. This looks like a easy restoration, however you would have to battle Fido over his 1968 AMX Doghouse!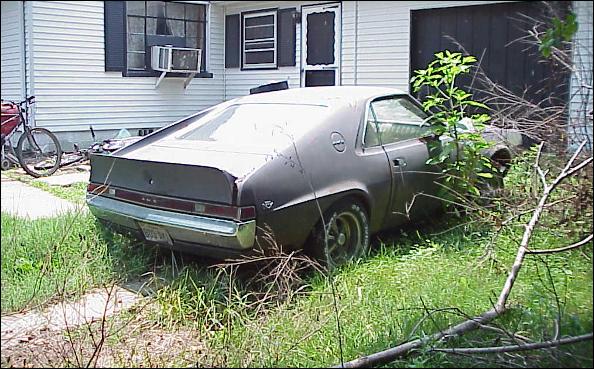 Not all Barnyard cars end up like above.

This is a neat story from AMC friend Jeff Hunt who braving the elements in the frozen tundra and piles of frozen bird shit, found a interesting AMX...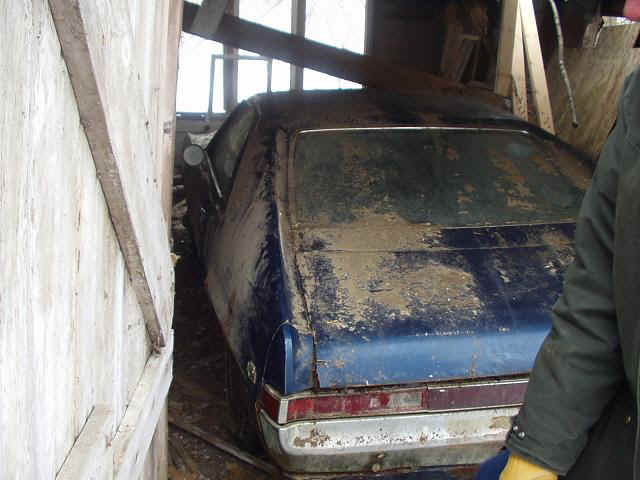 He has since sold it for $2200, but his story, and photos, are enclosed here. "Eddie, What would you do with this? I have it and as you can see, it has been waiting to be rescued for a long time. Motor turns by hand. I got it from the original owner this past weekend. Only change from original is he put a different carburetor on it. The rest is all completely original. "
Subject: 69 AMX; Rescued from barn
1969 American Mortors Corp. AMX
390 engine 4 speed Trans Go package
VIN: A9M397X115755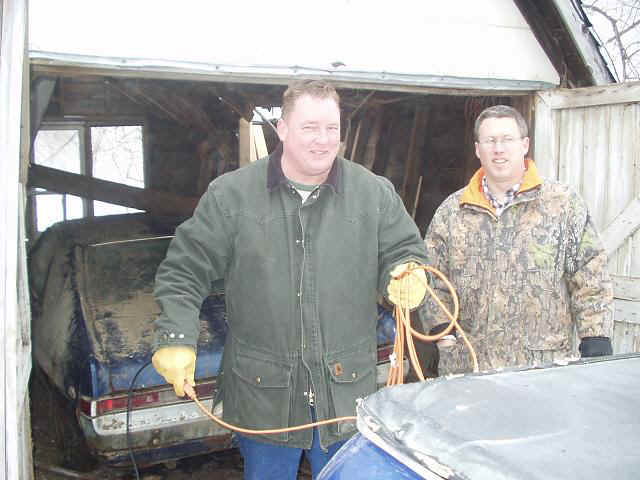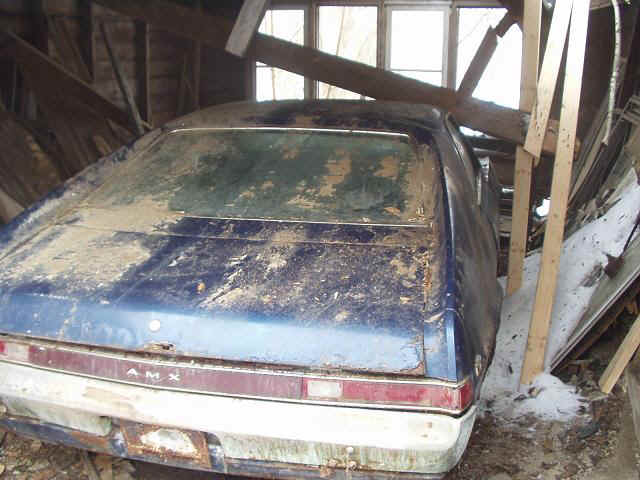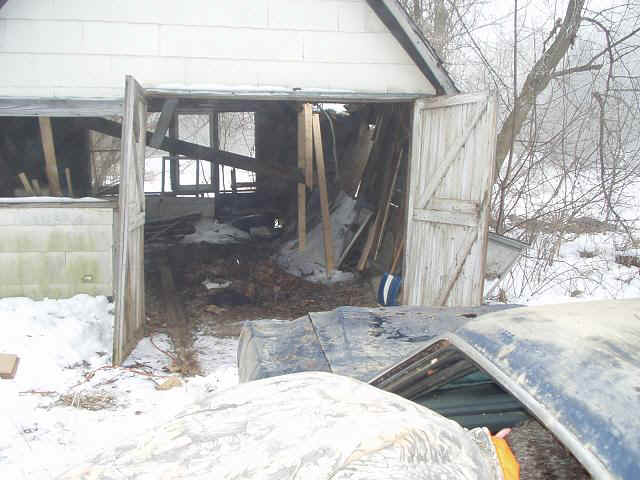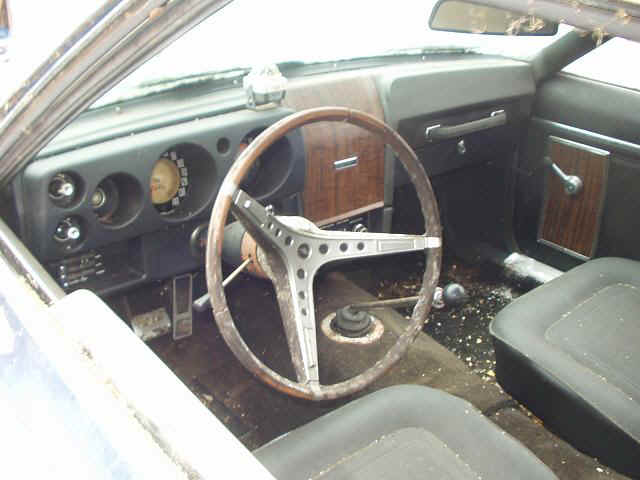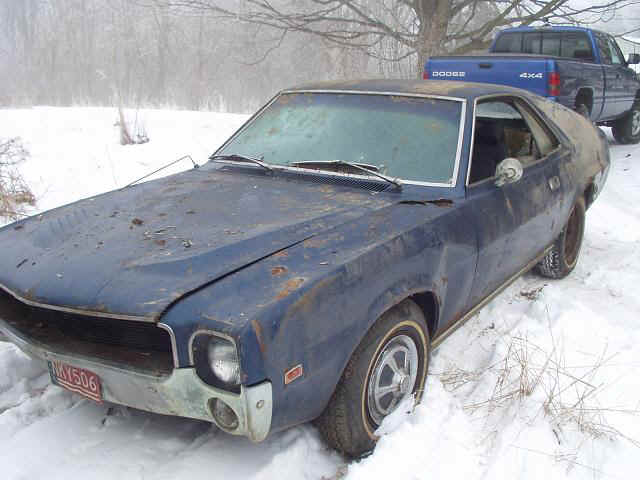 Jeff discovers the Frozen Birdshit AMX! That smile on his face would be erased later when his wife would lock him out of the house due to, uh, smell. Nothing says love like frozen mounds of green and white to make one feel warm and fuzzy inside, especially after throwing up seeing this coop/coupe! It is free from it's tomb after who knows how many years. Jeff somehow manages to get the old car free from the falling down barn. If you look closely, there appears to be some really pissed off birds back there. And in the corner appears to be a Chupacabra. I would have ran like hell myself. Jeff will probably have one angry swarm of pigeons waiting for him when he gets home. Ironically, the interior is rather nice, note the ultra rare AMC compass on the dash. No air condition, no clock are other things visible in this photo. In this photo taken after the car was dragged from it's pigeon crap chains, note while this is a Go Pack car, it has original hubcaps & stripe delete. The last I heard, Jeff's wife made him sleep on the porch due to his 'green/white' Go Pack pigeon shit stripes on his coat and boots that day.

Here is something you corn fed farmboys don't see everyday. A Original, Kenosha line installed Rally Pack Beehive.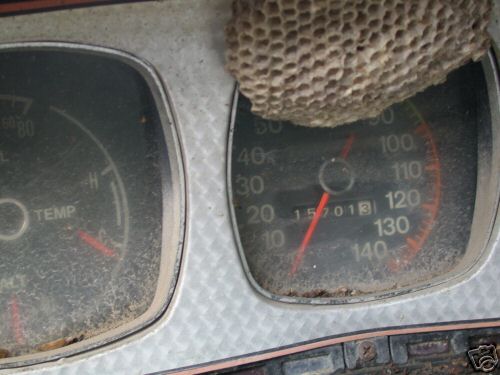 I was told by some blowhard noted 'amc experts' that this rare options took the place of a tachometer! No more buzzing tachometer with false readings! This rare option was guaranteed to make you keep your eyes on the dash, not on the road or cell phone or 8 track player. Amazingly enough, this rare car also had ANOTHER ULTRA RARE BEEHIVE Rally Pack, but under the hood! This one under the brake booster. Guranteed to help you stop when you see the big ass queen bee. Sure would like to have that ultra rare dual snorkle on the 401....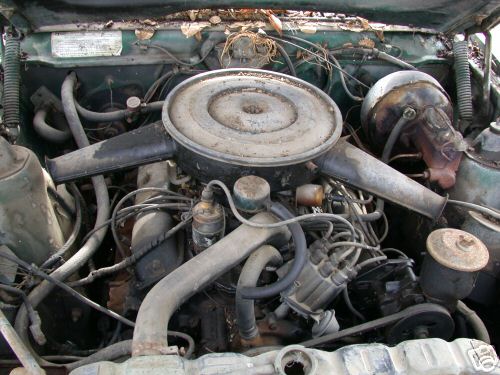 but ain't worth getting killed over either.....I figured someone here would ask about the whole car, which sold for $600, which is what the air snorkle alone is worth. The dual snorkle was used only short time in 1971 from Aug 70 thru about Feb 71, and they command about $800/low to $1500/high (with flapper) which this does not have. So here is the rare 71 AMC AMX Beehive car...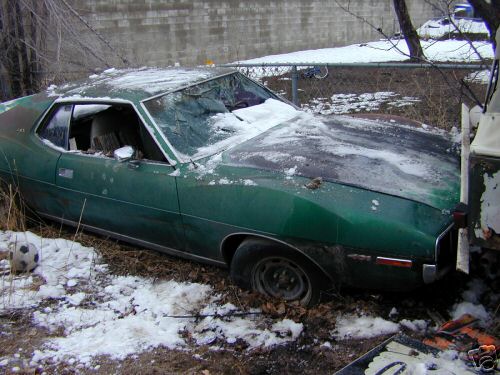 one of 2054 made in 1971, and less than 500 had a 401. And there are 2-3 left in the world in Brilliant Green Metallic.
Well, as many of you know, few salvage yards exist with AMCs anymore. Why? No demand. Furthermore, in the late 90s/early 00s the Greeks and Chinese have been paying record amounts for US steel, something like $200 a ton at one point, way up from the $46-$50 in the late 1990s, so lots of incentive for junkyards to move the vehicles. More can be read about this in ALTERED AMCS in the parts file, which was written over a decade ago before the steel demand went thru the roof and everyone began a crush fest. And coupled with massive changing environmental laws passing right and left intended to get older, polluters off the road, this has really put a crimp on AMC "used" parts, especially sheetmetal. So it is really neat to see a few junkyards out there in the backwoods that exist, and that have KEPT their AMCs......so far, that is until some asshole legislator changes the law, or asshole developer wants to take advantage of the new "eminent domain" bullshit law the Supreme Court, in a major brain fart, upheld to take away individual property owners rights.
I could mention Collier AMC here in North Carolina which has DOZENS of American Motors cars (besides that link, go to google.com and search for 'collier amc dealership' there are some great video walk thrus on youtube) but that is a sad situation, as those cars have not moved since 1980s and are for most part, rotted parts cars now. To top it off, encroaching development has moved in, and the county is trying to get them to haul off all that junk, of which if you look at the photos, is mostly junk sadly. But new Dollar General, a restaurant and more moving in acroiss street and won't be long until the scrap man visits Collier.
Hers is one such yard in California. Check out the row of Ramblers. Rustfree shit. There were over 3000 cars including over 100 AMC vehicles in this salvage yard, Pierson's east of Los Angeles. The place went out of business and everything CRUSHED.
A trip thru East Texas Backwoods...
This forlorn 1970 Big Bad Orange AMX awaits either judgment day or being a parts donor. I think it would make only a good racecar. Sad too is that about 122 70 BBO AMXs were made and my estimate is less than 15 exist.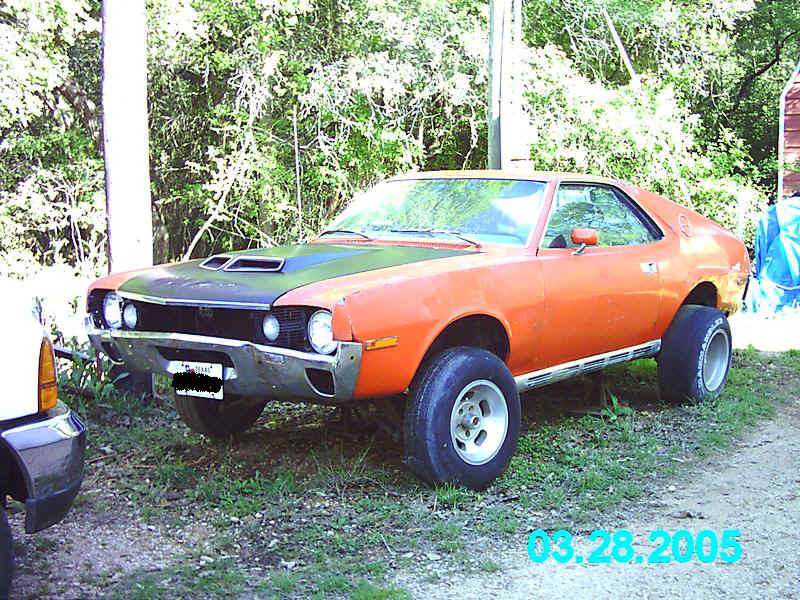 This 71 AMX was on ebay a few times. No sell at $200 and who could blame them. Would take $1000 just to move the damned thing. Like the Elephant Man you could not tell what the hell it was. Eventually if you poked around it a few times like my ex wife you could find your way in. Here is the interior; and sadly the rear reveals several rare & ONE YEAR ONLY parts like the tailights. Look closely, that is a ultra rare heated rear glass, only available in 1971-72 with the heat lines in the glass itself.
The engine features a seldom seen 'one month of production, special order' "TRI SNORKLE AIR CLEANER!"
This is a rare 73 AMX Pierre Cardin Edition. It's days of kicking ass on Brand X cars is over, and sort of like a greyhound or race horse, many are put out to pasture. Unfortunately the AMXs can't breed and make more like the greyhounds or horses do. This one sits quietly in a field scaring fucking crows. Restorable? Of course. Will they sell? No. Because them thar crows will et ouar con in tham fieeilds yuh know. Here is a photo of the interior, and this view is what many people saw on drag strips in Texas who challenged it decades ago.....
How about a 74 Javelin launching hard for eternity sadly. Ok, so it is good to house field mice and rats.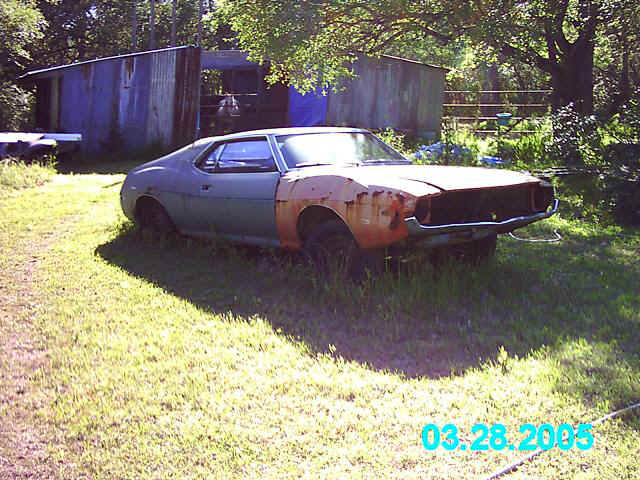 Not everyone likes, cares for, nor respects these cars as much as many (not ALL) AMC fans do. This is true about any old car, even back into the 10s and 20s. AMC and Hurst collaborated to make only 1512 Hurst SC/Ramblers. Here is one that in my honest opinion, will probably be saved...maybe not who knows ain't mine. I understand this car was sold & parted out for the title, so maybe it will indeed live on in a rust free body, hell, the Mopar & Chevy people do it. This is a front, rear, interior view, shows that cats love fast Ramblers too. One of five different paint codes the Hurst SC/Rambler used, this one reads SPECIAL.
According to a American Motors Car Distribution Bulletin issued to all dealerships January 2nd, 1970 (CD Bulletin #70-4)
the Big Bad colors could now be had on all Hornet models after that date. However, after the initial run of Frost White Rebel Machines that had the r/w/b scheme and stripes, you could then get a Rebel machine in any production color. Some took aMC up on the slow selling Big Bad colors and ordered one. Which to me makes them a hell of a lot rarer than regular run of the mill r/w/b cars, although we love them regardless. So with that in mind, here is a number of AMC's 1970 Rebel Machines in a variety of poses to make you vomit. Remember, only 1936 (or 2304 depends on what figure you accept) of these were produced the last year for the Rebel. Not a whole lot of them exist in any given condition, as with most AMCs, they were beat to shit and put up wet.
1970 Rebel Machine in Big Bad Orange is a beater & I understand was parted out. Note the non factory 'Ram Air' in the passenger fender front. Too bad, as only a handful of Rebel Machines were big bad colors.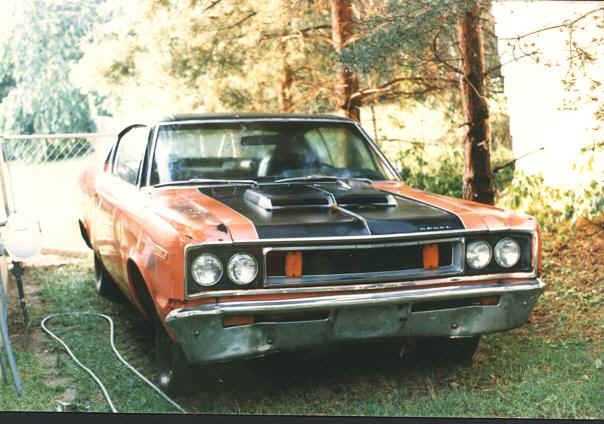 Solid gold colored 70 Rebel Machine with vinyl top is being eaten alive with rust and soon will be worth about what school bus is behind it. I do not know fate of this one but not a lot of Rebel Machines got vinyl tops.
Some defy logic. Well, most of the shit in this file defies logic. This 70 Rebel Machine Frankenstein car as much of a piece of shit as it is, would have been a great project for some teenager to keep him off the street and learn a trade perhaps. A 'pride of ownership' thing as I always call it. Don't mean anything now as it was on it's way to the crusher here and now only exists as this photo.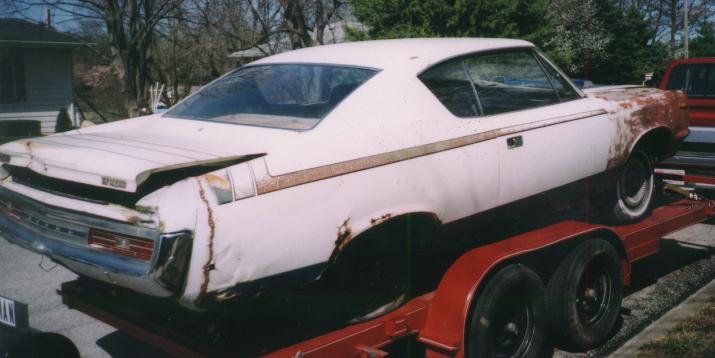 Here is a 70 Rebel Machine made a great henhouse or a home for victims of hurricane Katrina. Hey, shelter is shelter.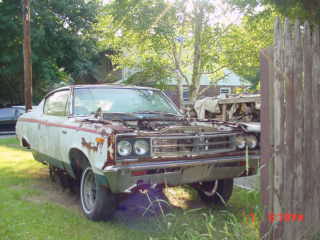 This 70 Rebel Machine is a dark brown color originally, rare color. It looks like it is ready to set a land speed record on the flats in this photo. Reality bites when you see the front of this dog. .
This abandoned house also had a abandoned 73 AMX House was bulldozed, car was crushed. End of story. This was a factory M code 4 speed car with a 360V8.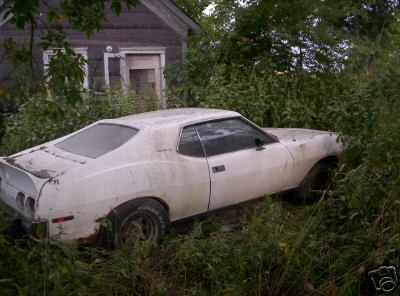 A unusual and seldom seen color for 1972 is Jolly Green. Almost like a duller Big Bad Green. I call this 72 Javelin the Chameleon Javelin and for good reason. This thing blends in with the landscape! Sadly I could not find this one again if someone paid me. Yes, the car is 'jolly green' originally, but had been painted brown. Or maybe that is monkey feces.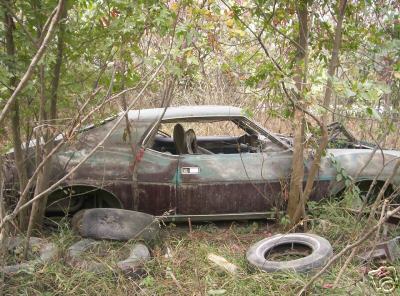 This Javelin appeared on ebay several times and never sold for $500. Probably because Timothy O'Leary did some heroin and painted it in the 1970s. Too bad, as the owner indicated he had it hauled off to scrap since 'he couldn't get his price' which to me is like wiping your ass before you shit. So he could not get $500, but took $50 for scrap. Great math. So everyone loses, as this Timothy O'Leary 71 Javelin had tons of great one year items only to surrender. The tail lights, rare t-top roof chrome, rear bumper guards and grill were worth alone what he was asking for whole car.

You can waste two lifetimes, or if you are Shirley McLaine who has lived ten lifetimes, restore this piece of Flintstone Monkey Dung 68 AMX There are a lot of cars that do need a decent burial and this one is one of them. This is a side view of same vehicle. Note rare AMX "Two Tone" paint, rust and red.
73 Javelin in Mellow Yellow with highlights of brown rust was a glorified parts car that looks like a Freeze Frame from Dukes of Hazzards movie. It sold on ebay for $250.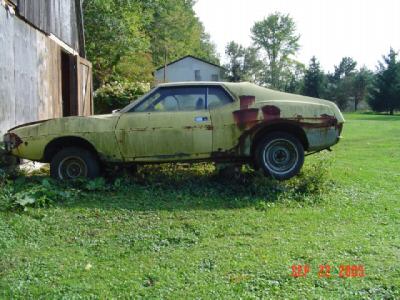 From Canada Eh, here is a unusual bird. The fellow who sent this to me said this car has been sitting abandoned for years where you see it, in front of a house next to a street. Seems some folks have stopped by from time to time to relieve it of odds and ends as they see fit. This is a factory P1 code black 71 Javelin 360, AT. Well it was at one time, people have picked on it, regardless of whether they were AMCers or not, even Chevy fans might have wanted a mag. So one day he simply dragged it home without asking anyone and no one even noticed. He has proceeded to part it out also, first thing in order was that functional cowl induction hood for one of his other cars. He could not believe this thing had sat there for so long and simply was abandoned. Good find.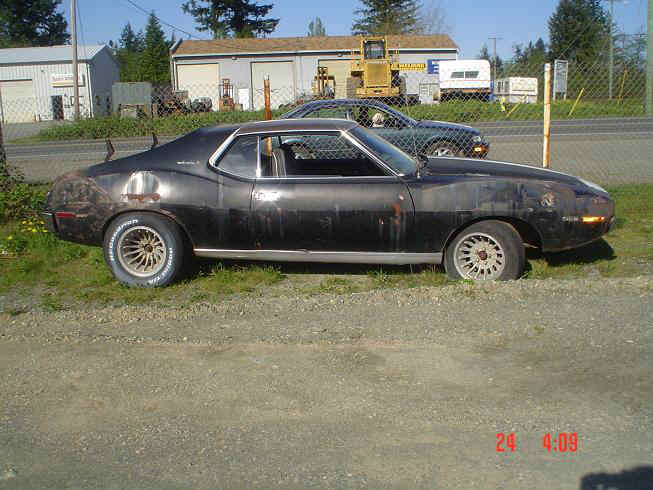 Not a AMX or a Javelin but sadly both rare AMCs shoved under dime a dozen junk in salvage yard; but not everyone think AMC stuff is collectible, a battle we have been waging with salvage yards since 1960s. This is a 401 Ambassador next to a Oleg Cassini Matador, both of course make nice pillows for a Granada and a Fury. Both AMC's should be on top! Those Matador coupe windshields command $500+ used if found, the Ambassador windshiled next to it interchanges with 67-74 Ambassador, 67-70 Rebel, 71-78 Matador & impoossible to find about $450 used.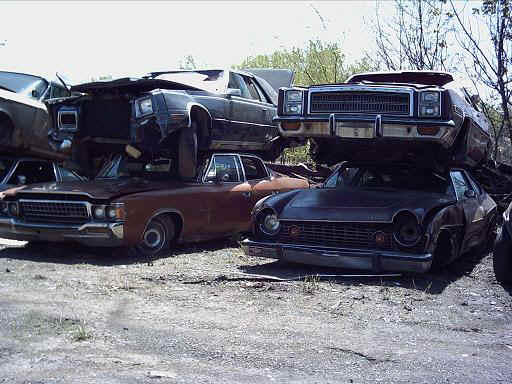 Jack's Salvage in Billerica, MA has a "1976 Javelin" there, of which we commonly like to call a 68-69 AMX, but still has a number of parts to salvage off it. Photo courtesy of Dave Contrada.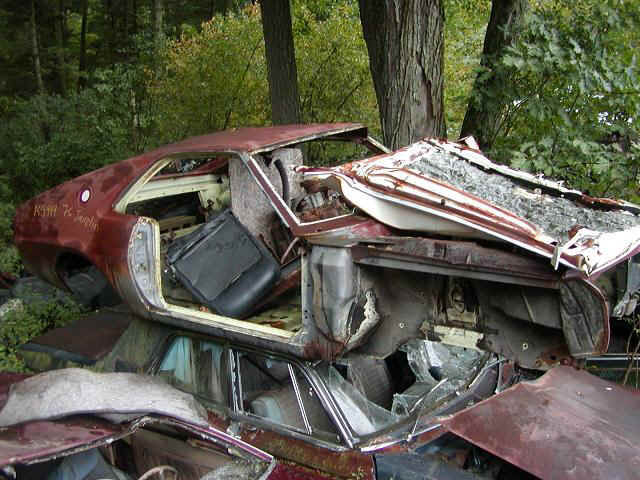 Joe Robert's pile of nile sits in what can only be terms AMC Hell in upstate NY. Sadly, while he is fond of bashing others vehicles at meets, ebay and anyplace else he decides to be a hypocrite, his own pieces of shit sit forlorn. The green SC/360 in the foreground he was asking $6500 for. AMCers are smarter than average bear and no takers. Forklift not included, free 55 gallon drum of POR-15 with tap included. Sad to see a whole photo of AMC's rotting in hell, (exposed to sale, snow, elements) but sadder to see it when the owner takes time to gripe, bitch and whine like the fat chicks on The View, about other's vehicles...especially when he has never seen them in person. Hypocrisy at it's finest!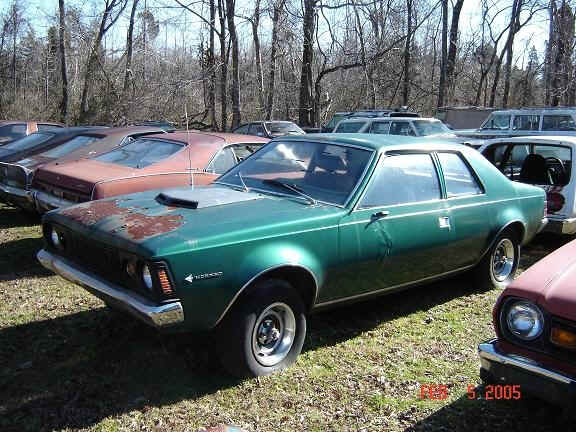 What happens to AMC hoarders like this? Sadly the cars end up being glorified parts cars. Go to YOUTUBE & search for "Collier AMC"
as some know it the "Last AMC dealership" all those cars in same sad condition, unrestorable.
Want more?
The Ed Hooper Collection in Texas.
The Don Burkette Auto Exotica collection in Florida
I don't remember who sent me these photos but did I ever feel sorry for the poor bastard. Here is his 71 AMX crushed by a tree. Of course FEMA was quicker than they were with all the Katrina people here, he got a blue tarp out of the deal. Still hate to see the poor fellow's dream shattered. There are a few things ironically still salvageable on this puppy. I'm sure Robert's above will probably bitch that 'those are not factory mags' then quickly put his rusty pile 71 crap up for sale for $6000! Yeesh! The fellow said this was a 4000+ lb tree. I don't doubt it.
sadly...more to come!!!