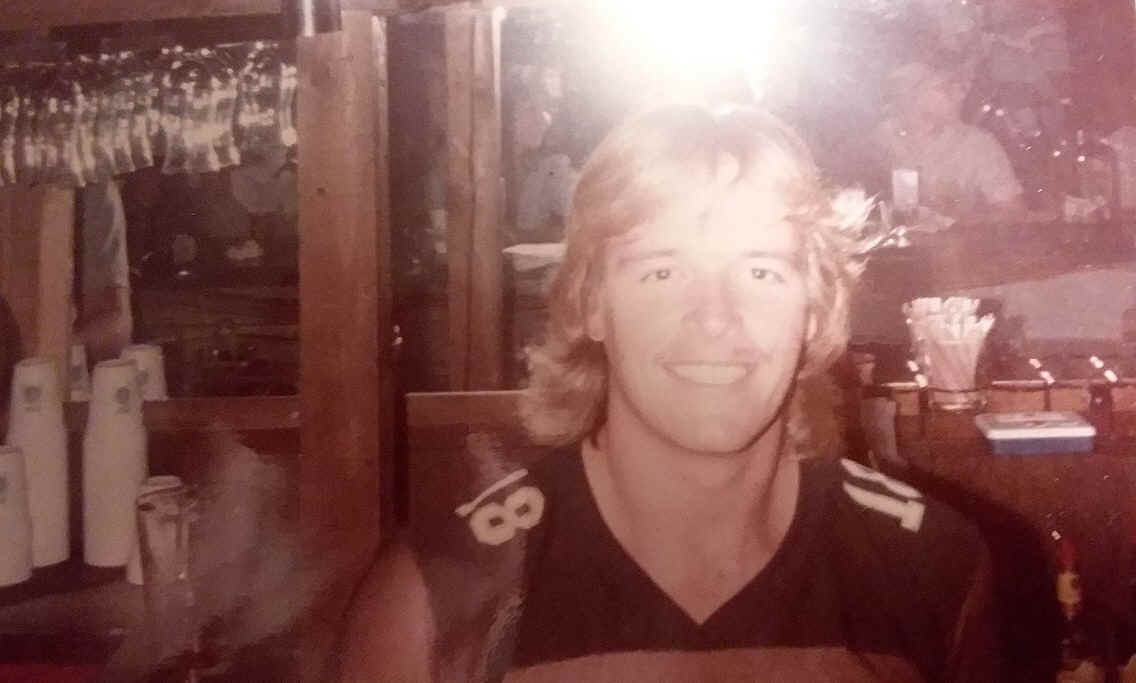 Bartender. Manager. Satellite god. Bouncer. Barback. Psychiatrist. Mediator. Comic. Dishwasher. The list is endless. Lifer. The restaurant/bar Industry is not for everyone. Have seen hundreds of people come and go, some rise above it and start their own business! Others have committed suicide. It's what happens and alcohol affects everyone differently, so you watch, learn people's habits, limits. Your customers are your friends. And you want them back, over and over, as "regulars" and a "following" are a strong part of the business, just as much as atmosphere, customers, specials, and the old locale itself. I got involved in this business in 1975 in Corpus Christi, Texas where I'm from, in 1974 at the age of 15 working at a place under the Wilson Tower named Charboy. The owner, Sue, looked like Manual Noreiga, that is a pineapple face scarred by acne, and boy, she would work your ass off for that $1.75 a hour: fry cook, busboy, janitor and dishwasher. I lasted maybe 2 months. At a place named Burger Chef, we used to work until midnight and then have to clock out. Then sometimes work...for free....until 1-3 am, and yes, then go home and get up to go to school at 7:00am and be in class at 8:00am. Some classes sleep thru but that is what you do.
The names of the places fade with time: Mai Tai; Crystal Confectionary; Wolfies; Foxys; Gabs; NJ's Saloon; Sams' Place on Richmond; Dirtys; Willie G's; Scoreboard Sports Bar; Nick's; Ron's Pub; Scorecard; there are probably some I have forgotten in there I'm sure. Some I worked at for years like Scoreboard (9 years under 3 owners) and Dirty's of Houston (6 years under 2 owners) for instance. Some had such screwed up systems like Willie G's I worked, then said no thanks; don't need job that bad.
It is hard to get "the perfect crew" in this business and when you find them....you keep them. This business is really nomadic, so unusual to see people stay at one place for X amount of time. But that is part of the business. And if you have a good, solid crew, most times your business will be around for many years and be successful. I do not know what the failure ratio is of start ups in Houston, but it is probably high.
A lot of AMC fans have stopped by the various places I have worked at thru the years in Houston, (since 1983) and of course, they usually get a meal or a few beers out of the deal and great to put a face with a email, name, phone voice you know.
There are thousands of stories I could easily make this the biggest file on my website, after all you don't do something for decades and not have staying power if not successful doing it. Think about that for a moment. Over 30 years. Paige, my wife of almost 20 years has often said why don't I open my own place. Maybe in time I will, God knows I know enough people in this business from reps, distributors, customer base could do it easily. We will see. The hours are long, and many people not familiar with this business don't realize that. Sometimes for instance you walk 15-20 miles in one 8 hour shift. And there are lifting 160lb kegs, sorting and managing egos, maybe manager or owner has narcotic or drinking problem you deal with, so it is not for everyone. Many places don't have health care and some places will pay you flat salary (in 2007, it is legal under Texas law) only $2.18 a hour because you are a tipped employee. I don't know too many people who will work for $2.18 a hour, even if you walk with $100 tips a shift.
Is it a fun job? Of course it is. Each place is unique as the people who own it, or work there. And my own success (at least this is the way I have treated a shift) has been no matter what shitty type of day you have had, when you step behind the bar it is SHOWTIME and people pay to see you perform! You have a smile on your face, and make them feel welcome and insure they have a good time. I have been directly involved in, and volunteered (just like in the AMC Hobby) hundreds, if not thousands of hours of my time for causes such as benefits. Could be a fellow bartender, waitress sick or had accident (and most places don't have insurance, you are on your own) so a benefit is held to try to cover medical or other expenses. There have been times it has been for Houston Police officer or firefighter injured or killed in line of duty, silent auctions, bar-b-que benefits, rallies, sports memorabilia, you name it....I have volunteered.
Like the AMC hobby, you are never going to make everyone happy either, so the ones you make happy, they return over and over and over. The ones you don't screw them and their miserable lives, they will go to their graves pissed off about the weather, Don Imus, their team loses in Finals, or crappy season or even ugly team mascot. So again, you only try.
With that comment, I want to quickly point out that 95% of my website is FREE TO THE PUBLIC. That is right, none of the 100% VENDORS on my list have ever paid me a dime since 1990; the AMC CLASSIFIEDS is a pain in the ass to keep up; the SUADs have taken on a life of it's own; and I have helped well over 500+ people find a AMC...and never taken a dime as payment. The LINKS with dozens of chapters; the Registries; photos; all PRODUCTION/TECH; yes is all free to public and put up by me thru the years.
I don't give a rat's ass if I sell you anything and don't care if you like it or not (yes, you Donald non potty mouth')
The site is intended to help others, which is much more than I can say for a number of folks out there who are clueless and are on the rag so often they should have bled to death.
How many other AMC-related sites do you know of that are totally, or almost totally free? No wonder my website counters spin off the hook. Good! And like a customer at the bar......everyone is welcome until they might become a asshole! Then they are cut off & removed from premises.
So here is a number of photos from my career in the Houston Bar business. This is only a fraction of them, there are hundreds, many with sports stars (I primarily work sports bars) but figured some of you would have a great laugh at some of these photos. Yes, some of these places are tiddie bars. Don't be a hypocrite, you have probably been to one. And don't get pissed off, drunk and kick dog and beat wife, you probably drink too. Just don't drink and drive please.
If our paths cross, even if you are Mitchell, or Ebay Asshole, AMC Asshole, Nigerian Asshole (ok, scratch the Nigerian Asshole, well, don't really scratch it, but they never use real names anyhows) so even if good AMCer or one of the above, I'll buy your first round. So with that said, here are a few photo thru the decades of a ongoing, fun & lifelong career.
Rock Alive, Corpus Christi, Texas 1981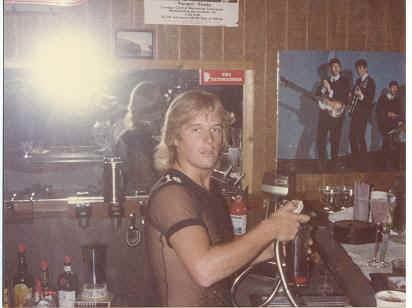 I got laid so much at this place I was keeping a dairy. Sort of like Clinton kept stained dresses. There were women trying to crawl into my front window to get in bed with me (true story!) of which then I would have to give their drunk ass a ride home at 4:00am. We also did wet tshirt contest at this place. Many beautiful women in Corpus Christi in early 80s.
Rock Alive, Corpus Christi, Texas 1981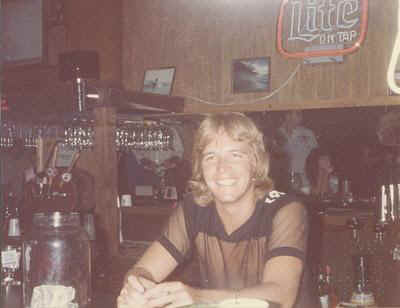 While I am posing for photo here and trying to get laid, note in the background customers waiting for drinks. That's the old ticket, make them wait if they don't tip. It might be the reason I had two dollars in my damned tip jar if you look close. Quit trying to impress the tiddie dancer, see if she will come back at 2:30am when bar is closed and paperwork all done. Chances are she won't as she would have found someone else, not good looking like me here, but someone who had more than $2 in tip jar.
Rock Alive, Corpus Christi, Texas 1981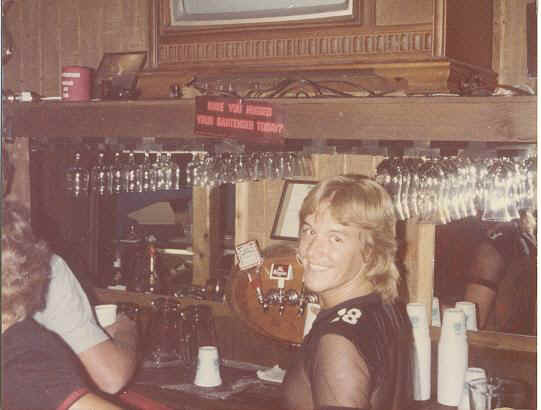 The above place was really memorable; I got to meet many top Rock & Roll acts and still have photos, autographs of many including Styx; Head East and the all female band Vixen, of which I have a huge cloth signed poster of the original member. This is one of my favorite photos however, simply because when you 'break into' this business, you never know if you will last thru the next shift. That was 9490 days ago. A mentor, rodney Page is off to the side of the photo with white sleeve. A big imposing fellow of 6'6" and a great big friendly fellow who always made people feel....welcome. My barback, Ed Vance with black sleeve is also slightly shown; later all three of use would end up in Houston where there was more money...and a lot more work. Rodney would help me get on at GABS, and also NJ's which his mom owned; Ed would end up at a dream job at Rockers on the west side.
Foxy's Strip Club, Corpus Christi, Texas 1982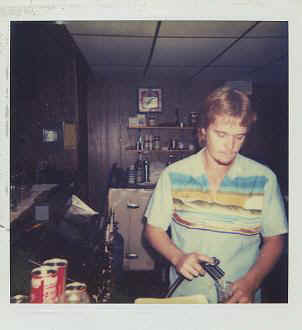 Foxy's, like Wolfie's, were both Bandido run and owned places. Good group of hard working bikers I may add; I wonder if Grandpa is still around riding his Harley. Sometimes the manager would lock the doors and select customers would get to sit in the 'pervert pit' and the girls would dance totally nude. Uncommon then, but you can find many 'gentleman's clubs' in Houston that do this now.
Gab's Country Western Bar, Houston, Texas, 1983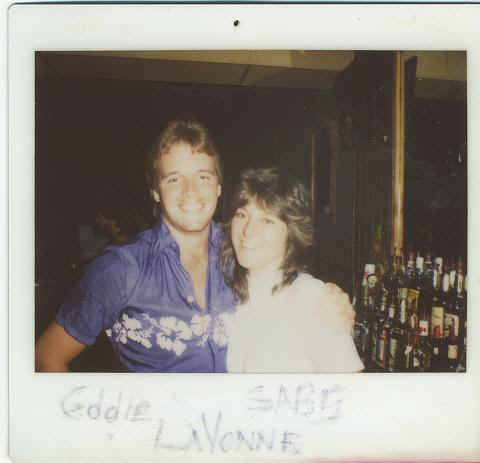 Shown with Lavonne the manager. This place had so much drugs flowing thru it sometimes it probably would exceed register sales. The TABC busted it a few times, one night I, along with the whole crew and manager, were jailed for 'serving drunks' while 26 customers took the ride downtown in Houston Police vans. One guy arrested for 'public intoxication' only drank Artesia water. My charges, along with almost all crew, were eventually dropped by the DA. All charges were dropped against customers. This was TABC's way then...and now, of 'leaning' on a establishment that has problems, whether serving minors, or drugs, or after hours! Quite a lesson! Made some serius money at this place I may add, although country music sucks, I tolerated it and even cut my hair. Memorable moment: some drunk cowboy came up to me and said "I Don't Like You!!!" and I snapped "I Don't Like Me Either!!!" and you have never seen such a catatonic lost look on one's face like his.
Sam's Place Richmond Avenue, Houston, Texas, 1983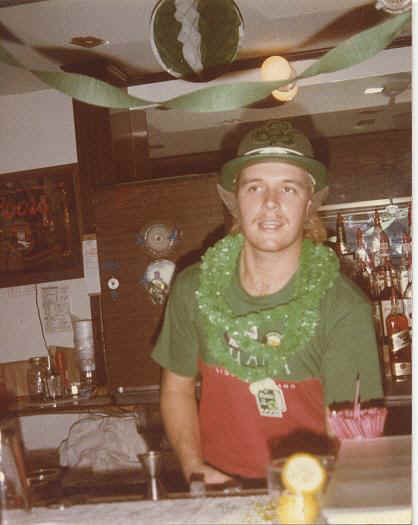 Sam's was one of four companies: Mexican Joes, Cattleguard Downtown, and Roadhouse on 6 were the others. I was picking up shifts at both Sams and Cattleguard at the time. Sams had the HIGHEST VOLUME OF LIQUOR SALES IN TEXAS at this time, and it was non stop...and profitable. Cattleguard had the second longest bar in Houston, of course the logest being the ASTRODOME BAR in the Dome! When you got off a shift at either Sams or Cattleguard, your legs were like rocks from running ass off. No I didn't dress like this, just thought it was funny Spock photo to put up.
Dirtys, Houston, Texas 1983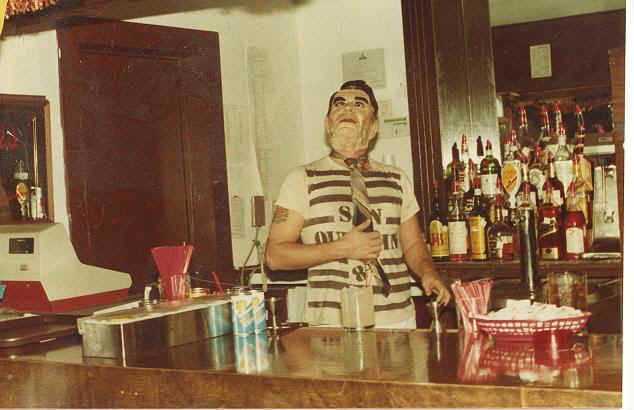 I am not sure where this place above is/was, could be Sams, could be Cattleguard, could be one of the many places I was a 'hired gun' at the time. Obviously Reagan was president at the time however, and this was a hastily put together Halloween costume. I also voted for Reagan, just figured the controversy some might comment on the outfit though, but never happened and as usual, tips were great on working Halloween.
Dirty's of Houston, Texas, 1984 (?)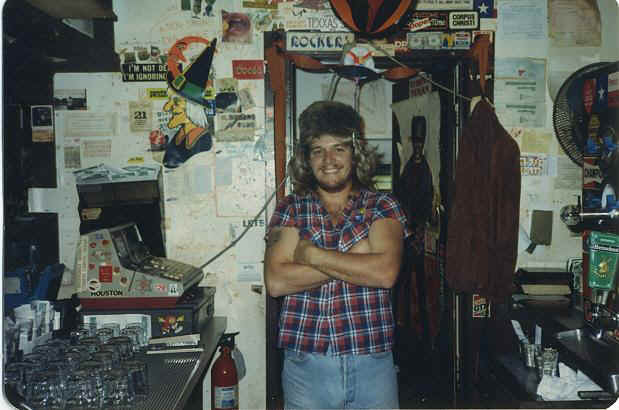 Dirty's took the name....and concept...from the well known Dixie Chicken in College Station, home of Texas A&M. I left Sams/Cattleguard reluctantly as that was part time, and the manager promised me full time. Best thing about it was the food, the chicken fried steak was bigger than a frisbee, and I didn't have to pool tips or tip barback, I just busted my ass doing it all. There was a really good crew here also. This was e early 'sports bar' concept in 1984. The celebrities you met were fellow Houstonians like Billy Gibbons of ZZ Top, Charley Kerfield who would come in, eat a chicken fried steak, then go pitch a few hours later for Astros. This place started out clean and we trashed it, the customers trashed it. 95% of the shit you see on the walls is mine, and pretty soon I was taking photos of customers and stapling them to the walls. Great concept and they would come back year after year. I may add this place also had butcher's paper on table and crayons, and adults and kids alike 'tagged' the walls, ceiling, anyplace there was to write, it got written on.
Dirty's of Houston, Texas, 1985/86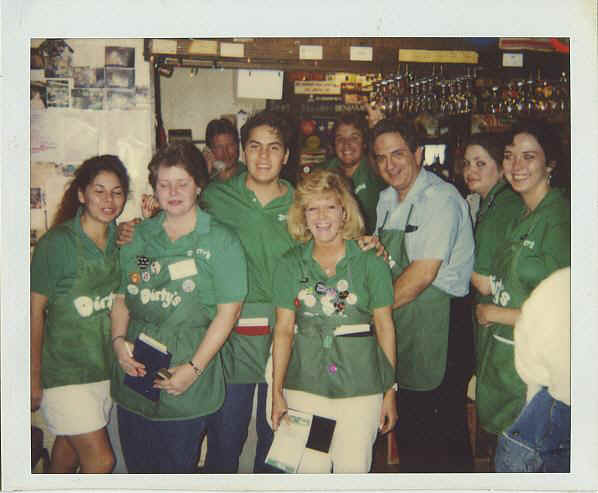 This was one of the closest knit crews I have ever had the pleasure of working with. Amazingly I can still name almost all of them in this photo. Left to right: Pat, Patty, Craig on back with phone (and probably sneaking a Stoli Kazi) Billy, the little blonde I don't remember her name but she answered to 'ho' me in back, (and she also had some choice names for me) Scooter the manager, Tammy Lynn Evans (2nd from right, sadly passed away at young age of 53 from Hutchinson's Disease on Jan 6, 2011) and I don't remember the girl on far right. Note photos on wall, I was spending my own money to plaster the place with these, but it all came back in tips.
Tammy Lynn Evans Memorial photo page.
Dirty of Houston, Texas, circa 1986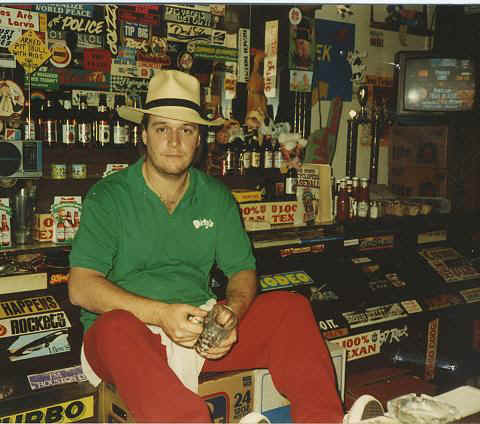 Dirty's got us new uniforms but I ain't the most color coordinated person around either. This shows what happens when fashion explodes. Note the sign in back "pit bull with aids on board" and off to right of my beautiful pimpin hat is a rubber chicken with a bowling pin stuck up it's ass. This made people order buffalo wings. No.....I DO NOT DRINK behind the bar. And to this day, I STILL DO NOT. You buy me a shot, I will have it at the end of my shift!
Dirty's of Houston, circa 1987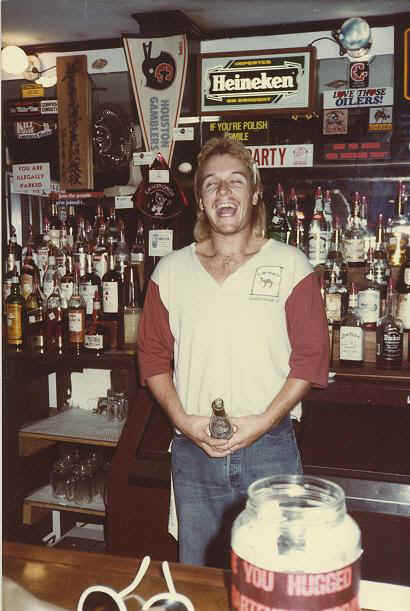 Potty mouth my ass, here I got something for your butt here. Note "have you hugged your bartender today' sticker; also 'if you are Polish, smile' (this was for our manager, Billy Kubiak, who is brother/cousin of Coach Kubiak of the Houston Texans in 2012!) and also decals of "Love Those Oilers' and"Houston Gamblers" in background!
Dirty's of Houston, Texas, circa 1988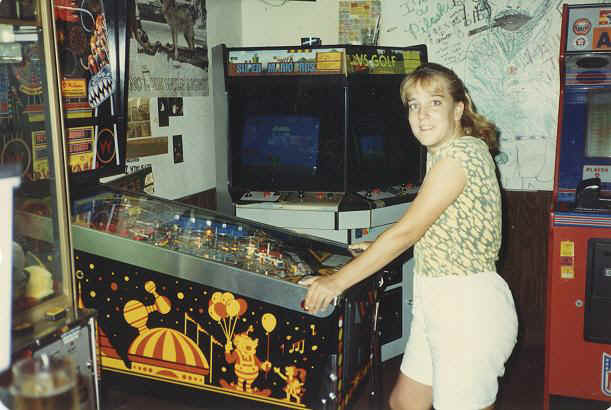 Paige used to come in and I would look at her ass when she would play pinball. She was 23....I was 29....however, my GIRLFRIEND worked here, so didn't look at Paige's ass too much. Ok, I did. LIAR! I could say I really liked her for her pinball skills, as she is a damned good pinball player. My mother Sarah Marie DeAlcala Stakes died Jan 30th, 1988, and I was one screwed up individual when mom died; who had been battling cancer for 6 years. Paige was a good listener and seemed to be there at a really fucked up time in my life. She STILL is and as we head into almost 25 years together, we have 2 kids and have had something like 200 AMCs have owned since then. She still has a cute ass, but it is hard to find some good pinball machines nowadays as it is mostly video games at pool halls and arcades. The photo above shows her whipping up on vintage pinball game COMET. The crane game just to the left, the employees used to tilt at a 45 degree angle and all the stuffed animals fall out which would piss off Irv, the guy who put all the plush toys in there, he could not figure out how the machine only made $20 and $100's of dollars of stuff toys were "won".
Dirty's of Houston, Texas, circa 1989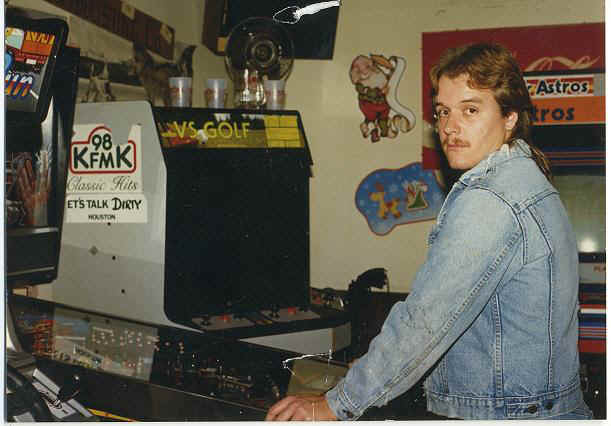 Pinball. I will kick your ass. I have 3 Texas titles and one City title. Not that they mean anything, but bragging rights. This is me whipping up Pinbot. I would run it up to some ungodly amount of free games then walk away. We are talking BILLIONS, not millions, of points. At Mama's Cafe on Westheimer, some dumbass who used to play daily there and had high score of 15 MILLION; and was shooting his mouth off to drunk buddies. I challenged him and told him I would spot him a million a ball; free balls count as same play ball; $1500 per ball. He thought I was full of shit, but said sure. Not that he had the money, but I had a backer anyways. After 2 hours of me playing I had over 87 million and was headed towards 100 million, still on first ball with about 7 stacked up. He didn't get to play. I told him he had been set up by the guy who owned the machine. No money exchanged hands, and I simply threw the game, left my initials of EDX on the machine, and had a few beers and left. So yes, I will kick your ass in pinball earthling.....and have been playing since 4. Also won a pinball contest at Confetti's here in Houston, BLINDFOLDED....and got FREE TICKETS to The Who concert!

Dirty's of Houston, year unknown
Bruce one of the cooks, this is at Dirty's Restaurant on Chimney Rock, me & illegal Mexican. I don't remember the illegal Mexican's name but we had several of them, really hard working sons of bitches. If it was slow sometimes I go out front, around back of building, bang on back door yelling LA MIGRA!!! IMMIGRATION, OPEN UP!! and go back inside to see where they hid, usually in the walk in cooler behind beer kegs and cases. Bruce was a really nice guy with bum leg. Later he would move to New York and call himself Darkly Wonder, not to be confused with Boy Wonder, Batmans sidekick.
Dirty's of Houston circe 1987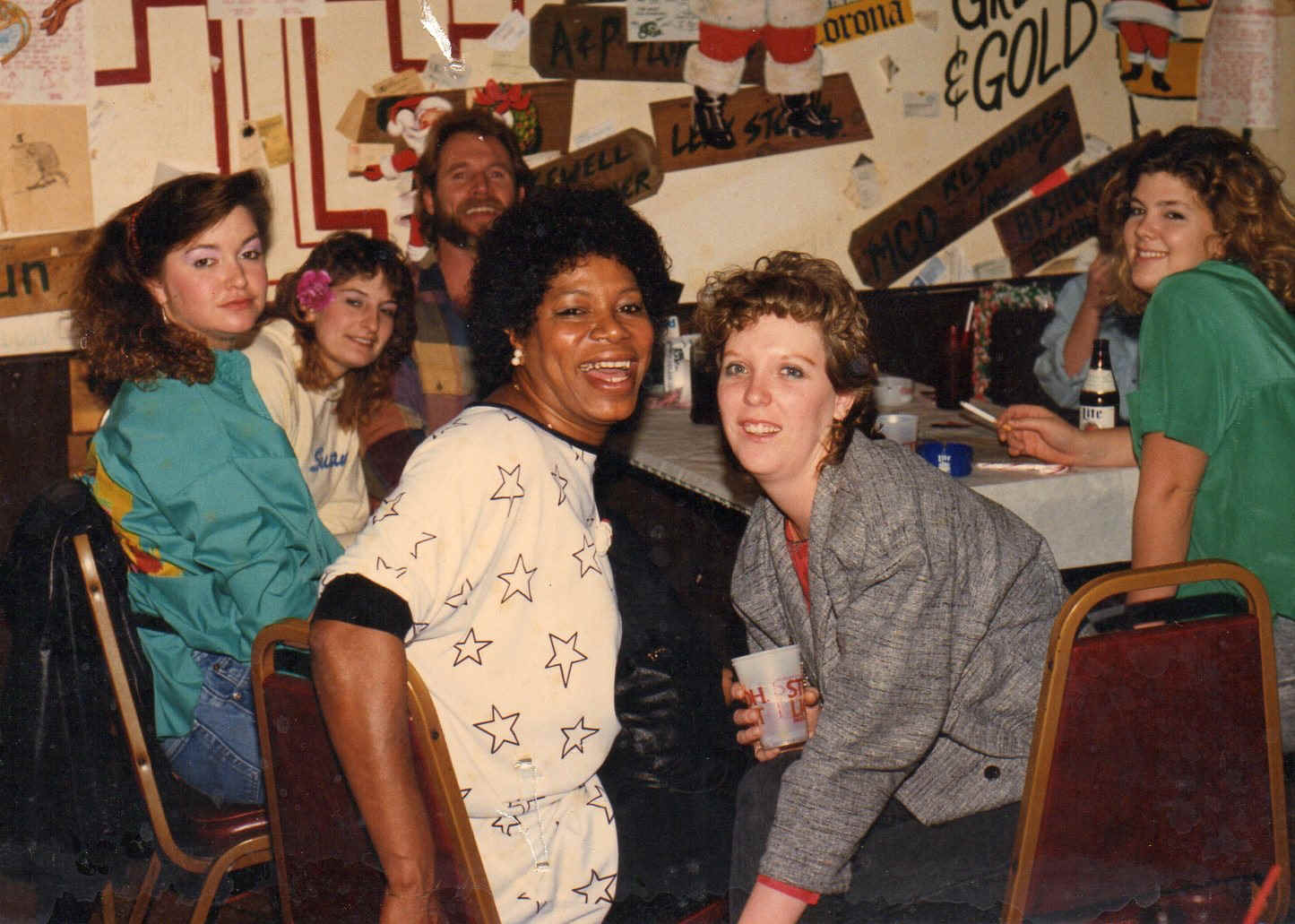 After a hard shift many of us would sit around and have some $1 Heinekens. Can't beat the price and really good on tap. Then tequila, then jello shots, you know how it is in bar business. Sometimes some of us would go across Richmond to where I used to work Sam's Place, or eveither Sam's Boat. And drink more. Janet is the girl with the cup right of center, eventually she would become managerial figurehead., Rose was the cook to the left of here, that is my ex Tammy Lynn Evans & Susan just behind Tammy, Sharon was a manager, and not pictured, but her cousin the guy in back, don't remember his name but always bought rounds. Girl on far right I believe was named Joanie.
More from Dirty's! Hey I took a shitload of photos and posted them on the wall, all paid for by me! Dirty's Restaurant MENU, rare shit I am only guy who saved one. 2nd photo Charly Kerfeld autograph, astros pitcher, he could come in and eat huge chicken friedn steak, then go pitch that night. 3rd photo Astros pitcher Jim Fergeson
Dirty's waitresses including manager Jaime on left, my ex girlfriend Tammy far right and below her Pam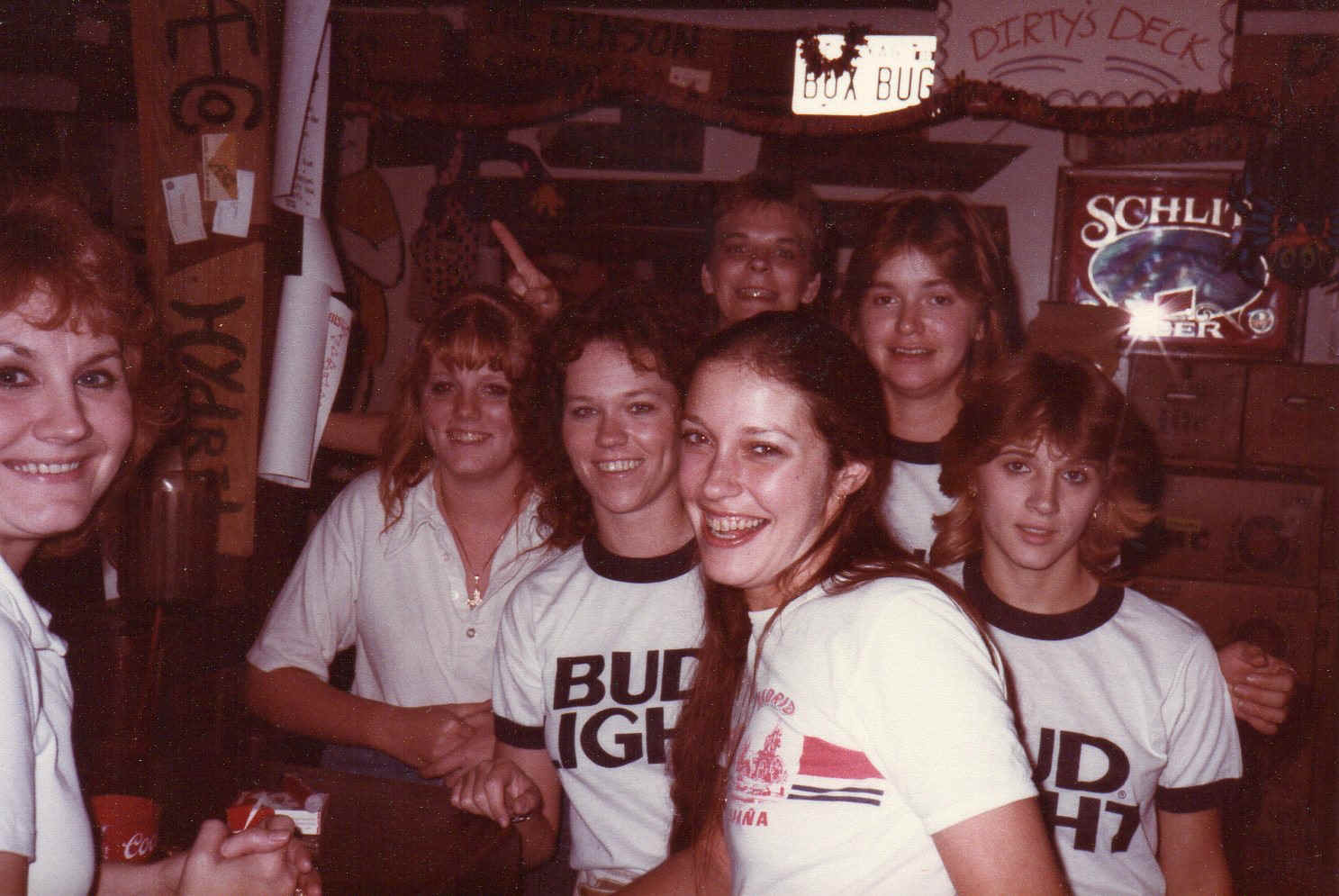 The Dirtybird Volkswagen helicopter. Me in driver seat, Victor Troncale on right 1980s
Dirty's cook photo #1; photo #2 the late Vince Ghourley on left, Billy Perry on right, in background Tammy Evans; photo #3, two of my Irish waitresses, the one on left had some big boobs loved to put in your face, good for tips; Photo #4 good customer Mike McKenna with his lovely girlfriend;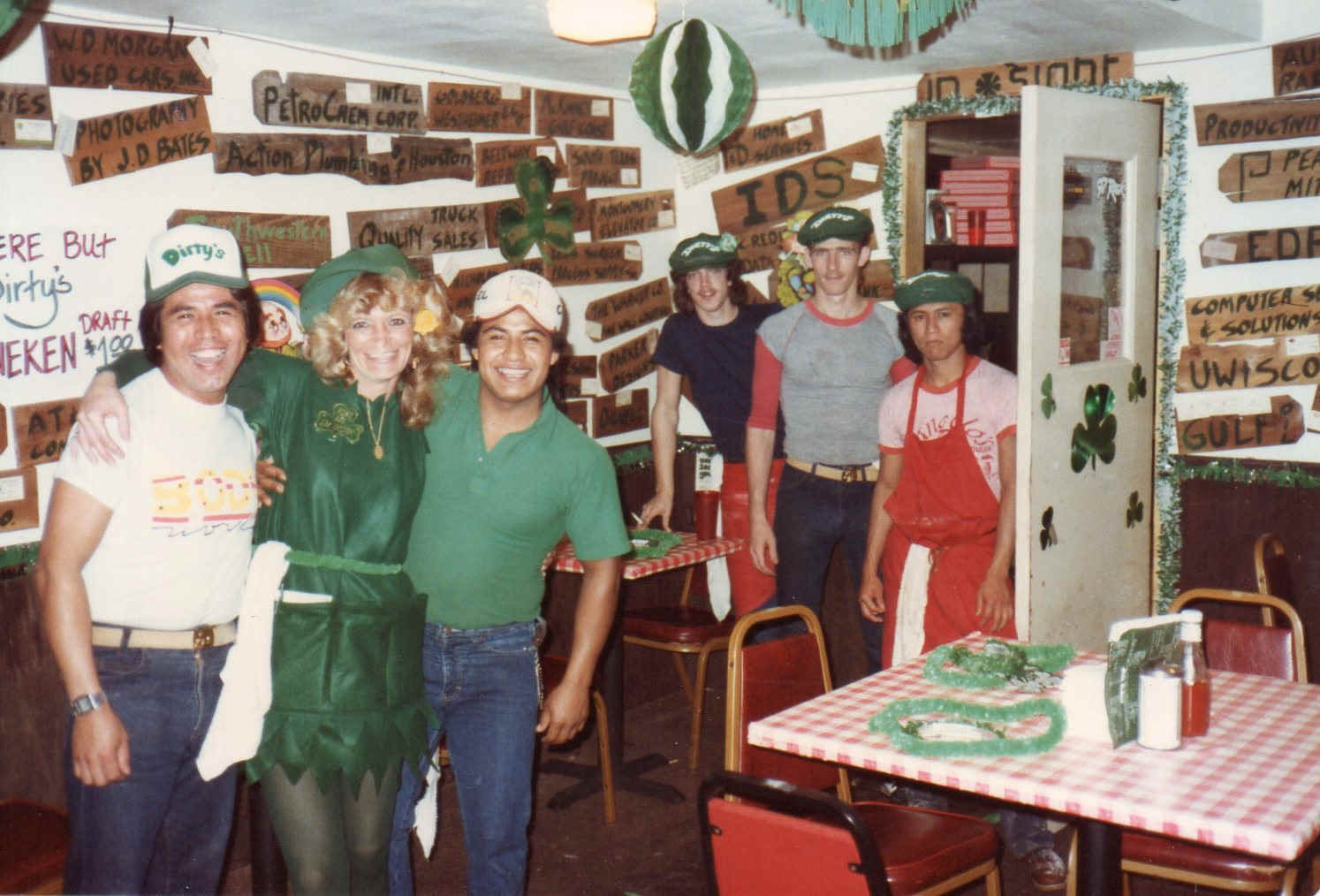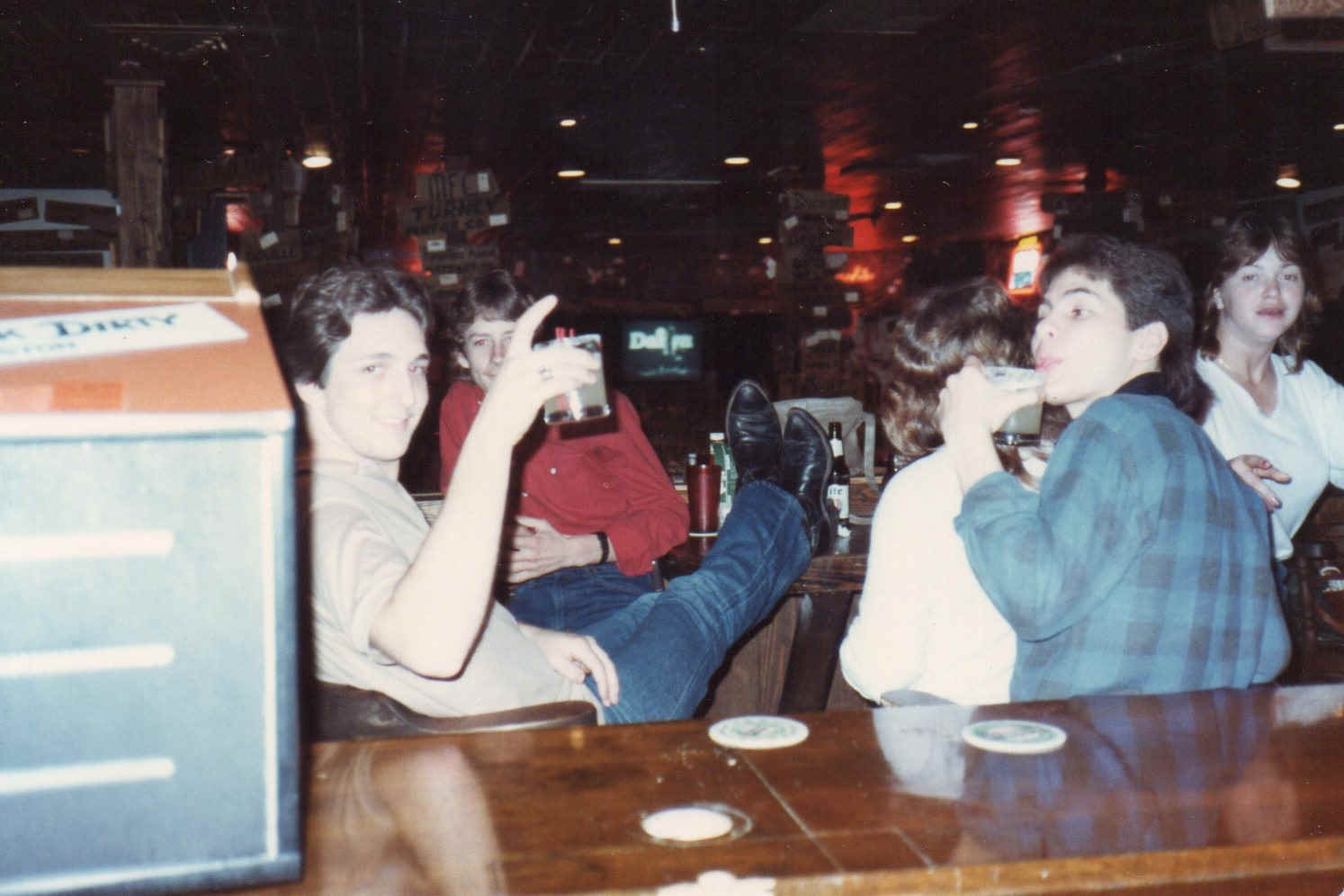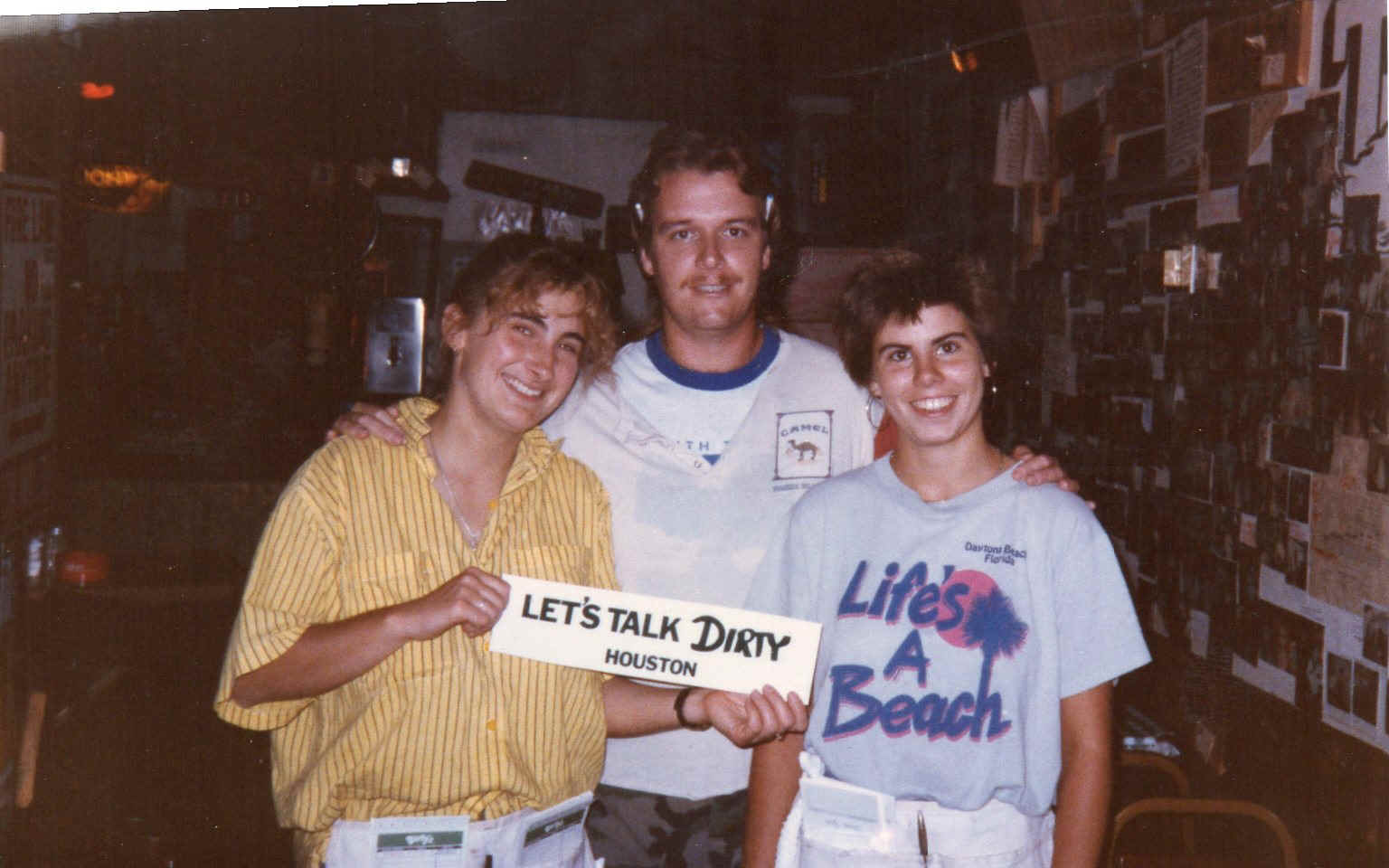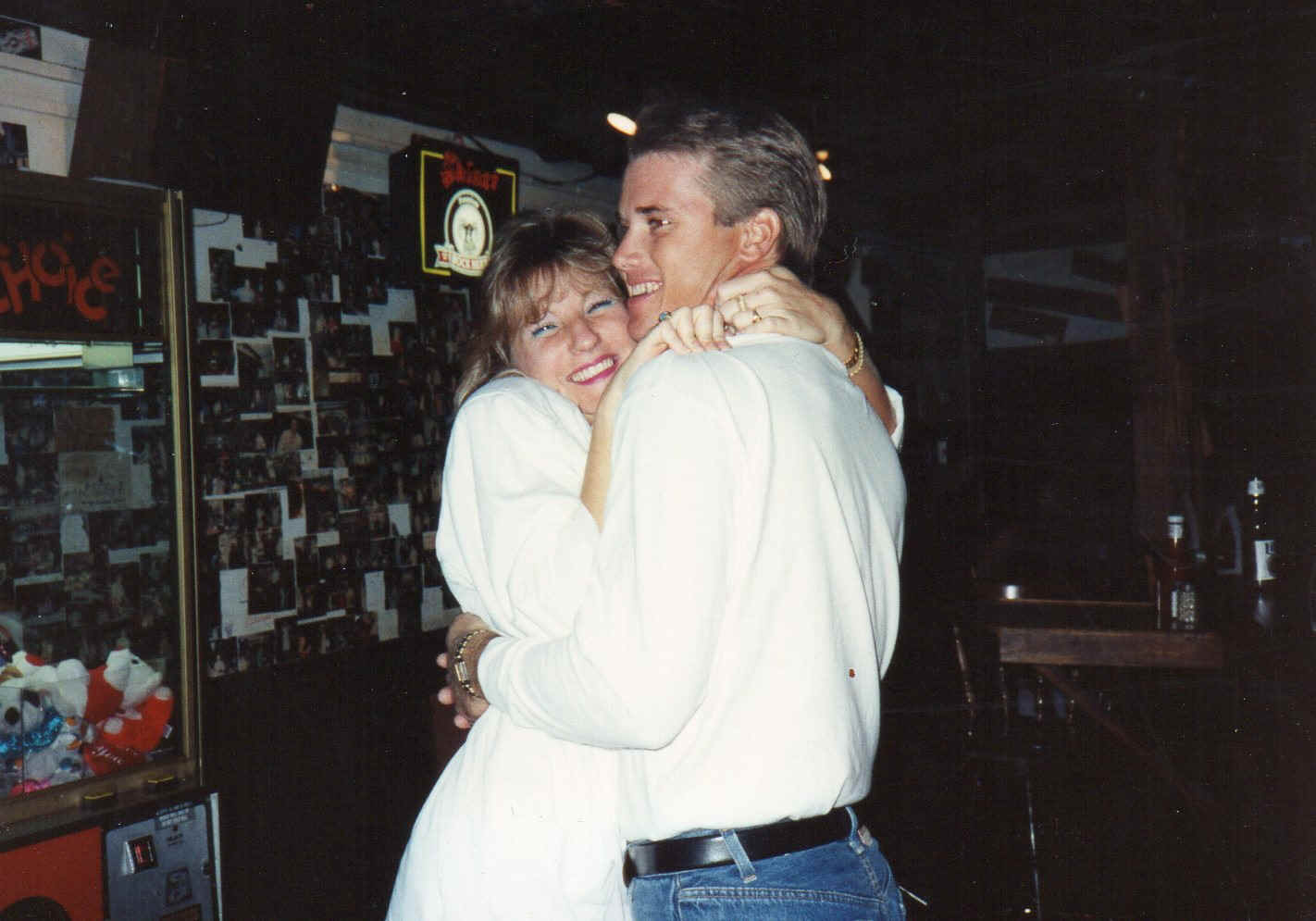 This little sweetheart I watched grow up from about 6 years old. Her and dad used to come into Dirty's, and when I left there, followed me down to Grif's. As mentioned way above, a bartender develops a following. I am humbled and honored by the following of people I have known thru the decades who have followed me like a dog in heat from place to place. She sure did turn out to be a beautiful lady!
Grif's Inn, Houston, Texas, circa 1990/1991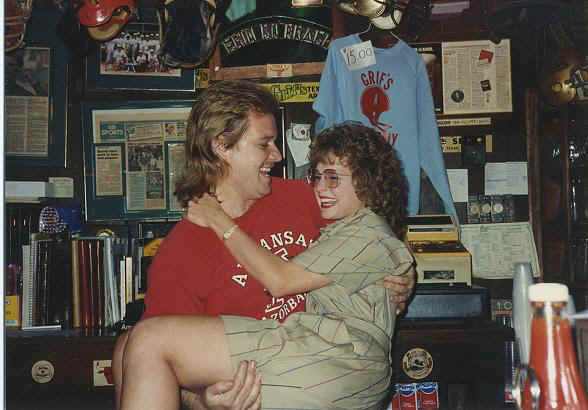 Grif's Inn, 1st photo Angel Sinclaire & me clowning around starting rumors; photo #2, Angel was Saint Patricks Day Parade Queen; photo #2, Saint Particks Day at Grif's beuties and the beast! Paige on left, me in middle and Angel on right! 4th photo is me with Willie Nelson's daughter!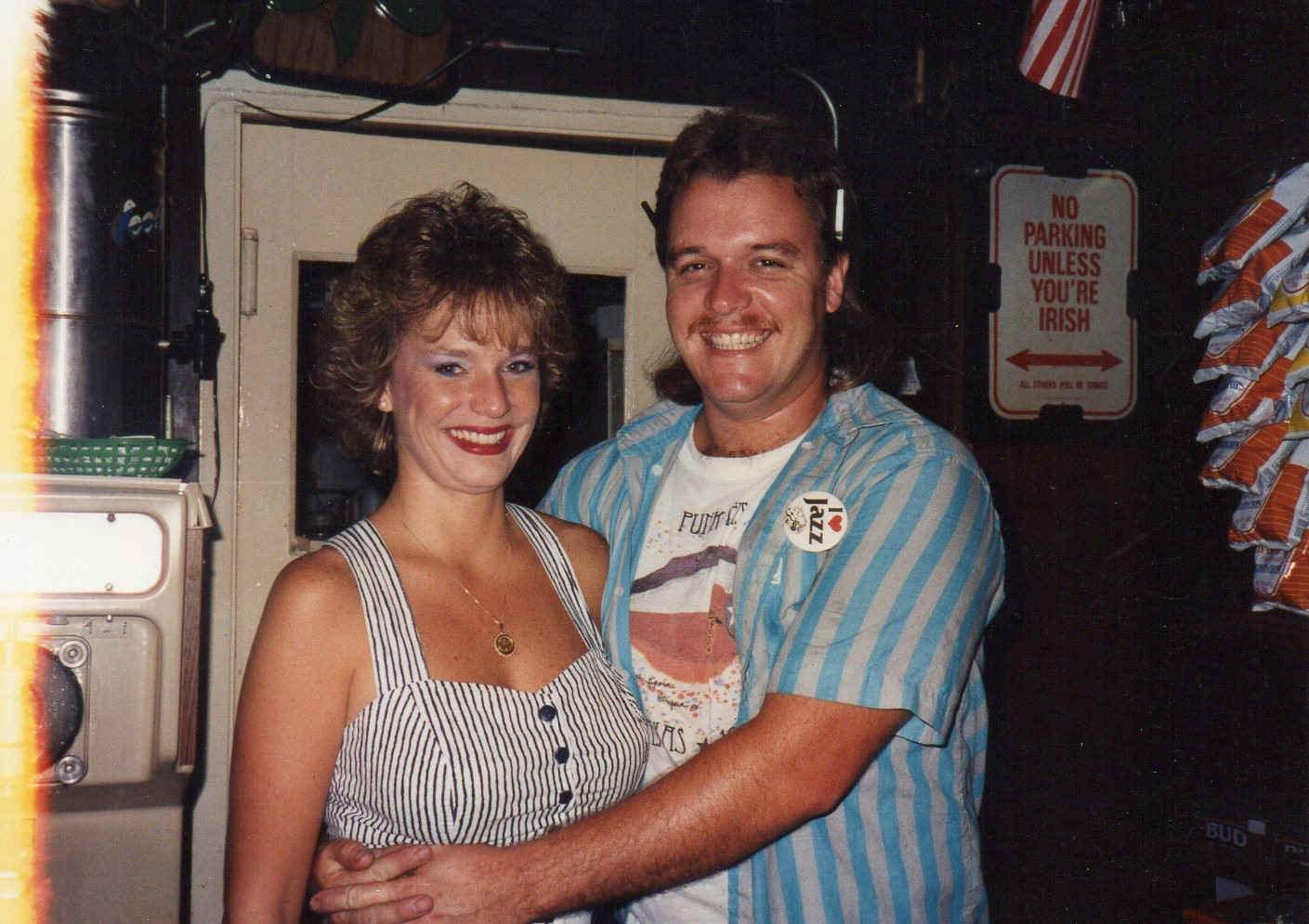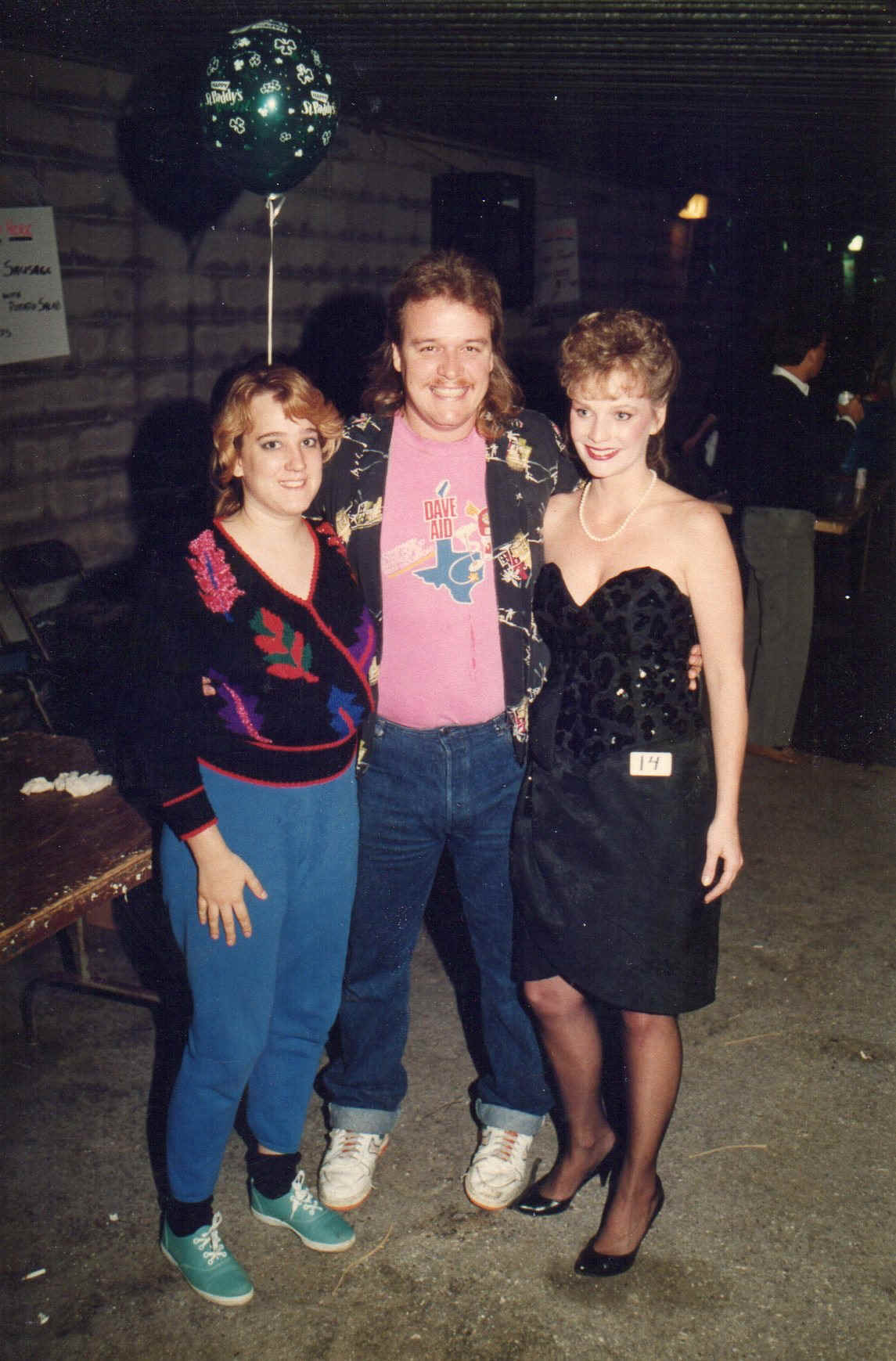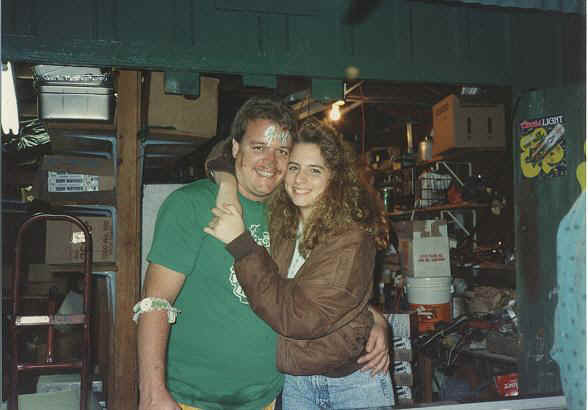 Grif's Inn used to have bus trips to the Astrodome each home game. Most people were drunk before the bus got there, but it was fun, and we all sat together, and made the loudest amount of noise. Grif is the only person I have ever seen to start a WAVE in the Astrodome. Repeatedly. Grif's Oiler Army was legendary in their support of the Oilers, and many players would come by Grif's in return...needless to say anytime there was a sports story in Houston......this is where all the stations were. It only seats about 50 people I may add, but has a big patio behind it next to the huge nest of spies Chinese Embassy. Grif's has been around since 1960s. If you are ever in Houston, you NEED to stop in this little place for a pint. That is Angele Sinclaire I'm holding up; she was Grif's entry into the St. Patricks Day float contest, and was Queen of the huge St. Patrick's Day Parade here in Houston several times, really beautiful lady. I almost forgot to add that the Saint Patrick's day Grif's Party is also lengendary, dozens of bands, tents filled with Irish food and drink, from sunup to early AM....
Grif's Inn, Houston, Texas, circa 1991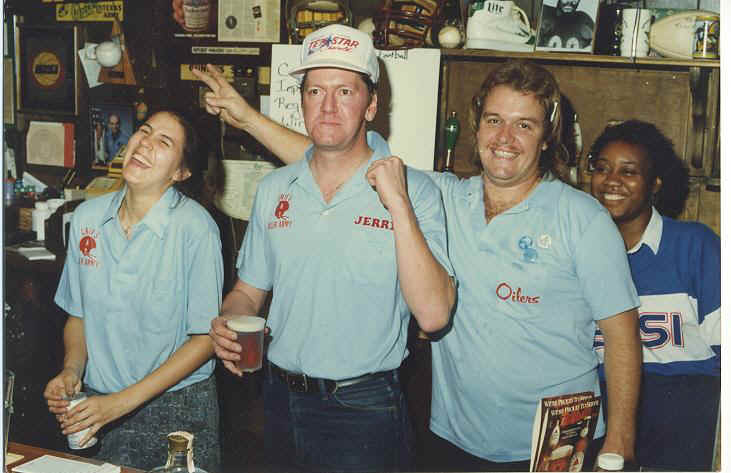 A crew shot of Torie, who I believe was 18 at the time (Torie, don't be drinking behind the bar and uh, well, don't be drinking as you were not 21 yet!) Jerry "Coach" AuFrance who could make some of the best burgers I have ever ate, even after 10-15 Budweisers this guy could COOK; me and Dee Dee on the right. Dee Dee was one of the most creative people I have ever seen in a kitchen with limited resources; amazing what she could turn out for lunch specials given limited items to cook! Dee Dee is my favorite albino Irish woman. At least she used to say she was Irish, but at Grif's EVERYONE WAS IRISH except the British National Soccer Team.
Grif's Inn, Houston, Texas, circa 1991/92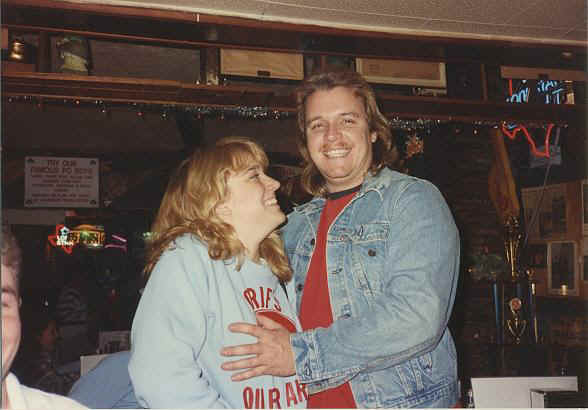 Paige used to come visit me here because we had Miller Lite on tap. She also made a who lot of friends at this place, many of whom she still stays in contact with after all these years like manager Helen and her hubby Duke. This is a photo of me taking a Breathalyzer Check on her. This intricate test is still performed by me after almost 20 years.
Scoreboard Sports Bar, Houston, Texas, 1994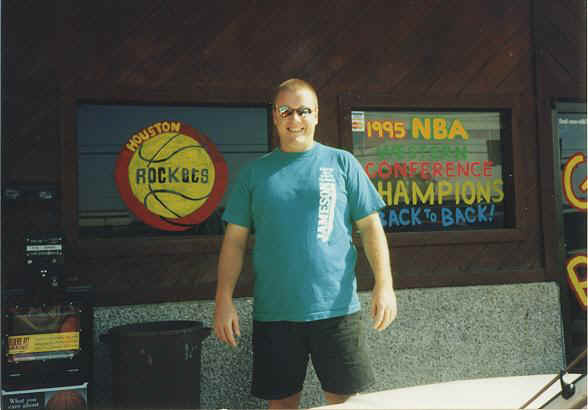 I made a bet. Houston was down 3-1 in the Western Conference Finals to Charles Barkley's Phoenix Suns who he proclaimed "Butt Kicking Inc is doing good" Of course the Suns didn't have Hakeem Olajuwon. I made the comment to several of my customers who were regulars....and doctors.....that Houston was DONE and if they came back to win the series I would shave my head. One said "I'll take some of that" and the other said they would too. So $400 per doc is $1200, and I would shave my head and get $400 if Houston WON the Series. They came back and won the damned thing (and went on to win the Championship) and I had to shave my head. I look like Shawn Kemp's ass with no hair. The late Monique Nation of Fox 26 came and and covered me getting my long mane severed....and I donated the $1200 to charity. That's my artwork on the windows and doors behind me, clearly seen from Interstate 10 whihc is across the street about 50 years, and has a estimated 248,000 cars pass this place daily!
Scoreboard Sports Bar, Houston, Texas, circa 1994/95, Madeline, some drunk ass guy, my wife Paige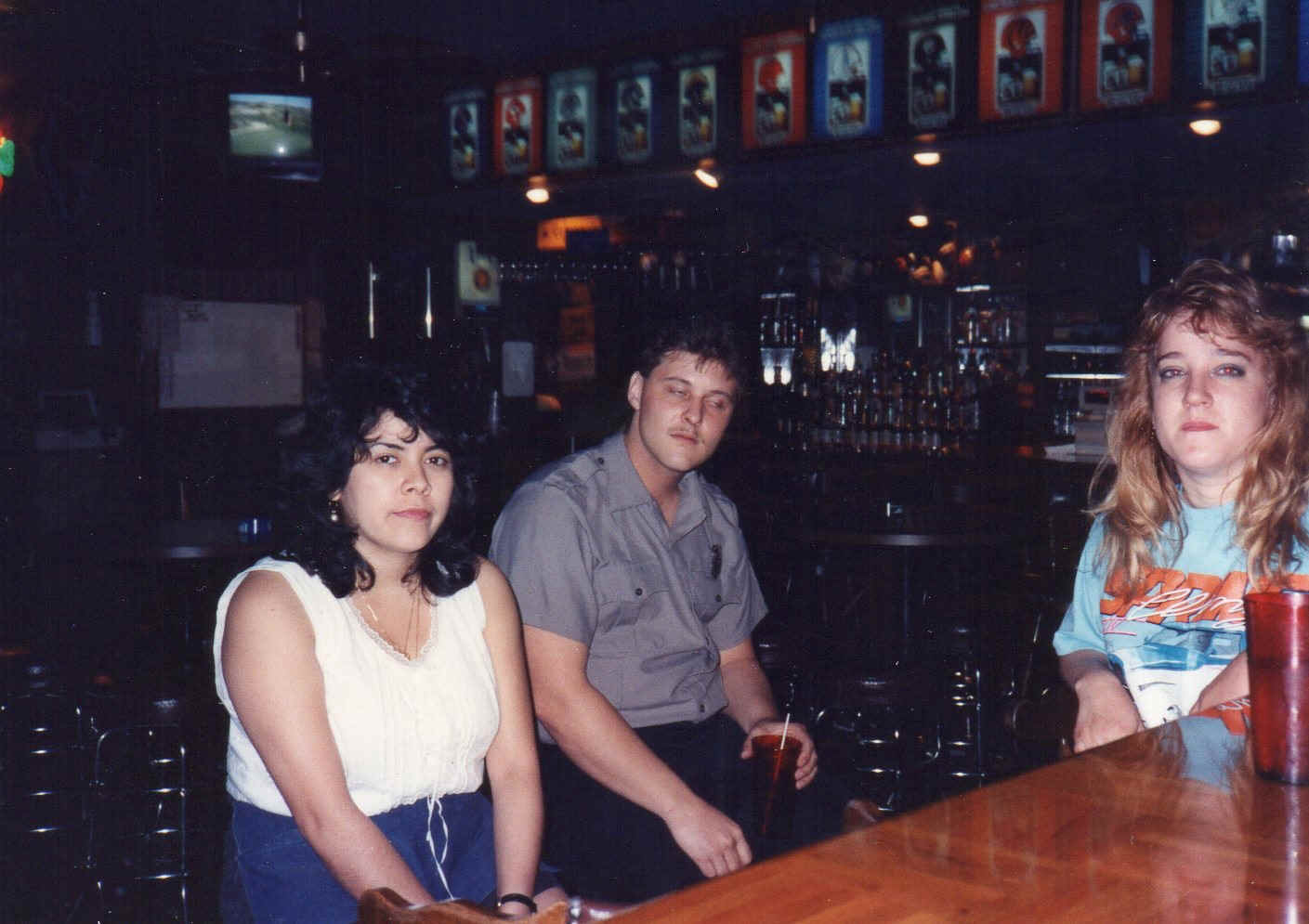 Scoreboard Sports Bar, Houston, Texas, circa 1994/95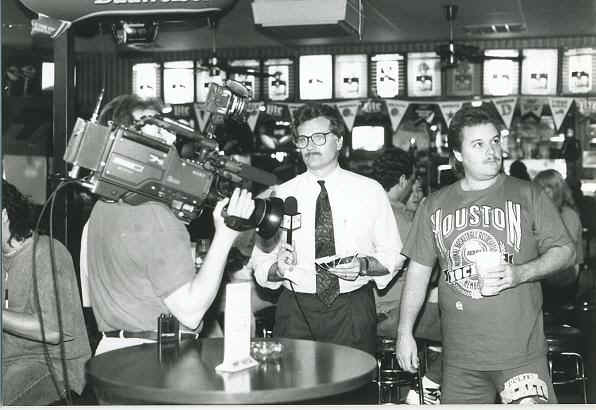 That is legendary Houston anchor Don Kobos fixing to give me a set of 4 Chicago Bulls vs Houston Rockets tickets at Scoreboard, where I was on duty. Part of the "job" is knowing media types like this. And I knew a shitload of them. And would call them whenever a 'big sports story' broke, and needless to say, they would come out, interview people (including me, duh!) and others. You give them a few free drink cards or comp their crew some burgers, and then get on tv. Real simple. And the sheer exposure of it is priceless....which in turn people would see "Scoreboard Sports Bar" in the news...then come out to check out the club. Priceless. Yes, I'm a ham for the camera and don't use the F word on camera however.
Scoreboard Sports Bar, Houston, Texas, 1994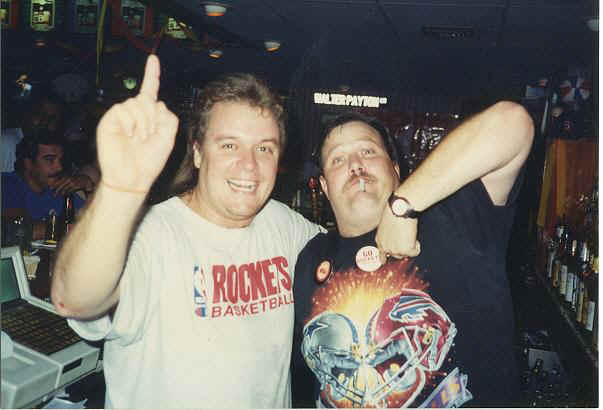 The Scoreboard went nuts when the Rockets beat Knicks. We lost 4 tables, one big screen had a bottle go thru it, numerous ceiling tiles, but what do you expect as our seating capacity was 350 and we had over 700 stuffed in there. Anyplace in Houston with a tv screen had a crowd. We had about 50 screens. Tom, on the right was a manager. Hardcoare, but long suffering, Dallas Cowboys fan. Tom used to make a lot of money betting people he could drink a pitches of beer in under 15 seconds. $10-$50 and amazing how many people took him up on it just to have him take their money. Unfortunately then for rest of shift me and crew had to babysit drunk Tom. He's a good guy who moved up to Dallas somewhere, have not seen him since mid 1990s so hope he is doing well with all coaching changes and drug charges the Cowboys seen to have! Tom if you are reading this: DALLAS STILL SUCKS!
Birthday Present from customer, year unknown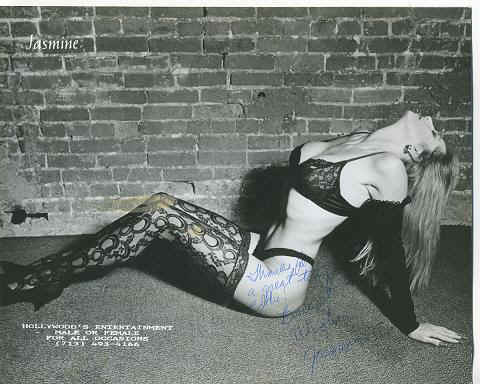 So you have booze, drugs, gambling, crawfish, food, sports, pinball (not at all locations, guess could be same for crawfish!) tiddie dancers, eh, ok, also not at all locations; whether they work there or come in as customers. Still, your customers appreciate the fine job you do day in and out. And I appreciate their different ways of showing it; as any waitress or bartender can tell you...it can be extremely profitable pulling a shift on your own birthday. This was a birthday gift one year. Her name is Jasmine. I know, they are all named Jasmine at the strip clubs. This one was brought in to the place I was working and put on quite a show for 15 minutes. I was really impressed at a cheerleader like spin and roll move she did from 10 feet away, whereas she ended up with her legs on either side of my head, and I was staring at the old tuna helper. What is that delectable fragrance? Is it Jasmine or Apricot Massengill?
Scoreboard Sports Bar, Houston, Texas, circa 2000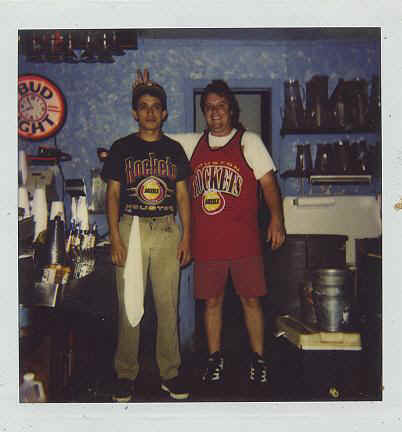 At least I think this was the Scoreboard, might have now been changed to Scorecard. I would be a rich man if I called Immigration on Alex shown here and his relatives and got say, $1 a person for turning them in. Damn he has a large familia. If it was a slow night (hey, you get balls to the walls nights and you also have slow nights) but sometimes I would sneak out the front of this place on I-10, and run down the west side of the building to the first back door, which was the kitchen door. I would bang on it yelling "IMMIGRATION!! LA MIGRA, DONDE ESTA LOS MOJADOS!!" and well, sometimes this would backfire as my barback, busboy and cook would haul ass out front door, and by time I got back inside, there they go with lights off on their Ford Escort down I-10 terrified. Now I don't have any crew. Alex is one of the hardest working vatos (actually his whole extended family is) I have ever worked with. So I taught him how to bartend. He is now a successful bartender in the Houston area until La Migra!!! shows up.
Bar Unknown, year unknown, Houston, Texas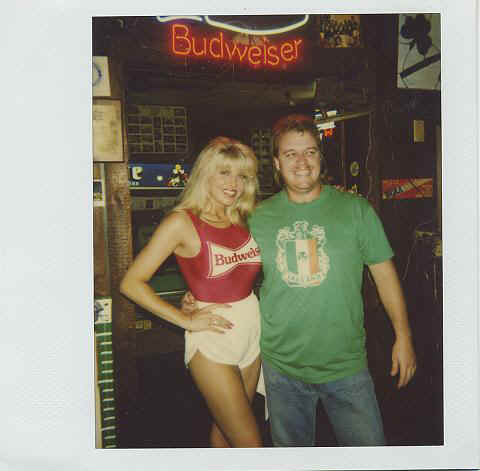 I have a lot of photos like these, and don't know where they were taken. I'm sure you have lots of photos like that too, except they are not with Budweiser Girls like this. I know a whole lot of Budweiser Girls, also know a crap load of "Lingerie Girls" and tiddie dancers. They like to be called dancers, but old school is tiddie dancer. Lingerie Girls: many places here in Houston have them; these girls go from club to club and for about a hour, walk around, sell tickets while wearing lingerie, if you win when they call your ticket number, you get a nice Hawaiian print shirt or some nice lingerie to take home to the old lady who will then ask you where you been before strangling you with said lingerie. I can't tell you how many of these lingerie girls will get dresses, or undressed in the office while i am doing inventory or counting bank, have seen more than my share of them naked, and well, they don't seem to mind. Maybe if I had small camera would put them up on myspace.com, not that it would be ethical, but if ethical I would not be in this business almost 30 years either.
Nick's Sports Bar, Houston, Texas, 2003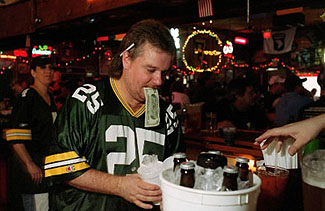 Yes I know it is unsanitary to have money in my mouth, but if you ask me for a Dewar's & a Twist, chances are I will give you a twist of my long red hair big boy. This place is one of the places where the Green Bay Packer Fan Club of Houston meets; there is several other locations but this is one of them for the west side due to Houston being almost 10,000 square miles, you don't want those drunks on the road after yet another Packer loss driving from, say, Kingwood 60 miles away. These people have a fondness for Blackberry brandy, which if you have ever had, is enough to either make you quit drinking entirely or suddenly be a fan of The View. They also like Brats, German Potato Salad, pickles for some odd ass reason, and well, cheese. Mostly fond of Miller Lite too, and have never figured that out considering there are a number of breweries in Milwaukee like Blatz and Strohs. It was fun to hide the toilet paper on "Game Day" here and make them beg for a roll in the stall after they gorged themselves on 3-6 brats. Beg for Mercy Packer fan....sing "The Bears Still Suck" song BACKWARDS if you want the toilet paper!
Nick's Sports Bar, Houston, Texas, 2004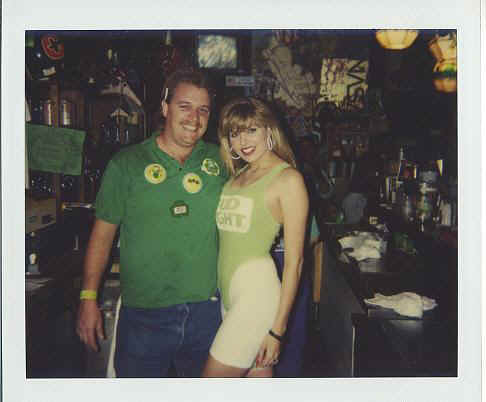 This is another Budweiser Girl, I believe her name is Meredith. We have crossed paths thru the years at a number of clubs I have worked at. Like almost every Budweiser Girl I know, she is a knockout and extremely beautiful. And she puts out! Yes, she puts out small flashing Bud pins, Bud Light T shirts, and those cool 'crack and shake' cymalume lights like the ones shown on my chest here. Here is a series of photos from the Houston Chronicle after I got them to come out and do a piece on this place.
Click here and be sure to click on MORE PHOTOS. 90% of the stuff on the walls I did here...on my own time....something I commonly do at other places I have worked at. Hey, it works, and change is good.
Nick Sports Bar
Have to give people the bone here when get out of line. Seems 90% of the fights in this place were around pool tables, duh. The waitress am holding is Jennifer, really sweet girl, was supposed to be a model for something like Cruel Girl Jeans, never heard of them
Scorecard Sports Bar, Houston, Texas, 2005/2006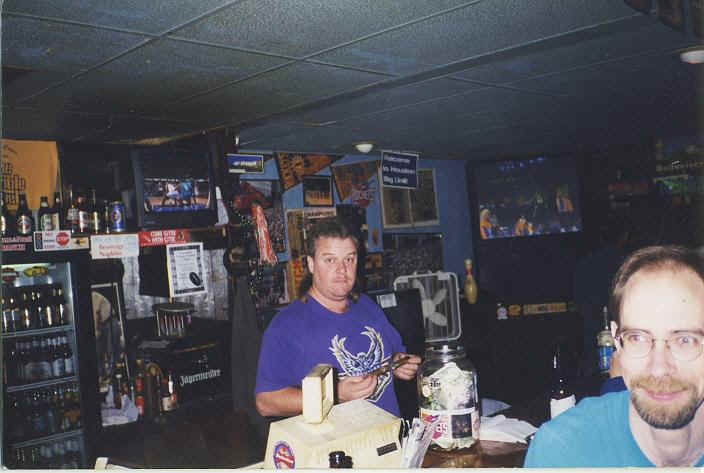 With new owners, and slight name change, I was lured as a "Hired Gun" to work over at the Scorecard, formerly Scoreboard.....where I had worked 9 years. Like a bad case of herpes that keeps popping up, I keep popping up. The best thing about being a hired gun is you can walk into any situation and handle it. Large bar like this, or small pub. I'm arrogant about my resume and will put it up against anyone's. So good people seek you out knowing you don't drink behind bar, steal them blind, or are a walking Walgreens doing drugs...and of course, can quickly and usually change the landscape with clientele. No, don't call Crimestoppers on the fellow in the lower right of the photo, he is a good guy named Mike, not Jasmine. He is not a predator but has seen the Predator alien movie. I'm trying to figure out which cigar to smoke is it a illegal Cuban one, or a legal Romeo y Julieta? Decisions, decisions.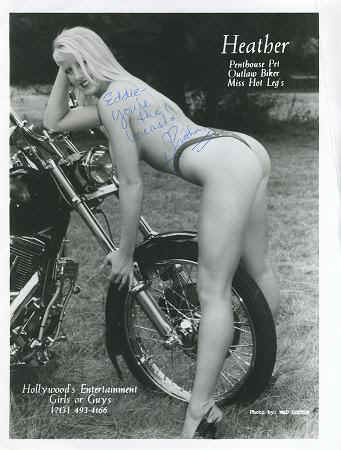 I have never figured out why these girls like to sign their stuff "Eddie, you're the Breast!" on their promo photos or polaroids..This one is named Heather and she was a former Penthouse Pet. Having all her teeth and appearing to be a real blonde, a customer got her to come by the club for another one of my birthdays. I asked if she wanted a ride in my Pacer. She had never been on that bike in the photo she told me, now we are getting somewhere. She was impressed that I had worked for a number of Bandido Biker people down in Corpus Christi and never got my ass kicked. I told her they liked my old American Motors cars so we 'shared a common link' they like Harleys, I like AMXs.