Ayers Bowling Alley
AYERS-BOWLING-ALLEY: A fun, go to place in the 1970s was Ayers Bowling Alley. At corner of Tarlton & Ayers, this big, multi lane complex usually had lanes open, and for the most part, was clean, had good rental shoes that didn't have its own ecosystem, and burgers were some of best in town. I was rookie at W. B. Ray high school, and we had recently moved back to the stone age home at 723 Doss, our old shotgun house next to it in ruins from Hurricane Celia in 1970, sat forlornly with roof caved in. We had gotten tossed from our rental house at 642 Naples by Lloyd Remple who had let us rent for $300 few years knowing our dire situation on Antelope & Doss. That honeymoon over, I went to Roy Miller high school 1 semester and lots of fights, drugs, just bullsh*t and grades plummeted. My dad got with mister Hernandez (Julio of the Hernandez clan: Frank, Carmen, Danny, Isabelle & Rosanne & momma Hernandez) who lived at 610 Naples a few house from were we HAD lived, and asked if I could 'use their address' of 610 Naples to go to Ray since they would not issue me a transfer. It worked! So had to do homework by Coleman lanterns, no air conditioning, no hot water, no electricity, no indoor plumbling, you know the ritual, have told you before. But used their address 'for school purposes'.
So: while we did live on Naples, I rode bike all around that area, a wonderful area, and discovered Ayers Bowling Lane. They had pinball machines and no one could be me. No one. Not as many pinball machines as DelMar Billiards near Der Weiner Schnitzel but some good machines. And I also discovered bowling. Had never bowled before, just throw rocks at cars on I-37 which sort of counts, same physics and angles. I was about 13 then.
So fast forward a little before you with short attention spans that read my stuff start nodding off like bad Netflix movie. I got involved with the W. B. Ray Bowling Team. Was loosely knit group, you paid your way, and we meet at Ayers Bowling Lane of which I was familiar with now from few years before. Getting to damned place now was tough as living in uh, Miller District, not Ray. NONE of the Bowling Team knew my dirty little secret either, I could have been Russian spy, spying on moose & squirrel, no one knew. Still, even if was spy, was tough getting over there with bus schedule from Leopard to Staples, get transfer, go to Six Points, get another transfer, then get on Ayers bus to alley. Then later, pray that my dad or brother Tommy had some gas in one of the cars and come pick me up. Sometimes left there and forgotten, a few times walked home down Tarlton, to Crosstown, then all the way home to Leopard, was long walk. Even moose & squirrel forgot me. It is not like I could ask someone for ride home, my cover would be blown! "Eddie, what the hell are you living over in this ghetto going to Ray?" Uh, no, will walk thanks. A handful of times, just caught bus from Ray to Staples & Baldwin, then walked to Ayers Bolwing Alley. Took extra shirt as would get sweaty.
When the team bowled, we were damned good. Sure there were some slackers and laggers, and some had off days, as some of the guys & girls also worked a job. So could be tired. But of all the high schools, we came in FIRST, in District Play, how about that? We had some really, I mean really good bowlers on the team whose average was upper 100s. Mine was about 156 average, not too shabby for poor, unwashed mass from north side.
In the club bowling photo, since I was not really fully a Ray Texan, they didn't know who the hell I was. Russians spys would have figured it out, but in the photo I am listed as Eddie Hodges ha ha. Not sure who that is, was no stinkin Eddie Hodges at Ray... maybe America's first version of Fake News?
At later date when I was working at CPL sending dogs to heaven with my club as a Meter Reader after work on Fridays and bunch of us meter readers, still in uniforms, would all go to Ayers and drink beer & bowl, lots of fun, and some of those guys really good also! Bottom line was Ayers Bowling Alley in 1970s was just really good, fun, hangout. I had my 1970 Javelin then, no more bus.
Photo #1, this is how most folks from Corpus Christi will remember Ayers Bowling Alley. Iconic neon on front, guy bowls, ball goes towards pins, pins go flying, just great looking attention catching neon no matter what angle you saw it at. Sometimes if wind was right, while waiting at the three stop lights for no reason (Blevins, Tarleton & Richard) you could catch the smell of the burgers from this place, wow!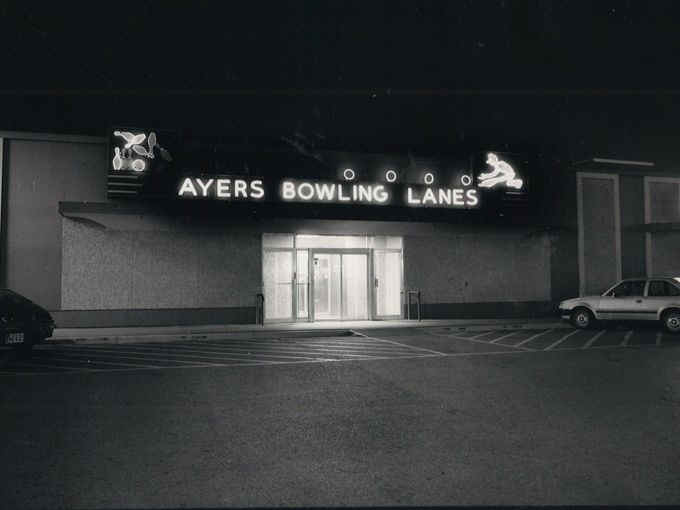 Photo #2, some of the best bowlers on team were CH, Joe Guiterrez, George Gonzalez, am missing a few names. That is me on far right with little goofy ha and Budweiser tshirt. It shows Eddie Hodges, but no, is me.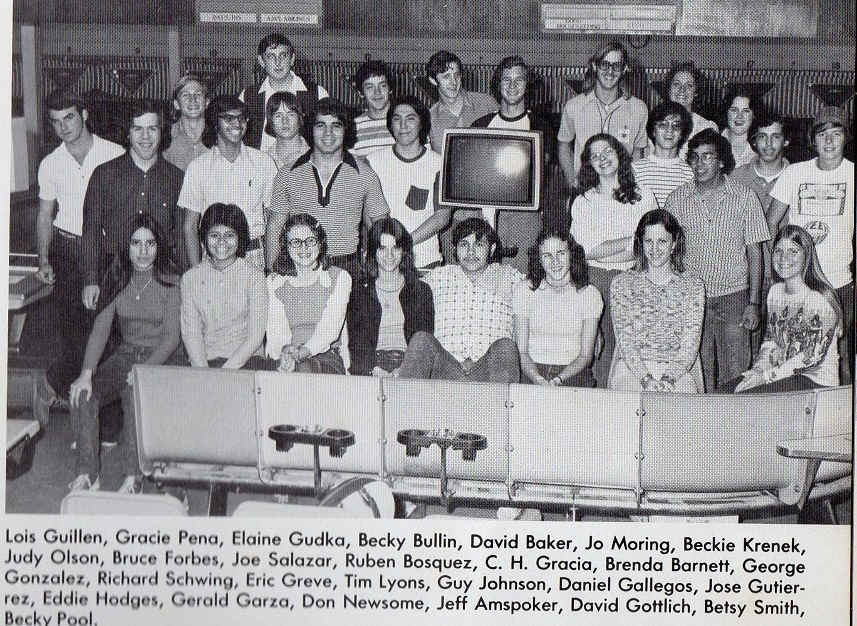 Photo #3: two of our best bowlers were Joe Guiterrez & Elaine Gudka shown here.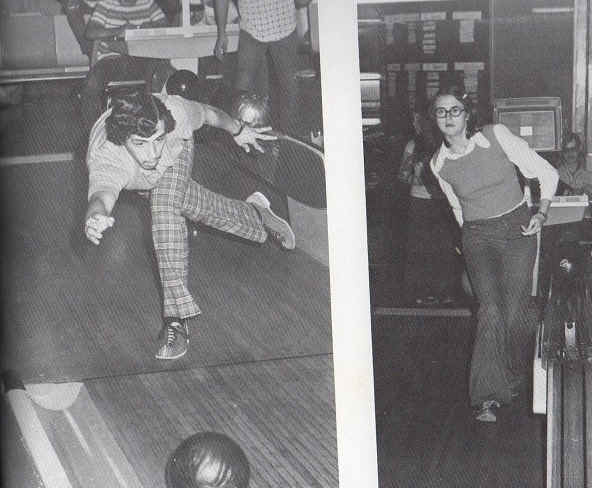 Photo #4: It is always fun to rub Miller high school nose in mud. Well, Moody, King, Carroll too. At the time, there was no other schools in the district, just these five. And we kicked their asses, ha ha. Yes, you had nine 'competing schools at time, including Calallen, Flour Bluff, Tuloso Midway, Gregory Portland (glad I didn't have to walk home to there from bowling lane). Kicked their butts too, some like Gregory Portland would payback against football team beating Ray 863 to minus 4 though.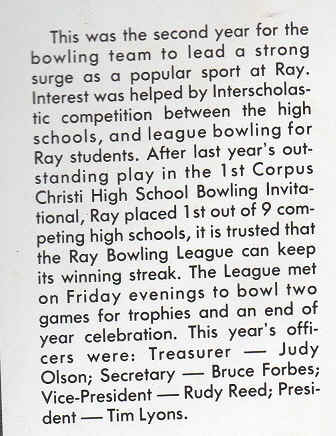 Photo #5. Not Ayers but farther down Ayers another bowling alley near Borden's milk opened and a lot of people started going there as new lanes, electronic scoreboards, fancy stuff. About same prices for awhile, guess to lure Ayers Bowling Lanes people over. My late brother Tommy, when not single handedly putting Shakey's Pizza on Everhart out of business with their buffet, loved to bowl and was really good. Not shown here but his wife Maria with one of the girls, Sarah at the new bowl place.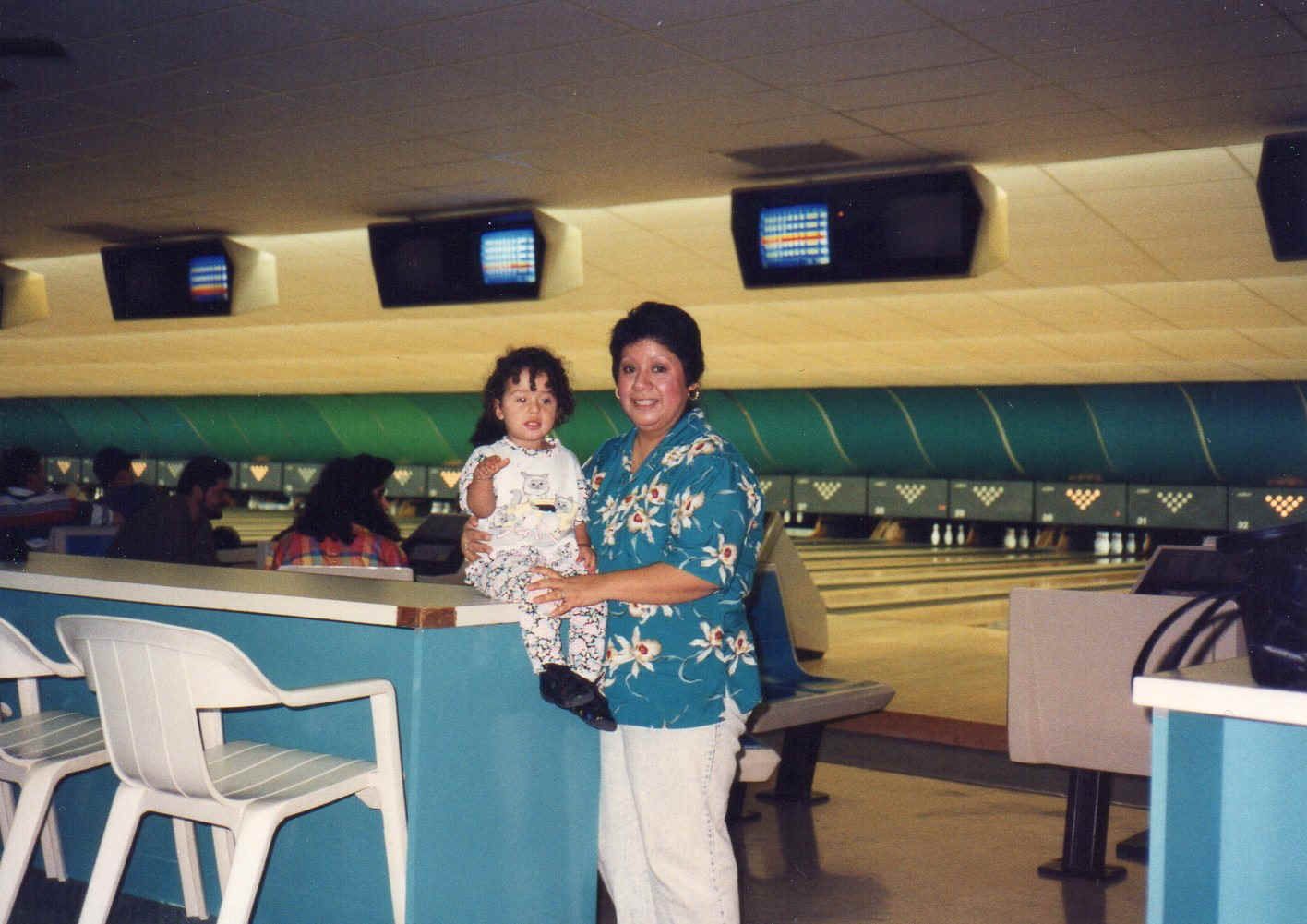 Photo #6 My late dad, Homer T Stakes, never bowled that I know of, as had knee replacement years ago, but would go with Tommy & Maria to the bowling alley. Shown here with their daughter Sarah. Look closely in background, wow, bowling lockers at this new place near SPID. Fancy!