Cruising Ayers Friday & Saturday Nights in Late 1970s

CRUISING AYERS: In 1970s Corpus Christi, Ayers was THE cruising street. Many of us spent out whole checks on our hot cars. Save some money for beer and gas though. Saturday on Antelope street between Lester & Doss, a number of friends would come over, wash cars, Armor All tires and interiors, make sure engine tuned up as my dad Homer T. Stakes was master mechanic & help everyone. FREE, even though dad had no electricity, hot water, indoor plumbing, air condition, telephone, (in late 1970s) still helped out people FREE. He was a AMC (American Motors) man, but knew all makes & models!

You had Javelin, Mustang, Road Runner, Falcon, Camaro, Dart, AMX, Satellite, Comet, Maurauder, GTX, LTD, Chevelle, Corvette, Barracuda, GTO, Firebird, Hornet, Chevy II, Charger, Cougar, pretty endless list of muscle cars. And not uncommon to see many of these on a Saturday Night on Ayers, granted a lot of Chevy & Ford, but people came in from surrounding areas like Kingsville, Portland, Sinton, Alice to name a few...to CRUISE. Some were not muscle cars, just hopped up and looked great. A friend of mine had a bright blue Pinto with mag wheels, you were not going to beat anyone with that but looked cool. Junior had a 4 door Chevy Impala with air shocks and Cragar mags. Emilio had at one point a stunning 60 Impala with wrap around back glass, later had a Granada. Mondo had a 73 Nova. Late brother Tommy had a Chevy II Nova with a built 396 and straight front axel, punch accelerator front wheels could come off ground. Momma would not rider in it, scared of it.

I had people actually tell me if they saw him coming towards them on Ayers or another street, they would turn off 'as to not face him' ha ha. But hell, people did same thing with Officer Mudd & The Witch of Weber lady cop too, turn off side street, PUNCH it and haul ass opposite way. Even if did nothing wrong!

Ayers was the cruising road in Corpus Christi, I started cruising it in my 1970 AMC Javelin in 1977. The main drag was from Six Points west to where Port hits Ayers at "The Y". But the hottest area was between Baldwin to Horne. And where Ayers Bowling Alley, HEB, a little down, Del Mar Billiards were, and across from the bowling alley where a new Sonic Drive Inn had been built. Had to cruise thru sonic several times a night, rev engine, get everyone to look, or blast AM/FM/8 track radio LOUD with Foghat, Judas Priest, Scorpions, or other great rock band. Same effect, heads turn.

You had areas where you could park and NOT have issues like security guards or CCPD running you off. Some of the places one could PARK & WATCH the endless parade of cars? Der Wienerschnitzel, Del Mar Billiards, Ayers Bowling Lane, the abandoned parking lot next to the La Armada ghetto projects (just west of Arlington & Ayers across from Sonic) and Handy Andy.

Since Emilio Gutierrez had a relative who owned the FINA gas station next to Sonic at the corner of Watson & Ayers, he allowed us (& invited special

friends!) to park our hot cars there after it closed. It is a muffler shop now, next to the Church of Bell On A Stick. Don't know it's name but next door. This provided us great viewing, could whistle at the chicks, wave at the guys and other friends we knew. And of course sit there and smoke weed & drink adult beverages. And Corpus Christi cops could not touch us, we had....permission.

Directly across the street was a abandoned closed big warehouse, there is a Family Dollar and big 1/2 of original building there now, sometimes 2-3 rows of classic cars, hot rods, and low riders parked there, problem was, this parking lot dark so could not check out the cars well, unlike say Ayers Bowling Lane. Del Mar Billiards was dark also but what the hell, could not get run off. Besides they had great pool tables and a mess of pinball machines I could whip up on.

And you WANTED to be seen, you spent a lot of money on your rims, paint job, detail work, tires, and stereo! Some cars, like my Javelin, LOTS of chrome under hood, so had small light under there so people could drool at the braided lines and hoses, chrome valve covers, oil cap, brake master cylinder cover, people stare at engine like a flounder stare at light off Oso Pier.

Places NOT to park included HEB next to Ayers Theater, (why I do not know) Del Mar College (ha ha they had golf carts with guards, think of Officer Blart in Mall Cop, sometimes we would talk with them for over hour guards check out chromed engine!) The long strip shopping center that on east side of Ayers at Horne, was a Fuedo's at one point, but this strip all the way down the the 'Horse With The Painted PeePee' boot place. Why someone paint that horse's wiener? Damned Moody kickers I bet. As kids we would drive past that, mom turned head, brother Tommy & me in back seat of Rambler giggling like bad Beavis & Butthead cartoon looking at it. There was a Snapka like place across from Butter Krust you could park, only if you bought something, but sometimes we would buy stuff, then park next to street to watch action.

At Der Wienerschnitzel at corner of Baldwin & Ayers, you drove thru or walked up, got chili cheese dogs with onions or polish sandwich, walk back to car & eat, watch the parade. The area between this place & next door Del Mar Billiards sort of dark, but no one seemed to mind. Plus you could drink beer with your delicious food, some of the BEST on the strip, then... and NOW.

So you thought you had a bad ass car? Go out past The Y way out Ayers to Saratoga, that is where the big boys would run, I know several people who street raced 'title for title' yes, you lose, you surrender your car, so you better know what doing. Most people just circlers. Like me. And most of friends. Even girlfriends. Back and forth. Back and forth. All night long.

So my Friday & Saturday Night "ritual" along with hundreds of others was go out to Ayers after dark, cruise west to "The Y" turn around on Port back to Horne, or in the big Mercantile Bank lot, go back other way. Most times go to Six Points, there have a variety of ways to turn around. Some turn in front of Carousel Club to whistle at the hot chicks (ha ha if single!) waiting to go in and disco the night away, or hungry off the path, Church's Chicken there on Brownlee open late! Where Ayers Bowling Lane is there was THREE big yellow hang above the street stop lights. One for Blevens, one for Richard another for Tarlton. Tarlton was the escape route to Crosstown. But these three stop lights in a quick row (two remain!) were pretty much Christmas Trees (drag racing term) for many of us guys. At the middle stop light was a liquor store on east side of street. Now something else, tattoo parlor I think, but whoever put that liquor store there in 1970s was brilliant, as you had your OWN stop light to come and go from the place after you reloaded on beer or booze. What a staggering amount of beer & booze they sold, must have had highest TABC (Texas Alcoholic Beverage

Commission) sales in Corpus Christi.

Interesting for all the drunks and high powered machinery, never saw any wrecks or fights. My 1970 Javelin WAS totaled out in front of White Rabbit Disco in 1978 by drunk lady, but that not the strip and another story for another day.

Did you have a date or pick up a hot chick at the disco or Sonic or somewhere along the strip like many of us guys did? Take your happy butt past east now past Six Points down Ayers to Ocean Drive, there is Cole Park right in front of you, nice breezes, hold hand, walk out on lit pier, maybe even smooch later back in car, (unless you ate 3 or 4 of those Der Wienerschnitzel chili cheese onion dogs ha ha) or take her someplace nice Late Night Graze off strip like Nolan's or Floyd's. Or hell, home and cook for her, that always impressed a lot of my dates. Even ex wife. When I moved from Corpus Christi in 1983, another 'main drag' had sort of sprang up on Everhart as population shift. But not even a fraction of the action Ayers was in hey day in late 1970s.

Strange part? Over 40 years later I still drive 1960s & 1970s cars & made my passion a business, been in business 34 years with Planet Houston AMX. On Saturday Nov 3rd, 2018, took one of my boys to Memorial City Coffee & Cars big meet in Houston. And LOTS of nice comments on my 1968 Rebel Machine convertible. So yes, the dream still is alive. Hope Corpus Christi still has a neat cruise night on a strip now.

PHOTOS!

Photo #1. The once proud and neon lit Ayers Center big sign still stands, hope it is restored like many of the old cars I and others restore.
Photo #2. Back & forth, hour after hour is what we did. Ayers was 2 lanes each way, and the 'cruisers' all seemed to know each others rides. Shown here is a yellow Barracuda, a blue Pontiac GTO & red Camaro.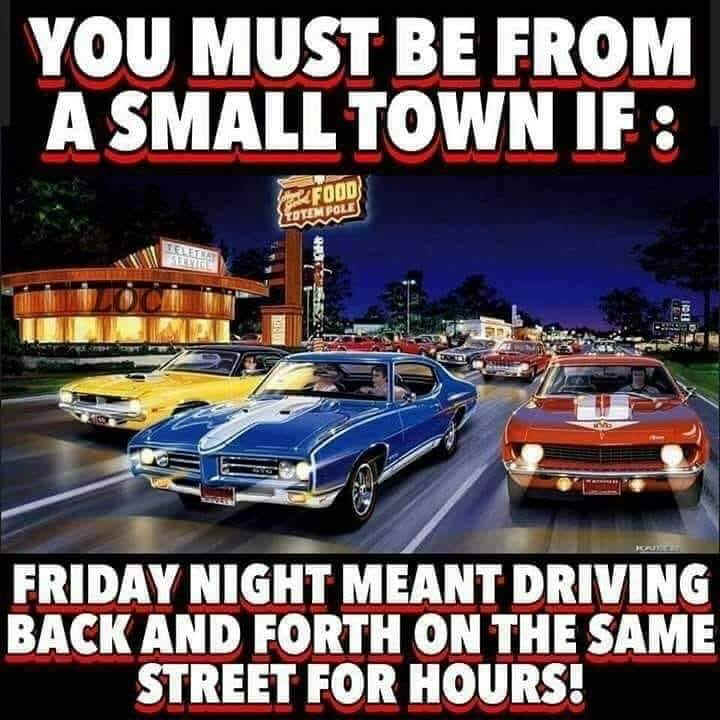 Photo #3. A small olive colored gas station was another hot spot for cruisers who liked to stop in and buy gas, support the family who ran it. A early 1960s Plymouth Valiant sits next to station, while the HEB looms across Ayers. The little gas station also sold beer & smokes in case you didn't want to battle crowd at Mc Nabbs or the place in front of stop light farther down near Tarleton. Now, Del Mar encroachment not only swallowed up this little place, but also the street corner where it was... gone..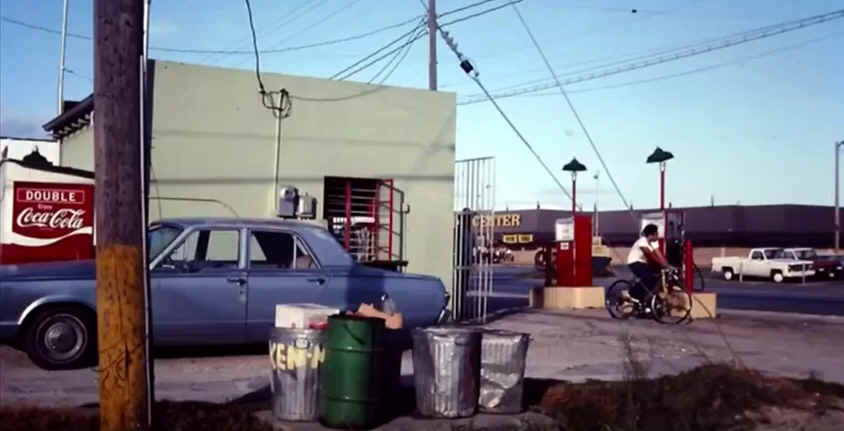 Photo #4. My mechanic dad stands next to ex girlfriend Debbie who towers over him, he had just worked on her hot rod shown behind them, a 73 Plymouth Satellite. The Satellite shared same body with Roadrunner. If you can get past ex girlfriend's double D's (my dad LIKED to hug her, she obliged!) you will see dad wearing Thurman Fondren uniform, this would have had to be late 70s, early 80s.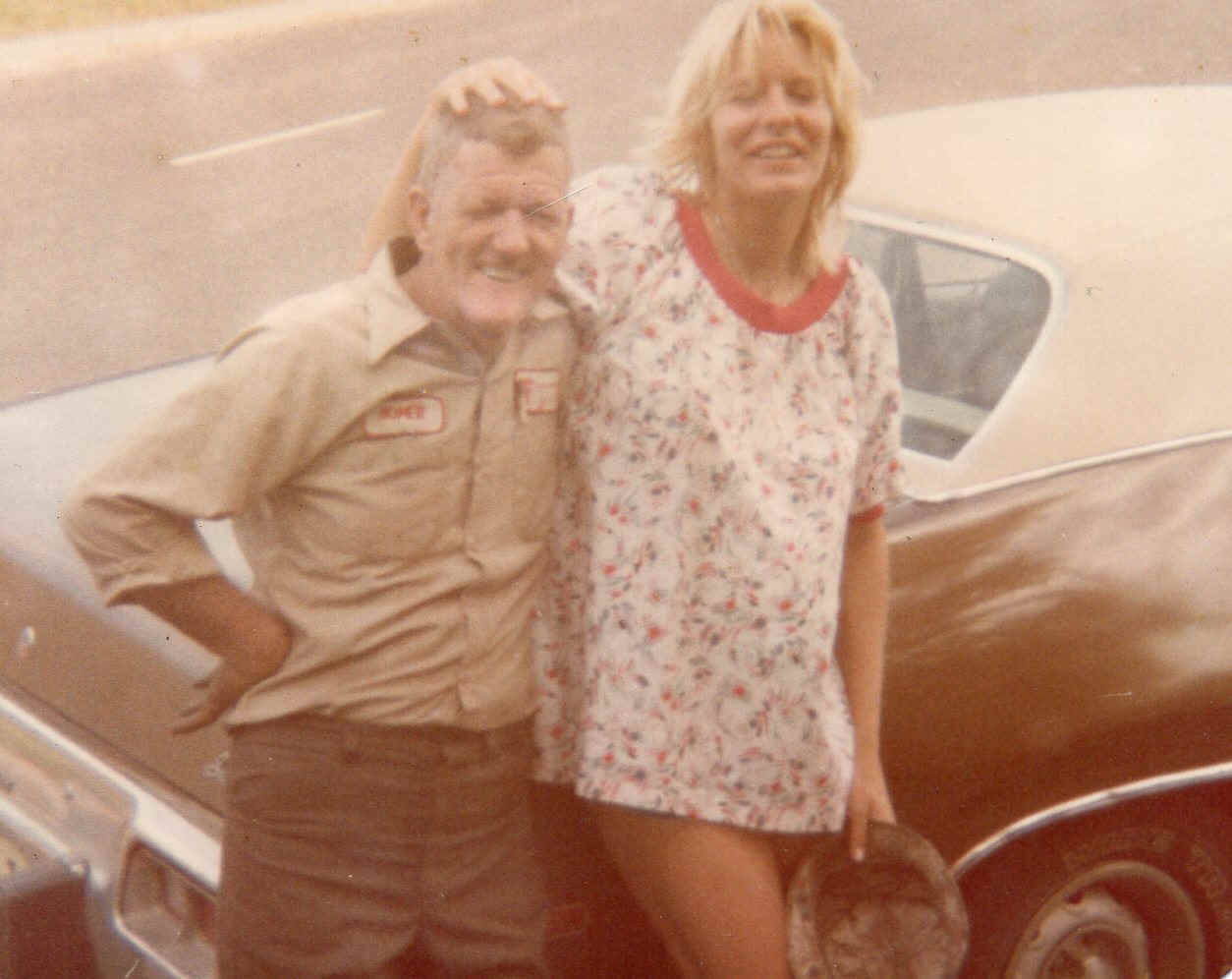 Photo #5. My dad jets a 4 barrel Carter carburetor on my 1970 AMC Javelin. Brother Tommy shown in background paying attention. Dad could set air/fuel mixtures in sleep. To this day, it is something I still can't do, even with almost 400 AMCs personally owned since this photo taken.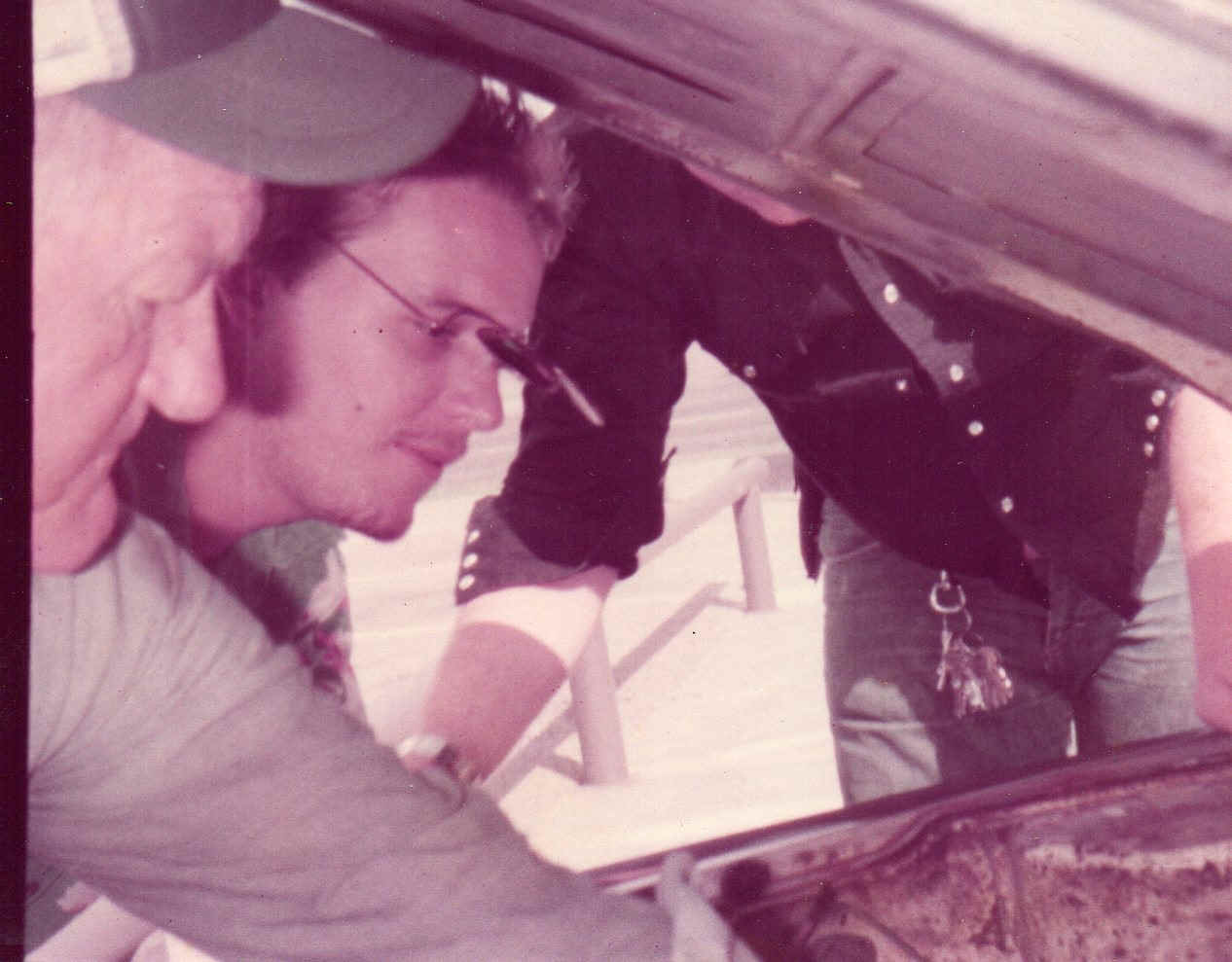 Photo #6. Late brother Tommy holding up the prize, well, not really, I went thru 9 engines on this 1970 AMC Javelin. Not because bad engines, I just raced a lot. 3 blew up from racing, others from me being idiot. Here Tommy hoists up in our driveway A Frame a AMC 343V8. Note I-37 our front yard behind him. Engines were easy to find, no matter why automaker then, bought a replacement 390 AMC V8 from Smitty's junkyard down Port near docks for $300 cash, running. Was back on cruise nights on Ayers next week!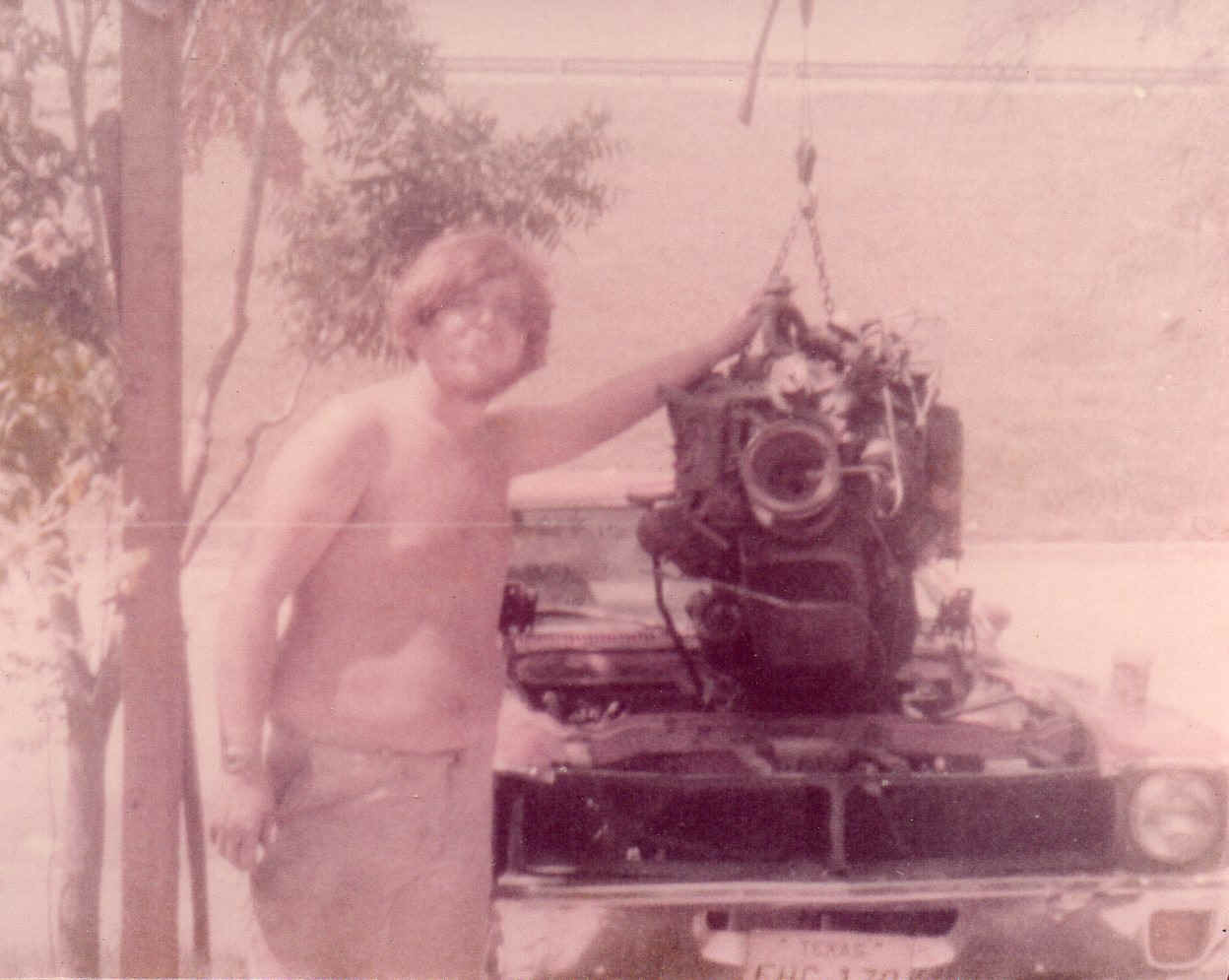 Photo #7. This is what a LOT of gas stations attendants looked like in 1960s and 1970s. Not only would you get "full service" they come out, pump your gass, but while gas pumping, check air on tires, clean windshield, sometimes back glass, and if time, check oil. A lost art form though.