Best Corpus Christi Christmas Window Displays!
CHRISTMAS WINDOW DISPLAYS. That time of year again, stores ramping up their Christmas displays. Well, Wal Mart ahead of game back in September. This is first Christmas I can remember with NO Toys R Us. Sad! But many places have stepped up toy displays it seems. Which brings me to this. Back in the 1960s, it seemed to be a competition in Corpus Christi with Christmas window displays. We lived about a mile from downtown on the corner of 723 Doss &
2009 Antelope so was 'near the action'. Being a kid at Cathedral, I would get out of school, and if not playing Mister Safety Patrol as I sometimes did, would run down the hill, rarely using steps, into downtown. Yes, I did 'eat it' a few times, books, papers, even shoes flying thru air, grass scrapes, khaki pants with grass stains momma would have to scrub like hell to get out. Downtown was coming ALIVE with decorations! Sparkly stuff hung from light poles, sometimes candy canes and bright colored ornaments.
FESTIVE is the word am searching for here. Extra busses to carry the masses to and from this business district.
So in my humble opinion as a kid, my top five 'Christmas Window Displays' were in this order.
1. Lichtenstein's. This was rich folks store. But not only could I stare at the small town in the large plate glass window for hours, I also sometimes transported myself into that town. I was familiar with choo choo trains as we lived a stone's throw from Missouri Pacific tracks that crossed Lipan, Leopard, Antelope, Buffalo and down into The Cut. But these little trains puffed smoke out of smokestacks. And they had cars full of nothing but GIFTS. What would it be like standing next to that track, would they stop for me to give a gift each time? I would bank. How about that snow on the ground, so peaceful and white. Everyone in little town looks so calm, unlike the men and women with packages rushing past me to Woolworths or Center Theater. The cars, they seem so old, maybe my grandma could identify them.
Why don't we have Christmas trees growing here? Just palms. I could sometimes get my mom and dad to drag me & late brother Tommy back downtown at night to look at this.
2. Sears. Sears was closer to us on Leopard at corner of Sam Rankin. While Sears usually had a Christmas scene in their largest window, besides little train and Santa and sometimes elves, in same scene it had 'gift ides' really novel as I had my eye on the Schwinn bicycle with Banana seat in green, even had a shifter to change gears! Yes, could stare at that for hours too, The train would snake around Santa, and new things like EZ Bake Oven, Tonka trucks made of metal, G. I. Joe & Barbie, new Hot Wheels big sets where cars do loop d loop, Etch N Sketch, Wheel-O. Suggestive selling at its best, but still, a super display where you could see people standing there checking it out, at night, or even during school days if I rode bus. I never did get the new Schwinn. Momma, Tommy & me went to Midnight Mass where I served as a altar boy. Got home 3:30am, man, that is long mass, but Santa had been to our house!
Two new bikes! Wow! Tommy got a new yellowish green Schwinn, I got a purple bike. It was a month later though when I ran into a One Way sign at Lester & Antelope at Coca Cola, scraped the bike all up, me too. Wait a minute, under the purple was red. This was my OLD bike poppa had painted purple. He admitted it quickly, momma burst into tears letting me know that 'they didn't have enough money for two bikes' aw man, didn't see the waterworks coming. Hell, I was grateful just to have something new looking. So they worked out something with Tommy where I could also ride his bike. That is same bike you have seen me write about charging kids 10 cents a ride around Cathedral block ha ha.
3. J. C. Penneys. At the corner of Chaparral & Williams sat J. C. Penneys.
They had a huge display window in front back then, but above it another large set of windows you could not reach, but easily visible from street.The Christmas scene on bottom sometimes rivaled Sears, but not Lichtenstein's not to say it was shabby it easily held it's own. And while it's Christmas Town had all the popular gifts for kids to lure parents with kids into store, the upper windows which are still there, had items hanging for motorists to see. Sometimes Santa with sleigh and a reindeer or two, and bicycles suspended in air magically. And this is what it was all about Christmas Magic. Penney's would open up whole 5th floor to Toyland. And there my friends is where kids not only got to meet Santa, but up close and personal with all the new bikes, skateboards, toys. Not to say the other places didn't have Santa, Just seemed like this Santa was more accessible, not huge lines. I often wondered how whoever it was put up the display in the upper windows did it. What if they fell? How did they get into that room as I could not find it on elevator button. Did Santa take a break from the kids to go stand back in window sort of like trying to catch refrigerator light on with door perhaps.
4. Toy House. This was a small toys only store just south of Richardson's Shoes, on Chaparral, pretty much across street from Woolworths. A long store that was maybe 24 feet wide, so straight and narrow. Made use of all wall space with toys hanging on walls! But up front facing street was s small city they put together, usually with HO Scale trains, and while the Lichtenstein's one was better, a kudos to this small store and intricate detail they paid attention to in the train set. With several trains running different directions, small whole town, buildings like factories, houses, small trees, lichen, even foam painted mountains, same thing, a kid like me would go catatonic staring at it, waiting for trains to crash but never happened. Wow, mountains, the only mountains I have ever seen are dunes on Padre. So like employees at other locations who wo worked hard to make Christmas window display stand out, this small place in the 1960s had to go extra mile! And I personally thank them for that!
5. Fedways. The Fedway's downtown was right across W. T. Grants. I never recall grants having a Christmas display, but they did have a lot of Christmas related gift ides in their long windows which stretched for maybe 20 yards. They were right next door to Penney's on west side of Chaparral, so people would hit both stores. Then usually cross street to Fedways'. Some of you might remember it as Dillard's but it was Fedway's. Don't confuse me, just waste my time and need to go see Santa. Fedway's had large plate glass windows facing east and west. The ones facing Water Street windows had lots of girlie stuff. Coats, mannequins, lipstick, purses, eeww, don't want to see that. Well, maybe momma did. The windows facing Grants had REAL stuff like bikes, dolls (not for me ha ha) Barbies, standard fare G. I. Joes, you build them car models, radio kits, Matchbox cars big carrying case that folds out to city (now I'm drooling) Death Ray Space Guns, Lionel Trains and more! Didn't mess around, usually no room for Santa in Fedway display so much stuff crammed in there for boys & girls. So you go into Fedways and they had cool escalators to take you upstairs, X shaped in middle of store.
And Santa had a SANTA SECRET SHOP where small door only kids could go in!
Wow! If you bought something they would wrap it for free too! But going in that door, remember looking back at momma to make sure, she shooed me on it.
Didn't want to get the belt for Christmas on my ass, Santa would know about that too. Wait! Santa IN HERE thru small door, and look size of his belt, my ass would glow thru high school if momma used that. But while it was not their Christmas Window Display, all of the places mentioned here led to some great memories.
And yes, our family used Lay-A-Way extensively, just could not pay for stuff up front. Ironically at one time before was hatched, momma worked at Lichtenstein's "Gift Wrapping Department" and could take scraps of paper, ferns, anything and turn it into masterpieces, the bosses were floored at her work. Too bad didn't paid by the gift wrap box! No, didn't mention Woolworth's, or the toy place on Airline at McArdle, nor mention Peppermint Lane when Corpus Christi closed off several blocks and was big shindig...BUT I understand Peppermint Lane will be making a comeback downtown, how cool is that?
And onto PHOTOS if you still awake & eggnog & whiskey not taken toll.
Photo #1. Christmas downtown Corpus Christi roughly 1971. At night. And not all the Christmas decorations are up yet! Fedways on right, W. T. Grants on left next to Joos Shoes.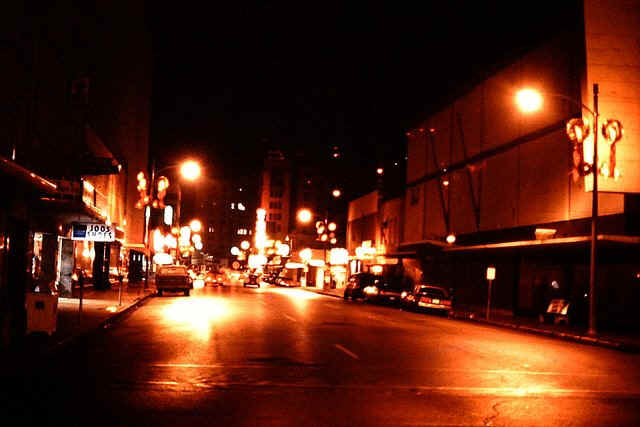 Photo #2. Downtown Chaparral facing north. This is early 1960s. Lee Optical, Armands, Martins, Litchensteins, Woolworths all visible, check out the woodie Mercury wagon far left of photo, a Corvette, Falcon & Impala, along with Metro Bus also shown, I am a car guy, this first thing I notice ha ha.
Ok, great job by downtown district with little trees in front of stores, and festive things above streets, makes me want to shop.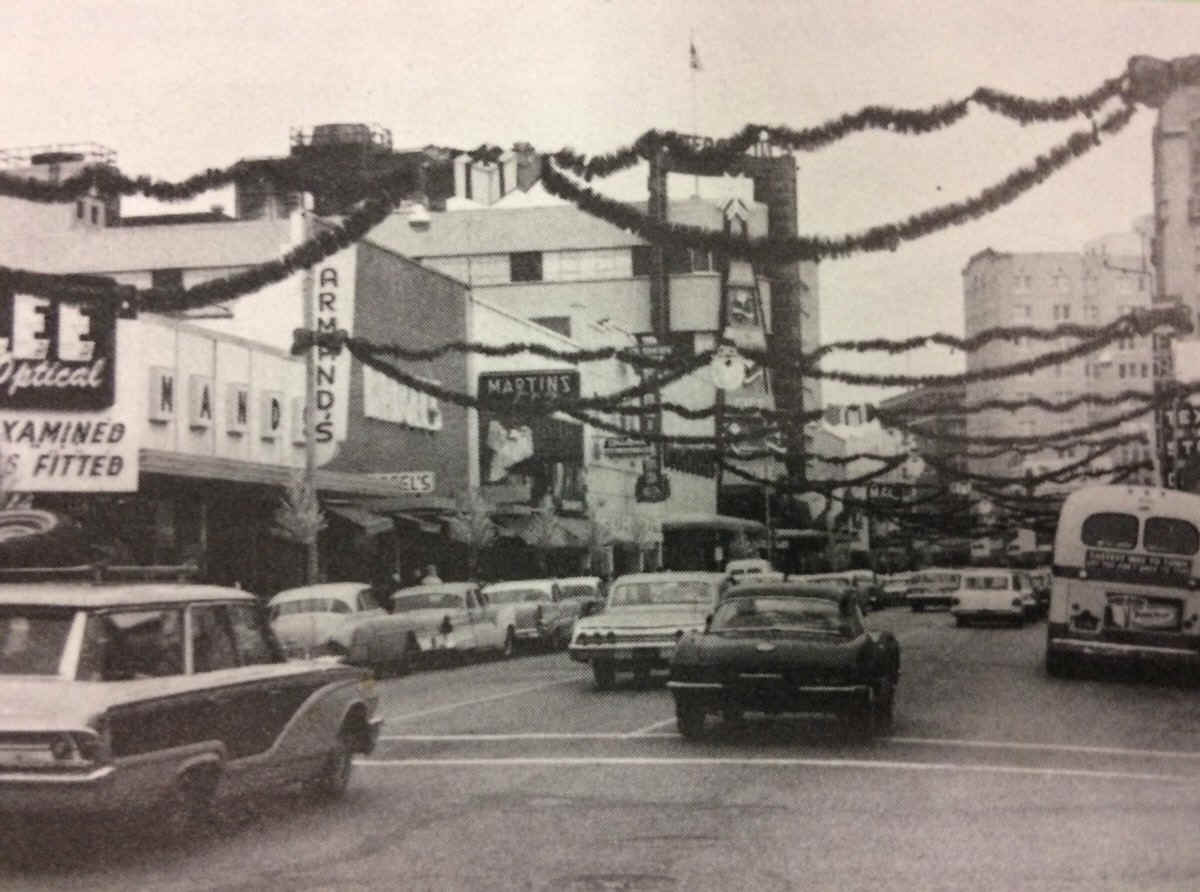 Photo #3. Smaller shops had to work 2X-10X as hard to get your money. Similar to what they have to do now with Amazon out there. So The Toy Store, this is what their window would have looked like. Inviting! But this was not Toy Store, was one of the Woolworth's windows! Note In God We Trust & God Bless America. Well, I am going in to buy something, anything just because of that sign.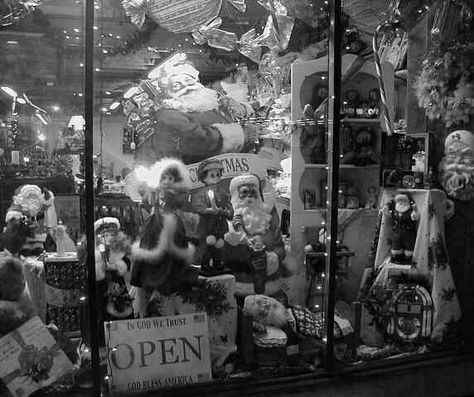 Photo #4. Toy Store with fabulous display of Lionel Trains. And for the girlies, dolls, check them out, levels of them! Some dolls you could lay down and eyes close, then stand up, eyes open! Look closely, there is a robot on a shelf. Same robot in mint condition in box now can command $1000s of dollars but why would you want to sell your childhood?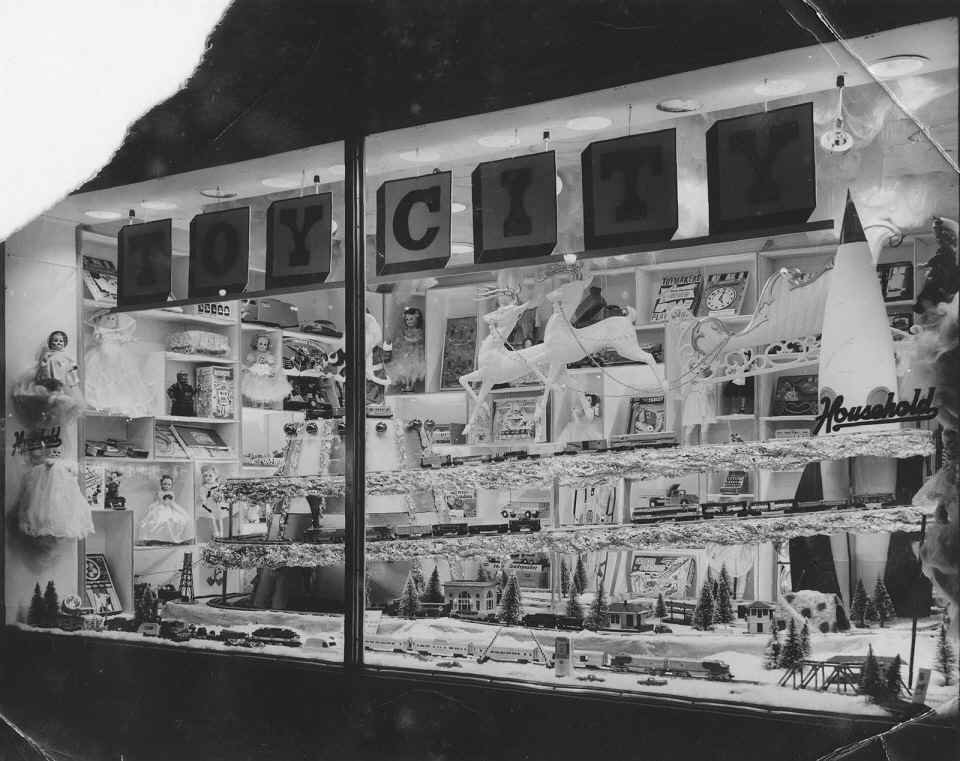 Photo #5, Peppermint Lane looking north from Laguna down Chapparal, note Fedways, Grants, Mireur Luggage, W. T. Grant, Penney's to name a few. But no tinsels hanging above light poles, guess they stopped that to get those big Christmas trees in there.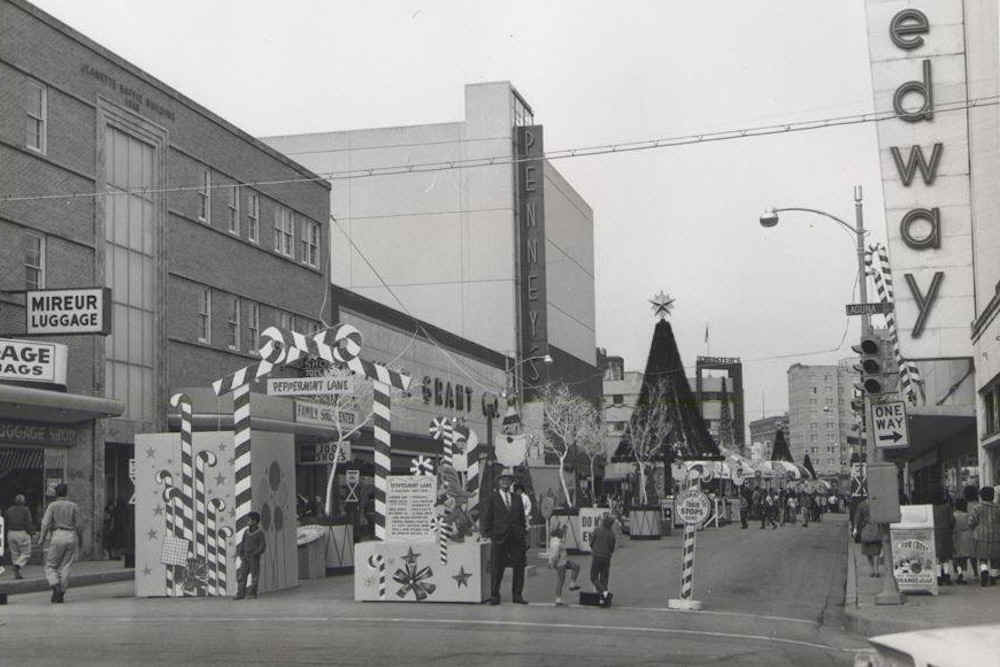 Photo #6. Sear's was great with trains in window displays! This is large scale Lionel Train set with crossings that go up and down, church with steeple, snow on ground, wow, I would say that if you look at the adults faces behind glass, sort of says it all. Displays like this and 'my favorites' Lichtenstein's; Sears; J. C. Penneys; Toy House; Fedway's is what made MY poor kid Christmas special. We might not have been able to afford stuff like this (hell, didn't have electricity to run damned train ha ha!) but this stuff is what dreams are made of you know! They free....rich kid, poor kid! Hey is that Clark Kent aka Superman there smiling?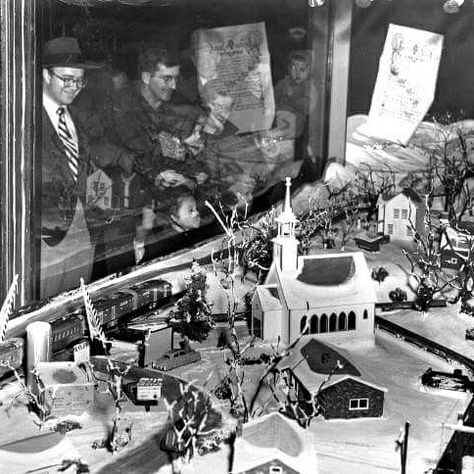 Photo #7. Who started all this stuff with trains and Christmas? God bless them whoever it was. The place on Airline near Panjos Pizza used to have big plate glass window like this. Not in 60s though, was afterwards when I moved away. It was a KID MAGNET. Well, adults like me too. Like the other displays, a lot time, though and work went into it! FOUR LEVELS of Lionel trains running different directions on separate track? Thru tunnels?Mountains, what the hell is a mountain? People wait outside for new Iphones, me, no, I would camp outside this window for week.