Hannah Storm, C-101FM & DJ's In early 1980s I worked at new rock & roll club on Staples behind King High School called Rock Alive, and when we didn't have good local bands (and some that were not good local bands, but for $200-$300 a night what the hell) we had good DJ's. And one of them was Hannah Storm. I didn't know her then except from listening to C-101 FM radio. Even then, was just voice on radio.

As with lot of club people do, you if allowed, frequent the bar you work at, and get to sit and talk and BS with REGULARS who can make or break a business. We had a number of them here, so sit around and buy them a beer or two, they buy you one back, that is how it is.

The DJ booth was 2nd story there was a long stairs against east wall at Rock Alive next to bar to go up there, small cubby hole filled with equipment.

There were some guys who were volunteers, but got paid to spin records. Yes, records! I walked up there one night just being nosy and a lady was working, I said hi who are you, she introduced herself with big smile and I said 'hey you are the C-101 girl!' she said 'yes, I pick up shifts there too!' I don't remember rest of conversation but I did buy her a beer if she would play some Foghat & maybe Styx ha ha. Bribes work!

Corpus Christi should be extremely proud of Hannah Storm, she humbly started down there & went on to great things, seems every time I was working in sports bars in Houston would see her mug on screen, CNN, Olympics, NFL, Major League Baseball, and ESPN! So really a pioneer for women in this field.

Hurrah! Local girl done good! When I would see her on the big screens in Houston I would tell customers "hey, I used to work with her in Corpus Christi!' which is stretching it, but drunks would never know. I probably would not recognize her is she stepped on my foot now, but good on her for the wonderful high profile career!

As for Rock Alive, well it didn't last too long sadly. I wrote not one but two stories about it:
http://www.planethoustonamx.com/corpus-christi/rock-alive.htm

and this one about the all female Rock Band Vixen, also pioneers in their field back then http://www.planethoustonamx.com/corpus-christi/rock-alive-1982.htm

With that being said, when I visited Corpus Christi in 2016, you get on the outskirts of Victoria and can pick up their signal. I listened to it for about 15 minutes and thought 'what is this crap?' as it is angry guys anthems now or noise with a beat. Seriously? They suck, you can tell them so. Had to turn station off. No, no Barry Manilow, Beyonce, or stuff like that, just deathly silence of road and tires headed to my hometown.

Where C-101 once ruled airwaves, especially at Padre Island.

Like MTV in same time frame early 1980s, MTV was EVERYWHERE, seems all friends houses, all we watched. And radios all on C-101. Well, C-101 was novel and played a aggressive brand of different types of rock and roll, and didn't have a 'heavy rotation' of songs you would hear several times a hour. So if you want to Padre Island as much as I did.... you could walk along and hear

C-101 on most cars, so just walk along and not miss word of song. And the familiar Sinton. Taft. Corpus Christi. Sea.. One Oh One baritone voice. And more music. I still have my C-101 hat in excellent shape, but too much hair on head (hair still long as in 1980s). So next day tried C-101 again, 8:30am before heading to Padre, on my 2016 road trip. Gak, more angry nonsense music that sounds all the same! It's not that I am old now, I still rock & roll with best of them, but this music sucks, can't be that many angry anthem dudes in Corpus now eh?

So as my trip came to end, gave them one more try as I headed with wife, kids to Mexican food place with great breakfasts corner of Weber & SPID.

From here, straight shot back to Houston, well maybe pee break in Refugio and can't pass any Bucee's as everyone except me can inhale those beaver nugget things, can't do that no more. But turned on C-101 one more time and you guess it, pissed off, angry dude screaming uncontrollably into microphone, made me think of Rock Alive band that played one night with no name, and Rodney Page called them Yendor (Rodney spelled backwards, boy they ran off most customers so bad, I would rather hear cats in heat screeching) but, sounded like them on C-101. I hit OFF button for the last time, drove past Odom, Sinton, Woodsborough, and into Refugio and as wife & kids piled out of car at Stripes...just maybe...try

C-101 one more time? Nah.

Photos: Photo #1 Hannah Storm picked up some shifts at Rock Alive in 1982 while working at C-101 FM. Went on to great things like ESPN host as shown!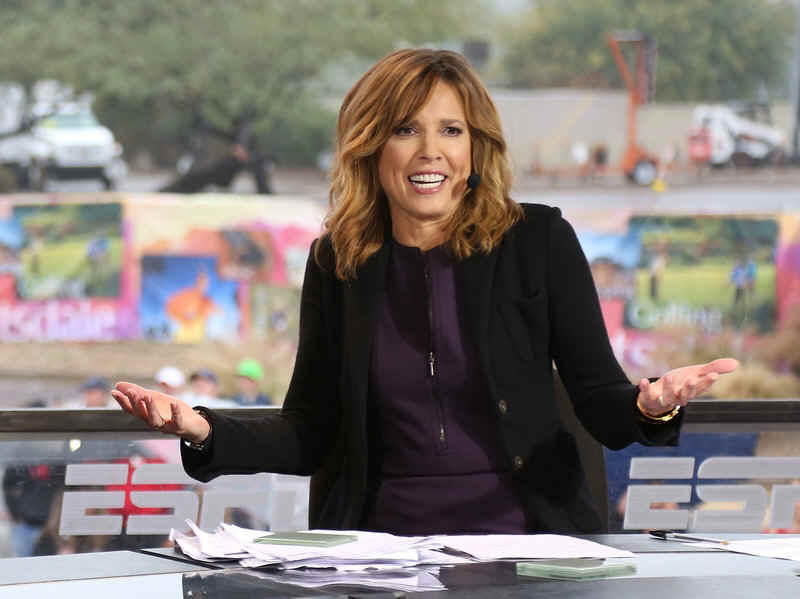 No, do not personally know her, just crossed paths with her 2 times at long since forgotten rock club in Corpus Christi. Can't even tell you if still in radio, but saw her on television a few months ago. Face all healed from the burns.
Photo #2. I do not remember the names of these two Rock Alive characters, note her Corpus Christi shirt. More important check out the equipment on wall behind them. When I say the DJ booth was small, I used to joke was so small only had one side!
well not sure what the hell happened to photo #2 take my word for it
Photo #3. I don't remember the guy looking at camera name, but he also might have been some radio personality in Corpus Christi. The other guy is looking in his beer for bar gnats. Pronounced 'gheee-nats' there are fruit flies. And we had them bad at this place! One day I found out why, as in the little margarita salter, it has sponge with lime juice, and other for sale. No one ever cleaned it and I thought I saw salt move on the sponge, no it was LARVAE! So Rock Alive Larvae Margaritas. Crunchy bugs, tasty too!
Photo #4, Rock Alive once was also Electric Eel with Sam Neely singing tunes, he had a good following too, later was Club Royale as shown here in about 1983. Charley Thomas Ford slightly visible on left. Can't tell you anything about Electric Eel or Royale though. From where this photo taken, King High Scholl directly behind me.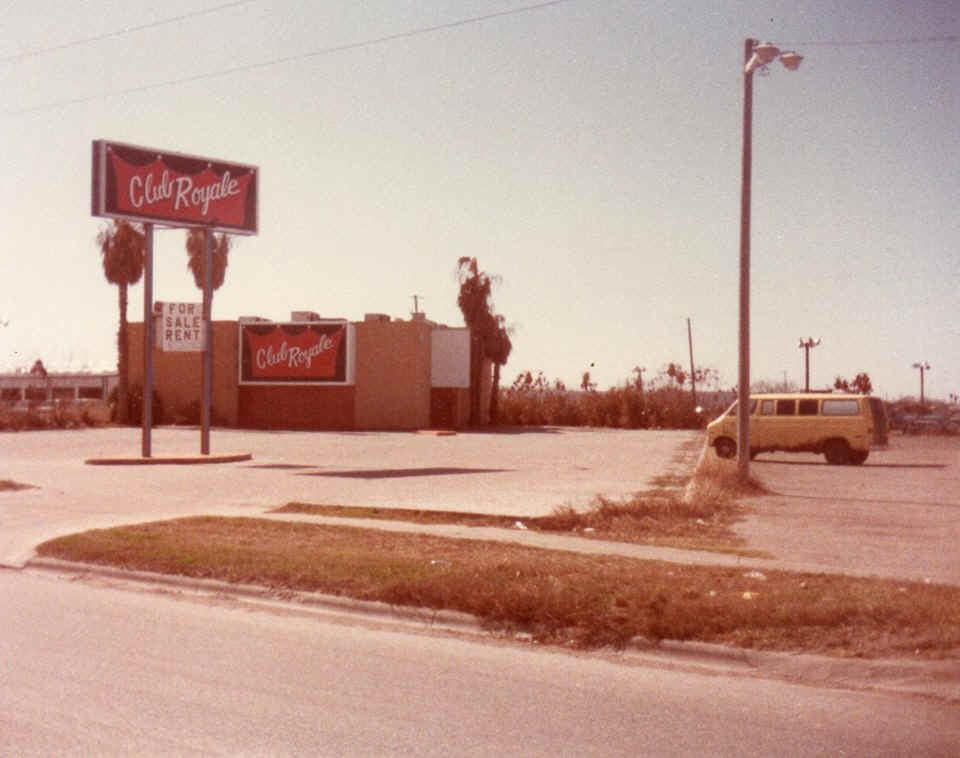 Photo #5. I don't know muscle man showing off gams but he was occasional bouncer here. We had issues with underage kids and well, fights. The blonde haired guy behind him flipping bird was Johnny, and I think cute girl on right was named Vanessa, and worked the Door for cover charges.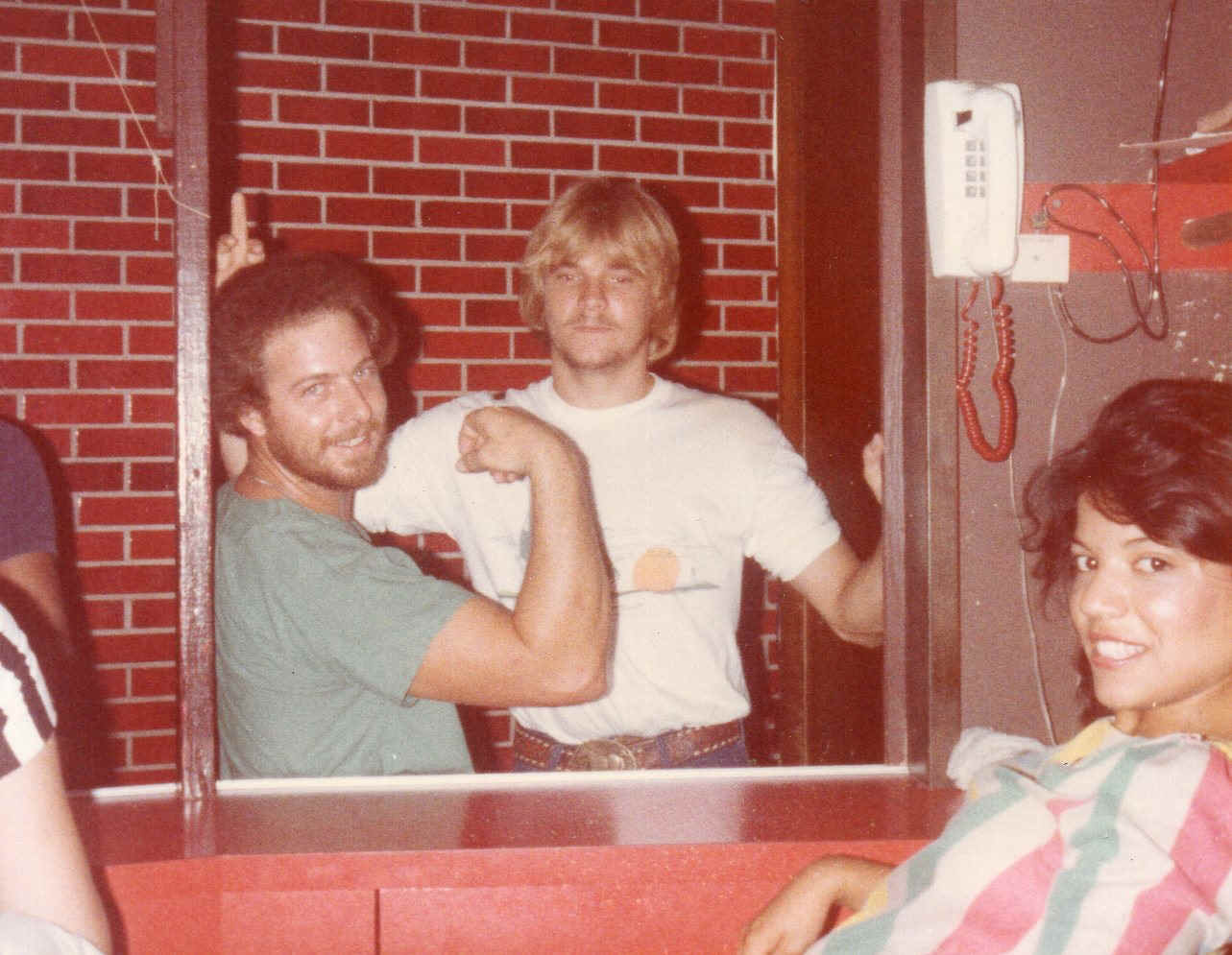 Photo #6 guy picking his nose on far right was Rick, who at one time was a room mate of mine, good guy, ended up being something like head chef at Charco's behind Padre Staples mall 2 blocks away. Girl in left of photo, sorry, ma'am you are overdressed for this place, can't come in.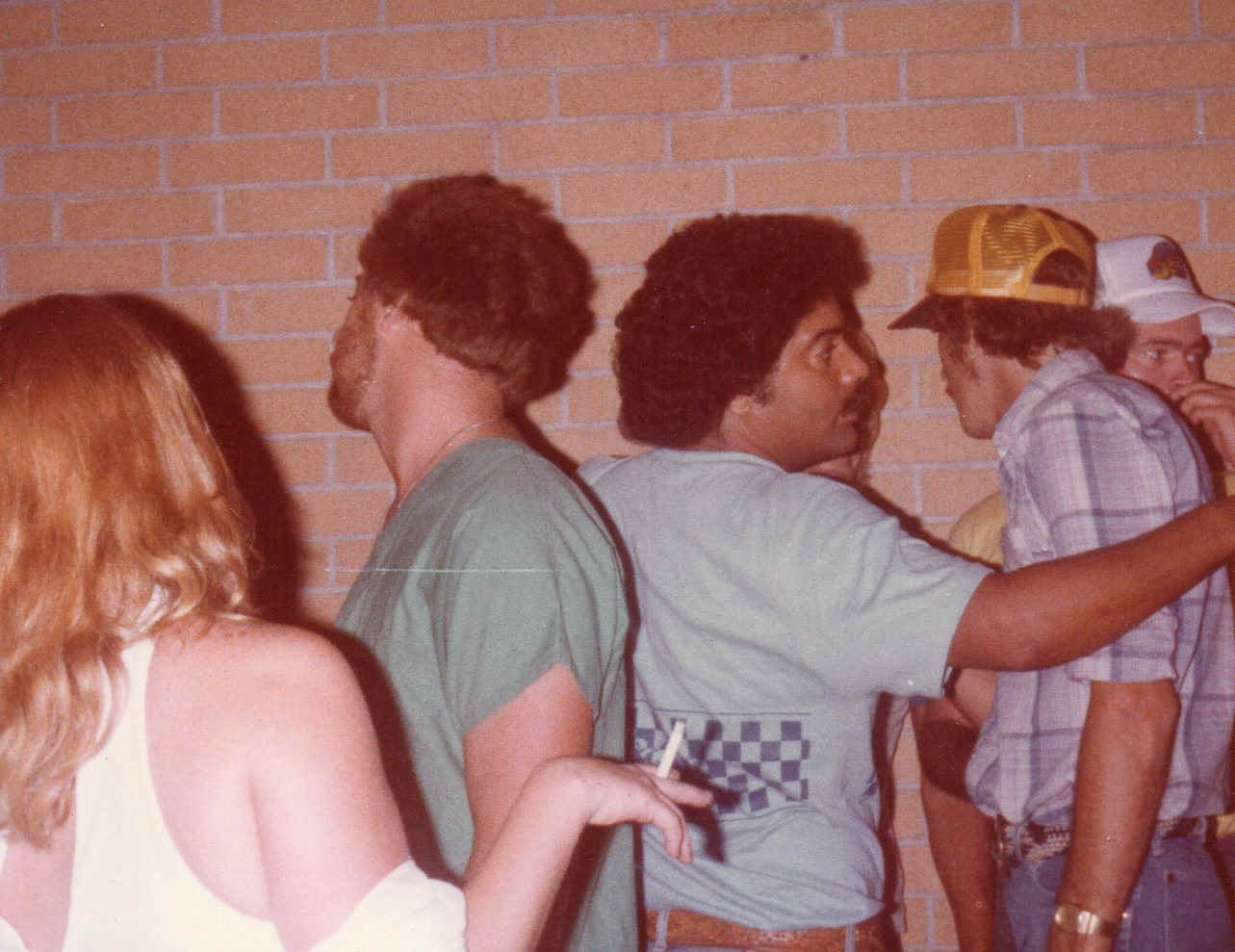 Photo #7, Bouncer Johnny & another guy tell goon how it gonna be outside.
When there was issue, not only did bouncers swarm, but big muscle bound regulars in case someone wanted to be brave. Not sure what happened here but I was always taking photos for no reason.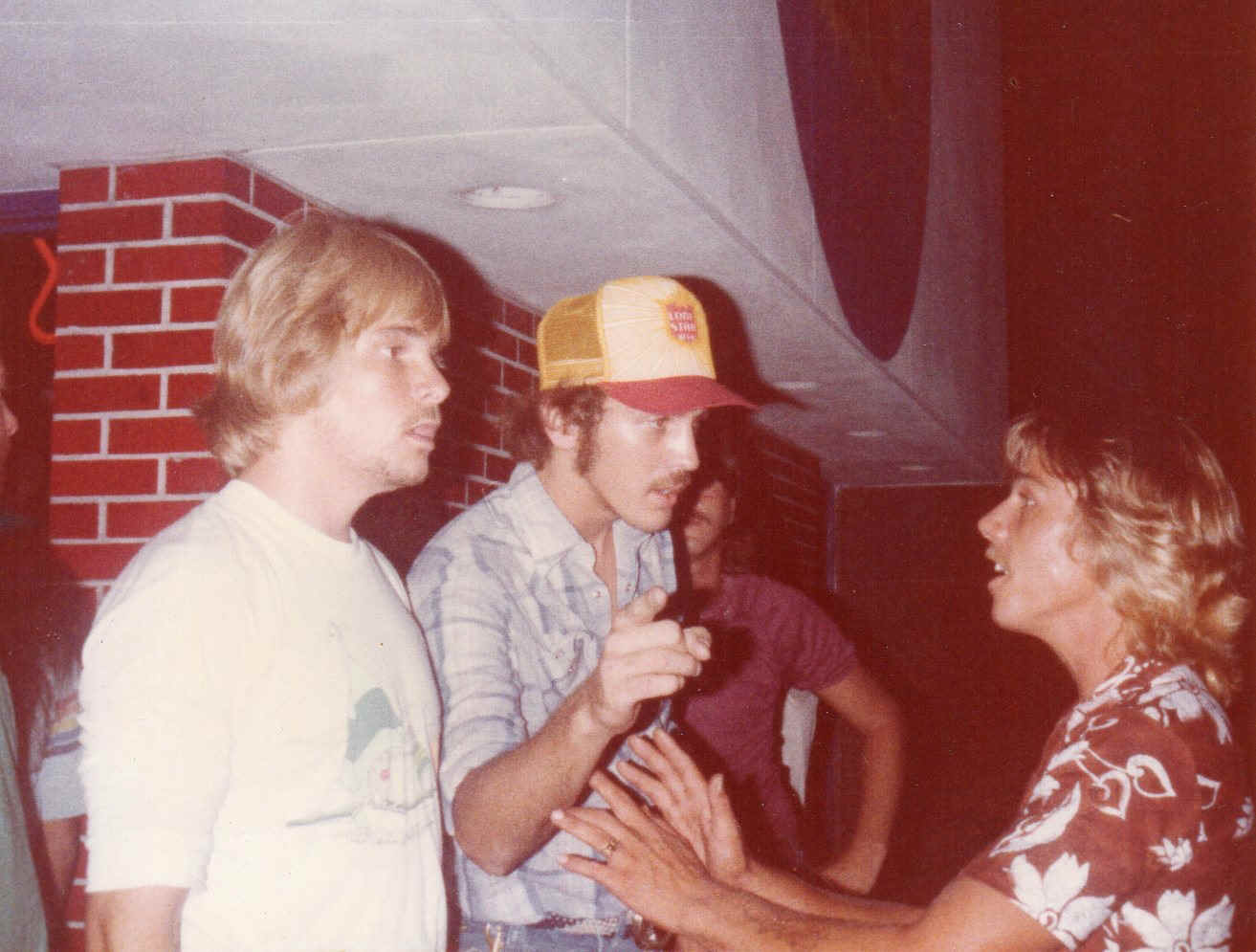 Photo #8, well that is me behind bar looking like a deer in headlights. The 'larvae margarita thing' is directly in front of me on bar, probably so I could count eggs hatching. Just to right of Beatles poster was steps to go up to DJ booth along wall. Not sure if Hannah Storm ever had one of the 'Rock Alive Larvae Margarita Specials' though.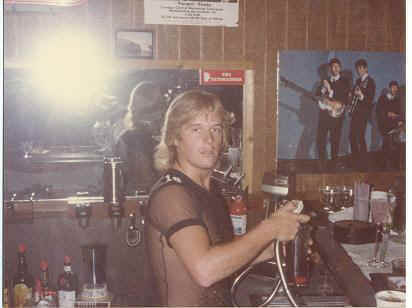 Photo #9. Big Rodney Page a Bar God in Corpus Christi & longtime friend and actually mentor of me getting into business in 1980s shown here with catatonic look, note his cup of beer behind him, not sure what he was looking at, maybe bar gnats carrying off bottle of vodka?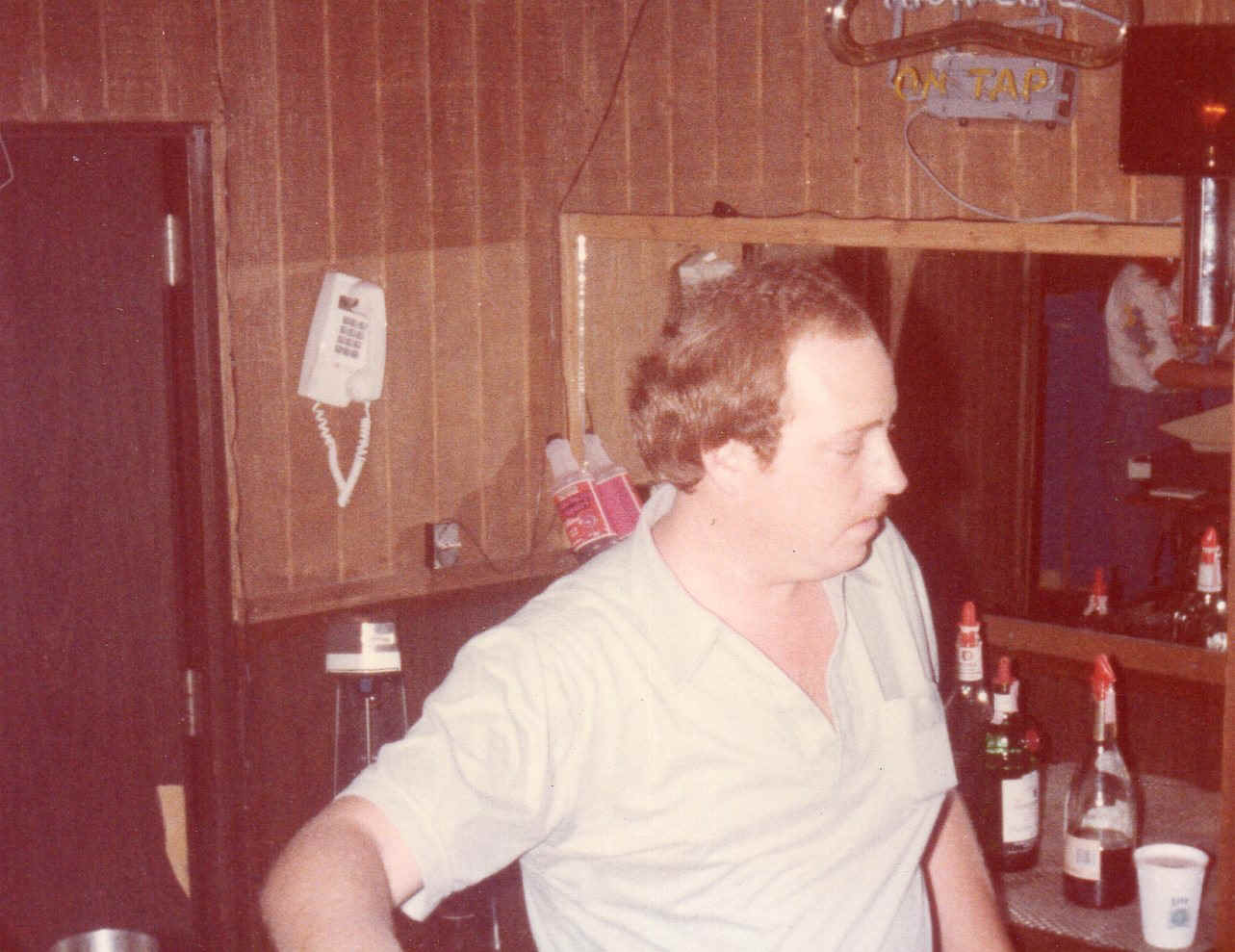 Photo #10. I had to dig out my old C-101 hat in 2019 for this. There were several styles. C-101 had a van with mermaid on side smiling, boobs showing, and they would cruise along beach tossing koozies, frisbees and hats to crowds on Saturdays, Sundays, music blaring!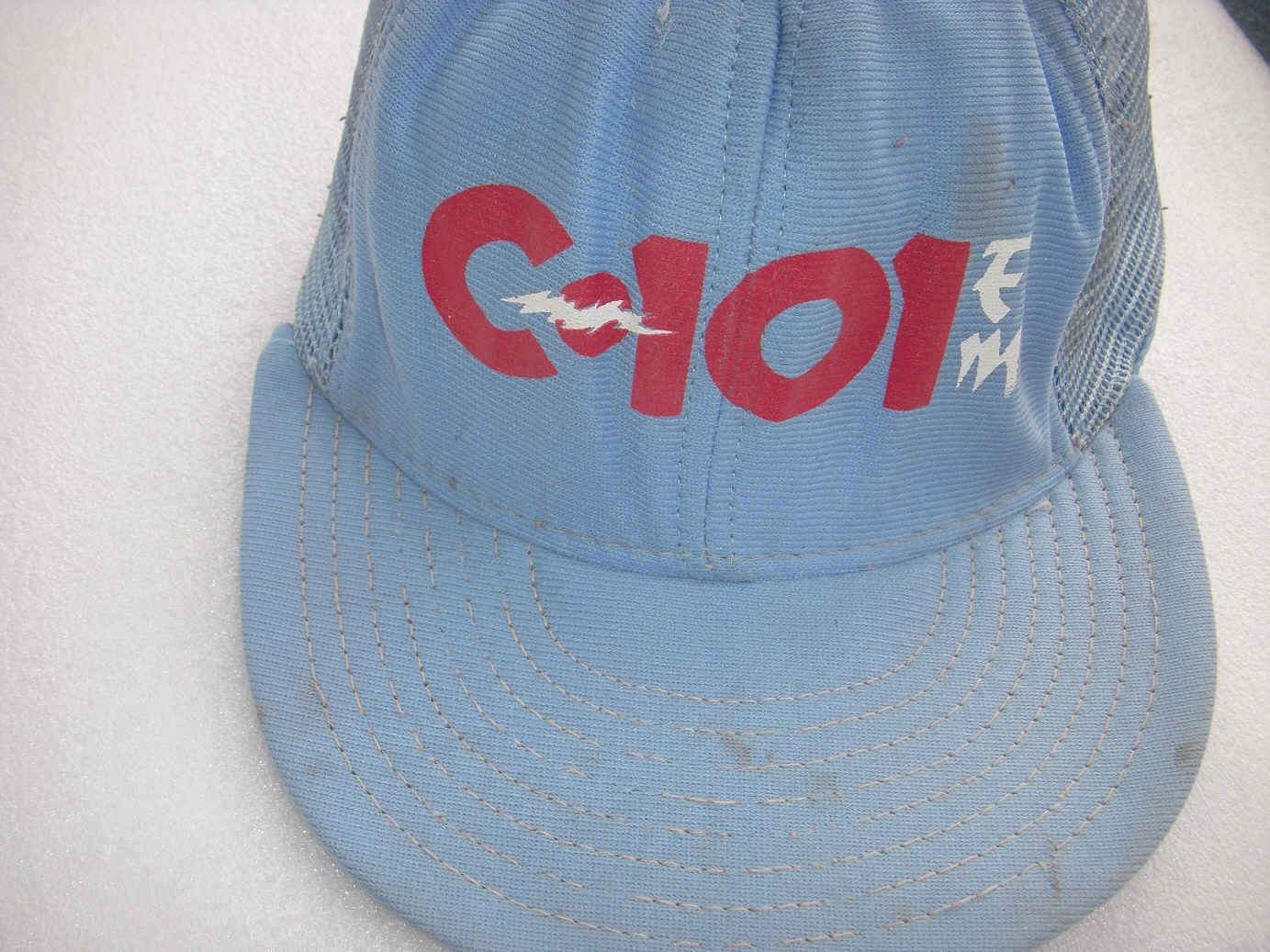 Photo #11. And as I mentioned....you could walk along Pardre Island and all the radios seemed to be tuned to C-101 early in 1980s, unless you had good 8-track player! But could walk along, music would be loud, fade, loud, fade with each passing car, or many case, 2-4 rows of cars deep! All C-101 FM...Sinton...Taft....Corpus Christi....