Cathedral Cakewalk!

CAKEWALK: A lost tradition at Corpus Christi Cathedral was the Cake Walk held usually in October when the temperatures dropped a little. Sandwiched between the classrooms on north and church in south the parking area had 5 big rings with numbers in them. The rings were about 15 feet wide, and yellow with the numbers. Mister Castillo or Mister Hernandez, (of the large Hernandez clan off Naples street) would paint the rings and numbers. Of course cars park on them whenever mass as it WAS a parking lot. And every day us kids in 1960s play whatever out there, basketball, kickball, chase, or just hang out with recess, about 15 minutes around 10am, then lunch bell rang and everyone ran to cafeteria under Cathedral all 6 grades, so the painted rings seemed to be painted 2 times a year whether needed or not.

Monsignor Schmidt too great pride while smoking his pipe, stand up second floor of school area, big spinny wheel some helper, maybe a nun or priest, would spin wheel, then he would bellow out on microphone. But BEFORE that, music would play. so you give the person in charge of each ring a ticket, the ring would fill up with 15-20 people on different numbers, then goofy music play loudly while wheel spins. Suddenly music stops, everyone it looking up at Monsignor Schmidt as the whee... clicks. clicks...clicks slowly to stop. And he would yell out winning number like NUMBER 14!

Everyone looking down at their feet to see who #14 is!!

Before the Cathedral Cake Walk flyers would be sent out with kids asking mommas to bake some cakes or buy cake or two to donate at HEB, Krogers, Beils, Fuedos, Super Mex, any of the old stores. Momma went to Rainbo "day old bakery" on Palm next to Rainbo, and across street from Charlie Thomas Ford, and even though we didn't have much money, she could buy whole big cake for $1.50, then take home, add things to it like sprinkles, those bb's, even dress them up so would look great and made at home.

So if you won a cake by your number you go get to pick one. I always felt sorry for some of the cakes that seemed everyone didn't want, sort of like being last kid picked at kickball. Eventually they all got picked though.

Sometimes people bake big bag of cookies too, and yes, that counted.

I got to go to 4 Cathedral cake walks. It would be another 45+ years before I got to go to another, which was in Houston though. One year at Cathedral, believe I was in 4th grade with Sister Berchmann (Big B!) Between momma, brother Tommy & me, we raked about 6 cakes in cakewalks. Just kept winning.

My dad, he stayed in car, not to guard cakes, just was not into stuff like that, sort of same at Woolco, where he would park along close to building, and while we went in full of Filet O Fish sandwiches, he would sit in car, or truck, and just watch people go by. Rarely he would come in to buy tools, or look at tires. Same with Cathedral, while him & momma married there in 1951, I never saw him go to church the more than decade I was altar boy. I didn't ask.

On the six cakes, Tommy was a big boy, was about size of 5th grade in 1st, so by time he was in 7th, big fellow, looked like 10th grader. So those cakes were gone sort of quickly. The BB's on the cakes freaked me out as I had two BB guns at the old house and we would cap rats running thru trees, toss them into firepit, give to cats or dozen dogs we had, so seeing BB's on a cake in back of head, made me think of that. Yuck.

If you ever get a chance to attend a Cakewalk please go, sure it is gambling, but gambling for a good cause, the proceeds usually benefit the school or church. And if you win, you get a tasty cake someone spent time, love on, or bought at Rainbo for $1.50.

Oh, I do not know if other schools had these like Christi The King, St Patrick's, St Cyril & Methodius, St. Teresa, Sacred Heart even though it was few blocks from Cathedral. Just never went to them, just "our" festival!

PHOTOS! Photo #1. Here is a good example of the big circle painted on Cathedral's parking lot, but we had 5 BIG ones. Buy your ticket, take a chance, maybe get lucky win big cake!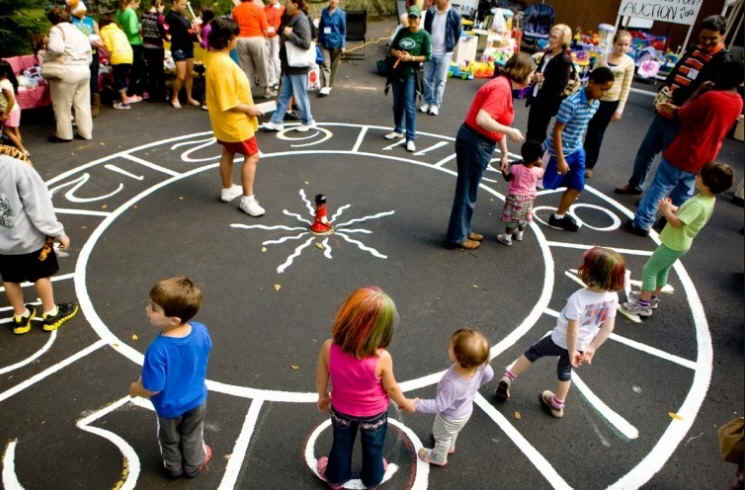 Photo #2. Cakes, cakes, more cakes, the most cakes I remember seeing was I guess 200 or more, so many they started putting them in kindergarten area. They would bring out some at a time, but there was enough to do cakewalk for hours, even though they were giving away pretty much 5 cakes each spin of wheel Monsignor did.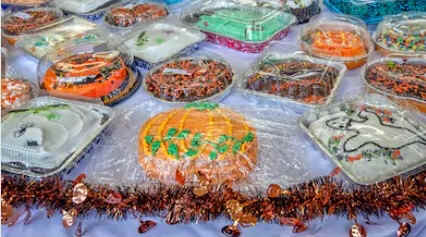 Photo #3. From atop the Wilson Tower, you can look down inside Cathedral between the school in foreground and church slightly past it. The parking lot partially obscured by trees now, we just had cement to play on in 1960s, no trees.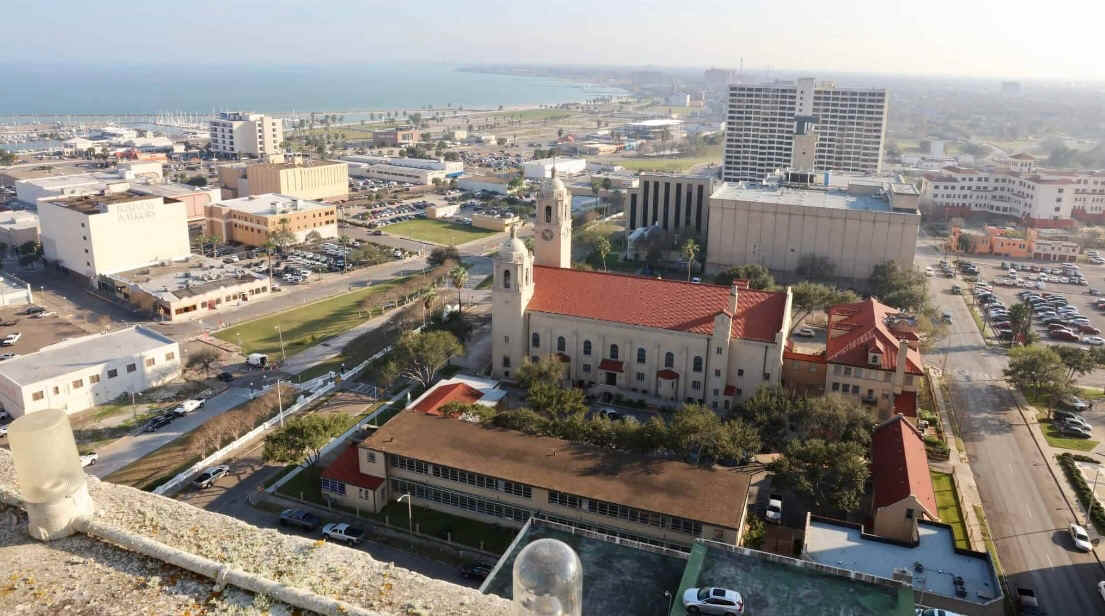 Photo #4. Front angle view of Cathedral from Mestina & Upper Broadway in 1960s, no statute, the Rambler there was courtesy of my dad's dealership All American Motors downtown on Water, who "lent" dealer demonstrators to priests, providing they park them front & center outside church Sundays, complete with salesmen's cards under windshield wipers ha ha. The glass room behind Rambler is where teachers and nuns got together, usually what to do with that damned Stakes kid. Farther down was kindergarten, I never did go to that. But where they stashed all those cakes everyone donated.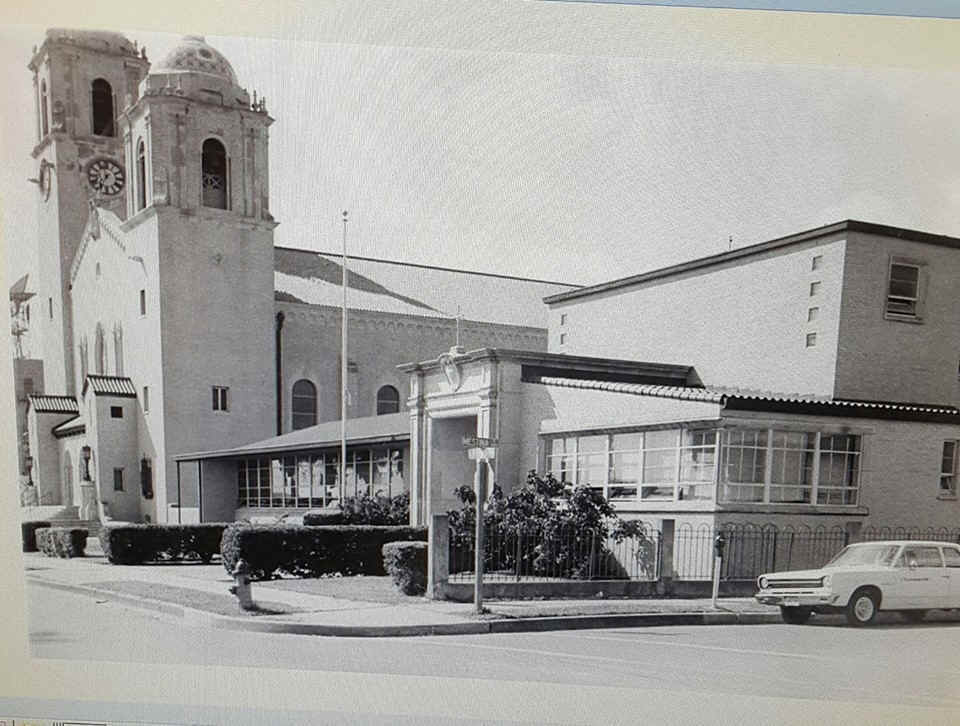 Photo #5. I don't have a whole lot of photos from this 1960s time frame as most destroyed by Hurricane Celia when our roof caved in, so happy to share the few I do have. That's me in center, lady in back would later be my teacher Miss Francis, kid behind me I believe Michael Stevens. I'm thinking about eating cake for next few days if brother Tommy don't inhale them!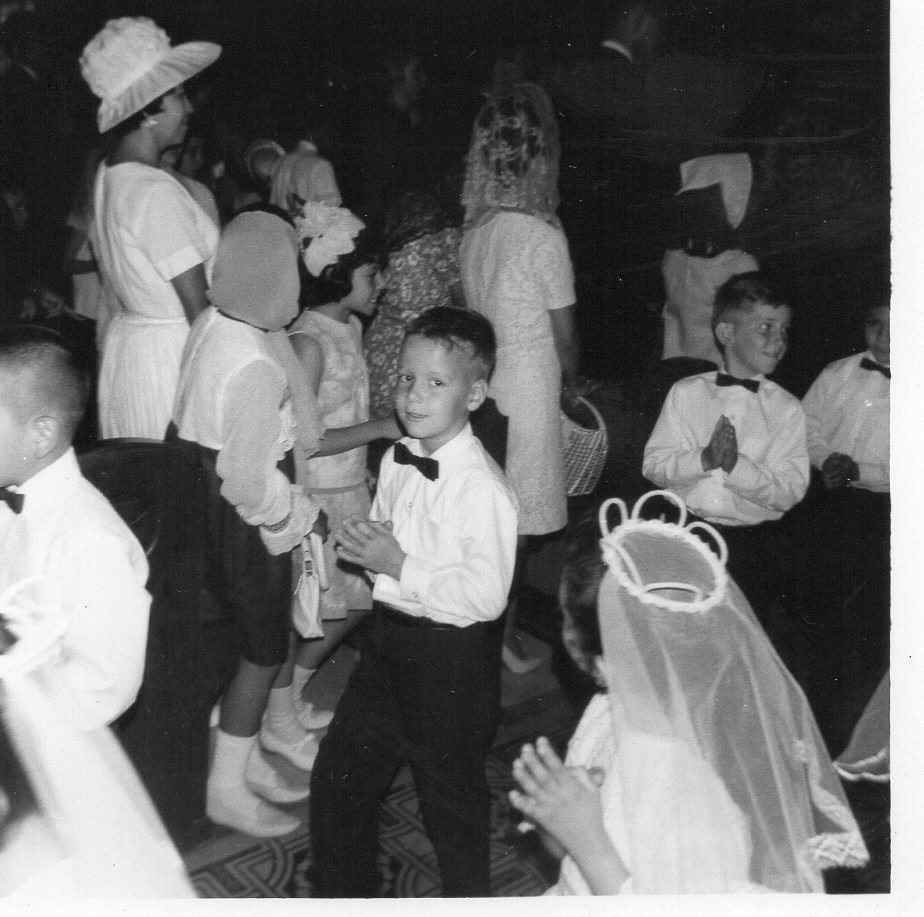 Photo #6. This is side of old Rainbo bakery "day old bread" where they used to sell off old stuff they bought back from stores that expiration date had passed, but still good! Palm Street just sought of Leopard, across street here is Charlie Thomas Ford and if you could look over building, Miller High School back there.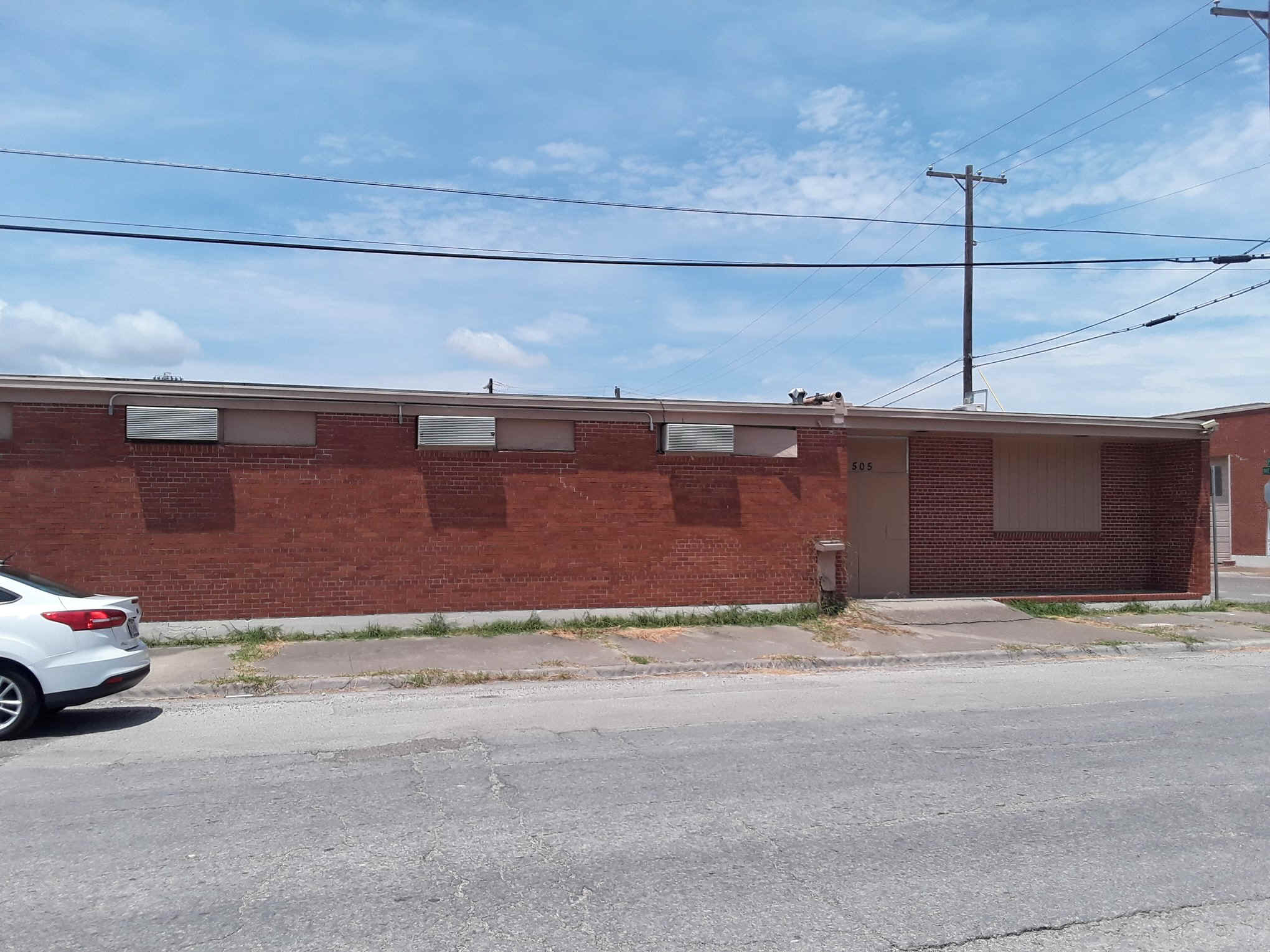 Photo #7. These BB's used on cake still freak me out. I for some reason think of a tooth flying across table into someone's soup if I bit into one. They known as Silver Dragees, Silver Mini Balls, Sugar Pearls a few names. You can have them.