Corpus Christ Cathedral Cub Scouts & Cubmaster Oscar Soliz
Corner of Lipan & Carancahua on the SE corner was a brick house with a fireplace. White & brown. Across the street was the Rectory of Corpus Christi Cathedral (NE corner) it is where priests live. My brother was a Cub Scout, & Oscar Soliz was the 'Scoutmaster' in late 1960s. The house was never used except by church and cub scouts.
Tommy was in Pack 23. Oscar Soliz was a big, intimidiating man with rounded thick glasses, easy to scare someone until he smiled, he had a overtly big smile and was quick with it. I never joined the Cub Scouts, but Tommy enjoyed it and at that house did lots of after school activities.
Photo #1 shows Tommy's badges of which I just found in 2018, he passed away in 2016 at young age of 60.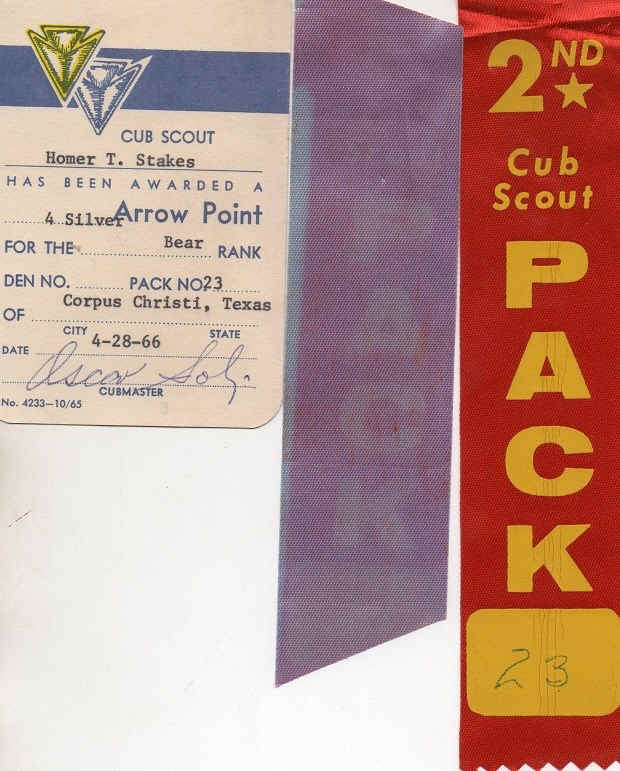 Photo #2 shows a tiny portion of the old house but I believe it was shut down by now, or a area of it boarded up, was not best shape to begin with, always seemed cold inside. Photo #3 shows location of the old brick house next to Cathedral. The lot only had this one house on it, and a number of really large oak trees. So stretched from Carancahua to Broadway with Lipan running down the side of it. On the south side of this big long lot was a large pink house. A historic house and then later, SW Bell buildings. None of us allowed to go to the big pink house which had a fence down property line, but in front facing Broadway & downtown, you could walk up the majestic stairs to front fancy door.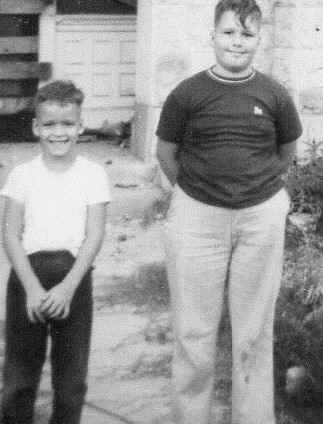 In the 3rd photo, the arrow points to the location of the old brick house.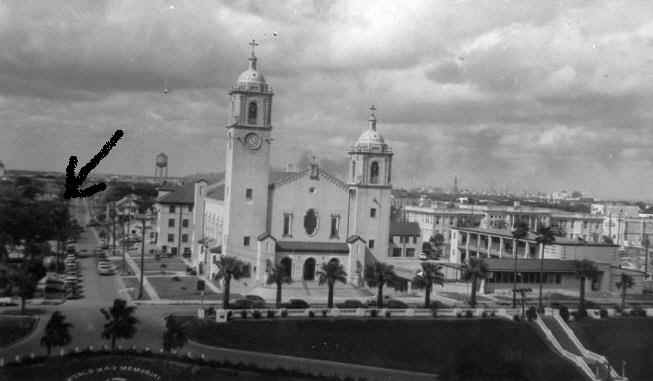 The nuns would take us over to the lot for 'field trips' sometimes we would play kickball or baseball over there too, was that flat, and overflow church parking sort of kept the grass down on weekends. There were squirrels, horny toads, and other critters that lived in this lot, also a nice array of oyster shells, shiny, colorful flat stones us kids would pocket.
In the 3rd photo above sharp eyed folks will quickly notice the church had all bells in tower, so Celia had not blown them to wherever yet. About 1967 or so. The school, with kinder garden building in front, sparkling clean. I don't remember what the big white building is if you look over the school roof top, that building would later be torn down and big bank put up there.
The watertower behind church is 6 blocks down Leopard street, and there is a Fire Station there & next to it was sprawling Sears store corner of Sam Rankin. Just off the photo on right would be the 'other' Litchensteins were rich folks liked to shop.
The 4th photo shows CC Cathedral school with office and kinder garden building in front. Right inside there was a small school store some of us would 'run' and sell cookies, candy, pencils, erasers and what not. The Rambler car shown might have been a 'loaner' that ndy Anders Rambler where my dad worked downtown, would lend to priests for a week, providing they parked it out front & center of church come Sunday mass!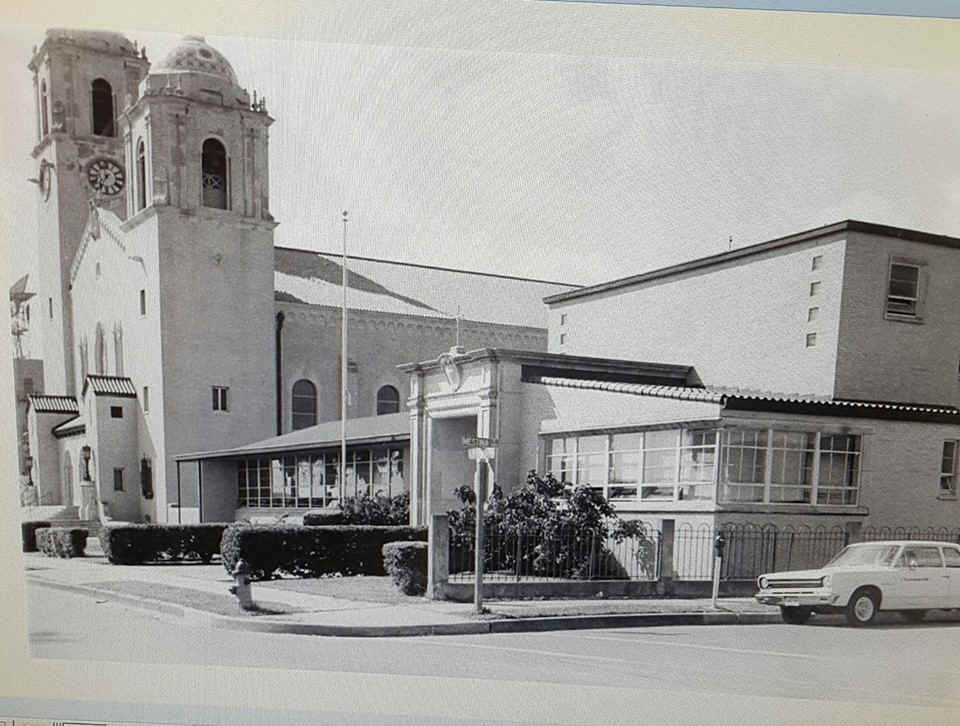 Tommy really liked the Cub Scouts & him & my mom, the late Sarah Stakes went to meetings, did lots of cool things, but momma eventually got tired of it, as she thought the other den mothers were dumping a lot of chores onto her, so her & Tommy quit going. Tommy was always 2X the size of the other kids in his class & he was hard to find a Cub Scout uniform when he joined, blue shirt, pants, and yellow scarf thing.
I believe Oscar Soliz eventually got involved in CC politics possibly like a City Councilman. I do not remember what happened to the old musty brick house, when it was torn down to make way for development perhaps, nor what happened to the big, beautiful towering oak trees either.
And the last photo is from the Route 66 movie filmed in Corpus Christi. In it, scenes all over CC, the tennis coursts were at W. B. Ray, then he steals the change jar and they show him running side of Cathedral. The white & brown house on left of photo is the ONLY PHOTO I have ever seen of the old house. Note trees! The street is south side of Cathedral and Lipan. All that stuff gone now.