Legendary Doctor Barnard
DOCTOR JAMES (JIMMY) BARNARD. He delivered late brother Tommy & me at Spohn. Hell, he delivered over 10,000+ Corpus Christi babies, quite a legacy. Kids usually don't look forward to going to a doctor, but him, yea, we did. He had a practice at NE corner of 3rd & Morgan, which was a 5 iron from Spohn. Across the street NW corner was a old gas station that eventually ended up being a pharmacy. And right next to it was Aunt Ruth's house she lived upstairs, and cool, wooden steps on side of garage to get there, of course you parked on oyster shell & grass driveway under apartment.
So besides delivering me & late brother Tommy, he also delivered my two oldest kids, Jennifer & Jason. He had a gentle and humorous manner on making us kids feel relaxed when we came to the doctor's office. I remember him as a large fellow with white doc smock, and black, thick rimmed glasses. His gentle demeanor quickly put us, at least me & Tommy, at ease, and he would joke about his nurses "watch that one with the needle!" They would roll their eyes, it must have been fun working for him too.
Since momma never drove, we would catch the Saxet Heights or Callallen inbound bus at Doss and Leopard, get a transfer, and then get on Santa Fe bus, which dropped us off at Morgan a block away, you pull the cable down above seats and 'DING!' off goes bell near driver signaling to him you need off at next stop.
If I recall right he had a aquarium in office with some neat looking fish. He also had photos of his kids, 6 or 7 of them, in the office too, which was comforting to us little guys knowing the doctor ALSO was a DAD and loved his kids, so he must love us too. A few times I went he gave me small toy, seemed to have a secret drawer in back filled with small Woolworth cheap toys, and get to pick something! He also let my mom & dad make payments monthly knowing sometimes, ok, all the time, we might not be able to come up with the whole sum.
We might have seen him 1, sometimes 3 times a year. Speaking on my own behalf, the world would be a better place with more Doctor Barnards in it. God bless him & belated thanks from my family, and me, Tommy, & Jenny & Jason. This is his obituary found online, quite a legacy, didn't know he was mayor.
DR. JAMES LAWRENCE BARNARD, a former mayor and physician, died at age 87. Hewas a life-long resident of Corpus Christi until he moved to an assisted-living facility in San Antonio in 2004. He died there on Saturday, June 25, during a brief stay in the hospital. Dr. Barnard was born August 11, 1917, in Corpus Christi to Eleanor Erb Barnard and Dr. William Calvert Barnard. After graduating from Rice Institute in 1938, he completed his medical degree at The University of Texas Medical Branch in Galveston, Texas. While both were students at Rice, he met the lovely Frances Katherine Gay and later married her on May 31, 1941. The couple initially lived in Galveston while he completed medical school and then moved to Kansas City, Missouri for his internship. Following that, Dr. Barnard was commissioned as a lieutenant in the US Navy, serving as medical officer aboard the destroyer, The William D. Porter, in the Pacific during WW II. The ship was destroyed by a kamikaze attack in 1945. All personnel fortunately survived.
After his return from that duty, he continued his service to the Navy in Corpus Christi until he began his medical practice here in 1946. Dr. Jimmy (as his patients affectionately referred to him) delivered over 10,000 babies in the Corpus Christi area between 1946 and 1989. He was loved by his patients and respected by his colleagues. He was a lifetime member of the Nueces County Medical Society. His was a general practice with concentration in obstetrics. He was a man of boundless energy during most of his life until he suffered a stroke in 1998. Dr. Barnard was an Elder Emeritus of First Christian Church of Corpus Christi and a Member Emeritus of the Board of Directors of FCC Day School, and was a Trustee on the Board of FCC Christian Foundation. He served the church as a leader in numerous capacities during his lifetime. He was a man of immense faith and remained an committed and active contributor although he was unable to attend services in his last years.Dr. Barnard served this city as a councilman from 1959-1963 and Mayor from 1963-65. The Harbor Bridge was dedicated during his mayoral term. It was a tumultuous time in the history of our city and integration was at the forefront. He later volunteered weekly at the Gabbard Health Clinic until his retirement in 1989. He always served his community with integrity, courage, and compassion.Dr. Barnard was preceded in death by two sons, Dr. James Lawrence Barnard Jr. and William Robert Barnard, his parents, Eleanor and William C. Barnard, and a brother, William Calvert Barnard. He is survived by his wife of 64 years, Katherine, and five of his seven children: Eleanor Lynn Smith (L. Scott) of Corpus Christi, Texas, Joan Katherine Wells (Dale Moore) of San Antonio, Texas, Deanne Gay Ritchie (Scott) of College Station, Texas, Robert Neill Barnard of Ft Worth, Texas, and Debra Kay Christopher (R. Rene) of Austin, Texas. He is also survived by his brother, Dr. Cornell C. Barnard (Lee) and daughter-in-law, Janet Olander Barnard (William R), 17 grandchildren and 11 great-grandchildren. There are also numerous nieces and nephews. Dr. Barnard's family meant the world to him and he treasured each one, remembering them all until the end. He gave each of his children and grandchildren, a living example of integrity, faith, and love beyond measure. He was fun-loving, full of life and a kind, wonderful man. We will have the fondest memories of this beloved husband, father, son, brother, and grandfather.A celebration of his life is scheduled for 2:00 p.m., Thursday, June 30, 2005 at First Christian Church, 3401 Santa Fe, Corpus Christi, Texas 78411. In lieu of flowers, memorials may be made to the First Christian Church Christian Foundation, the First Christian Church Day School or to a charity of one's choice. Published in Corpus-Christi Caller-Times on June 30, 2005
PHOTOS: Photo #1. I do not have any photos of the good doctor, so will show off his handiwork. This is my mom & dad frolicking in front of Aunt Ruth's house on Morgan at 3rd, note garage door, big thing slid back and forth. Aunt Ruth lived upstairs, can barely see the handrail on right. Mom & dad kept this frolicking up and this is how Tommy & me were born & Doctor Barnard delivered us, or hatched us as dad used to say. The house here was about 50 yards from Dr. Barnard's office on corner. Photo from about 1949-50.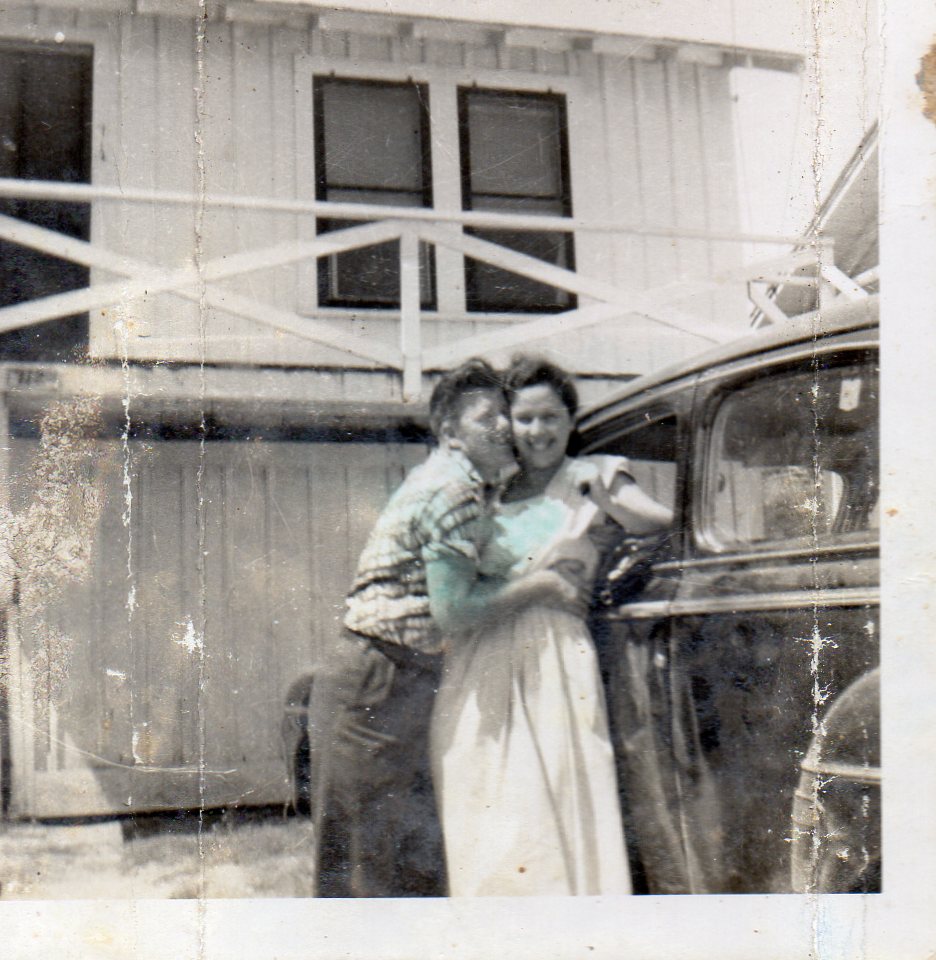 Photo #2. My dad, Homer T. Stakes showing what happens when you frolic in back of Nash automobile and the seats recline into comfy bed, that it brother Tommy Dr. Barnard delivered in March 24th, 1957.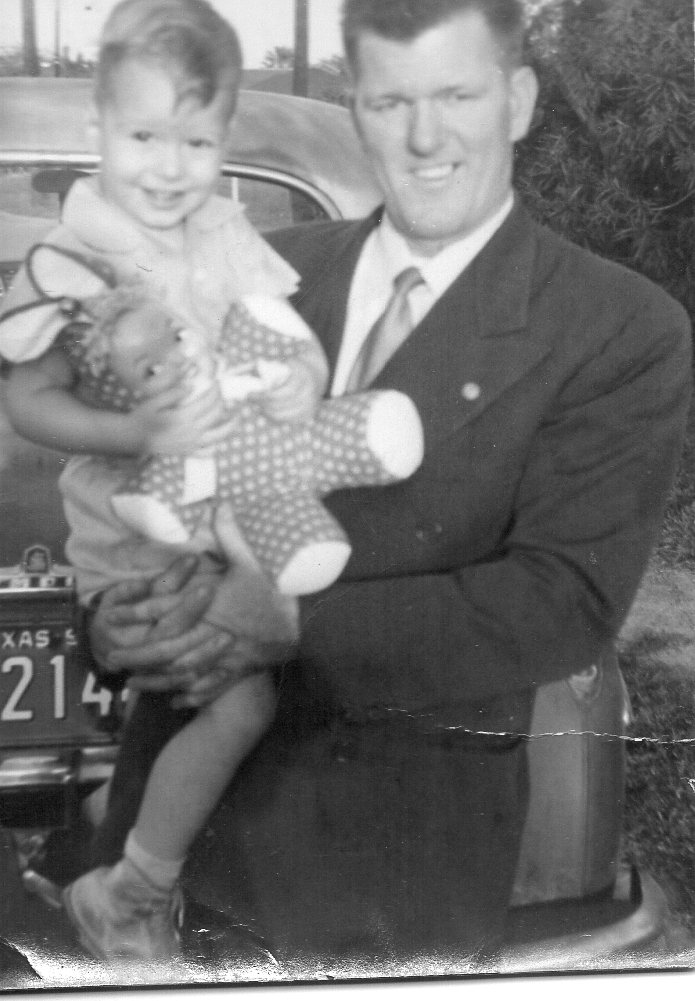 Photo #3. More of Doctor Barnard's handiwork when he delivered me March 26th, 1959 at Spohn Hospital. Dad is holding me, am 9 months old, and was heavier than Tommy when born. I don't know what type of car that is behind us, maybe Ford. Tommy better not let that crucifix touch ground either.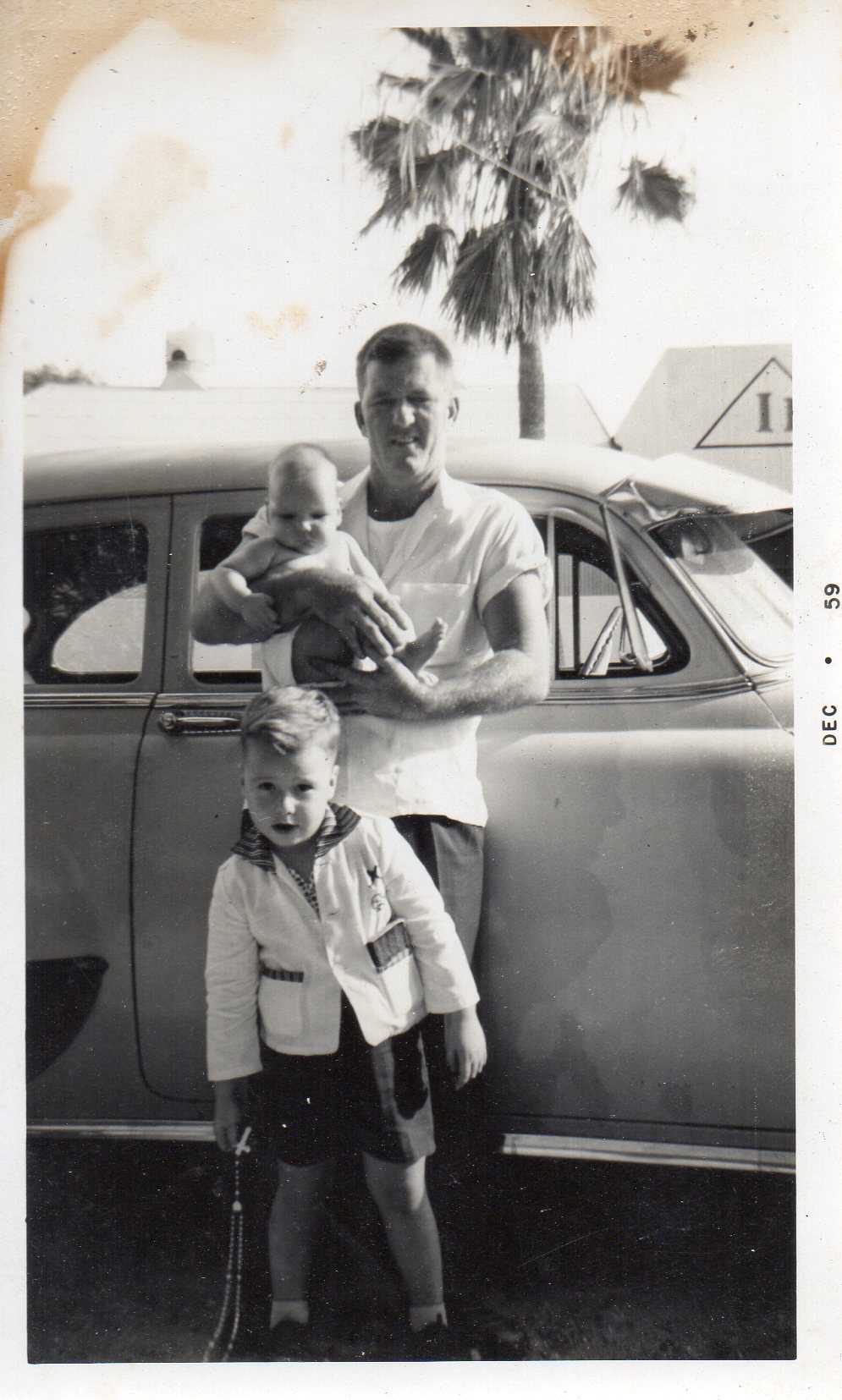 Photo #4. Uber rare photo showing 3 generations, Doctor Barnard delivered my first born, Jennifer Lorraine, December 29th, 1978. At Spohn. That is my late mom Sarah D Alcala Stakes smiling like possum, while grandma Maria D Alcala looks at Jenny. Everything went smooth for ex wife Cindy thanks to caring Doctor Barnard.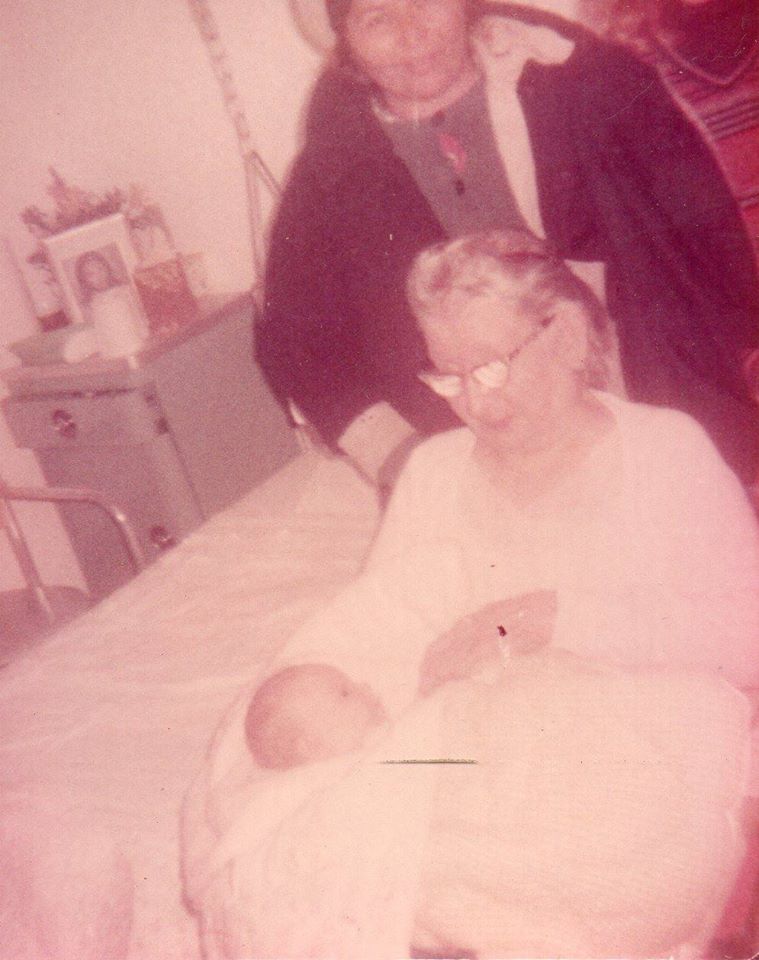 Photo #5. And Doctor Barnard not even a year later December 28th, 1979, delivered my oldest son, Jason Lee too. Another six hours Jenny & Jason would have been born same day... year apart. Thanks for readin