FLOYD'S RESTAURANT. Staples & Gollihar

In the 1970s once I started driving and staying out more than I should have but there was nothing for me at home in craphole neighborhood at Doss & Antelope, I discovered Floyd's Restaurant, which was located across town. A handful of us would hit the place up after everything else pretty much closed down, except maybe Kettle off Weber. Unusually busy at night after 10pm too.

Would find myself of course cruising in my 1970 AMC Javelin around Oldstown, looking at a variety of brand new cars under the never ending rows of lights. Well lit up, a number of times would get out and check up the cars close up and personal, as no salesmen to follow me around not knowing I could not afford chewing gum anyways. But this was 1970s, and a few new jobs for me meant things looking up. The Floyd's was located on the SW corner of where Staples sort of hits Gollihar. Across the street was wavy lined building of Atlantic Thrift store, next to it a small Long John's Silver & Circle K. Floyd's was surrounded by car dealerships, not a bad thing. Oh a Volkswagen dealership to one side.

When you went depended on who you would see, seemed to me Saturdays days a lot of Little Leaguers, maybe from Price Field on Sundays was well dressed churchgoers possibly from the Whataburger looking orange church block away across from fancy new McDonalds. Mmmm. Filet O Fish. Now distracted! Was a great place to take a date due to diversity of the menu. At night, it was all clubbers. My personal favorites? Any of the burgers, the 133 gram Frisbee sized chicken fried steak, and the 'also Ship Ahoy class' shrimp.

Now I could not only afford child support, but apartment, buy my own meals, a date's meal, so splurging. Ok, weed too. Duh.

Which brings me to this. I have been a bartender most of life. And after you get off work it is not uncommon to go eat someplace, now you have a good array of places 24 hours open. Then in late 70s early 80s in Corpus no.

Clubs close at 2am, kick everyone out 2:15 unless you sleeping with wait staff, and for us workers, we have to clean up, restock bar, do bank & paperwork, then head out, could be as early as 2:30, or as late as 4am.

Floyd's in early morning was a loud, organized chaos of people, and the waitresses held court, seemed they knew a lot of them by name too. You had disco ducks from White Rabbit, Carousel, kickers from wherever kickers came from, (where do kickers did all that boot scooting stuff in early 1980s I don't know) rockers from Mars, Rock Alive! & Windjammer to name a few places. All happy, loud & mostly over the 08 drunk limit anyways. There to grab a great bite to eat to sober up before going home.

At the table I was sitting, a few tables over words exchanged, and of course in land before cell phones a lexicon of vocabulary people turned to look.

Now they start filming for youtube get million hits or do facebook live!

Then, we all just turn and check out what all the commotion is. Suddenly food flew, then more food, girls screaming, guys laughing, no punches thrown, just food flying EVERYWHERE. If you thought the food fight in John Belushi movie Animal House was funny, this dwarfed it. No one threw red cups, or plates, just food, I grabbed a handful of mash and tossed it, but also got his with mash, how did that happen, I can't even throw boomerang.

Also got popped with what looked like some red jello. I'M BLEEDING! Oh no, hey that cherry jello still good, eat it. And a piece of chicken fried steak. The waitresses stood off to side, got out of way quickly. This must have went on 5-10 minutes. Seemed longer.

The whole place in seating area was a huge mess. I walked over to waitress and told her my name on ticket Eddie, and gave her a $20 and left. The waitresses probably banked some serious money tip wise that night as mostly all club people who in lade before 20% tipping we did that. Got in my 68 AMX, (the Javelin totalled in front of White Rabbit in 78) drove down Everhart headed home to The Landing. Got inside, and trail of clothes flew off in line as I got to my Bargain Bernie waterbed, and crashed out naked.

Still sleep naked but that is too much information or as my kids say "TMI dad!" Woke up early the next day about 11am, apartment smelled like #7 Breakfast Platter. My hair looked like Don King with food in it, pointed.

Could have just got some chips from pantry as I already had the dip up there! Tossed some clean shorts on, walked across driveway to little laundromat next to pool, shoved in 50 cents to wash my Floyd's Food Fight clothes, along with a few other clothes, and jumped in pool to get the food out of my hair, was too lazy to take a shower. Probably clogged up the filter in washer AND the pool.

Unknown if other food fights occurred here, the tables you could pull together to make long table for bigger groups too. Continued to eat there, take dates there, and go after hours after getting off work at Rock Alive!

later Crystal Confectionary. Unsure when Floyd's in Oldstown closed down, but a few years ago, my family down there for vacation and saw a Floyd's sign poking up over the freeway in Flour Bluff where a exist goes to Naval Base. Have not ate there and wondered if same folks who owned other place.

Or if open. Its now another Mexican food restaurant, no shortage of them, but for some reason looking at the buuilding it looks smaller than what it was 'back in the day' maybe they lopped off some.

PHOTOS: Photo #1. Last time I saw Floyd's it was Mexican restaurant. I will have to try it next visit if still there. Note the old Floyd's sign still there. Autotown. At some point I think other car dealerships started whining about it being Oldstown, as there was a big Oldsmobile dealership across from Shakey's pizza on Everhart, had huge neon rocket ship out front. So guess they changed name to Autotown. Dumb sounding like whatever it is Padre Staples mall called now. You looking south from Gollihar down Staples in this photo.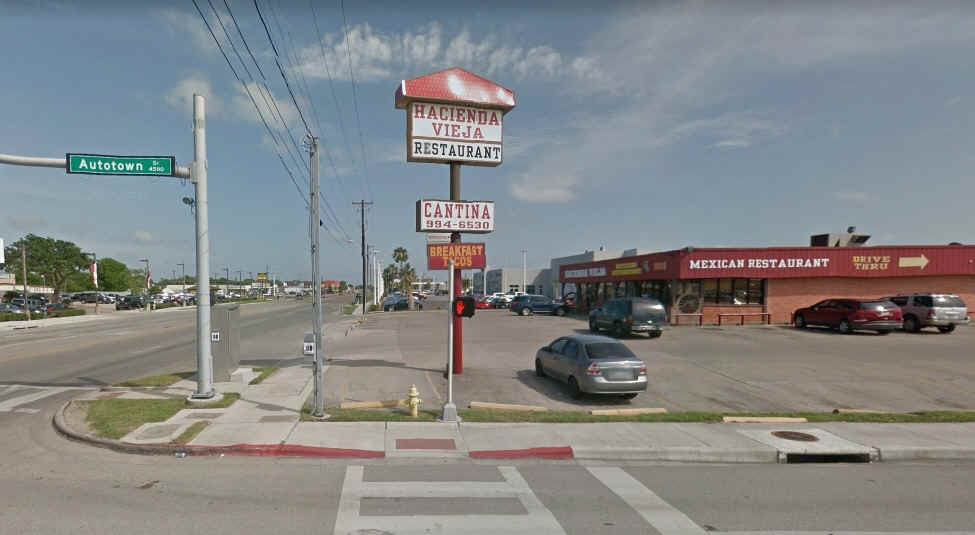 Photo #2. The chicken fried steak hung off plate and you HAD to get extra gravy. Those rolls soaked in gravy fly like a pool hall ball. First time I took mom, dad, brother Tommy to eat at Floyd's they didn't know how to act, and ended up with about dozen rolls, mom stuck 1/2 of them in purse for ride home a old Shakey's trick. At a later date I found out how much people love their CFS. A place I worked at in Houston, Dirty's in Galleria, had #1 chicken fried steak in Texas for several years. Ok, this CFS as a few bites for late brother Tommy, but he COULD eat a Whataburger in one bite.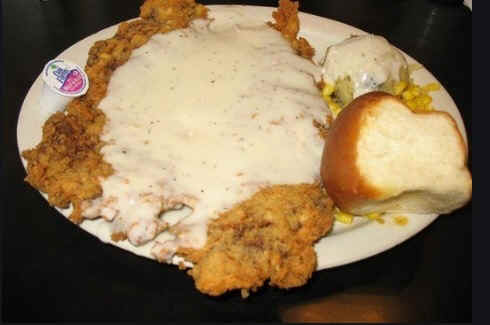 Photo #3. The interior of the other Floyd's in Flour Bluff almost identical to the old Staples/Gollihar location. The old location had red & white plastic tablecloths.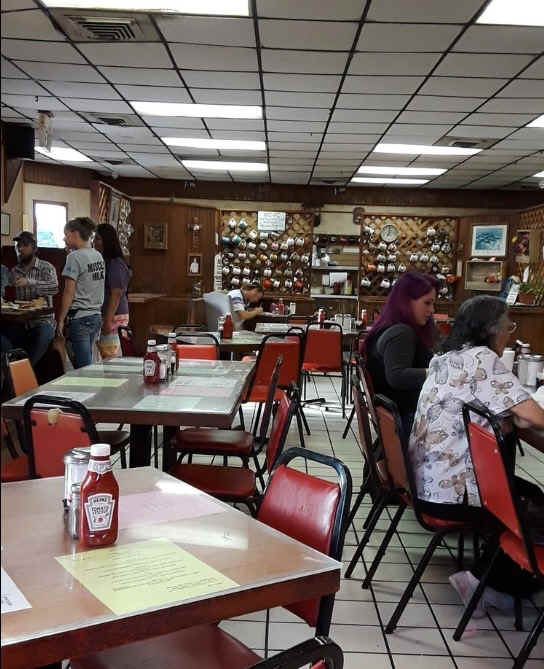 Photo #4. Mexican food, enchiladas at Floyds, but this is Flour Bluff location, looks really yummy. But I didn't go to Floyd's for Mexican food, went for aforementioned burgers, chicken friend steak, and if a good night in tips, shrimp plate.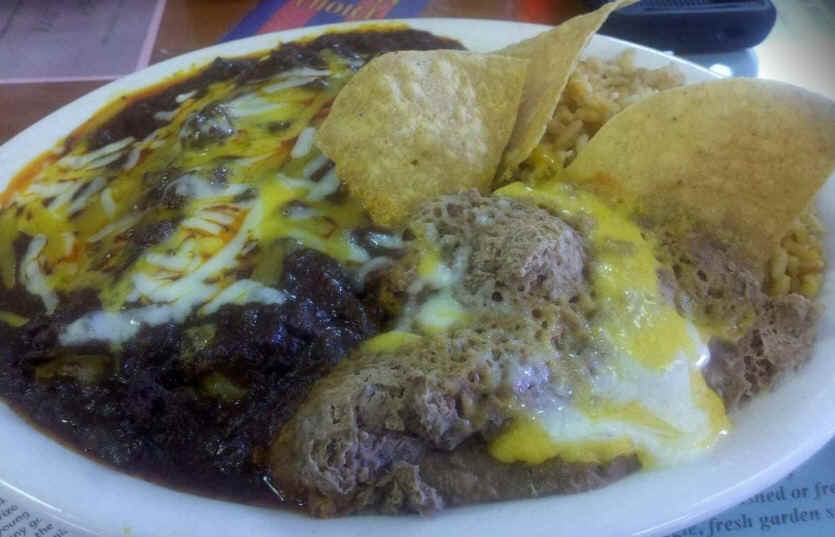 Photo #5. Bisquits & Gravy at Floyd's, this is one of the five main food groups. My dad loved this stuff, and commonly ate it at Whataburger on Weber & SPID for years.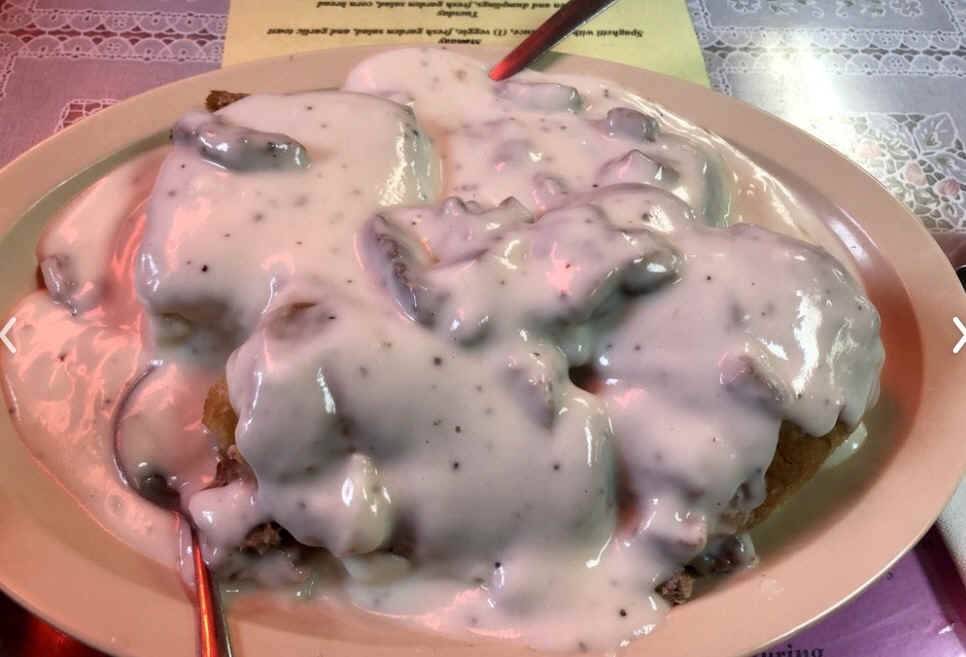 Photo #6. The Breakfast Plate, and they had a number of combinations, some like the #7 Plate, still in my hair, awesome way to start day before you head out to Padre Island.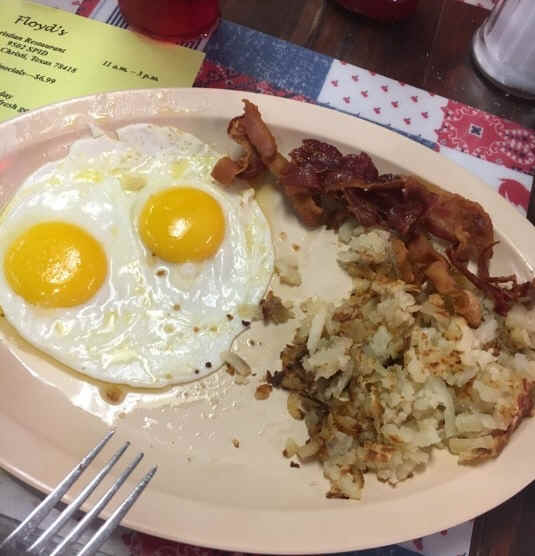 Photo #7. Doo doo doo looking out my front door, someone took a photo of me in front of The Landing apartments in 1979, lived in Apartment #4302, behind me were some large apartments for people who gots monies as I like to say, but directly behind that is the Laundromat and one of a number of pools Landing had.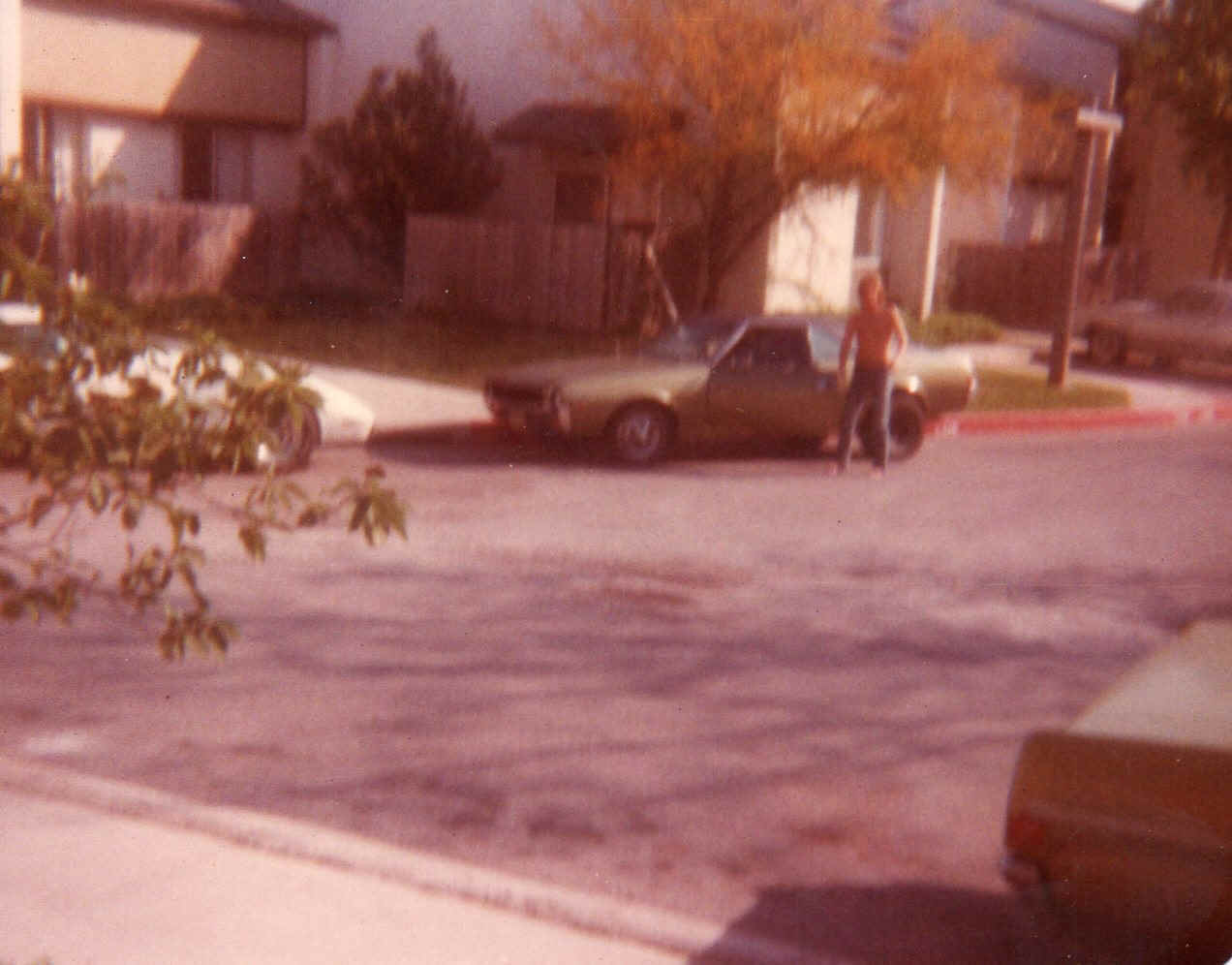 Photo #8. Ok, this is food fight in Animal House, again the one at Floyd's blew this away so much stuff in air, but no plates, red cups, just food & beverages.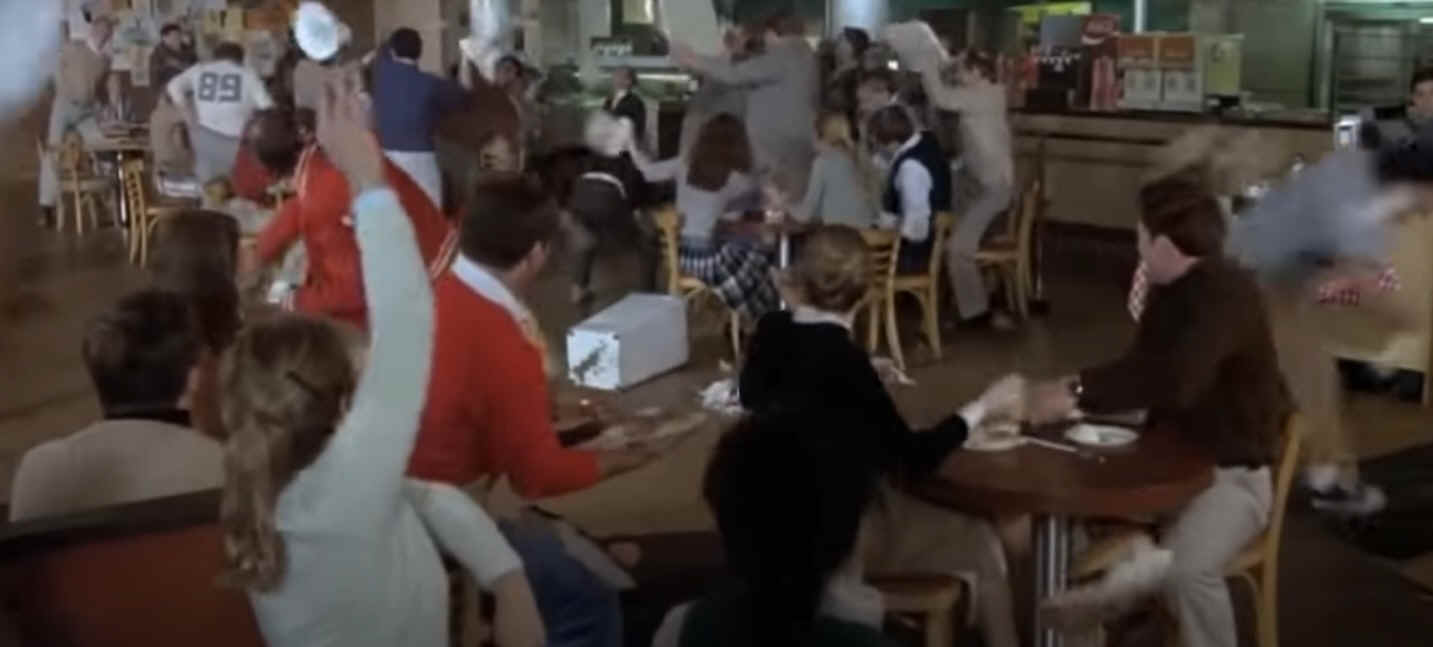 Photo #9. Someone took this photo of me bartending at Rock Alive! a few blocks up road from Floyd's. How could anyone throw mash taters or size of jello at such a purdee face? It's the hair. Next day was stuck like ^^^^^^