GIBSON'S DISCOUNT CENTER STORE.
Across from the newly built W. B. Ray high school a Gibson's Department Store popped up in 1961. Ray built in 1950. The store faced north, and Ray on the east (Staples), Orlando street on west and front of store faced Kostoryz. June 14th, 1951. Can't tell you anything about all that, well, Ray in 1975-to almost 1977, but that is another story. I can tell you about Gibson's in 1970s. Official name was Gibson's Discount Center of which the cool sign out front had with a arrow.
Somehow this stuff gets intertwined. So will try to condense it like Readers Digest story. Gibson's was nicely laid out store inside, with food on the Orlando side, middle area clothes, shoes, and a expansive tools, guns, fishing rods and sporting goods area on the Staples side. Our family would drive and shop here as it was much cleaner than Shoplifters oops, Shoppers World. In the front there was small garden fenced in area, only a fraction of size of Woolco's garden center 2 miles down in Parkdale Plaza, but lots of nice plants, vegetables for home gardeners. Mom could make a dollar stretch at this place in early 1970s and at time, we lived on 642 Naples a little over mile down, from 1971-74.
My dad, brother Tommy, me bought a lot of fishing things here, was cheapest in town, rods, reels, hooks, sinkers, string, and everyone in Corpus fishes its in our DNA. Mom liked the array of clothes and for first time since hurricane Celia, we started to have some 'new' clothes, not Salvation Army or Red Cross stuff.
At W. B. Ray, at lunch time none of us supposed to leave campus for lunch.
Hell, how does that work with as many students as we had. Popular places to go were Angelos Pizza at Carroll Lane, Taco Bell & Burger Chef up Staples near Louisiana Parkway, and for adventurous the new Sonic on Ayers, just take backstreets to get to it, really easy & quick with muscle cars we all seemed to have. And Gibsons. You could walk across Staples to Gibsons and they had pre made sandwiches, tons of chips, snacks, and new Mister Pibb soft drinks which had just hit market. Not that the food in W. B. Ray cafeteria was bad, it was quite good, but you sometimes get tired of same stuff week after week. I did, but usually didn't have any money, and no food card like some did. My issue was I was not supposed to be even going to Ray.
By 1974 we got kicked out of 642 Naples and flung back to stone age 723 Doss, a few blocks from Miller. I tried one semester at Miller, lots of fights, lots of drugs, and my dad and old friend mister Hernandez who we knew from Cathedral and were our neighbors at 610 Naples came up with a plan to make their address my address since I could not legally get a transfer.
It worked, but I had to stay silent, and always look over back as if busted, expelled. Which happened anyways but I already told you about that.
So in my senior year I had a Letterman jacket from Ray, quite proud of, stole it from a locker year before, removed some patches and stuff, so would not get ass kicked. Whoever's it was had moved on and no one asked me about it. Would be surprised the stuff a handful of us 'found' in lockers back then. I took off for lunch at Gibson's leaving my 1970 AMC Javelin in east parking lot, which was area for 'surfers', we had surfers, kickers, geeks or nears, debbies, bunch of cliques. Walked to Gibson's for lunch and had enough change for a Mr. Pibb & big back of chips. Didn't have enough for Frito Lay bean dip, and looked around, stuck a small can not down pants which was usual area, but inside my arm in jacket thinking heavy enough material no one notice.
Paid for my two items, started to head to door and stopped and manager with glasses told me to come to office as he had seen me stealing something, how embarrassing as had NEVER, EVER gotten busted for shoplifting!! I had broken, ok, a lot, of times everything I was taught in Cathedral including God's commandment #7 Thou Shall Not Steal. Monsignor Schmidt would have hung his head, or at least given me 3 Our Fathers & Three Hail Marys in confessional and told me sternly don't do it again.
I made like bad Blazing Saddles movie and whipped it out and manager say it was a something like 39 cent can of bean dip asked me why I did it. I said am hungry. 'We are calling your father" I said "sir we are poor, we don't have electricity, phone, air condition or heat, indoor plumbing' he looked at me indifferent, and said 'where does your dad work?' I said 'George Young Toyota' and he said 'call him!' Dad came up within 15 minutes and came to office. The manager told my dad what I stole and my dad asked 'why did you steal that son' and I said 'poppa, we are poor, I didn't have breakfast and am hungry' and manager asked if what I had told him was true. My dad told him 'sir, I'll pay for this, but yes, we live next to freeway on other side of town, and we are very poor, don't even take food stamps' and hung his head. The manager looked like he was going to cry. My dad added 'my son is not supposed to be going to Ray as we live in Miller district, and would appreciate if you don't tell anyone'.
I promised the manager I 'would never steal anything from INSIDE the store again' and dad paid for bean dip, and said outside 'don't tell momma about this' of which didn't and every time I, or family went back to Gibson's was nice experience, no one followed us around either. Oh, Gibson's had a lot of gumball machines in front between doors, I loved them, 5 cents, several I could work the handle and get lots of stuff. Was probably only high school guy collecting trinkets!
I had been dating Cindy Sullivan whose family lived on Orlando, a beautiful little redhead girl who also went to Ray and was in the Texanns drill team.
After a date I dropped her off like I always did unless we ran away. Oops, well, everyone knows about that too now. Anyways, I had to pee really bad and behind closed Gibsons was a dark, can't call it a street, maybe delivery drive full of some holes a Gremlin, Pinto or Vega could fall in and never be seen again. So Gibson's was closed and drove back there to unload and turned lights off on my Javelin. I had dual exhaust on the car and might have woke up people on other side of fence ha ha on Casa Bonita which butted up against Gibson. Lo & Behold a small wooden shack behind Gibson's I looked in and wow, was loaded with 32 oz Coke empty bottles in wooden cases! At the time in 1977, those were $4 a case. I found out that night my 70 Javelin held about $60-$65 of cases as I drove off to 24 hour open Skagg Albertson's on corner of Everhart & SPID (South Padre Island Drive for you non locals) and cashed them in.
Money money to take Cindy out, more money for beer, weed, gas for thirsty Javelin. I was NOT lying to manager at Gibson's when I told him I would never steal from INSIDE Gibson's again you know, and for a couple of months, maybe 6 months, continued to help myself, sometimes also returning bottles to Warehouse Groceries also a 24 hour place next to K-Mart other side of SPID. Eventually I backed off as one night saw a Corpus Christi police car, lights off near there as I dropped Cindy off, so never did it again. Irony is Gibson's got some of the money back as I spent it there on fishing equipment!
A side note, we sat outside in front of our old crappy house 723 Doss all the time, no AC inside, no place to sit, tables, chairs, just JUNK, and one dad, the Gibson's manager who had busted me drove by and stopped at the Doss Antelope stop sign! I instantly recognized him, he recognized me & dad, smiled, waved, and off he went. I guess he just wanted to see if story was true we told him in office.
Can't tell you when Gibson's left Corpus Christi though but was a really nice store, but I believe Woolco sucked a lot of life out of it, and was surprised to find out some Gibson's still exist. No wooden sheds behind them with Coke bottles though. Before some blue haired lady gets freaked out, two words come to mind I learned with CC Spelling Bee Parochial competition.
Conscience. Do I have any conscience? Sure, now maybe, not then, was poor kid (which is no excuse) trying to worry about where next meal was coming from, when next time could take a shower, and if I had any clothes with no holes to wear. I have relived over and over like bad groundhog day putting my dad in that position. He forgave me and laughed about it, momma never did find out. I can't tell you if Tommy ever knew. Remorse? Oh hell yes, wished things would have been different for me and family. I made peace with myself long ago, decades ago, and that stealing stage only lasted about 10 years. Carry no shame about it though and why I write about stuff like this and no one....else... does.
PHOTOS! Photo #1. This is not Gibson's on Kostoryz, but they pretty much looked the same. The founder, Herbert R. Gibson Sr, is shown in upper right. But my attention drawn to the swing set under sign and check out all the Chevys. In front of store three, looks like 60-61 Impalas, possibly Biscaynes, in foreground, two Impalas about 63-64 and a Mustang.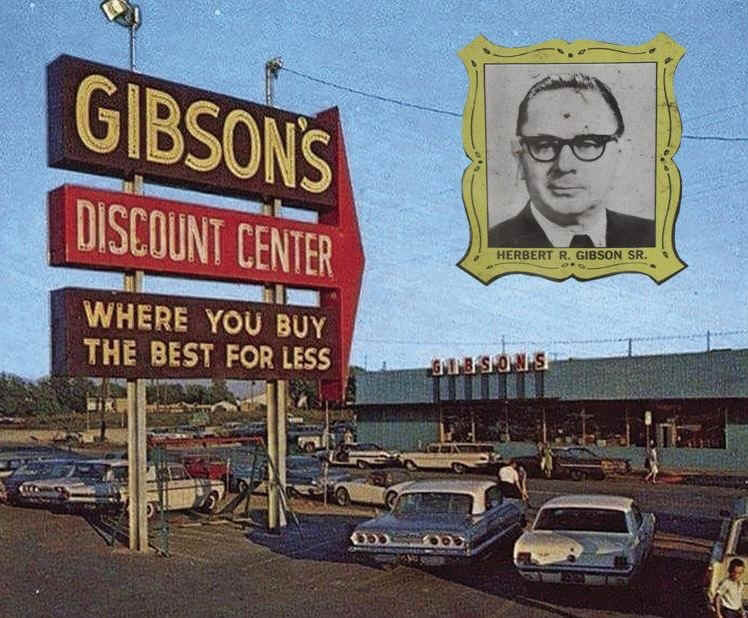 Photo #2. This is how the Gibson's on Kostoryz looked and to the right of sign there was it's garden center with lots of neat plants cheap.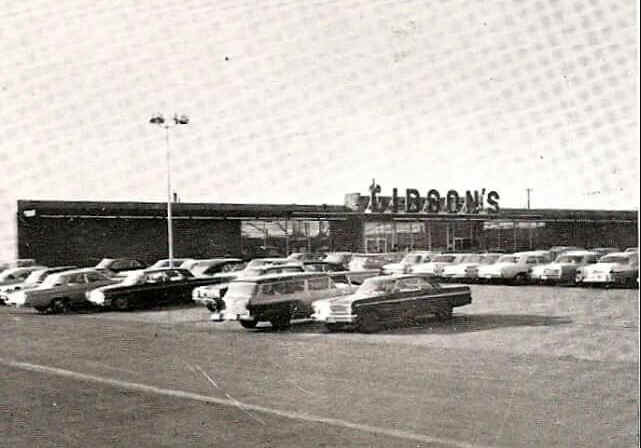 Photo #3. Check out those prices at Gibson's discount Center. Chocks Vitamins $1.87 a bottle? Basketball hoop set $5.00 wow! Pajamas $1.27, ok, we never had pajamas as kids, many times slept in Cathedral khakis.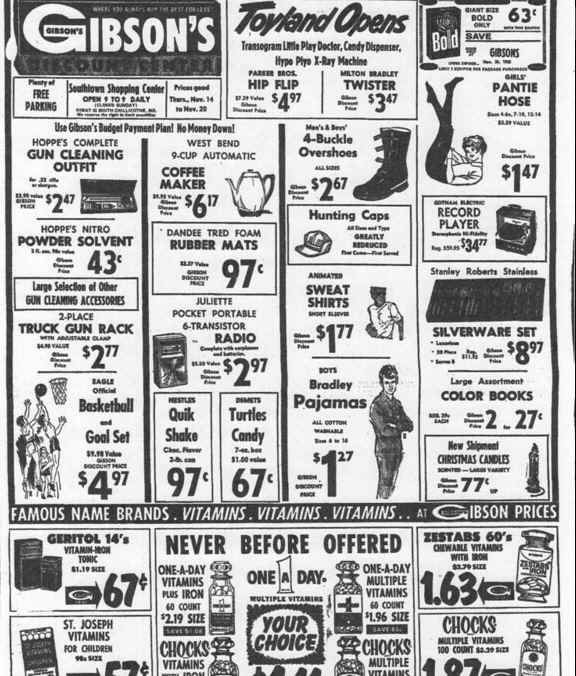 Photo #4. This is same as Gibson's was on Kostoryz, even though a artist's renditioning, is what actual building looked like with the overhang, sign, and what you would have seen from the Orlando street side of building.

Photo #5. The sign partially shown on lower left is from Sam Houston: "All of you can go to hell, I'm going to Texas!" This was only a small area of the gun department at Gibson's which was in the Sports Department.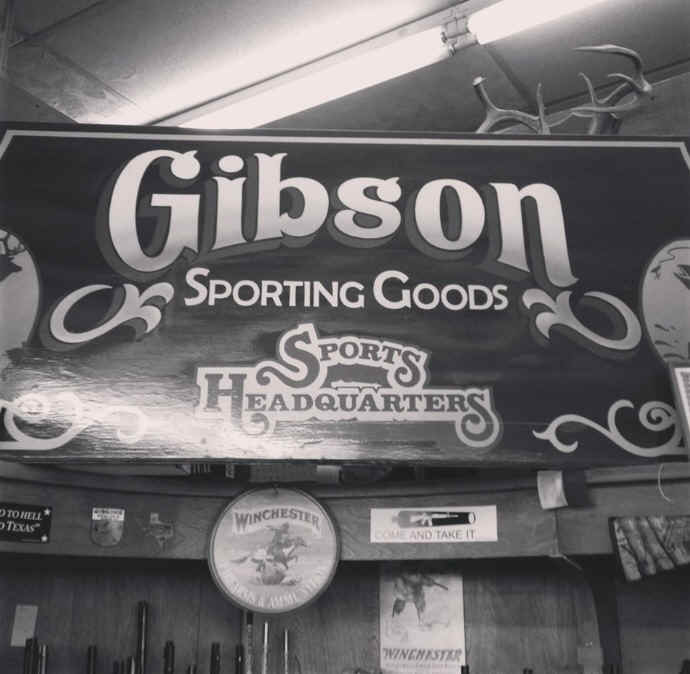 Photo #6. Inside Gibson's Discount Store could find pretty much anything, was a Wal Mart Superstore of it's day in 1970s. And I would guess a model for many stores today.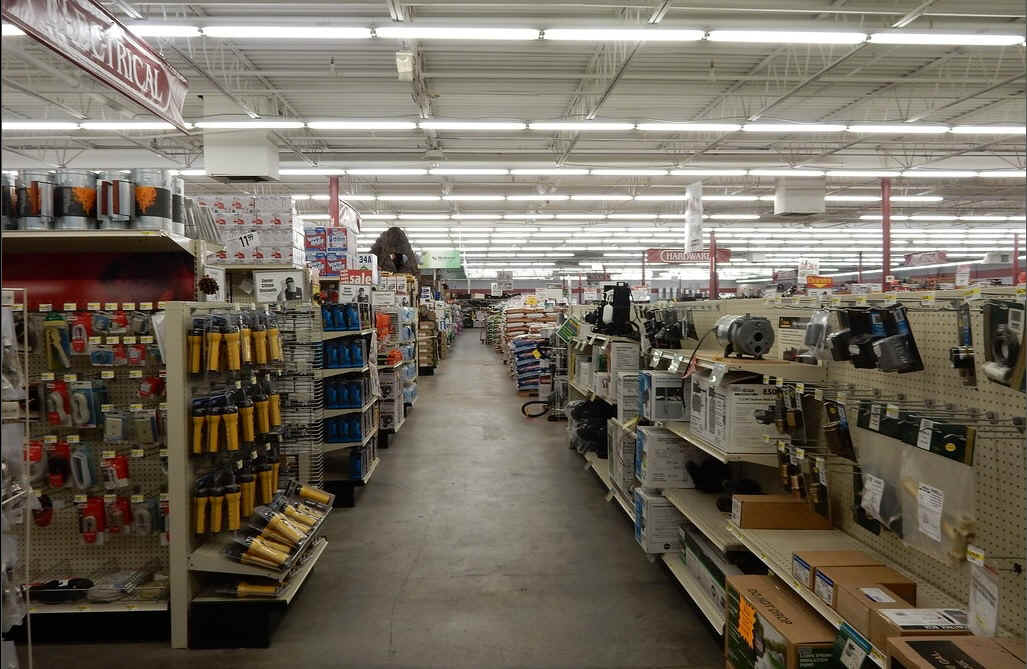 Photo #7. A tidbit from local rag Corpus Christi Caller Times dated June 14th, 1961 shows grand opening of new Kostoryz store. If you can read it shows 14 'semi self serve cash registers' and central checkout system.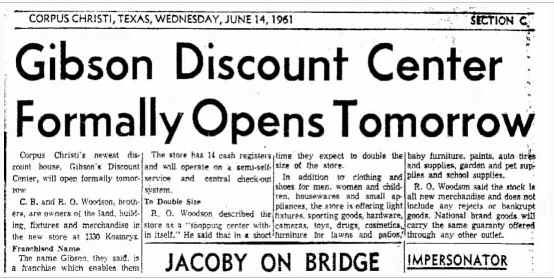 Photo #8. In my Houston office sits this gumball machine. Most of the trinkets are from Gibson's although many predate that, but a lot of them from the gumball machine I told you about could put nickel in and wiggle handle and lots of extra stuff came out when I was Senior in 1977 at Ray. Still works, and takes nickles.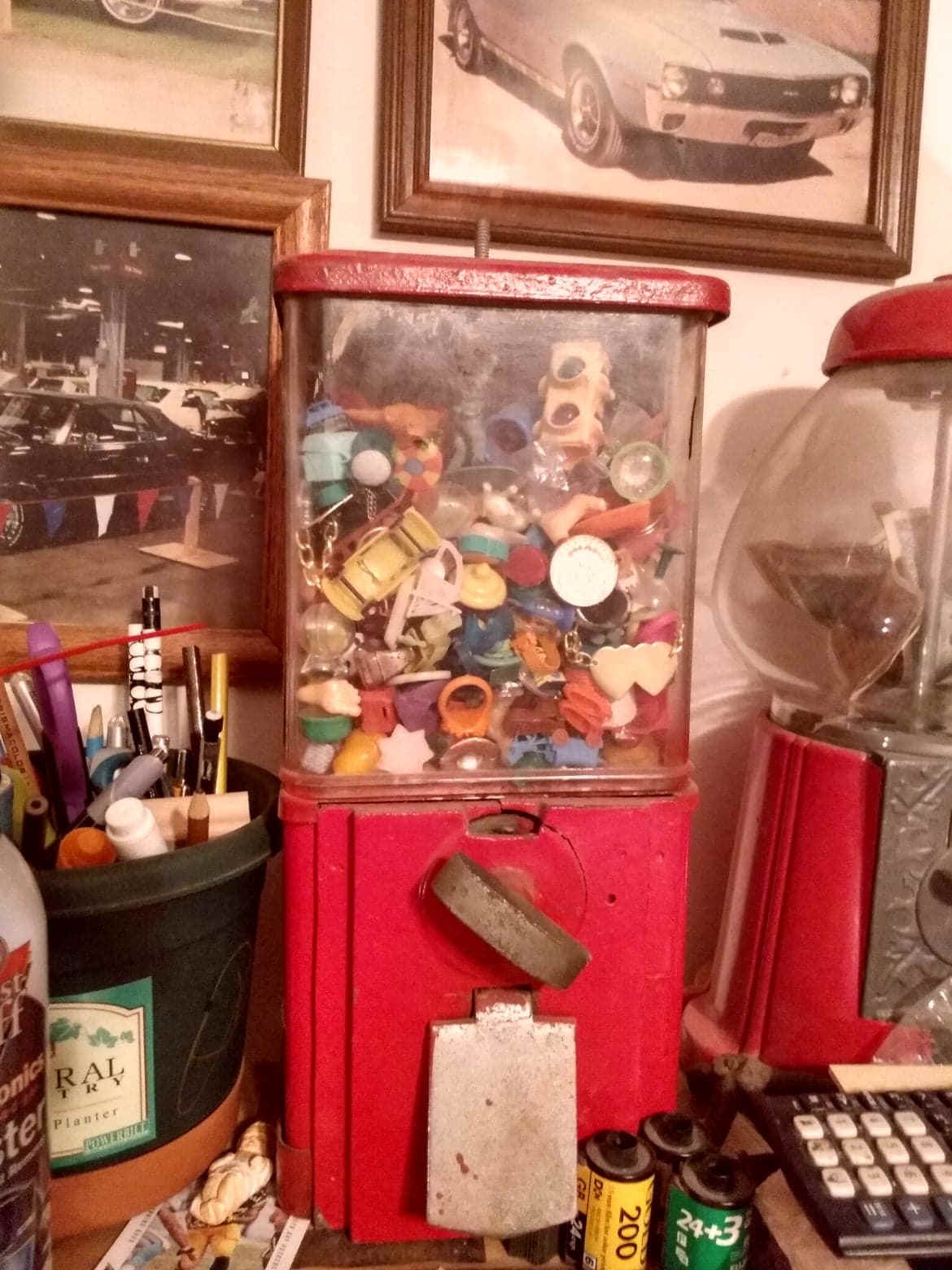 Photo #9. My Javelin trunk could hold a lot of soda bottles. This image is from a brand new American Motors brochure and little twist of irony there. It's a 68 Javelin in photo, mine was 1970 didn't have full sized spare so held more.