J C PENNEYS Downtown.

There has to be some secret passage to get in there. I was going to school at Cathedral right behind the big J C Penneys in 1960s. And the protruding window always fascinated me facing Chaparral street. Penneys was one of the stores you could "smell" from outside. Not in a bad way, but good way! Others that captivated the sense of smell were of course Lichtenstein's but mostly in foyer with nice perfummie smell; Woolworths on east and north side of building at bus stop with popcorn; Fedway's but on Water street side and that was a mix of nice shoes and perfume if you ever caught a whiff; and of course Penneys which was a cotton & leather smell under the overhang.

I can't tell you which smell was best, but the popcorn one is most memorable. Anyhows, the glass showroom window thing was above street level, only one downtown. I found myself looking at it from different angles. The best angle was probably from when my dad would take me to buy Superman, Batman & Green Lantern comic books at Al's News Stand, as you looking straight up Williams towards it, my school and The Hill, not to be confused with The Hill of Death we played Evel Knievel on in front of our house mile away side of I-37, no, this was The Hill that few of us used the beautiful steps as kids, ran down hill, many times cratering, eating dirt, books, homework flying everywhere, wheee, lets do that again.

Well, inside the J C Penneys, when open door, that awesome smell hit you. Loads and stacks of clothes, fine shirts, and nicely dressed salesmen wandering around to help. On bottom floor was mostly men's clothes, as I would guess bulk of sales were to men in the Wilson tower, 600 Building, and Driscoll hotel all lined up pretty much behind on the bluff. Upper Broadway.

If you got past the barrage of helpful, not overbearing, hovering or stalking salesmen, towards back off to one side was shoes.

Hmmm...shoes, a luxury at our house you know but needed them for school, church and be altar boy. Later in life shoes good for weddings, funerals, parole hearings, going to library, fishing, and bartending too. Next to shoes there was some elevators. At the time... I believe only two downtown places had ESCALATORS, those are the things you walk up to, jump to step, then takes you up or down, to another floor or two. If a kid, you ride it until they tell you get the hell out of store.

I want to say the 2nd floor was full of girlie stuff, panties, blouses, dresses, and what not, mom boring things and think 3rd floor was full of stuff we could not use anyways like toasters, blenders, home things. I liked that floor as it had cool things like Sears, vacuum cleaners, small transistor radios too.

It was the 4th, or 5th floor that around Christmas opened up and the button on elevator now worked, and took you to Toyland. When the doors of the elevator opened mouths dropped seeing the whole floor pretty much stuff we could not afford anyways, but who cares, to a kid, you never know what surprises Santa was going to maybe bring? Fedways across street had KIDS ONLY when you went there a small door only kids allowed to crawl thru, unless you really fat. But behind that was a special area with lots of toys, bikes, electric cars. Well, Penney's not to be outdone, had most of the hot toys in 1960s, and to me, cool things like new Batman & Robin Action Set, HO Scale racing electric cars, Erector metal set, and for me? Electric organ since I knew how to play one already! Hard to leave that upper floor as a kid though.

What did my family buy? Most times on our little budget, just the basics.Some shoes, and khaki pants for Cathedral. Not sure what momma & poppa bought. Don't care, am worried about how that window over street has now changed again, now has Christmas things in it. So have to go outside and look up, has to be a ladder to get up in there? At some point we started going to Woolco out in Parkdale Plaza for school stuff, but thru 6th grade at Cathedral, I still had a sort of non scientific list of favorite stores to go to downtown: Woolworths, Toy Store, Penneys, W T Grant, Fedway, Lichtenstein's. Again, not in specific order, just places I ran around in with no money.

PHOTOS: Photo #1. There is that mysterious window that hangs out away from building. I bet if I slept across street would have caught whoever it was in 1960s changing things in there. Saw two men in there one time, but we were in our car, of course dad not going to stop for that duh.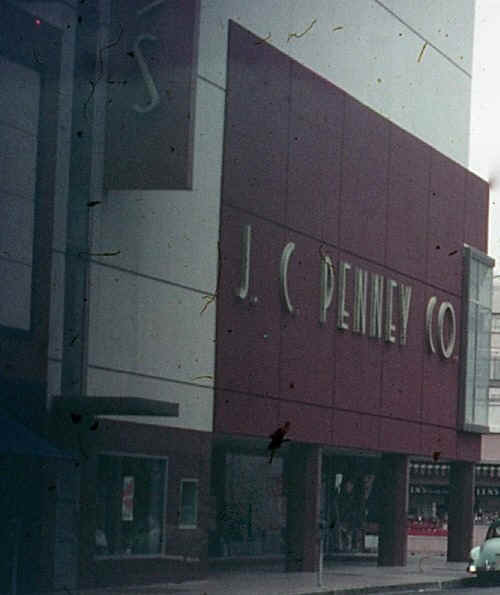 Photo #2. There is my school on right here, with Cathedral next to it. The construction going on is the big multi level parking garage, still there, about 10-12 stories. But in background, there is J C Penneys in center of photo, not much downtown either back then.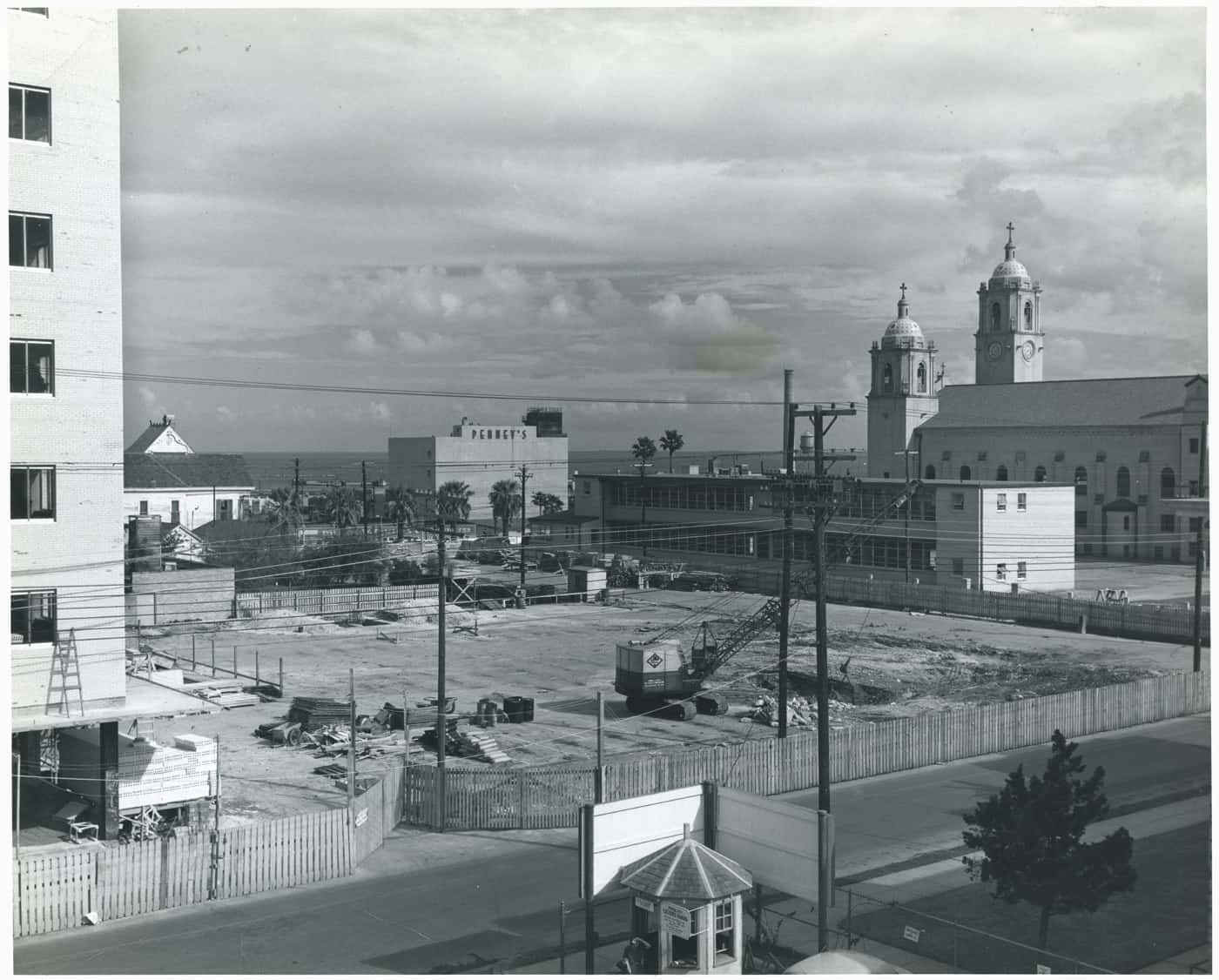 Photo #3. At one point, Corpus Christi would close off Chaparral from Laguna here in foreground to Schatzell on north where jewelry place Zales was.Was really busy Christmas time event many people would go to. Peppermint Lane! On left is Mireur Luggage, then Joos Shoes, W. T. Grant then Penneys.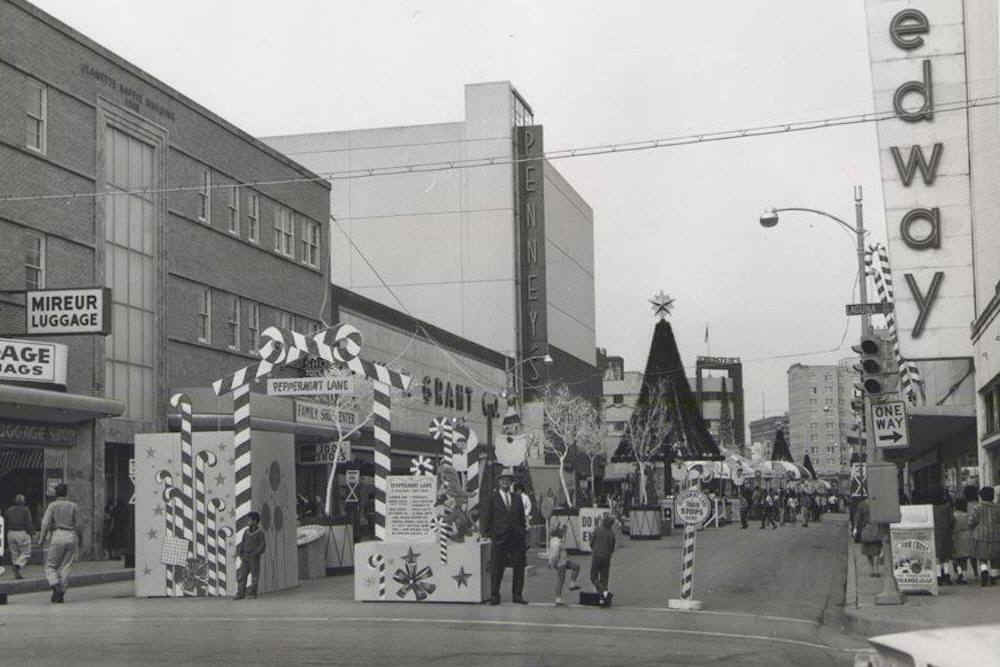 Photo #4. Looking west down Williams, if you see the only car on the left which looks like a Pontiac Grand AM or GTO (hey I am a car guy) you will see AL'S BOOK NEWS small sign above sidewalk. My dad would take me to this and the other Al's Newsstand which was bigger, in the Forbidden Zone to buy comics. If you look closely at the Al's Book News sign, just behind it is the window that Penney's had that hung away from building, so when dad took me to get comics, I would stare at it a few minutes "I go my eye on you!!" sort of thing.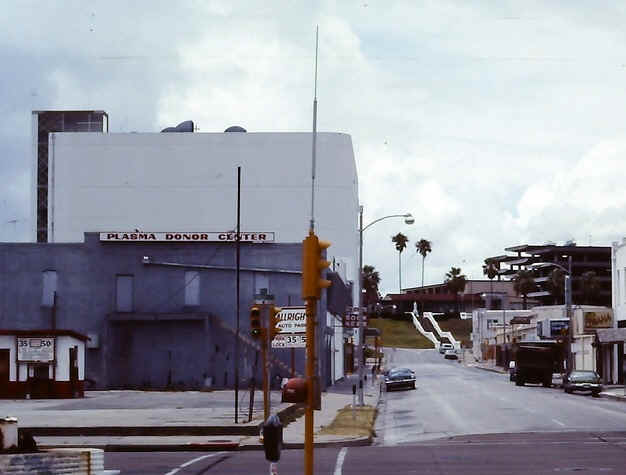 Photo #5. This is what the Penney's downtown building looks like in 2019. Window still there but blacked out, where the hell fun is that? Are there cameras behind it? Russians? Nuns? Well you can compare this to previous #4 photo and there is same HILL, now if I ran down it, good thing Spohn close by as would have to call Life Flight and scrape me up. I don't want to know what this building is now. Nor do I want to know how they changed the things in the mystery window 50+ years ago!