J C Penneys Downtown Revisited
J. C. Penneys. While I wrote about J C Penney's before, I omitted this photo simply no place to put it as not really Penney's. People used to dress up to go downtown, I have photos of my mom downtown looking spiffy. This nice looking couple appear to be about where later a small office furniture store, and shoe store would be, later on corner, Neptune Saloon in 1970s.
But this is 1950s. The car appears to be a really toothy Buick, check out that 300 pound grille! Wow! Am car guy you know. If far background under constructions appears to be where W T Grant would be, and below it, places like Miruer Luggage and Joos Shoes in 1960s. And 70s. I do not know name of building itself, but also had offices in it, long hallways with lights on ceiling the few times went inside, very quiet.
Behind lady's head was a jewelry store on corner. I used to pass by it in mid to late 1960s coming from Cathedral just up the hill, and on my way to The Toy Store not pictured.
You kids get off the damned new car! Love that grille on it! Remind me to take photos of my parking meter from downtown as shown there, its in my Houston office, still has coins in it.
PHOTOS: Photo #1 sort of everything I said above, people dressed up to go downtown Corpus Christi when it had vibrant downtown in my tie and even before. PS... that is a famous NASA astronaut, do you know who he is?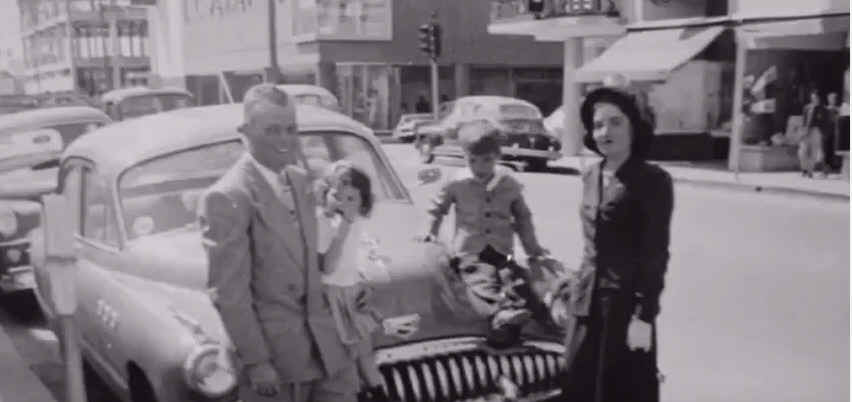 Photo #2. Back angle of where the well dressed folks with the Buick with the big toothy grin standing, shows the now completed W T Grant store with its cool escalator, and the building under construction in 1st photos, look closely Joos Shoes & Mireur Luggage bottom floors of three story brick building. Peppermint Lane at Christmas time fixing to fire up, not sure how many of you remember that, damn I am old. Blocked off Chaparral to Schatzell north, and was a lot of fun.