LICHTENSTEIN TEA (Green) ROOM. Lichtenstein's Green or Tea room was on the 4th floor of their large, sprawling store downtown Corpus Christi across from Tom McCanns Shoes, Center Theater and to the right, Woolworths.

In 1960s while not one of my "go to stores" downtown as a kid, I did go in there not that could afford anything. Woolworths, Grants, even Fedway and Toy Store were my 'go to places' about 7-10 years old. But mom had worked at Lichtenstein's in the gift wrapping department before I was born, and they had a nice book section on mezzanine overlooking all the cool stuff down below, which seemed to be mostly ladies things like perfume. Jewelry, earrings.

So I never went into the Green Room, or Tea Room as was called. Went to 4th floor a number of times, stood there looking around, even look inside the place, but ain't got no monies. Besides they probably didn't have toast like Hasty Tasty 10 cents for two slices, and I could load pound of butter packets and jellies on those. Ok, the little grille in Atlantic Thrift store on Staples & Woolco a few blocks away had 10 cent toast and could load them up pound of butter and jelly packets.

Always seemed to be a lot of blue hairs at the place, and for the like of me, believe there was a hair styling place across or side of it with ladies with UFO type helmets on getting hair do in beehives. Maybe that was another floor but thought it was near this place. There was a bathroom up here and it was cleaner than Bucee's could have ate off floor, lots of marble, chrome fixtures. And didn't charge 10 cents for a stall like Woolco cross town.

Several of us would go in Lichtenstein's also before matinees at Center theater across street, so wander around as a group. No one ever bothered us, the place always smelled just wonderful no matter what floor. There were cool steps from 1st to mezzanine. Ladies manned the elevators if I recall, pretty ladies with makeup, and little cap. Big smiles!

So can't tell you anything about the food Tea or Green room served, it looked at one time when opened was called Chaparral Room, but before my time.

PHOTOS: Photo #1. The Tea Room rather beautiful and inviting in 1960s. It was later in decade I would get to poke head inside here. There were some big glass doors that usually propped open, and lots of plants.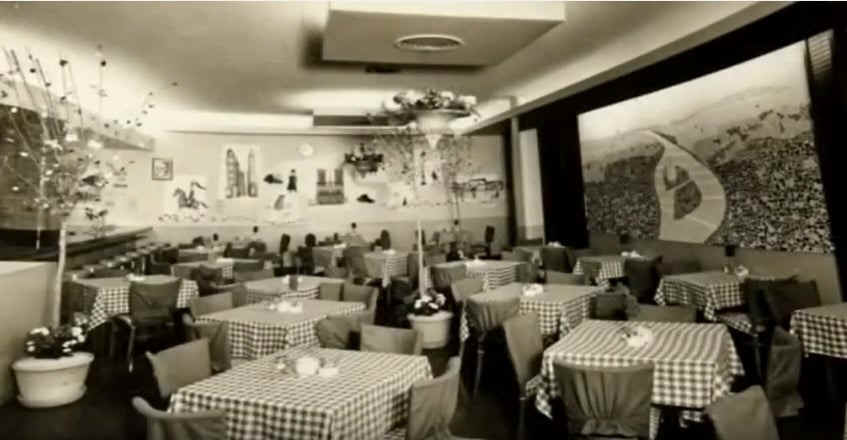 Photo #2. Older photo showing elegance of Tea Room. Chaparral Room originally, so guessing name changed with times perhaps as restaurants often do. Note white table cloths. Lichtenstein's was upper end mom said. When I was going to Cathedral 1965-71, there was another Lichtenstein's up the hill only 3 blocks away would walk past if catching Saxet Heights or Calallen bus home. Not sure why two so close, it was former Perkin's building if not mistaken.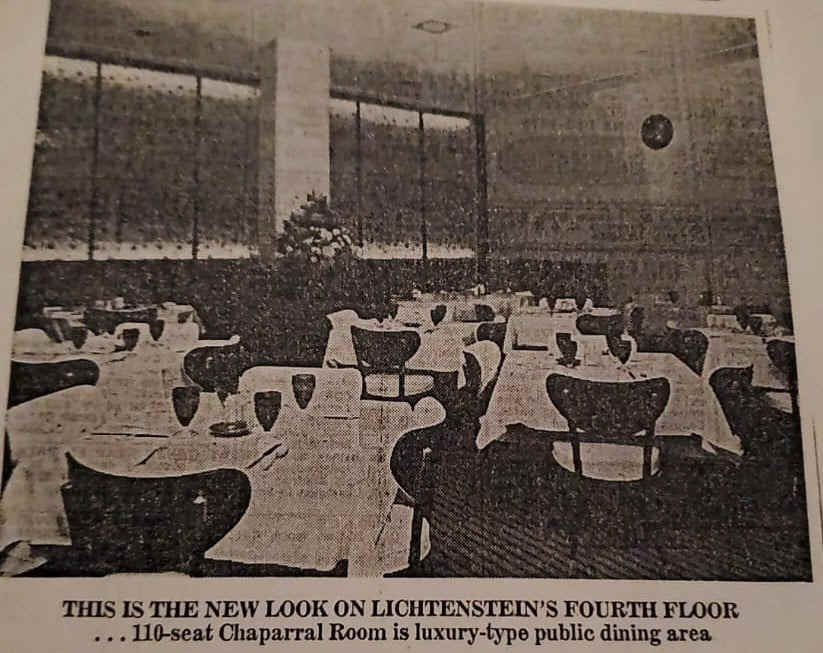 Photo #3. Old vintage postcard of new Lichtenstein's downtown facing SE on Chaparral. To the right later would be Woolworth's which stretched whole block back. And was a Corpus Christi bus stop with all the favs stopping there!