LUBY'S CAFETERIA. (The End Of)

LUBY'S CAFETERIA. I liked Luby's until Pappas bought them. Most things Pappy's touches turns to gold. With Luby's the changes made it turn to dirt.

Backing up a little bit here, I first experienced Luby's in my hometown Corpus Christi sort of by accident. I had stayed at a buddy's house overnight, and next day, his mom and dad took all four of us to Luby's at the Alameda shopping center, not far from W B Ray where I would attempt to go to high school in 1975-77, and just down the road from Incarnate Word Academy on Alameda where I had went to 8th grade and knew so much after being 6th smartest kid at Corpus Christi Academy in 71 I didn't need anything else to learn. I learned hard lesson and only time I ever had summer school.

Well, Luby's was a long row of steaming food with ladies eager to load onto your plate as it slid along behind a long glass window. It was only until you got up the the breads that you could grab stuff. ooh! Cakes & Pies! Wow, serve yourself sodas too! So my tray was loaded up, my eyes bigger than stomach.

I was hooked! So when I started working (or stealing stuff like most of Corpus Christi's CB radios) later, I would treat myself to Luby's. There was several locations at the time. Sometimes would take mom, yup, same effect, 'mom can you carry that tray?' There were other competition like Picadilly's & even Boatner's, but Luby's was my go to place for wonderful fresh food, fond of the enchiladas, liver & onions, fried fish.

So Pappas. They own Fuddruckers and Cheeseburger In Paradise besides Luby's.

When they bought Luby's in 2001 (Luby's had been around since 1947) the first thing they screwed up is the cafeteria concept. It is a cafeteria, you don't need waitresses in a cafeteria, the ladies with push carts did great, filling tea, coffee, even wrapped silverware, Sweet & Low, sugar, anything you need was on this tray. The 'waitresses' while nice, worked for tips. Yes you could tip the cart ladies.

I did. But now, you feel obligated to tip the ladies who introduce themselves to you, and hover.

The food changed and people knew it. And prices went up, portions got smaller. I get that, but was too much change too quick for many loyal fans, myself included who quit going. Suddenly a plate of stuff that cost me $8 was $14. And tip for ladies. Was cheaper to go elsewhere. But the food changes were significant, gone was the cafeteria style, now flat trays over steaming hot water kept food hot under bright heat lamps. Some items were dropped, but all the foo foo Pappas crap came in too. Luby's "regulars" were students and elderly on fixed income.

I do not know if they changed suppliers of food from Sysco, White Swan or who but was noticeable. I have been in the bar & restaurant business most of life (30+ years) and notice stuff like that. So when I moved from CC to Houston, still ate at them until the "sale" to Pappas, then only sometimes go for Thanksgiving, but not a go to place like was.

The City Center Luby's closed, and other locations and believe the remaining ones in Corpus Christi in 2020 are on chopping block as Pappas sells them off, and also closes a lot of Fuddruckers and Cheeseburger in Paradise locations, never seen one of those though. With City Center closed, the nearest ones are 34th street off 290 (10 miles or so) and another Hiway 6 & 290 (about 13 miles).

Some numbers for you wonks: The announcement comes after Luby's CEO Chris Pappas showed dissatisfaction with Luby's Q1, which included a net loss of

$8.3 million compared to negative $7.5 million in the year prior. Revenue dropped 7.5 percent to $95.1 million. Increases in traffic and comp sales in the quarter were offset by increases in commodity and labor costs. The brand ended Q1 with 72 Luby's and 34 Fuddruckers, down from 78 and 54 last year, respectively. March 2020 Luby's Closes 35 Units, Furloughs Most of Corporate Office Today, 34 Luby's and three Fuddruckers remain open. But on chopping block. For the corporate staff that wasn't furloughed, salaries will be temporarily cut by 50 percent.

Fast forward to August 2020 and driving around with one of my boys Noah, who was driving, we passed a shuttered Luby's in Houston. Was sad to see this building with plywood up and just abandoned. We found a OPEN Luby's near Kirkwood & Westheimer & went in. What a ghost town, no wonder going out of business.

The atmosphere here was like funeral parlor. The food on those flat trays, you could see the chicken and some fish dried out under heat lamps. I guess no customers does that. The salads, prepackaged no telling how long there. I got a slab of fried catfish $11.49; Soda $2.69, Pecan pie of which not supposed to eat $4.89. Besides the sad atmosphere like waiting for grandma to die in there, there were no smiles, just sort of going thru motions. I get that as have worked at a number of restaurant and bars that closed and just wait for axe to fall.

As I sat there eating with Noah I reminisced about the Luby's BEFORE the disaster Pappas takeover. The employees seemed happy to see you, serve you and no waitresses, but I still tipped cart lady. The food I had this hot August day no way compared to past. And why they going out of business. Sad to see a Texas Tradition go away like this, but should not have changed a good thing. Hope Whataburger does not get too far from roots, there is lesson here for new Chicago owners.

Pappys realized they screwed up royally and messed up a good thing several years ago I believe 2014, and quickly tried to reverse course and "go back to old concept" but too little too late. Here is to hoping Luby's finds competent owners & this Texas institution does not fade into sunset.

Photo #3. Padre Staples Mall in Corpus Christi, was fun to go shoplifting at Dillard's & Penneys for 8 track tapes, then go enjoy a nice lunch at this particular Luby's where you could sit and watch people who actually bought stuff walk by.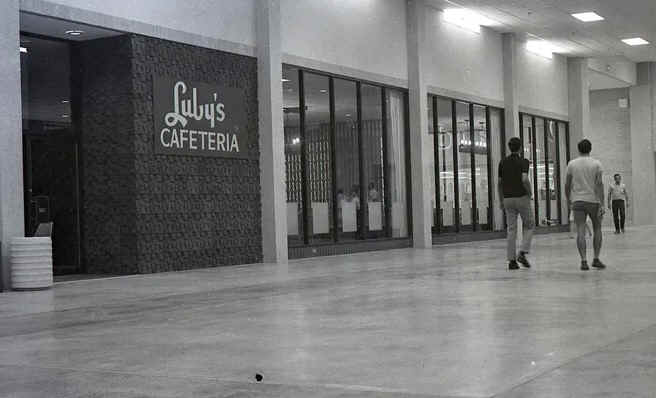 PHOTOS: Photo #1. A $34.00 lunch for two is tough, this was my recent bill at a Luby's. Not even the LuAnn Platter with smaller child's portions would have saved me, but didn't order that!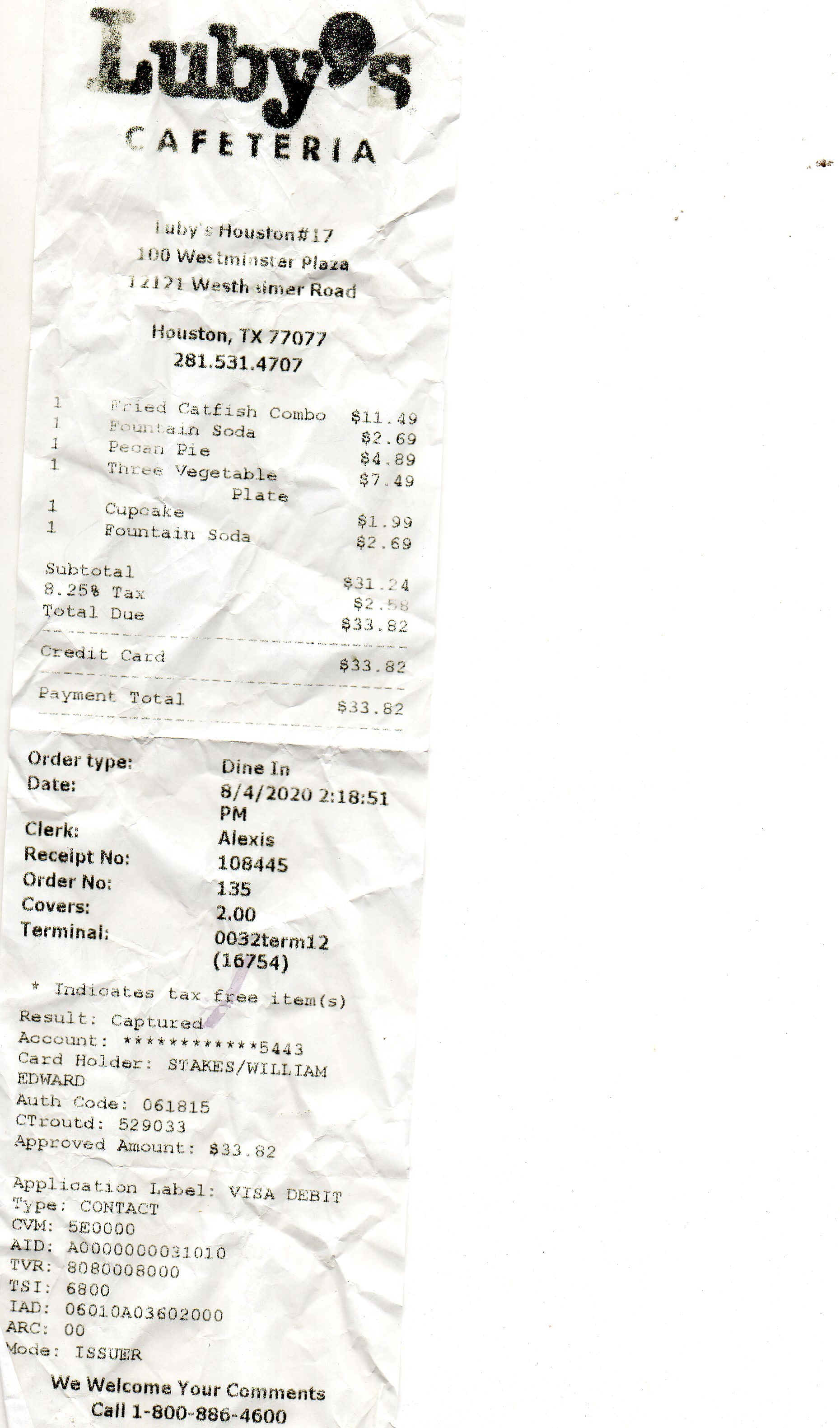 Photo #2. Luby's on Thanksgiving Day good crowd, sometimes you don't feel like cooking. Wished the crowds like this at Luby's all the time, we waited 30 minutes to get to serve line, was well worth it, everything was FRESH. Wife Paige on right, her 89 year old momma on left, a nod to Luby's too is she can only eat gluten free stuff, and the crew this day hooked her up with gluten free items!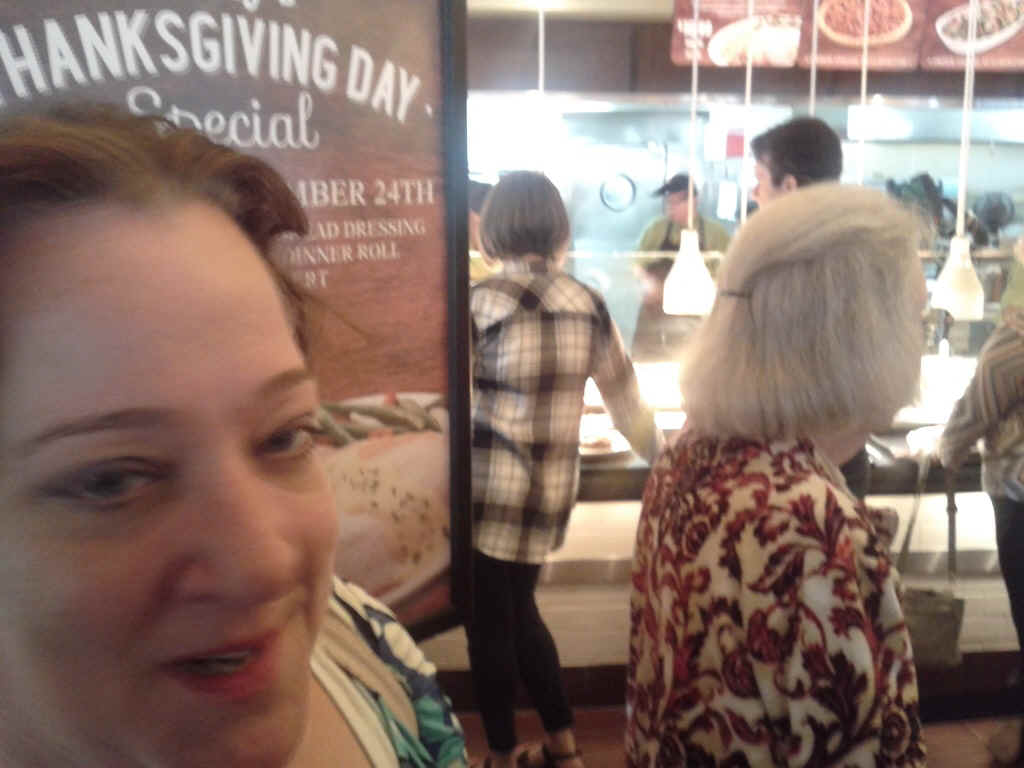 Photo #4. This was the newer setup after Pappy's screwed up the concept. I didn't like emphasis on heat lamps as opposed to the steamers under food, just my own preferences.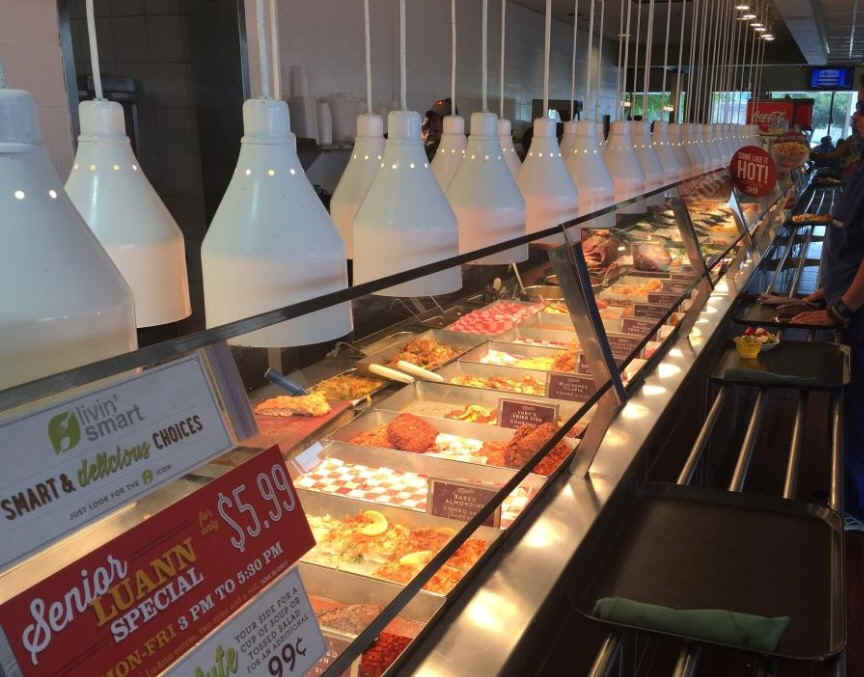 Photo #5. I loved the baked fish almondine, and the fried chicken. Again, if some items sit too lok under heat lamp they turn to leather belt.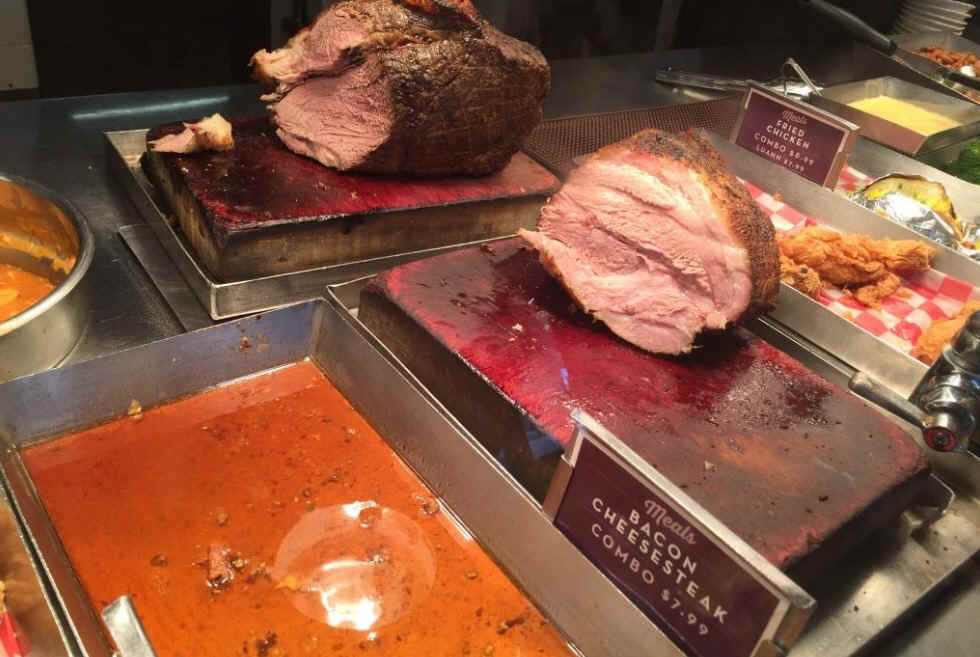 Photo #6. We used to be able to grab own breads. At some point then bread served to you. The jalapeno cornbread I had Aug 2020 was great. Still a fan of some of Luby's food!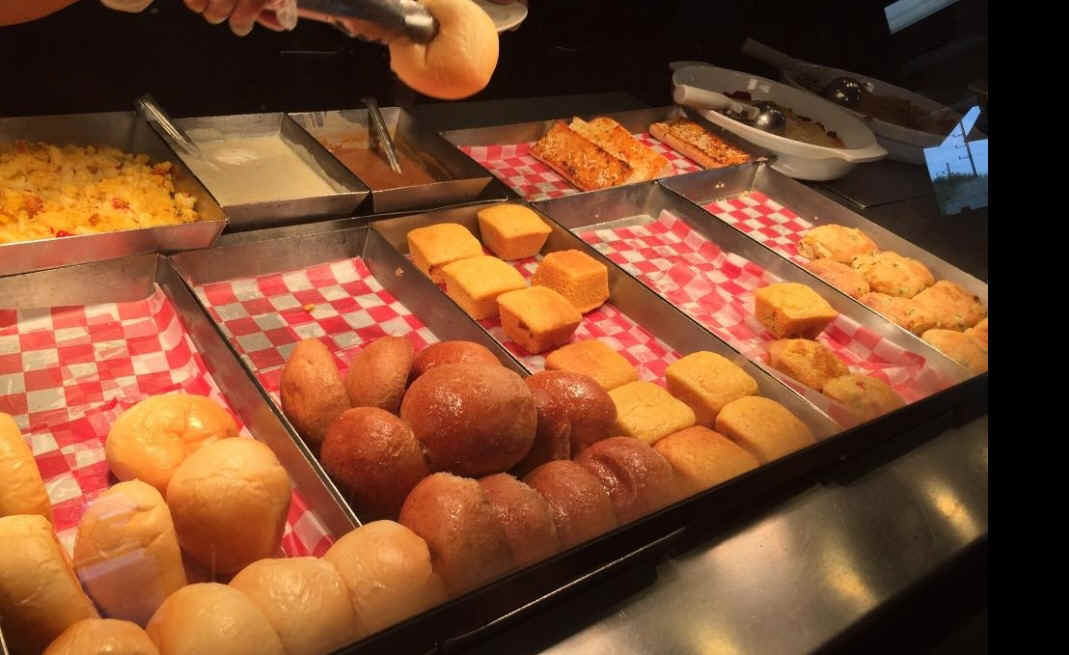 Photo #7. Years ago in Corpus Christi sometimes I would pick TWO desserts. Was fond of cheesecake, pecan pie, and pumpkin pie. On this day I got a $4.89 pecan piece of pie. Was awesome although ain't supposed to eat stuff like that anymore, but 1-2 times a year ok doc said! Bonus, the German Chocolate cake when Luby's had it was best in town.