Midnight Mass At The Corpus Christi Cathedral
MIDNIGHT MASS: Corpus Christi Cathedral. My first Midnight Mass was when I was 5 years old. Was not altar boy serving it, just went with momma, Sarah Stakes, & brother Tommy. My dad didn't go in, sort of like Woolco, rarely went in, sat outside, but with midnight mass, he would drop us off 11:45pm, and go back home and wait to pick us up. Unsure why, as mom and him married in Cathedral in 1951. But this is mid 1960s. The church was packed, and special feeling as one anticipates Jesus' birthday! No, no presents, but there usually were Christmas trees either side of altar after steps, and well away from the glowing rows of votive candles. The sound of choir and organ upstairs in back was awesome, and something you didn't see often. I was a alter boy here 11 years and can only count maybe, if that, 20 times heard the organ way up there.
I fell asleep with the drone of priest talking about Christ, just was late for me, and smell of incense and people singing and mumbling put me away. I work up near end and mass was STILL going on, 2 1/2 hours. The next year Monsignor Schmidt asked if I wanted to serve Midnight Mass, I said sure! Was
6 now and had special altar boy frock since was smallest altar boy. It went off without a hitch, found out where they kept the myrrh incense in back too. At a later date however, the candles sort of eat up all the oxygen near altar and some of us fainted from being near there, and all those candles burning well, I just remember getting light headed while kneeling and that was it. Found out later I was not only one and some of the staff rods with candles on top with glass broke when us altar boys fell over ha ha.
Some of the songs many of you know, well, Catholics do like O Come All Ye Faithful; Silent Night; The First Noel; Oh Little Town of Bethlehem; Hark The Herald Angels Sing; It Came Upon A Midnight Clear; Joy To The World, real 'staple' Christmas songs, but they just sounded so much better resonating in the Cathedral with the choir. To this day, I still don't know where the choir came from, momma said one time was Incarnate Word Academy Choir, I don't know. They sounded better than our 4th and 5th grade class.
After church, I always went across the street, Upper Broadway and watched the people leave, was great to get out of church after a almost 3 hour mass, and get some fresh Corpus Christi air, no matter how hot or cold at 3:00am.
My dad would show up in the Rambler wagon, pick us up and we head home. WOW, while we were at mass, Santa came by. So for those of you just tuning in, we were poor in 1960s, living at 2009 Antelope corner of Doss. But we lived good on poppa's blue collar salary. Christmas some years good, other years spartan, other years not at all. One year, we were not going to have a tree, and the sweet lady cashier at HEB corner of Port & Leopard, gave me a leftover Charlie Brown Christmas Tree, wow I took it home on bike and we had a Christmas. Not much to put under it that year but roll with punches. Like Dallas Cowboys, 'maybe next year'.
It was not always that way... these latter photos I never knew existed until late brother Tommy died at age 60 in Corpus Christi. I never had seen them.
Still going thru boxes of photos. Was my first Christmas, and I was not even one year old! This was house on Antelope. It was not until after Celia took out this house and we moved to 642 Naples (rental) for couple of years, we had Christmas there too, with tree! But when we had to move BACK to old crappy house, 723 Doss next to destroyed 2009 Antelope house, pretty much signaled end of Christmas for us. Physically, not spiritually. I still would clean up, go serve Midnight Mass, and Monsignor Schmidt knew of our plight, and I would get some bags of oranges, apples, nuts, pecans, and sometimes a ham. May not sound like much but broke the regimen of beans and rice.
So now gone were Christmas tree, cute little lights, but sometimes did put sparkle stuff on pine tree on corner ha ha. No electricity and can't put Coleman lantern on neat tree if we did have one! But Midnight Mass remained a staple for me into teens. Kept me honest. And close to God, and not forget all had learned about Jesus, Mary & Joseph didn't have electricity, internet, phone, or even a Christmas Tree back then. Just like my family.
Did we exchange presents? Sure and small things, some shirts, K-Mart on SPID and Woolco stuff, nothing big, fancy and sure as hell nothing that would have to plug in ha ha. But the memories linger you know. Still do. You only get a certain amount of Christmases in life to celebrate, whether rich or poor, the meaning of what happened that day when our Lord was born does not change. And never will.
One day again I hope to go to another Midnight Mass in Corpus Christi Cathedral. I wonder if still 3 hours, which is about what it takes me to drive from Houston back to my hometown. Maybe they got non breakable candles in case some altar boys crater and faint. Maybe will find out who choir was in 1960s, and the ones singing that magical night.
Photos: Photo #1. Inside Cathedral Midnight Mass. Note main altar at far back with tabernacle. And a number of us altar boys kneeling. Lots of candles, either side altar, at altar those were big red foot long ones. Some seen near gospel pulpit on right.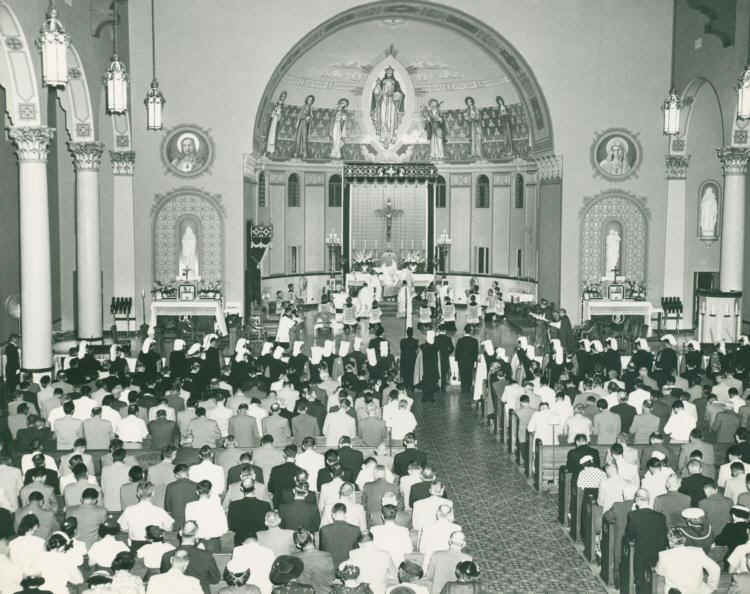 Photo #2. That is Robert Canas with crucifix, me on right with candle. And it's in my face ha ha. This is not midnight mass but just me being altar boy in something. For years. Only time ever fainted was Midnight Mass though.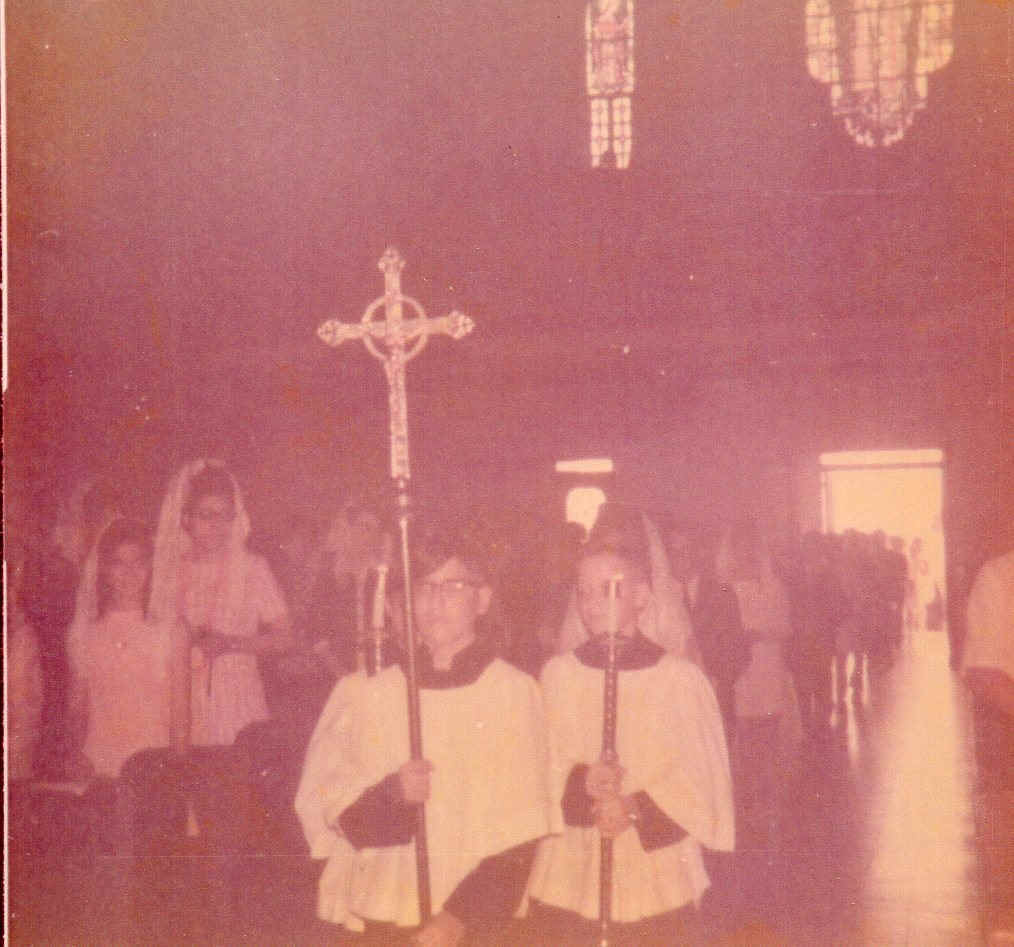 Out light a light. Has nothing to do with crazy woman Miss Devine slapping me at altar either.
Photo #3. My first Christmas, brother Tommy next to me, he was 3, and yes big as a 6-7 year old, always bigger in life. I see a Charlie Brown Snoopy dog, and a cardboard thing you look in and turn wheel and gets all crazy colors and patterns. And balloons. Yes, balloons. Not big deal, to us, anything under tree meant a good Christmas! Still does!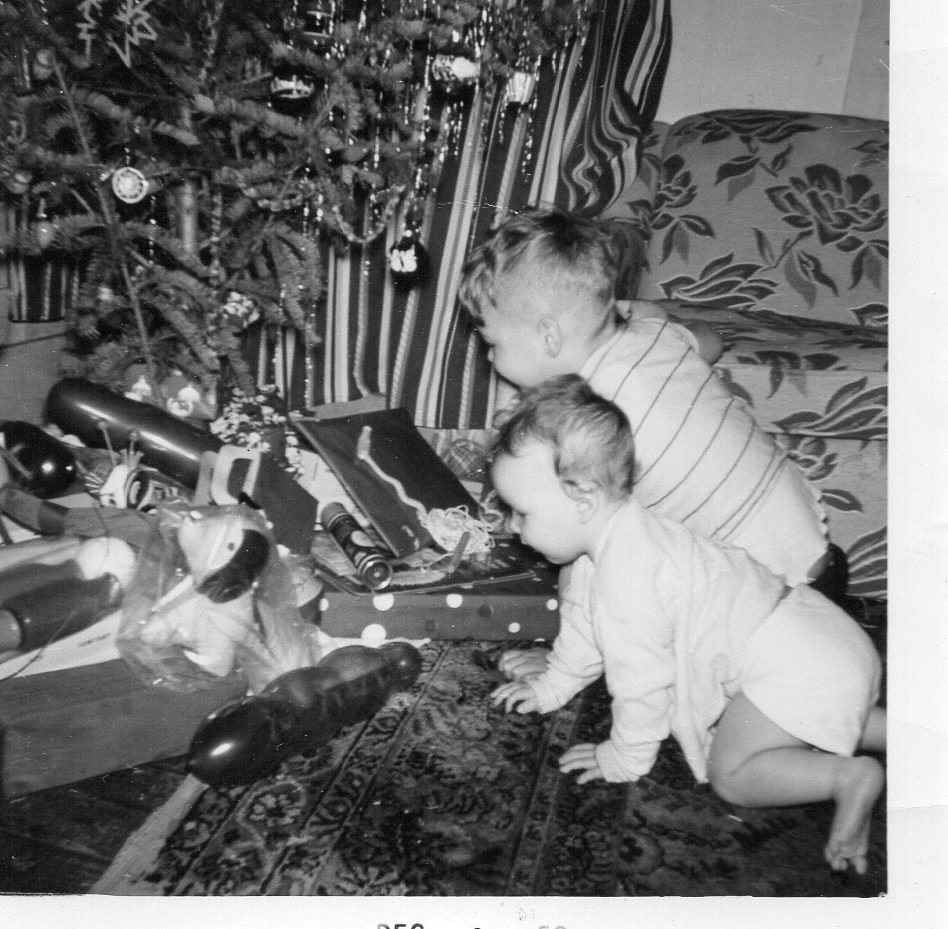 Photo #4. When I first saw this photo in my life in 2016, brother Tommy had already passed away. So went out back to my little shrine, in the rain, cried for awhile, and lit a candle, well, tried to, in his name and prayed.
My wife wonder what was wrong when came back in soaked, and just out of it.
I showed Paige, my wife, & two sons Noah & Jacob this one photo and they understood. The look on Tommy's face is PRICELESS holding a Lionel train. My dad is there trying to get me to eat a balloon though.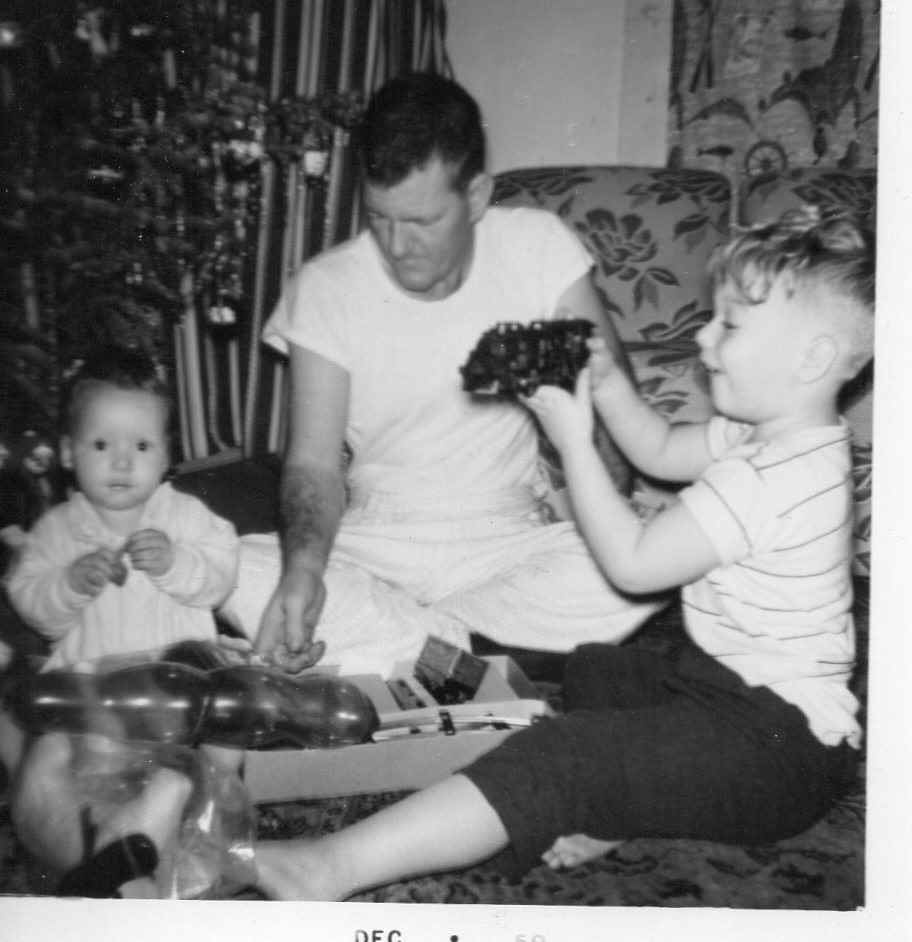 Photo #5. December 1959. Me, my dad & brother Tommy on our couch. This was a super comfy couch you could sleep on if tired. I do not know type of camera momma had to take these photos, but CAN tell you later (when was a little older) it was black, windie up type and we would take film roll out and go to Culli's to drop it off.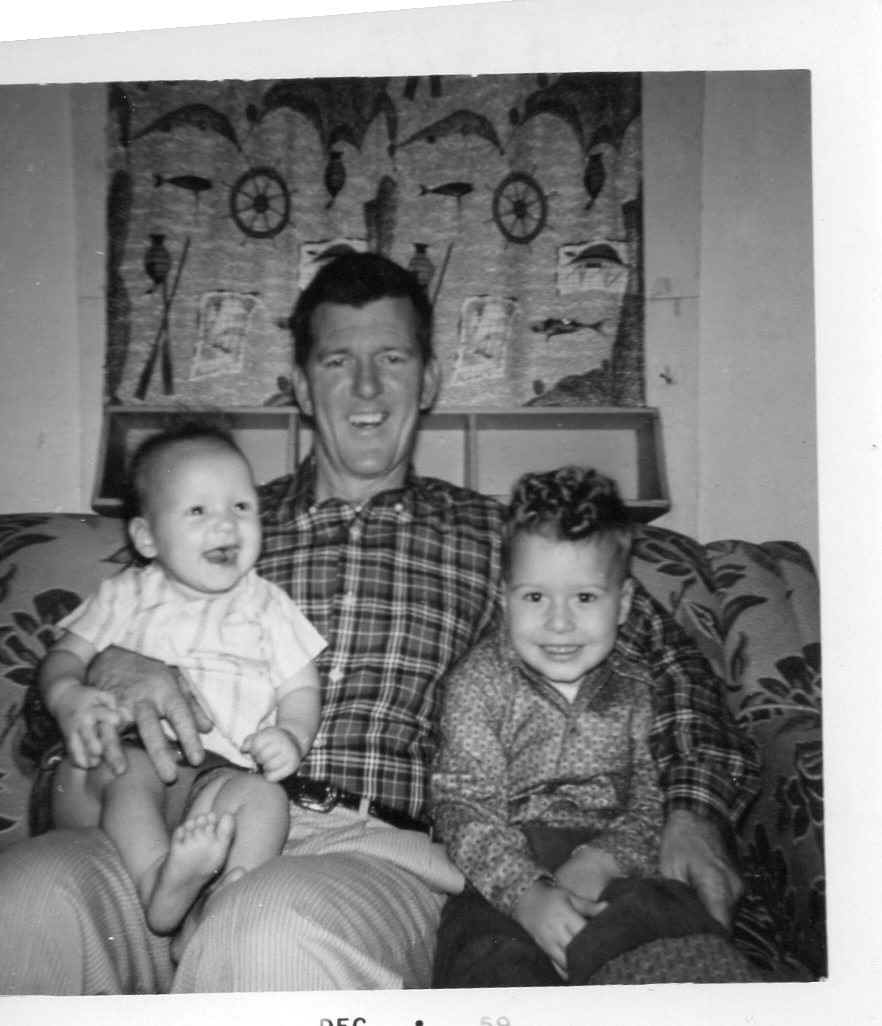 Photo #6. December 1959, I was 9 months old here after being hatched. Yup, no shoes just like 2018/2019 ha ha. That is my beautiful mother, Sarah Stakes holding Tommy & me. What a nice dress she is wearing, and possibly had made it with old Singer sewing machine we had. Check out the mariner thick curtain in back, these last 4 photos was from inside our 2009 Antelope street house and to date are the only ones I have from inside house.