Corpus Christi Military Landmarks...

MILITARY LANDMARKS-Where did they go? I know hard to keep anything from rusting in Corpus Christi, but one would think they would be replaced if rusted out. The "big guns" we used to play on south side of Harbor Bridge behind museum gone, but I understand they cleaned up now near USS Lexington, beautiful majestic, jewel that she is. A few years ago took my family down there with all my paranormal equipment, yes, ghost hunting stuff. Staff was nice, and we didn't get much activity until we got to Mail Room. Wow, Meter sailed off chart! Didn't do anything in Chapel, have respect there. Minor movement in mess halls, and didn't get to go into some areas I really wanted to get into with the K-2 EMF meter & SB7 Spirit Box! Oh well, next time.

Back to our great military. There was a jet on the end of one T-Head, middle of park, a Naval Command one. Corpus Christi has always been and hopefully will always be a military town. At one time one of the bases was scheduled to be closed, might have been Corpus Christi Naval Air Station at end of Ocean Drive, maybe Kingsville Naval Air Station, or possibly Beeville Naval Air Station, don't remember which, but due to turmoil in central America it stayed open. Good.

A recent trip to Corpus Christi these were gone, not sure when went away, but wished they put them back! I saw a basketball court about where the helicopter used to be, not sure what that about but no one visits CC to play basketball. This is where the Army helicopter used to be, up high on pedestal, no kids climb on it, and lots and lots of tourist took photos of it, rightly so!

Jet gone too, I know it just didn't fly off as engine and all gone. Which reminds me of another story. Groan, go get your sweet tea and 10 cent toasts loaded with jelly and have a sit.

In Houston, I worked for a super popular place called Dirty's modeled after Dixie Chicken neat Texas A & M. Best Chicken Fried Steak voted in Texas over and over, frisbee sized. The owner, Terry Ward, modified a Volkswagen Beetle with a Hoover Vacuum Cleaner engine inside under hood, and amplifier. And had pedals inside. This thing caused crashed with people rubbernecking on Chimney Rock near 59 when people slowed to look at it. So you push pedals, fire up the Hoover sounded like jet engine with blades rotating! Everyone believed it would take off, but this thing would not fly even if dropped off Harbor Bridge ha ha. Maybe the Navy jet people should have jerry rigged something into the jet on T-Head, imagine the flashbulbs popping with Japanese tourists!

One of my cars, a 68 AMC AMX two seater I had driven down to see momma who was battling breast cancer and like I did a LOT then, would go to the steps to just watch seagulls, ships and well, clear my mind of what I saw mom going thru. Otis Redding Sittin On The Dock Of The Bay thing. I took a photo which before things went viral, it went viral another way. The photo ended up in a number of auto places calendars one of them being the now long gone auto parts store Hi Lo for instance, another AMCRC, another AMO. I just always liked these darned helicopter and especially jet there celebrating our good guys and gals. It was not until I developed the photo (at Walgreens, not Culli's) that I realized there is ship in background, so have land, air and sea in one iconic photo.

I read awhile back people have been vandalizing the Selena statue at entrance of one of the L heads on corner of Shoreline. That must really bother her dad who still lives there. There used to be, might still be, a Blarney Stone in middle grassy median near Downtowner Motor Inn there, not sure still there, but my dad always told mom to get good luck was to stand upside down and kiss it, I think his intentions were, well leave it at that.

I hope that Corpus Christi puts back some if not all of the military statues. If they can put of a Selena statue, and a mermaid statue (Cole Park, I liked that, beautiful!) they can surely find a donated jet, AWAC, trainer, helicopter, and slather lots of rust proof paint on it for the locals and tourists to enjoy like we did for many years in years before photo bomb. Love the airman statue at little Ropes Park I may add, celebrate our good guys and gals with more stuff like this.

My dad Homer T. Stakes, proudly served in World War II and saw action in the Pacific Theater. A Navy Man! Wished I had photo of him in outfit, but those like 1000s of other old photos probably lost with hurricane Celia when the

500+ lb fan blew off their roof and took out our roof. Brother Tommy

500+ never

served, and I didn't either. However, I DO feed homeless veterans in Houston for years now under I-10. That is illegal, but they can stick that law, can't regulate charity, and for $5 I can make 5 pounds of food for the vets, men and women, who (to me) deserve a better fate. Anyhows.. A neat arch across Ocean Drive near Ennis Joslin would be nice. I know, I know, but there is the USS Lexington, and while that majestic ship watches over Corpus Christi there, and has a number of planes and jets on its deck, it is not free like these other ones were years ago, seemed to me a big tourist draw.

Think about all those veterans who proudly volunteered to clean up those monuments thru years, wow! Just some thoughts!

PHOTO #1 This well kept though inoperable jet was a real crowd pleaser on the T-Head for many years. Obviously Navy personnel wanted Santa to come to the base so not only was the jet pointed at the base, but also lit up for him.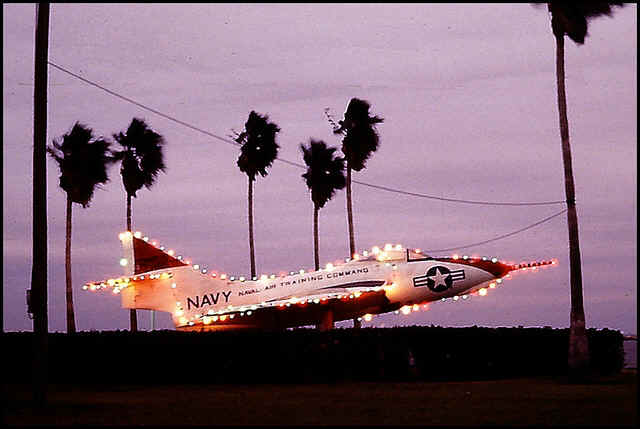 PHOTO #2 This helicopter sat up high for many years. Army Green, looks like new coat of paint. There used to be, might still be, a big Army Reserve place on McArdle at Everhart when we would go visit the Brister family on Mildred street (yup, aunt Barbara, kids Ronnie, Terry, Alan, Linda, Lori!) but we would slow down on McArdle to look thru fence at the neat stuff, as my dad was ex military man himself.. Navy. There were all sorts of trucks, jeeps, trucks with covered tarps, just cool stuff.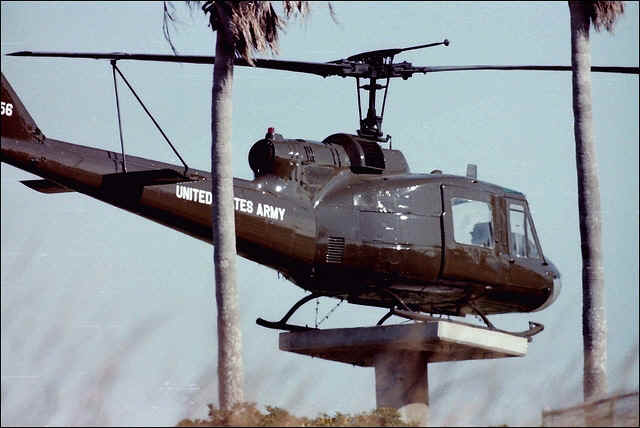 PHOTO #3. This is my 68 AMC AMX in front of the T-Head jet, look closely in background there is big ship coming in, probably Russians, they seemed to be everywhere... these days. This photo is the one that ended up in many national calendars mentioned like Hi Lo Auto Parts. Maybe those Russians on the ship got good calendar too! (Look Ma! Loudmouthed Texan Car Guy!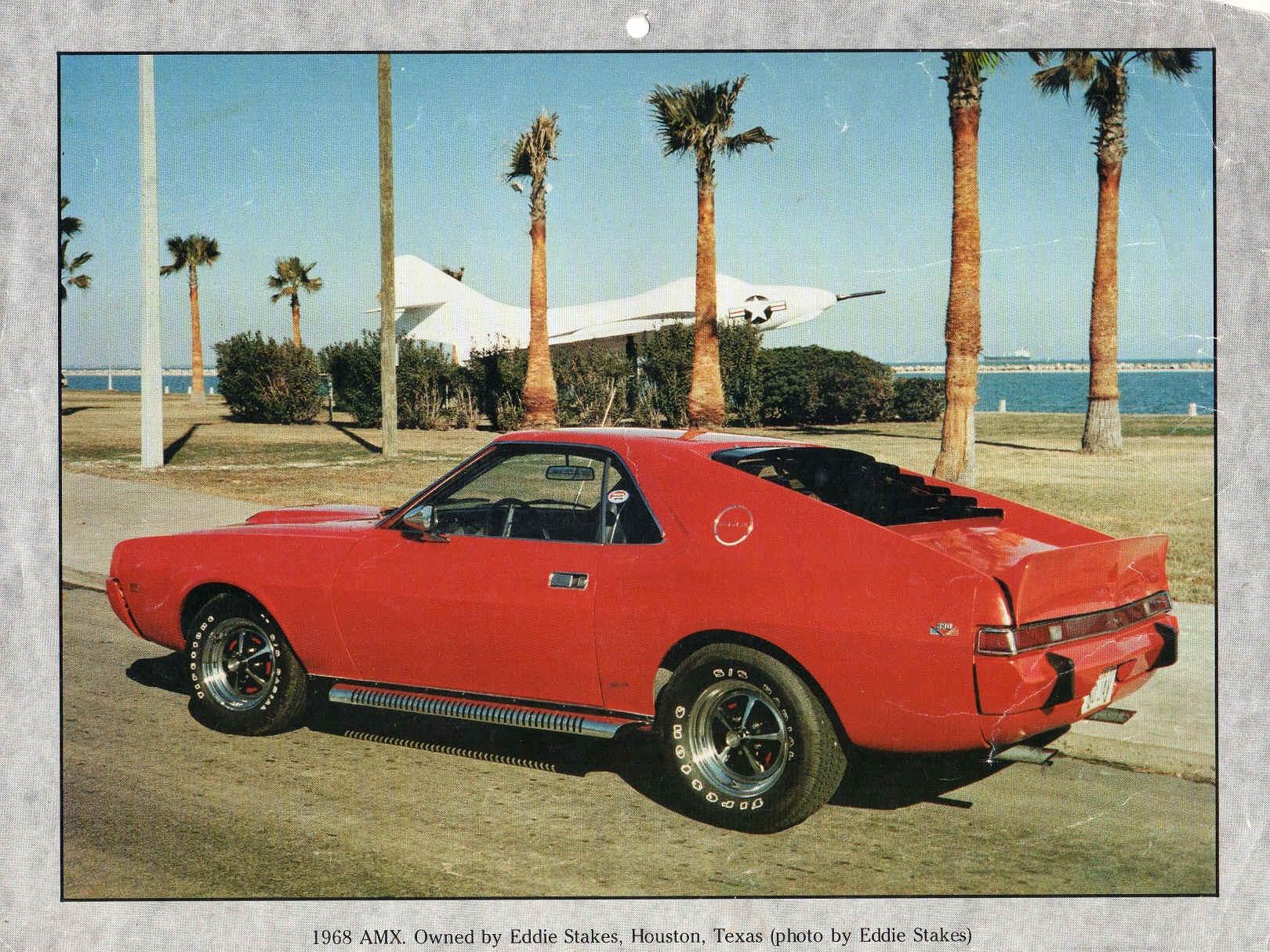 PHOTO #4 This is the world famous Dirtybird mentioned from Dirty's restaurant. Yes, a custom Volkswagen with Hoover Vacuum Cleaner 'engine' to make jet engine sounding noise. The owner fought City of Houston for year on this on whether it was a sign or not, so every night was in the news, and business boomed so milked it for all worth. Me behind wheel after hours, Victor Troncale longtime bartender friend on right. Last time I saw it was in junkyard, but believe the VW Club of Houston or a member bought it.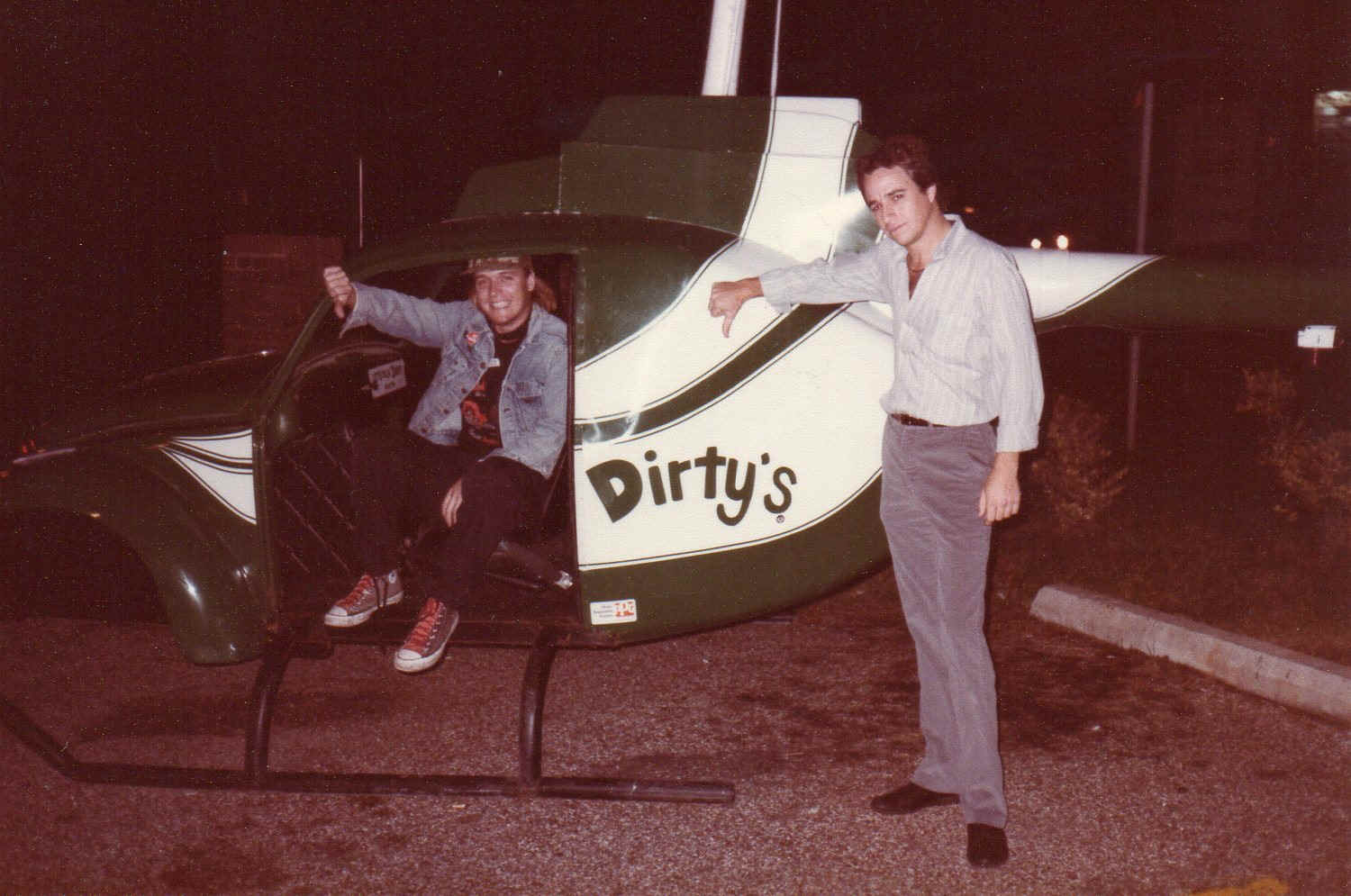 Photo #5. Hoover vacuum cleaner engine with microphone to amp to speaker ha ha. Wished I had dollar for every wreck out front when people stopped.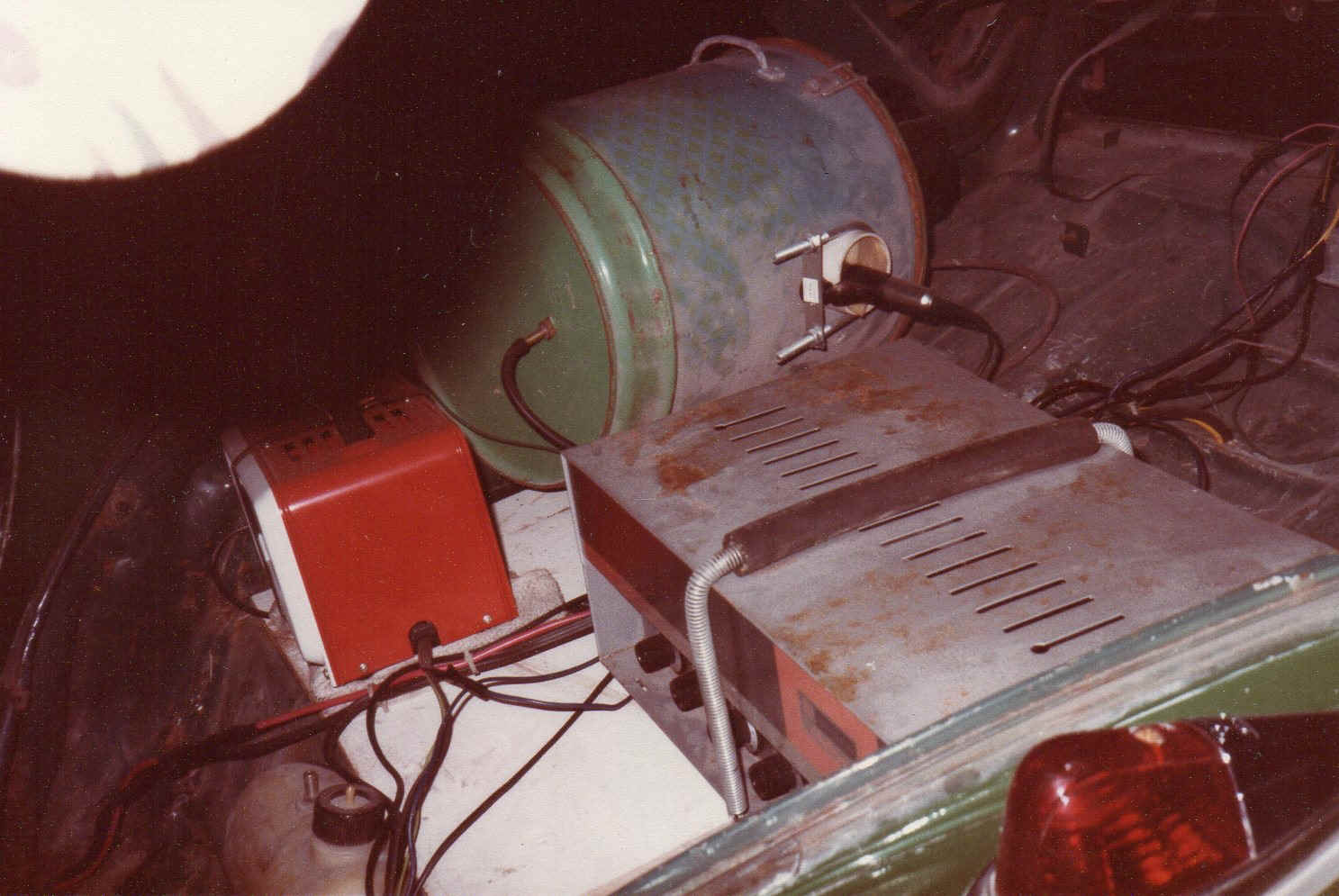 Imagine a simple, goofy, setup like this in a Corpus Christi jet on T-Head, wow, even boats would stop. Would be hard to find parking spot when the jet 'started up!' Just a tourist though!