Surfer Wars: Fishermen vs Surfers Bob Hall Pier

SURFER WARS: (SURFERS VS FISHERMEN) In 1970s the best surf on Padre Island was well, around Bob Hall Pier. And the pier was for fishing, not surfing.

The massive waves, ok, most 3 rows 3-5 feet were pretty endless if you had a breeze. And surfers congregated there because of it. It was a adventure just getting to Padre early on with all the little goofy ferries, but after bridges built, not only businesses and homes built, but lot more traffic.

fishermen, surfers.

But the "surfer wars" got pretty ugly. Fishermen were purposely targeting surfers who (in their opinion) getting too close to the pier for max waves.

But scaring off fish. These were not small lead fishing weights and small sharp as hell hooks guys getting hit, and speared with either. A number of times was reported on the local news about the bad blood between the two, and some surfers defiant in where they wanted to surf.

I was a late bloomer here and used to hitchhike to Padre Island from our crappy house on Doss & Antelope. Just grab my old board (had two) and walk up hill, put thumb out and someone stop. Momma hated me hitchhiking but never any troubl, sometimes took 2-3 drops before reach island. And I preferred to surf alone, not get caught up with anything near pier, some of these guys were professional you know.

Local legend J P Luby tried to diffuse the situation before someone got killed, there was already a LOT of injuries, but all on surfers side getting hit with pyramid weights, and hooks that sometimes had to be surgically removed by medics on beach. Have to mention here too that one of the businesses that popped up at this time was popular Jito's.

Jitos 1970-1983, several owners, but closed down when J P Luby Surf Park moved north of Packery Channel. At first they were Jito's Snack Shop, then changed name, and in my time late 1970s, place always packed with people wanting one of the five main food groups there, fried burritos. Damn, can smell them now, were delicious. Jito's died out though when the J P Luby Surf Park opened and no longer people "circling" the beach with traffic patterns. So closed in 1983, but by then, I was gone.

The J P Luby "Surf Park, the pier hastily put on Island is ONLY Pier in world built just for surfers. So quite a honor as I still consider myself a surfer, even though not every good one, I served my time and still have ONE board on 1979. The Surfer Pier, the front part was only for Lifeguards, don't get up on it, and looked incomplete, was there just to raise swells, not walk on. Or God forbid, fish off of I was told.

It is north of the Bob Hall Pier which was causing all the ruckus. Not very far if you look at map, just north of Zahn road & 361, you take 361 to go to Port A (Port Aransas for you non locals eh) and everyone knows where the

7-11 is you turn at, Maverick Market was next stop light down. For years, no stop light just flashing yellow lights on Park Road 22, and flashing red lights to beach. Damn I am old.

There seemed to be peace between the warring groups after Surf Pier built though and never heard of another incident between groups. And everyone lived on Padre Island happily ever after. And I got a car in 1976, 1970 AMC Javelin, and could drive to beach myself, with surfboard sticking out back glass 1/4. If you ever see guys driving around Corpus Christi on day there is no surf and they have surfboards on roof racks, they not real surfers, they were called HODADS, not sure what called now. Sort of like someone buying 4X4 SUV and they think a graven driveway is 'off roading' ha ha.

I do not know condition of Bob Hall Pier or J P Luby Surf Pier, as I moved to Houston in 1983. But frequently return, and took some photos of the Bob Hall Pier in 2019 and looked great!

PHOTOS: Photo #1. Big batch of surfers celebrate on the new J P Luby Surf Pier. This was not traditional pier, so no walkway, just structure to conjure up what passes for surf on Padre and get everyone away from the fist fights, spearing with weights & hooks down beach! And it worked as people gravitated to that "new" area therefore diffusing situation.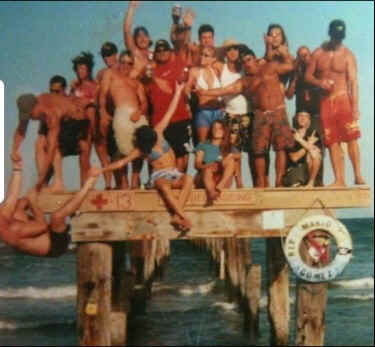 Photo #2. Bob Hall Pier 1200 foot pier into Gulf, redfish, croaker, speckled, sand trout, you name it, great fishing. Now has cement pilings not wood. And no surfers near it. Have not heard of any incidents there between two groups since before I left!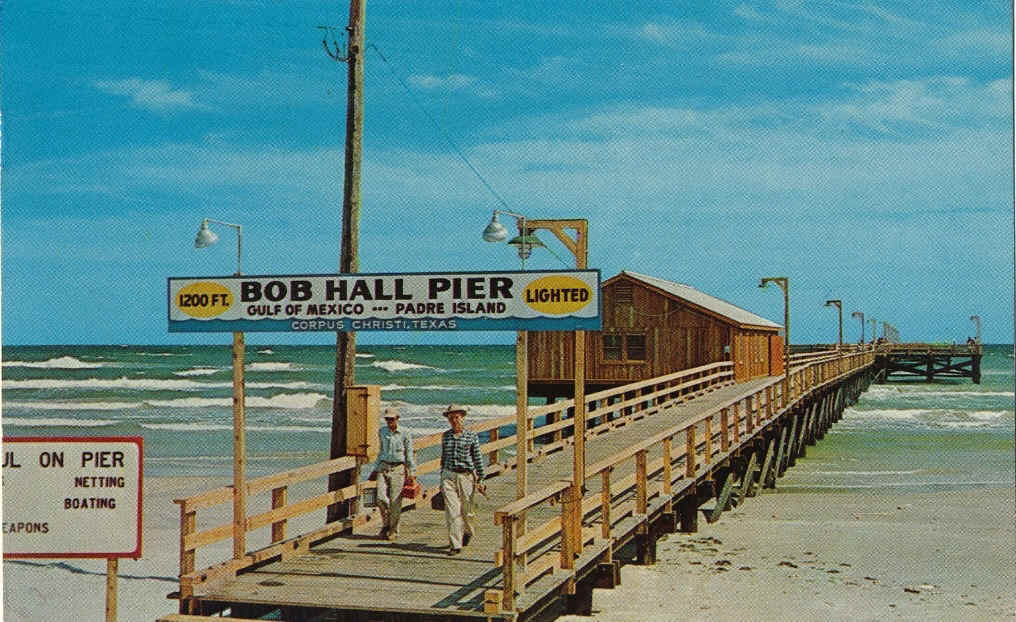 Photo #3. Map shows distance between Bob Hall Pier on bottom and J P Luby Surf Pier at top on right. I'm not going to tell you where the 7-11 and Maverick Market are, ok, Maverick Market not Stripes. Aw hell, the 7-11 at NE corner or 1st stoplight over JFK causeway, now I believe is 2nd stoplight; the Maverick Market was at 2nd stoplight (now maybe 3rd, 4th but Stripes now) and still SE corner.
Photo #4. Jito's extremely popular in my time but at time, not a lot of places on Padre, there was a Dairy Queen just a block over though. The burritos and good, cheap, bathing suits kept this place uber popular in 1970s. But at I mentioned, when the Surf Pier built, a lot of folks gravitated to THAT area, so business slowed down, eventually closed in 1983, but ended up being something else.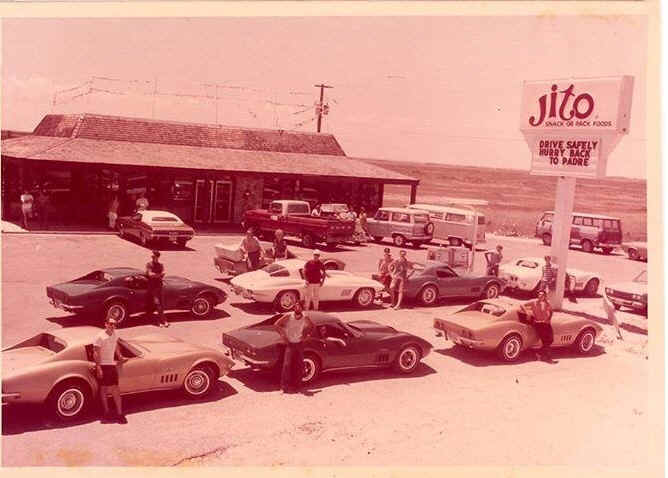 Photo #5. Popular on Padre Island parked "where the people were" was the C101 FM radio station van. I think they had two of them. Would blare music from those speakers and we all wondered how they kept the speakers from getting rusty with all the humidity. They gave out koozies, and frisbees, sometimes tickets to upcoming concerts and tshirts, fishermen and surfers both listened to them, just little boom boxes, low volume on pier, shhhh, note mermaid on side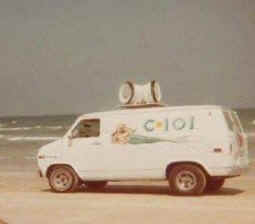 Photo #6. The beautiful C101 mermaid appeared not only on the C101 vans, but also bumper stickers, tshirts and other stuff. Not sure when she went away and they changed from this to the goofy seashell with a antenna. You could walk for miles and hear C101 in car radios parked, or people like me, pull my wood boxed speakers out and place on top of car to jam. But went on for miles sometimes.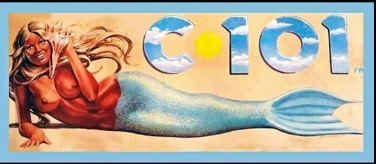 Photo #7. There is no glory in surfing I think, and unknown surfer tubes a wave in 1970s. Some might disagree but feel free to name Great Surfers of Padre Island you remember, the names might spur a long suppressed memory. Great shot, somewhere here I have a photo of my ripping a wave, ok, was 3 footer ha ha I seen bigger waves in Houston flooding. Some of you folks will remember "Surf Report" KIII Channel 3 used to do in weather segment, if no one ever said Thank You back then, I will say belated Thank You now.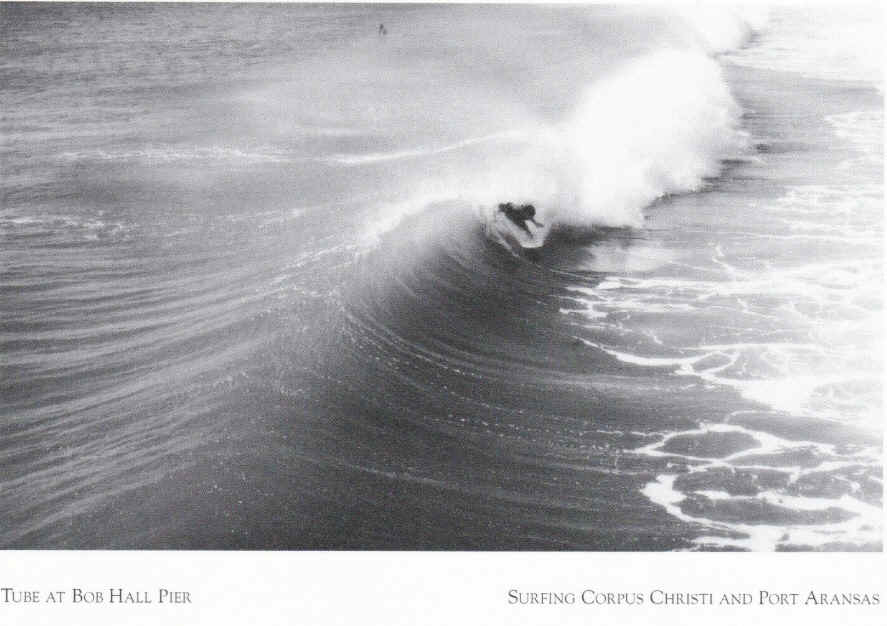 Photo #8. If you can get past all the bird throwing in this photo, (me in back) my "long board" Tanaka is shown on left. There were a number of great board specifically made for 'Padre Island" and its 3-5 foot waves. Three Rows at Three Feet the weatherman used to crow and off many of us went. This one sold for $20 when moved to Houston, but still have in 2020 my Gulf coast green surfboard.